Exhibitor Frequently Asked Questions
------------
Do you have any questions about your Latitudes Online profile? Don't worry, we've got you covered with our frequently asked questions.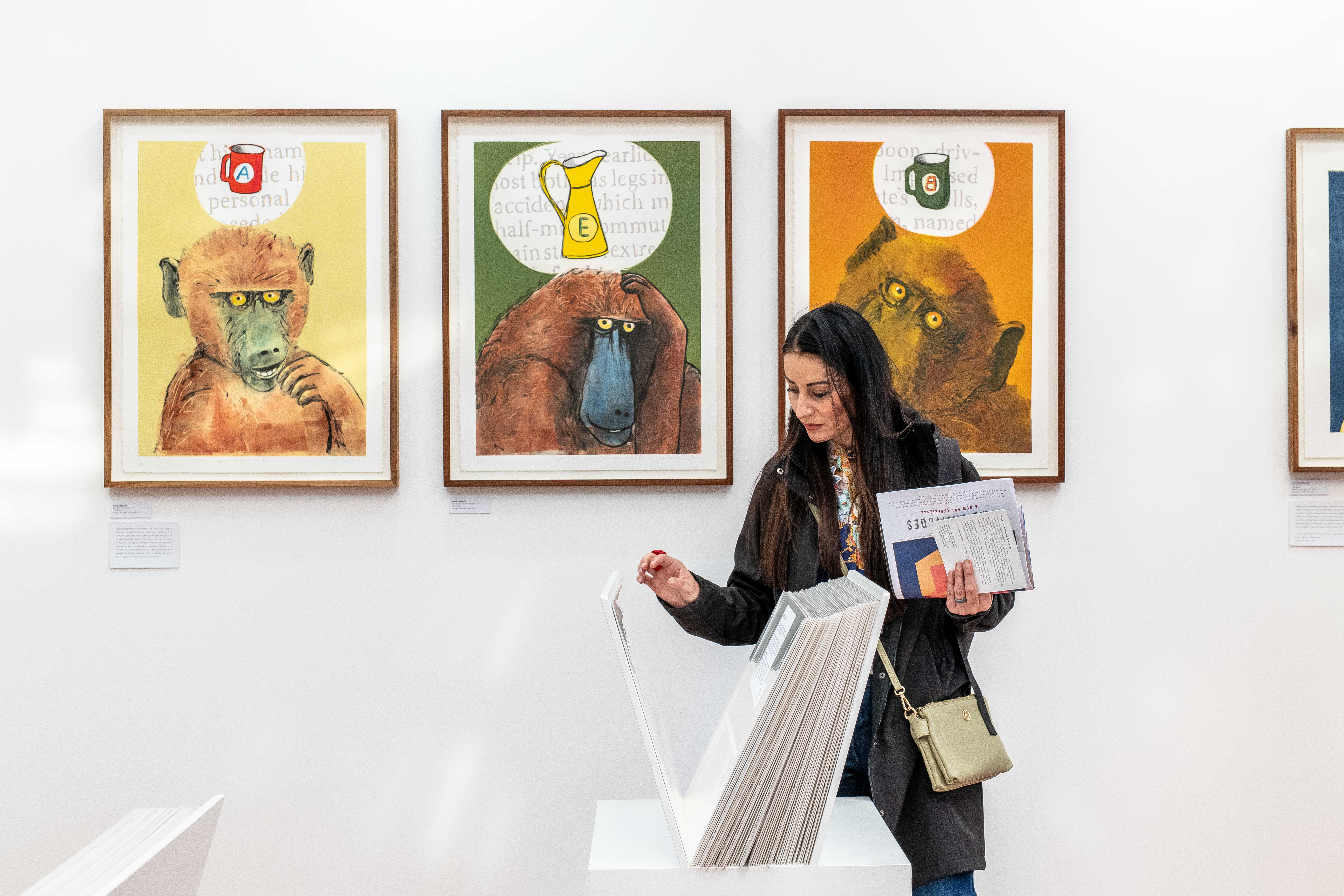 RMB Latitudes Art Fair 2023, photograph by Anthea Pokroy
1. Latitudes Online
Why is Latitudes a great place to list my gallery or organisation?
Latitudes is the largest online marketplace dedicated to art from Africa. Our team markets your work to a large international network of buyers, from collectors to corporates, interior designers and trade professionals. We use SEO, social media, email marketing, advertising, custom order enquiries and other means to connect you with buyers.
How do I maximise all the tools at my disposal to ensure my works are seen by collectors browsing the website?
At Latitudes, we believe the more you put in the more you get out. Our statistics show that the most active profiles receive the highest page views and enquiries. Up-to-date profiles also allow our team to include your works when we are working on art proposals for clients. As such, it is important to your success on the platform to regularly add new works and keep your page up to date.
As an independent artist, what are the conditions regarding exhibiting the same work at other galleries or spaces?
Latitudes encourages you to exhibitor your work in as many spaces and platforms as possible; we see your independent profile as a space to bolster and promote your practice - not to limit it. All we ask is that when an artwork sells elsewhere, to please remove the work or let us know to mark it as sold. It is also important to let other spaces know that you exhibit independently with us to ensure there is no conflict of interest with their consignment agreements.
Is there a means to promote our gallery, exhibitions, or artists on your website?
Yes, the Latitudes editorial team offers Exhibitor Spotlight features and Featured Shows in our weekly newsletters, which we offer on rotation and included in your membership plan. As with new shows, you are also welcome to notify us of any new artists added to the platform that we can look to feature in a similar capacity.
In addition, Latitudes offers a series of additional promotions for galleries, exhibitions and artists; such as our Online Viewing Rooms, Blog Posts, dedicated social media posts and more. You are welcome to review our offerings and rates here. We are always happy to accommodate you and work within the budget you have in mind.
What projects does Latitudes run that my artworks can be included in?
Latitudes runs a series of in-house projects in which we source and rely on works readily available on our website. Most notably, our Art Agency works with interior designers, architectural firms and corporates spaces to procure art for their projects or offices. We focus on sourcing works from our network, and encourage you to keep your page updated with recent works and share catalogues with our art agency team.  We also run smaller curated selections for our top collectors which is shared in a dedicated mailer monthly.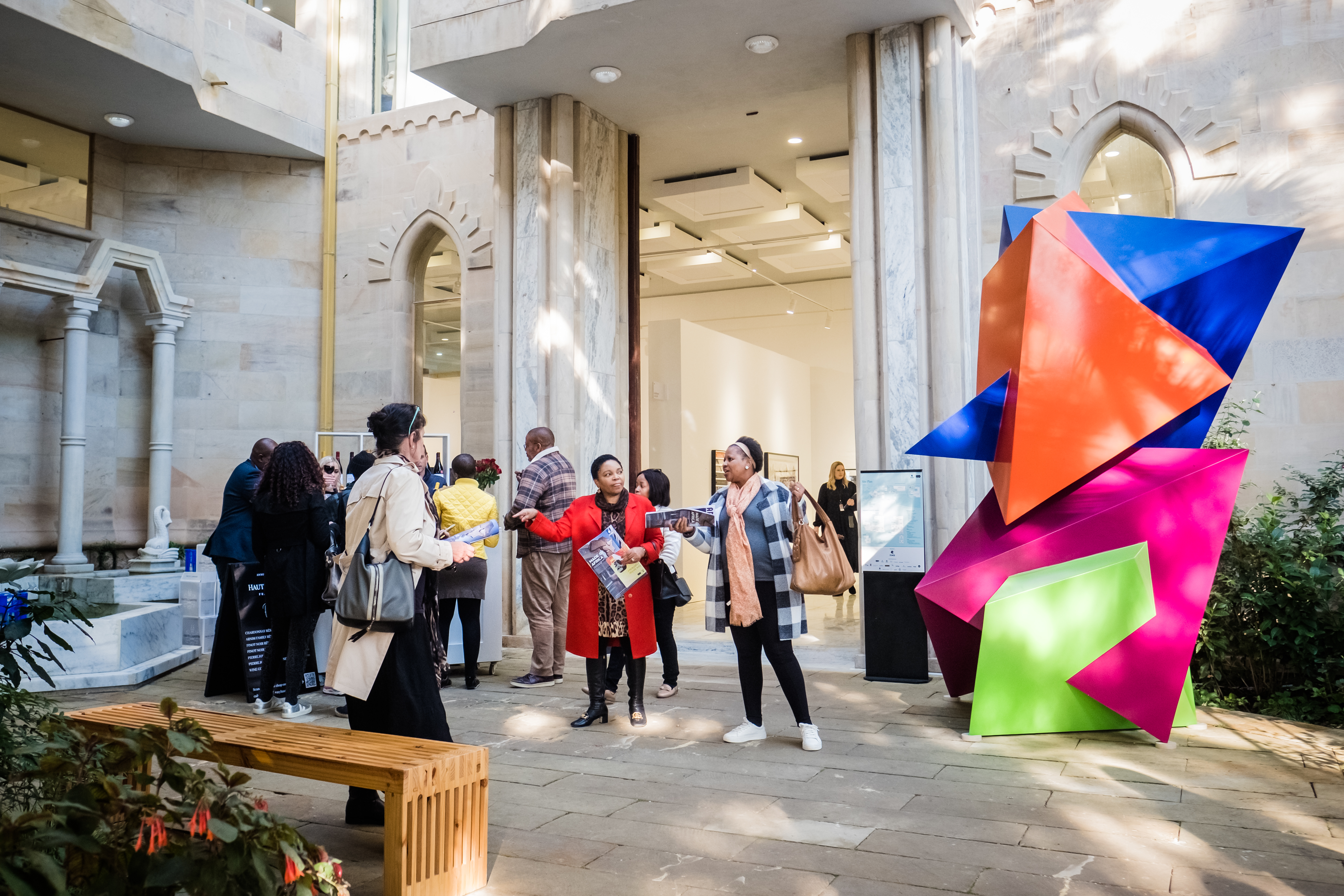 RMB Latitudes Art Fair, 2023, photograph by Alexander Smith
2. Artworks and profile
How often can I change the artworks on my gallery or organisation's profile?
We encourage you to regularly update and add artworks to your profile. If you are a gallery or organisation, we suggest working with your annual show calendar and uploading a selection of 10-20 artworks per show, along with any works from your inventory that could benefit by being displayed online. If you are an independent artist or curator, we suggest presenting a body of work in a similar fashion on our shows page or viewing rooms to draw more engagement to your listing.
I'd like to update our exhibitor page and artist profile details, how do I this?
Latitudes protects all artist profiles by allowing edits to only be made from our admin accounts. You are welcome to submit your updated biographies and profile images to our team who will make the changes on your behalf.
All our prices are quoted in Euros/USD however the site is set up in ZAR. What would you advise here?
Due to fluctuating exchange rates, we do not recommend converting your price to ZAR. We would advise that when loading new works to the platform to choose 'hide price' so that the work appears as POR to all viewers. In addition, we would advise that in the description section, you consider adding the Euro/USD price so that the price is still available on the website.
What are your image quality guidelines?
Images are so important when displaying your work online. The goal of your images should be to display the best possible views of your work to a potential buyer. We allow a maximum size of 2MB per image and JPG's in RGB at 1,000 x 1,000 pixels are best.
How do I change my items description, pricing or images?
Log into your account and click "Edit a Product" to make changes to your works. If you are having any issues, email us on info@latitudes.online.
Do you provide a service for uploading artworks on a gallery/organisation's behalf?
Yes, Latitudes does provide a service for uploading artworks at a rate of R50 per work.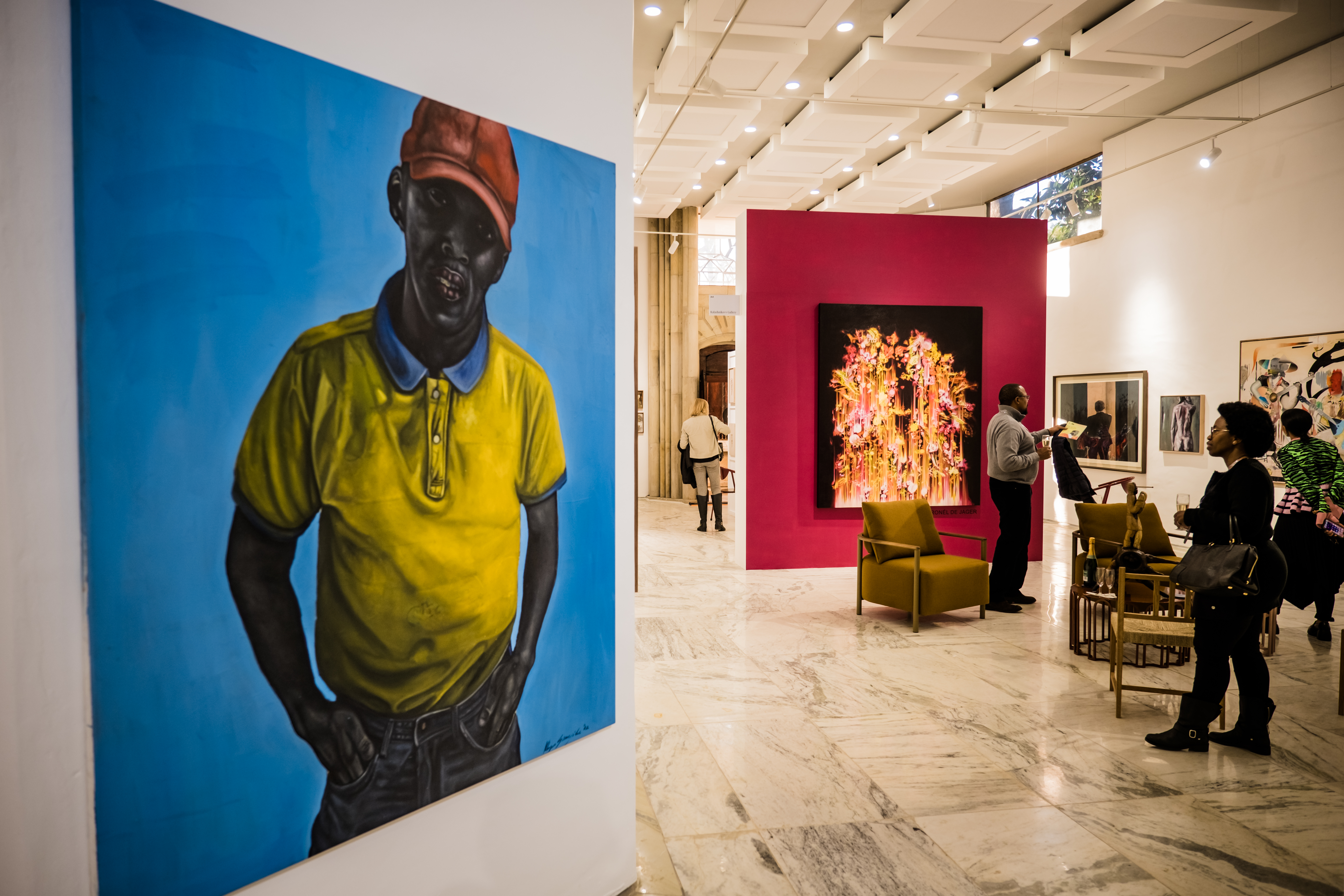 RMB Latitudes Art Fair, 2023, photograph by Alexander Smith
3. Sales and Shipping
What does the sales process look like?
On a commission-based plan, Latitudes facilitates all aspects of the sales process, offering administrative and logistics support every step of the way. If you are on a commission-free plan, Latitudes will introduce you to the client within 12 hours of receiving an enquiry and it is then the exhibitors responsibility to manage the enquiry and sales process.
What is Buy Now and how does it work? 
Buy Now allows collectors to purchase artworks immediately on Latitudes Online, using our e-commerce functionality. Buy Now is only possible for editioned artworks and unique works that are solely listed on Latitudes Online. We require works listed in Buy Now to be located in South Africa for shipping purposes. 
It is important to note for exhibitors on a commission-free membership, that Buy Now sales incur a 10% commission charge to cover credit card fees and admin involved in the sale. Furthermore, the exhibitor is responsible for the price they upload and obliged to sell it at the most recently updated price when it sells online. 
All artworks submitted to Buy Now are subject to review by our team to ensure it fits into the above category.
How is shipping handled?
On a commission-based plan, Latitudes sources the most competitive quotes. Once the client has signed off on the shipping costs, we require the gallery or artist to deliver the work to our shipping depot if in the Johannesburg or Cape Town region. 
For those on the commission-free plan, Latitudes does not managing the shipping process but is available for 10% commission to cover our time.
While we strongly advise on insurance, it is ultimately the client's decision. 
Once a sale is made, how is payment settled?
Once Latitudes has confirmed the sale and all invoicing to client has been arranged, we will request your invoice. Latitudes will settle all payments within 5 working days, once funds have been remitted from client.
What happens if I sell my item somewhere else?
Congratulations on your sale! You may log in to Latitudes and select the toggle to mark your work as sold. Alternatively you can disable the work so it no longer appears or notify the Latitudes team and we will do so for you. Please do so timeously so that we do not market an item to our customers that is no longer available.
Do you assist with framing?
Latitudes works with a series of recommended framers across the country. We are more than happy to facilitate an introduction to the client.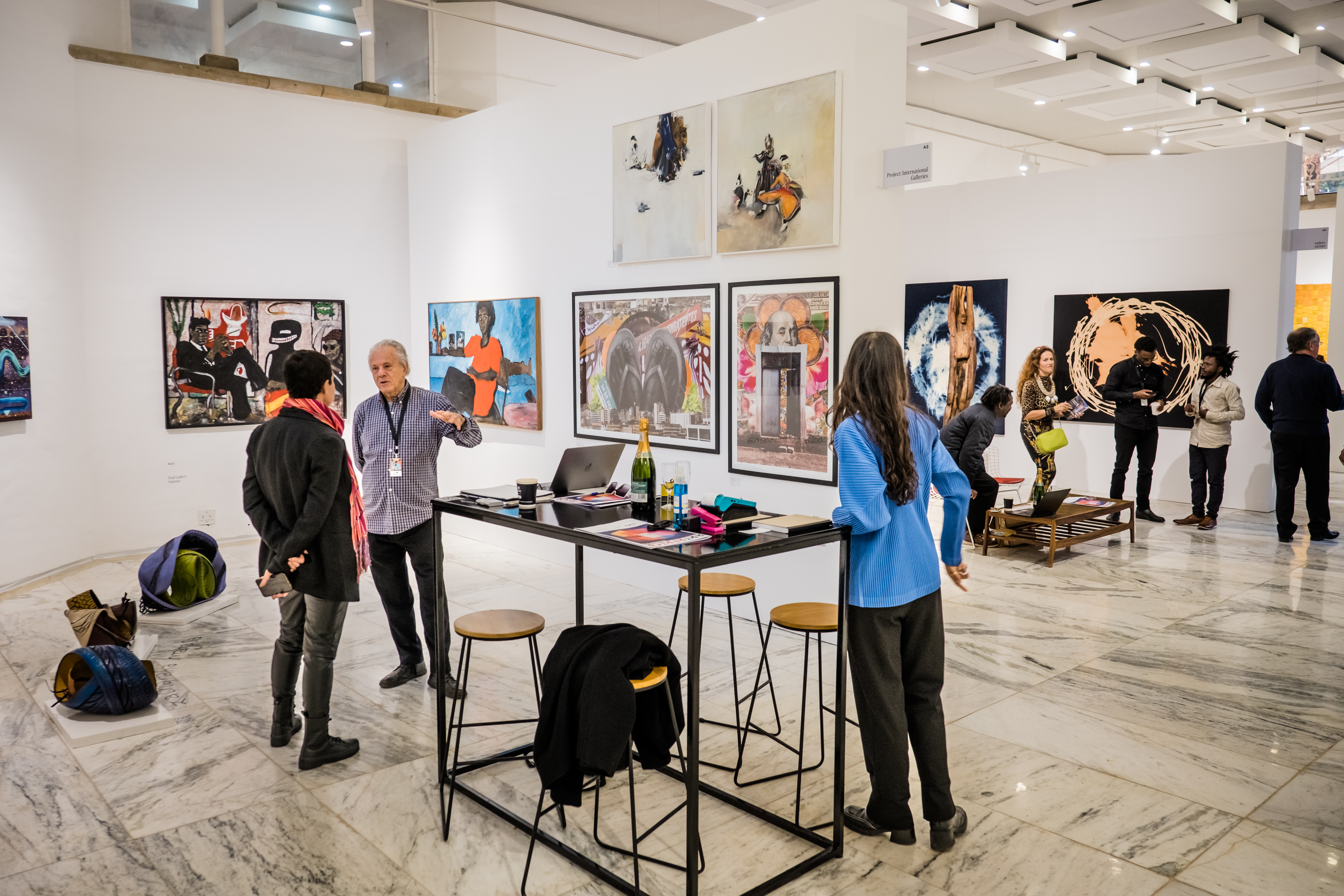 RMB Latitudes Art Fair, 2023, photograph by Alexander Smith
4. Membership
How is my monthly payment plan activated?
Once you've chosen a payment plan, we will share a link to facilitate setting up your monthly debit order with us via our secure online payment platform, PayFast.
Can I change the plan I'm on?
Yes, you are free to change your plan at any stage.
What is the duration of my contract and how do I cancel/change my plan?
If you are on a monthly debit order, then we need one month's notice. If you are paying annually, then we will cancel your renewal with us for the following year. If you would like to switch from a Paid Plan to a Commission plan, please get in touch with us.
I am having trouble submitting my items, can you help?
The Latitudes team is always ready and available to help. Oftentimes issues may be related to image files, so please ensure they are smaller than 2MB, less than 60 characters in length and contain no special characters. Also please try logging out of Latitudes Online, closing all browser windows and then logging in again directly from our Home Page.
If that doesn't work, please email us on info@latitudes.online and we will help. When submitting your query, please provide as much detail as possible (screenshots of the problem work best) so we can find the right solution for you in the shortest possible time.