Sadie Clayton's Positive Vibrations
Getting to know the UK artist in 10 Questions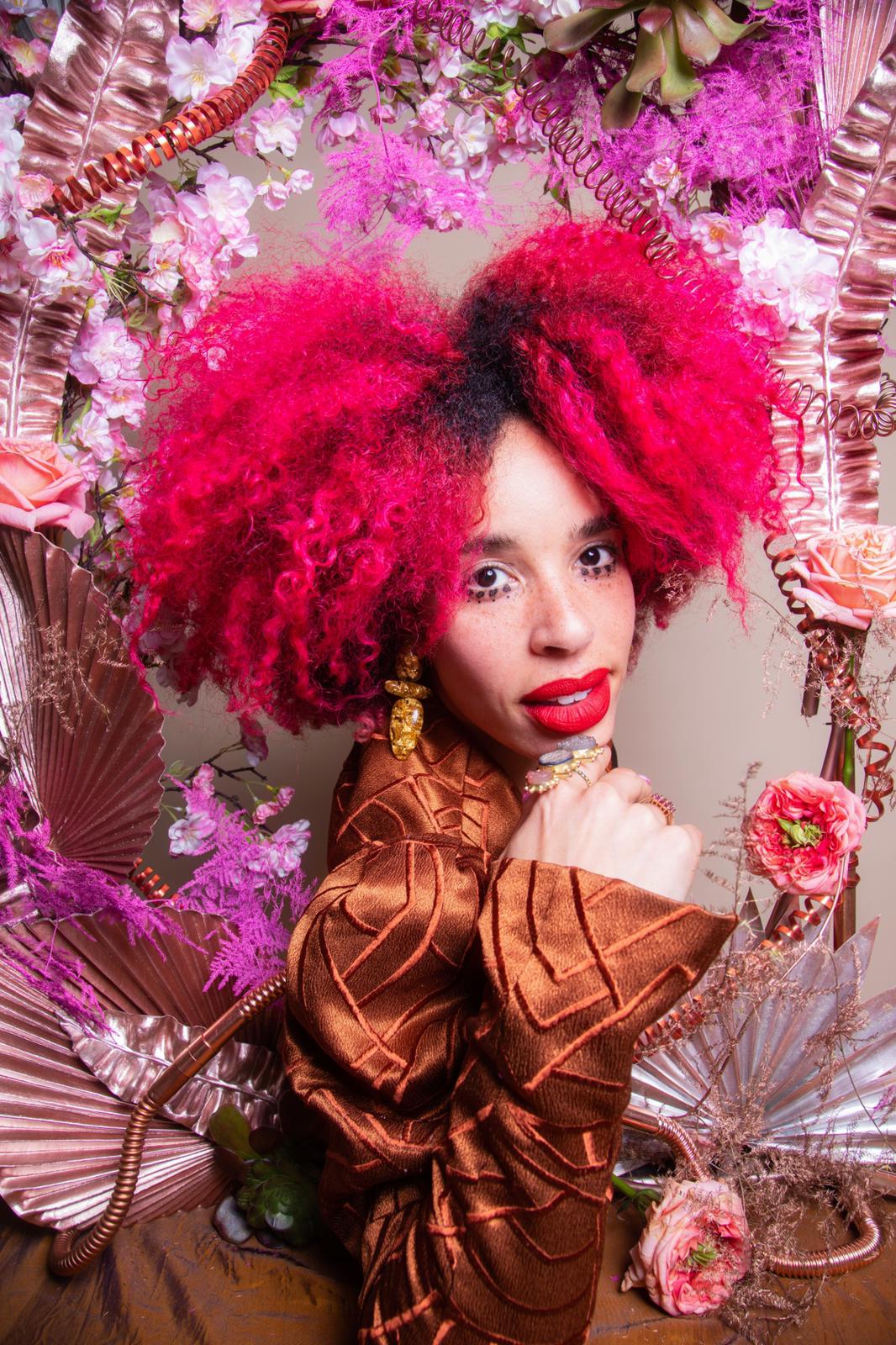 Boundaries between disciplines are merely a suggestion to artist Sadie Clayton; one that she relishes ignoring. Her creative career started in fashion, and merges art, design, tech and AI. Each of her projects seems more interesting than the last: in 2019 she was the first artist to collaborate with a robot. The shining thread between all of her endeavours is copper, her chosen material to express her ideas whether wearable art or an outdoor installation. Later in the year, Sadie will visit South Africa to participate in the NIROX Artist Residency outside of Johannesburg where she'll no doubt be inspired by the natural wonder of the grounds. Ahead of her trip, we asked her 10 questions to get an overview of her practice and her copper connection.

1. How did your career change when you went from identifying as a fashion designer to seeing yourself as an artist? 
I'd always fused fashion and art together so the career change was very seamless and happened organically. To me fashion is art and the only difference was my canvas; it changed from being the body to the universe. My creativity was unlocked and lots of opportunities that had been unreachable, being a creator just for the body, clicked into place. I had found my real home.
2. What excites you about working at the intersections of art, design and tech? 
There are no boundaries. I'm naturally curious and drawn to exploring the benefits of the nexus between art, tech and design, asking the questions and finding ways to collaborate with others to find the solutions.  I'm a big believer that tech can enable us to live better lives if harnessed in a conscious and inclusive way and interpreted through art to bring those benefits to the greatest number of people in a beautiful, interesting and sometimes challenging way.
3. What have you learnt about copper through working with it? 
Copper like me is ever-changing, ever-evolving. It reacts to its environment whether that's just with a play of light, or through oxidisation with water/air. As a natural element it is very organic. Dependent on its gauge it can also be very malleable and delicate – it's like gold but with positive energy built in. Copper is antimicrobial and viruses only survive 46 minutes on its surface in comparison to other surfaces where they survive several days.  It's a spiritual conductor – repelling negative energy. In ancient civilisations it was used for its health benefits.
4. Will you always work with copper or are intrigued by other materials?  
Copper is my primary preferred means of expressing my creativity but I would never rule anything out. I love that I'm one of the few if not only female sculptors working with copper, the mental and physical benefits it can bring to a society is very inspiring.
5. When do you feel most creative?  
My mind is pretty much going nonstop and as I am very inspired by the concept of headspace and creating personal moments for reflection I have become good at being creative in strange places even filled with noisy people. But I'm at my best in the morning and after meditating which I started before lockdown and kept practising during the last 18 months.
6. How does spirituality inform your practice? 
It's a really big part. I've always seen my creativity linked to our holistic journey whether in fashion or now in my sculptural journey and I am a strong believer in our connectedness to nature and the universe.  Even my choice of copper seems to have drawn an element of positive energy together with my own strongly positive and optimistic character. One of my latest and biggest sculptures was installed for the public to feel rejuvenated and uplifted when interacting with the artworks.
7. Where do you work? Can you describe the space?
I have a studio in London where I create most of my pieces, though it depends on commissions. My studio is very small, very creative and very coppery! If a piece is really large or complex then I may work with others in spaces that are more adaptable. In my studio I'm surrounded by my tools and my art so there's a great vibe. Whoever visits me in my studio always says how it's such a cool space.
8. What can you not work without?  
Music. Music fuels my frequency. I hate silence! I never understand people that do the vipassana practice! I need to sing along, I need to hear a beat, if I can't dance I need to tap my foot! It enhances my creative energy.
9. What do you hope to explore during your residency at NIROX?
As I said I am greatly inspired by the concept of headspace and where better to explore that than in such amazing surroundings. I love the idea of copper and nature living together. I can't wait to explore new forms, scale and weight during my stay at NIROX.
10. What are your biggest motivations? 
My purpose is to uplift the community, especially what we've all just lived through…everybody needs copper in their life whether they're interacting with it or wearing it.