MJ Lourens In Studio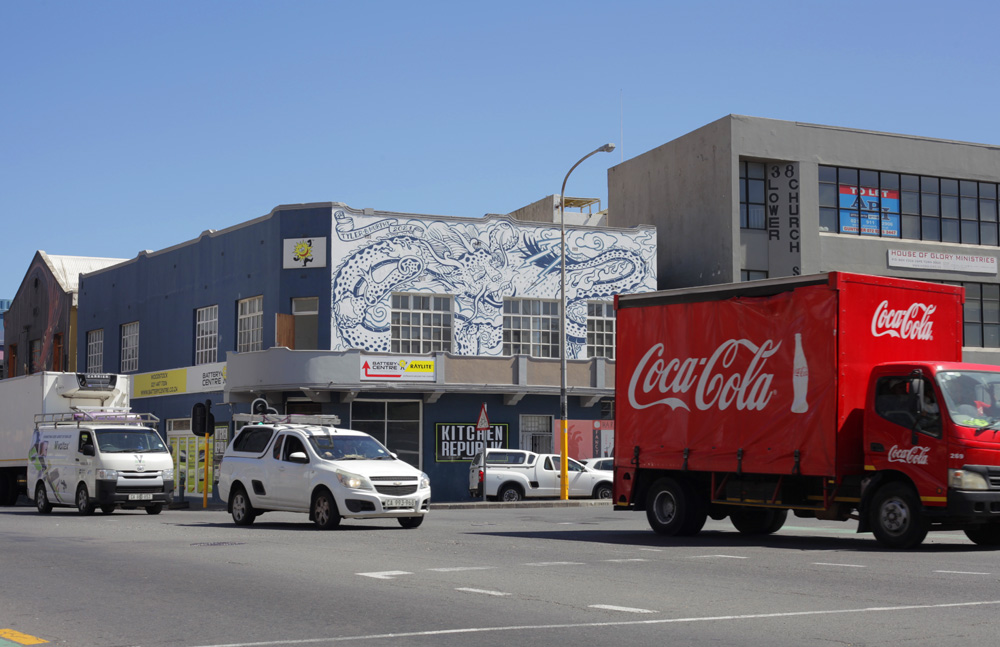 You might've already spotted MJ Lourens' studio in Woodstock. One storey up and wrapped in a striking mural of a writhing Tibetan dragon by Tyler B Murphy, it's hard to miss. Inside is altogether different; a calm space with plain white walls that puts maximum focus on the work at hand. MJ paints landscapes that seem on the edge of cities, from a vantage point looking at the tiny twinkling lights or from a highway out of town. They start as a gradient of colour that hints at a sunrise or a sunset though he's still unsure which.
MJ is one of the artists included in Invictus NFT Lab's Out of Africa collection. While his work is being sold as a digital NFT, the NFT acts as a certificate of ownership for the physical piece. We've been visiting artists in their studios where the burn of turpentine, the peel of masking tape or the gloopy mixing of paint are potentially the very physical beginnings of a digital token. Just next door to MJ is Kilmany-Jo Liversage and further down the stretch are Adele van Heerden and Abongile Sidzumo.
Seeing the beginnings and the finishing touches of MJ's beautiful vistas, we were naturally curious to ask a few questions.
Can you describe the energy of the space you work in? What does the space and its location mean to you?
My current studio is situated on a very busy intersection in Woodstock and that in itself is loaded with a great energy and dynamic. It is quite refreshing to take a break from the solitude which I'm painting and stand outside on the balcony to observe the hustle and bustle. I've been working in this space for close to a year now.
When you arrive in the studio, how do you get into a flow to start working on a blank canvas? 
For me it is very important to get changed into my working clothes. In doing that I have started already. Starting new work is very refreshing, but I begin by spending a large section of the day mixing colours with which I will attack a new piece.
What draws you to landscapes?
Landscapes are a kind of a mirror, without noticing humans per se. I'm drawn to the impact of endeavours and melancholy that people leave behind.
Some of your paintings are set in Cape Town and others have imagined elements to them - Do you think about where these cities are set?
Most of the time I'd like to create imaginary 'scapes that remind one of a place without being able to pinpoint its exact location.
Can you tell me about the time of day in your paintings and the importance of this?
I myself sometimes wonder what time of day I really depict. Whether it's dawn or dusk, the one thing that fascinates me is that it's on the cusp of the in-between; the border of light to dark and vice versa.