Adele van Heerden in Studio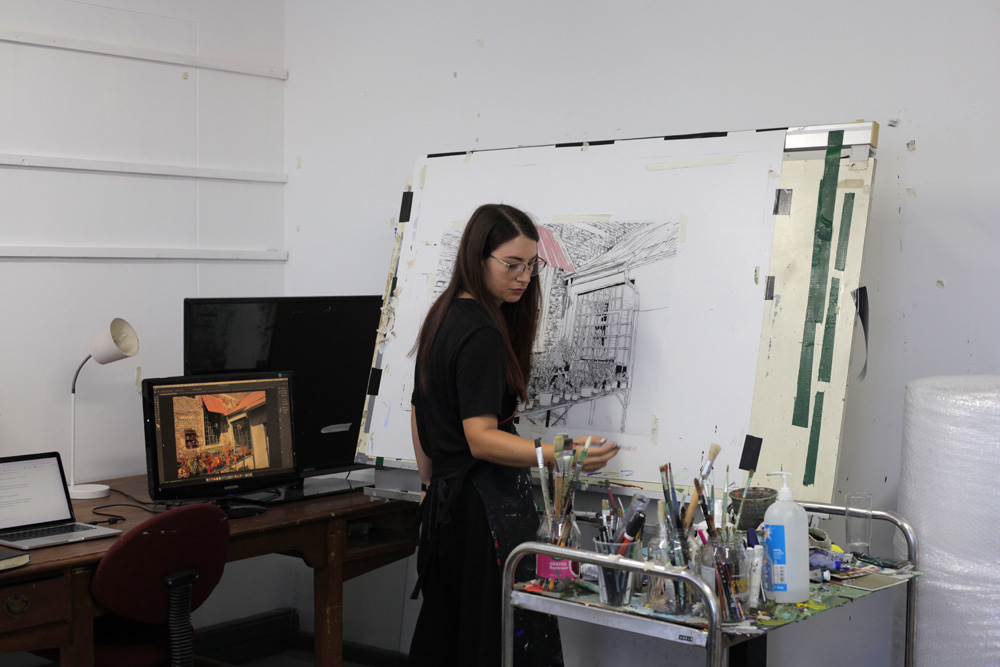 The sign outside still reads "Plumb Crazy House" but there's a props house, a few microbreweries and good coffee to be found at The Spice Yard in Salt River. It's also home to Sidetrack Studio; two floors of artist studios with a shared courtyard and rooftop access to an unadulterated view of Table Mountain. Artist Adele van Heerden's studio is the first at the top of the stairs as you enter. 
During lockdown, Adele encouraged friends and followers to send her photos of their experiences stuck at home for her to paint - a digital exchange of real places. What emerged were detailed and intimate images of interiors which she sold and donated the proceeds to charity. Her artwork, A Hot Mess is a look into someone's home: happy houseplants, puzzle almost done on the dining room table, dog on the couch. It's being auctioned as an NFT in Invictus NFT Lab's Out of Africa collection. 
Adele welcomed us into her studio that she shares with her dog, Vala, where she's working on an image of Victoria Yards in Johannesburg and trying to move away from green. 
Can you describe the energy of the space you work in? What does the space and its location mean to you?

Sidetrack Studio is located in Salt River on the very busy Voortrekker Road, wedged between scrap-, container- and bus yards. Our building has about 20 artist studios, and some other smaller businesses such as distilleries, caterers, prop companies and microbreweries. It's a vibrant microcosm of creativity. I feel very connected to the other artists there, it's great to have lunch together, visit exhibitions, and talk shop. We support each other however we can and we also do a yearly Open Studio event.

When you arrive in the studio, how do you get into a flow to start working on a blank canvas? What is your process?

I begin with the exploration and documentation of physical spaces as part of interacting with a new environment. This could be anywhere: on my way to the dog park, walking around Cape Town, hiking, or traveling away from home, I always have a camera on me.

When I arrive at the studio in the morning I'll usually start with a coffee and emails. Once that is done I'll start drawing and painting. Images are translated onto film through drawing and painting on both the front and the back of the translucent substrate. I'll usually start with the line work using fineliner, brush pen or charcoal. Then I'll turn the translucent paper around and start adding colour with gouache paint in the reverse-painting technique.

What draws you to interiors and architecture?

Architecture: I am particularly inspired by urban landscapes that incorporate greenery. I find the juxtaposition between the busy, urban settings and tranquil gardens and greenhouses very exciting.

Plants are predominantly represented in relation to built and human made environments such as greenhouses, large architectural structures, and also in intimate, domestic settings. I think there is an interesting tension between the plants and human-made structures.

Many architects and city planners are waking up to the benefits of working with nature, instead of against it. It's important to keep natural habitats such as wetlands, greenbelts and forested areas to help fight air pollution and support biodiversity. In this way we are "futureproofing" our cities to be more habitable and liveable in the future.The relationship and contrast, the push-and-pull between concrete, architectural spaces with greenery and wild spaces inspires me.

In the case of the interior scenes, the pot-plant in relation to the furniture and the rest of the home around it. There is something typical and intimate about its setting.

During lockdown my attention shifted from the urban to the domestic. Being home and confined to the indoors prompted a re-engagement with interior scenes. It was a good time to simplify my life, to figure out what is really important, and to reconnect with what it meant to be "at home".

During this time I put out a call on social media for images from the lives of friends and during their sheltering at home.This prompted an obsession with interior scenes that is still very dominant now.

What do you look for in a space to draw/paint? Is it the design, the mood, the light etc?

I consider my work to be autobiographical. I make work relating to my own experience, and I use drawing and painting as a vehicle for meaning-making. I have many folders on my computer with pictures from the last few years, and I'll often look back at them to a particular moment or place. I will then "relive" this moment by painting it, often a few months or years later.

How closely do you stick to references/do you enjoy changing things up?

I will often get quite creative with my colour use – looking at different colour combinations and planning this ahead of time. I might do a few things to it in Photoshop. In terms of the imagery itself I'm usually true to the original image which would be based on my photographs.