Abongile Sidzumo In Studio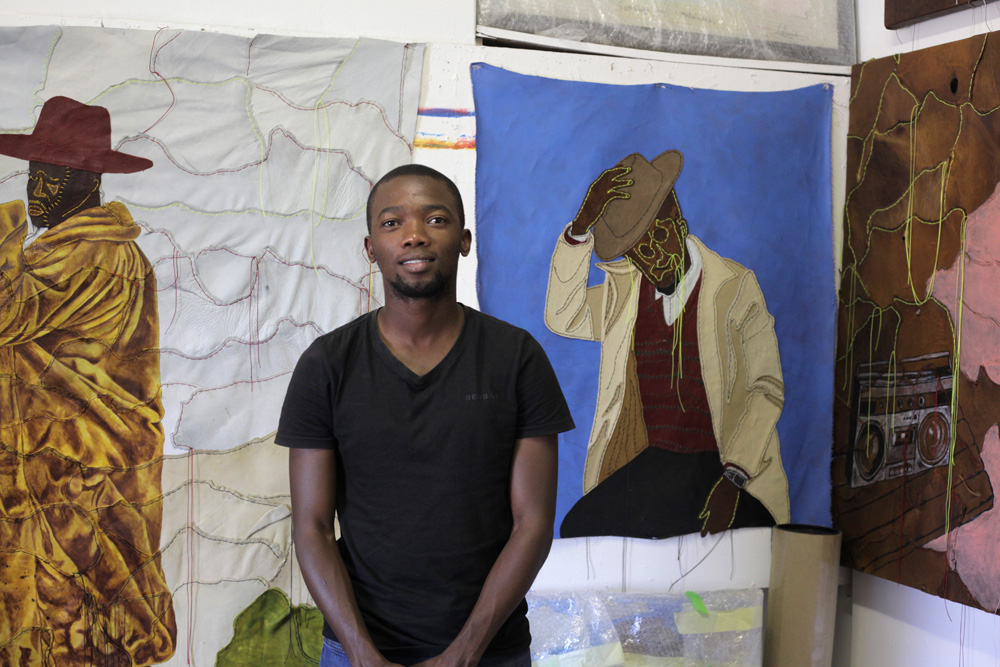 Artist Abongile Sidzumo, associated with curatorial and artist management studio Studio Nxumalo, calls his art practice 'painting with leather'. He creates breathtaking landscapes and portraits by stitching together textured pieces of leather which he dyes afterwards in different colours. Piercing the tough skin in meticulous stitches is repetitive, labour intensive work that understandably he needs to be in the mood for. There's a connection for him between stitching his pieces together and notions of healing the wounds of apartheid inflicted on Black communities in South Africa. His considered, meaningful work has won him art prizes, the most recent being the 2021 Absa L'Atelier Gerard Sekoto Prize. The trophy shaped like a bull sits high on a shelf overlooking his studio at Greatmore Studios in Woodstock.
Now the aching handiwork of Abongile's large works meets the digital sphere of NFTs through Invictus NFT Lab's Out of Africa collection. The NFTs for sale act as transferable certificates of ownership that allow the owners to have the physical artworks delivered to them if they wish. We visited Abongile in the flesh to ask about his practice.
How long have you been at Greatmore Studios? What does the space mean to you? 
It's been about a year since I've been here. I'm doing a one year residency at Greatmore Studios. There aren't really spaces like it, especially in Cape Town. I enjoy working with a community of artists where we can share ideas and have crits which is very important to my artistic practice. People come in and out — collectors and people who are interested in art. Greatmore has a significant history, established artists have been here, so I'm very happy to be in a space that has that history. It gives you hope for your own career.
What is your process when you arrive in the studio? How do you begin and get into a flow? 
It depends on my energy when I get to the studio. I always allow my intuition to take over and don't plan it. I like to start slowly. If I'm starting a new work I start by sketching and then doing the collages. If I have to do labour like hand-stitching I have to set aside a day for that when I'm in the mood to do it. It takes two weeks to work on the big pieces.
Where do new ideas come from for new works? 
Sometimes I have a concept before I begin the work but sometimes I just experiment in my studio. There's an element of play in it. Most of the ideas that I want to make at the moment are influenced by my recent visit to the Eastern Cape this December. I was in a rural area and the landscapes inspired me. Also seeing cattle and how people live in those spaces. So my inspiration comes from my everyday experiences, places I go to. I live in Langa and the materiality of the space informs my practice; how the houses are built and how people navigate through the space.
How do you decide who your subjects will be when making portraits? Are they people that you know?
Yes. These days we mostly don't have hard copies of pictures or albums so I look on Facebook and Instagram for pictures of people I'm friends with there. I like the idea that it's a collaboration with the people who have taken the pictures. When I like a picture I contact the person and start a conversation. It's good to represent your own people in these white cubes so they can see themselves there and own the narrative.
Please tell me about your materials (leather in particular) - why and how do you use this? 
I was interested in the idea of painting with found objects, making art in an untraditional material. With leather, I like the idea of stitching something that speaks to the kind of trauma we've experienced. The leather has experienced pain, it's been alive, it comes from animals that were slaughtered. This gives it a new life. Meaning is very important to me, and taking ownership of the narrative in whatever I'm trying to do. I want to make work that's honest to myself before anyone else.
Abongile is currently part of the group exhibition 'The Oasis', curated by Studio Nxumalo, at Hallmark House hotel in Johannesburg until the 31st of March 2022.