I equate my work to protesting | Q&A with Musa N. Nxumalo
Between 2006 and 2008, Musa N. Nxumalo studied photography at Market Photo Workshop in Johannesburg, where he first learnt he could make a living as an artist. Camera in hand, he followed his love for music and alternative culture into a niche punk scene in Soweto, to create what would become his first two bodies of work, Alternative Kidz and Anthology of Youth. His access to this unexpected world earned him global attention and solidified his passion for black and white photography and documenting youth culture.
Two of Musa's photographs are included as NFTs in Invictus NFT Lab's Out of Africa collection. They're selected from his 2017 series, 16 Shots, which proposed similarities between the energy and expression found through dancing in the nightclubs of Johannesburg and the swell of young protestors in the Fees Must Fall movement across South Africa.
Musa's most recent body of work, We Are Running Out Of Hashtags!, shown in 2020, includes portraits of Black men (friends of his) in a vulnerable light, in contrast to the macho stereotypes often placed on them. The black and white images were exhibited in juxtaposition with a video piece showing dancers vogueing at a queer event called Le Grand Ball in Johannesburg, with the idea to challenge the divides between cisgender heterosexual men and the queer community.
Putting his experience as an exhibiting artist to effect, Musa started Studio Nxumalo with partners as a curatorial and artist management platform. Through Studio Nxumalo, he and a small team work to represent artists they believe in, showcasing their work through regular exhibitions and offering mentorship through their own earned education of the art world.
We chatted to Musa about making work about youth while getting older, how his subject matter is inextricably linked with his lifestyle and how, ultimately, he views his photographs as a form of protest.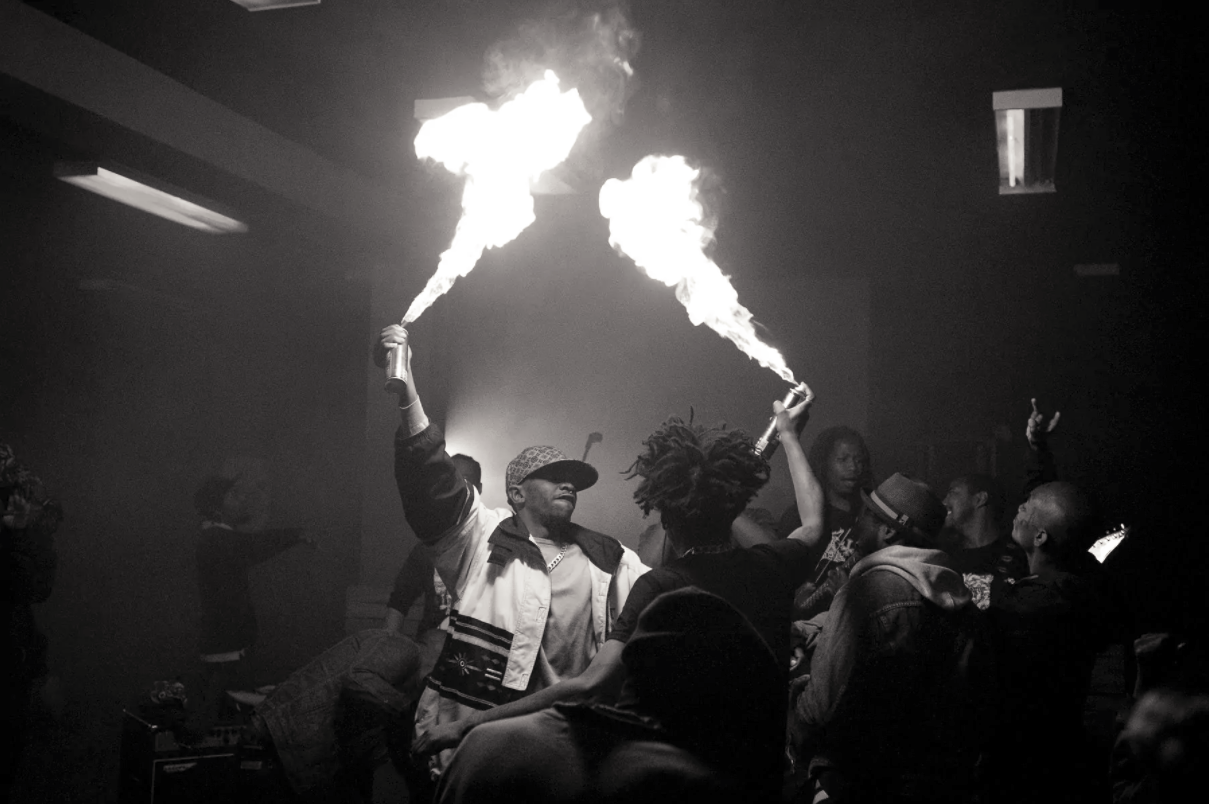 Musa N. Nxumalo, This is How You Start a Party!, Photographic Print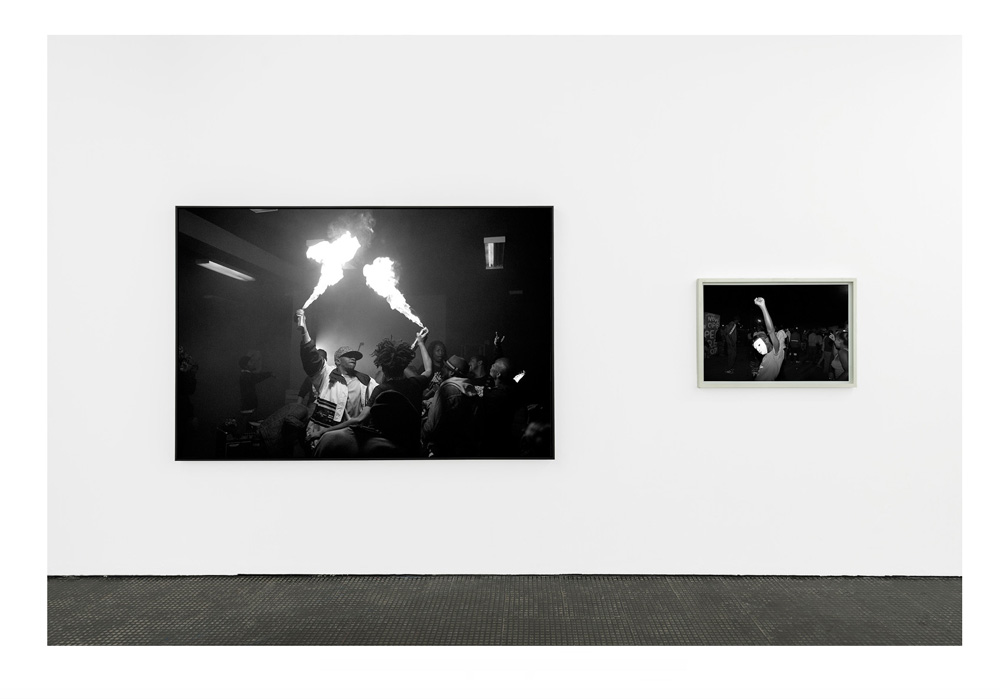 You have two photographs that are part of the Out of Africa collection. 'This is How You Start a Party!', and 'Wake Up, Kick Ass, and Repeat!'. Where and when were they taken, and what was happening in the world at the time?
Those two photographs come from one of my exhibitions, 16 Shots, I produced in 2017 at SMAC gallery in Johannesburg. I had documented the Fees Must Fall campaign, and at the same time, there was a series of police shooting Black men in America, which was causing much debate around the world. The exhibition played with this idea of protest and being in a club dancing. In the images, there's a question as to whether the people are dancing or expressing anger. The title 'This is how you start the party' could mean this is how you start a movement. There've been movements within pop culture that spoke critically of our socio political issues. Rap groups like N.W.A. in America were very much political. They would have a concert and then give a speech on the issue of police brutality among the Black community.
These two images were taken in one of the clubs in Johannesburg but in the greater portfolio were images from student protests. For a while it seemed like we didn't have a common struggle or a common goal together as youth in South Africa, like the youth in 1976 did. It was a very important moment when the Fees Must Fall movement happened. Because suddenly, I think young people in South Africa were able to strengthen their voice and say 'we are here, we are conscious, we are thinking about socio-political issues'.
Usually, what I would do is photograph alternative cultures around Johannesburg. For instance, my first body of work was Alternative Kidz; Black youth from Soweto who were identifying with alternative cultures like punk rock and goth. Fees Must Fall was a similar moment because here were young people on the street, venting, chanting, and wanting to fight for freedom to education. So I think that this exhibition, 16 shots, was kind of like a merging of those two movements.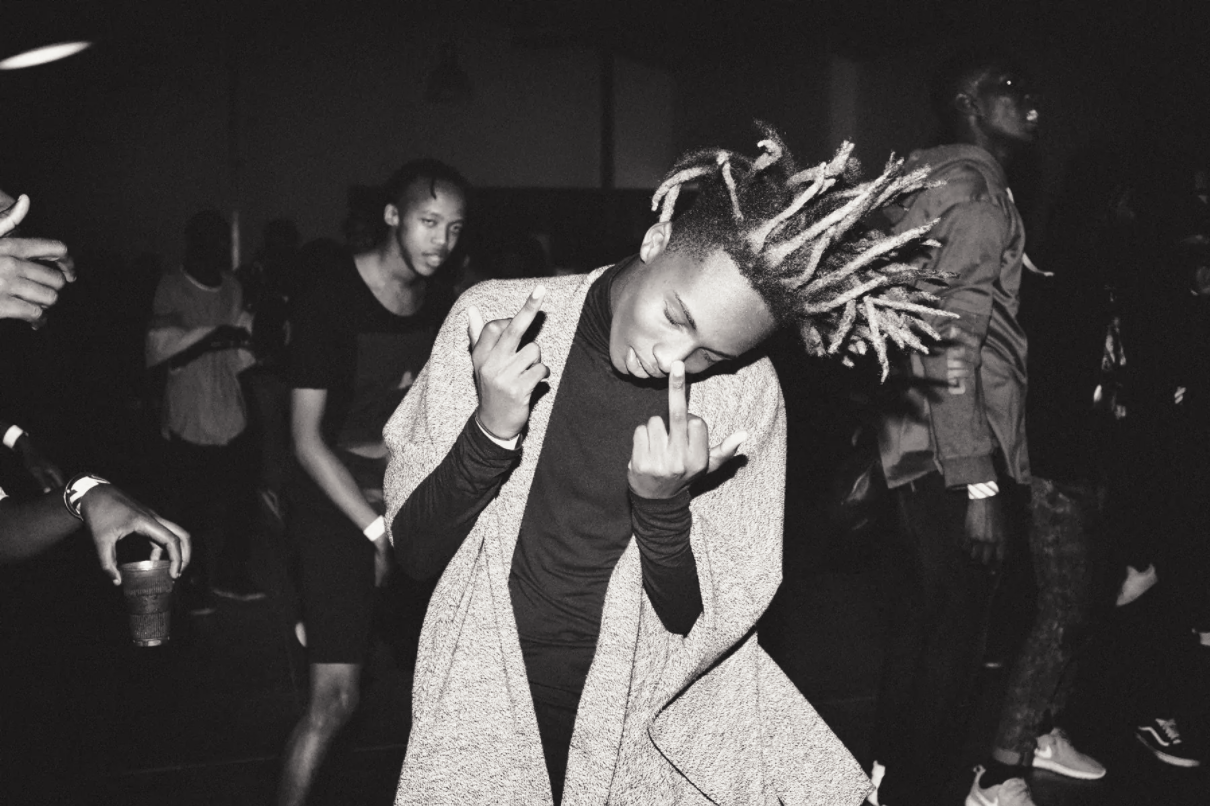 Musa N. Nxumalo, Wake Up, Kick Ass and Repeat!, Photographic Print
When you were shooting this series, were you thinking of it as a series, as you were going out and getting photographs, or were you first shooting, and then you realised there was a story there?
So I think the latter is more how I work. I never set out to create a project. With most of my work, there's a blurred line between it being a lifestyle and it being work.
How does your relationship to youth as a subject change as you're getting older?
I'm not sure if it has changed yet. And it's a very interesting moment, I must say. Because I'm thinking of that a lot. And especially about how I carry on with the work that I do. I don't want to create something that is outside of my lived experiences, for instance. Some of my favourite artists are people like Ice Cube and Kanye West, who are not youth by any stretch, but then the work that they do, and their voices, and their subject matter easily bounce off of youth discourse. And I think that's where I'm definitely going to go.
What draws you to black and white photography?
Oh, man. So it's a couple of things. While I was studying at Market Photo Workshop, I was introduced to the punk band Joy Division and the movie about lead singer Ian Curtis's life called Control. The movie was made by a photographer and was done entirely in black and white. That had a huge impact on me and my relationship with black and white image-making. Then there was also Hedi Slimane, the French photographer who is now the creative director of Celine. When I saw his photography set in Europe, I really wanted to create something like that in South Africa.
Those are two moments that really got me to pay attention, and to focus on black and white when it comes to my personal work.
Installation view, We Are Running Out of Hashtags! exhibition, 2020. 
Have your reasons for taking photographs changed since you started?
Yes, definitely. I think when I started, my interest was in the idea of journalism. And obviously, coming from a background where there was less exposure to these creative careers. So I was also, like everyone else after high school, looking for a career. But I knew I loved music a lot. And I loved alternative culture. And I think journalism seemed to be something that made sense. But then when I got to Market Photo Workshop I understood you could do photography as art. I see myself as an artist, working more as a protester. I equate my work to protesting more than anything. And I choose 'protester' very specifically, and not 'activism'. Because I feel that there's a different level between both titles.
What are you focussing on in your studies at Wits and is it related to your photography? 
I am interested in ideas around the complex issue of mental illness among Black men. I want to read more and get a better understanding of the complexities of GBV and femicide in South Africa; basically continue from the We Are Running Out Of Hashtags! exhibition.
We Are Running our of Hashtags! exhibition, 2020. 
Musa N. Nxumalo, Amandla Awezitabane, 2019
How do you identify the artists that you want to work with at Studio Nxumalo?
For me it's pretty simple. I need to believe you. I need to believe your work. So if you are a figurative painter, the fact that you are able to draw properly does not necessarily mean that should qualify. It's about what you're speaking about, your concepts and whether or not what you are doing is believable. We need to feel some form of originality in what you do.
Find out more about Musa's work in the upcoming NFT Lab auction at invictusnftlab.com