A Critique of pure Art: Lesego Moncho's Creative Index
A feature by Abongile VuliZulu Keswa on O mang? O tswa kae? O ya kae? curated by Boitumelo Maditshaba Makousu's exhibition, a participant of the 2021 Latitudes CuratorLab programme.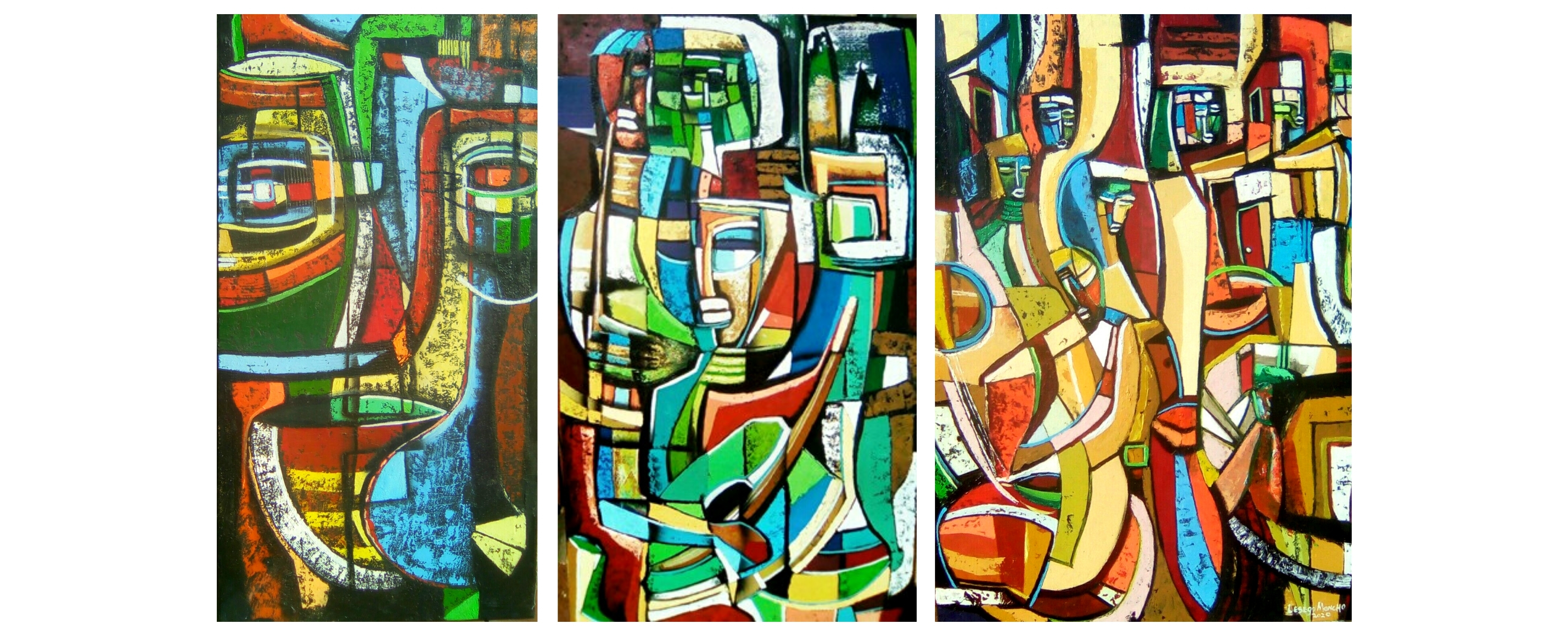 Lesego Moncho, The Calabash, The Harvest Quartet and Harmony (Harvest time), 2021, Oil Impasto on stretched canvas.
This piece provides a critique of the artistic-philosophical and spiritual cord into Lesego Moncho's creative index, based on my personal experience with the artist and having spent much of my time trying to analyse his creative soul on canvas. 
Moncho's cradle of creative expression is in his cottage in the rural semi-karoo landscape of Taung, famous for its archaeological discovery of the Taung Skull Fossil at Buxton in 1924. I've always defined Lesego's canvas as television, through which Moncho 'tells-his-vision' on canvas. Art is not foreign to Moncho as it runs through his veins and an artistic family that of profound musicians of note and multi-instrumentalists, such as the legendary Kidwell Moncho, uncle to Moncho. Lesego was mentored by his elder cousin, Thebeyame 'Magic' Dickson, the son of Kidwell Moncho.     
'O mang? O tswa kae? O ya kae? \\ My Cradle, My Story, My Heritage curated by Boitumelo Maditshaba Makousu, featured renowned South African Organic Ethno-Creatives, namely; Khotso Mahloma, Ndabuko Ntuli,  Ras Silas Motse, and Lesego Moncho. The exhibition embodied the overlapping shapes that allude to human emotions and the geometric patterns that create an episodic mood with a sense of 'emotional hydrangea'. 
Closely observing and appreciating the work of Moncho, a strong compositional balance and proportion of his work create a sense of finish and completeness since he's both an aficionado and enthusiast of art. His body of artwork is a contemporary translation which elucidates spirituality into creative expression. Beyond this interpretation, Moncho's artistic work is like an astronomical expedition, with geometrical patterns, textures, and colors as radiocarbon date into epistemology to define eumelanin and pheomelanin as predominant pigments on the canvas. His contemporary cubism style is a hybrid chateau of mirage with the most profound wit, and I am at liberty with my pen and ink to categorize him as knowledge architecture.  The architectonics in Moncho's artworks, allows the viewer to enter a dazzling and rhetorical cockpit into the unknown passage of a mystical-self cross-examination and emollient letter into the sub-consciousness. 
His combination of different pigments amongst which melanin, hemoglobin, and carotenoids produce the mystics and enigma, which is how his art represents the jilted and a forfeited constellation of emotions. Moncho's work without any doubt has the sheer harmonic pulse of experience and wonderful boundless intuitive essence. He is the master of chromatic textures, overflow of tonal scales, and glossy undulating colours in crystallography of soft musical tempo.  
Moncho's recent signatures works (2021), featured in the exhibition can transform the imagination of the viewer with Iridescence and a Pearlescent state of collaborative illusion. Moncho is not a synthetic artist, nor his artwork is non-fiction, but a state of brooding is a signature of dreams and memories. 
Click here to view Boitumelo's exhibition, O mang? O tswa kae? O ya kae?.