Useful tips for Exhibitors
------------
Latitudes is the largest online marketplace dedicated to art from Africa. Our team markets your work to a broad international network of buyers, from collectors to corporates, interior designers and trade professionals. We use email marketing, SEO, social media, advertising, custom order enquiries and other means to connect you with buyers. Here are some useful tips from our experienced team of web masters and curators on how to reap the rewards of your artwork listings.

RMB Latitudes Art Fair, 2023, photograph by Alexander Smith
Maximising your membership
The tools at your disposal
Latitudes Online features
At Latitudes, we believe the more you put in the more you get out. Our statistics show that the most active profiles receive the highest page views and enquiries. It is important to your success on the platform to regularly add new works and keep your page up to date. Recently uploaded works are reviewed for the following:
featured artworks in our weekly newsletter

featured artworks on our social media channels, 

featured exhibitors on our homepage and

artwork selection for the artworks landing page
Within your membership plan, one of the best avenues for this is to engage with the Shows Feature. These are frequently featured in our newsletters and social media pages and are a powerful tool to maximise works listed on your profile. 
If you are a gallery or organisation, we suggest working with your annual show calendar and uploading a selection of 10-20 artworks per show, along with any works from your inventory that could benefit by being displayed online. If you are an independent artist or curator, we suggest presenting a body of work in a similar fashion on our shows page or viewing rooms to draw more engagement to your listing. 
Latitudes in-house projects
Additionally, Latitudes runs a series of in-house projects in which we source and rely on works readily available on our website. Most notably, our Art Agency works with interior designers, architectural firms and corporate spaces to procure art for their projects or offices. Up-to-date profiles also allow our team to include your works when we are working on art proposals, curated catalogues for top clients and Latitudes bespoke arts features.
E-commerce functionality
Making use of the e-commerce marketplace on our platform is another wonderful tool at your disposal. Buy Now allows collectors to purchase artworks immediately on Latitudes Online, using our e-commerce functionality. Buy Now is only possible for editioned artworks and unique works that are solely listed on Latitudes Online. We require works listed in Buy Now to be located in South Africa for shipping purposes.
 It is important to note for exhibitors on a commission-free membership, that Buy Now sales incur a 10% commission charge to cover credit card fees and admin involved in the sale. Furthermore, the exhibitor is responsible for the price they upload and obliged to sell it at the most recently updated price when it sells online. All artworks submitted to Buy Now are subject to review by our team to ensure they fit into the above category.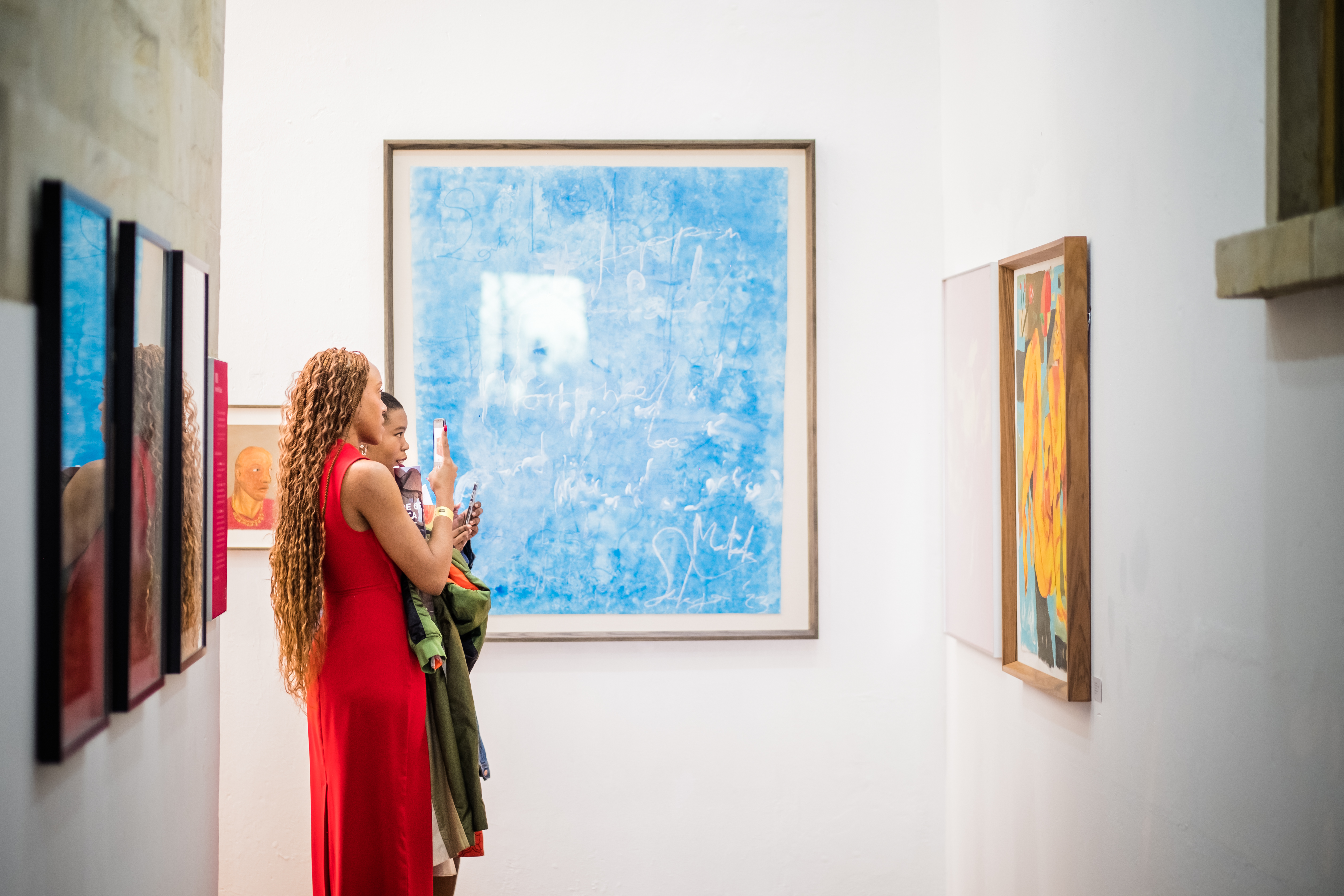 RMB Latitudes Art Fair, 2023, photograph by Alexander Smith
Marketing and Promotion features
The Latitudes editorial team offers Exhibitor Spotlight features and Featured Shows in our weekly newsletters, which we offer on rotation and included in your membership plan. As with new shows, you are also welcome to notify us of any new artists added to the platform that we can look to feature them in a similar capacity.
In addition, Latitudes offers a series of additional promotions for galleries, exhibitions and artists; such as our Online Viewing Rooms, Blog Posts, dedicated social media posts and more. You are welcome to review our offerings and rates here. We are always happy to accommodate you and work within the budget you have in mind.
Including Latitudes on your website and social pages
We encourage you to include the Latitudes logo and links to your website, social media pages and general programming. This offers viewers as easy direct to your page and drives strong engagement and accessibility.
Uploading works
If you are spread thin but would value assistance with uploading works to Latitudes, we provide a service for uploading artworks at a rate of R50 per work.