Where to See African Artists Around the World Right Now
Zanele Muholi, Ngwane I, Oslo, 2018
A guide to some of the African artists showing abroad this month and beyond in major shows and group presentations from Berlin to Miami...in case you happen to be there too.
Zanele Muholi | Gropius Bau, Berlin | 26 November 2021 - 13 March 2022 
Gropius Bau will host Zanele Muholi's first major survey in Germany. The visual activist has been documenting the life of Black LGBTQIA+ communities in South Africa for close to two decades. The show will encompass the full range of Muholi's practice from their earlier, lesser-known photographic series to recent work addressing sexual politics, racial violence, communal resistance and self-assertion. 
"Muholi's photography is not only a gesture of empowerment, but consistently challenges the heteronormative gaze while building a network of affinity and new pictorial histories. Series such as Faces and Phases and Brave Beauties have contributed to a growing visual archive that celebrates Black queer and trans selfhood, acting as a testimony of those who risk their lives to live authentically in the face of repression and discrimination."
Zanele Muholi, Bona, Charlottesville, 2015.
Zanele Muholi | Bildmuseet, Umeå University, Sweden | 27 November 2021 - 8 May 2022
Showing at Bildmuseet at Umeå University in Sweden, this extensive exhibition presents Zanele Muholi's career as a photographer and visual activist from the early 2000s until today.
"In beautiful and striking photographs, Muholi tells the stories of Black LGBTQIA+ lives in South Africa and beyond. Their work includes depictions of love and intimacy as well as intense portraits of people who risk their lives to live authentically despite oppression and discrimination. In the ongoing series Somnyama Ngonyama [Hail the Dark Lioness], Muholi turns the camera on themself. With references to family history and depiction of the black body through the ages, the artist stages themself, over and over again."
Mimi Cherono Ng'ok | Closer to the Earth, Closer to My Own Body | Art Institute Chicago | 18 June 2021 - 7 February 2022
Kenyan photographer Mimi Cherono Ng'ok's first solo museum show in the US is currently on at the Art Institute Chicago. For 'Closer to the Earth, Closer to My Own Body' she presents photographs and a film made across Africa, the Caribbean and South America. Her work is an exploration of how natural environments, botanical cultures and human subjects coexist and evolve together.
"Working with an analog camera, Ng'ok travelled extensively across the tropical climates of the Global South constructing a visual archive of images that document her daily experiences and aid her in processing emotions and memories. She tracked flowers and floral imagery across varied contexts—enshrouding the exterior of homes, emblazoned on bedspreads, encountered in nighttime flower markets—and a range of hidden associations. Some of the plants she pictures have been used as love potions or medicines, while others have been moved around the globe as part of histories of imperial or colonial expansion."
Portia Zvavahera | Ndakaoneswa murima | David Zwirner, New York City | 4 November 2021 - 18 December 2021 
'Ndakaoneswa murima' is Zimbabwean artist Portia Zvavahera's first solo exhibition in New York. The title of the show translates from Shona to English as 'I was made to see the dark side'. The exhibition will include all new works through which she continues to develop her subject matter: joining her dream worlds with her lived experience and daily rituals.
"Zvavahera expands her practice with new motifs and narratives, populated by symbolic creatures that become powerful conduits for interpreting her spiritual visions. This body of work also builds upon her interest in combining vibrant color with varied painting and printmaking techniques to produce intricate designs and delicate lacelike patterns across her vast canvases. Zvavahera gives form to emotions that manifest from other realms and dimensions beyond the domains of everyday life and thought. Her vivid imagery is rooted in the cornerstones of our earthly existence—life and death, pain and pleasure, isolation and connection, and love and loss."
Zvavahera joined David Zwirner in 2021.
Installation view: Meleko Mokgosi, Your Trip to Africa
Meleko Mokgosi | Your Trip to Africa | Pérez Art Museum, Miami | 28 February 2020 - 9 January 2022 
Pérez Art Museum in Miami presents a solo exhibition by Botswana-born, New York-based artist Meleko Mokgosi titled 'Your Trip to Africa'. At its centre is a large-scale, newly commissioned work created for the museum's 30-foot, double volume project gallery which references the 1966 film Unsere Afrikareise (Our Trip to Africa) by the seminal filmmaker Peter Kubelka.
"Mokgosi wields the traditions of Western European painting to deliver sharp political critiques relating to the postcolonial condition. Combining a high degree of painterly skill with a poetic, open-ended semiotic approach and a penchant for deep archival research, the artist shines light on some of the complex socioeconomic dynamics that animate contemporary southern Africa. Whereas traditional history paintings feature lofty subjects—military battles or climactic scenes drawn from ancient legends—Mokgosi elevates everyday, anonymous persons and common objects, setting them against mundane domestic contexts while inserting references that establish an array of subtle yet powerful suggestive effects."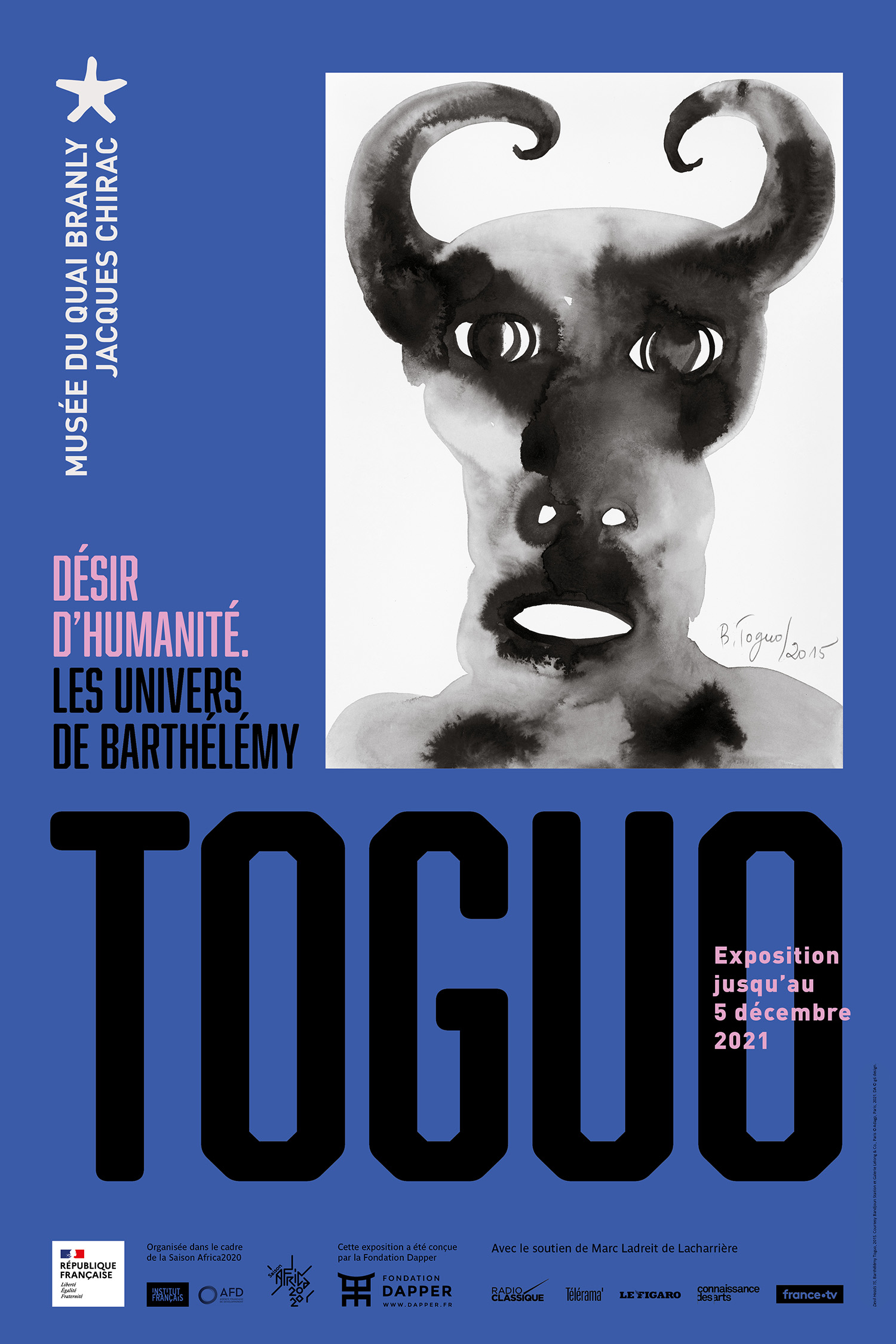 Barthélémy Toguo | Craving for Humanity | Galerie Marc Ladreit de Lacharrière, Paris | 7 April 2021 - 5 December 2021 
Presented by Fondation Dapper, 'Craving for Humanity' is a solo show by Cameroonian artist Barthélémy Toguo in Paris.
"Driven by the need to create in order to make statements, he designs works that respond directly to the upheavals of today's world (wars, abuse of power, immigration, famine and dangers). Using a range of techniques—from drawing, watercolour and sculpture to photography, performance and installation art— Barthélémy Toguo uses a range of techniques to ask us questions about our humanity."
Dale Lawrence | Broken Tools | Nuweland, Oosterzee-Buren, The Netherlands and online | 6 November 2021 - 8 January 2022 
South African artist Dale Lawrence's solo exhibition in The Netherlands, and online, asks: "Can an object exist without communicating anything?" The exhibition is a selection of works made over the past six years.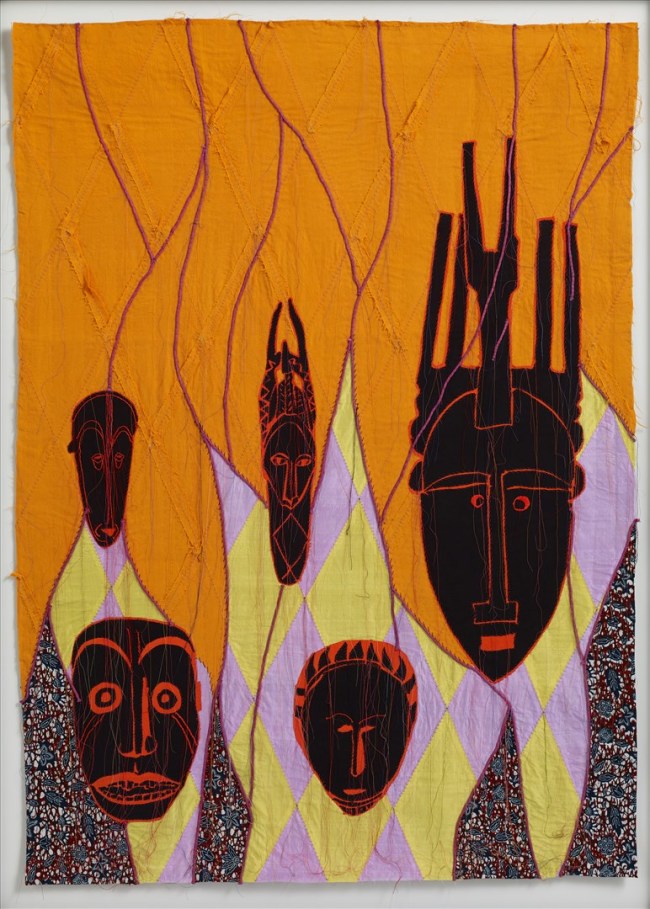 Yinka Shonibare, Modern Magic (Studies of African Art from the Picasso Collection) X, 2021
Simone Leigh | Eden Seifu | Thebe Phetogo | Thina Dube | Alteronce Gumby | Ryan Huggins & others | W Art Foundation presents Running: The New Contemporary | Qingdao Art Museum, Shandong, China | On view until the 5th of December 2021
W Art Foundation's current exhibition, 'Running', aims to showcase the cultural and ethnic richness and diversity in global contemporary art. The show, which features over 30 works, includes several African artists, including Thina Dube, Thebe Phetogo and Atanda Quadri Adebayo. Many of the participating artists are showing for the first time in China.
'Running' explores the cultural diversity and the array of creative powers of contemporary artists in the post-Internet era, bringing together paintings, sculptures, installations, and video works by established and emerging artists, while focusing mainly on painting. The exhibition will present various styles of painting, from figurative, surrealist, genre, Neo-expressionism, abstract, to conceptual, dadaist and realist. Through presenting artworks that—compared to those in the dominant Western canon—are lesser known to the general public in China, 'Running' aims to show a contemporary art history in-the-making, one that is becoming freer, more integrated, and more diversified. The traditional hierarchies and institutionalised stereotypes in art history are seen as broken through by the artists featured in this exhibition.
The exhibition is on at the Qingdao City Art Museum in Qingdao from November to December 2021.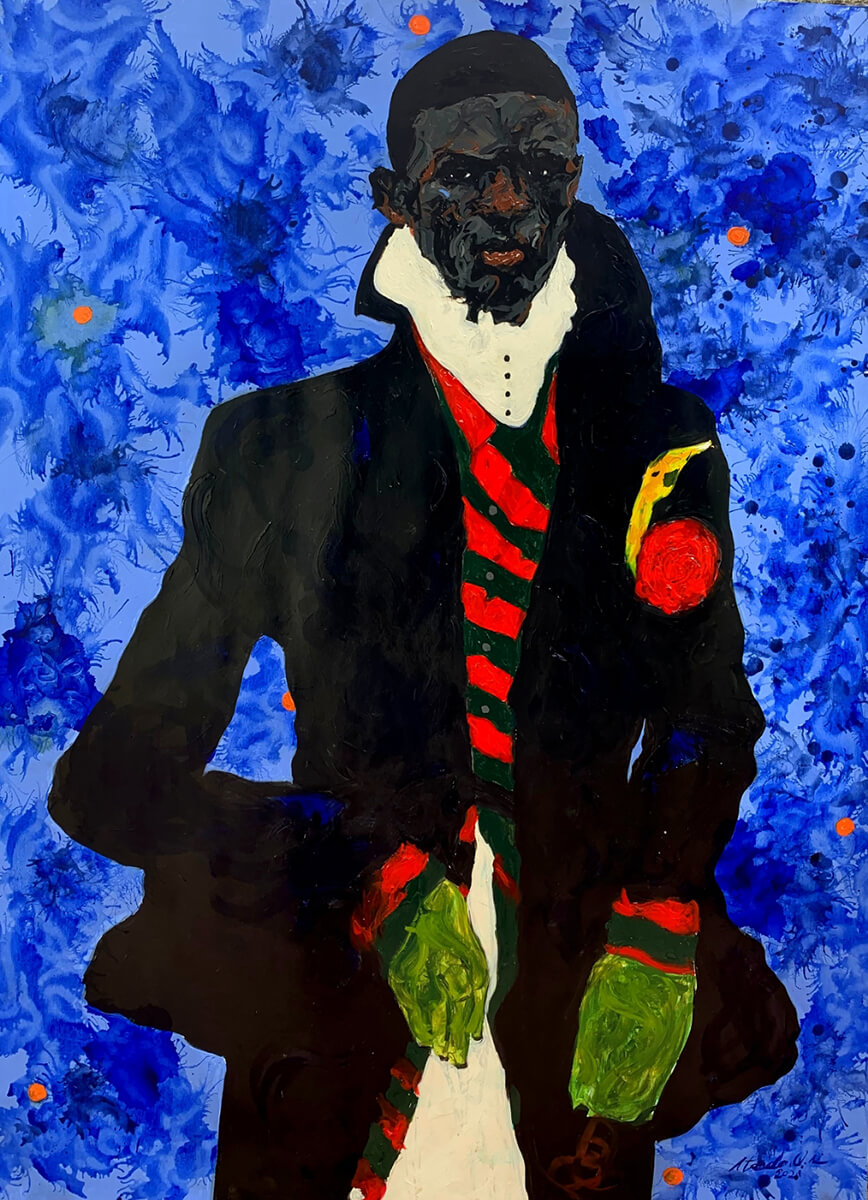 Atanda Quadri Adebayo, Classicman III, 2021. Acrylic on paper, 91 x 125cm. Courtesy of the artist & W Art Foundation.
Group shows: 
Summer Exhibition 2021 | Royal Academy of Arts, London| 22 September 2021 - 2 January 2022 
Ubuntu, a lucid dream | Palais de Tokyo | 26 November 2021 - 20 February 2022
Still We Rise | Curated by Black Women Photographers | PHMuseum online | 7 September 2021 - 24 January 2022 
Allied with Power: African and African Diaspora Art from the Jorge M. Pérez Collection | Pérez Art Museum, Miami | 7 November 2020 - 6 February 2022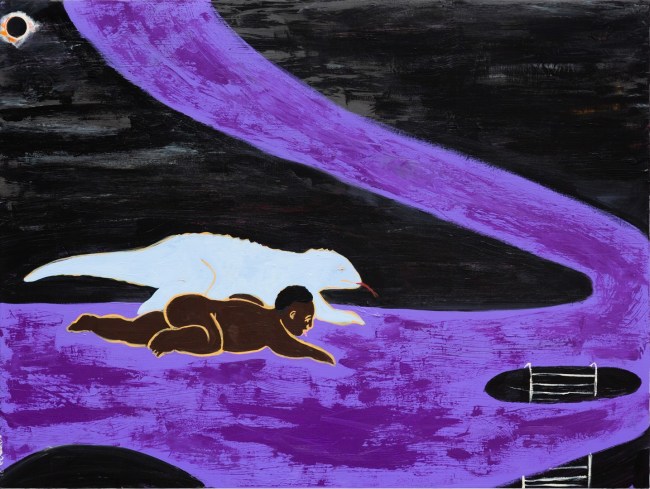 Cassi Namoda, Creeping with Ancestor, 2021