Where does African art stand in a New York city art frenzy?
New York played host to six art fairs and numerous auctions and exhibitions in May. African artists were at the periphery of the action. Should this be expected?
-----------------------------------
Installation view of the Lomex Gallery at the Frieze New York 2022 edition, which featured the work of Kye Christensen-Knowles, image courtesy Frieze
The sale of Andy Warhol's Shot Sage Blue Marilyn for a record $195 million at Christie's Spring Marquee Week in New York didn't simply affirm a strong market for this American artist's work – it bode well for the New York art week that was set to follow in May. A slew of art fairs was planned for that month; Tefaf, Nada, Independent, Volta NY, Future Fair, 1:54 New York and Frieze New York. The art world needed a boost, with worldwide headlines affirming that art could fetch mind-boggling sums in the face of tech shares plunging, rising inflation and economic uncertainty.   
Of course, there is a huge discrepancy between a public sale of an artist of such fame and the trading of contemporary art on the ground. There are only a handful of wealthy individuals around the world who can shell out such sums for art. Similarly, there are very few artists producing art that will ever fetch these figures, even hundreds of years later. You could argue that such high-valued public sales, which even make headlines on the African continent, misrepresent the art world and perpetuate the notion that it is located in a stratospheric bubble reserved for the uber wealthy. However, for those who are unconvinced that art might pay dividends for the mind and soul, these earth-shattering figures imply that buying art can lead to a pot of gold at the end of the rainbow. This proves very seductive. 
Installation view of the Company Gallery at the Frieze New York 2022 edition. image courtesy Frieze
Significantly, it is in New York at this time of year that such high-valued works are brought to auction – a significant Picasso was also sold - and all the major auction houses (Sotheby's, Philips and Bonhams) including Christie's offer their 'best' lots. Combined with fairs, clearly, May in New York is the place to be if art is your peculiar addiction. 
For those of us, embedded in small, nascent art centres in Africa, New York features prominently on our veritable vision boards, as the ultimate destination to buy or sell art. There is much research to back this up; year in and year out the recurring finding of the UBS/Art Basel Art Market Report suggests that the US claims the highest share of the art market. 
A cursory analysis of media reports, fairs, exhibitor lists, and auctions that took place in New York this May, show that African artists and dealers from Africa or those based elsewhere with a focus on African expression have a peripheral presence or visibility in the US art market. 
Is this a true reflection of Africa's position in the global art market – our continent doesn't account for even one percent of the art market share, according to UBS/Art Basel Art Market report 2022? Or is interest in African art waning, given western countries are finally recognising the black artists in their midst?   
If you perceived this year's Frieze New York as a microcosm of the global art market Africa claims a 1% share – of the 65 galleries that participated in this fair only 1 is African-based – Goodman Gallery. You could argue that Goodman Gallery has been working at shedding its 'African' identity, through its continued efforts to represent artists from other countries. However, they mostly showed works by African artists – William Kentridge, Sue Williamson, Ernest Cole, Mikhael Subotzky, Kapwani Kiwanga and Misheck Masamvu were among several American-based artists whose works were offered at the fair.
Goodman Gallery has made in-roads into the US market – via pop-up spaces and a modest gallery in the Hamptons. However, their focus – as is the case with most African-based galleries is on the London market, where they have a large gallery and a highly-visible presence.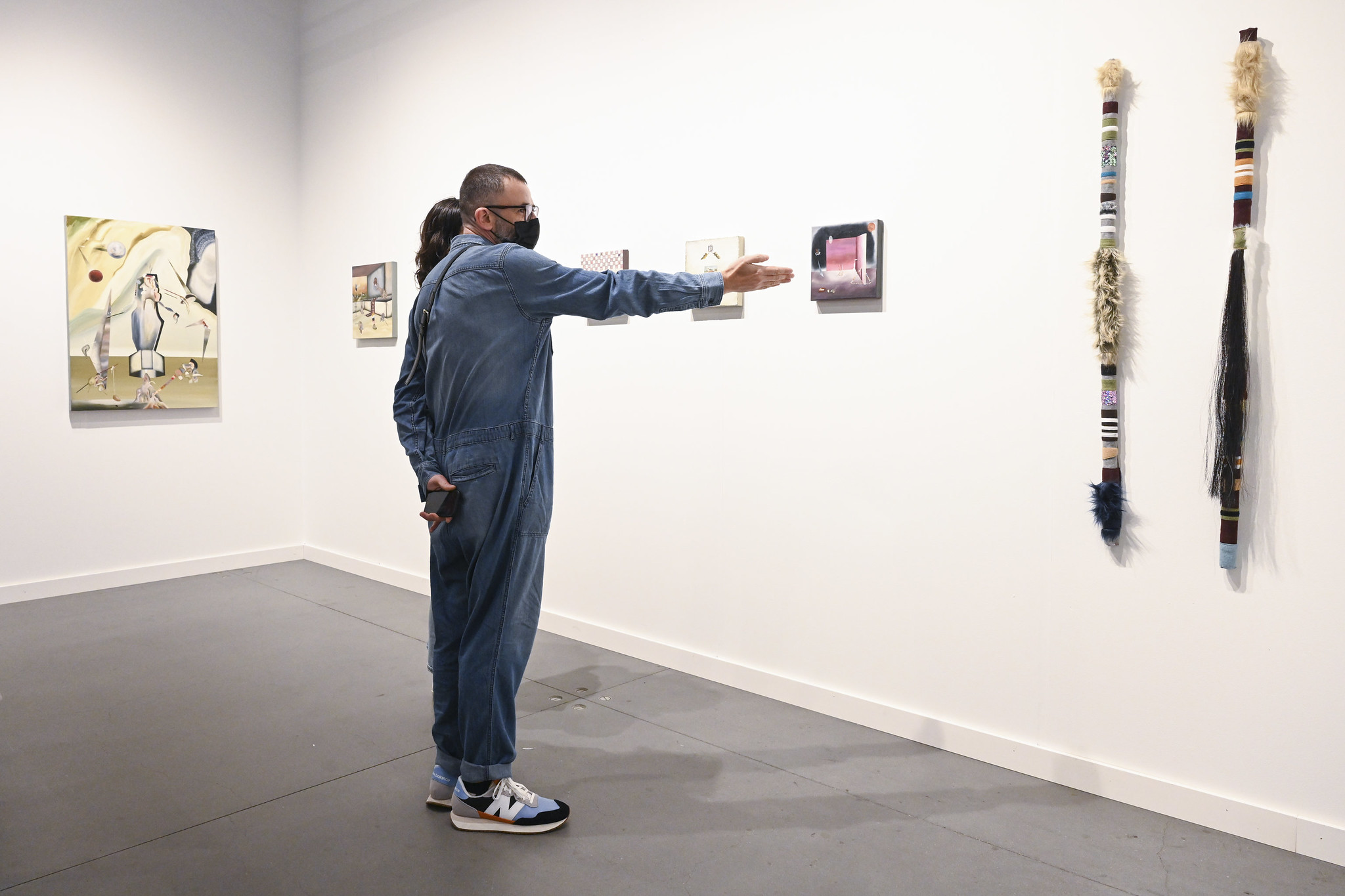 Installation view of the Sé Gallery at the Frieze New York 2022 edition. They are a Brazilian gallery. image courtesy Frieze
"It made sense for us to establish our space in London. Apart from being in roughly the same timezone as London, which makes it easier from an operations standpoint, it was also a logical outpost for us given the historic connection between South Africa and the UK. As a gallery representing artists who champion social change, much of our programme speaks to issues surrounding colonialism and its lingering effects," reflected Liza Essers, the gallery director. 
Goodman Gallery has the resources – and status, bolstered by high-profile internationally recognised artists – that enable them to participate in Frieze New York. However, that fair has shrunk in size by two-thirds and by all accounts is repositioning itself as a 'boutique fair', which its move to The Sheds at Hudson's Yard helped facilitate. With entry to this fair costing around $200 (R3000) the organisers appear to be angling for a niche audience. The Frame section provided a space for younger galleries, however, it was mostly Latin American or rising New York dealers that were able to take up this opportunity. 
There seem to be a few shifts in the global art market that are re-focussing buyer attention; such as the emphasis on female artists. The only noticeable trend that appears to have manifested at Frieze NY is the dominance of art made by women, according to Ben Sutton, the American-based reporter for The Art Newspaper. He suggested this trend also marked the auctions that took place in the run-up to New York art week, with one sale boasting 50% of its lots being produced by female artists. 
Despite this shift, which could well have been supported by the main exhibition at the 59th Venice Biennale being focussed on female artists – historical and new – several African artists' works made it onto and returned good results in the New York auctions. 
Amoako Boafo's reputation has been sealed in the US so it was not unexpected that his figurative paintings did well in the spring auctions – Tonica and Adia (2019) fetched $850 000 in the Sotheby's sale. A work by Boafo featured on the Christie's contemporary day sale along with those by African artists that have been achieving good figures in European auctions, such as Oluwole Omofemi, Godwin Champs Namuyimba, Aboudia and Isshaq Ismail. 
Africa's colonial history with Europe may bind dealers, artists, and collectors to that continent, however, as New York is perceived as the global art capital, good auction records and visibility (in museums and high-status galleries) here counts more than in London or Paris. At least this is the impression that is made in the trends swaying the Europe auction market focussed on African art – Aboudia, for example, only reached stratospheric sales after high records and visibility on the American secondary market. The same could be said for Boafo or Ismail. A number of artists have claimed (Athi-Patra Ruga, Cinga Samson and others) that their entry into the US market was off the back of visibility in Europe. As such, it appears that it is via Europe that African artists can begin to make in-roads into the US.  
African art remains connected to the US not only in art market terms, but in ideological or psycho-social ones. The link between the African-American population and Africa remains ever-present not only due to historical origins but black identity politics.  
Installation view of the Lubov Gallery at the Frieze New York 2022 edition. They are a New York-based gallery focussed on emerging artists. image courtesy Frieze
By staging the 1-54 Contemporary African Art Fair New York in Harlem this year, Touria El Glaoui, its director, appeared to be connecting to this community not only through the location of the fair, but via the inclusion of galleries, artists, and institutions in the environs. While Frieze New York has shrunk considerably, 1-54 remains modest in size – the same as its pre-covid iterations – around 27 odd exhibitors. Forty percent of the exhibitors are European based – only 15% (4 exhibitors) are African based and 33% are US-based. This implies that this fair is largely connecting European dealers to US collectors, but it has a distinctly African-American character shining through. Given 1-54 takes place in London, Paris, Morocco and New York, each edition should have a different, more localised flavour, bringing to light the dealers in each city that trade in high-quality African art or art linked to the continent in some way. 
With so many fairs on in New York in May, not only were collectors undoubtedly split but so were dealers – a number of those who you would expect to find at 1-54 such as Ethan Cohen and Out of Africa Gallery, took part in Volta New York and Suburbia and Kristin Hjellegjerde galleries participated in the Future fair. This could be read as a positive sign, particularly in such a stratified art market like New York, where each dealer, collector somehow finds their place in this large ecosystem. 
- Mary Corrigall is a Cape Town based art advisor, researcher and commentator