When the Ordinary becomes Extraordinary
Red carpet events, flashy outfits and celebrity status surrounded the opening of Zeitz MOCAA When We See Us. Beneath the fanfare was an exhibition centred on the simple joys of life.
- By Mary Corrigall
---------------------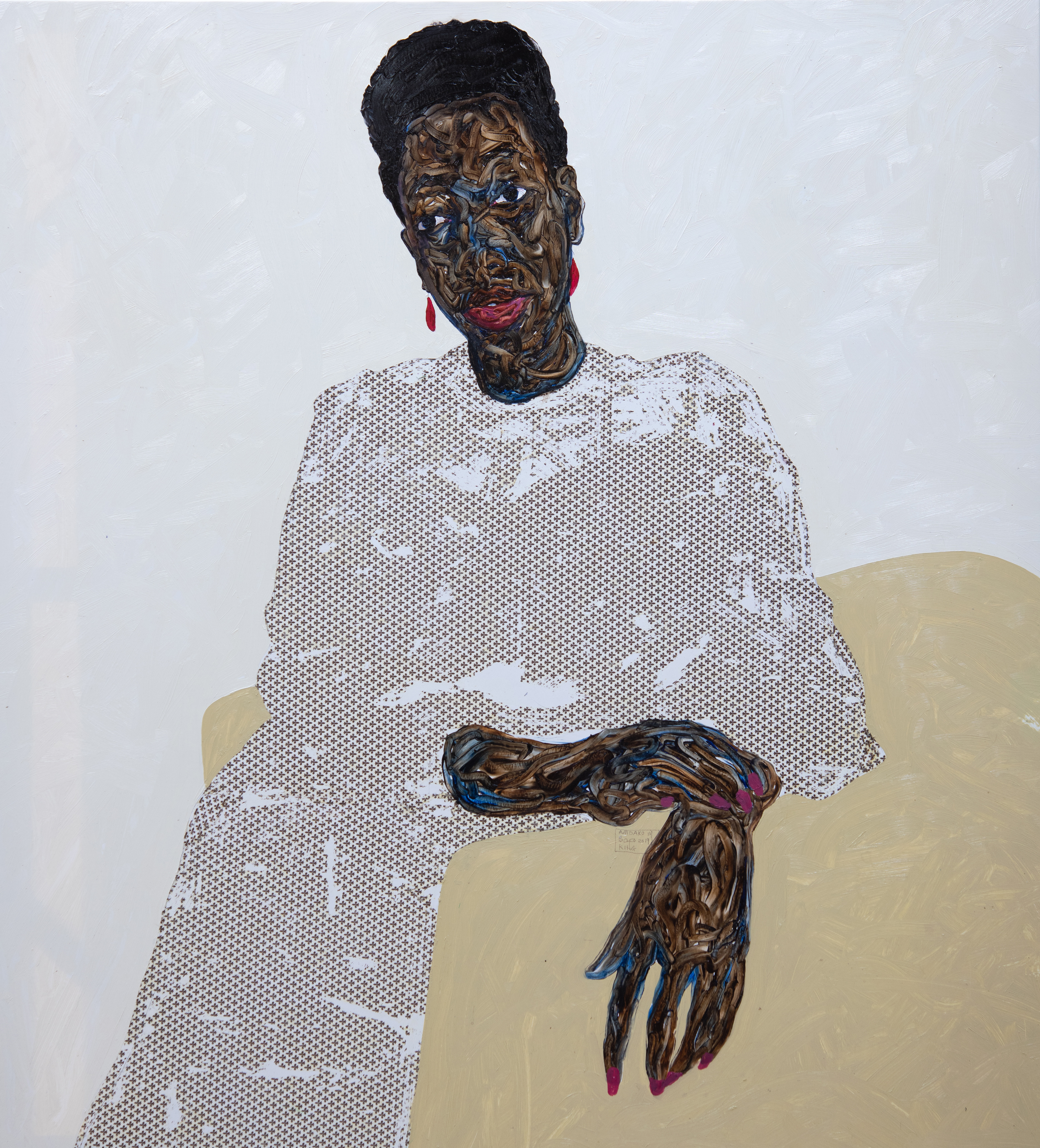 Amoako Boafo, Teju, 2019, Oil on canvas and mixed media, 170.2 x 154.9cm, Ⓒ 2022 Amoako Boafo / licensed by Artist Rights Society (ARS), New York and DACS, London, Theme: Repose
There hasn't been so much hoopla surrounding an opening of an exhibition than When We See Us: A Century of Black Figuration at the Zeitz Museum of Contemporary African Art (MOCAA) in Cape Town. With Gucci as a sponsor and a fundraising gala dinner and party attached to the opening a red carpet was rolled out and the usual suspects on the social scene popped up on it, alongside a few international stars such as British actress Gugu Mbatha-Raw – who was there to co-chair the gala and add a bit of Hollywood gloss. 
For this reason much of the communication in the run-up to the opening centred on who would be attending the gala rather than the art celebrities whose works were on the exhibition such as Amoako Boafo, Kehinde Wiley and Lynette Yiadom-Boakye among others.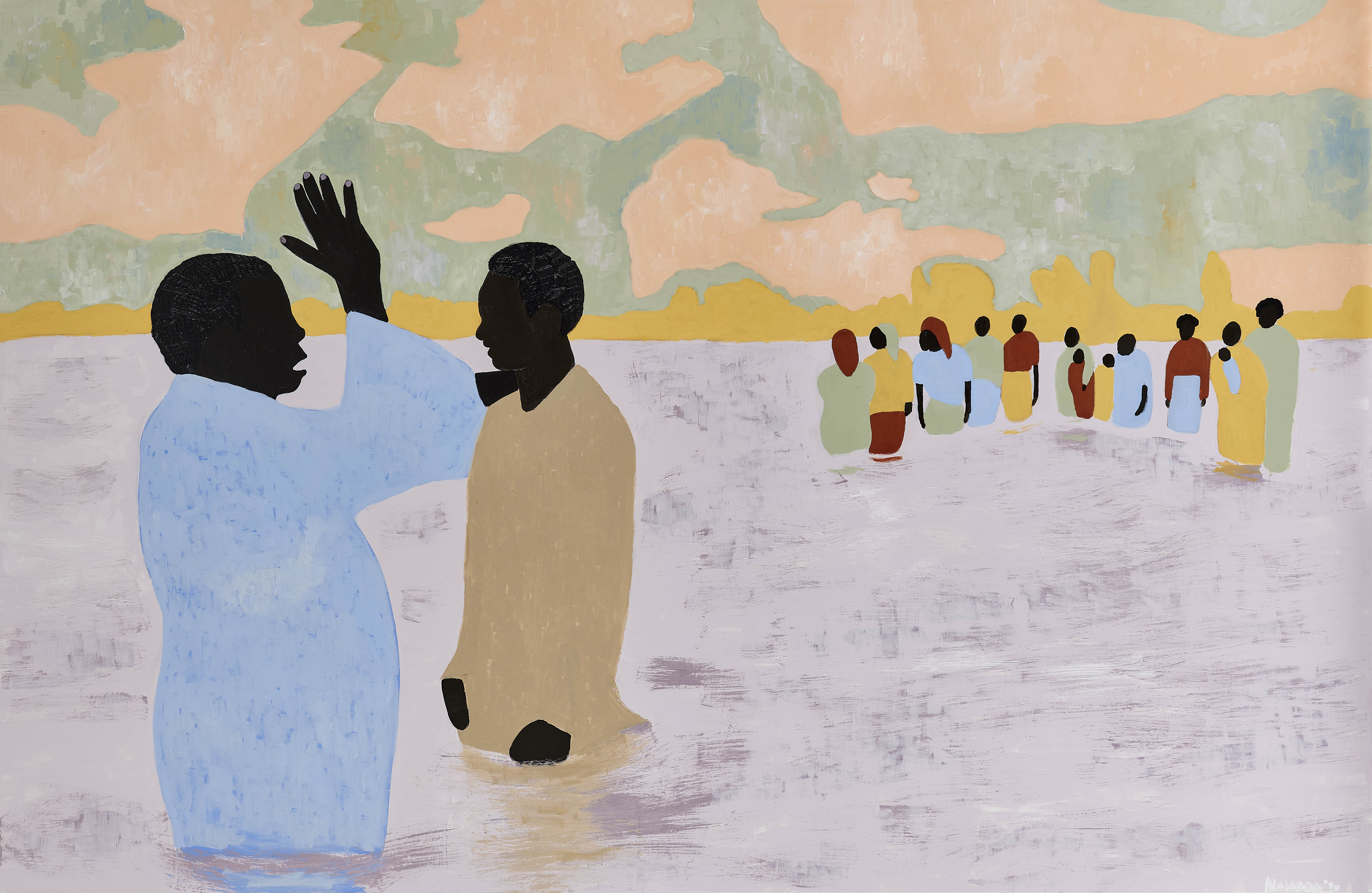 Cassiee Namoda, To Live Long Is To See Much (Ritual Brothers III), 2020, Oil on canvas, 152.4 x 233.6cm, Courtesy of Jorge M. Pérez Collection, Miami © Courtesy the artist and Goodman Gallery, Theme: Spirituality
As a result, the art and artists seemed of less importance to the events than the so-called celebrities and the exhibition appeared to be more of an expedient marketing tool that would align with Gucci and a new audience – young black professionals. In reality, this was no easy feat; there is a lot of admin involved in sourcing works and convincing 74 art collectors to lend works for this show. 
Inarguably,  When We See Us: A Century of Black Figuration, is a sexy show – the list of artists included is staggering in number – 156 – and it includes a high number of works by well-known African American artists that are hot in the US – Jacob Lawrence, Mickalene Thomas and Tschabalala Self among many others. Indeed, the stats on the exhibition that Zeitz MOCAA provides state that the majority of works are by American artists – and probably numerous other African-born artists that are based in that country.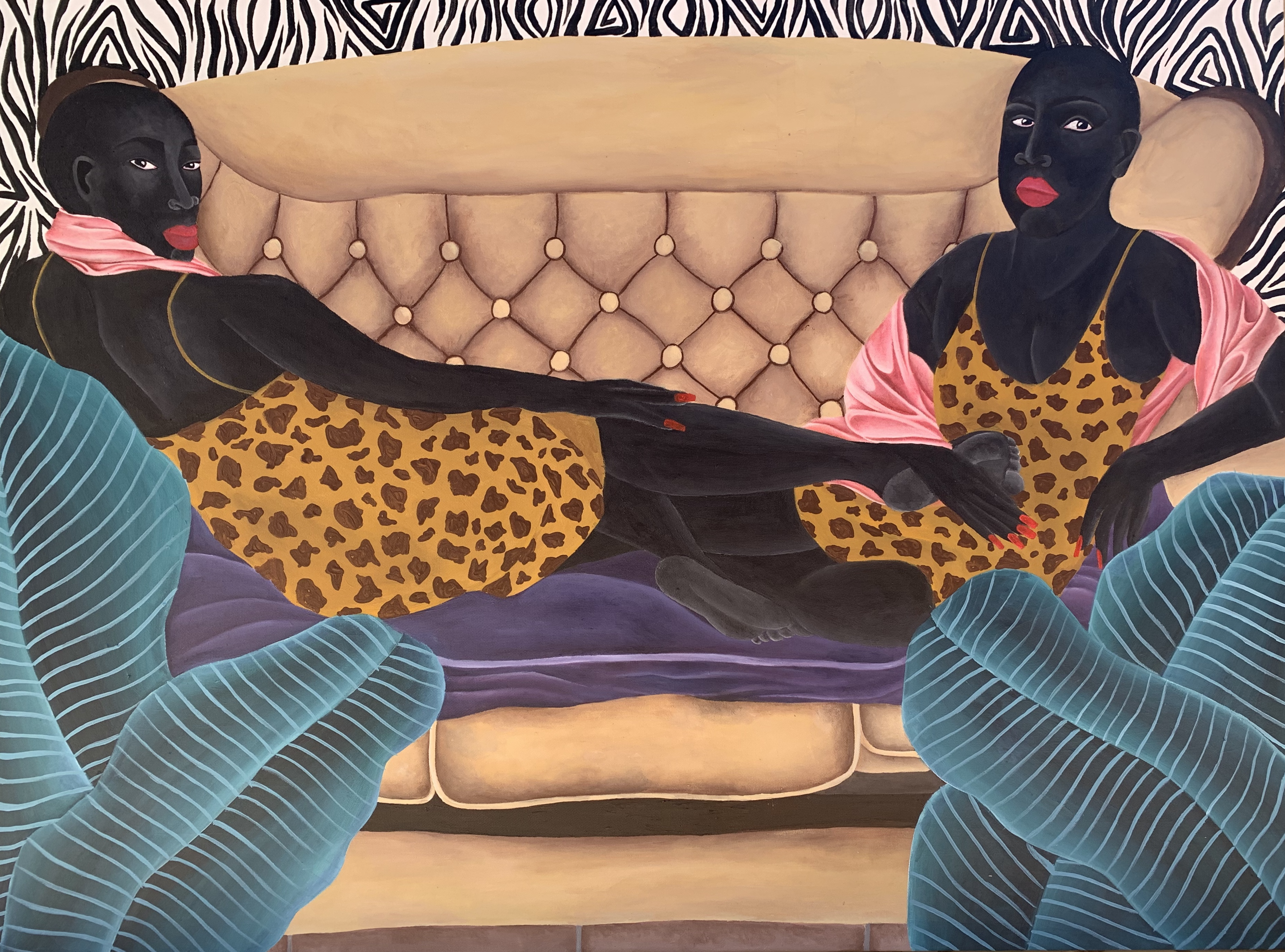 Zandile Tshabalala, Two Reclining Women, 2020, Acrylic on canvas, 122 x 91.5cm, Courtesy of Zandile Tshabalala Studio, Theme: Repose
You could call it a blockbuster show of sorts, though even due to its populist appeal it might not see queues lining up outside Zeitz MOCAA to see it. This may be due to the emphasis on who was attending the gala than educating South Africans about these American artists or perhaps it takes more than one splashy aspirational event to build foot traffic. 
If you looked beyond the title of the show and at the works and, of course, the participating artists, this exhibition at its core was centred on Portraiture, the black portraiture trend that swept across the continent during Covid-19. Curator, Kouoh Koyoh, also the executive director and chief curator at Zeitz MOCAA, perhaps wanted to avoid using this term as there have been some negative associations with it – such as lacking conceptual hoof (read vacuous) and more importantly, being market-driven.  
It has always been presumed that the roots of this movement shall we call it resides in the US and this exhibition proves this to be the case. However, in sidestepping the 'portraiture' term this point couldn't be obviously claimed curatorially in the display. 

Jacob Lawrence, Genesis Creation Sermon V: And God Created All the Fowls of the Air and Fishes of the Seas, 1989, Gouache on paper, 75.5 x 55.8cm, Ⓒ The Jacob and Gwendolyn Knight Lawrence Foundation, Seattle / Artists Rights Society (ARS), New York and DACS, London, Theme: Spirituality
It is to the benefit of South Africans to have access to works by such an acclaimed group of African American artists but also those that you might not have been aware of - such as Devan Shimoyama, whose work titled The Abduction of Ganymede (2019) is a highlight of the exhibition. With its glittered black subject in his rainbow-coloured body (alluding to the gay pride movement) riding on the back of an eagle this image embodies the spirit of this exhibition; joy, revelry and freedom. This image refers clearly to homosexuality and claiming that identity, which has been difficult in many black communities. Oddly, the work is located in a section of the exhibition under the 'spirituality' label – might its reference to Greek mythology serve as that link?
In an exhibition of this size, you need to group works under sub-themes to keep audiences engaged by feeding them some binding narrative through which to frame their journey. There are six themes, shaping this exhibition – The Everyday, Joy and Revelry, Repose, Sensuality, Spirituality, and Triumph and Emancipation. Expectedly, this does flatten the meaning of a lot of works, though at times Kouoh uses them to disrupt our perceptions of the theme title. For example, an impressive portrait of a man ruminating on a green valley by Toyin Ojih Odutola titled Surveying the Family Seat (2017) punctuates a collection of works under the 'joy and revelry' theme which mostly consists of paintings of crowds of people at parties, bars, and concerts. In this way, Odutola's painting is a more political statement on the topic speaking to ancestry, belonging, or even land ownership.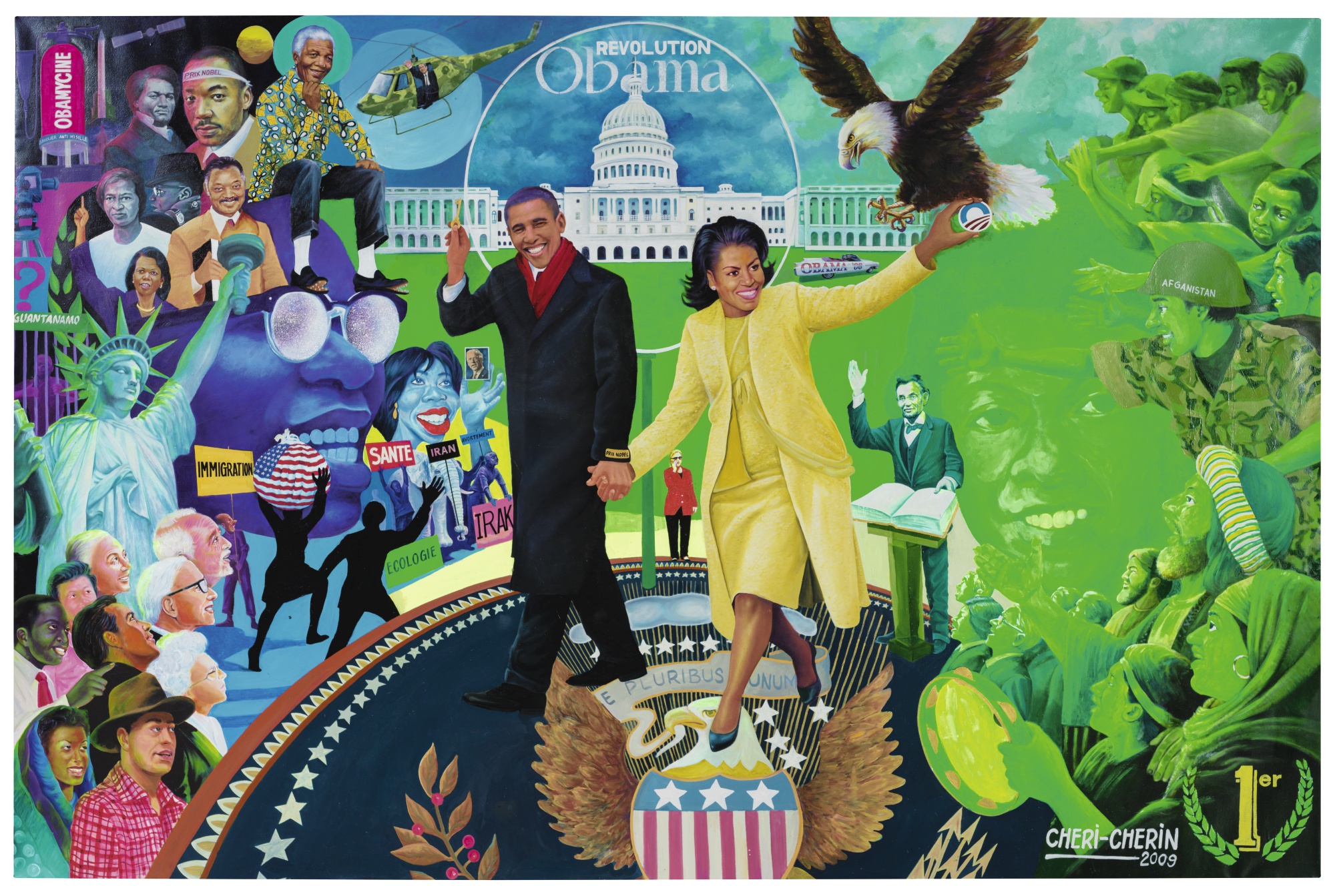 Cheri Cherin, Revolution Obama, 2009, Acrylic and oil on canvas, 200 x 300cm, Theme: Triumph and Emancipation
Does an artwork always have to have a deep meaning or make a political statement? With the emphasis on presenting the titular everyday scenes from works presenting people gathering at a marketplace, lying on a sofa reading a book, or two men playing chess or a couple lying in bed, there is a sense that in this exhibition Kouoh is arguing for the value of art depicting the ordinary, though often in extraordinary ways. It is the delivery that elevates the ordinary. Boafo's Teju (2019) is by no means an ordinary work despite it depicting ordinariness – a woman sitting on a sofa. 
Depicting black subjectivity doesn't always have to be underpinned by political or social intent – perhaps in its apolitical-ness it is political. By averting the burden of dealing with the white gaze, colonial history or racism this form of portraiture or figuration presents a reality beyond these weighty conditions or a pervasive supremacism or even overturning of it that infiltrates expression or our reading of it. Hence the title of the exhibition; When We See Us. See 'us' rather than what you think surrounds 'us' - is one reading of this title. 
Many of the works express an exuberance, an excess even in terms of colour, texture and, of course, pattern (as is the case with African art) and these characteristics are channelled through different modes of expression from a flat pop aesthetic, surreal expressiveness to hyperrealism – this exhibition is worth a visit simply to view the extraordinary triptych by Meleko Mokgosi titled Pax Kaffraria: Graase-Mans (2014). 

Gerard Sekoto, Portrait of a Woman, 1970, Gouache on paper, 52 x 35cm, Ⓒ Gerard Sekoto Foundation / DALRO, South Africa / DACS, London 2022, Photo by Dillon Marsh, Theme: Triumph and Emancipation
Kouoh is perhaps revelling and celebrating in the abundance of African art that is enjoying so much visibility globally (particularly in the US), while carving out a curatorial space where there are no conditions upon which blackness must conform to or perform. This can only be done in Africa perhaps. As such 'non-performance', a celebration of the ordinary takes centre stage. 
Not that there are no overtly socio-political works in this exhibition. South Africans will particularly enjoy Katlego Tlabela's Tableau Vivant III (2020) which presents a white butler waiting on a black man enjoying a swim in a giant swimming pool. Many young, lesser-known South African artists such as Tlabela are included in this exhibition. It is refreshing not to be confronted with the same artists over and over but at the same time it is disappointing that while the most celebrated West African, Nigerian, and American artists are included there are so few living (excluding Sekoto,Pemba) high-profile mid-career South African artists with works on the exhibition  - apart from Cinga Samson. 
The final section of the exhibition concludes with the theme 'Freedom and Emancipation' and does touch on liberation and its impact on subjectivity in the political sphere - particularly in an image depicting former president Barack Obama taking office in the US by Chéri Chérin. As this work suggests, and in line with the rest of the exhibition, the emphasis is not on a violent and traumatic battle but rather a light celebration that suggests a dawn of new era. 
Cheri Samba, Homage aux anciens créteurs, 2000, (Signed and dated), Acrylic on canvas, 135 x 200cm, Courtesy of MAGNIN-A Gallery, Paris, Theme: Triumph and Emancipation
Chérin's painting highlights this link between events in the US concerning African Americans and those on the continent. America's cultural dominance has assured a connection as has a history of slavery and racism. What does it mean for an exhibition on black subjectivity to be dominated by African American artists on the African continent? Does it further advance cultural dominance, paper over cultural differences or forge existing links? 
In keeping the focus on the ordinary moments of 'joy' – a sentiment Marie Kondo would approve of – Kouoh perhaps nullifies the need to question or explore cultural differences not only between Africa and the US but surrounding all the different nationalities of the artists represented on the show. African curators have been wanting to get beyond geography-bound curating for some time. Besides, after a sustained succession of solo survey shows at Zeitz MOCAA and the Norval foundation, a group show of any kind is a welcome reprieve in Cape Town. 
- Corrigall is a Cape Town based art commentator, consultant and researcher