Thrifting feeds into art of sartorially inclined artist
Tsholofelo Seleke stops in at Nadine Mathenjwa's Ellis House studio ahead of the Open Studio programme that is paired with RMB Latitudes Art Fair.
 ----------------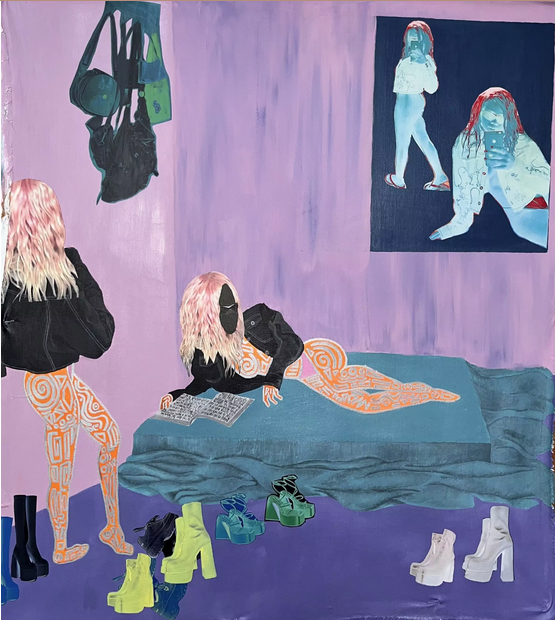 In confidence (2022) ) by Nadine Mathenjwa is made from, Acrylic paint x collage on canvas, CONTACT TO BUY
"The popping colours in my work are to show I don't want my narrative to be sad", proclaims Nadine Mathenjwa, a multimedia artist and fashion fanatic.  She uses fashion to communicate her sense of being, which also allows her to function as a living archive and embody resistance and spirituality.
Mathenjwa is one of the thousands of visual artists participating in the Open studios Joburg programme, which will coincide with the RMB Latitudes Art Fair. This is their biggest yet to date as it features 11 spaces full of artists' studios. The essence of the programme is for the public to have the opportunity to converse with artists, like Mathenjwa, whose studio is located at Ellis House – which features on the second day of the programme.   
The in-vogue multi-media artist uses mediums including collage, thread, acrylic paint and her first love; printmaking. These are utilized to create bold, colourful works that speak to her narrative as a young, African, cultured woman in modern society and reflect her sense of style.
She studied art at the Artist Proof Studio and upon her enrolment Mathenjwa found herself surrounded by artists and people that seemed confident in themselves and that encouraged her to start thinking in the same light regarding her appearance. As someone who grew up reserved and lacking confidence especially due to her dark skin-tone, this was an awakening of self-esteem and a positive sense of self, she says.  
Mathenjwa took an interest in fashion, thrifting in particular. This is a manner of shopping that focuses on second-hand merchandise popular with millennials and genZ. It has also sparked conversations around fashion sustainability. Mathenjwa's fondness for fashion and thrifting tied in with her growing into her identity.  "With good clothing..I'm that girl, you can't shake my confidence," she says.
Her work is an extension of herself, her family as well as her culture. This multi-layered thinking feeds into the materials she works with as well as concepts that drive her art. Crocheting is a constant motif in her work, which is a skill passed on by her mother. Her grandmother was more than happy to share her archive of crocheting magazines. For Mathenjwa, the motif functions as imagery to 'rope herself into positivity', centre the self, the black identity and the narratives of her ancestors. With the patterns in her work, especially on the figures, you cannot ignore the element of spirituality they seem to evoke.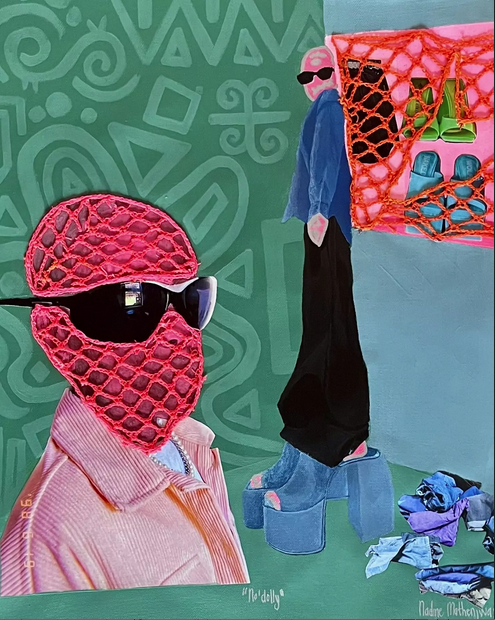 No'dolly (2022) by Nadine Mathenjwa is made from Acrylic paint x collage x thread on canvas, CONTACT TO BUY
Mathenjwa is unusually drawn to the things that exist beyond the physical world and what we sometimes fail to see or comprehend. During her studies, she went out on night escapades with her cousin that opened them to the dangers of Joburg's nightlife, especially as young women. "My cousin and I were rockstars, we would party hard," she recalls. What created a sense of comfort and to a certain extent safety, was the belief that their departed great-grandmother, Nokubega, was always walking with them.
Interestingly enough, Nokubega loosely translated means to look and perhaps their great-grandmother was truly looking out for them. This prompted Mathenjwa to ask: "But What does the other side look like?"
Even through her search for her own identity, Mathenjwa read about African spirituality that was practiced by the slaves that were displaced. As a practice of resistance, they would paint their bodies, similar to the patterns displayed on the figures in Mathenjwa's work, and dance around a fire. "This ritual was meant to summon the scariest of Gods to come help you. The patterns serve as a reminder that we did fight, we kept our rituals and still prayed to our Gods," she says.
When asked if she was spiritually inclined, however, she responded with a hard "no" followed by laughter but pointed out that her family has someone who is gifted spiritually. Mathenjwa also explores this idea of spirituality through the bags that are another motif in her work. Besides the trendy analogy of 'getting your bag', which means acquiring money, the bag also references the one someone acquires when embarking on a spiritual healing journey. She draws parallels with those who are spiritually gifted and those who are creatively gifted. Having a gift comes with a certain responsibility.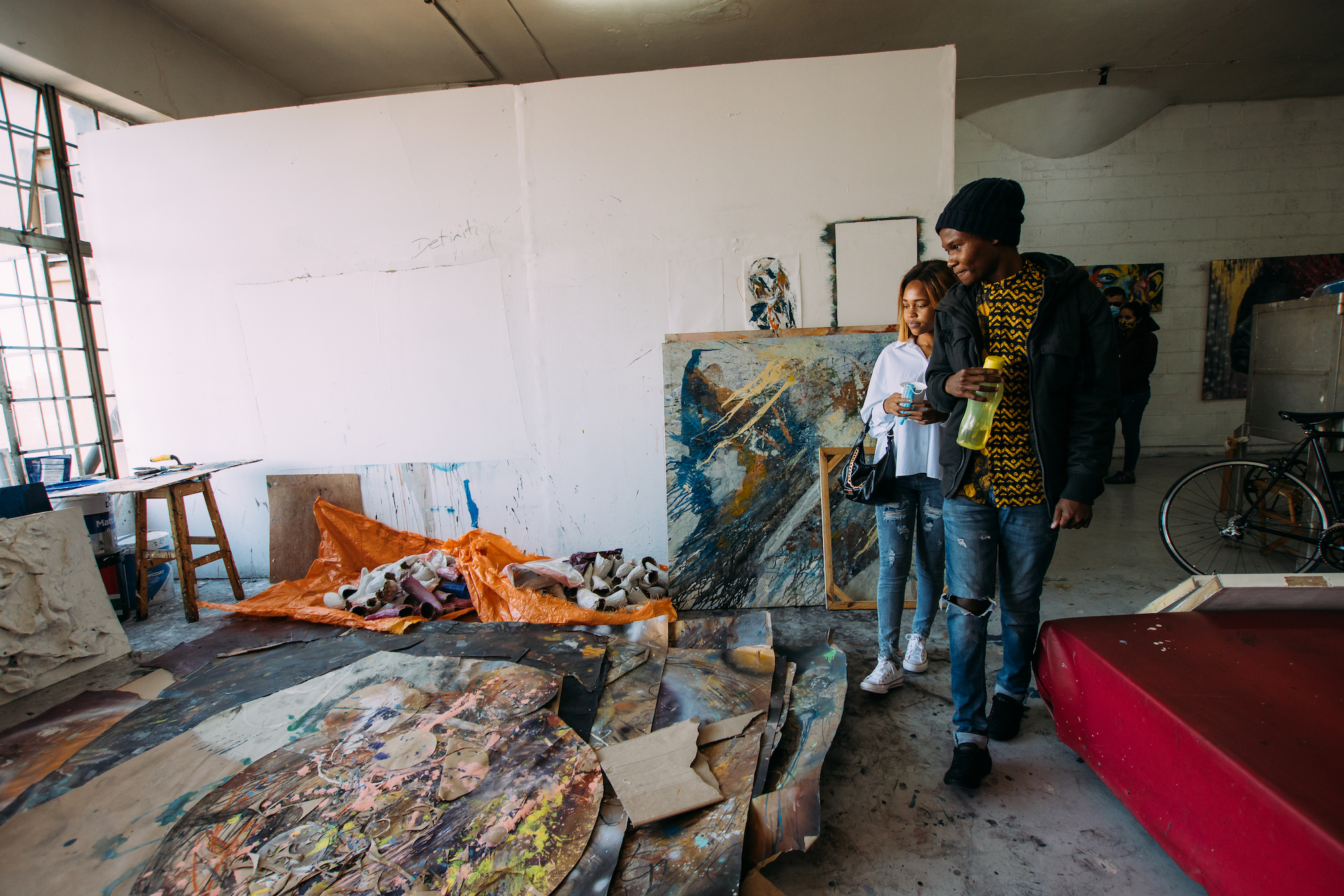 Courtesy OpenStudios.Joburg 
And with her craft, Mathenjwa uses loud colours that create a vivid facade. "It is a personal coping mechanism", she observes.
She describes her experience in her studio at Ellis house, as presenting a learning curve which has resulted in much growth for her personally as well as her craft. In the first few weeks after moving into her studio in Doornfontein, she was confronted with being solitary and it heightened her self-awareness. The studio space is quiet and she has hardly any interaction with artists from the other studio spaces. Mathenjwa admits she enjoys burning the midnight oil, which ties in well with her interest in the spiritual realm and could be how she recollects her nightly adventures.
"Most of us are going through an identity crisis as a youth. Everyone wants to know their roots and culture" says Mathenjwa. As part of her journey of self-identification, she explored cultural inclinations in her third year at Artist Proof Studio, as she was turning 21. According to her traditional background, when one turns 21, one receives a coming of age ritual called Umemulo. It celebrates a young girl's journey into womanhood, of which you are given advice as a virgin. "But what happens if one is not a virgin?" These are the kind of complexities Millennials and GenZs have to grapple with when exploring the idea of identity in today's society.
Ellis House has prompted her to confront the question of whether she could sustain herself as an artist. Post her studies, Mathenjwa, like many other graduates, struggles with the idea of 'adulting'. How does one maintain their practice and afford to live? Art can be a costly practice and often requires patience and determination, especially when your craft is still materialising on the art scene. Mathenjwa takes advantage of her crocheting skills as she creates bags as well hats. In addition, she strategically uses the advantage of editions within printmaking to create more work to sell.
Perhaps her skilful eye for detail and quality, patience as well as determination, which she acquired through thrifting has assisted Mathenjwa to be a compelling artist. When confronted with the question 'what makes a successful artist" Mathenjwa enthusiastically responded, "Someone who knows their story! You need to battle with it, you need to fight with it, until you get it." This text was produced during an independent journalism development project by African Arts Content focused on the Openstudios.Joburg programme.
Mathenjwa's works will also show at the RMB Latitudes Art Fair.  Open Studios Joburg runs from Saturday May 27 to Sunday May 28. Tickets cost: R55 online or R80 at the door. This includes a shuttle service. Visit: www.openstudios.joburg