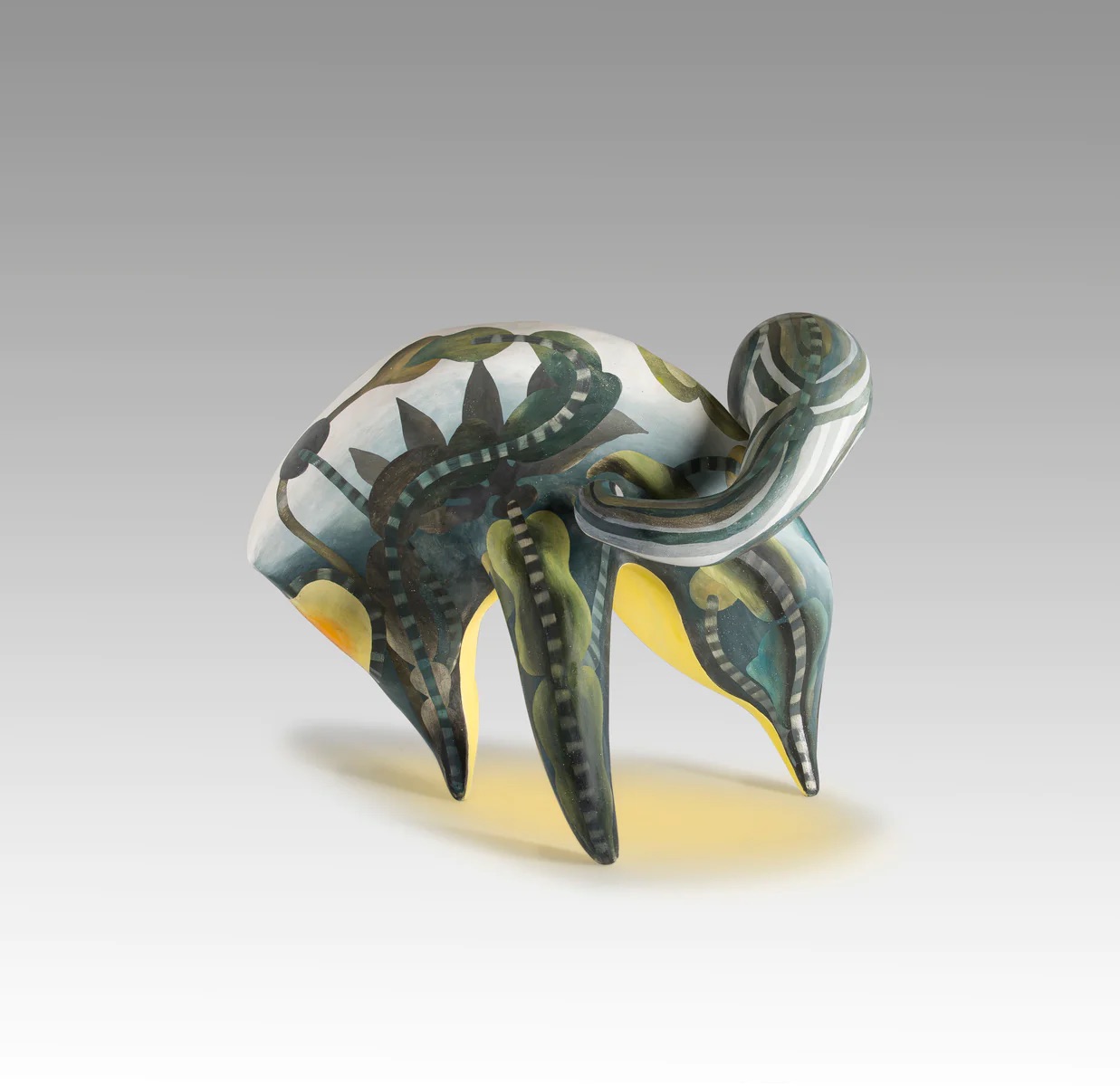 John Newdigate, Zeitgeist I, 2023, stoneware painted with ceramic pigments, steel and epoxy, courtesy Ebony Curated
Also in 2018, the Smithsonian Institution in Washington DC acquired Ian Garrett's work Growth Point, a dark, highly burnished ceramic vessel featuring a swollen body and short cylindrical neck. Three years earlier Garrett was awarded the Smithsonian Artist Research Fellowship at the National Museum of African Art in Washington DC. A similar process of retreat and reward characterised the entry of Andile Dylavane's collapsed ceramic vessel Umwonyo, into New York's Metropolitan Museum in 2021. The work, gifted by a patron, was made in 2019 during a residency at Leach Pottery in Cornwall, England.
Not to overstate things, but the march from the murk and mess of the studio into the pristine light of the museum for local clay artists has been extraordinary. It is not entirely without a history. Influential clay artists like Esias Bosch, Noria Mabasa and Bonnie Ntshalintshali have, since the 1970s, had their work shown in American and English museums. Hylton Nel, who first began experimenting with ceramics in the 1960s, is currently showing more than 200 of his charismatic, individually painted plates at Charleston, a house museum in East Sussex.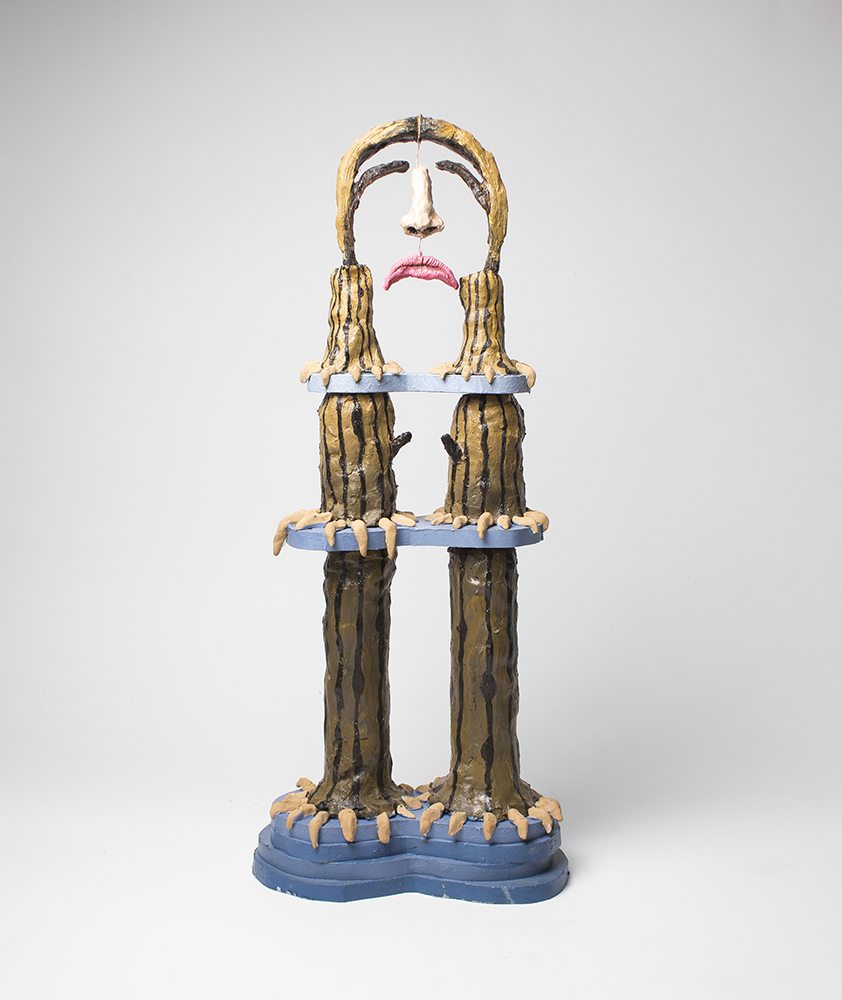 Marlene Steyn, Bad Hair Day Trinal, 2016, oil on ceramic and wood, courtesy SMAC Gallery
Showing is not the same as owning. The South African National Gallery owns works by Dyalvane, Glenday, Mabasa and Clive Sithole, as well as seven helmet-shaped earthenware objects known as the Lydenburg heads for the place they were excavated. The Durban Art Gallery holds a large collection of pieces by acclaimed Zulu potter Nesta Nala. Garrett, who is widely celebrated for his coil-built vessels referencing and adapting indigenous Zulu pottery, wrote his 1997 MFA thesis on Nala. Garrett describes one of Nala's uphiso spherical flasks in DAG's collection as displaying "an extraordinary virtuosity in execution and decoration". The same is true of his enigmatic vessels.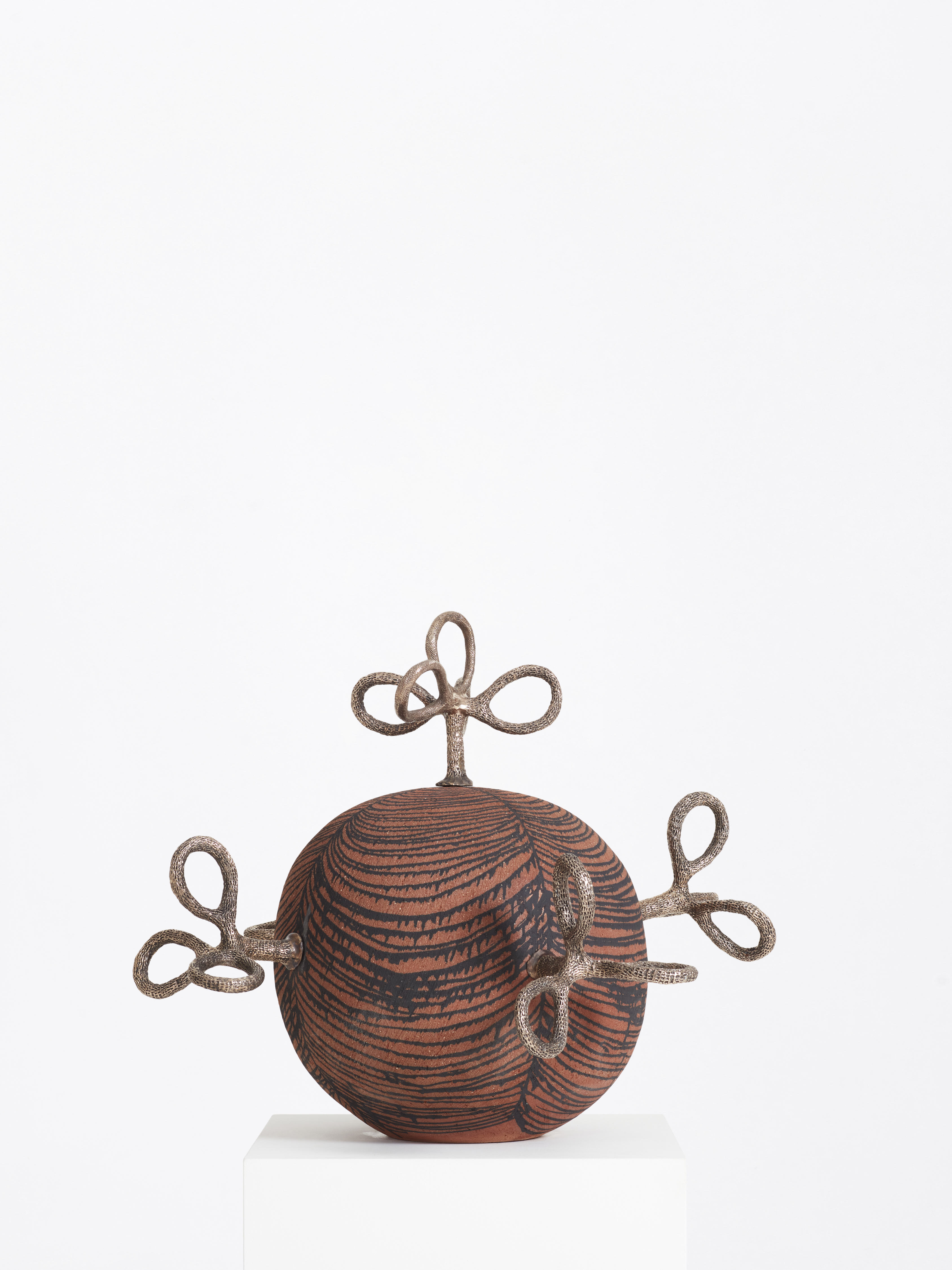 Zizipho Poswa, Fang Ndom, Cameroon, 2022, Cglazed earthenware, bronze, photo Hayden Phipps, courtesy Southern Guild
Clay Formes does not directly address this history, preferring instead to explore "the metamorphosis of clay," as Barrell writes in her introduction, "illustrating much of what the medium can become: canvas, voice, eggshell, stone, sand, artefact, plastic, wood, metal or metaphor". Alongside leading figures like Dyalvane, Garrett, Glenday and Nel, the new book also devotes page space to profiles of bright young things like Marlene Steyn and Ben Orkin. There is a lot of time and experience compressed into the selection. Nel, for example, was born in 1941, and Orkin in 1998.
Survey books have a way of galvanizing attention. Just ask Marlene Steyn. In 2017, Steyn was the only South African artist profiled in Vitamin C: Clay and Ceramic in Contemporary Art, a globe-spanning survey of effervescent clay-based art practices published by London-based Phaidon. Steyn was a surprise selection. Best known for her psycho-surreal paintings featuring a pigtailed doppelganger, Steyn began experimenting with clay during her master's degree in painting at London's Royal College of Art in the early 2010s. A side project shortly evolved into a contiguous form of expression.
"It is a much faster process compared to painting, which is slow," Steyn told me in 2017. "I am now at that stage where I need both of them in my life, and they also influence each other completely." A series of totemic works in blue, made in 2018 with Abraham Kritzman and Angels Miralda Tena and shown two years later in the group exhibition Shaping Things at SMAC Gallery in Stellenbosch, revealed Steyn's effortless ability to evolve her clay practice.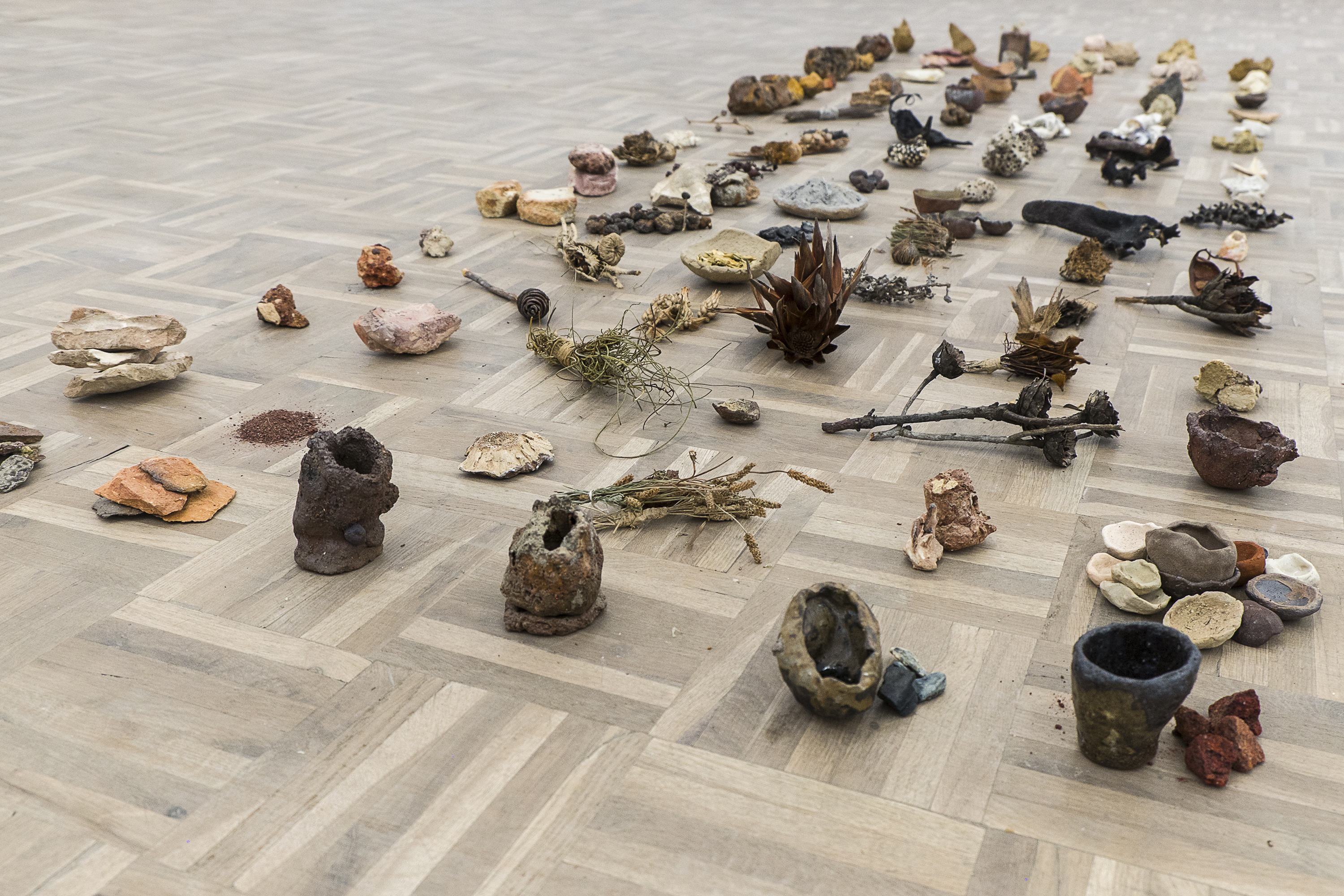 Belinda Blignaut, Raw (Thrown By This), 2018, courtesy Blank Projects
That 2020 group show at SMAC was an important signal of wider acceptance of clay practices by the local art world in clay. Another encouraging sign from that pandemic year was auction house Strauss & Co's first dedicated sale of South African ceramics. The sale gathered works by a broad range of historical and contemporary artists, among them Dyalvane, Glenday, Nel, Juliet Armstrong, Martine Jackson, Robert Hodgins, Ruan Hoffmann, Lucinda Mudge, Nico Masemola, Hyme Rabinowitz and Andrew Walford.
The prices achieved largely fell short of sculpture in metal or bronze – except that is for works by Garrett and his partner, John Newdigate. Garrett's Moon Apples (2020), a burnished terracotta pot made with muted orange clay slips and featuring shell impressions on its surface, fetched a handsome price of R43 244. Also made in 2020, Birds Feeding, a large porcelain vessel shaped by Garrett and decorated by Newdigate with animal motifs, drew a flurry of bids and sold for R182 080.
"John's subject matter and colouration hits you first, but then the shape and form, the way they float on their base, makes an impact," says Stanes of Ebony Curated, who pushed Newdigate to forgo working with functional ceramics and apply his "remarkable facility" with paint to larger vessels. "He wasn't too sure, but started doing it and never looked back. The public's reaction was extraordinary. The shapes have come from John but Ian started has been perfecting them. It is a symbiotic relationship."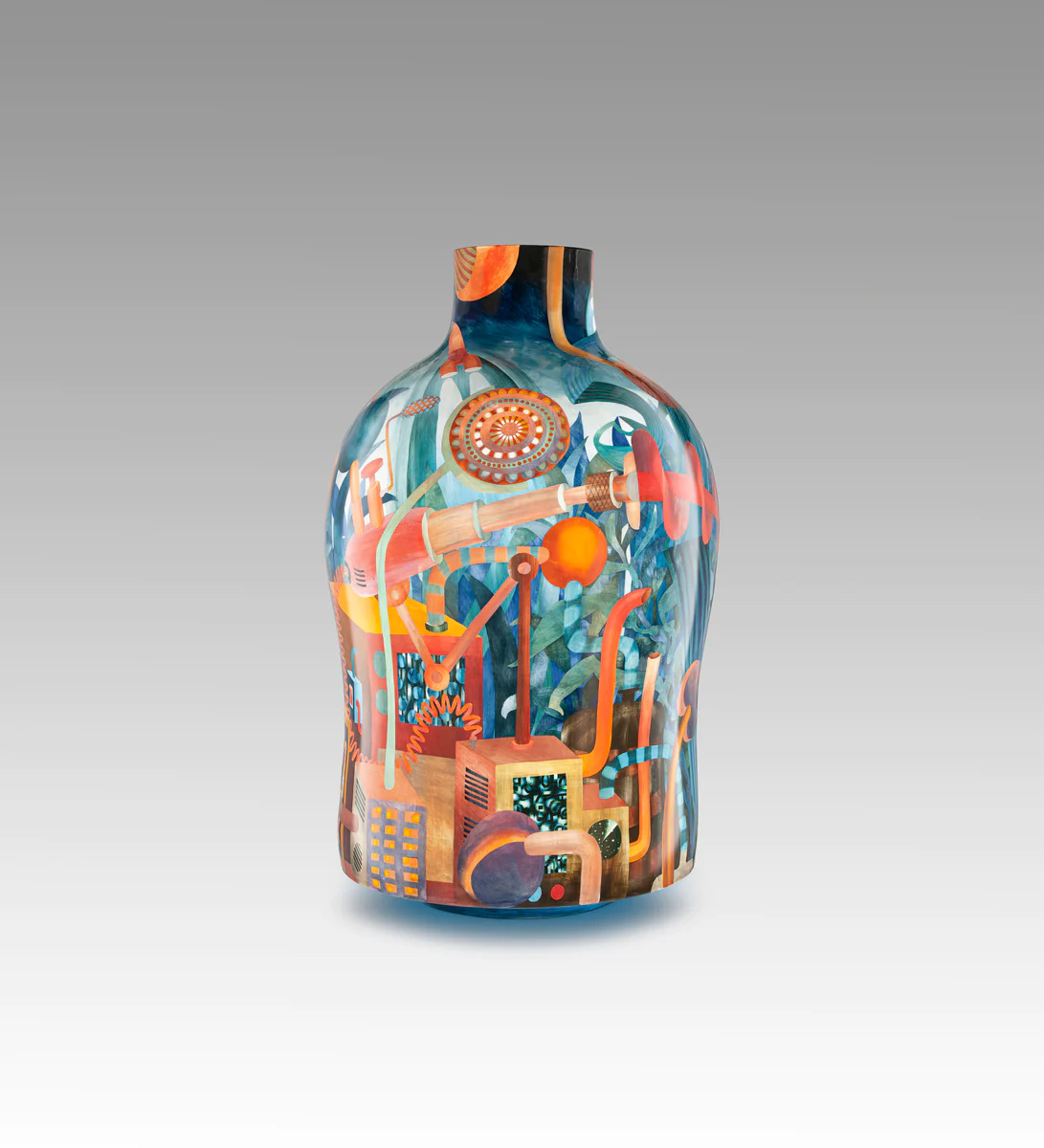 John Newdigate, Artificial Intelligence, 2022, handpainted glazed porcelain, courtesy Ebony Curated
The retail prices commanded internationally by Newdigate, along with Dyalvane, Garrett and Poswa, reflect their revered status. Newdigate's works are priced at between R48,000–R260,000. Buyers at fairs in Chicago and Paris have enthusiastically received forms decorated with tangled scenes of flowers, birds, animals, cityscapes and industrial spaces. Ditto Dyalvane, whose glazed earthenware piece Nkcokocha (Mountain Peak), a unique work made in 2016, was priced at $52,000 (R940,000) when it was exhibited at Expo Chicago this past April.
America has been important in Dyalvane's transformation from entrepreneurial co-owner of a commercial ceramics studio, Imiso, into respected artist. His work has been well received in New York, where gallery Friedman Benda represents him. Chicago, though, was new territory for the artist and his South African gallery, Southern Guild. It required introducing himself, again.
"I grew up in a village of Ngobozana in the Eastern Cape," Dyalvane said during a spirited public talk jointly hosted by Southern Guild and Blanc Gallery on Chicago's Southside. "I am from the nation that uses red ochre to cover their faces. Soil, clay, earth, land have always been part of who we are as people. We work the land. It feeds us, and our livestock. It houses us." His plainspoken statement of origin was deeply personal, but it also speaks to the embedded sense of place that characterises South Africa's new wave of clay artists.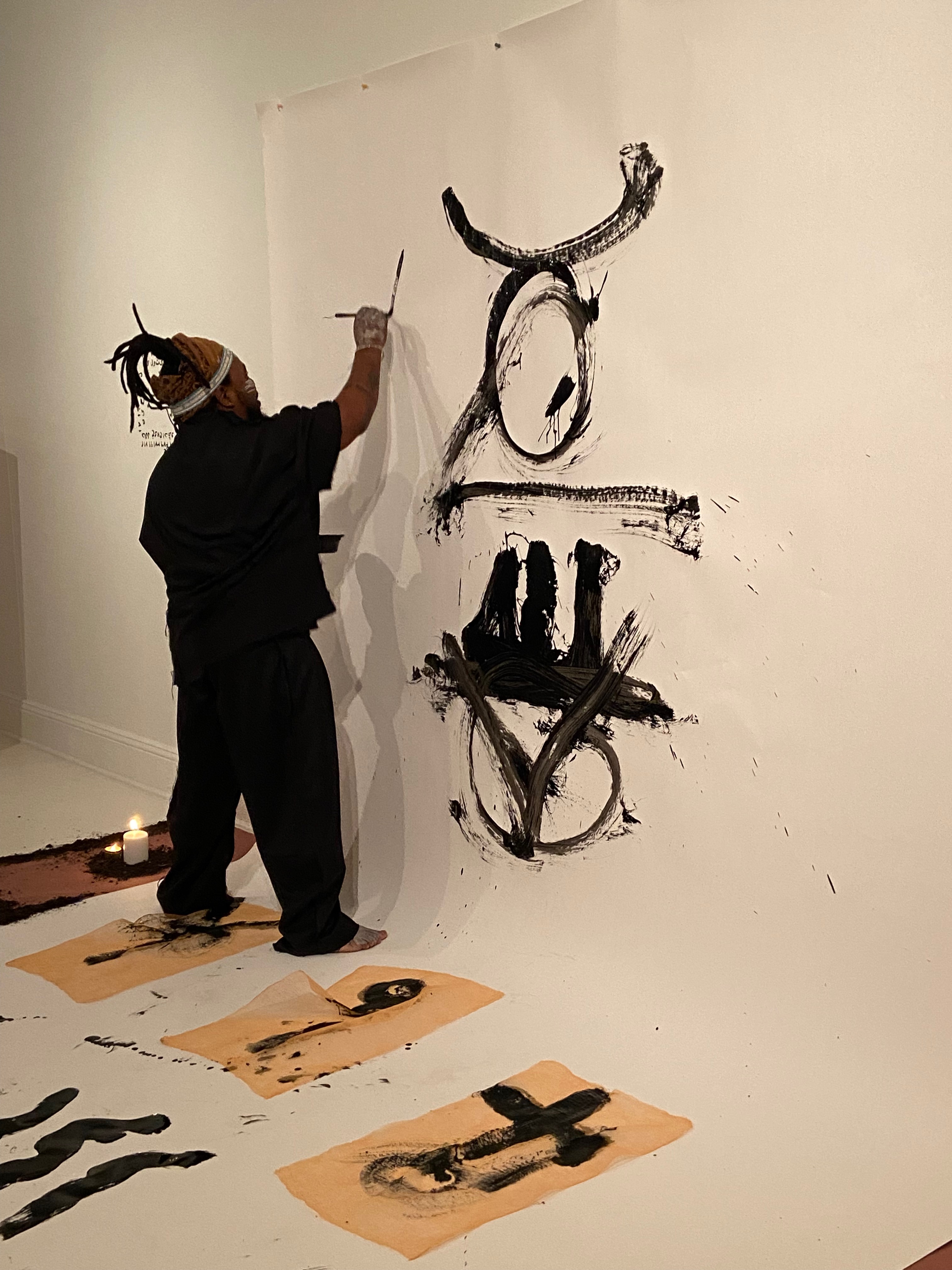 Andile Dyalvane doing a live painting during South X South at Blanc Gallery, April 2023 photo Sean O'Toole