The lasting changes of the Investec Cape Town Art Fair
- Words by Chaze Matakala
------------------
The 10th edition of the Investec Cape Town Art Fair will be taking place this weekend at the Cape Town International Convention Centre. Celebrating a decade of magnetising galleries from all corners of the continent and beyond in the past, this iteration will explore the notion of time. Chaze Matakala is curious to hear from the different regions on the artists of the moment and the future of contemporary African art.   

April Kamunde, Tafakari ya Mama Max I; Now What, 2022, Oil on Canvas. Image Courtesy of Afriart Gallery
As a time traveller through the written word, Octavia Butler declared that "the only lasting truth is change" in her seminal 1993 novel, The Parable Sower. Whether you believe we are living in a post-apocalyptic world or not, the role of the arts and the gatherings that uphold its propagation are inextricably linked to growth and change.
Galerie Cecile Fakhoury opened it's first space in Abidjan, Ivory Coast, around the same time that the first edition of the Investec Cape Town Art Fair (ICTAF) took place. For the eponymous founder of the gallery, the motivating force was to establish an ecosystem for the African and diaspora art community, aimed at artists and collectors in particular. A common influence that Galerie Cecile Fakhoury and ICTAF have added weight to is the tipping the scales to the overall tendency that African artists need to leave the continent in order to be visible. The tandem growth over the past decade has witnessed the number of galleries in West Africa multiplying and the number of exhibitors at ICTAF shifting from feather to heavyweight.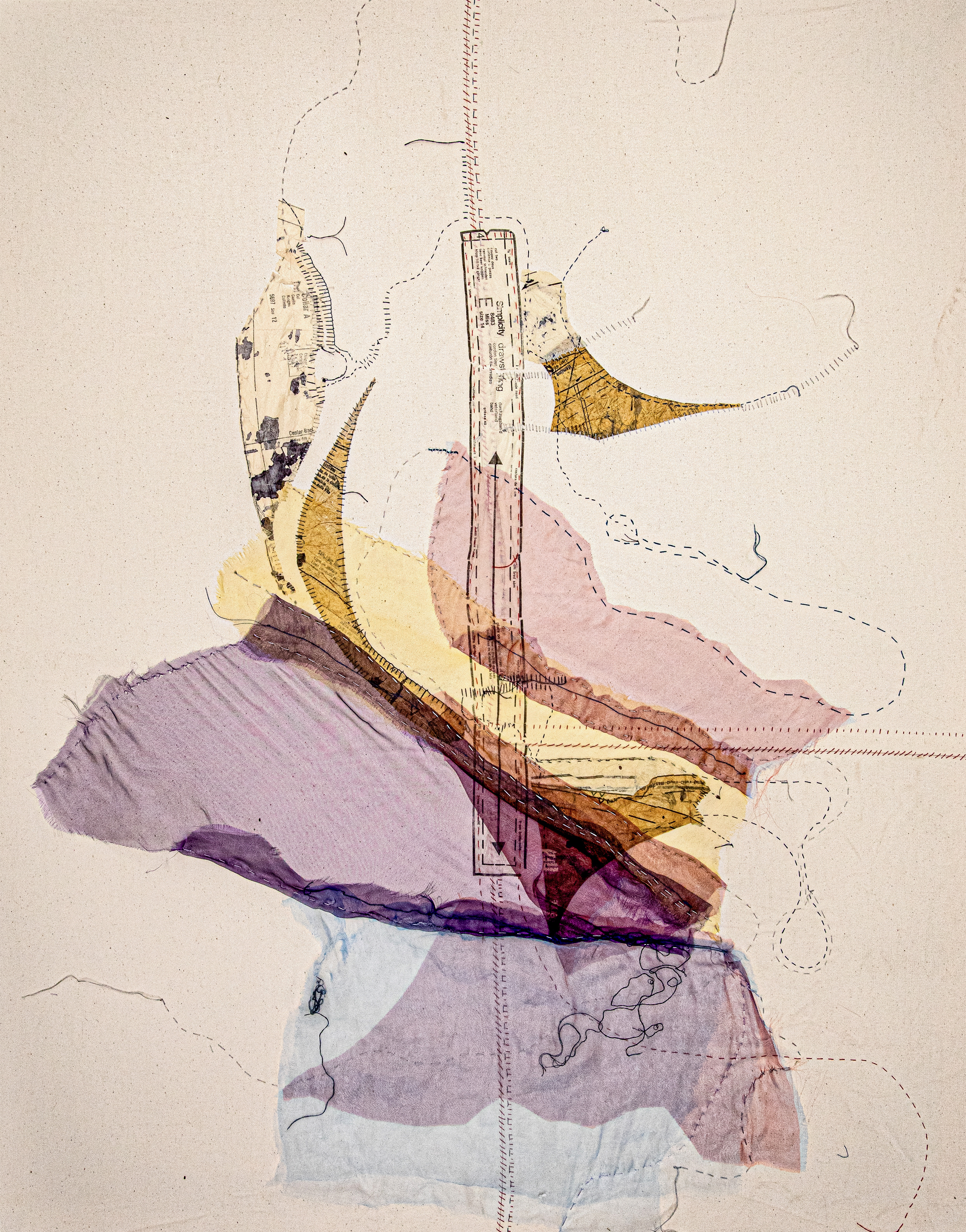 Shamilla Aasha, Seamless (Moments of mergence), 2023, embroidery and fabric collage on canvas. Image Courtesy of First Floor Gallery Harare. 
The progress for Galerie Cecile Fakhoury is palpable, with the younger sibling space in Dakar, Senegal coming onto the West African art scene in 2018. Delphine Lopez is the director of the Dakar gallery and she affirms that there has been fluid movement in West Africa. "There is more and more structure, still very few institutions, the market is growing little by little, and a new generation of collectors are starting to look at local artists" says Lopez. In terms of conceptual and theoretical development, the scene in Dakar has been blooming in Lopez's opinion, and ICTAF provides a bridge between the Francophone and Anglophone African art scenes. "For us as a French-speaking-based gallery, it is very important to be a part of ICTAF and ArtxLagos for example, because it's creating bridges between the two scenes and we are opening to collectors, projects and artists from the Anglo countries and vice versa" says Lopez.
Looking broadly at the profile of art collectors, African Francophone collectors apparently share a familiar context, a common colonial history and as a consequence- language.  Interestingly for Lopez, collectors in the West African Francophone region are of an older generation and have a set niche one what they collect and why. On the other hand, "I think collectors on the continent and mainly from the English speaking countries are quite younger, maybe more experimental in the way they are building their collections" Lopez shares. Galerie Cecile Fakhoury will be exhibiting work by Parisian-based artist Elladj Lincy Deloumeaux, who excavates from his Guadeloupian heritage to explore and document Afro-Caribbean spirituality and rites of passage on the journey of self-knowledge.
Over time, the ICTAF has provided a space for collectors to pull together artworks from their region and to gradually expand to other parts of the continent, effectively reinventing the ways in which art business is done on the continent.  A geographical neighbour with contentious and deep connections to South Africa is Zimbabwe, of which First Floor Gallery Harare has been participating in ICTAF since the Fair's inception. Established in 2009, First Floor Gallery Harare was emerging in a transitional time of hyperinflation and profound isolation in Zimbabwe, led by Valerie Kabov and Marcus Gora. Their focus was on extremely underserviced young artists in the country which boasts and small yet extraordinary rich art scene. The isolation of sanctions and scarce internet connectivity birthed unique Zimbabwean artistic voices which have emerged from pressures of society rather than pressures of the art market.
Director of First Floor Gallery Harare and art historian Valerie Kabov believes that the success of Zimbabwean artists, such as winner of the ICTAF 2019 Tomorrows/Today prize Troy Makaza, and a plethora of other highly sought after Zimbabwean contemporary artists in the international arena, has to translate to back home.  "We have extremely vibrant talents who have benefited from the interest in contemporary African art" says Kabov, "we don't have anything that we can call a local art market, it's only just emerging and we have an under-serviced art school sector."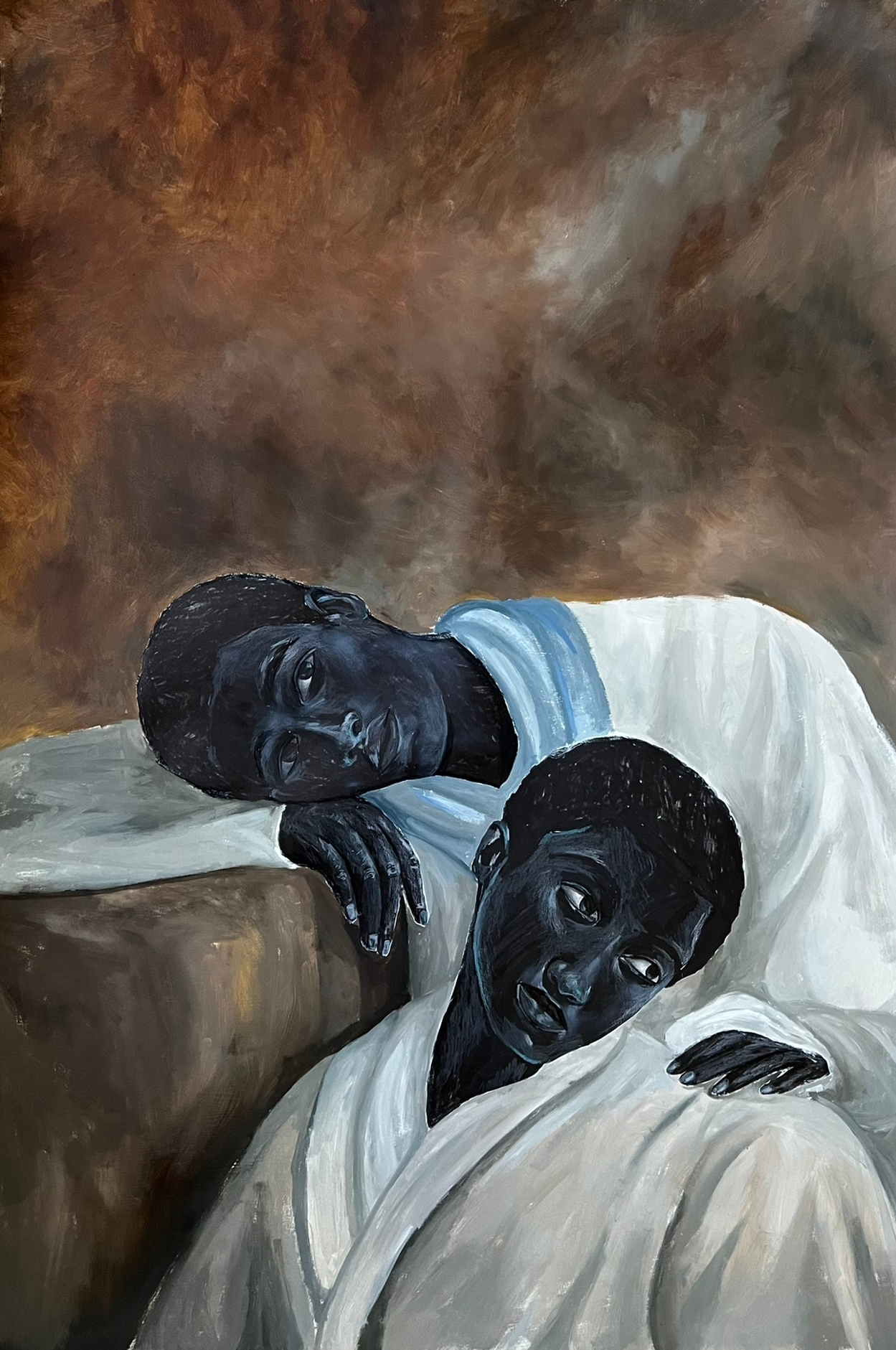 Elladj Lincy Deloumeaux, Aroure du Matin, 2023, Acrylic and Oil on Paper. Image courtesy of Galerie Cécile Fakhoury
First Floor Gallery Harare discernibly represents artists who are on the pulse of relevant and vivacious artistic praxes, such as this year's Shamilla Aasha in the ICTAF Tomorrows/Today section co-curated by Natasha Becker and Dr Mariella Franzoni. Asha's will be showcasing a textile-based body of work titled Seamless which curators Becker and Franzoni describe as conveying "a visual tension between delicacy and potency, spirituality and materiality."
Kabov is proud of the fact that the older generation artists are building up their own infrastructure including studios and residencies. She elaborates that "overwhelmingly our artists stay at home, considering that we don't have a local market you would imagine that people would want to leave the country but Zimbabwean artists stay, which is amazing."
What can be described as the circular artistic economical mind set of contemporary artists in Zimbabwe is mirrored in the East African art scene. This is where artists such as Nairobi-born painter April Kamunde have witnessed the Kenyan art community support itself through self-made platforms and mentorship by senior artists to emerging artists.
The past 10 years for Kamunde have been a shared period of slow and steady growth for self-taught visual artists. "As opposed to depending on the established avenues to showcase work, they are getting more creative in terms of being more entrepreneurial and chasing 'the bag' through cross-collaborations with small business entities and local brands" explains Kamunde. This upsurge in ingenuity underscores the growing hunger and inimitable ability of creatives to feed themselves.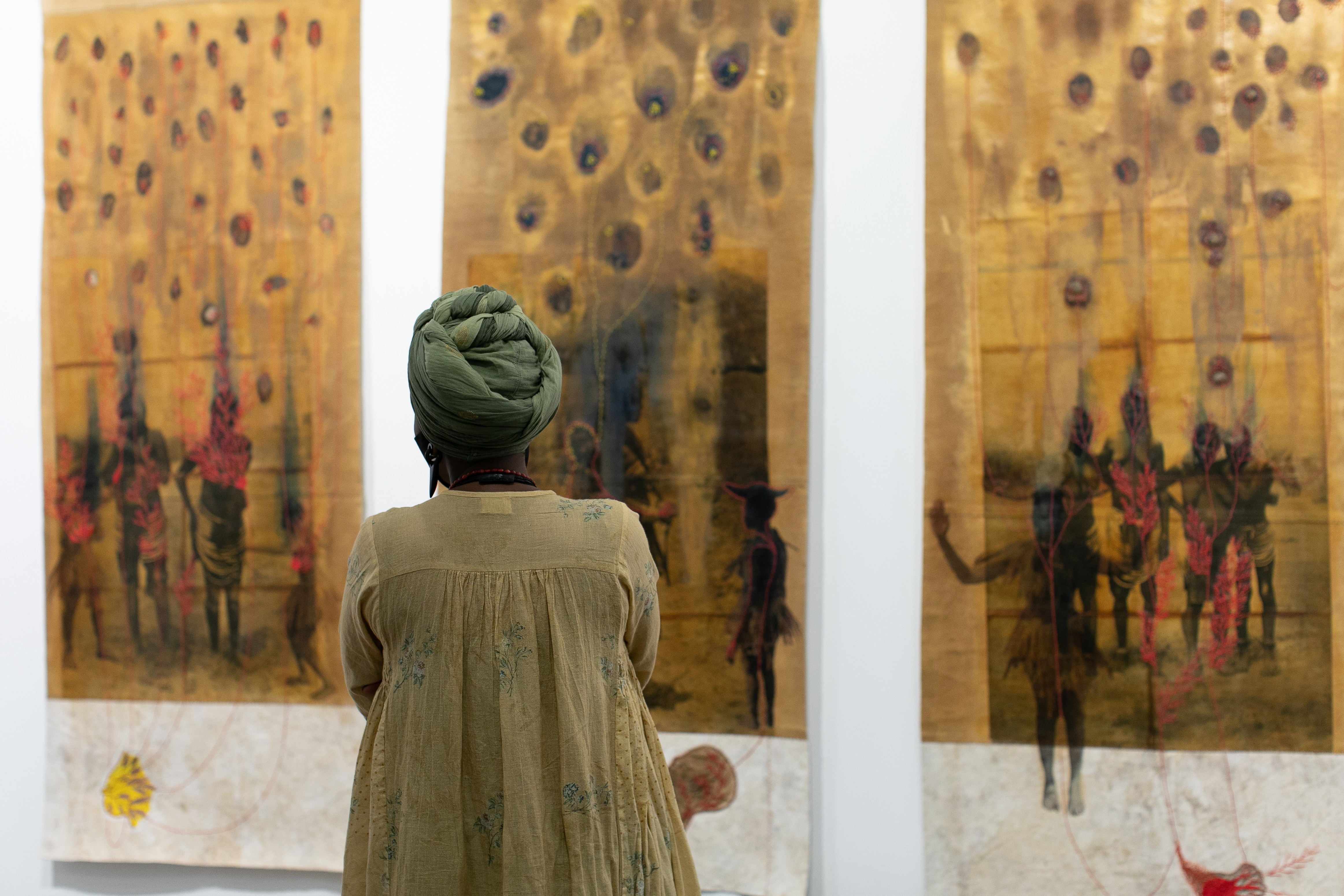 The 10th edition of the Investec Cape Town Art Fair will be taking place this weekend at the Cape Town International Convention Centre. Celebrating a decade of magnetising galleries from all corners of the continent and beyond in the past, this iteration will explore the notion of time. Image courtesy of Stephanie Veldman
Kamunde will be exhibiting outside of East Africa for the first time this year at ICTAF with Afri Art Gallery which is based in Kampala, Uganda. Kamunde's practice encompasses oil paintings, exploring shared and personal intimate stories and responses to feelings of weariness. In her body of work Pursuit of Peace, Kamunde unearths themes of rest and comments on notions of femininity, going beyond the surface level of self-care. Through a poignant reclamation of personal space and time, Kamunde depicts the recurring motif of the Dera (a long Somali dress) as an icon of the African woman's true state of relaxation. On the topic of tiredness compounding over time, Kamunde declares that she wants to "validate and investigate this feeing, to document more realistic depictions of peace… Going out to sun bask, to sit under a tree and just chill." 
As Kamunde invites audiences to look at moments of accessible slices of peace, attendees at ICTAF may explore intimacy through the tapestries of Aasha's conception of falling in and out of love. Perhaps the enduring and ethereal oil and and acrylic paintings of Deloumeaux may offer viewers contemplations on the journey between diasporic and African worlds which need no verbal language to comprehend. The 10th revolution of ICTAF around the sun has much to to offer in terms of vividly bringing to life the ever-changing landscape of contemporary African art, promising equanimity in vast forms.