"If we are reflecting on our being, our values and our future, Ukraine is the number one topic." -

Yana Barinova

Yana Barinova recently joined the viennacontemporary team as a Development Officer approaching the main statement this year: Ukraine. We discussed the importance of cultural heritage, her professional breakthroughs and the impact of war on the Ukrainian art and social sector. We especially focused on the potential of artistic and cultural poliсy of viennacontemporary 2022 and why people are our main hope for the future.

-----------------------------------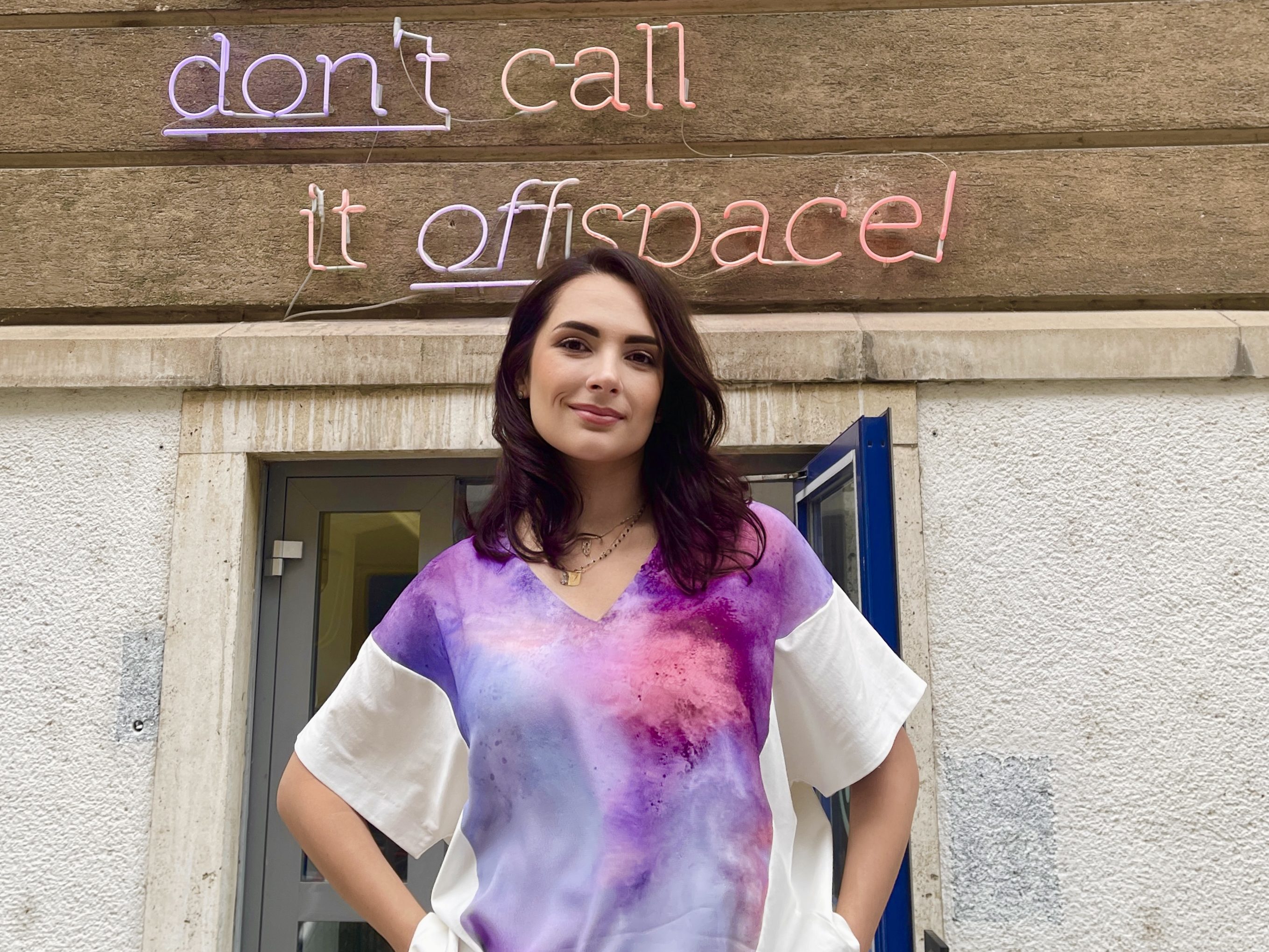 Yana Barinova, Chief Business Development Officer of viennacontemporary, courtesy: Yana Barinova, 2022
Which leaders and institutions in Europe are involved in your work? Tell us more about your personal cultural diplomacy during the war in Ukraine.
I arrived in Vienna on March 4th with my daughter and started working with viennacontemporary after the restructuring of the fair. I also work at ERSTE Stiftung, where I am responsible for cross-relations with Ukraine and beyond. I co-curated gmunden. photo 2022, a young photo festival whose focus this year is atrocities committed in Ukraine. With the outbreak of war, I fled to Austria with my only daughter Melissa, because she needs to live in a more peaceful environment and continue with her studies. I left the civil service position as the director of Kyiv's Culture Department and now work in Vienna, where I do cultural diplomacy with my background in management of socio-cultural projects and humanitarian policy. 
The aim of viennacontemporary this year is to make the entire cultural heritage of Ukraine accessible and visible, to support affected cultural workers inside and outside of Ukraine. Why do you think it's important to build cultural bridges for both Ukraine and Austria? How does cultural value affect the economic and social spheres?
I believe that no dialogue about the future of Europe and of the overall world can be built today without considering the war in Ukraine. If we are reflecting on our being, our values and our future, Ukraine is the number one topic, since people are dying every day and it's all about seven hours by car from Vienna.
viennacontemporary, as a modern European cultural institution, articulates these issues and just cannot stand back and claim that it is only about the art market.
Culture and art play a very special role, and viennacontemporary 2022 tackles vital issues by creating a Statement Ukraine project, where we are trying to answer the following questions: Where are we? What shall we do? What is our future? How did we end up in this terrible situation in the first place?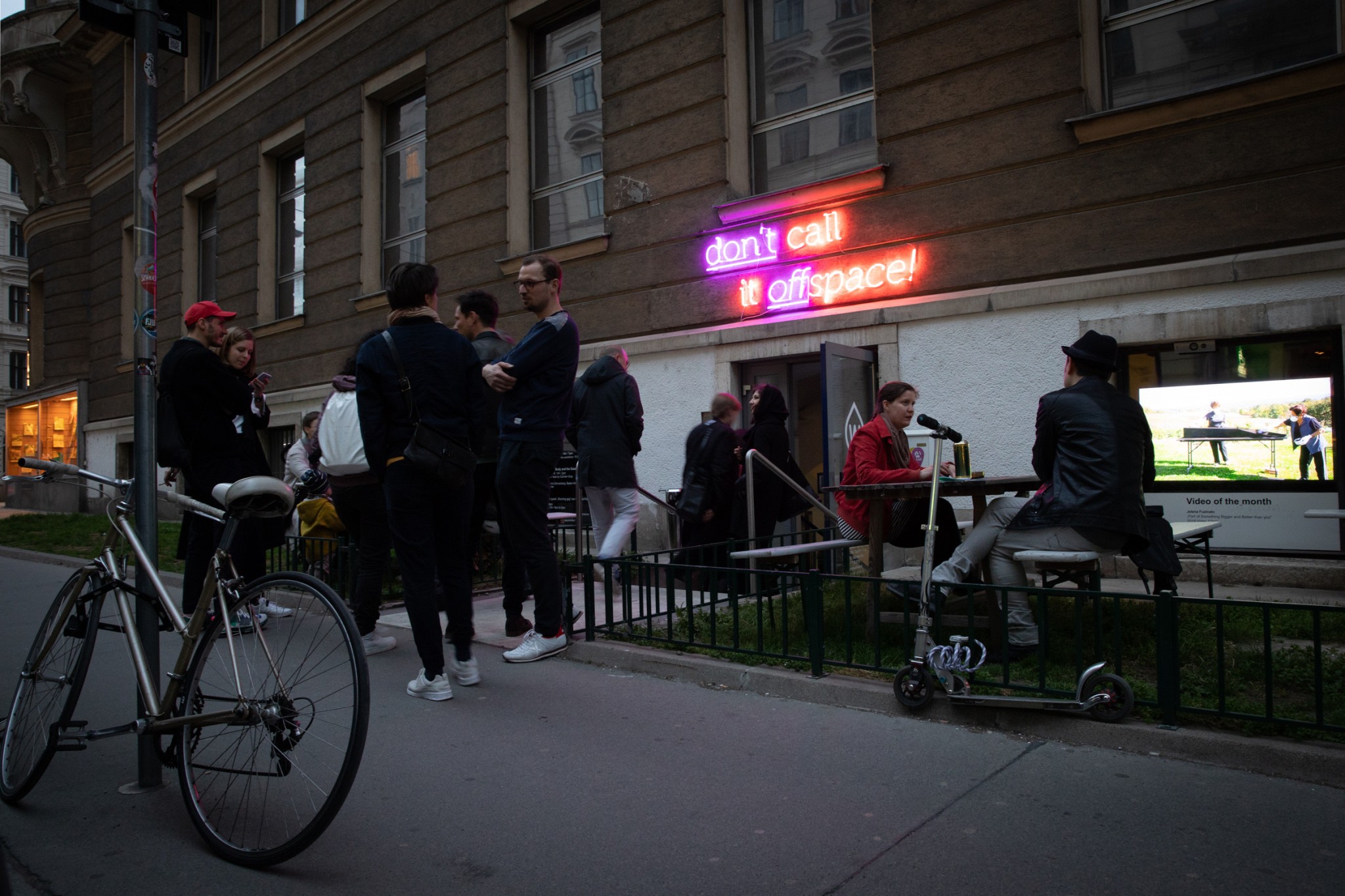 Art institution das weisse haus will host viennacontemporary's Statement Ukraine project – an exhibition of twenty Ukrainian and international artists exploring diverse media from photography to film to ceramics, curated by Kateryna Filyuk. Photo: eSeL.at, 2018
Let's walk through the war. How has it affected the cultural sector in Ukraine?
The war affected the life of every person, society, economy, culture, and politics. Its influence permeates every element and every molecule of Ukraine, Europe and the whole world. I see that society is very consolidated and I know that we are united around our common goal as never before. When the war started, many new foundations and initiatives were established to help artists continue creating. The cultural sector is about our identity and our heritage, which both distinguish us from other countries and nations. Therefore, it's very important that artists continue to create, and for this, of course, encouraging conditions are needed. It is hard to be moved by inspiration when you are constantly hiding in bomb shelters or fighting for your own survival. In such conditions, it's very tough to concentrate and generate ideas, which is why there are initiatives created to help Ukrainian culture survive during the war. 
As an innovation and development curator at viennacontemporary could you tell us more about your aspirations and prospects? What is the importance and strength of viennacontemporary22?
viennacontemporary has its own unique niche of Eastern Partnership countries and Ukraine. But for me, it's something more than just an art fair.
I would very much like viennacontemporary to become an institution with a research base, publishing and educational projects, a fully functioning and transparent institution that serves as a dialogue platform. For me, cross-cultural communication is what we need, and art itself has such power for its exploration.
Therefore, there are many fascinating projects in the future that we are currently developing, and I am sure that we will achieve our goals.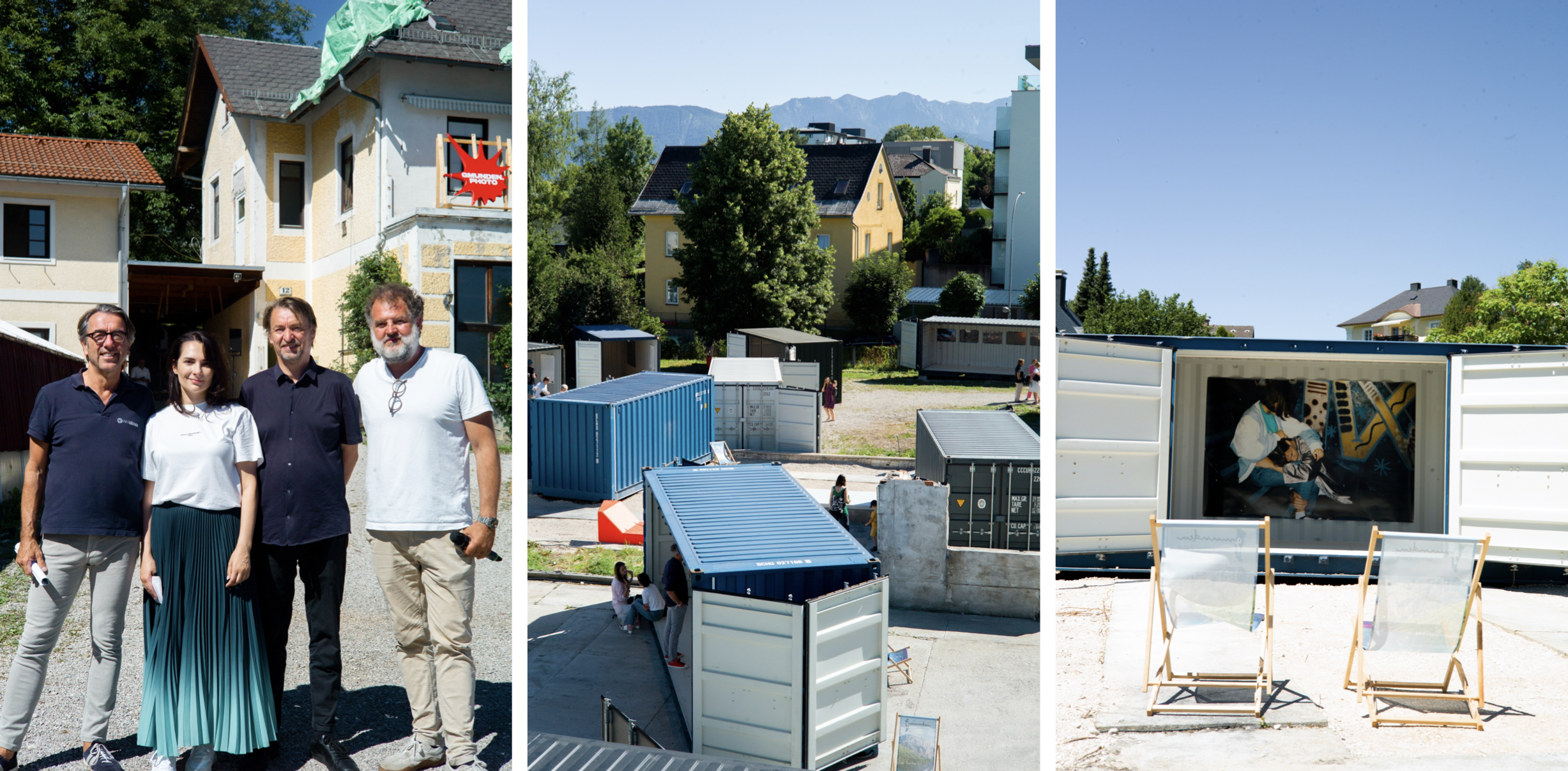 A preview of STATEMENT UKRAINE is already provided at the cooperation project gmunden.photo: photos and films by Ukrainian and Austrian artists will be juxtaposed in exhibition containers in the Stadtgarten Gmunden this summer under the curatorial direction of Yana Barinova and Boris Ondreička (Artistic Director of viennacontemporary), photos: Natalie Riedel, 2022
What are the problems and current socio-cultural issues in the context of war that, in your opinion, urge to be addressed, also with a perspective on the future?
Currently, the number of people who left the country is more than 5 million. They are now all over the world, but their main concentration is in Europe. Ukrainians are very educated people with higher education and scientific degrees. How do we make sure they do not lose their competency? We need to continue to work and strengthen our skills in those areas in which we worked in Ukraine. And the main thing is that we return home and proceed to work with new experiences and standards, to initiate  European corporate culture and a fresh acquired vision.
For me, the main issue is the talent integration hub and how we introduce Ukrainian talents outside the country.
And this is a big challenge for the EU because such integration programs should be different from the already existing ones so that Ukrainians can be useful in those countries where they are now forced to be living.
How does communicating cultural heritage to a wide public here in Austria vary from the approach in Ukraine? What do you believe needs to be improved among cultural institutions in both countries?
I think that the difference and the problem lie first of all in the legislative plane because the laws that protect and regulate cultural heritage in Europe are more resolute and thoughtful than the laws working with the culturally decadent in Ukraine, where the cultural heritage is often not well protected. For instance, urban development, and how it correlates with cultural inheritance is a very painful issue in Ukraine. In Vienna, I cannot have an air conditioner installed in my flat, because it is simply not possible, and there are rules for the look of the facade. So the most important difference is on the legislative level, and I hope that Ukraine will move very rapidly and dynamically toward legislative improvements.
For me, Austria is about a balanced policy in terms of education, economy, freedom, innovation and creativity.
Unfortunately, the wave of euphoria and empathy towards the war in Ukraine is receding, and this is due to the issue of cultural diplomacy. I see it as my mission to maintain a degree of interest toward Ukraine.
I would really like us to remember that every second, even when we are talking now, people and children are dying – and this is the reality that we cannot ignore. It's impossible to fully understand this unthinkable evil, and all we must do is raise awareness and speak out loud about the terrible things happening right now.
What are some of your highlights/accomplishments in the past year while working as a director of the Kyiv City State Administration's Culture Department?
I consider the change in the philosophy of management to be our main achievement. Before I came with my team, the Department of Culture, like other state institutions and local self-governing bodies, was unknown to many players in the cultural community in Kyiv. The cultural scene there is quite avant-garde, experimental, innovative and dynamic, with a huge gap between official and underground raw culture. That's why we aimed to build a dialogue, a fairer and more balanced approach to the cultural projects we support. Our goal was to serve as a creative and innovative state institution, which gives impetus to new initiatives and expands the variety of cultural and leisure options for residents. We have completely changed the language of communications, from social media to identity, rhetoric and PR strategies. We became one of the most successful departments and had a very uncompromising anti-corruption program, where we began to audit all communal enterprises and tried to make a whole integrated ecosystem out of it.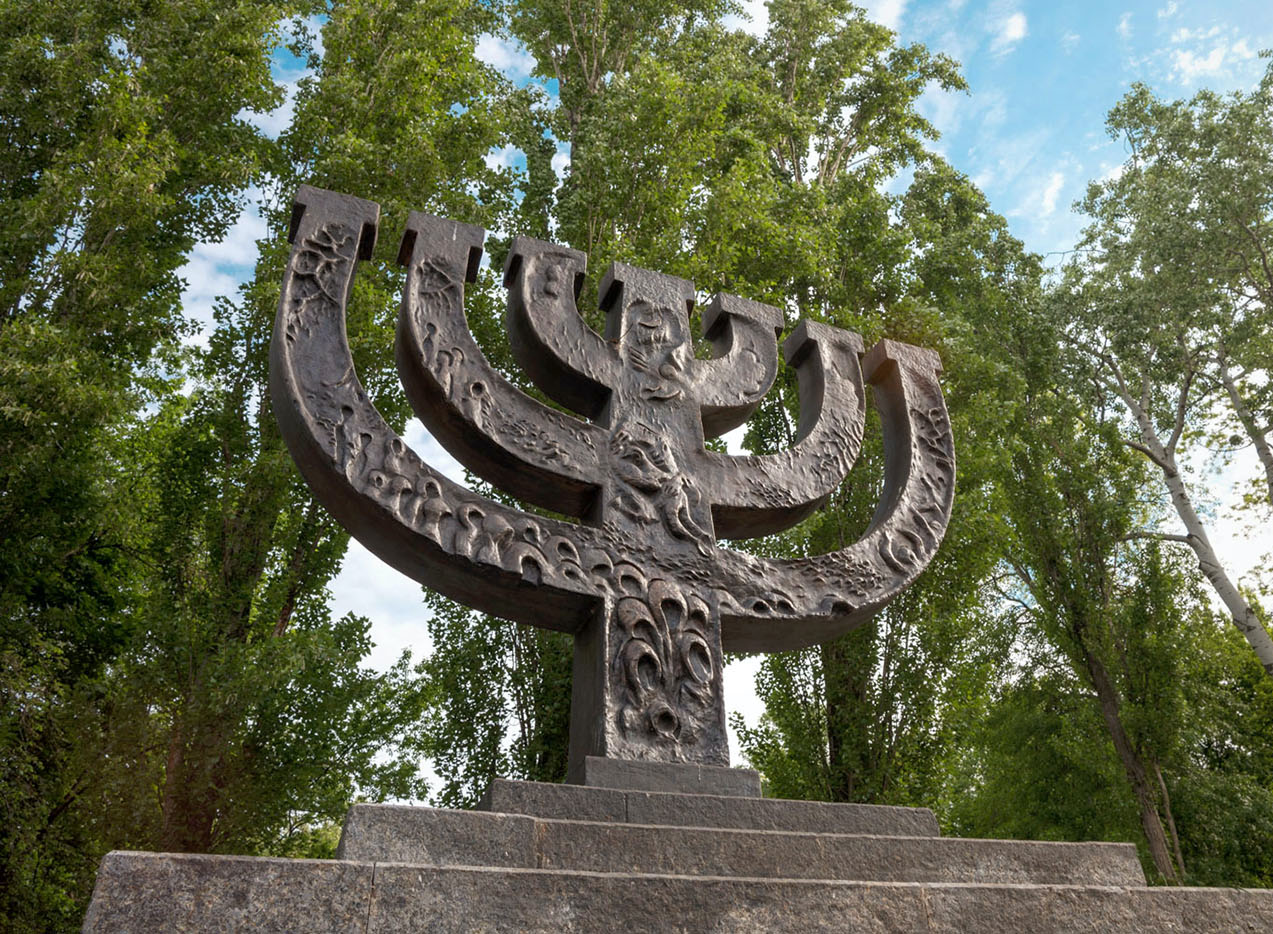 The monument "Menorah" is located in a remote part of the Babyn Yar Holocaust Memorial Center in Kyiv, where Yana Barinova worked as a Chief strategy officer. Photography: Maxim Sydorenko. Copyright: kiev-foto.info
Since 2018, you have become a member of the World Jewish Congress Jewish Diplomatic Corps. You also hold the status of a Jewish Diplomat. Tell us about your work as a Chief strategy officer & Chief operation officer at Babyn Yar Holocaust Memorial Center in Kyiv. What motivates you to keep on pushing forward in the fight for international human rights? 
The war in my country and all the humanitarian disasters, like the Holocaust and the Holodomor, show a legacy of discrimination toward Ukrainians and disregard for the value of human life. If each of us understood the consequences of war, occupation and disrespect, this world would be a much nicer place to live in, a safer place for us and our children. My mission is to protect human rights, to promote them, that's why I saw Babyn Yar as a peace-making institution that, studying the terrible events of the past, analyzes and disseminates history. 
Many people do not know what the Holocaust is and what happened in Babyn Yar. Although they live very close to it, they don't know that it was the largest mass execution of people during the entire period of the Second World War, as thirty-three thousand people were shot dead just because they were Jews.
Big problems always arise from little things, so it seems to me that it's crucial to understand human rights on different scales. 
Tell us more about your interests beyond your work which inspire you the most.
I love to cook because it brings me closer to my family. It's the time we spend together and something you can plan in advance- it has a beginning, an endpoint and a tangible outcome with satisfaction afterward. It's about peace, family, focus and stability. When you are currently living in great uncertainty and don't know what will happen tomorrow or in a month, not sure what could happen to me or to my father, who is now in Odesa, to my grandmother's apartment in Mariupol, where there is nothing but the Russian flag, then such small clear things as cooking and sports inspire me a lot.
You said: "Ukraine's positioning must become a unifying view of the world of the future as the residence of democracy, culture and freedom. Ukraine is ready to create and share a new geopolitical context with the world." Which steps do you think are vital in maintaining the conditions for Ukraine's cultural and social steps forward?
The key steps are the people, their cohesion, faith, professional development and their physical and mental safety. Behind any project and any results, there are always people and their hard work, so I hope that Ukrainians will not lose their optimism and keep pushing towards our victory. I consider it my mission to create conditions for my fellow Ukrainians, my colleagues and all of us to keep believing in Ukraine. Therefore, the viennacontemporary22 project is crucially important. We are also expecting a press tour from Ukraine and a panel discussion. I count on representatives of the Ministry of Culture and respective committees of the Ukrainian Parliament to come and talk about cultural European integration. Without people and their motivation, progress cannot be achieved.
What's next? Are there any projects you still have been dreaming to realize? 
Erste foundation and I are planning a series of workshops with representatives of the Ministry of Culture and other state institutions. As I have already mentioned, I am concerned about the legislative aspects. We need to learn how to create working groups of people who make laws and implement reforms. We need professionals who could initiate a series of changes: in cultural and archaeological heritage, intellectual property rights as well as other creative industries.
I am also thinking a lot about the creation of a new European foundation that would create a dialogue within civil society, contribute to public dialogue, document and study the war in Ukraine, which started eight years ago and not just in February 2022. 
In February, I announced the launch of the "museum of war" in Kyiv. One week later, the war began. We allocated space, funds, and even set up a small working team, but everything stopped when the full-scale Russian invasion of Ukraine started, so it was kind of a prophetic project.
- Interview by Margarita Keller
- Article shared by viennacontemporary