The Great Escape: can art offer a respite from reality?
Summer holidays present lazy days by the pool. South African artists have been depicting this scene and others that offer an escape from reality. 
-----------------------------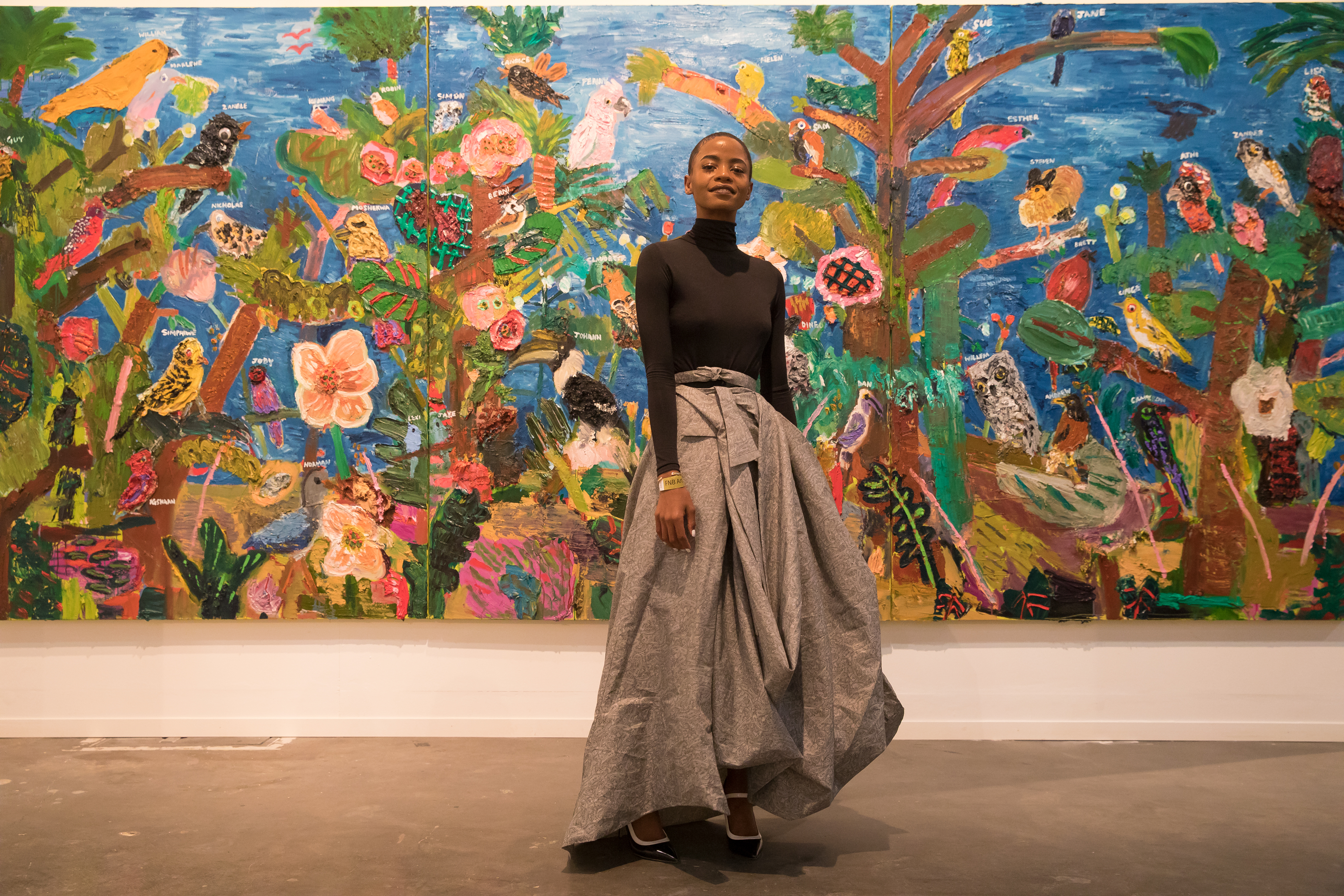 One of Georgina Gratrix's OTT still lives at the SMAC Booth at FNB Art Joburg, 2019, Image courtesy of SMAC Gallery
A Kirsten Sims beach scene got me through a root canal and many other over-priced and tortuous dental appointments. While some dentists have TV screens distract their clients my dentist had a pleasing artwork by the Cape Town-based illustrator-cum-artist known for her cheerful beachscapes. As my dentist drilled and yanked at my teeth I buried my mind deep in the sand of one such painting. Of course, beach scenes are not bereft of sociopolitical baggage – beaches are not neutral public spaces – but in Sims' hands, where details are denied and colour and gestural lines keep the mood light and bright such scenes provide a comfortable form of escapism. 
It is somewhat of an old-school notion that art must keep us in tune with the times. Art has equal value and sway when it channels utopias, and idylls. Think of Athi-Patra Ruga's practice, which has centred on colourful utopian scenes and a cast of characters from a fictional place called Azania.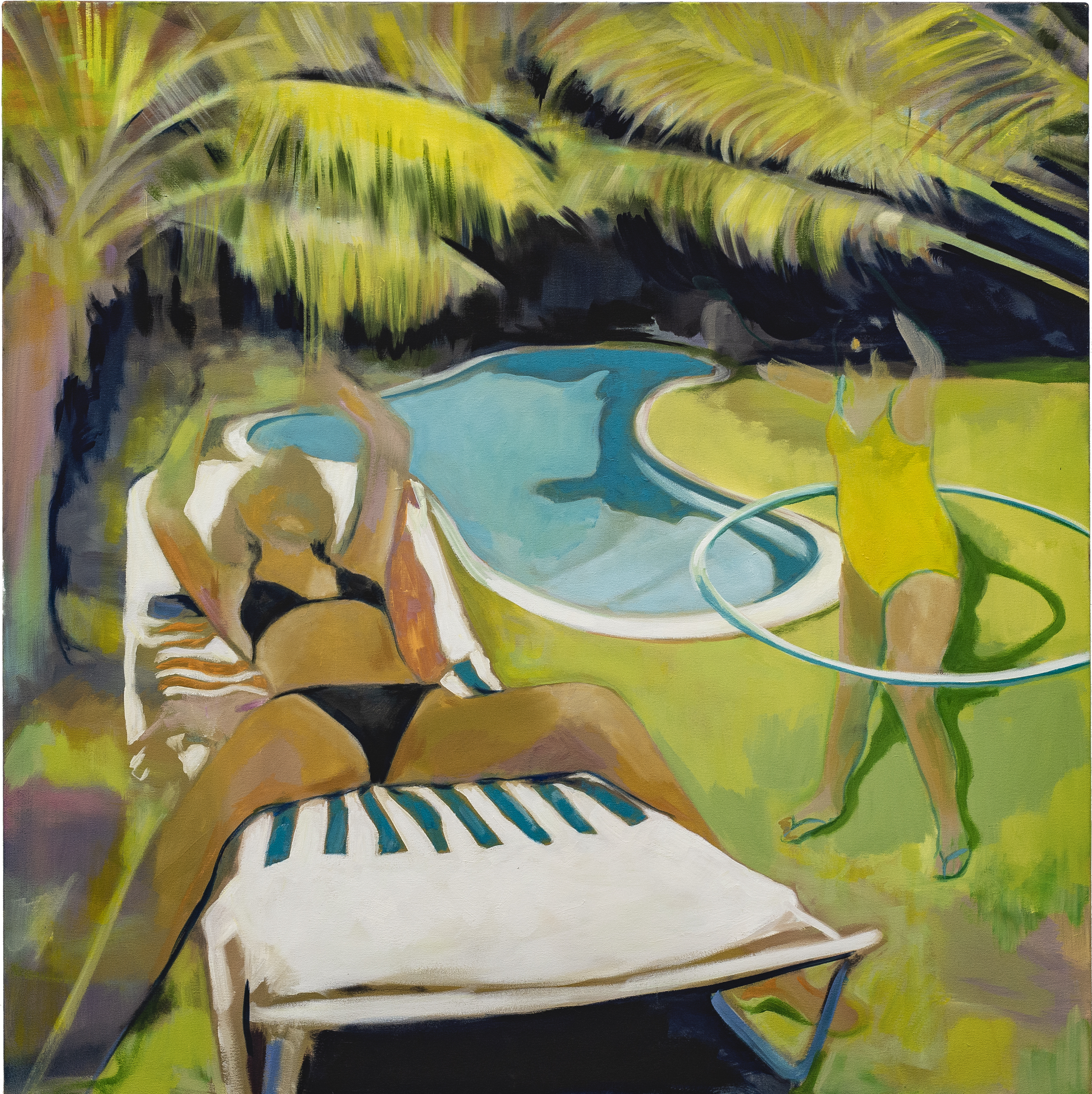 Kate Gottgens, The Au-Pair, 2022, Oil on Canvas, 100 x 100 cm, Image courtesy of SMAC Gallery, artwork copyright of Kate Gottgens
Exaggerated and colourful expressions of splendor also define Georgina Gratrix's still-life paintings – her overstatement of the beauty of flowers, a pastiche of an art trope. However, her generous, seemingly naïve rendering of a vase bursting with flowers might not only be a sardonic comment on the genre but a genuine response to the overwhelming sense of joy a bunch of flowers elicits. Perhaps in the face of such natural beauty Gratrix is unable to restrain herself. Her giddiness is palpable.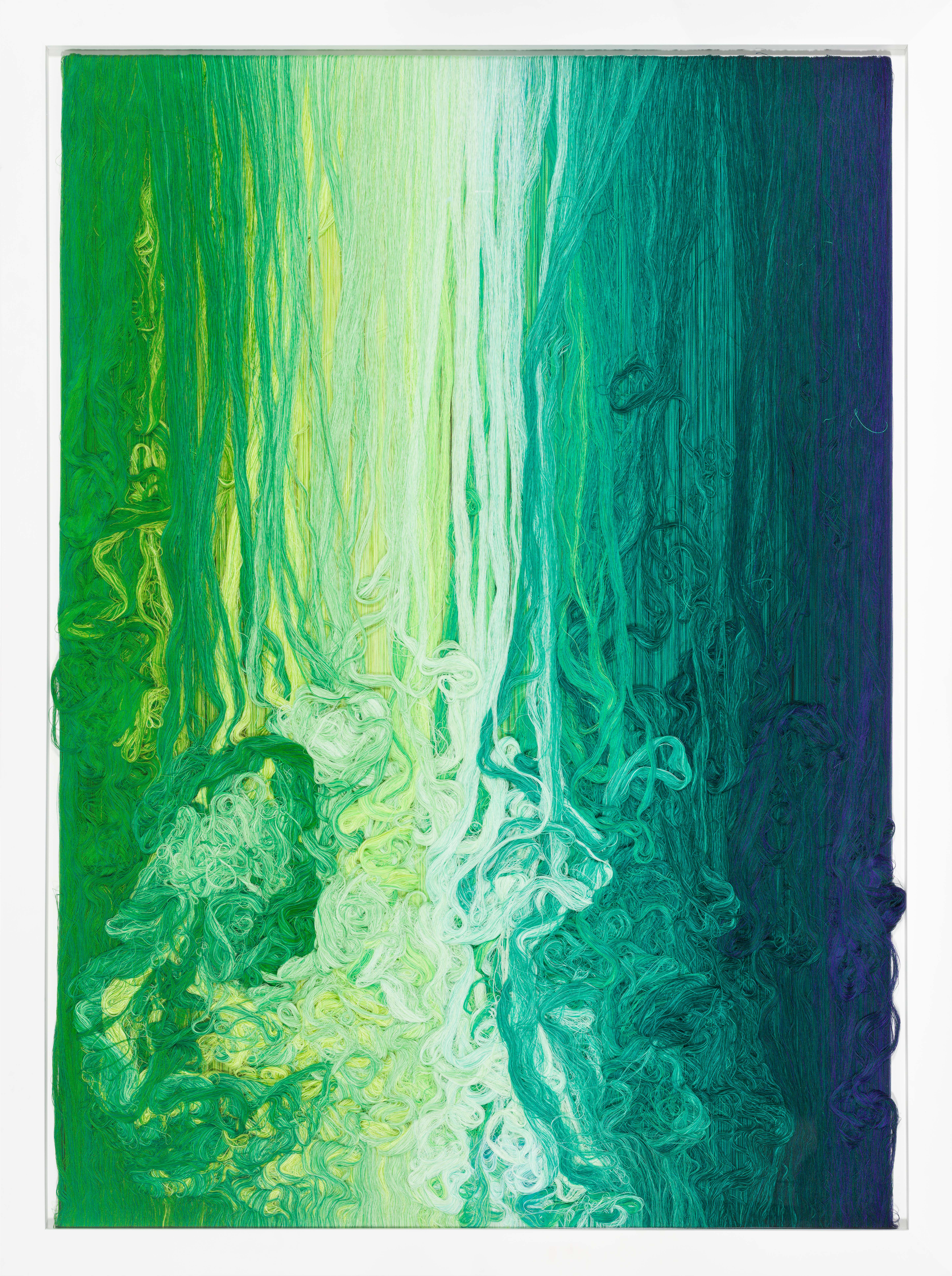 Mark Rautenbach's Ad Hominem/Emerald Pool showing at the Pigments of the Alchemists Imagination & the Non-dual showing at the Everard Read Cape Town
The pleasure of nature, gardens and plant life is a source of escapism for many artists. Kimathi Mafofo, who has recently staged an exhibition – A Covenant - at Ebony/Curated, has evolved her practice from painting to embroidered works yet the motif of a female subject rooted in a natural setting surrounded by flowers, angels and birds has remained constant. Years back during a studio visit she suggested that it was in nature, at a remove from societal conditions and expectations that she felt she could get in touch with herself, and forge an identity of her own making.
This idea echoes in the work of Shakil Solanki, who typically presents male subjects modelled on himself embedded in scenes colonised by decorative garden-inspired motifs – think twirly tendrils of plants encircling the subjects. He has recently produced two self-portraits in this vein (Coda 1 and Coda II: Kiss my petals weave me through a dream) for a group show at Everard Read Cape Town titled Seduction. In the former the subject arches backwards, and is plunged into the decorative scene, which is revealed in the latter work to be a textile print, a piece of fabric that the artist has said is derived from Hindu culture. So while you might think the subject/artist is escaping into a natural idyll, he is perhaps also diving back in time, headlong into the aesthetics that defined the past, though they may have had a hand in shaping the present too. 
Lounging around a pool during the December break is perhaps the escape many South Africans yearn for, particularly those who can't get to the beach. So perhaps it is not unexpected that the swimming pool and the activities surrounding it feature in South African painting – significantly in the work of Kate Gottgens (her exhibition The Swimmer is showing at Smac Gallery Joburg) and Andrew Kayser. While Kayser depicts the swimming pool at night, where it becomes a source of light in a dark garden scene Gottgens tends to represent it during the day with people in it or around it in her characteristic green palette. Nevertheless, in both artists' paintings the swimming pool embodies a middle-class suburban South African lifestyle. It is not only a sign of wealth for those who have leisure time but also an escape from urbanity and reconnecting with some essential 'natural' element, though ironically the swimming pool is a man-made structure loaded with chemicals. Yet both artists situate it as a space that instills longing and desire, perhaps due to it being associated with care-free leisure time but also as it perhaps can never really deliver on what it promises – an escape.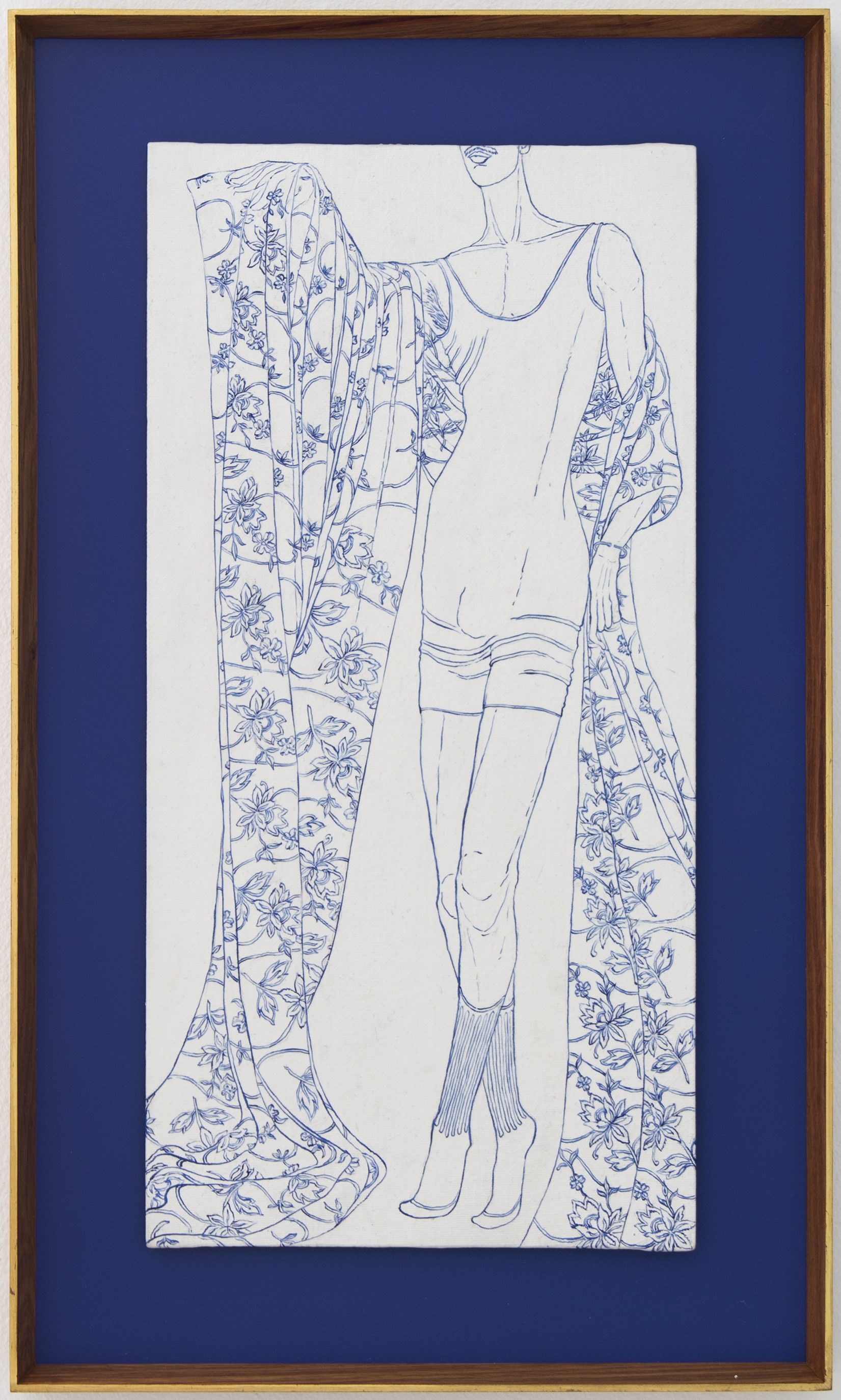 Shakil Solanki's Coda I - showing as part of a group exhibition titled Seduction at the Everard Read Gallery Cape Town
Art has been saving people from reality perhaps since the western tradition of painting was most successfully weaponised by the church in the renaissance era. Though some religious scenes present humans at their most barbaric, surely the floating cherubs encircling saints and resting on clouds promised viewers that whatever hell they might be going through on earth would be worth it once they reached heaven and lulled about in eternity with the angels. Of course, viewing such a work in the context of a grand cathedral accompanied by singing and candles and some chosen words being spoken in grave tones, allowed for transcendence – catholic style. 
Today, artworks similarly rely on architectural props and other performative drama – abstract theories and hushed tones – to allow viewers to transcend their daily lives, existences and burdens via a pictorial window. Of course, you could argue that reality is fiction and we probably need art to awaken us from it. Indeed, we look to artists to open our eyes to different lived experiences and events, and conditions. The kind of transcendence that art offers is not always a journey to a warm and fuzzy space – a veritable beach scene. 
Sometimes art is a product of the artist's desire to seek transcendence or to do so by proxy for their family or ancestors. Mary Sibande's art comes to mind – in particular, the depiction of her matrilineal line through a series of subjects in domestic worker outfits adapted to reflect their fantasies. However, over time as South Africa's democratic 'fantasy' has gradually imploded Sibande's subjects' subconscious musings have manifested in motifs relating to anger – such as sculptures of chained dogs rendered in a bright red.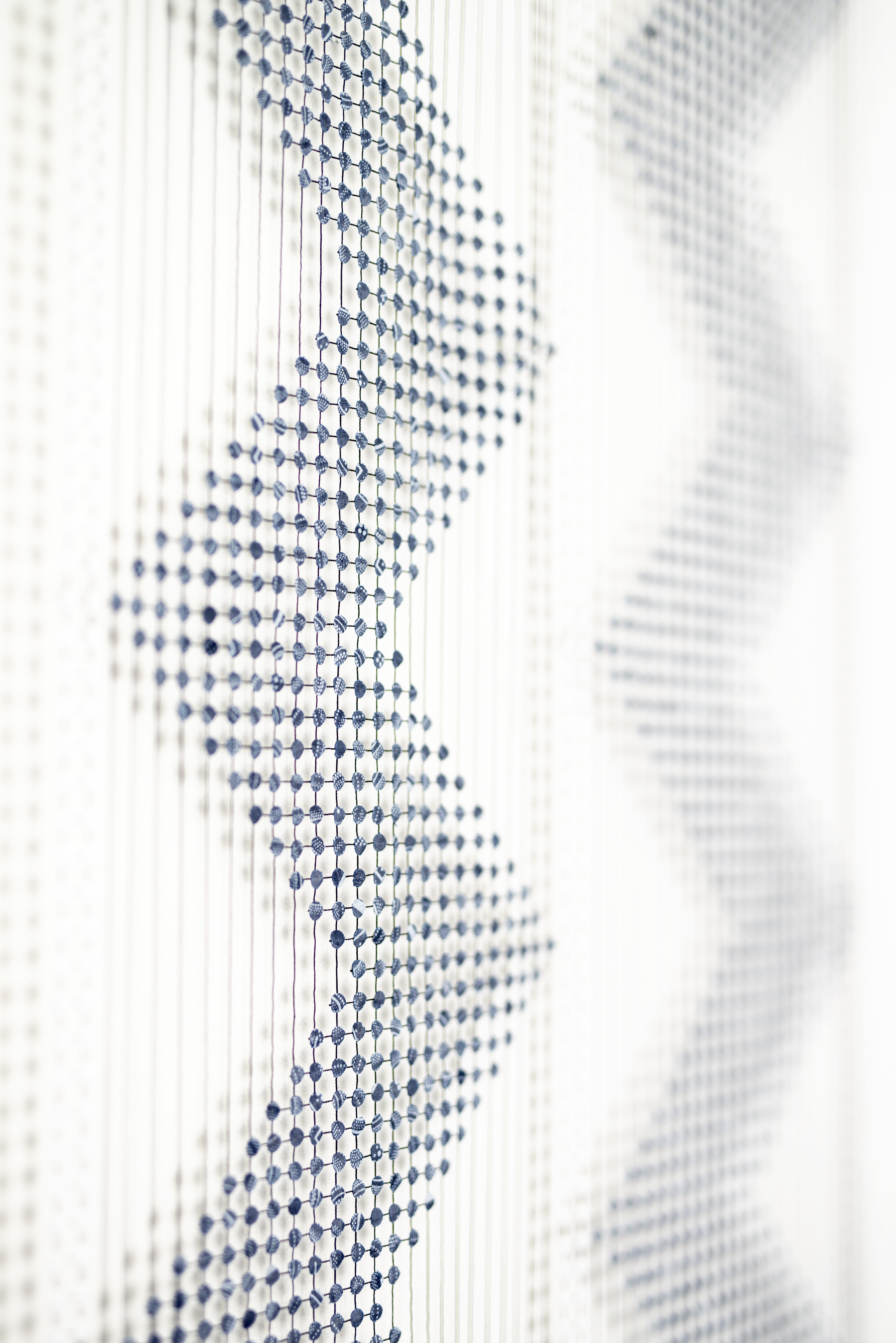 A detail of Bonolo Kavula's I am drawing in blue showing at Lewatle at the Norval Foundation 
Brett Murray's recent solo exhibition at the Everard Read Cape Town titled Limbo, which first showed at their London gallery, centred on escape and transcendence. This was enacted through an installation of small sculptures of animals with their gaze fixed on the ceiling. The sculptures were inspired by Japanese Ntsuke sculptures, in particular the figure of a rabbit with its eyes trained on the sky above, which is meant to bring good fortune. 
Whereas previously Murray employed animals – think of those copulating dogs – to evoke the debased shenanigans of our political elite, they now symbolise members of his family and the figure of a monkey with his head pressed against the wall stands in for the artist. However, this group of animals could equally signify society at large, all the families – that are living in a state of suspension and anxiety about the future. In keeping their gaze skyward, they can live in hope – transcend the present reality.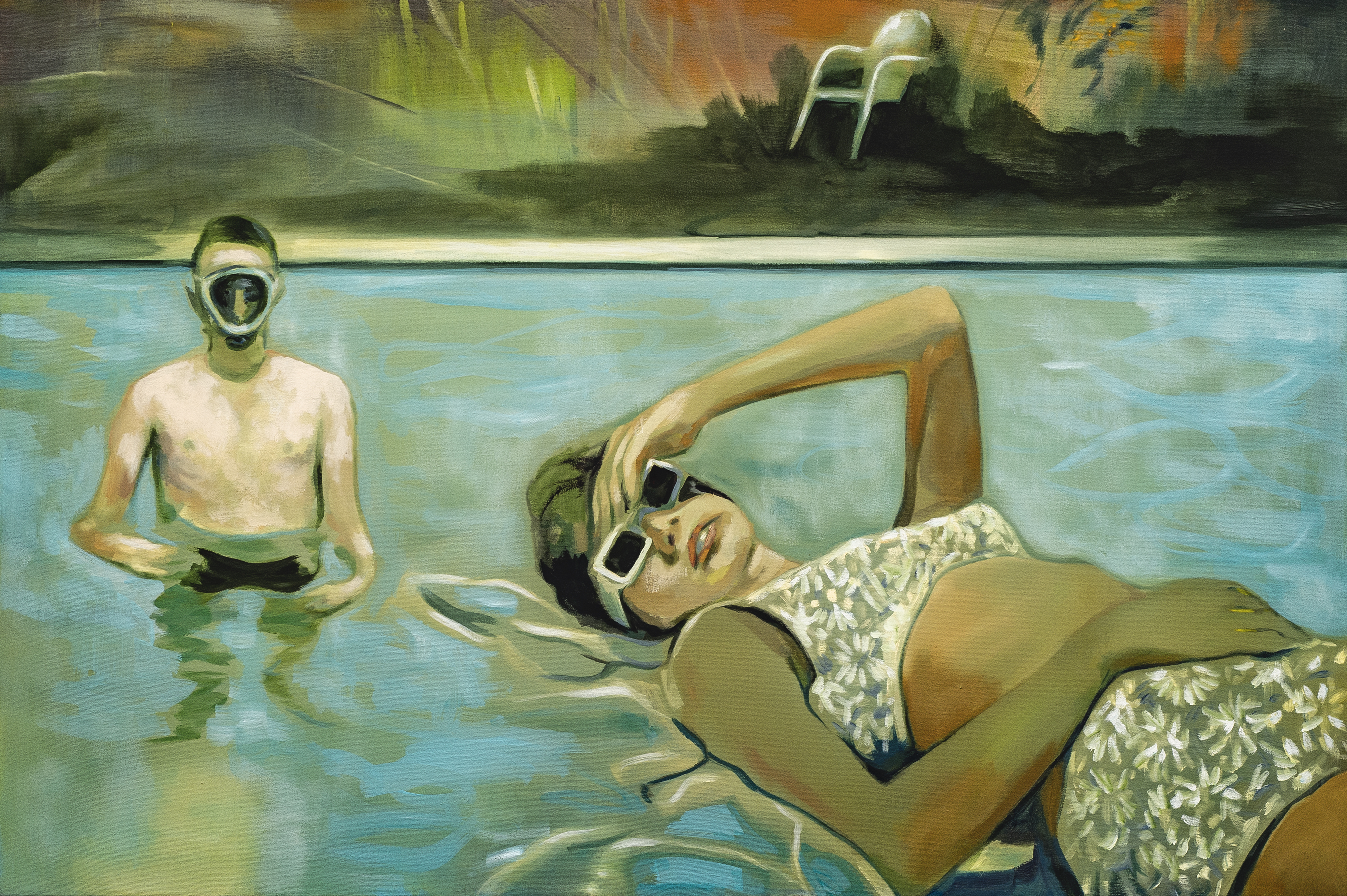 Kate Gottgens, The Deep End, 2022, Oil on Canvas, 80 x 120 cm, Image courtesy of SMAC Gallery, artwork copyright of Kate Gottgens
Ultimately, the kind of art that can truly offer 'an escape from reality is perhaps abstract art or works where the artist is more focused on the formal qualities of art, the medium and the possibilities it can offer. 
However, many viewers are uncomfortable with the kind of ambiguity inherent in abstract work as they are intent on knowing what the artwork means and how to talk about it or what to think. 
Currently, there are two exhibitions showing in Cape Town that evince artists working with unconventional mediums that result in abstract compositions that will delight viewers due to their ingenuity – Banolo Kavula's Lewatle at the Norval Foundation and Mark Rautenbach's Pigments of the Alchemists Imagination & the Non-dual showing at the Everard Read Cape Town. Both artists have manipulated found objects – in Kavula's case, Shweshwe prints, and in Rautenbach everything from safety pins, threads and pens – into extraordinary hanging works that deny the banality of the medium's origins or function. In this way they allow you to revel in the form, often the fragility and delicacy of the works, and marvel at their ingenuity. However, if you look a little too closely at their motivation and outlook reality will creep back into the picture.
- Mary Corrigall is a Cape Town-based art commentator, advisor and independent researcher