The Artists' Press presents new prints by artist Nabeeha Mohamed
-----------------------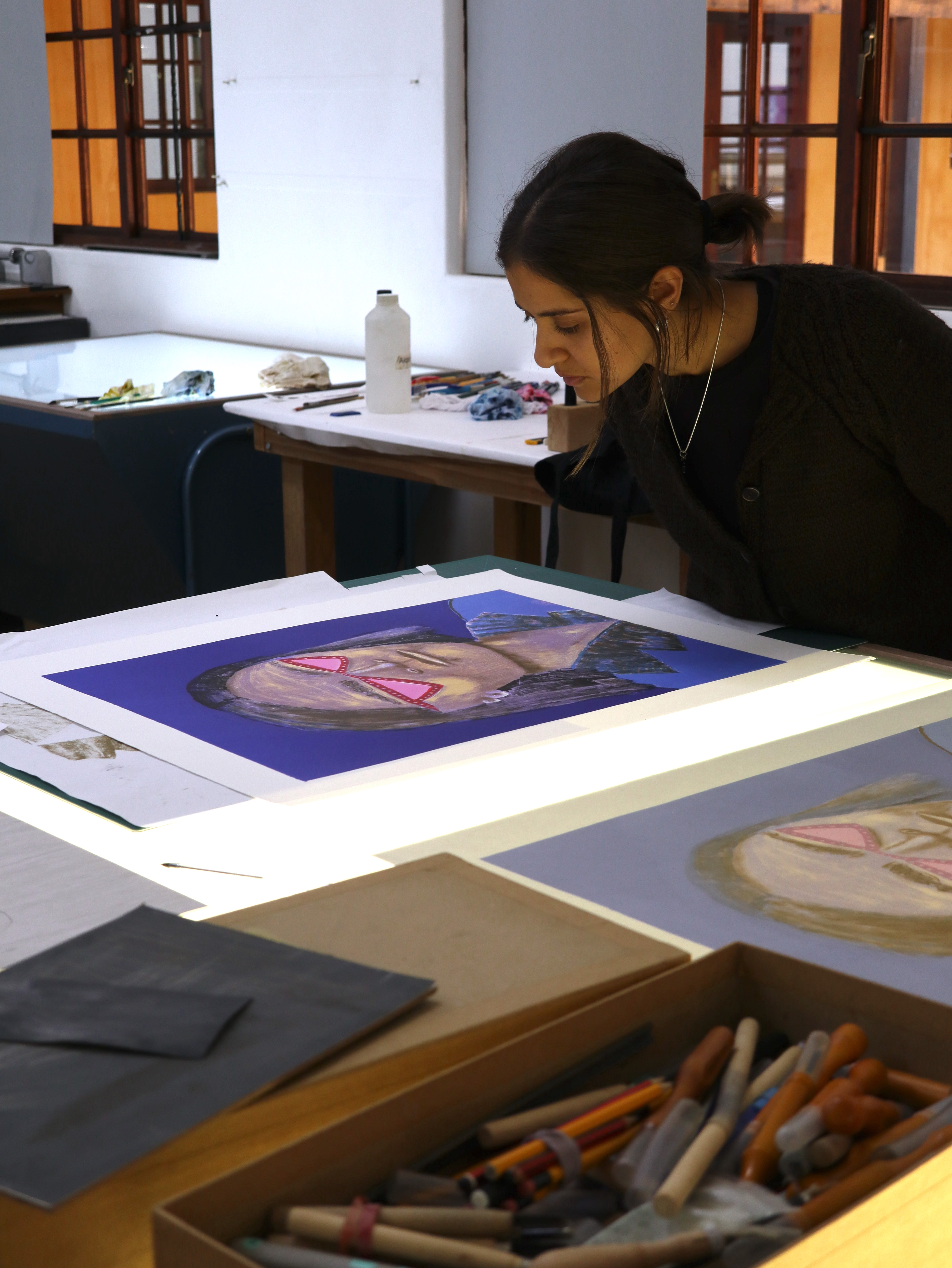 Nabeeha Mohamed in studio, courtesy The Artists' Press 
Nabeeha Mohamed was born in Cape Town in 1988. She completed her fine arts degree at Michaelis School of Fine Art at the University of Cape Town. Her paintings and prints confront the contradictions of her position in post-Apartheid South African society. Her identity as a woman of colour, hushed during her childhood to assimilate into white society, is celebrated in her work where colour and strangeness shine. Her bright brush strokes and sharp words are at once playful and thoughtful. They create a moving and complex critique of class privilege and the capitalist economy she benefits from.
Nabeeha Mohamed was the first artist to work in person at The Artists' Press after the Covid pandemic. Her presence in the studio and her prints are a real celebration of getting back to "normal". She has held several solo exhibitions and has participated in group shows from Cape Town to Lagos, Accra, New York and London as well as doing residencies in Brazil, South Africa and Ghana.
About each work
"I have long been in the practice of making notes when I read - writing down words, phrases and even long paragraphs that can sometimes inspire imagery and ideas in my work or, as in the case of 'Velvet Juice', assist with my own writing or titling. The text in this lithograph is a collage of phrases from two of my favourite books: Salman Rushdie's 'Midnight's Children' and Toni Morrison's 'Beloved." Nabeeha Mohamed 2022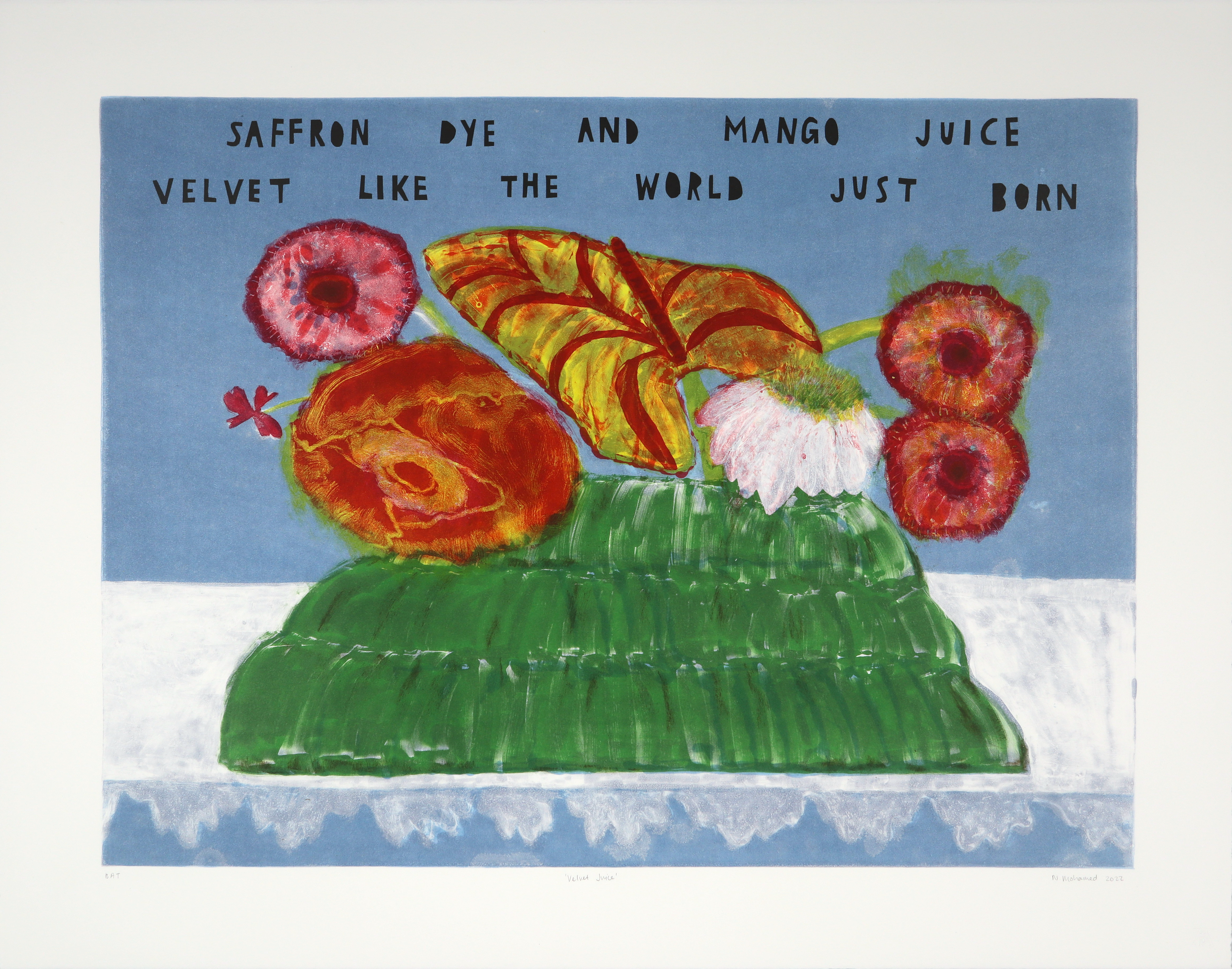 Nabeeha Mohamed, Velvet Juice, R 6,500 ex. VAT, CONTACT TO BUY
"Earnest Fashionista was the first lithograph I made during my residency with the Artist's Press. I've come to realise that many of my self portraits are better described as me in character, or in an alter-ego state. The canon of the self portrait allows for creativity and morphing in my identity, 'Earnest Fashionista' being a somewhat subtle transformation into an it-girl fashion figure who excudes a coolness foreign to my everyday self." Nabeeha Mohamed, 2022
 
Nabeeha Mohamed, Earnest Fashionista, R 6,500 ex. VAT, CONTACT TO BUY
"Much of my work is interested in classism and 'After-Party' is a depiction of class through a pop-lens. Loosely based on a paparazzi shot of Kendell Jenner on the red carpet, the moody colour pallet and sunglasses give this party girl an edge of mystery and coolness, granting her presence at the after-party, typically considered an exclusive event one needs to be personally invited to." Nabeeha Mohamed, 2022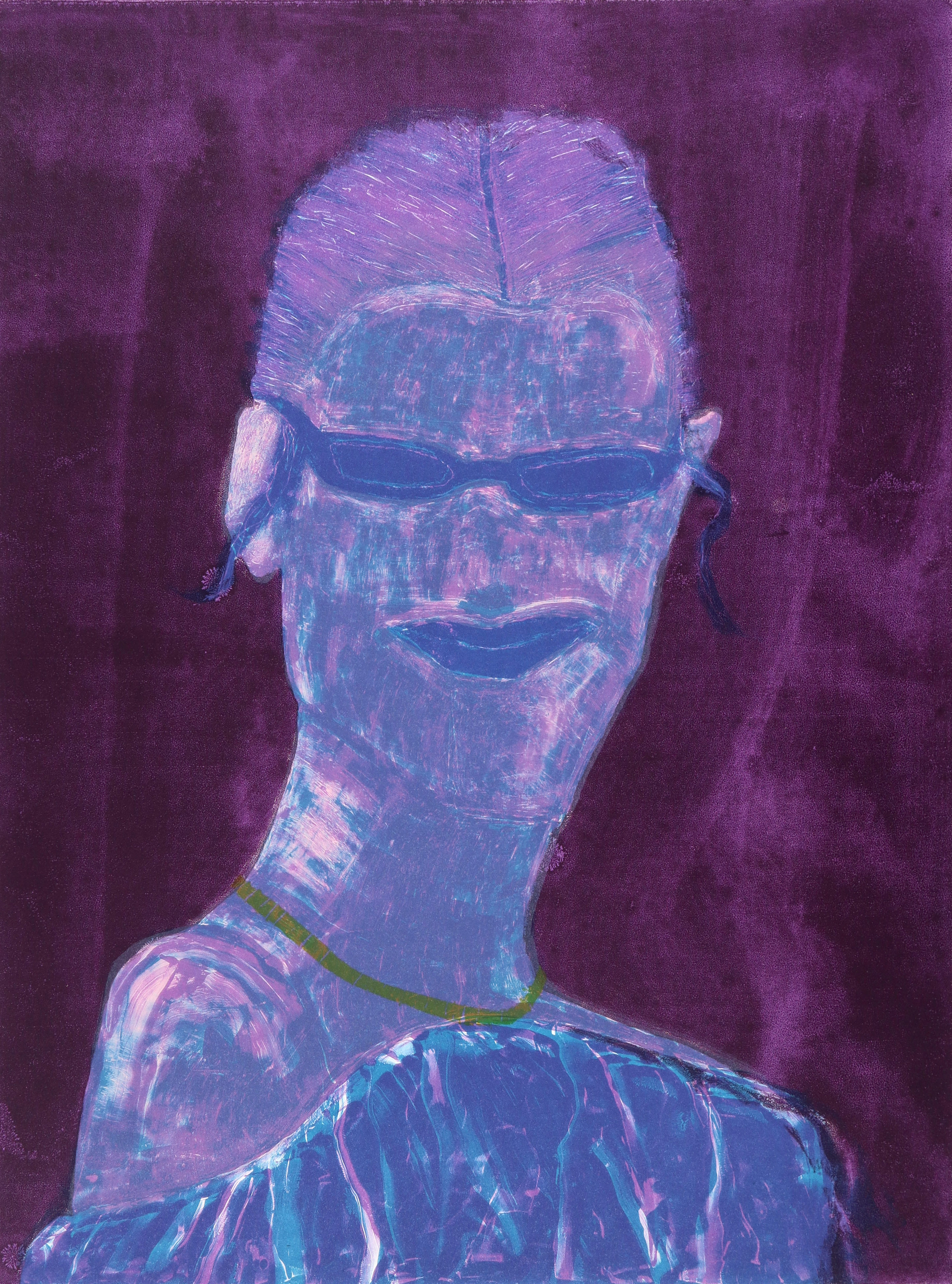 Nabeeha Mohamed, After Party, R 6,500 ex. VAT, CONTACT TO BUY
"Trendy is about a young woman who has too many options in life and so, decides to take them all."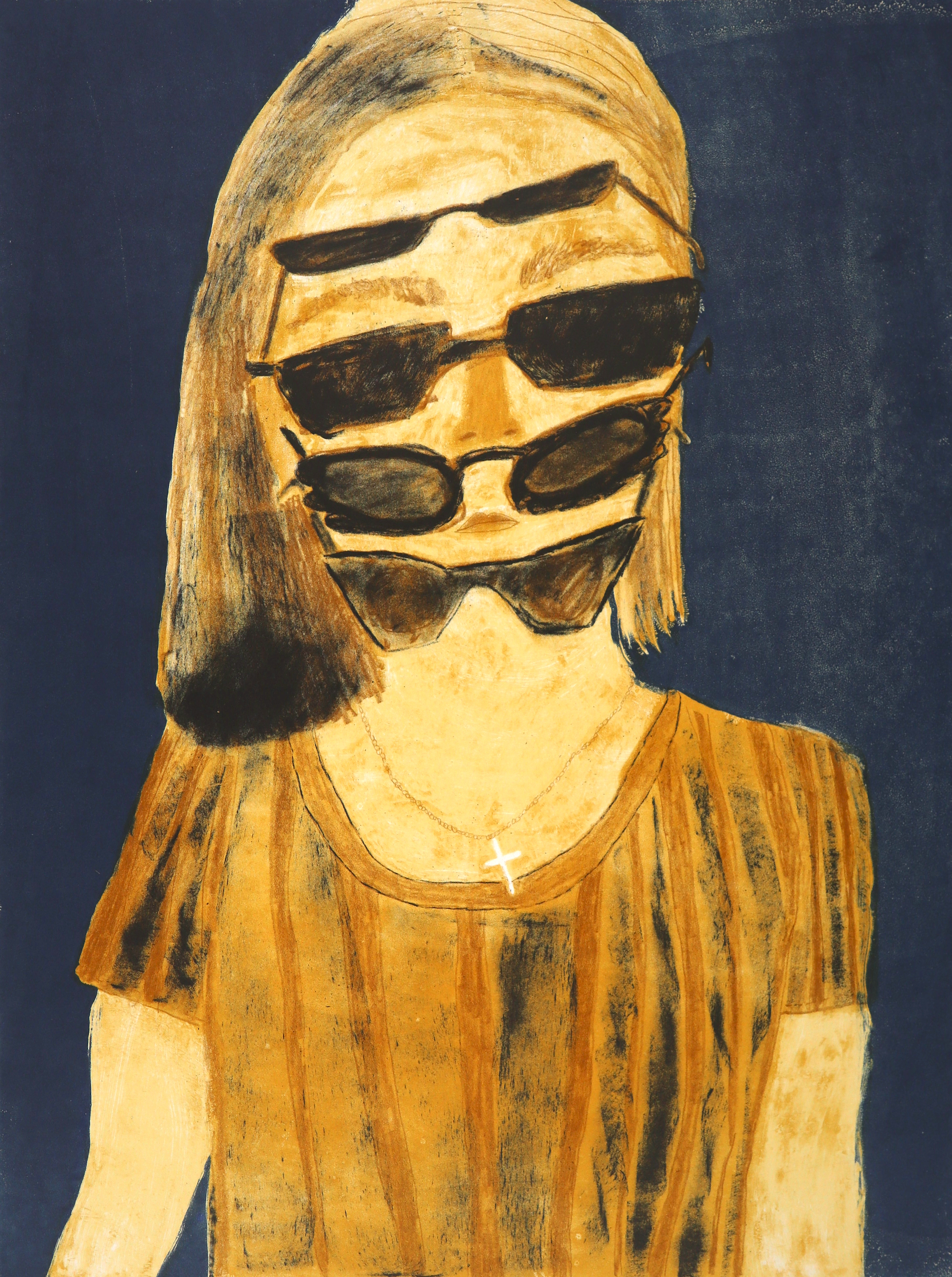 Nabeeha Mohamed, Trendy, R 6,500 ex. VAT, CONTACT TO BUY
"Kitten features a pair of red tiger-striped boots that by drawing, I hope will somehow be manifested into my wardrobe. I'm not sure whose sexy legs I have drawn here but sadly I cannot claim them as my own." Nabeeha Mohamed, 2022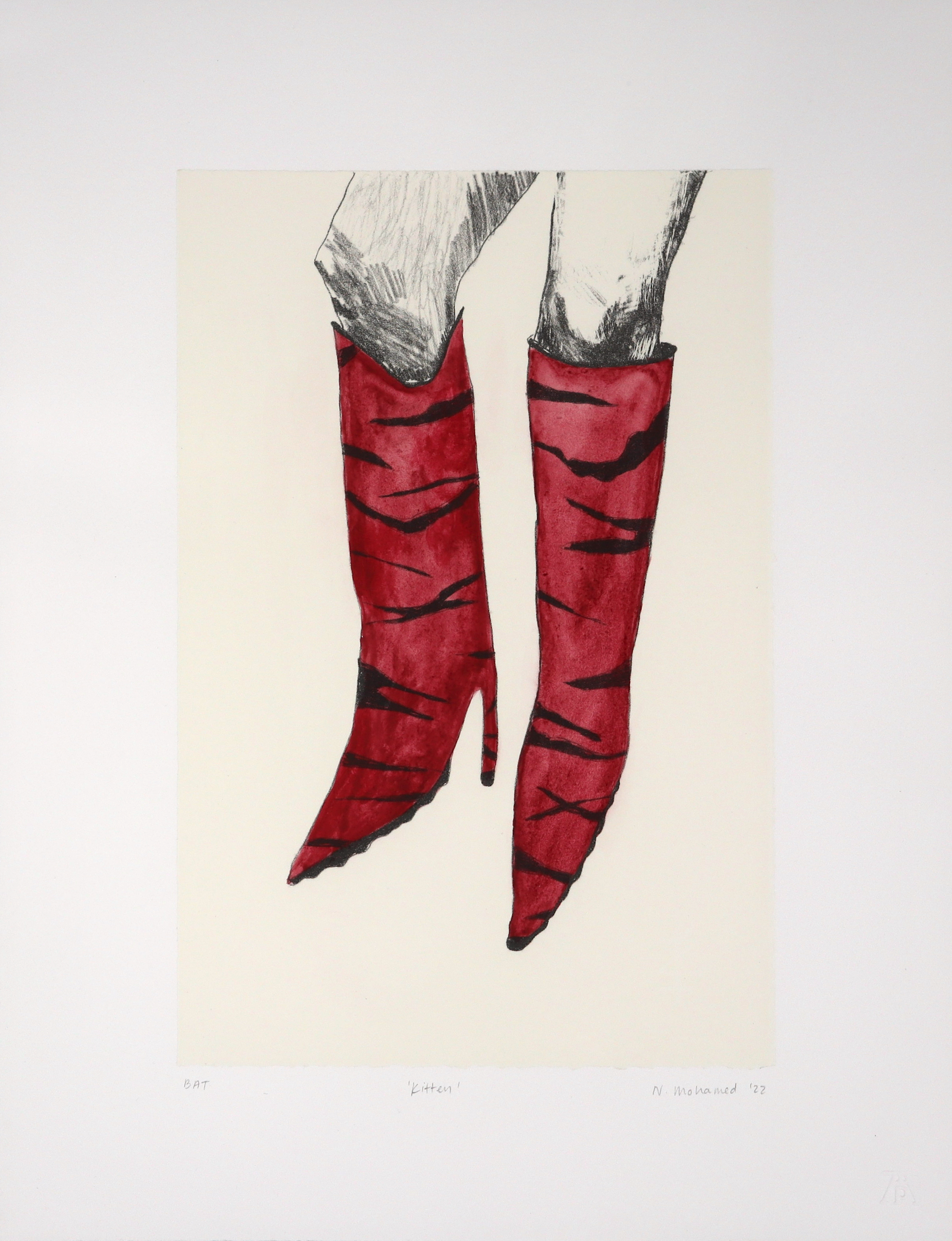 Nabeeha Mohamed, Kitten, R 3,500 ex. VAT, CONTACT TO BUY
"Like most of my still life works, this is an imagined one: the vessel drawn first and then flower by flower added, the previous instigating the creation of the next. I imagine bringing this bouquet home from a market on a late summery Saturday morning. I take time to arrange it in a vessel gifted to me by a dear friend, before placing it on the kitchen table, viewable from my outside reading nook where I will lazily be paging through my book between cat naps for the rest of the afternoon." Nabeeha Mohamed, 2022

Nabeeha Mohamed, Happy Days, R 3,500 ex. VAT, CONTACT TO BUY
"When drawing this, Mark asked me "Where is Balenciaga?" which made me realise that life would be a lot better and simpler if Balenciaga were a small town in Spain and not a luxury fashion house the vast majority of the world population cannot afford. This piece forms part of my ongoing "flower girl" series, each flower signalling social commentary on varying aspects of womanhood." Nabeeha Mohamed, 2022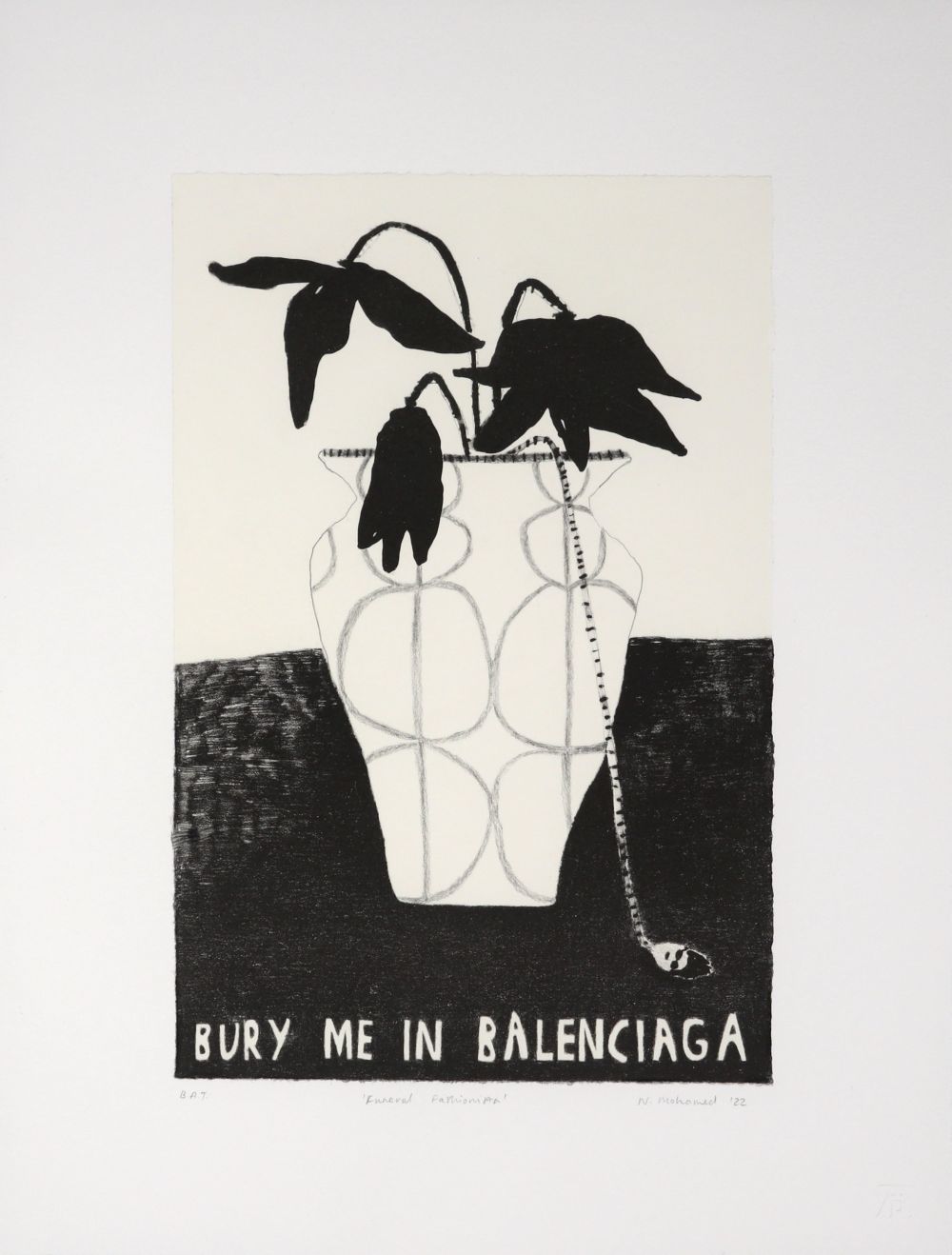 Nabeeha Mohamed, Funeral Fahionista, R 3,500 ex. VAT, CONTACT TO BUY