The Afro-Asian connection breaks in small waves
Asian art markets rival western ones. Yet links between Africa and Asia seem to be only gradually taking shape in institutional, rather than commercial spheres.
--------------------------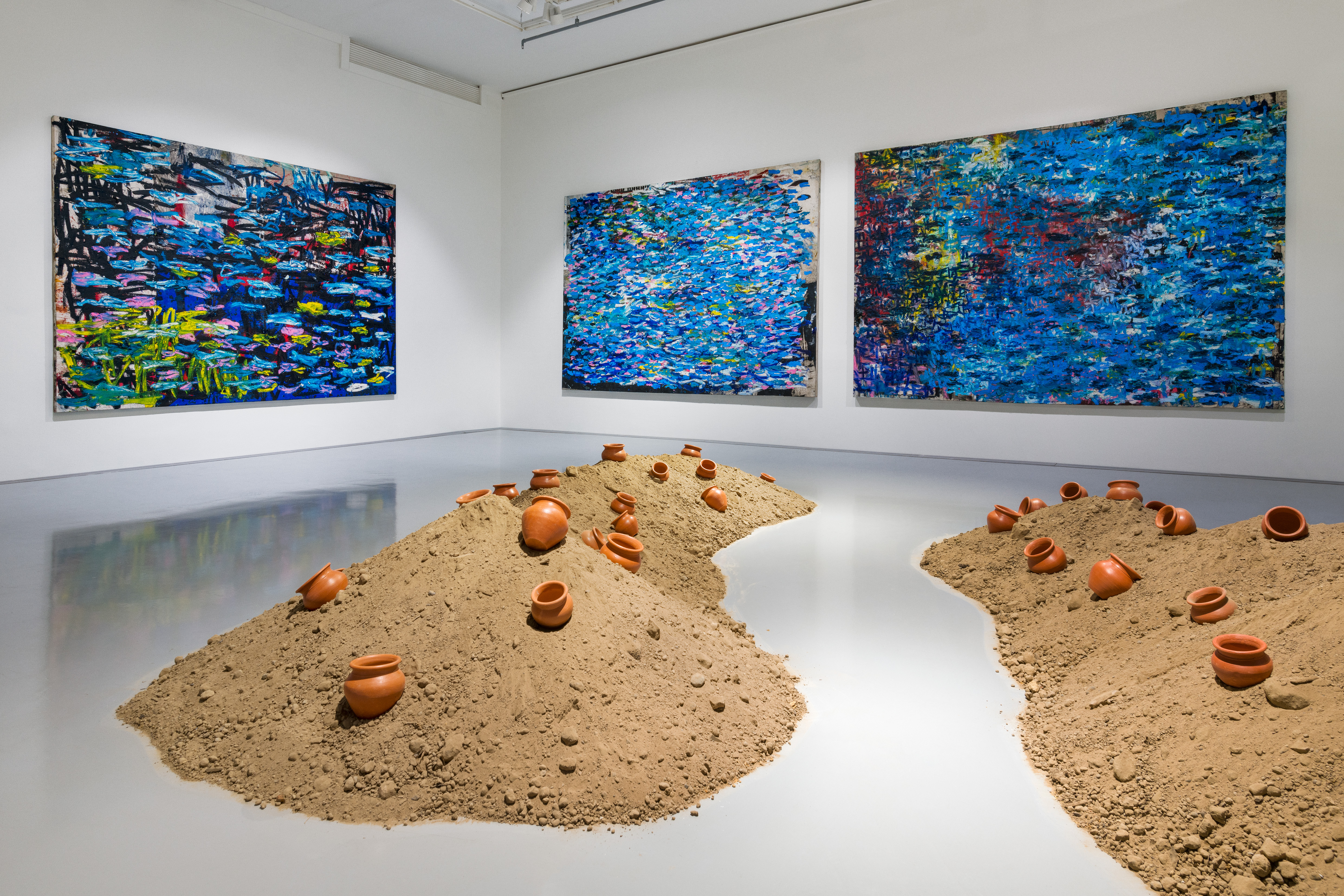 Installation view of Indigo Waves and Other Stories: Re-Navigating the Afrasian Sea and Notions of Diaspora, featuring surge (social cataracts), 2021 by Oscar Murillo and Vessel, 2020, by Sacintya Mohini Simpson with Isha Ram Das. Artworks: Oscar Murillo, courtesy of the artist. Sacintya Mohini Simpson with Isha Ram Das, courtesy of the artists and Milani Gallery, Brisbane
With the global art market players turning their focus to Asia with Korea's inaugural Frieze Seoul taking place last week alongside Kiaf, it presents a fortuitous time to consider the Afro-Asian connection(s). Only a few African-focused galleries took part in the latter fair, though some works by African artists – Ghana's Amako Boafo and South Africa's Chris Soal - formed the highlights. Nigeria's Rele gallery staged a show at Voda Gallery in Seoul to exploit the collector foot traffic.
In Africa on the same weekend, at the continent's oldest fair – FNB Art Joburg (formerly Joburg Art Fair) you would be hard pressed to detect an Asian connection, except for the SOUTH SOUTH's video programme, titled Human Tides, which sought to insert expression not only from Asia but other continents, countries in the global South. FNB Art Joburg has become less international or pan-African in its outlook. However, even when that was the case, no galleries from India, Korea, China, or other Asian countries participated.
The term global South is not only perhaps one of the most overused terms but also, ironically, the least understood. This is largely due to there being little consensus on what countries it might apply to, as it is all relative, with poorer 'Southern' regions of Europe also claiming to fall under this banner. Or is it a euphemism for all the characteristics that don't apply to the 'north' - developing, poor, previously-colonised, and non-western?
While some may view the term as limiting, it has proved fairly liberating for some museum curators who are tired of the Africa-only focused exhibitions and are thrilled that they can stretch the geographical borders of cultural expression to explore art from other regions, by people with interests that may align with 'African' ones.
This has proved refreshing, particularly when the same artists' works keep circulating, and collectors, particularly in Africa, appear to have little interest in works produced by artists outside their national borders.
It is perhaps for this reason that this 'broadening' of cultural expression is not taking root in commercial spheres – at art fairs, commercial gallery shows and auctions in South Africa. The Investec Cape Town Art Fair has attracted some galleries from the global South. None of these may be from Asia, but countries such as Brazil were present, even though their artists' works did not fly off the walls. Perhaps it will take time.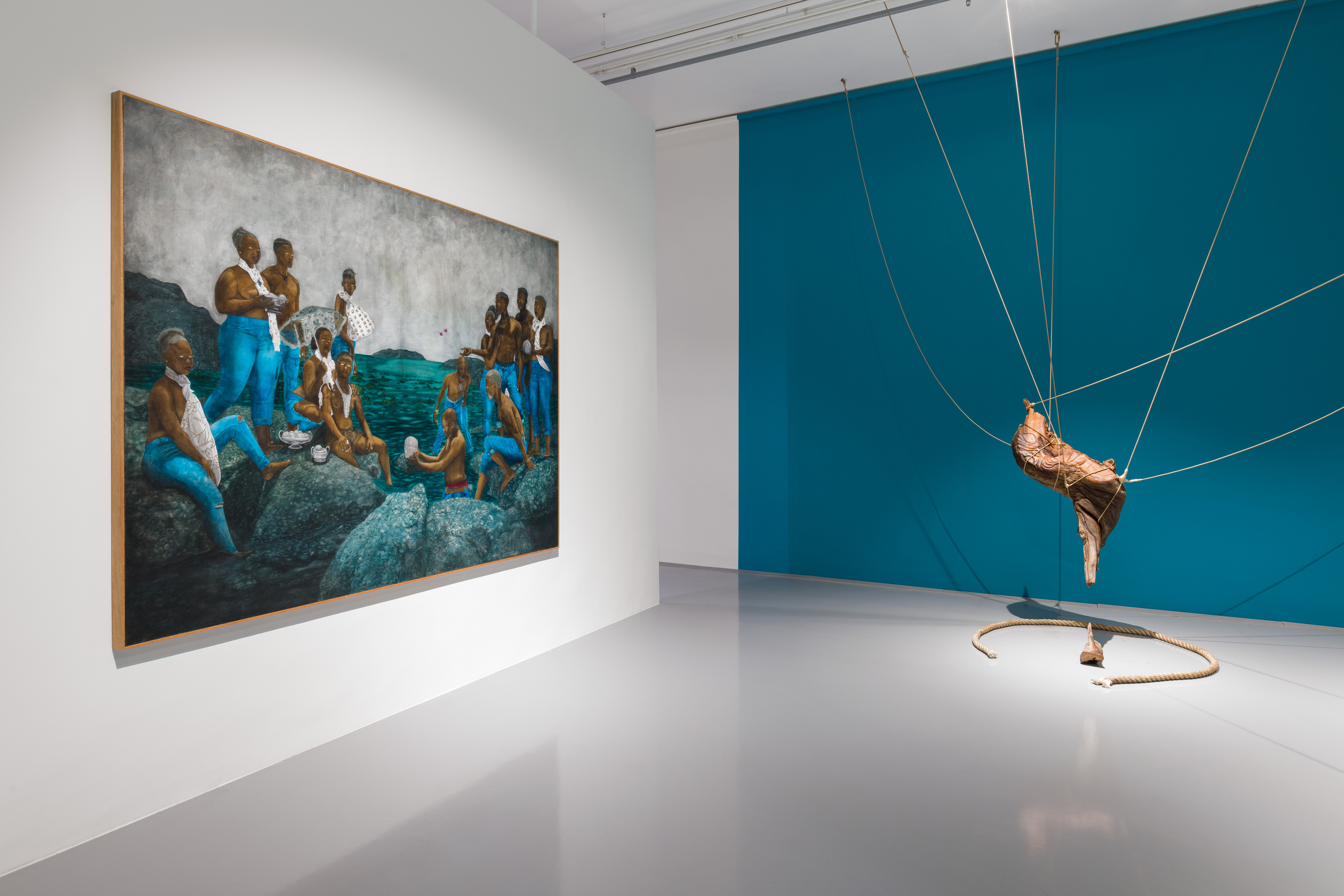 (L) Cinga Samson, Izilo Zomlambo 2, 2019 (courtesy artist and private collection), (R) installation work by Hasawa, a sculptor from the Reunion
The two top-tier galleries in this country, Goodman and Stevenson represent artists from the global South, and from time to time they do exhibit their works in their local galleries (as opposed to their spaces in London and Amsterdam respectively). However, it is assumed that they are mostly selling to collectors outside the country, and the continent. The SOUTH SOUTH entity which is an online community that offers "a central portal to experience the programmes and artist profiles of galleries within and dedicated to the Global South," attempted an auction soon after being established, but the records of it were removed and it has since appeared to be more focussed on non-commercial programmes such as talks and curated film selections for art fairs. This may indicate that collectors are not ready to jump the global-south bandwagon.
The advancement of the global South is taking place on an institutional level – this is perhaps where it always begins. The Joburg Contemporary Art Foundation headed by Clive Kellner in that titular city has dedicated its exhibition programme to dialogues between visual artists from the global South. However, the emphasis has not been on Asian artists – only works by Bharti Kher (India) have featured in an exhibition.
Currently, the Zeitz Museum of Contemporary African Art (MOCAA)  is staging an exhibition with a focus on the Afroasian connection.  Coincidentally, as with the SOUTH SOUTH Programme, the binding theme has to do with the ocean. It obviously resonates with the idea of making connections across the sea but it is loose enough to also allow any manner of works to be incorporated.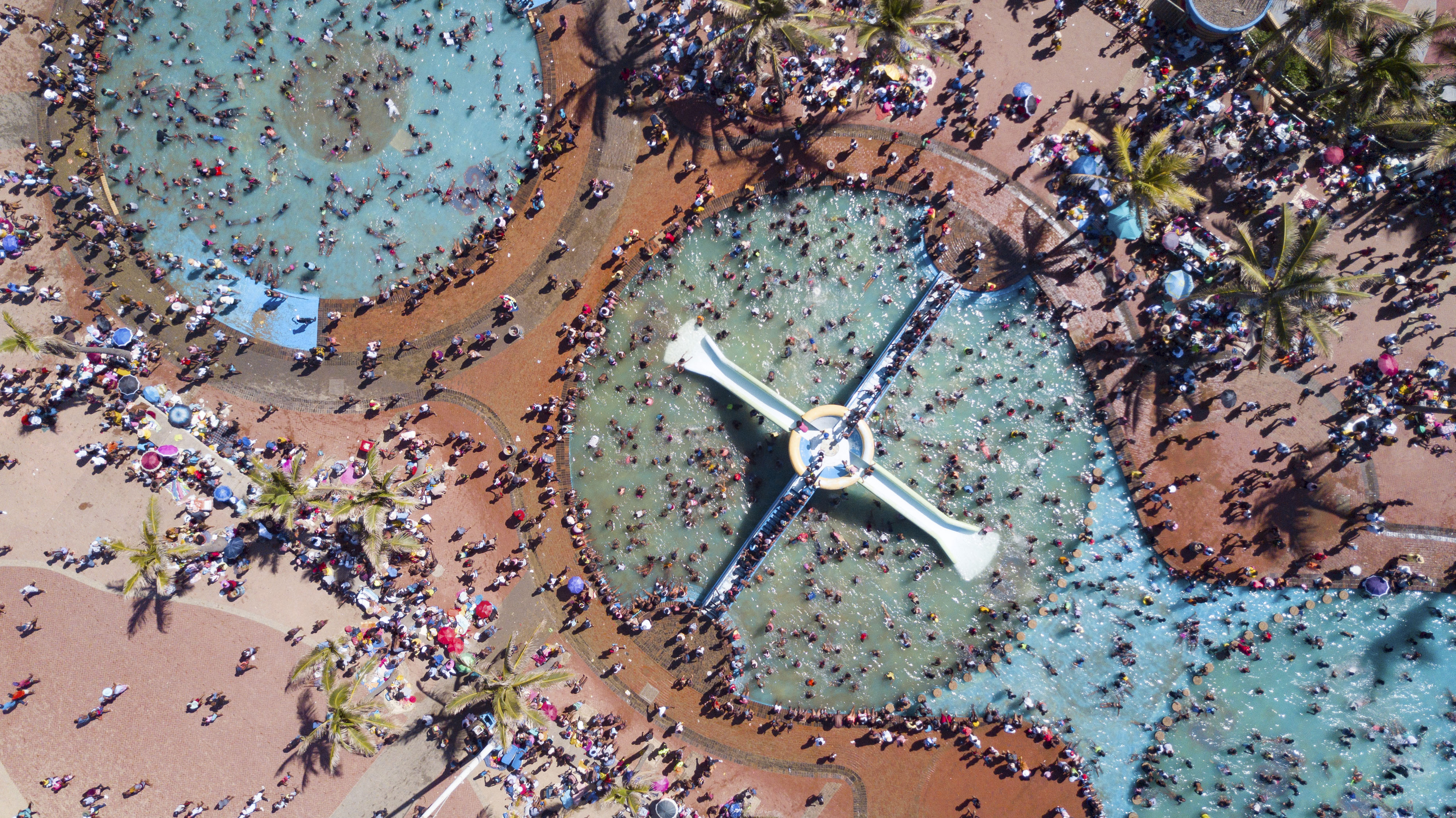 Luvuyo Equiano Nyawose, Untitled 26 (December 16th, 2019), 2021, Linen wallpaper, 540 x 303.1 cm, Courtesy of the artist
With three curators – Natasha Ginwala, Bonaventure Soh Bejeng Ndikung and  Michelangelo Corsaro – responsible for the exhibition, Indigo Waves and Other Stories and the result of a partnership between three institutions - Gropius Bau and SAVVY Contemporary in Berlin, and Vasl Artists' Association, Karachi – this exhibition promised to be a landmark one in terms of a conversation between Africa and Asia. Its Cape Town iteration, however, felt like a small teaser.
The Indian Ocean is advanced by the curators as the "communal horizon from which to read Afrasian histories" and is said to be motivated by an interest in exploring the historical, cultural and linguistic links between African and Asian cultural producers. The sea proves to be an interesting 'site' from which to perceive relationships, as it is in essence boundless geography that can be mapped despite being fluid. It is an appropriate metaphor for common links not only as the sea has carried Asians to Africa over the centuries with different waves of immigration but also as the threads that bind run deep and cannot be neatly tied up with a succession of images.
Most of the works in the exhibition are focused on representations of the sea or the people in it. South Africa's Luvoyo Equiano Nonyawose captures scenes of swimmers at Durban beaches and swimming pools. In two large-scale reproductions of drone images from a bird's eye view, bodies are submerged in water en masse. The human drive to be near the sea or submerged in it is undoubtedly a universal one, though of course, in South Africa, with its apartheid legacy determining which race could occupy certain public spaces, black bodies on beaches have a different sort of resonance. 
In a video-documentary work titled The Coast (2020), Sohrab Hura (an Indian artist) captures scenes of the sea after religious festivities in Tamil Nadu. Loud music lulls the viewer but also shows the participants to be entering into a meditative state, another zone. This is perhaps what the sea offers and why humans gravitate towards it – the promise of transcendence, offering a space beyond the land in which to exist. This presents a sense of freedom from the identities that are land-bound and defined. A space beyond nationhood if you will.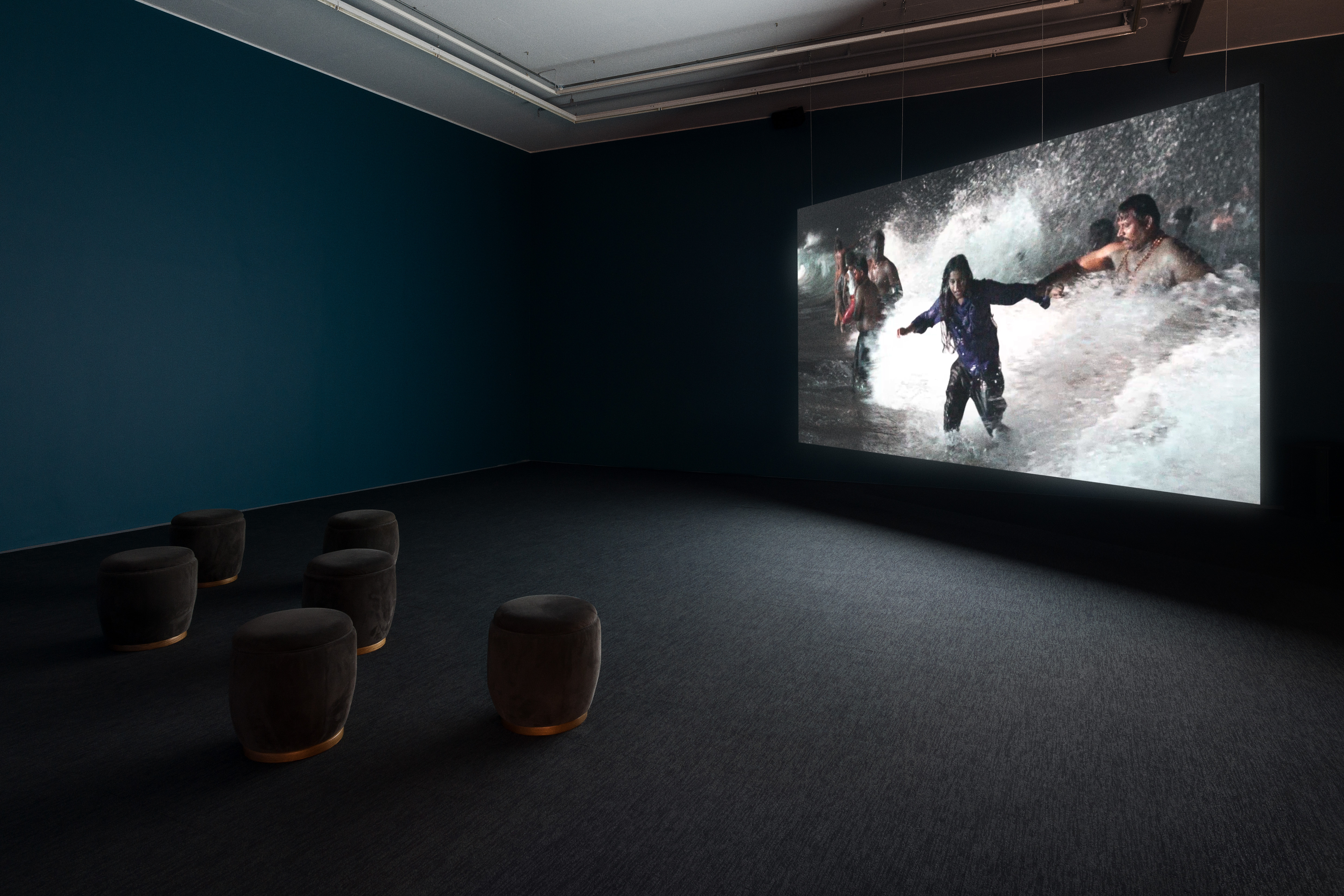 Sohrab Hura, The Coast, 2020, Single channel video projection, 17:28 min, Courtesy of the artist
Coincidentally, Hura's work was also included in the SOUTH SOUTH programme, so clearly for curators, it is significant to the global South conversation, or are we back in another loop with the same names and artists becoming to be identified with this rubric?
As film works – and photographs - are easier to travel across the seas, it seems likely these mediums may well dominate an Afroasian exchange at an institutional level. That said, large-scale paintings of water by Oscar Murillo (not sure what his Afroasian connection is) were also included in the Zeitz MOCAA show and were a treat to see.
However, you do leave wanting more. Is it possible to have an exhibition of works by Asian artists that have no link to Africa at all? A selection of works by contemporary Korean artists would shake up Cape Town's provincial scene. If only some of our private art foundations could afford, or had the will, to stage it.
- Mary Corrigall is a Cape Town-based commentator, advisor and independent researcher