Poetic Textiles of Women Who Weave the Everyday
------------------
- By Towela "Kams" Tembo
For its much anticipated 10th anniversary, The Investec Cape Town Art Fair has yet again delivered an exciting host of exhibitors, artists and conversations pioneering African art. One of my favourite takeaways from this year's fair are the textile works of women artists who carefully explore the everyday through the work of their hands.
Through an intricate observation of their lived experiences as well as those around them, each of these women string their threads around our arms and lead us into a world of their own. The stories they author (and co-author with others) act as leading memoirs that assert their existence and emotions. By extending the use of textiles in a language best suited for their messaging, they inquire on the subtle, delicate ways that the medium can transcend textural touch and permeate souls through familiar moments that connect us all together.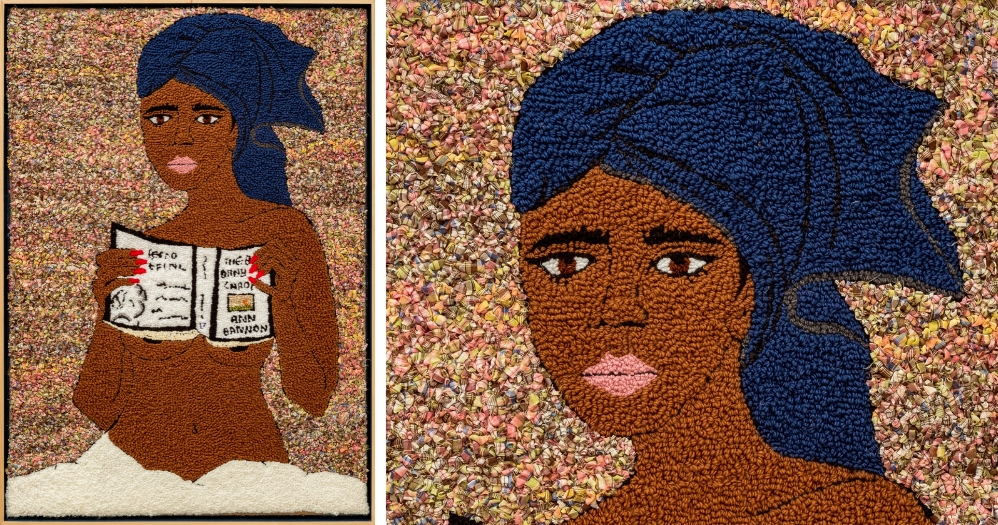 Talia Ramkilawan, A day without lesbians is a day without sunshine, 2022 | Courtesy of Bernard Brand
Talia Ramkilawan
Known for her 'tapestry adjacent' wall pieces, Talia's work traces the link between past traumas that resonate into the present. She bravely personifies themes surrounding vulnerability and softness through a slow and accumulative process of peace and stillness. With a special emphasis on the South African Indian experience, her inspiration is intimately gathered from her life and her family dynamics. Scenes of the ordinary are pictorially imprinted in the fabrics of her tapestry.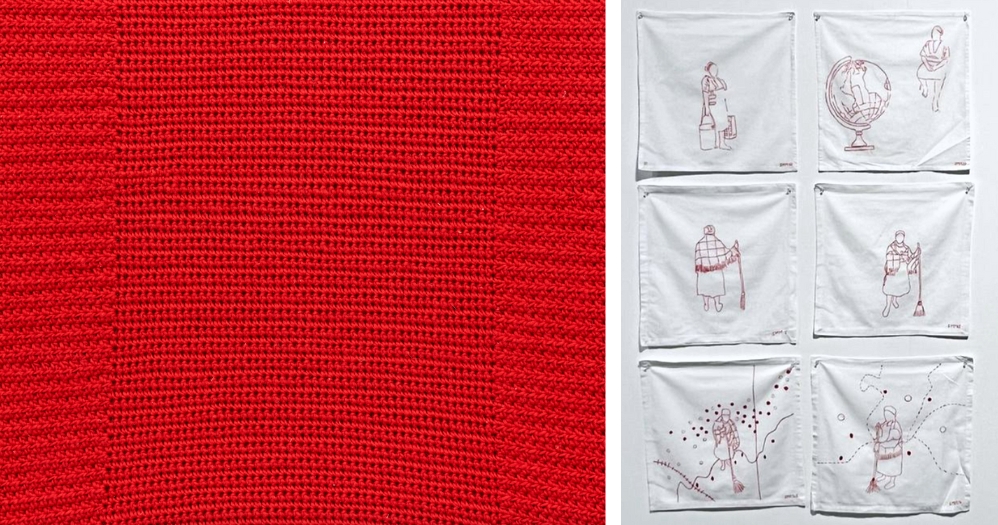 Lerato Shadi, Series #2, 2022 | Courtesy of Blank Projects & Selected work by Senzeni Marasela |  Courtesy of Galerie Eric Dupont
Lerato Shadi & Senzeni Marasela
Shadi and Marasela are both intrigued by the historical narrative of South African women and use their respective presentations to introduce conversations around cultural erasure, structural inclusion and the collective experience of womanhood. Both women make use of the colour red to pay homage to their bloodlines. 
Marasela's selected works are marked by her red thread on umbacho as a means of recalling and reciting the period of 'red dust' - her grandmother's generation - a time when black life was characterised by conflict. Marasela's use of textiles and embroidery throughout her work speak back to a reflective overview of the artist's practice. Delicately, Marasela transfigures oral literature from childhood into visual art.
Shadi, on the other hand, plays a more assertive role in her visual story: "I realised that by just blindly or lazily accepting an inaccurate history – I would be sanctioning the problematic dominant narrative with my own inactivity." Shadi's intention is clear: to centre, not just include, the marginalised body as a main figure of narrative experience through virgin wool and raw linen. Shadi's call-to-action makes a bold mark in scarlet red, alerting us of the need for urgency around agency of our narratives.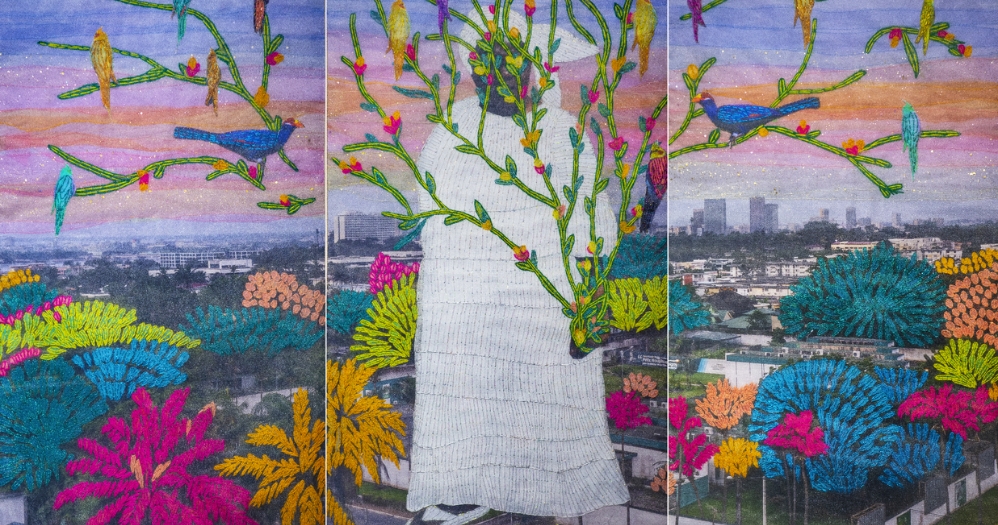 Joana Choumali, FLOWERS DON'T BLOOM HURRIEDLY,  2022, © Joana Choumali | Courtesy of Gallery 1957
Joana Choumali
The contemplative and meditative capacity of embroidery to powerfully clarify and winnow emotions is at the very heart of Côte d'Ivoire bred visual artist and photographer Joana Choumali. For the artist, archiving the landscape of Africa includes an emotive consideration of not just the tragedy and grief that people feel, but the ways in which they seek survival as highlighted both visually and in the title of her selected triptych artwork for the Fair, "Flowers don't bloom hurriedly". Choumali's photography stems from a childhood introduction to a camera that led to years of developing her personal lens of the world around her, with the drive to connect with empathetic eyes - and ears - keen to (re)-discover Africa and its people.
Bella Knemeyer, 'Some things we have as long as they remain lost', 2022 | Courtesy of RESERVOIR & Shamillah Aasha, Spiral Passages Part 2, 2022 | Courtesy of First Floor Gallery Harare
Bella Knemeyer & Shamillah Aasha
Knemeyer's background in urban studies finds its way into her studio practice with work pivoting around the craft of everyday urbanism, artful placemaking, material flows and the politics of public space. Aasha's connection with public spaces is that of a multicultural and traditional nature and its impact on identity, spirituality and social status for herself and other women in her community. By looking outside themselves to make sense of how everyday life fragments into pieces, both artists lead with an awareness of Self and its relation to community.
Bella Knemeyer's mulched paper on fabric board titled 'Some things we have as long as they remain lost, some things are not lost only as long as they are distant' is a denotative investigation of how paper becomes textile through a repetitive process of layering. On a larger scale, however, Knemeyer's work situates itself as an illuminating invitation for the viewer to step into and unveil a world of wonders.
Shamillah Aasha's Spiral Passages of embroidery and found fabric on canvas is a non-figurative rendering of the artist's use of sacred objects as emerging soft sculptures. She reforms old patterns into new through a process involving stitching and sewing, layer by layer - her palmistry language. The spirals, which have also been replicated in the paintings of the artist, defy attempts at categorisation are visual cues that encourage the viewer to map their way through.