No longer quite the new kid…but in a good way
Valerie Kabov see's a shift at Art Basel Miami Beach & Untitled
------------------------------
Rele Gallery presents new paintings by Tonia Nneji from her series 'Uncommon Lands, Common Grounds'. Installation shot, Courtesy of Art Basel
For almost a decade now, contemporary art from the continent has been accompanied by 'celebrations of arrival' in the international art world, dominated with headline grabbing firsts – first dedicated art fairs and art fair sections, first dedicated auctions, first African departments established and curators appointed in Western museums and first dedicated museums established on the continent. The tide of market enthusiasm, which came on the back of decades of work by scholars and activists to redress historical underrepresentation and omissions, has lifted many ships over the past decade. With USA being the largest art market in the world the tide has potentially reached a crescendo at Art Basel Miami Beach, buoyed by social justice protests and pressure for diversity. Art Basel Miami Beach and its satellites hosted a record number of African and African diasporan galleries and garnering both press and celebrity engagement. However, the question was always pending what will happen when the art world fashion moves on, as it inevitably does. Perhaps at Art Basel Miami Beach – Miami Art Week, which just passed, we got an idea of what that may look like.

Southern Guild installation at Untitled Art in Miami, courtesy of Silvia Ros/Southern Guild
With Covid lockdowns over for vast majority of the art world, Art Basel Miami Beach hosted its largest edition yet, expanding to the entirety of the Convention Centre and taking over the top floor for the expansive Collector Lounge and talks area. The mood across the floor and across other fairs, was decidedly different to 2021. Whereas last year one could not walk 20 paces at either convention centre or its runner up – Untitled – without encountering what has become a sui generis genre 'black figuration', this year the flavour was definitively favouring abstraction with Cuban and Brazilian artists particularly prominent amid a sense of conservatism with talk of recession in the USA and war in Ukraine dampening the buying spirits of European visitors despite the joys of beach weather in Miami and endless stream of parties during the week.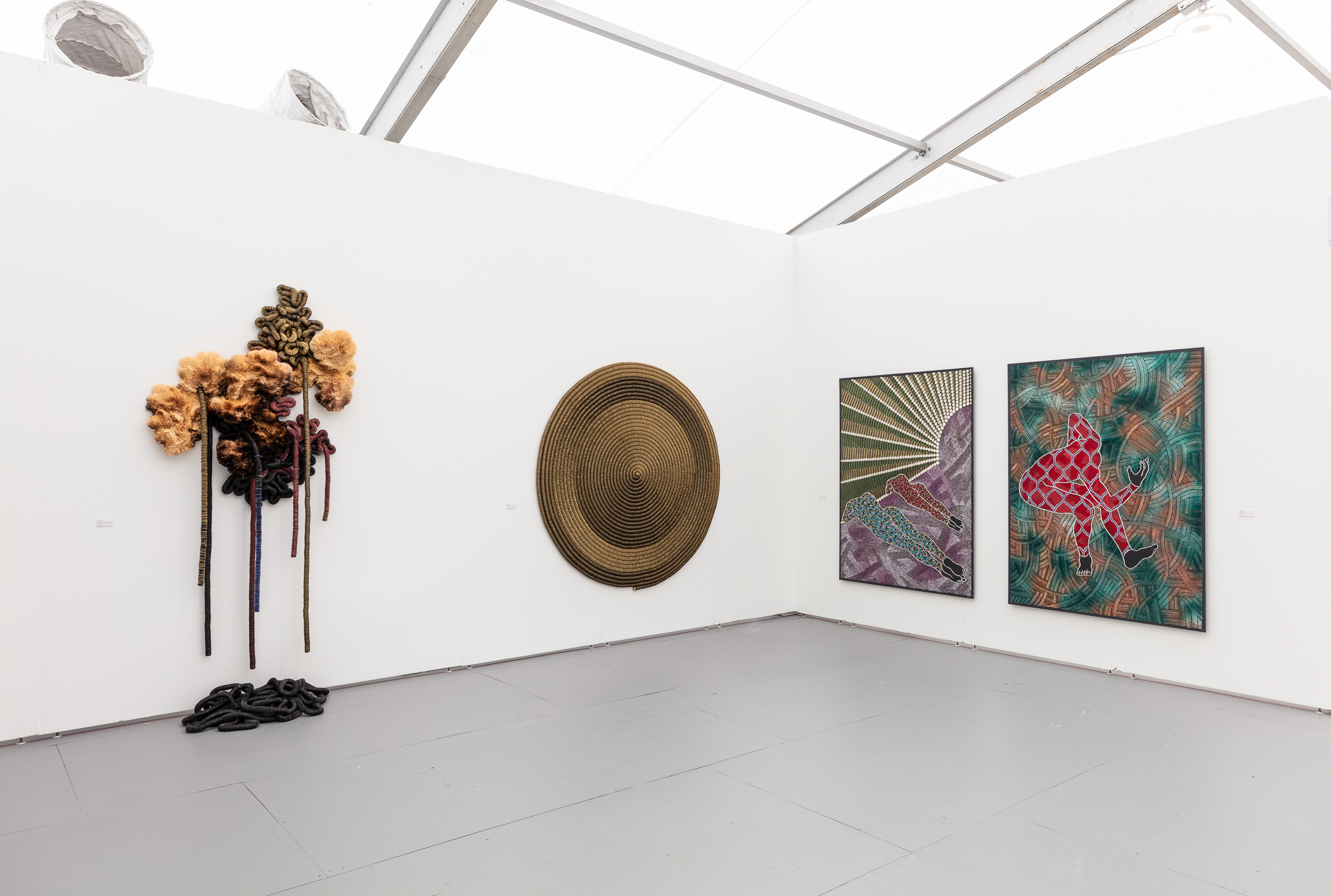 Works by Stenja Luthuli and Chris Soal at WHATIFTHEWORLD's booth at UNTITLED Art Miami, courtesy Art Basel and WHATIFTHEWORLD  
What did this mean for African contemporary and African galleries participating in fairs?
This year counted five galleries from the continent, taking part in ABMB – Rele (Los Angeles/Lagos) in Positions and Afriart (Kampala) in Nova sections and Goodman, Stevenson and new entry blank in the Galleries section (previously in Nova), while at Untitled – Addis Fine Art and Whatiftheworld, with Southern Guild presenting at both Untitled and Design Miami. While less spectacularly visible there was a hint of movement towards being mainstreamed.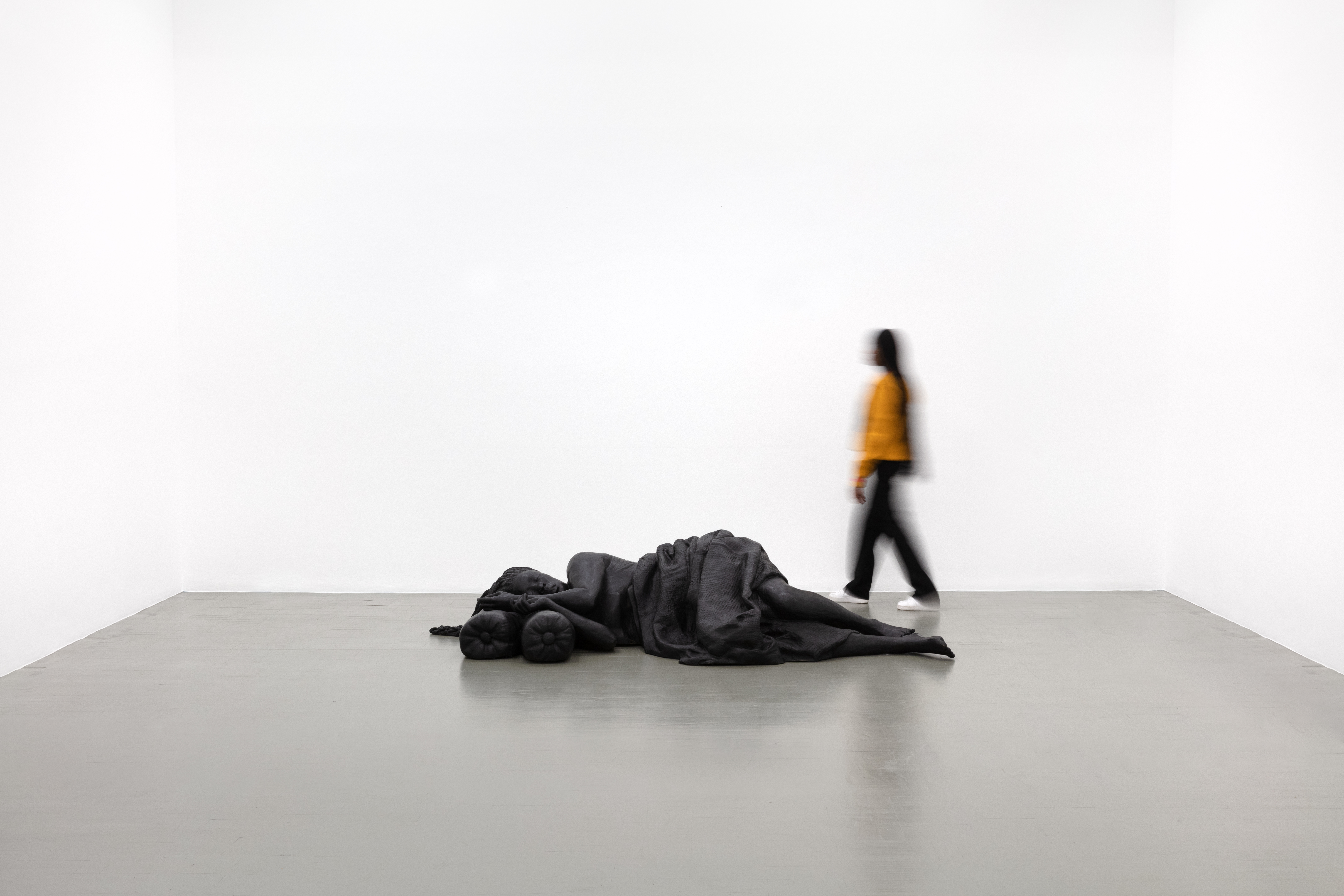 Zanele Muholi V, 2022, Bronze, at Art Basel Miami, courtesy Stevenson Gallery
African and African diaspora contemporary artists were present in most of the major institutional exhibitions around town from the Rubell Family Museum hosting Franco-Senegalese artist Alexandre Diop as a resident and presenting a major suite of works from Ethiopian, Tesfaye Urgessa, Museum of Contemporary Art (MOCA), North Miami presenting Haitian artist Didier William and an expansive exhibition at Beth de Woody Rudin's The Bunker in West Palm Beach, featuring numerous African artists from Igshaan Adams to Serge Attukwei Clottey, Zanele Muholi, Troy Makaza and Ibrahim Mahama among a wide spectrum of contemporary artists.
Southern Guild returns to Design Miami with Inkundla, featuring handcrafted furniture and objects by 16 African artists that bring materiality into conversation with spirituality. Installation shot courtesy of James Harris/Southern Guild
One of the more unusual and heartening events of the week was This Here Place: Africa and the Global Diaspora an exhibition curated by Tumelo Mosaka in Opa Locka a historically African and diasporan satellite town to Miami. An elegant and generous exhibition featuring works by major artists African and diasporan artists like Abdoulaye Konaté, Viyé Diba, and Barthélémy Toguo and Florine Demosthene, made even more valuable through being situated in the heart of the Afro-diasporan community.

Chris Soal, Untitled, 2022, discarded beer bottle caps threaded onto electric fencing cable, held in polyurethane sealant on board, 160 x 190 x 6cm, courtesy whatiftheworld and Art Basel 
The feeling overall while less euphoric, was more about being accepted in a space, that space being the international art world and the art market and having to negotiate it like everyone else without fear or favour. Speaking to the dealers, the mood was about the importance of being in Miami with sales being only part of the equation.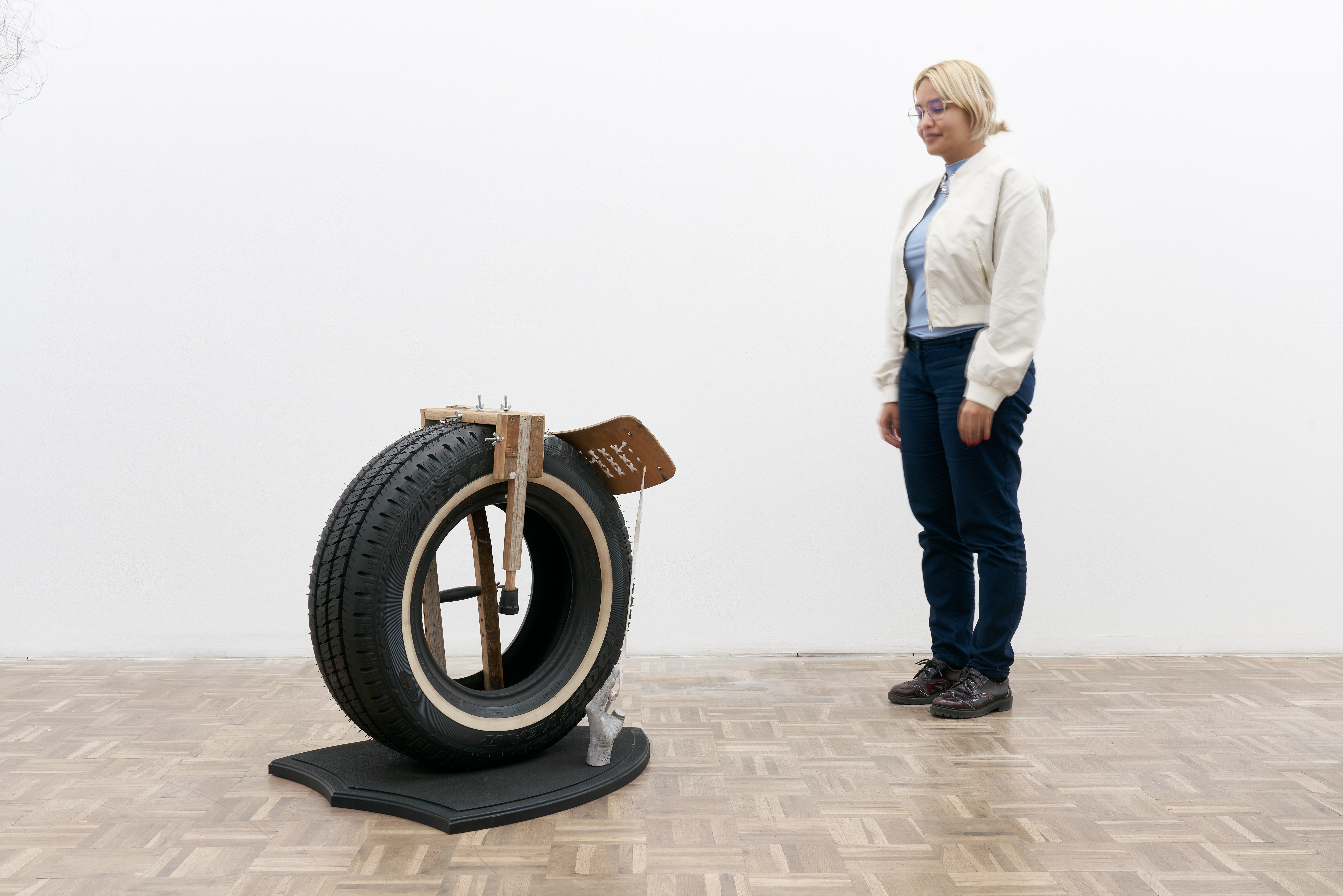 Kemang Wa Lehulere, I love you too 3, at blank projects at Art Basel Miami Beach, courtesy blank projects
"The entire city activates for this week in Miami, it feels as if the entire global art community is here. The best part of my experience this year has been the number of clients, artists and the local community of Miami coming the view the artworks of Stenja Luthuli and Chris Soal at WHATIFTHEWORLD's booth at UNTITLED Art Miami," said Igsaan Martin.
"Southern Guild's remit has evolved over the past couple of years to include fine art (in addition to functional art, or collectible design) and we are more actively reaching out to artists working in many disciplines across the African continent. It made sense to broaden our offering in Miami, a city that we have been exhibiting in for over a decade. "The response to our artists' work at both Design Miami and Untitled Art was very positive, with visitors to our booth commenting on the strength of our programme and the synergy between the two booths. We have had very favourable responses from institutions and private collectors," said Trevyn McGowan, co-founder of Southern Guild.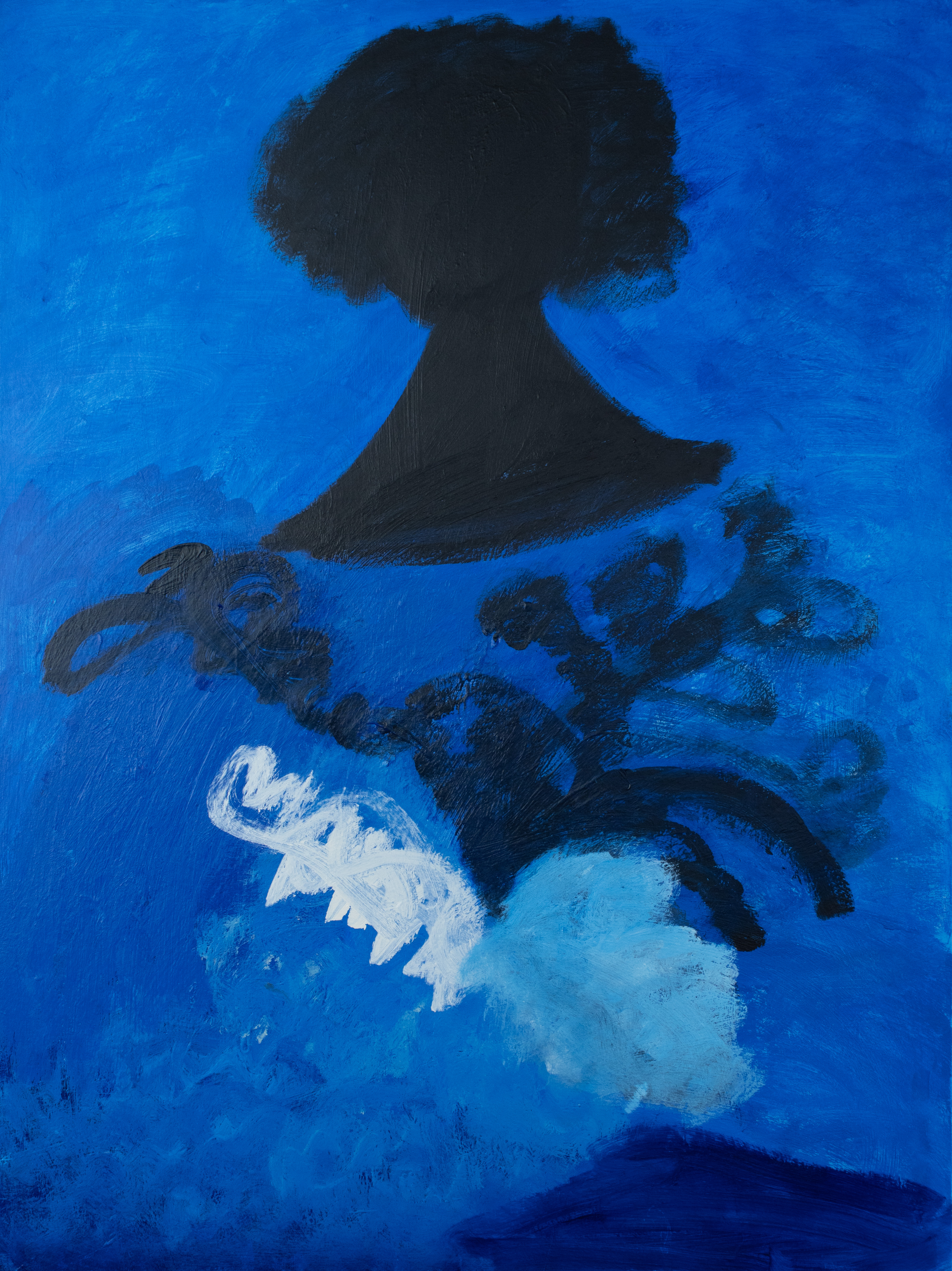 For Art Basel Miami Beach 2022 Stevenson presents The solace of the night, a selection of new paintings by Ruth Ige. Pictured here: Ruth Ige, Learning to let go, 2022
Comparing his experience with last year, Afriart's Daudi Karungi commented "Last year we presented a solo booth with works from one of our in demand artists and we did very well, this year we decided to "risk" it with 3 fairly unknown amazing early career artists who have been very well received and we have placed their works with important collectors. It's been a great fair for us as we continue to bring global visibility to our artists."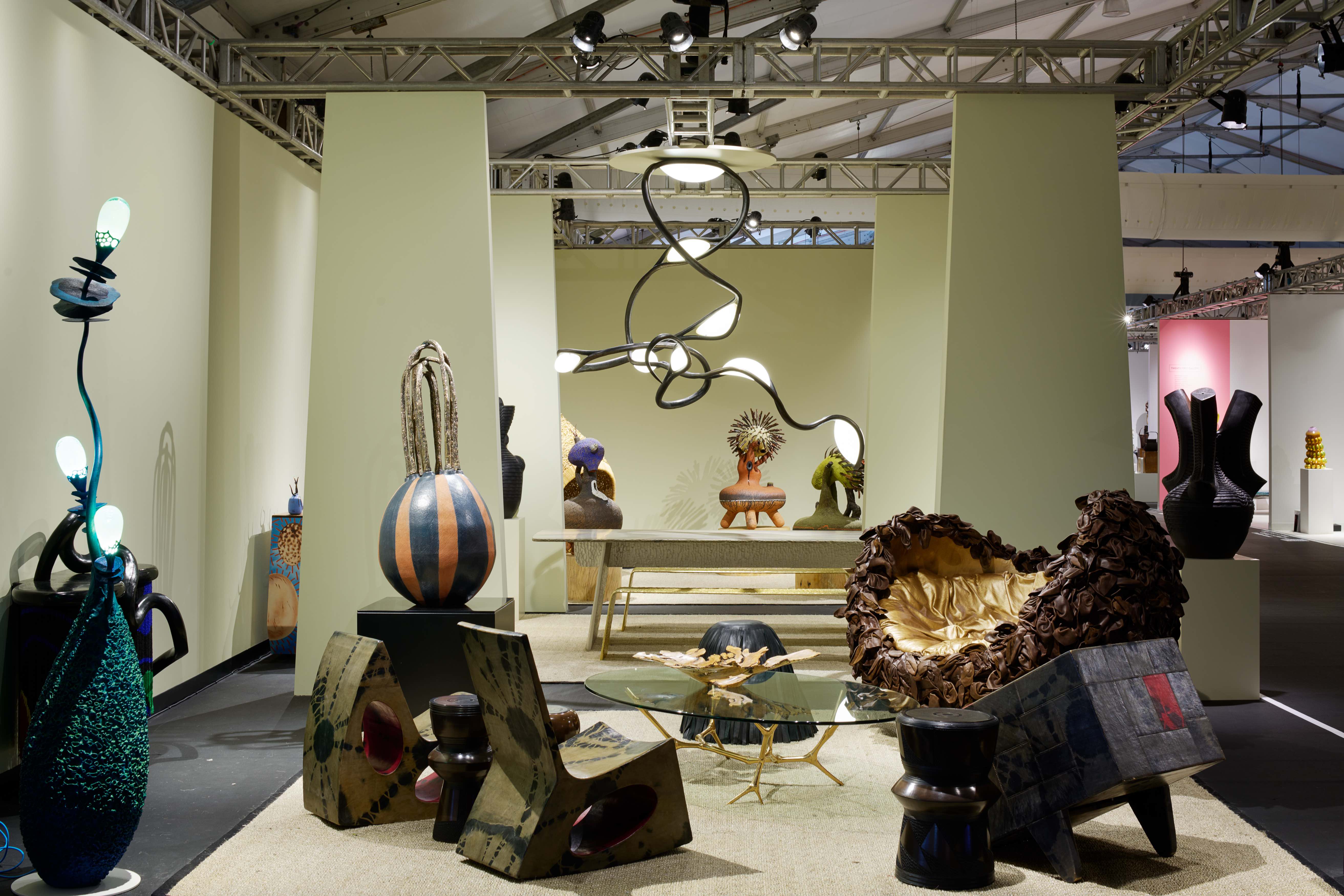 Southern Guild returns to Design Miami with Inkundla, featuring handcrafted furniture and objects by 16 African artists that bring materiality into conversation with spirituality. Installation shot courtesy of James Harris/Southern Guild
At the only Africa related event in the ABMB talks programme "Journeys across Diasporas: Collecting African Art" one of the panelists CCH Pounder a generational collector of art and dedicated supporter of African and diasporan artists spoke of the need for continuity before and post being the 'it crowd' with the art world. That continuity and sustainability, it also feels in many ways will depend for contemporary African art stakeholders leveraging the global spotlight to build and engage local support, investment and engagement on the continent; to develop local art scenes and local collectors, who commit to art and artists beyond the fashionable moment.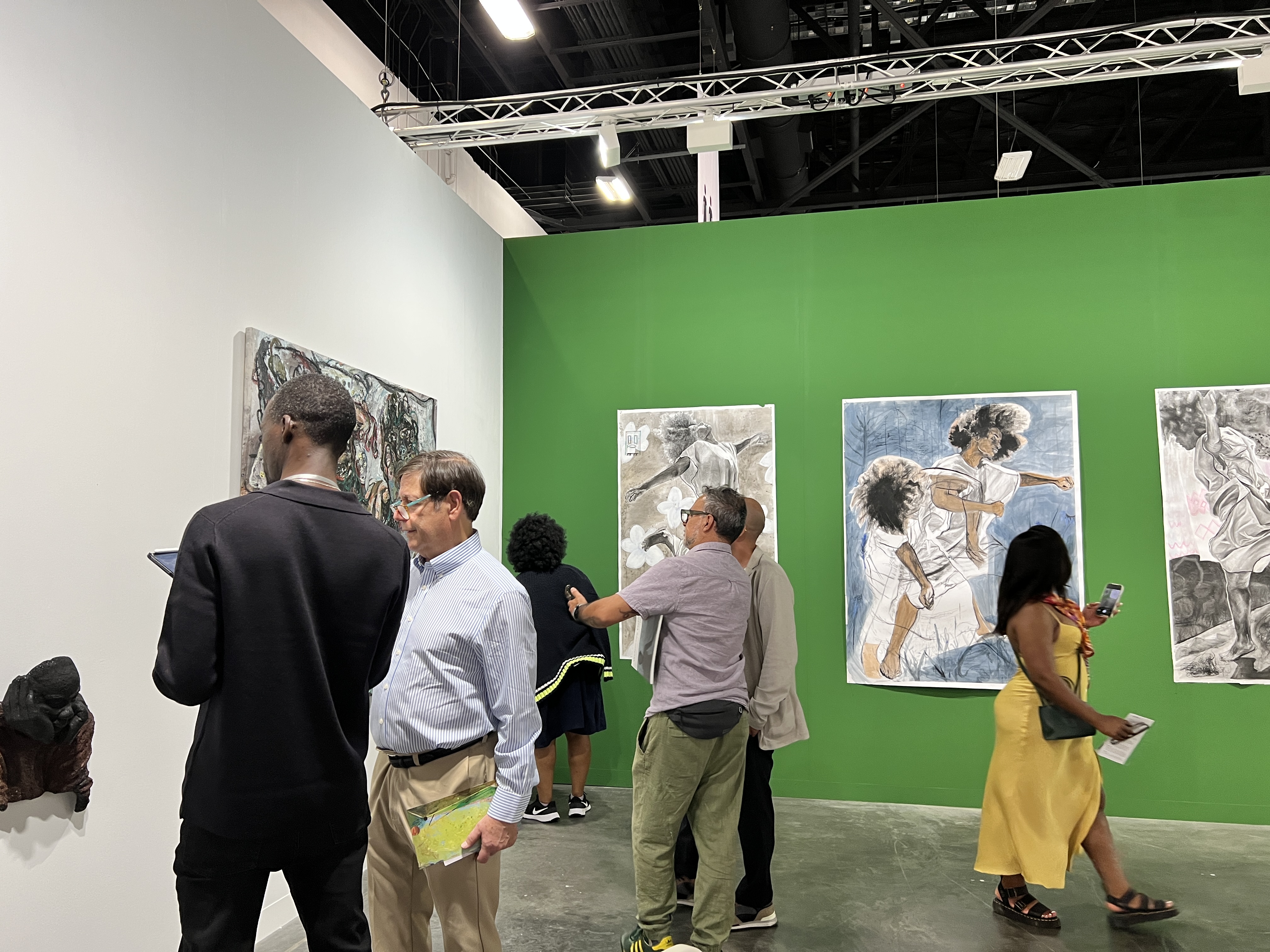 Afriart gallery showing works by Emmie Nume, Mona Taha, Richard Atugonza at Art Basel Miami beach, installation shot, courtesy Art Basel & Afriart gallery
- Valerie Kabov
©
Disclaimer: the author is co-director of First Floor Gallery Harare