NEW WORKS BY MAJA MALJEVIĆ & DAVID KRUT WORKSHOP
Maja Maljević first began collaborating with David Krut Workshop in 2007 as a way to extend and interrogate her primary practice, which is painting. The print workshop is an experimental space, in which artists are often out of their comfort zones, working with a team and compelled to solve different problems than would normally be presented to them, and in completely new ways.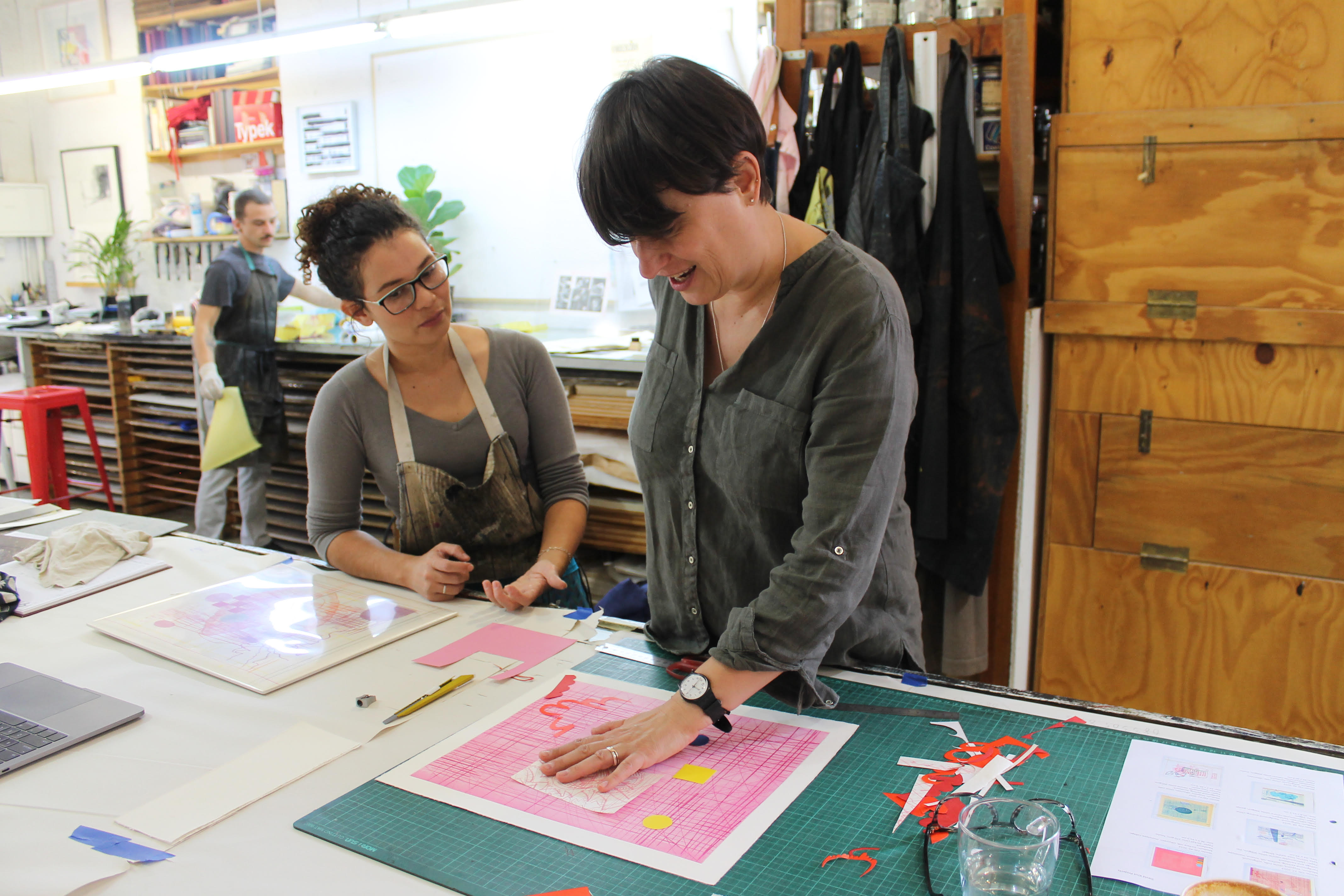 As a painter, Maljević's signature style playfully borrows formal touches from Modernist era art history, creating non-narrative compositions in which graphic blocks of bold colour are nestled within and atop foundations of lyrical and gridded lines. Maljević begins by "dirtying" the canvas with a layer of bright paint that breaks the baldness of the white surface and opens up the space for her intuitive jigsaw endeavour. Onto this ground, the surface is built up with drips, blocks, bands and waves of colour, as Maljević searches for harmony between colour and form, line and shape, expansive surface and small detail. Focus on specific subject matter carries little traction for the artist, as she prefers an approach that embraces spontaneity and experimentation. What is made can only be made in that moment and not the next.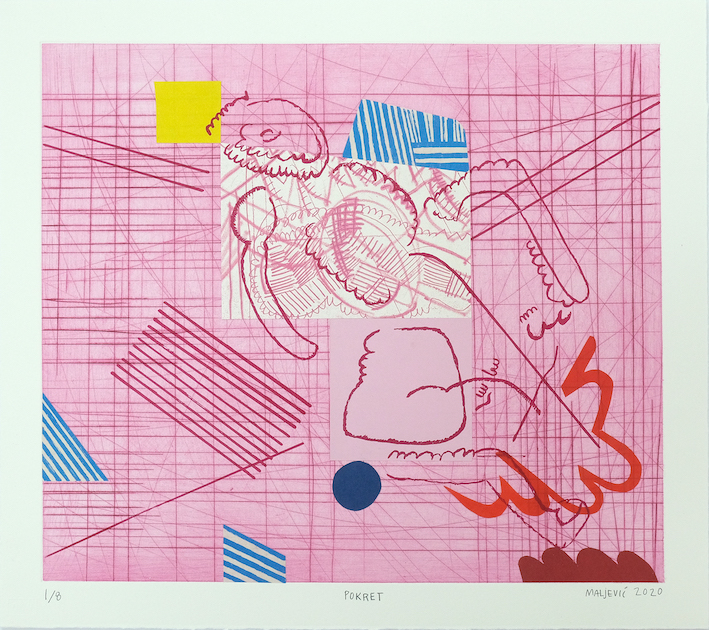 Maljević is not one to be deterred by technical obstacles. Her home studio is a tiny space which nevertheless houses entire universes of colour, shape and line. Paintings large and small are stacked and rotated while Maljević works, often on more than one painting at the same time. In the workshop, the typical time-lag associated with printmaking is jettisoned by the workshop team preparing elements in advance.
At the beginning of each project, numerous plates are made with Maljević using different techniques – intaglio, silkscreen, woodcut, linocut. The team then prints many parts onto every kind of paper available in an extensive palette of colours influenced both by previous projects and added to anew with each new stage of creation. In this way, the team is able to eliminate the usual wait between making a mark and seeing the mark on paper, which would likely frustrate Maljević's spontaneity. She is able to pick and choose from the prepared elements, assembling them in the moment and without prior negotiation, and finishing each piece off with hand-work.
Having worked together consistently for so many years, the current workshop team has streamlined their process when working with Maljević, and what emerges is a language peculiar to the artist of densely layered, confident and colourful components. The most recent bodies of unique works on paper are evidence of a refined methodology and the dynamics of a nuanced relationship. Maljević explains "(while working in the print workshop) we have created bodies of work that have their own story, connected to time, space, the people, voices, scents and the atmosphere of the workshop. This work has started to influence my painting." By showing these works alongside each other, one can see how the 120 works created for Document for the People (2018) and Winter Files (2019) formed the backbone of the complex assembly of different elements that have paved the path for the creation of new editions and new paintings.
Wiggly Squiggly and Pokret are two of four new editions that are being published by the David Krut Workshop in 2020. Each print contains multiple layers that were prepared separately and then built up on top of one another in various stages to form intricate works that can nevertheless exist in limited editions. In each of the works, the elegant composition is achieved by striking the fine balance between the different elements; the chaos of stacking layers, the sophisticated way in which line and shape interact and the eccentric use of colour.
Each of these new editions has been created from different elements used in the previous bodies of work, combined into something completely new. The editions serve to memorialise the bodies of unique works that have mostly been placed in collections, and to archive a particular way of working, refined over 13 years of collaboration.
View more of Maja's work here