NEW SHOW | STAY REAL BLACK FOR ME
What does it mean to identify as 'Black', to be affirmed and experience a sense of belonging in our skins and cultural ethnicities of choice?
STAY REAL BLACK FOR ME, a new show by Madlozi Art Gallery launches on Latitudes today. The show explores identity, representivity, notions of Blackness and race, and brings together bold acts of self-ideation, decoloniality, and art-making as intervention and radical self-love.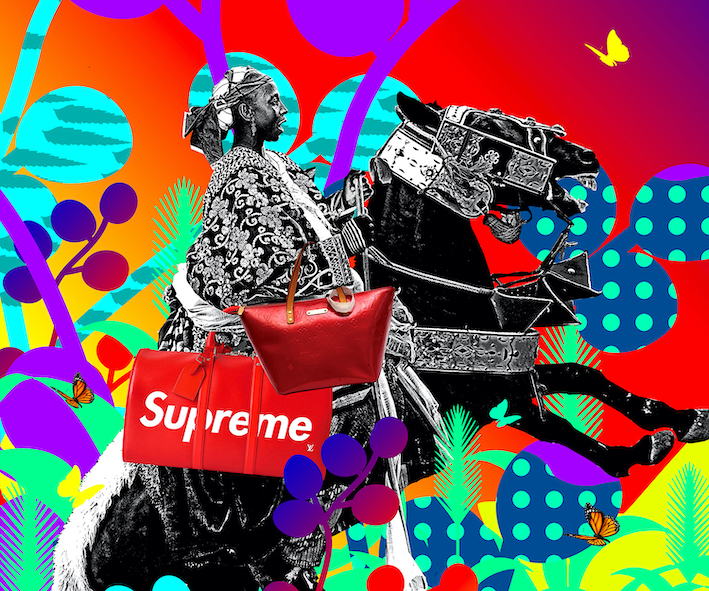 Williams Chechet, Hypebeast II, 2020, Limited Edition Archival Giclee Print, 139.7 x 101.6 cm. ENQUIRE
As the world watches with bated breath while political events unfold in the United States, this exciting show looks back on a year of visual art emerging as a powerful intervention, alongside the mass protests by social movements calling for racial, economic and social justice. STAY REAL BLACK FOR ME is a critical, pan-African exploration featuring the work, ideas and perspectives of artists throughout the Black and African diaspora. Presented by Madlozi Art Gallery, the project also acknowledges the work and interventions of visual arts communities, activists and organisations that spearhead transformation and support artists of colour on our continent and worldwide.
Mzwandile Buthelezi, Umzi Watsha (Triptych), 2019, Charcoal & Soft Pastel on Fabriano, 80 x 50cm. ENQUIRE
Browse and buy from the show, here.
Featured image: Washington Kirika Njoroge, Vintage Coco, 2020, Digital collage, 42 x 59 cm. ENQUIRE