New reports reveal the uber-wealthy in the West to be interested in 'emerging' artists
Nine percent of the world's most valued 'Ultra-contemporary' artists are from Africa, according to a new art market report
---------------------------------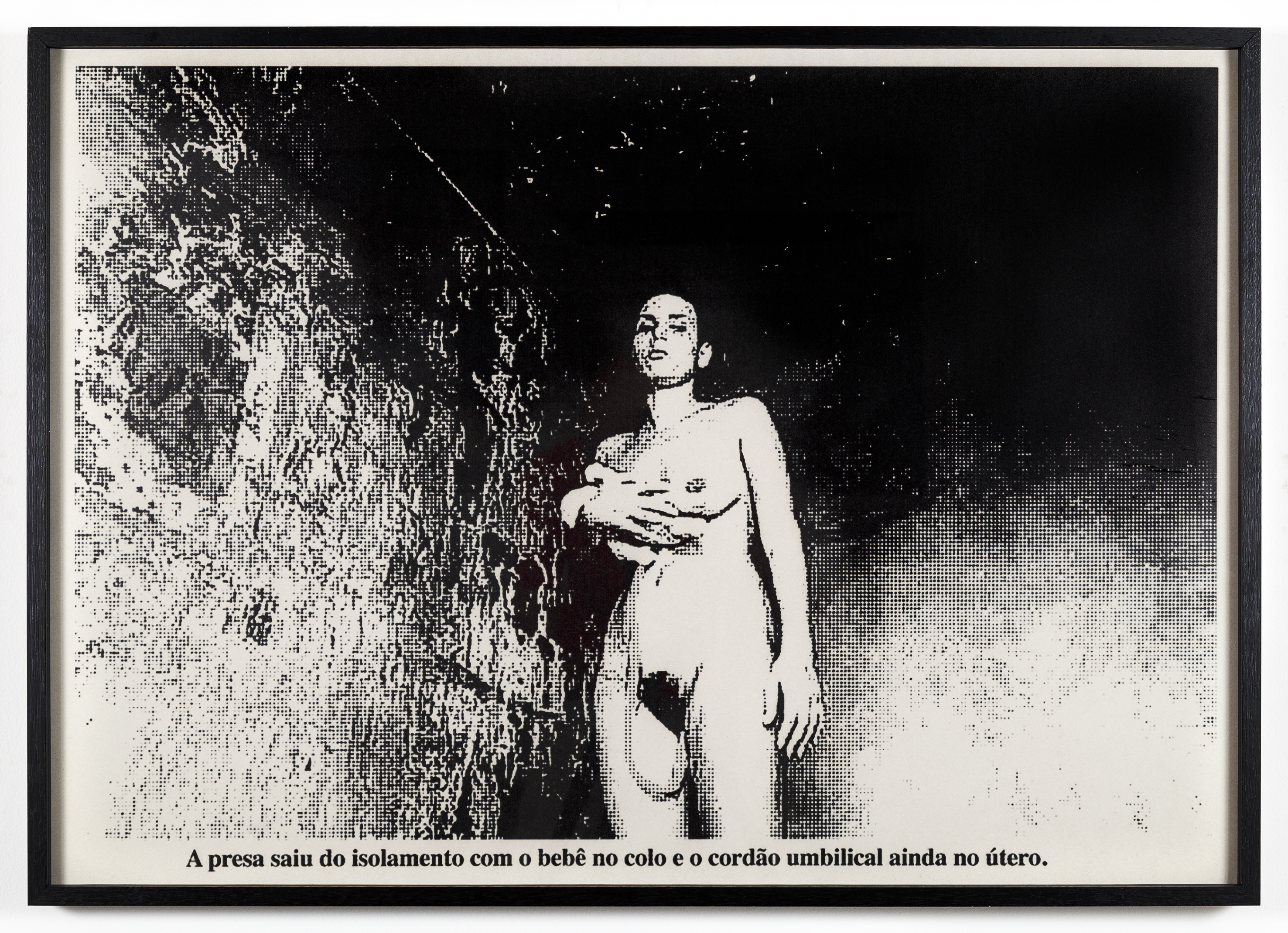 A Gentil Carioca, a Brazilian gallery that will share a stand with Goodman Gallery at this year's Art Basel Miami, are showing this work by Aleta Valente, Bárbara, 2019.  Brazilian collectors listed Miami as a city they opted to visit when looking for works by emerging artists, according to a Collectors Survey produced by UBS/Art Basel. picture  Courtesy the artist and A Gentil Carioca. Photo: Pedro Agilson
Are the world's wealthiest collectors buying African art? If so, where and what artists are they drawn to? These are questions that may be on the mind of some of the African art dealers headed to Miami for the last art fair frenzy of the year. Two new reports on collecting patterns – the UBS Art Basel Collectors Survey 2022 and Art Price's Ultra-Contemporary Art Report 2022 – could offer some insight into the art market beyond African borders and where artists from our continent might be placed in this context.   
Interestingly, Miami isn't listed as a major art centre in the UBS Collectors survey. Certainly, those High Net Worth (HNW) collectors (worth over $ 1 million) who were surveyed for this report produced by Art Basel, found that most of them preferred to acquire works by top-tier and emerging artists in London, New York and Paris. Los Angeles and Hong Kong were featured as their secondary options. Miami was listed by Brazilian and Japanese collectors as their third favourite city to buy art and UK collectors indicated that Miami was their third choice of city to find works by emerging artists. 
This coincides with an observation Trevyn McGowan co-founder of Southern Guild, the South African-based gallery with a firm foothold at the Design Miami, that fairs in this city attract collectors from South America.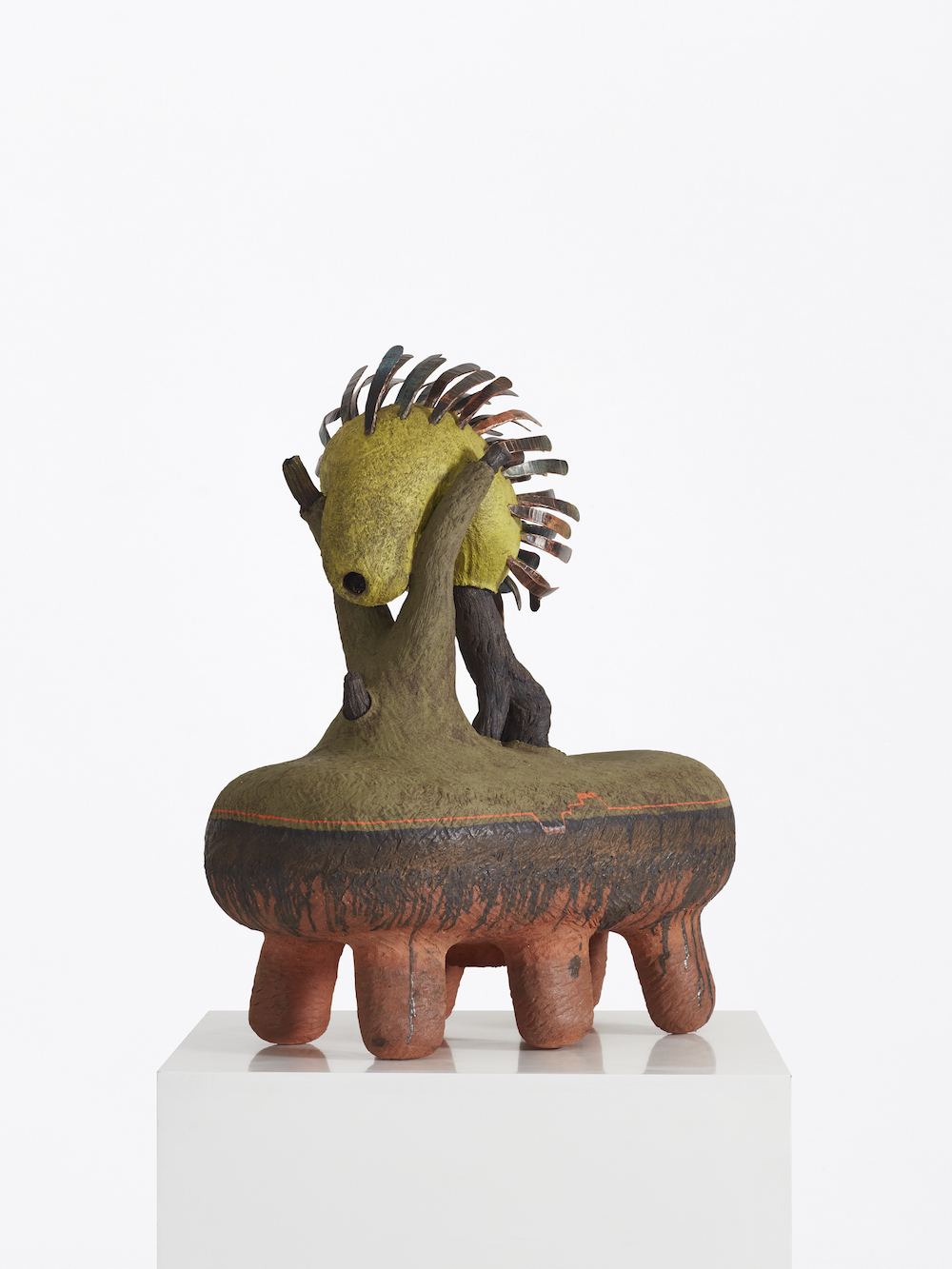 Southern Guild regularly participate in Design Miami. This year they will show this work, Ingqwegi(Nest) by Andile Dyalvane Picture by HaydenPhipps.
African-owned or based galleries are not exactly flocking to Miami this December for the annual flurry of art fairs in that American city. Some of those that participated last year – such as Tiwani and Smac – are sitting it out. This year five – Blank Projects, Goodman, Stevenson, Afriart and Rele galleries – are showing works at Art Basel Miami and four – Addis Fine Art, Southern Guild, Tafeta and What if the World Gallery – taking up booths at Untitled. Not that the visibility of African contemporary art is limited to African-based galleries. Many high-profile African artists represented by galleries outside the continent might drum up some attention. Such as the American-based Jack Shainman Gallery which showed works by El Anatsui, Meleko Megosi, Toyin Ojih Odutola and Odili Donald Odita at their stand at Art Basel Miami last year. Undoubtedly, as that list suggests, those African-born artists based in the US are more likely to show works in Miami. 
Despite African galleries aligning themselves to the global South, few regularly if ever participate in fairs in countries that would attract this label. This could be an oversight if the Collectors Survey 2022 is accurate. Not only are Brazilian collectors the most active – over 80% of those surveyed have plans to purchase art in the next year. What's more, compared to HNW collectors in other countries they were – including those in Singapore – interested in buying art from galleries and artists in foreign countries. Of course, in terms of wealth, the Brazilians only boast 1% of the world's billionaires – the US accounts for 37% and China 15%. 

Portia Zvavahera's Complete (2014) was auctioned by Bonhams in London. She is one of the African artists that has made the top 200 Ultra-Contemporary artists list assembled by Art Price
Based on this report and others produced by the UBS in collaboration with Art Basel the rise and fall of the art world is tied to millionaire and billionaire wealth, as it is assumed that this economic class is responsible for sustaining it. This is probably debatable, given they have yet to weigh the volume of sales between different economic groups and not all billionaires buy art. However, it is likely this demographic spends the most on art and possibly does fly to Miami in December. The number of billionaires and their wealth appears to have decreased, according to the UBS Collectors Survey. Not significantly – both are down by around 3%. As such the art market appears to have remained stable despite the cost of living crisis, the war in the Ukraine and other social and political instability in the world. Does this filter down to smaller galleries in the global south, who may not rely on the millionaires in the West to support their artists? 
In other words, are they buying African art and which African artists are they most drawn to? The closest we can get to finding out is via studies zoning in on their interest in emerging artists – of course, you have to be mindful that what is classified as an 'emerging' artist from a Western point of view might not equate with an African one. The term is slippery. As such the Art Price report employs the expression – 'ultra contemporary' which refers to any artist of 40 years old and less. 
They have concentrated on this category of artists due to their findings that "the number of artists under 40 whose work has been presented in an auction sale has quintupled and the turnover from artists in this sub-segment is now twenty-six times greater!"
In other words, collectors are becoming more interested in 'emerging' artists at auction, which would naturally translate into increased interest in them in the primary (gallery or art fair) market as they would appear to have resale value – they are a good investment.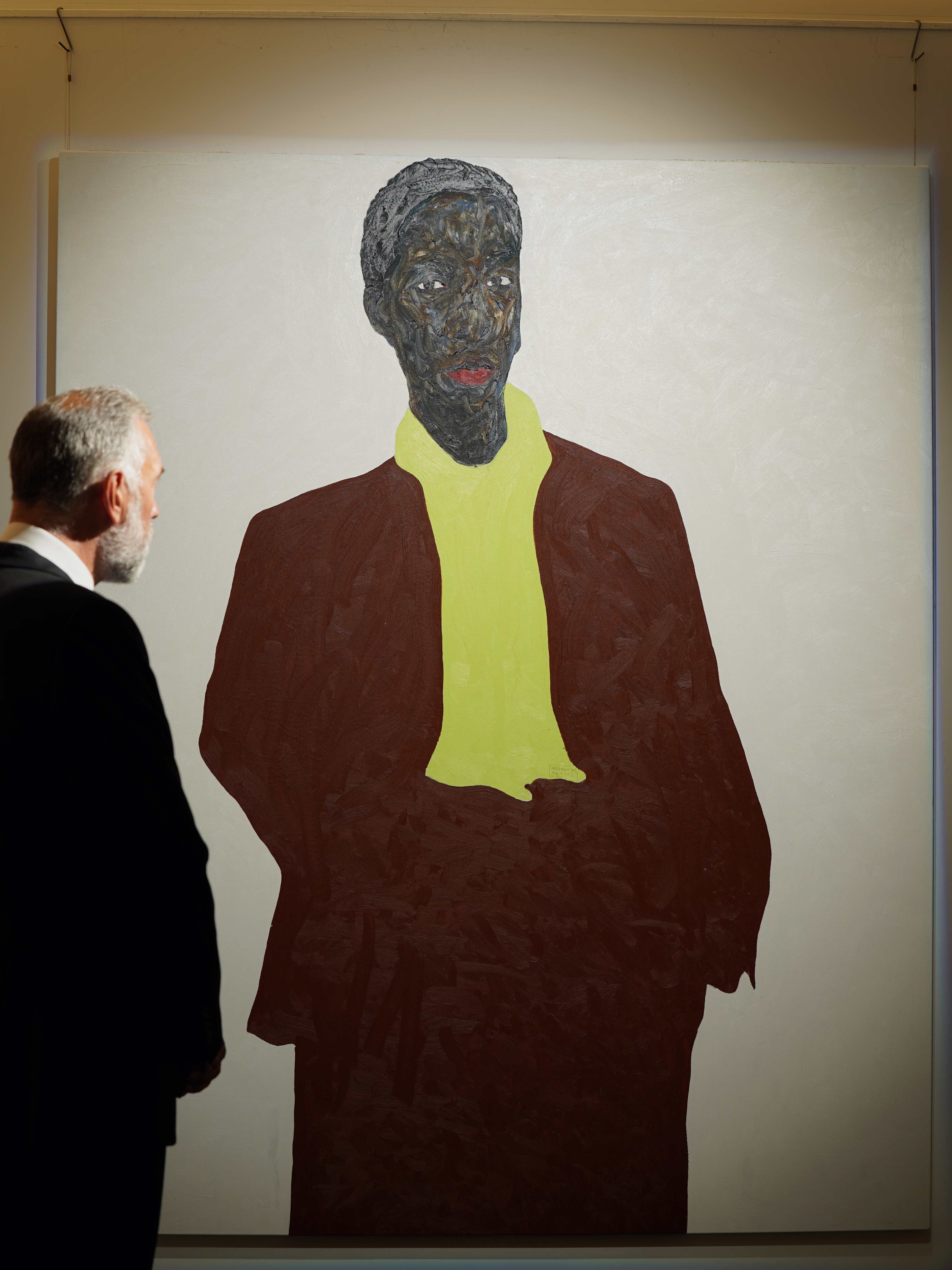 An Untitled work by Amoako Boafo, which was auctioned by Sotheby's AFrican Modern and Contemporary Department in London. The Ghanian artist made the top 200 Ultra-Contemporary artists list assembled by Art Price.
This finding appears to correlate with findings in the UBS Collectors survey. The HNW individuals in their survey had a slightly larger share of works in their collections by new or emerging artists (49%, versus 46% for those with wealth less than $5 million). This figure was higher for new collectors with 56% of their collection consisting of works by emerging artists. In other words, the perception that wealthy people prefer to buy works by famous artists or those with institutional recognition is not necessarily accurate. Of course, those works are more expensive and perhaps harder to acquire, so it makes sense that a large percentage of their collection might be produced by unknown artists. 
Artprice suggests that an increasing appetite for emerging artists on the auction circuit, reveals an interest in 'betting' on artists early on in their careers, while they are more affordable. This growing trend has resulted in "a dizzying acceleration in prices for certain young artists who collectors hope will be recognized as those who have best captured the current zeitgeist."
So who are those 'ultra-contemporary' African artists that are drumming up high prices at auction? The Art Price report lists 200 of the artists topping the auctions. Largely the African artists that feature are not unexpected; Aboudia (4th place) and Amoako Boafo (6th) top the list. Ishmail Issahq, the Ghanian artist who has been doing sell-out shows at Gallery 1957 follows closely behind. Other artists include Emmanuel Taku, Oluwole Omofemi, Cinga Samson, Serge Attukwei Clottey, Godwin Champs Namuyimba, Toyin Ojih Odutola, Kwesi Botchway, Portia Zvavahera, Marcellina Akpojotor, Otis Kwame Kye Quaicoe, Michael Armitage, Nelson Makamo, Annan Affotey, Raphael Adjetey Adjei Mayne and Simphiwe Ndzube.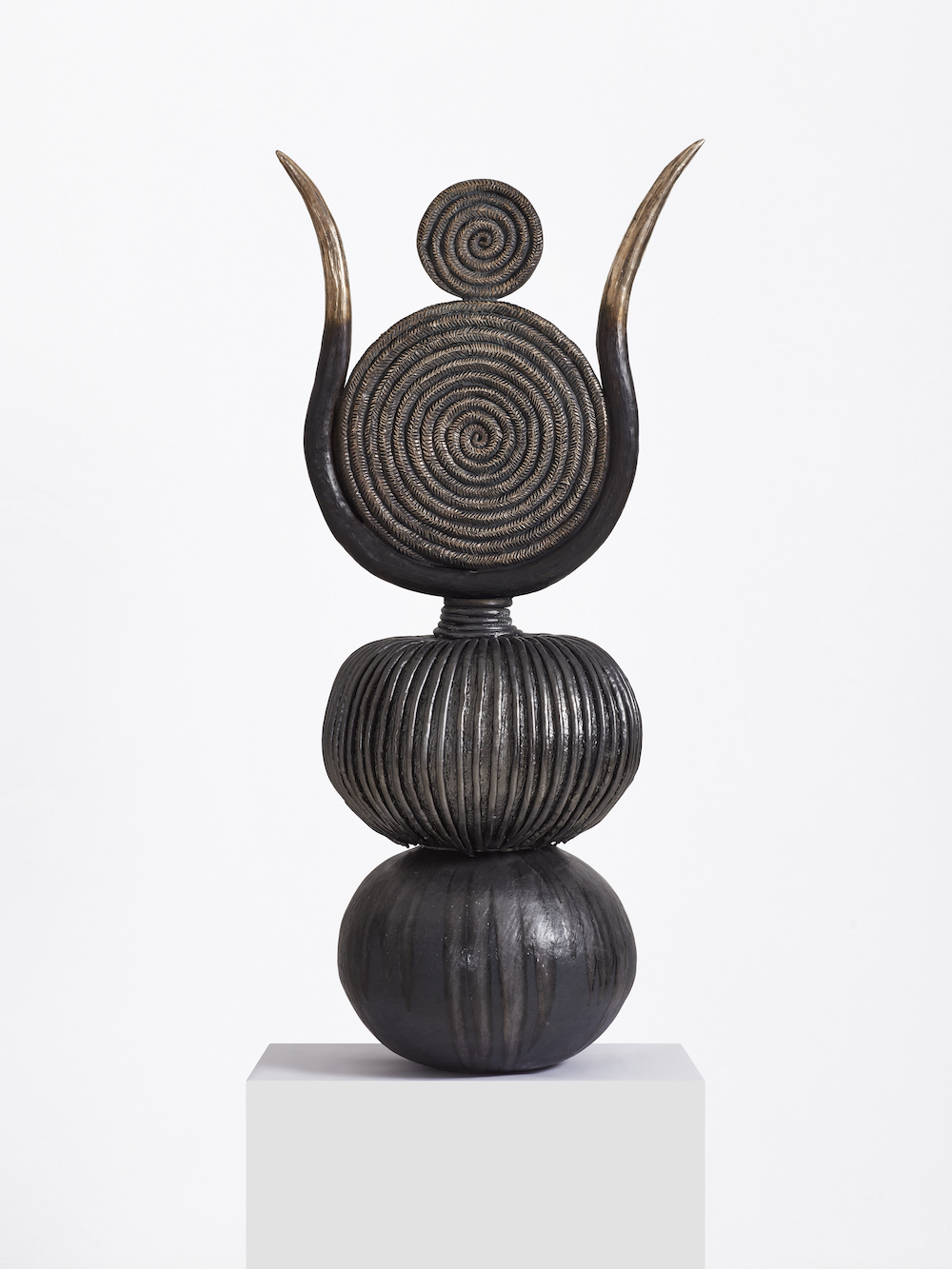 Southern Guild regularly participate in Design Miami. This year they will show this work, Tsitsi, by Zizipho Poswa Picture by HaydenPhipps.

All in all, African artists account for 9% of the Ultra-Contemporary artists demanding good sales at auctions. This is a fairly impressive slice of the pie, given the global competition. Largely the African artists on this list hail from countries with active art markets, Nigeria, Ghana, Uganda and South Africa. But that is not a precursor for success – Morocco has a more active art scene than Ghana or Uganda. Male artists appear to dominate – and this aligns with the findings in the UBS collectors survey, which found that most HNW individuals had more artworks produced by male artists (58%) than females. 
This gender bias can be detected in the list of artists Goodman Gallery will be presenting at Art Basel Miami – the male artists far outnumber the female (Shirin Neshat, Kapwani Kiwanga, Naama Tsabar, Ruby Onyinyechi Amanze and Ravelle Pillay). Significantly, only one of those female artists is based in Africa (Pillay).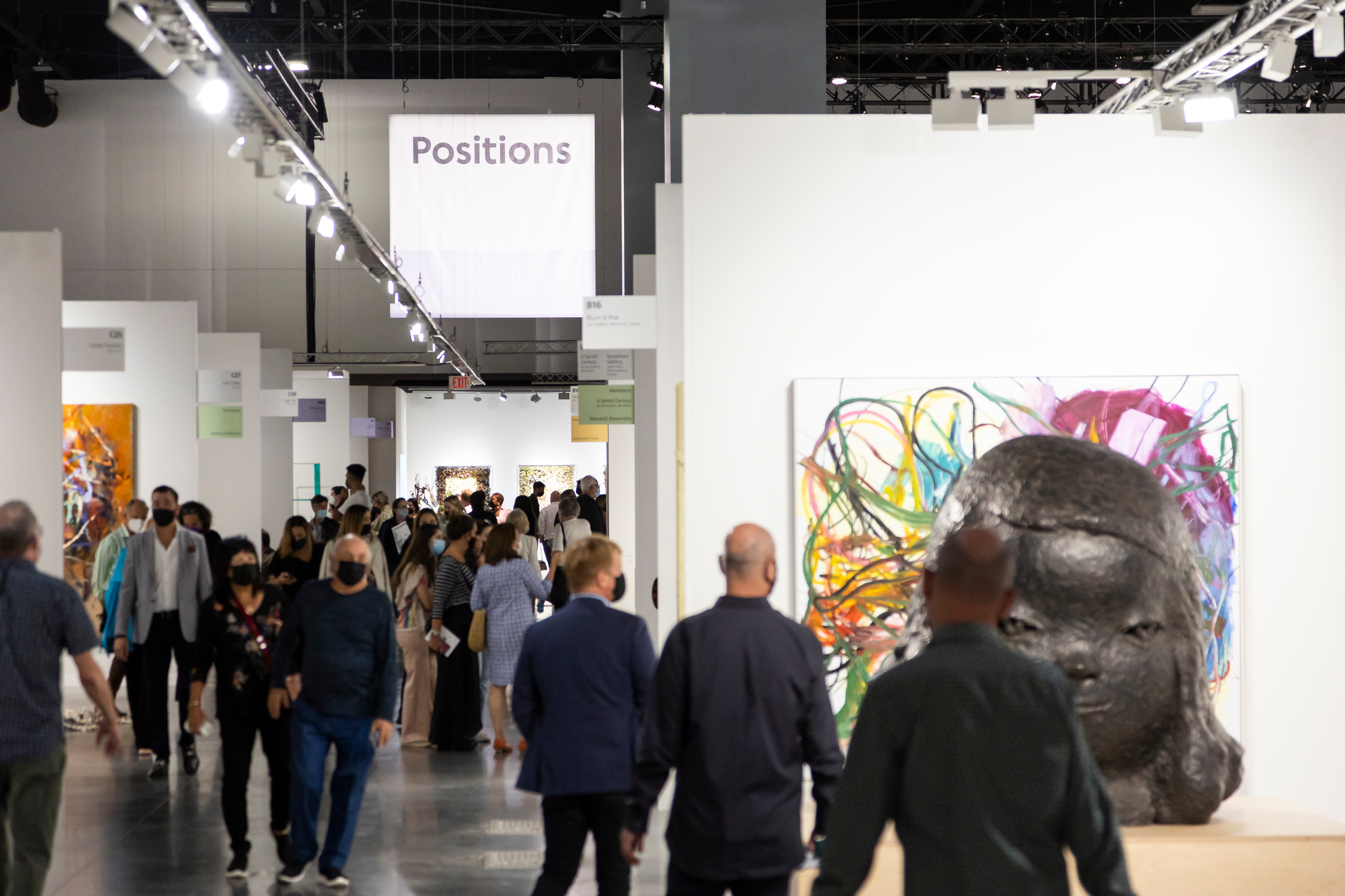 Art Basel Miami. An installation view from their 2021 edition. Image courtesy Art Basel.
In conclusion, it appears that art produced by Africans is making it into the collections of the uber-wealthy in the West. Male artists and those based in western art capitals are probably enjoying more success. Let's see what happens at Art Basel Miami and the surrounding fairs and exhibitions. 
- Corrigall is a Cape Town-based art commentator, advisor and independent researcher