There's a thread of homage weaving the three artists' practices together, whether it's honouring the past or projecting into the future. On an retinal level some of these works depicting interior settings may seem aspirational, on another level  each painting, collage and drawing can be seen as an investigation of the inefficiencies in our existing constructed and natural settings, as well as the relationships that people of colour have with them. 
Each artist's work can be seen as a journalistic expression of their own becoming, their personal histories, dreams and nightmares projected onto paper and canvas. Their expressive voices are fuelled  by architectural and infrastructural representations. These works pivot into a critical multivalent dialogue on representation whilst simultaneously institutionalising black portraiture which has been making waves over the past couple of years.
Cinthia Mulanga recently had a solo exhibition with Goodman Gallery titled In the Becoming. The suite of paintings on display highlights the incorporation of organic elements into the art and explores notions of desirability, materialism, and the Black physique in an Afropolitan setting. Mulanga's artworks depict various personas struggling with idealised and racially defined concepts of feminine identity as they strive to transcend imposed limitations and establish their own sense of self. The suite of paintings featured in Essay feature African masks that allude to those worn by Congolese women during their rites of passage. This incorporation prompts inquiries regarding art restitution, cultural appropriation, and the concept of belonging. Observers are encouraged to explore the artist's inner and outer universes, deciphering the endless meanings interwoven within them.
Katlego Tlabela, Upper East Side, New York Study, 2020
Katlego Tlabela's ongoing series titled Nouveau Riche, unpacks the relationship between social media driven capitalism, material culture, and nuanced complexities of black identity and identity making in post-apartheid South Africa. Parallel to Mulanga's works the project explores notions of luxury, lifestyle, and the world of the "nouveau riche" as they appear in modern South African society. The works are not necessarily a critique on the pursuit of status and wealth; the palette is luxuriant, delicately nuanced and optimistic, offering a clever and stunning homage to the "black diamond" generation and all that it represents for the future.
These two young artists continue the legacy of Sam Nhlengethwa. Nhlegethwa's use of interior settings and homage in his artwork is particularly meaningful in the context of post-apartheid South Africa. As a country that has undergone radical political and social change, the concept of home and the domestic sphere have taken on new meanings for many South Africans. Nhlengethwa's depictions of domestic spaces, such as kitchens, living rooms, and bedrooms, offer a glimpse into the everyday lives of Black South Africans, while also exploring the complex issues of identity and belonging.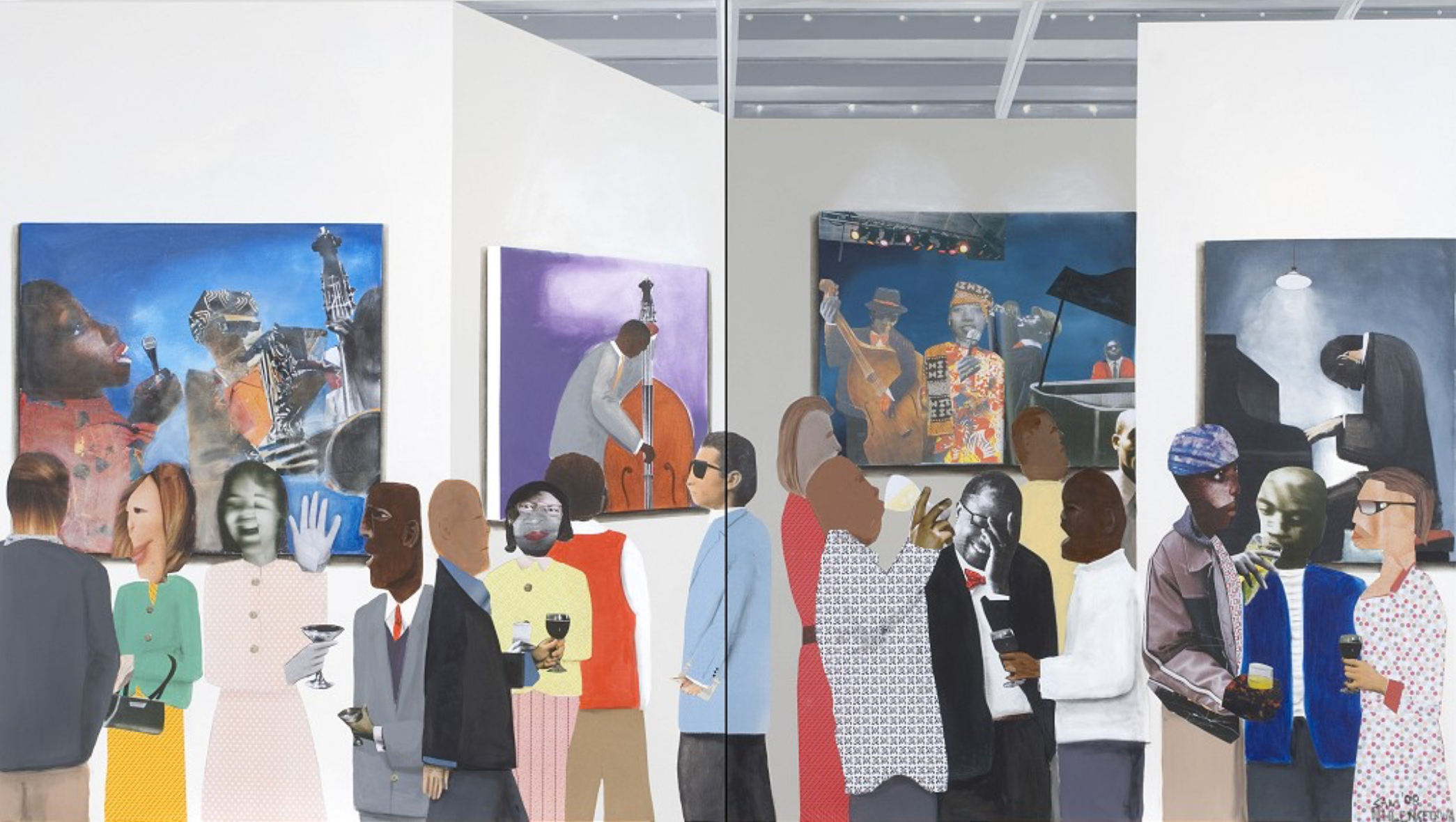 Sam Nhlengethwa, Opening Night: Jazz (Diptych) 2008, Collage, oil and acrylic On Canvas 180 x 159.5 cm 180 x 319 cm / 70.9 x 62.8 in. 70.9 x 125.6 in. Courtesy of Goodman Gallery
Moreover, Nhlengethwa's strategic use of homage is also significant in post-apartheid South Africa. During the apartheid era, Black artists were often marginalised and excluded from the mainstream art world, resulting in a lack of representation and recognition. However, in recent years, there has been a resurgence of interest in the work of Black South African artists, with many contemporary artists drawing inspiration from the artists who came before them.
Nhlengethwa's use of familiar objects and cultural references pays tribute to these earlier artists and acknowledges their contributions to the development of contemporary South African art. Through his work, Nhlengethwa connects the past with the present, providing a link between the struggles of the past and the hopes and aspirations of the present and future. Overall, his artwork provides a unique and compelling perspective on post-apartheid South Africa, highlighting the complexities of identity, culture, and artistic heritage in this dynamic and ever-changing society.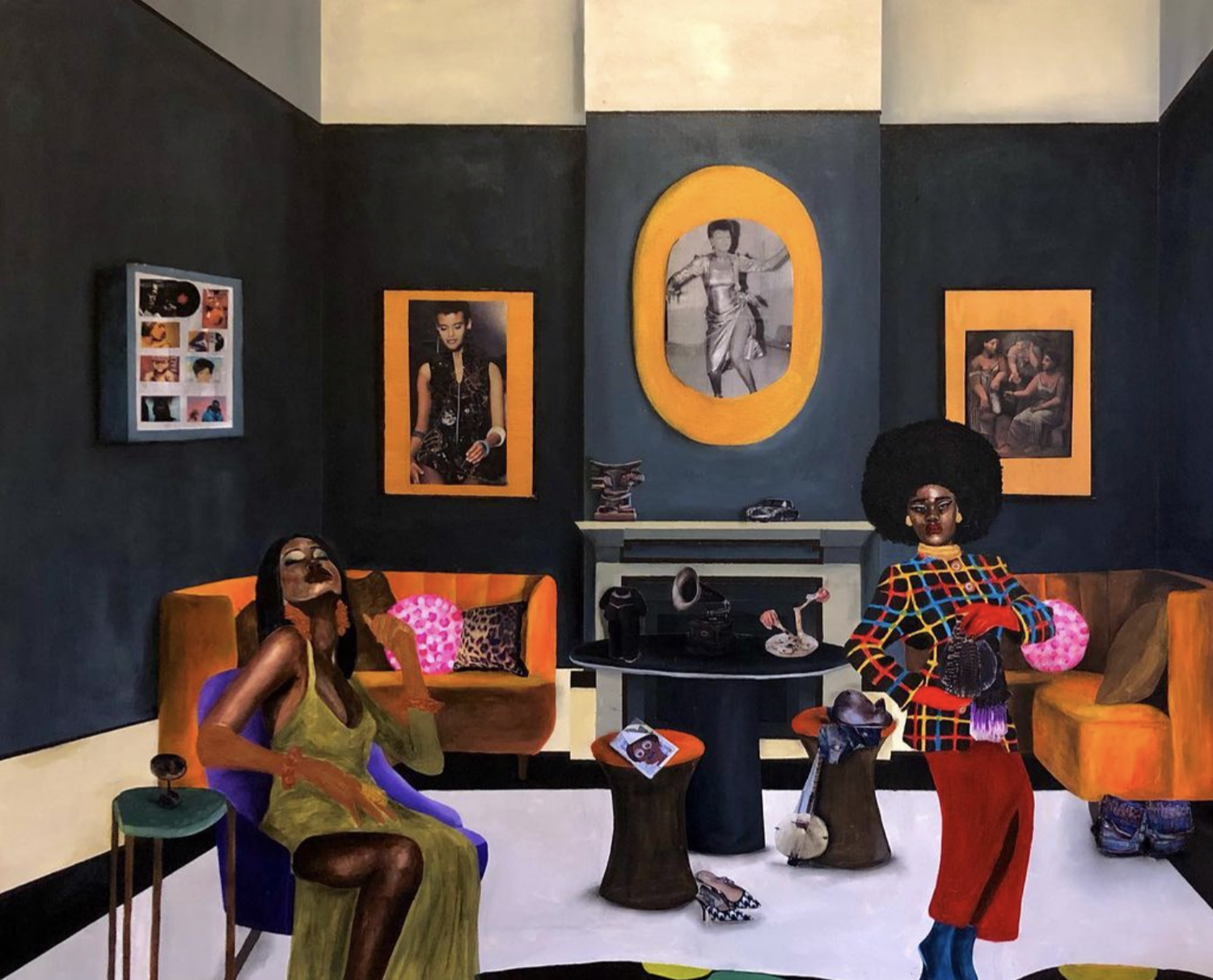 Cinthia Sifa Mulanga, Elements - In Her Finest, 2022, Mixed Media on stretched canvas
These three artists show how the way we move in both man-made and natural surroundings is influenced by the objects around us. The design of our physical world affects how we move and organise our space. For black people, navigating a given environment raises questions about belonging and the ability to be seen and make decisions independently. Therefore, composition movement, or the way the body moves through space, is a skill used for self-liberation in hostile geographies for those who have been systematically marginalised. Additionally, the brain processes and understands physical forms based on the spatial structures shaped by power dynamics, whether they are close or far away. This relationship between the black mind/body and geographic experiences is intertwined with land and waterways that have a history of being designed to control access to natural resources by white conservative and corporate hyper-capitalist systems, resulting in environmental racism that continues to impact communities of colour. In the current age of accelerated globalisation through technology and human-induced climate change, environmental racism is becoming even more severe, leading to urgent concerns around spatial planning, such as architectural and infrastructural design, which then renders this exhibition critical to address in contemporary art.