Javett-UP |
Mihloti ya Ntsako: Reflecting on the art collection as a journey
-------------------------

The Mihloti ya Ntsako's book launch at Javett-UP, image courtesy of Javett-UP
Art collections can tell us something about the person, organisation or institution from which they emerge. Personal relationships, matters of taste, markers of time and place, and broader socio-political contexts converge to provide a collective portrait of collector and artists alike.
In this way, The Javett Art Centre at the University of Pretoria (Javett-UP)'s new book, Mihloti ya Ntsako – Journeys with the Bongi Dhlomo Collection is both a chronicling of a collection and a biography of its collector, the accomplished artist, curator and arts administrator, Bongiwe Dhlomo-Mautloa, better known as Ma Bongi Dhlomo.
Written by educator and art historian Pfunzo Sidogi, Mihloti ya Ntsako traces the story of the Javett-UP's Bongi Dhlomo collection which features 138 artworks produced in the previous century by both well-known and unacknowledged black South African artists.
The Bongi Dhlomo Collection is both historic and unique. In 2016, founder of the Javett Foundation and driving force behind Javett-UP, Michael Javett (who passed away at the age of 86 on 17 November 2022 – just a few days before the launch of the book), approached Dhlomo to put together a collection of 20th century South African art by black artists. Javett wanted to see her curatorial eye, but also "to 'see' how black artists 'saw' their immediate community. How they felt about their existence. How they 'saw' South Africa."[1] Dhlomo was given complete control over the collection, while Javett remained involved only as the financial backer, a decision that Sidogi views as being a form of "transgressive patronage."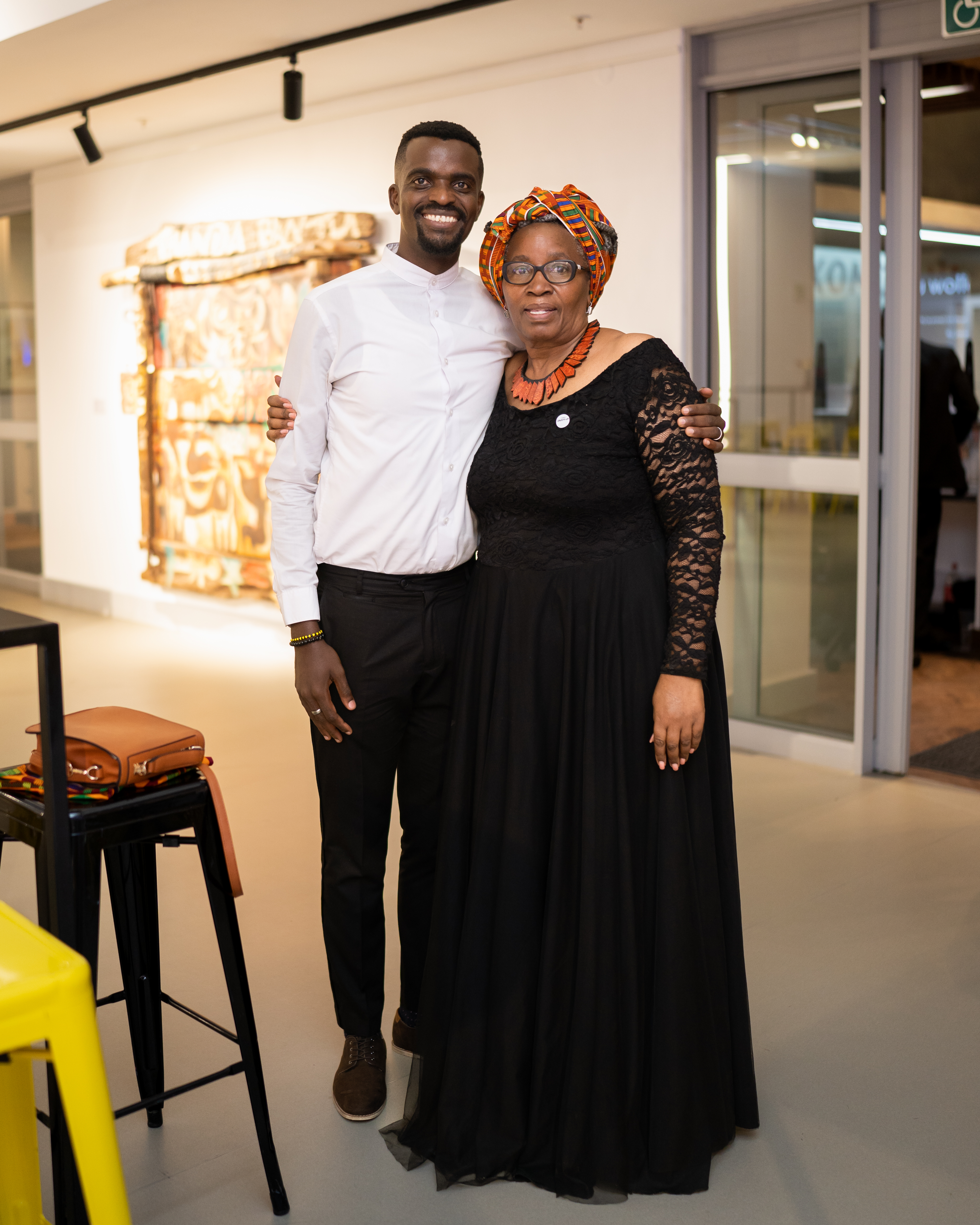 The Mihloti ya Ntsako's book launch at Javett-UP, image courtesy of Javett-UP
Where does one begin with such a direct, but expansive brief? At the launch of the book at Javett-UP on 25 November 2022, Dhlomo was joined by Sidogi for a discussion chaired by journalist and academic Karabo Kgoleng. Reflecting on the beginning stages of the collection, Dhlomo recalls that, as she forwarded her suggested artworks to Javett, "it became clear that it was important for these artworks to tell a story or a narrative."
The narrative, as the book shows, is manifold. There are, of course, the multitude of stories and subjectivities of South African life in the 20th century as interpreted by black artists through their art production. This is most evident in the collection itself, and through its debut exhibition Yakhal' Inkomo, currently on show at Javett-UP. 
What Mihloti ya Ntsako ­­(which translates from Xitsonga to "tears of joy") then does is to expand and further explore this collective narrative through the context of Dhlomo's own journey as an artist, collector, curator, administrator, and cultural worker working alongside many of the artists in this collection. Finally, there is the history of institutionalised private art collecting in South Africa, and its shifting models and possibilities in the contemporary world.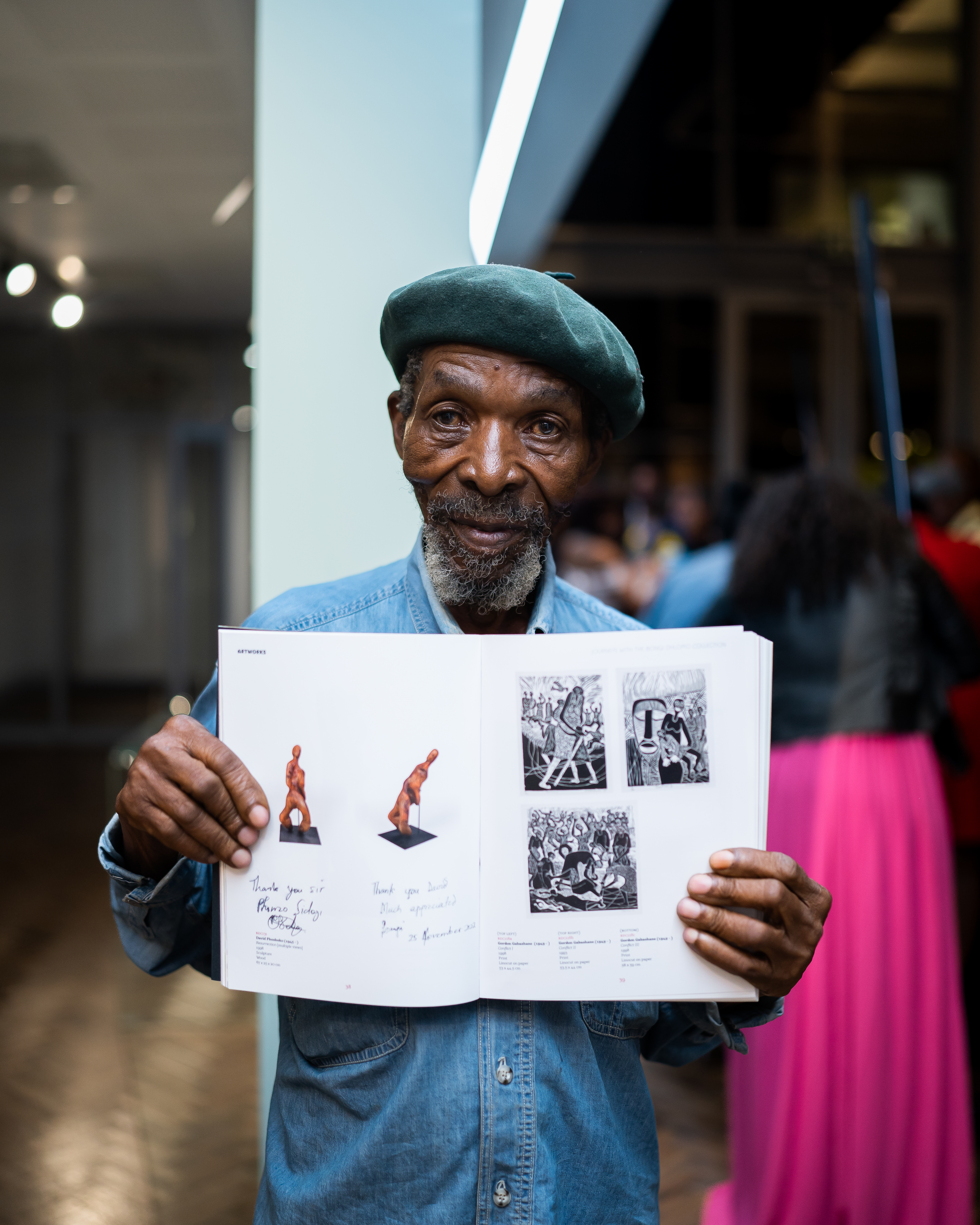 The Mihloti ya Ntsako's book launch at Javett-UP, image courtesy of Javett-UP
Importantly, the book also reframes and retrospectively honours the work Dhlomo did at spaces like FUBA Gallery or through the Thupelo Workshops. "Her work was almost relegated to admin work. She was putting up compelling, sold-out exhibitions, but she was [only recognised] as the administrator," says Sidogi. Through the book, these histories are effectively rewritten, reframing her role as an administrator for what it really was – curation.
"So, then we can see that she was one of the first black women curators in the country, she was putting up shows, setting the stage for contemporary curators to do the kind of work that they are doing today," Sidogi adds. "It's in how that story is told, and that's what the book attempts to address – how do we retell those stories? Is the archive fair and consistent with the contributions she made and [without being] cloaked in some kind of patriarchal racist discourse?"
What of the artworks themselves? The Bongi Dhlomo Collection is both engaging and edifying. Works by David Koloane, Sydney Kumalo, Noria Mabasa and Ezrom Legae are immediately recognisable, while sculptures by Meshack Raphalalani and paintings by Mmakgabo Helen Sebidi offer unique opportunities to engage with the lesser-seen works of these important artists.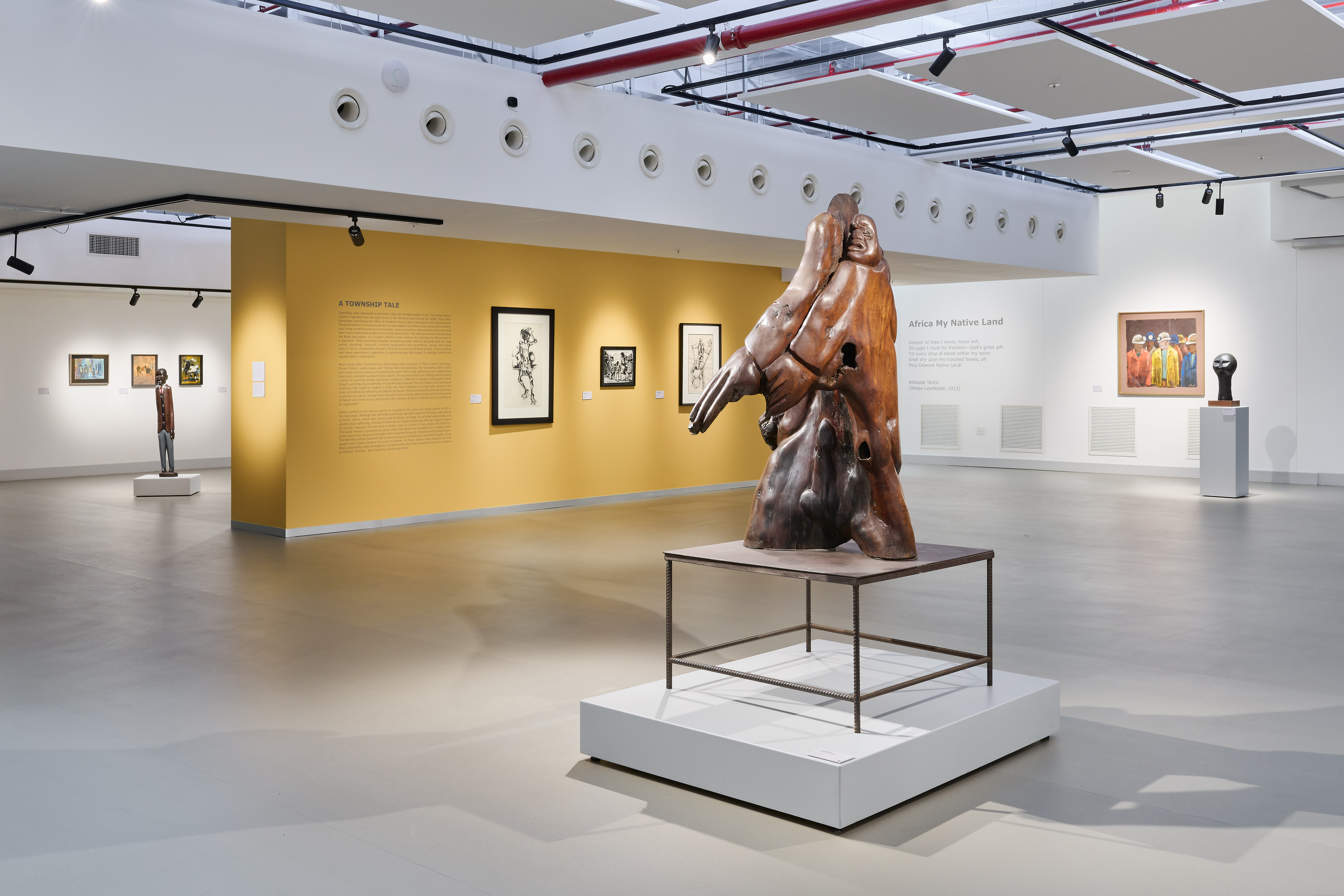 Installation shot Yakhal' Inkomo exhibition at Javett-Up, photo credit: Anthea Pokroy
Running throughout the collection, like something of a curatorial undergirding to the overarching narrative, is a series of smaller stories.
Johannes Segogela's Noah, Mrs Noah, Son, Daughter and Animals from the Ark, for example, uses a collection of small sculptures to put forward a South African interpretation of the well-known biblical narrative. Dr Phuthuma Seoka's sculpture Page vs Coetzee, two is another interesting work, and depicts the iconic defeat of the white South African boxer Gerrie Coetzee by the African American boxer Greg Page at Sun City in 1984. Such a match was widely followed and hugely divisive in South Africa at the time and while Sue Williamson has said the work shows Coetzee as "slack-jawed, sagging at the knees, while an agile Page, possibly feeling the great swell of black support behind him, moves in for the kill"[2], Jacob Dlamini has noted that "Coetzee was an Afrikaner and spoke with a thick Afrikaans accent, but he had endeared himself to black South Africans by declaring publicly that he was opposed to apartheid and was no bigot."[3]
This charged and multifaceted narrative is expertly held in Seoka's sculpture and, like all of the artworks in the collection, provides a nuanced view of a facet of black South African life in the 20th century through art.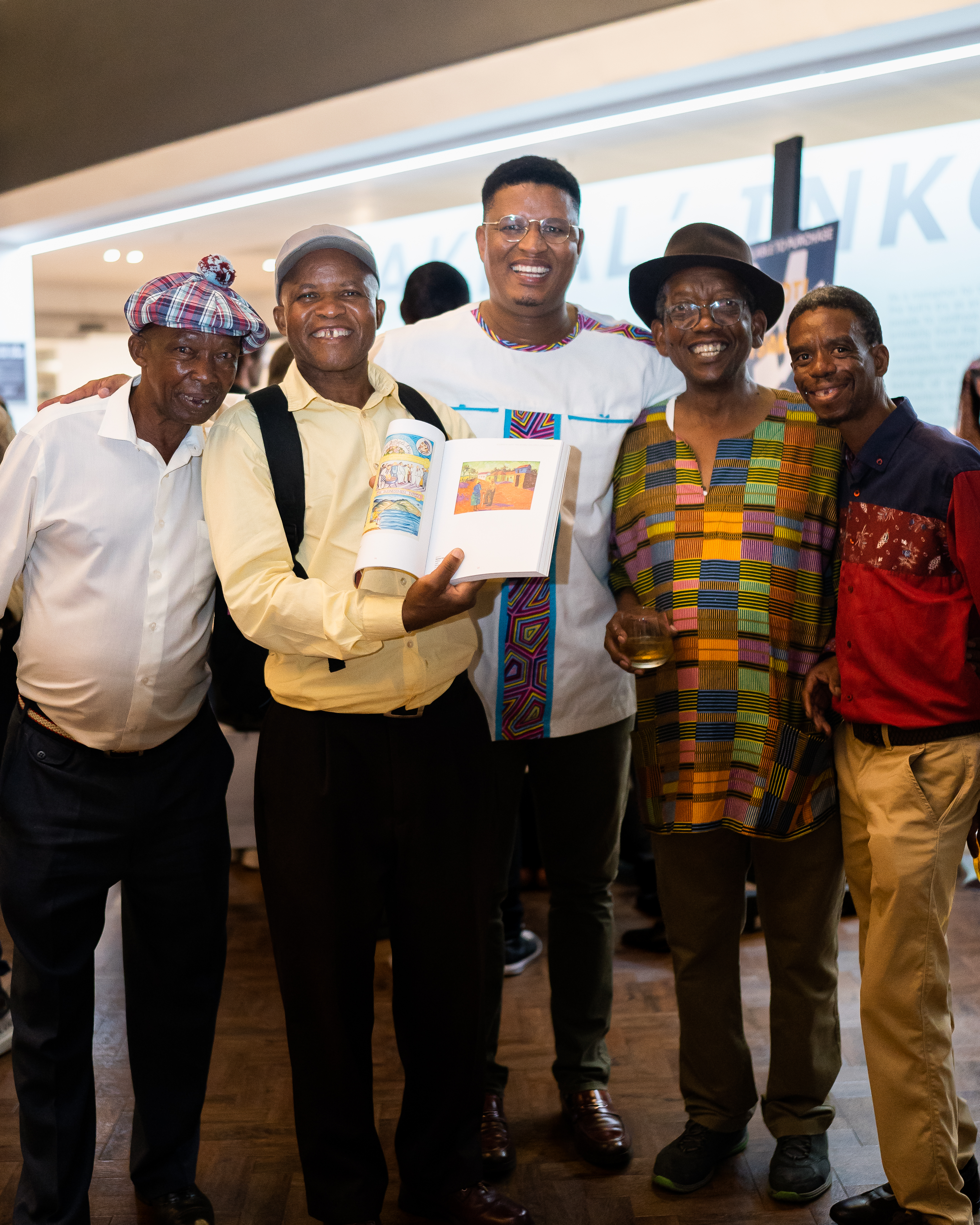 The Mihloti ya Ntsako's book launch at Javett-UP, image courtesy of Javett-UP
Mihloti ya Ntsako is a rich and comprehensive account of the Bongi Dhlomo collection and of the life and work of Dhlomo herself. In addition to the texts by Sidogi and the artworks that animate the book, first-hand accounts by Dhlomo offer up valuable insights into her artmaking and collecting practices, and texts by Thembinkosi Goniwe, Tumelo Mosaka and Mmutle Kgokong provide alternative reflections on the collection.
This article provides only an overview of Mihloti ya Ntsako's contents but, if there were to be a quote to best characterise the book, let it be Dhlomo's reflection on the title: "Mihloti ya ntsako is the pain you see in the works… but it's also the joy, the beauty in the image," she says, pointing to a photograph by Ernest Cole. "But I won't take you through all of the artworks like this, you'll have to buy the book!"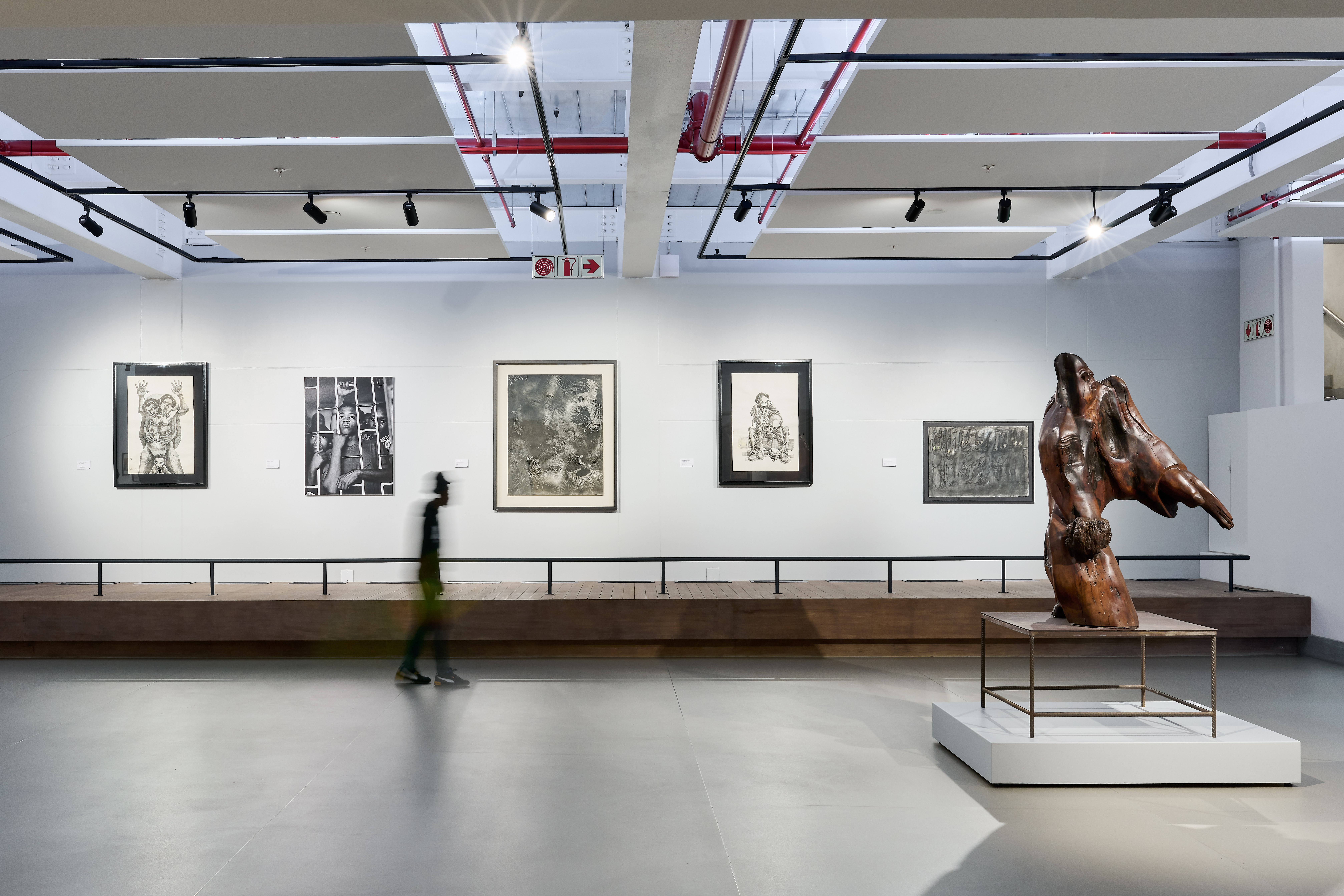 Installation shot Yakhal' Inkomo exhibition at Javett-Up, photo credit: Anthea Pokroy
– David Mann is a Johannesburg-based writer and editor who is interested in writing at the intersections of art, architecture, performance and fiction.   
[1] Sidogi, P. (2022). Mihloti ya Ntsako – Journeys with the Bongi Dhlomo Collection. Pretoria. Javett-UP. p. 9.
[2] Williamson, S. (1989). Resistance Art in South Africa, Cape Town: David Philip, p. 47.
[3] Dlamini, J. (2017). Native Nostalgia. Johannesburg: Jacana Media, p. 28.