Conversation between Makgati Molebatsi and Winifrid Luena
-------------------------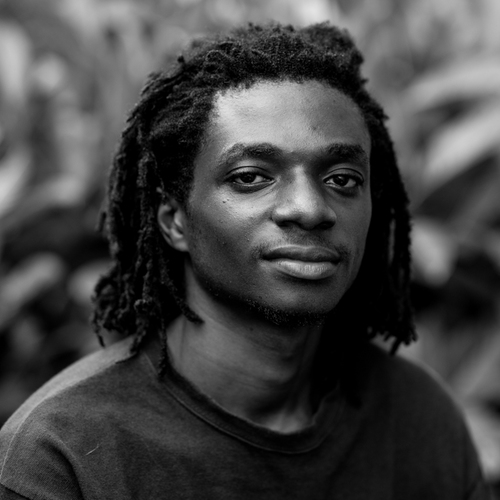 Winifrid Luena, portrait
Winifrid Luena's latest body of work is a self-reflection on Winifrid's continued shifting of states, perceptions, and ideas of living in response to adapting to changes in culture, reality and self-identity after moving from Tanzania to South Africa. He is immersed in telling the stories of his own country and documenting what was happening there – particularly during COVID-19. Parsing the Juncture: 110 Billion Praxis is based on the idea of embracing his shifting situation and living between two countries, while searching for ways to reconcile his twin realities – and those faced by people in Tanzania.
Creating works that allow him to communicate through conceptual art, photojournalism, and documentary work, put Winifrid on the path to gaining the fluidity of existence through merging his past and current experiences as he begins to engage with South African culture, society and communities.
Winifrid's journey from artist to photojournalist and documentarian encompasses the three disciplines rather than progressing away from or toward one or another and sees him shifting between them, to better tell the stories that he feels need to be told, in ways that communicate them best. This exhibition celebrates this experience.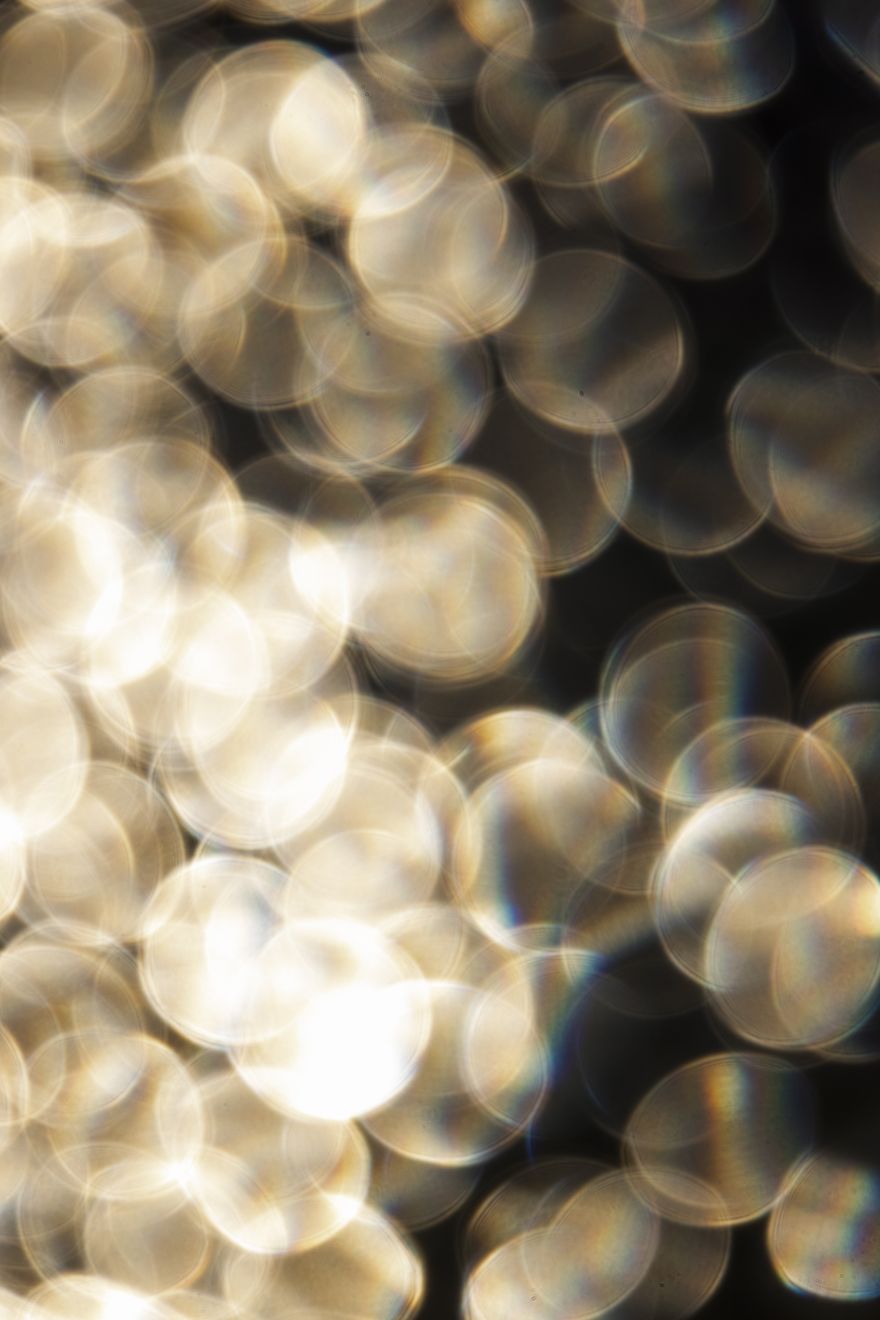 Winifrid Luena, When The Sun Rises II, 2022, price on request, CONTACT TO BUY
Winifrid applies vibrant, upbeat colours, expressive and minimal composition that evokes healing, transformation, harmony, and aliveness in this new chapter of his journey in life, as he hopes to shed light on important stories and bring real change to the people whose stories he shares. 
Makgati Molebatsi (MM): You were one of the recipients of the Absa L'Atelier Ambassador Awards for 2019, where were you when it was announced and what was your reaction?
Winifrid Luena (WL): I was in my studio when I got the news. It was early in the morning, and I was going through my emails when I came across the one from Absa regarding the award. I didn't know how to react at that moment. Am happy the award opened opportunities and more exposure of my works. This recognition reflects the value of my work and growth in my career.
MM: As a result of the Covid -19 pandemic, you were unable to take up the prize of a residency at the Cite International des arts in Paris, how disappointing was that and did that alter the experience of the award?
WL: It was extremely unfortunate. I was well prepared to do everything I wanted to do in Paris. We found out one day before our trip that we couldn't go because of the Pandemic. That meant that all the advantages of exposure and networking that we would have gained from the residencies in Paris and South Africa were forfeited.
The award arrangement changed, and we had mentorship sessions with various experts in the art and business industries. The mentorship experiences helped me to understand the worth of my work and how to navigate and advance my career in the arts.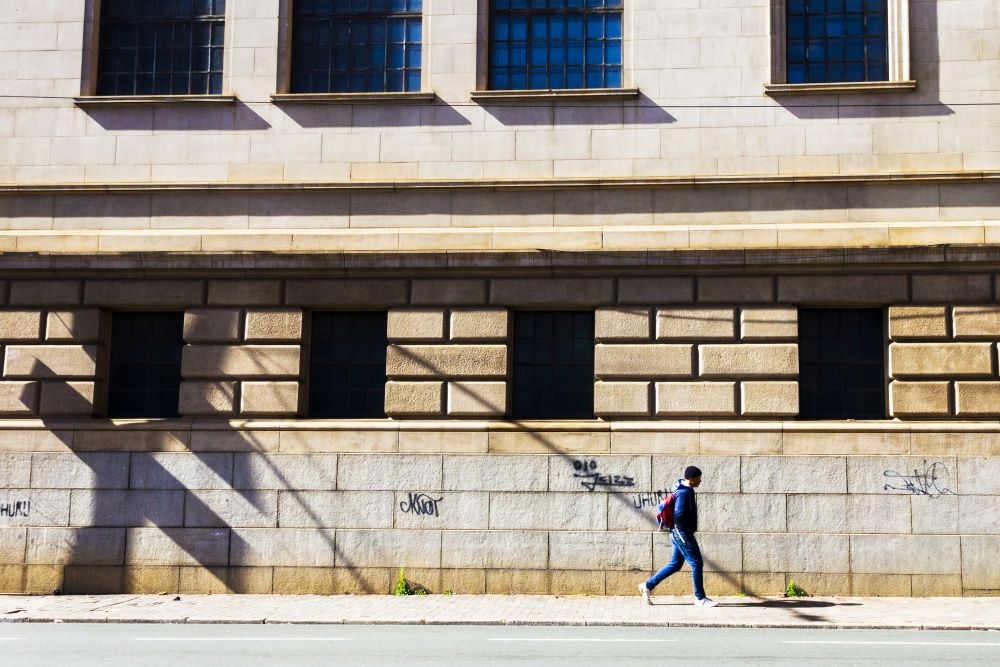 Winifrid Luena, Johannesburg, CBD VI, 2022, price on request, CONTACT TO BUY
MM: Your solo exhibition titled " Parsing the Juncture - 110 Billion Praxis" has just come down at the Absa Gallery. Taking the simplest meaning of the first word PARSING being to examine or think about something in order to understand it, how would you explain, again, in simple terms, the title and context of your exhibition?
WL: I believe that we, as humans, have potentials that lie within us, and that it is through our decisions and actions that we become capable of realizing and sharing those potentials with the rest of the world. The exhibition is centred on this concept, and I reflect on transformation in decision-making as I attempt to comprehend and navigate the complexities of the new environment and culture that many foreigners face within the South African community.
MM: You work across two mediums photography and screen printing, how did that come about and which medium formed the foundation of your practice?
WL: I am a self-taught artist. I began my career as a Graphic Designer, but photography has always been a part of me. When I was a kid, I used to take the film rollout from my father's camera and take empty photographs as a way of playing with the camera. This experience, I believe, shaped the foundation of my photographic practices. Later in my adolescence, I began to teach myself about visual elements, design, and art. This formed the foundation of my general artistic practices. Then I progressed to learn photography and screenprinting techniques. I can confidently say that I am fluent in photography more than any other medium, and my strong elements are colors, geometric shapes, light, spaces, and textures.

Winifrid Luena, Johannesburg, CBD IV, 2022, price on request, CONTACT TO BUY
MM: You have mentioned that the production of screen prints is very labour intensive, could you explain the process you go through?
WL: The first part begins with a puzzled rectangular sketch with boxes. Then I had to come up with a movement to represent the transformation process. After that, I transfer the sketch to a computer and experiment with colors, using no more than two or three per artwork to achieve a well-balanced contrast that captures the thought and emotion. The output of this then serves as a reference for the production of the screen prints artworks. The second stage is the production of final artwork. I collaborated with Artist Proof Studio, and I am glad they truly understood my vision and pushed themselves to deliver the best results possible. The most difficult aspect of this was mixing colors so that they matched our references and testing them to see how they would look on the paper on which we would print the final artworks. Also, the printing process was not straight forward in a way that they had never done before on this type of abstract work, so we went back and forth, experimenting a lot to get to the final look of the artwork. It was a lot of work, but it was also a lot of fun.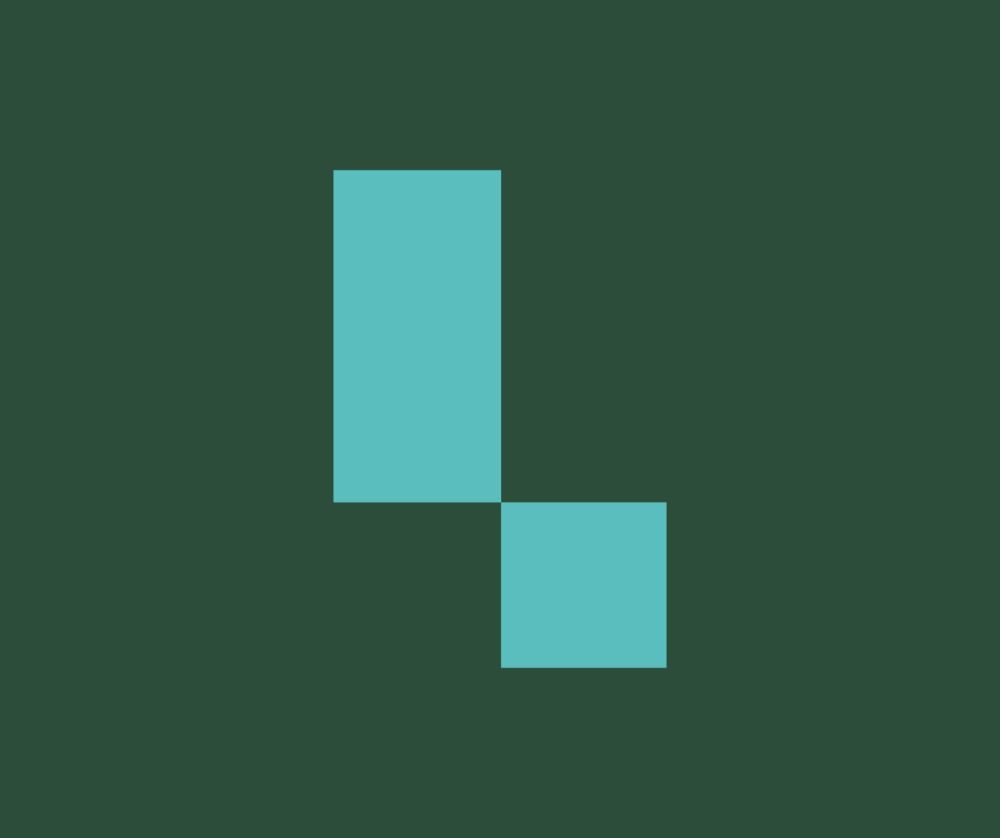 Winifrid Luena, LinkedIn is the new Instagram, 2022, price on request, CONTACT TO BUY
MM: Finally, in your photography, how long does it take you to get to that 'decisive moment'?
WL: The decisive moment is, by nature, a less negotiable moment. It takes a lot of practice, a strong sense of awareness of the space, moment, and subject matter, as well as the ability to be in rhythm with all of them at the same time. It only occurs once; there is not second chance. My process entails isolating a space in which everything is in a certain order and connected to each other, anticipating that something will happen in that space at a certain point, waiting for that moment to arrive, and finally acting appropriately when it arrives. Sometimes I wait for a very long period, other times just a few minutes, other times I wait, and nothing occurs, and other times I respond quickly and seize the moment. What I like about this moment is that it has a transcendental quality to it; capturing it makes me feel alive.