MEET COLLECTOR, PATRON & ART ENTHUSIAST: Namita Singh Thakur
Read how collector Namita Singh Thakur of Art Curio champions emerging and underrepresented artists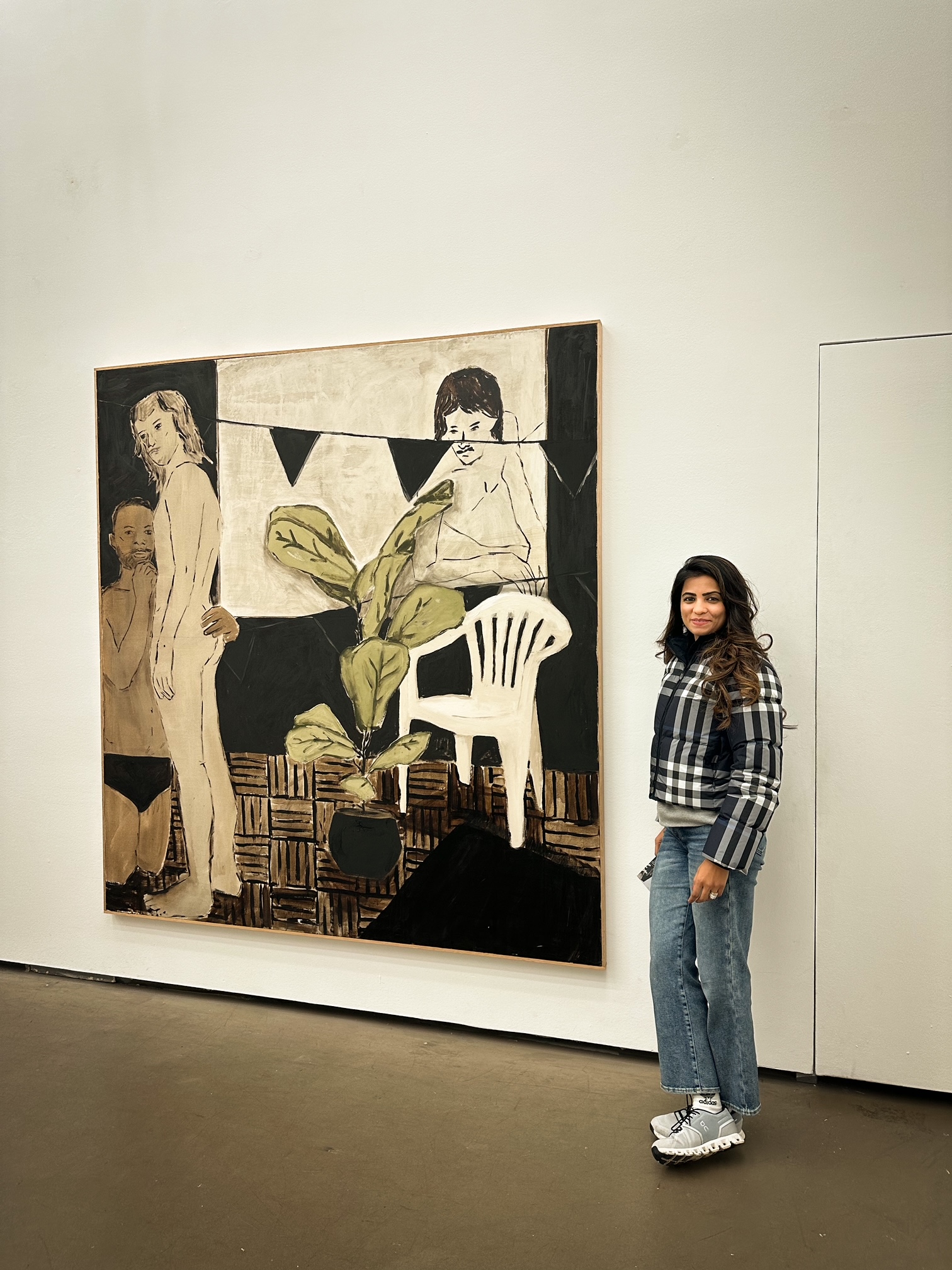 Namita Singh Thakur, next to Brett Charles Seiler's work, courtesy of Namita 
Originally from Mumbai, India, Namita Singh Thakur has been living in London, UK, for the past eight years. An early-stage art enthusiast and patron, who is absorbing art, art history and everything associated with it, Namita has fostered deep relationships and social engagements with artists, gallerists, and advisors across India, the UK, and South Africa. Professionally, she leads global strategic client relationships for LinkedIn across EMEA, a role she has held for over a decade, and which allows her to embrace diverse cultures while advocating for women's equity.
"I am very technology and social media reliant when it comes to following my passions, which include art, connecting with people and travelling."
Art Curio 
Namita's personal passion project, Art Curio, is a not-for-profit foundation that began primarily by buying works of emerging Indian artists, but steadily moved to more established and widely recognised Indian artists. The foundation has recently moved to collecting European and African artists, particularly works of emerging artists, women artists and artists from underrepresented backgrounds. "I empathise with artists who are from a similar background and love the opportunity to support them early in their careers."
Art Curio currently has around 100 works. Thematically, they revolve around Figuration and Abstract Expressionism, with a focus on self-reflections, identities, perspectives, philosophy and politics. More on Art Curio here.
Latitudes Online (LO): How did your interest in art collecting begin, and what motivated you to start your collection? 
Namita Singh Thakur (NST): I believe I have always been a collector of objects. As long as I can remember, I have collected something - be it stamps while growing up or just beautiful cards, pictures or packaging material – I have always been drawn to visually arresting things. I still have all these objects from my childhood. Coming specifically to art, I think it has a lot to do with me moving to London eight years ago and being exposed to the city's rich cultural landscape - one is always surrounded by beautiful and culturally poignant things. When we  moved into our 1st home in London, I always wanted to surround myself with items that bring joy or invite reflection. Now, looking back, building a home filled with artistic expression feels like an extension of Art Curio's mission.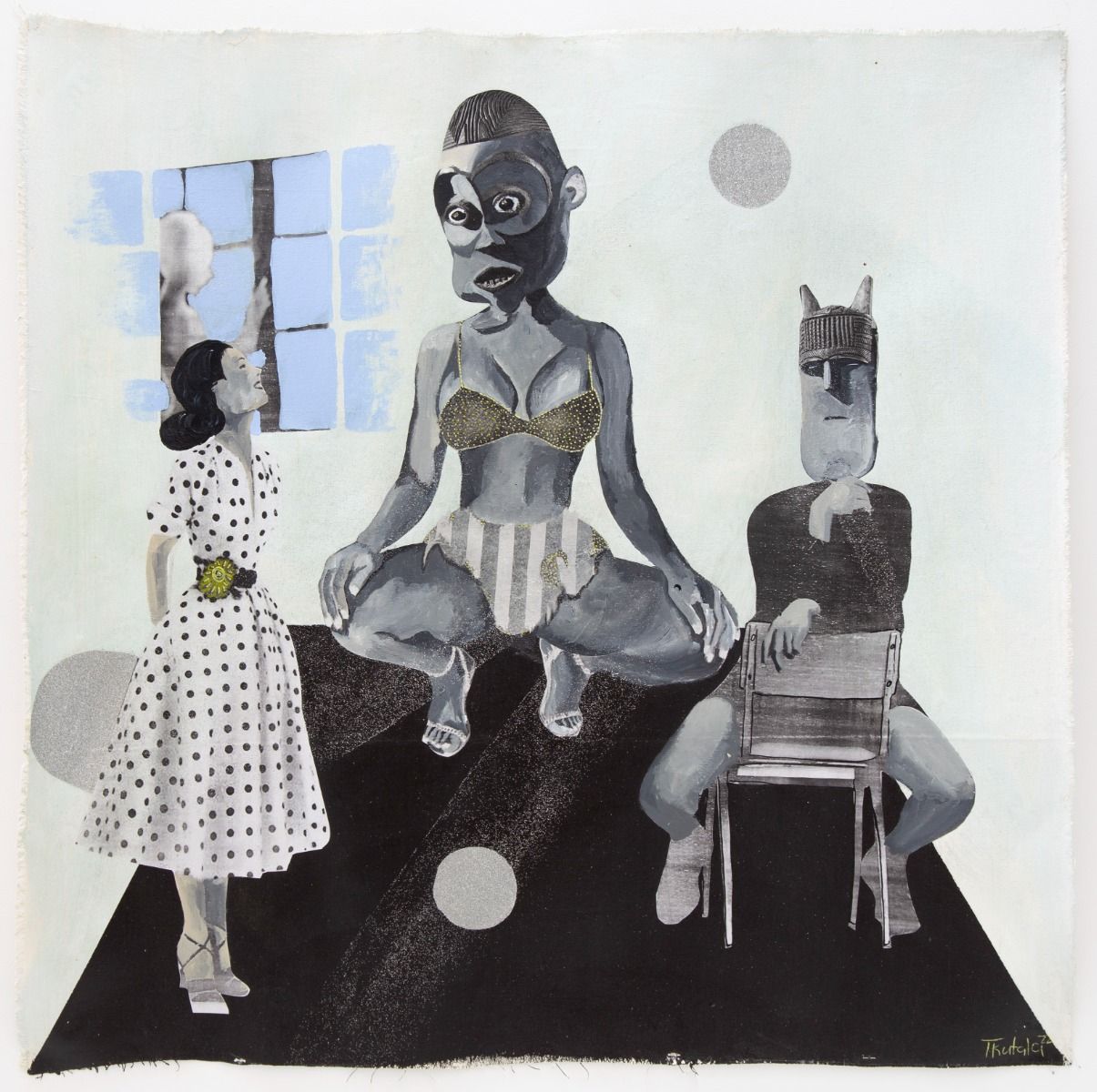 Teresa Kutala Firmino, OWELEMA, R 65,217.39 ex. VAT, CONTACT TO BUY
LO: What interests or excites you about collecting art?  
NST: I think the interest lies within the journey of discovering a new artist, meeting them, supporting them, establishing a relationship over time and understanding their practice and how it resonates with me. I think of collecting more from a point of view of preservation of artistic expressions and point of views and how can they be surfaced to a larger audience. Especially to an audience, which is harder to find for underrepresented artists, such as women artists, and women of colour artists.
LO: And in particular, art from Africa?
I respond strongly to art from Africa; something about the unbridled energy, raw artistic expressions, not being limited to academic ethos and strong sense of individualism really sets it apart. Not to mention a strong undercurrent of self-identity and themes of colonisation and freedom that personally strike a chord with me being from India and having faced similar historical context.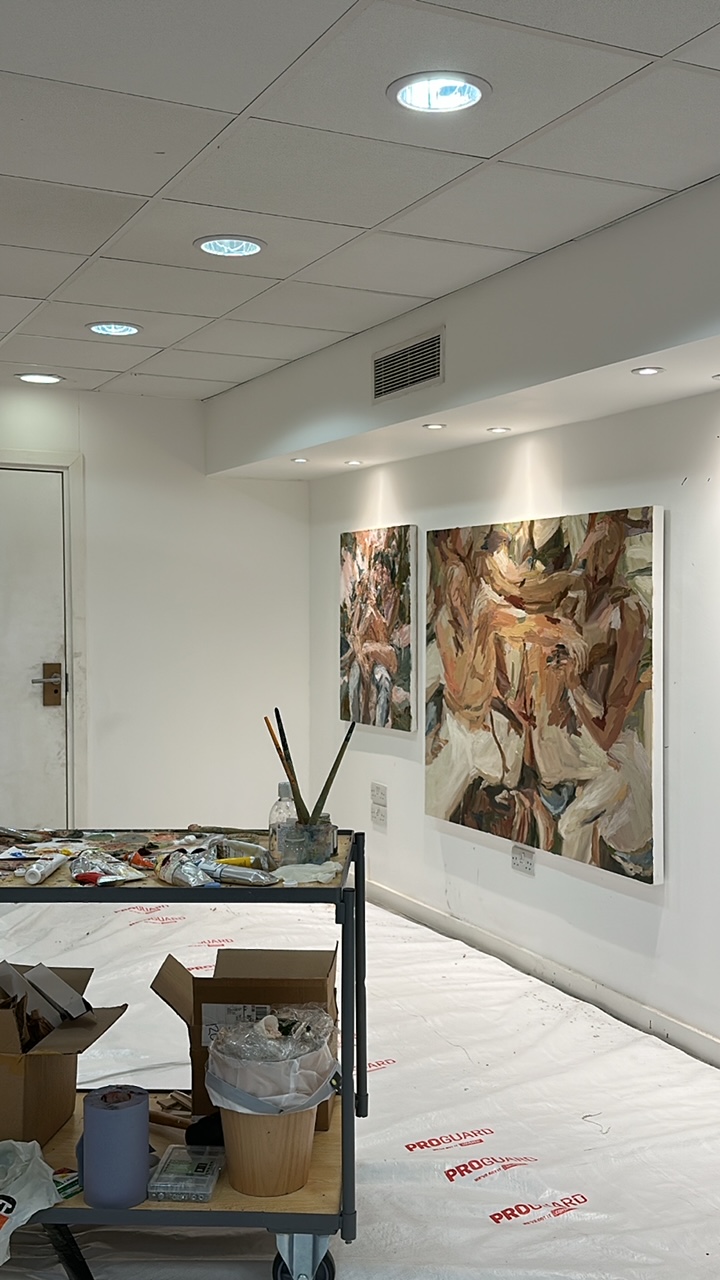 Mia Chaplin's art residency at PM/AM London, courtesy of Namita 
LO: What role does art play in your life? How does your collection enrich your personal and/or professional experiences?
NST: It plays a huge role. I have a lot of gratitude for being able to live with so many beautiful works around me and having met some incredible people - it is constantly enriching my life and my experiences. It is a place of privilege to be exposed to so much amazing art and I do not take it for granted. Every day waking up and seeing some of my favourite works inspires me personally and professionally. It also lends me a strong opinion about what creativity is all about and how diversity of thought as well as personal style is important and should be promoted.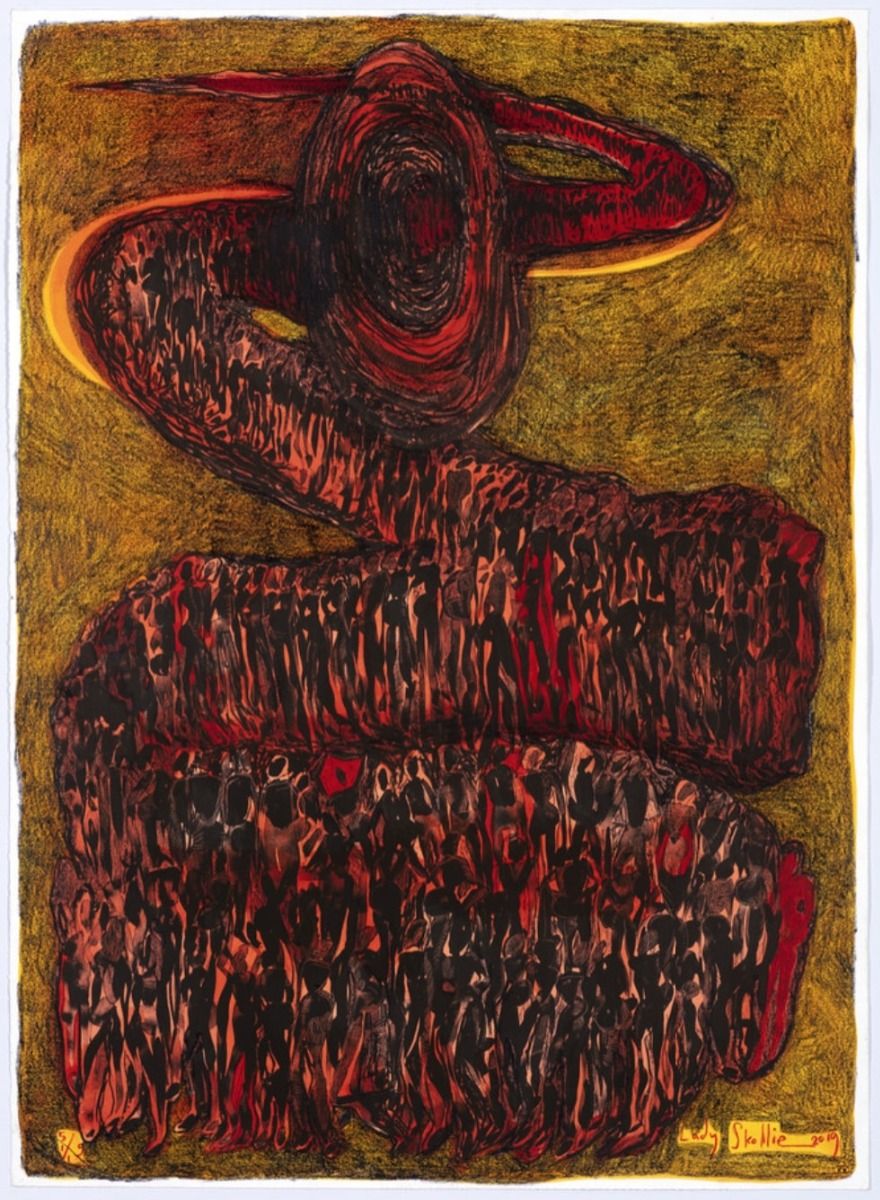 Lady Skollie, Waiting, The System is Offline, R 56,522.00 ex. VAT, CONTACT TO BUY
LO: How did you first come across Latitudes Online?
NST: There were a handful of artists and galleries that I started following and I saw their works being shown on Latitudes. Once on the platform, I quickly realised that it is truly a one-stop destination to explore amazing art and artists from all over the African continent. It's truly a democratic marketplace to see works not only from the galleries and independent non-profit organisations but also directly from the artists and their studios in an easy-to-use and convenient space. For someone like me who heavily relies on digital accessibility to view and explore art, it is a fascinating platform. Also, the editorial features and annual fair are something to strongly follow if you really want to hone your know-how about the African art-landscape.
LO: What are your three favourite works you've acquired from Latitudes? 
NST: It's always hard to pick, given so many works are close to my heart and integral to the collection. I've narrowed it down to the below three, as each of them has a distinct artistic medium and intellectual approach.