Marlene Dumas reasserts the power of portraiture
Though a weariness with portraiture has set in, in the wake of the genre being so widely adopted by African artists, a large exhibition of Dumas' works in Venice brings into focus the necessity to reclaim images and look beyond the surface of them.
-----------------------
Marlene Dumas, (from left to right) Betrayal, 1994, Private collection. Courtesy David Zwirner, New York, The White Disease, 1985, Glenstone Museum, Potomac, Maryland. Installation view, Marlene Dumas. open-end at Palazzo Grassi, 2022. Ph. Marco Cappelletti con Filippo Rossi © Palazzo Grassi © Marlene Dumas
"I have had enough of portraiture, I am only buying abstract work from now on," a collector recently observed. Secretly, many in the contemporary African art scene are looking forward to an abstract art backlash. Banele Khoza, artist and owner of the Joburg gallery BKhz, was surprised when he started travelling to Europe (to visit Art Basel) after Covid-19 restrictions were lifted and discovered that art being shown and sold on that continent and that art fair wasn't portraiture, but minimalist and often abstract. 
"We were having such a different conversation with collectors. Is it due to expectations about African art?" he asked.
Whether artists or collectors are driving the glut of portraiture on the African market, is perhaps not certain, but what is, is the perception that much of it is fluffy – has little value beyond the often-decorative elements that have come to define much of it. The intricate patterned backgrounds and fabrics worn by the subjects have somewhat contributed to this notion that art that bears decorative flourishes must be vacuous.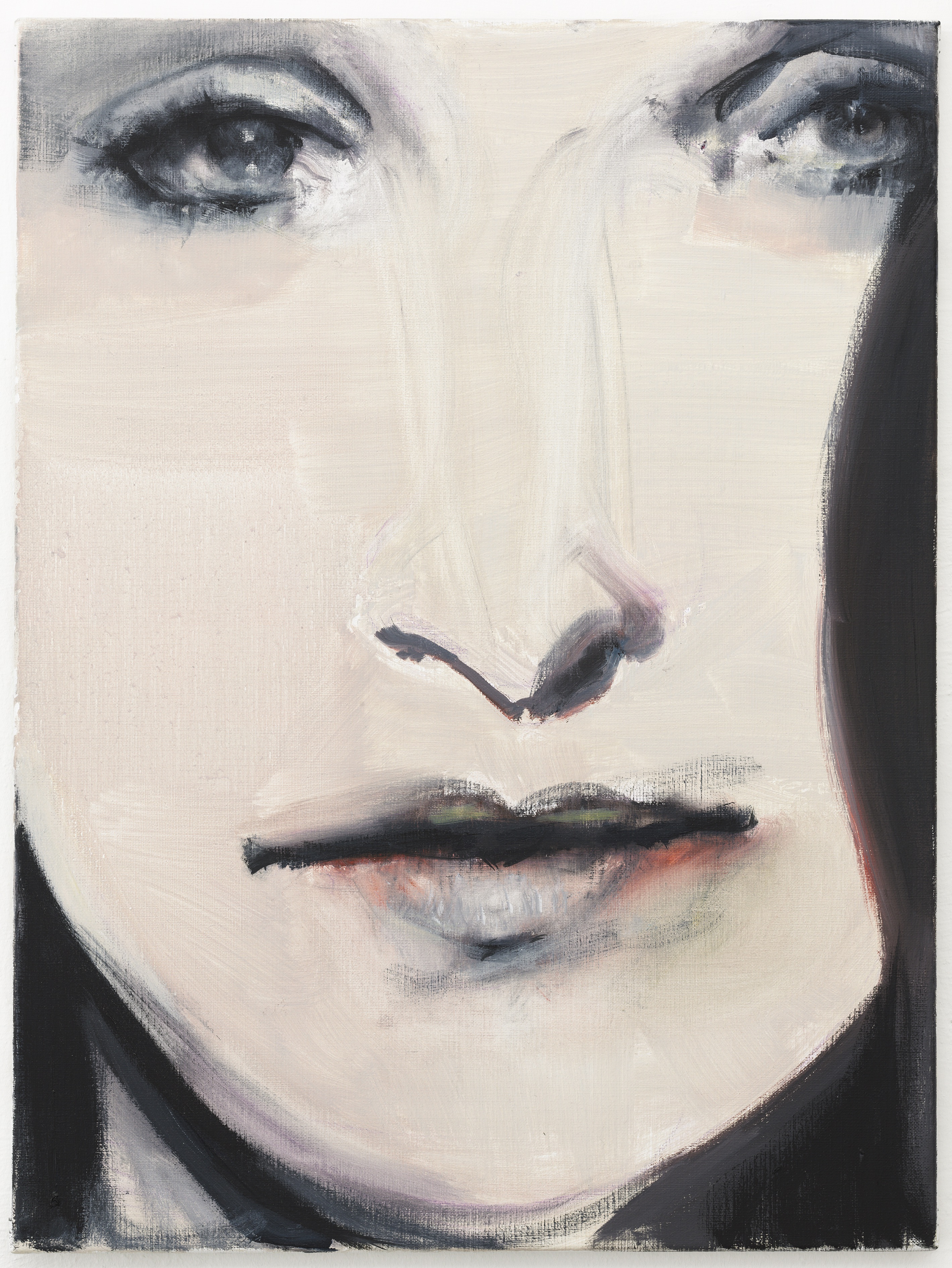 Marlene Dumas, Dora Maar (The Woman Who saw Picasso cry), 2008 Private collection, Courtesy Zeno X Gallery, Antwerp Ph: Peter Cox, Eindhoven © Marlene Dumas
A large exhibition, titled Open End, of works by the South African-born painter Marlene Dumas at the Palazzo Grassi in Venice, timed to coincide with the Biennale in that Italian city, is making a strong case for the continued value and depth that can be extracted from the portraiture genre. 
Of course, Dumas hasn't recently turned to portraiture due to its popularity. The works Dumas produced in the 1970s while she was studying at the Michaelis School of Fine Art in Cape Town (as shown in the catalogue of the exhibition Intimate Relations curated by Emma Bedford and Dumas at the Iziko National and Standard Bank galleries in 2008) include portraits. Some of these paintings such as Bells Michelle (1975) don't look too dissimilar to works such Drop (2018) that feature in this rambling exhibition in Venice that fills three floors of this historic edifice. Clearly, her vocabulary and interests were defined early on in her career, which flourished since moving to Holland in the late seventies. 
As such she has made a career based on portraiture, though of course, it is of a very special kind. As you move through the 100 works in this extraordinary exhibition, which consists of works hailing primarily from the Pinault Collection, you are immediately struck by the economy of her painterly vocabulary. She can harness, a stroke, a line, a wash, a colour, or a gesture with such dexterity that with so little, she can say so much. Somehow her less is more approach to portraiture captures the level of depth, viewers expect from a painting. By depth do we mean an absence of fixed points of reference?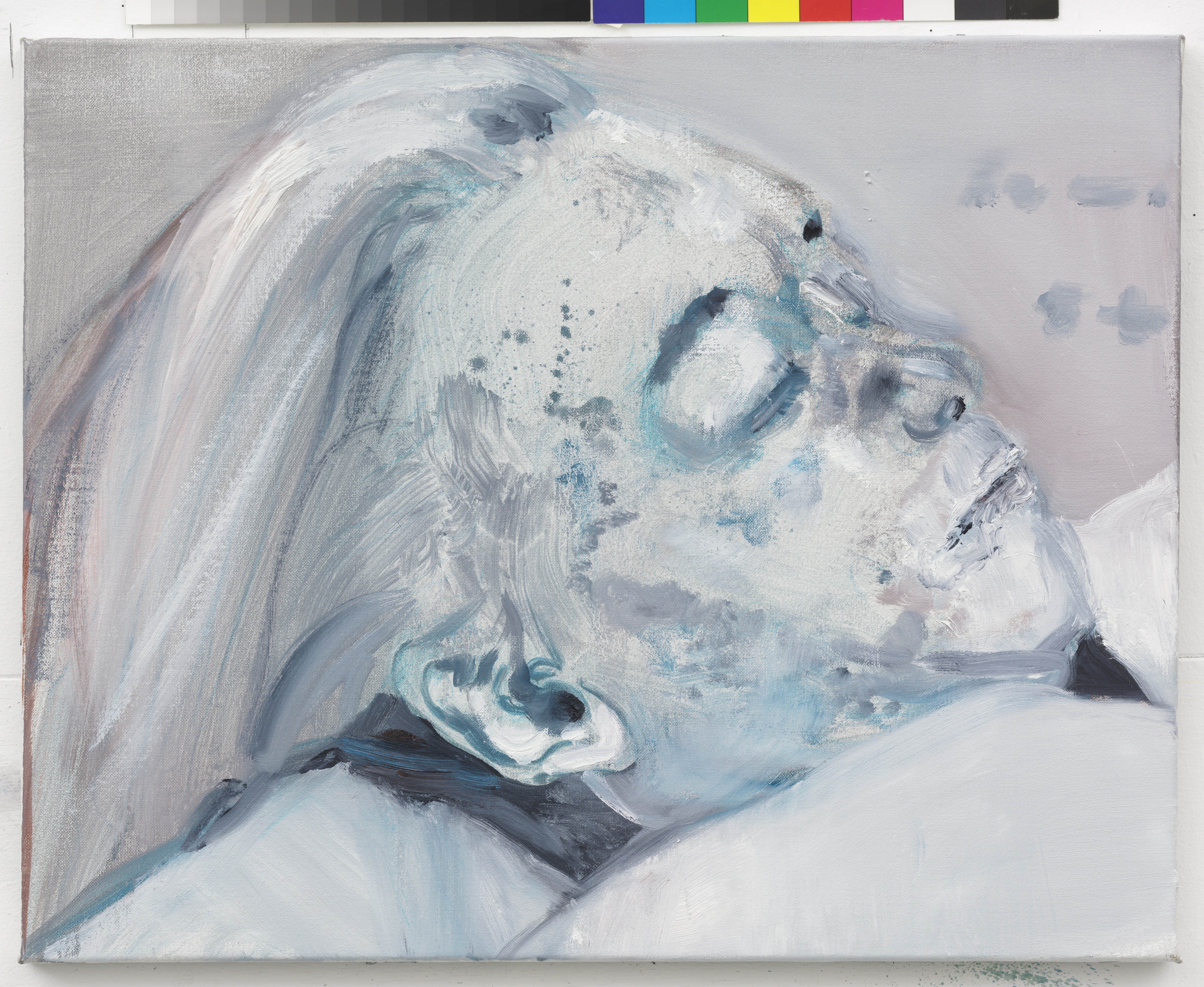 Marlene Dumas, Dead Marilyn, 2008 Kravis Collection Ph: Peter Cox, Eindhoven © Marlene Dumas
Importantly, our reading of her portraiture is never limited to one work, particularly with a solo exhibition of this scale our impressions are shaped by the experience of the works collectively. Indeed this is how we should ideally perceive most art, in the context of a wider practice. This is particularly the case when Dumas created a series of portraits that make a collective statement. Great Men, a series of drawings she produced from 2014 that presents portraits of gay men who despite making positive contributions to society were criminalized or persecuted due to their sexual orientation, is a good example of this. Dumas' portraits are never really about the subject but the politics tied to the subjects or how they have been portrayed, and perceived by society. In this way her form of portraiture is centred on more or less undoing 'the portrait, stripping it back through the layers of cultural baggage tied to it. This may account for her economical language and the seemingly simple yet evocative aesthetics that define her style. This links up with the translucency of the skin of her subjects. In her portraits of Lord Alfred Douglas or Jean Genet (which form part of her Great Men series) their skin is rendered in her characteristic blueish-tinged tones. 
In the catalogue for Open End it is suggested that "it is not unusual for Dumas to paint a figure blue. It emphasizes the artificiality of a painterly representation and evokes a mood of feeling blue."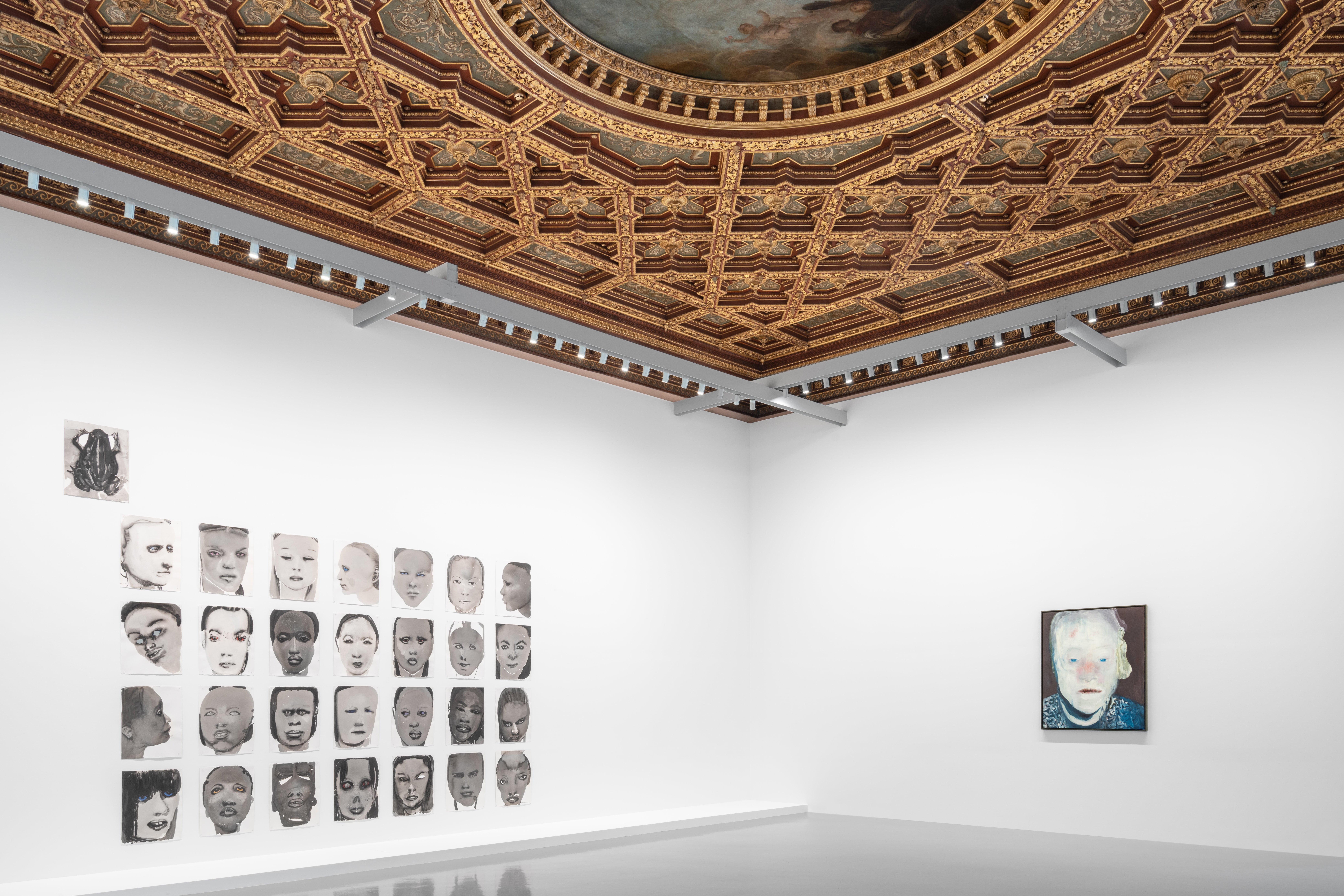 Marlene Dumas, (from left to right) Betrayal, 1994, Private collection. Courtesy David Zwirner, New York, The White Disease, 1985, Glenstone Museum, Potomac, Maryland. Installation view, Marlene Dumas. open-end at Palazzo Grassi, 2022. Ph. Marco Cappelletti con Filippo Rossi © Palazzo Grassi © Marlene Dumas
The blue tones evoke water and imply that her images are reflections on a fluctuating surface. Undoubtedly, the fluid lines that define her painting, further suggest the mercurial nature of subjectivity. The expressive nature of her practice and through the manipulation of her medium you have this idea that Dumas has been able to see beyond the physical characteristics of her subjects. Her expression appears to hover between the surface and what lies beyond.
This is certainly the case in the work Blue Marilyn (2008), which is a most unusual portrait of the most famous subject of painterly and photographic portraits – Marilyn Monroe. The Hollywood starlet is completely unrecognisable in Dumas's hands, largely because she is depicted lying down at an angle and her hair is out of the frame. In fact, the image, like many of Dumas' portraits, is drawn from popular culture. In this case, a frame from a blue movie that was thought to star Monroe but was later established to feature an unknown woman whose success in the porn industry relied on her appearing like Monroe. She offers another unconventional rendering of this iconic starlet who has functioned as the ideal of female beauty in Dead Marilyn, which as the title suggests is based on an autopsy photo of Monroe following her death. In this image, Dumas says she "saw the end of the American dream." Yet interestingly, this image didn't stop a culture of repetition of the Marilyn look, chased by a succession of pop stars and actresses from Madonna to Lady Gaga.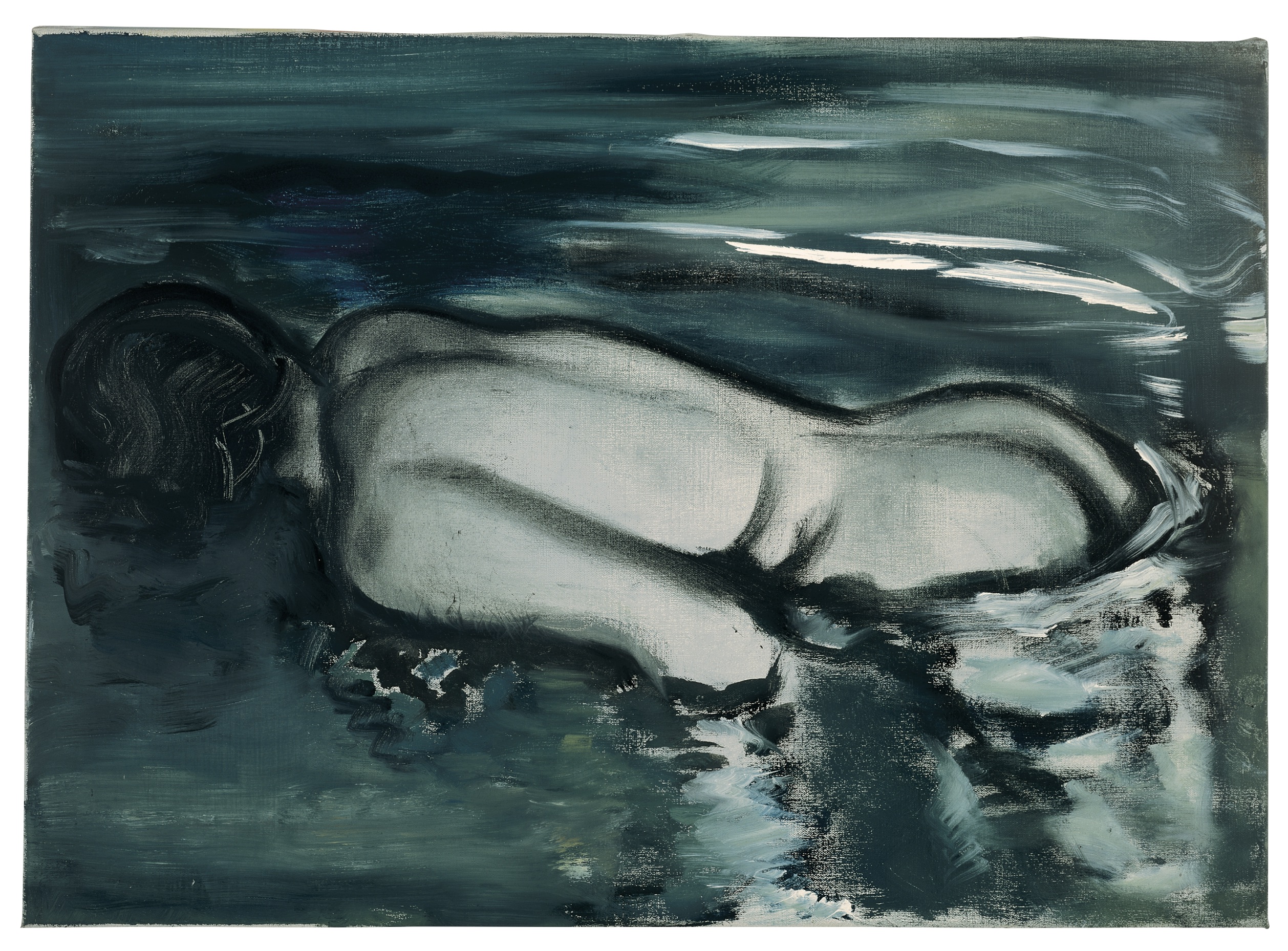 Marlene Dumas, Losing (Her Meaning), 1988 Pinault Collection Ph: Peter Cox, Eindhoven © Marlene Dumas
Indeed Dumas's focus is on female portraiture, she has been ploughing into this well-established canon for most of her career, challenging the patriarchal gaze that has shaped it. Hence confronting us with a dead or a fake Marilyn. This thematic line she drives naturally lends an air of social and political purpose to her portraiture and in the context of the main exhibition at the 59th Venice Biennale titled The Milk of Dreams, curated by Cecelia Alemani, which is centred on female expression stretching back from the early 1900s to the present day, Dumas practice chimes with the current feminist-turn in art, securing her relevance and importance. Indeed for those visitors to Venice, Dumas exhibition was viewed as an extension of not only Alemani's exhibition but also the dominance of female artists in the national pavilions. 
Yet despite this apparent 'depth' to her portraiture and Dumas' political intent, her work is tinged by sardonic humour and a refusal to be 'serious'. In Underground, a series of ink portraits Dumas allowed her then-young daughter to embellish her works, adding a layer of bright crayon scribbles. This is of course tantamount to Dumas permitting her work to be defaced but it speaks of a deeper characteristic of her portraiture practice; her commitment to undoing the power of images, even her own. Nothing is sacrosanct. Dumas will open the window to any image of her choosing. From the pornographic – as in the explicit images of naked women in Miss Pompadour (1999) to Fingers (1999) – to famous western artworks as in her rendition of Everett Millais' Ophelia in Red Moon, to a close-up of a nipple in Areola. 
Marlene Dumas, (from left to right) Eye, 2018, Private collection, iPhone, 2018, Courtesy David Zwirner, Alien, 2017, Pinault Collection. Installation view, Marlene Dumas. open-end at Palazzo Grassi, 2022. Ph. Marco Cappelletti con Filippo Rossi © Palazzo Grassi © Marlene Dumas
This is all guided by her feminist streak, her unwillingness to 'behave' like a nice 'Afrikaanse meisie' (girl). In the painting Drunk (1997) Dumas presents a naked portrait of herself. In the catalogue text, it is suggested that Dumas is intent on claiming a western male painter's rite of passage – to be drunk yet respectable. In so doing she also presents the 'worst' image of a woman – "naked, old, drunk and female – that's as bad as it gets." So ultimately, through her portraiture, she reclaims a space for herself that has been denied to her in our society as an older, white, drunk (though I am sure not all the time) female artist. It is certainly a sign of the times that she has done so in a city where art by women and images of women created by women are taking centre stage. 
Indeed that is the ultimate power of portraiture - that in enough quanitities and over enough time, ironically society can, or is willing, to see past the surface of them.  
Open End is showing at Palazzo Grassi in Venice until July 2023.

Marlene Dumas, The Painter, 1994 The Museum of Modern Art, New York. Fractional and promised gift of Martin and Rebecca Eisenberg, 2005 Ph: Peter Cox, Eindhoven © Marlene Dumas
- Mary Corrigall, a Cape Town based commentator, advisor and independent researcher