LATITUDES ONLINE: LOOKING BACK ON 2020
As the year draws to a close, Latitudes take inspiration from Tumisang Khalipha's artwork 'A Moment of Silence' to look back on the challenging, yet transformative, year of 2020.
After the success of launching with a physical fair in September 2019 on Johannesburg's iconic Nelson Mandela Square, the Latitudes team had  intended to create an online platform. But when Covid hit, our team pivoted to take advantage of South Africa's strict lockdown period to fast track these plans.
Latitides.Online launched on 18 July 2020, with 350 artists and 120 sellers from over 20 different countries. Since then, the offering has grown to represent almost 600 artists and over 160 sellers. What's more, the site has been viewed in 123 (of 195) countries around the world, with artworks being shipped daily to countries as far afield as the US, New Zealand, Italy, Reunion, the UK, France, Morocco and more.
"While we always knew there was great potential in selling art online, we underestimated how quickly our collector database would grow," says co-founder Roberta Coci. "The power of the internet in reaching a global audience has been quite astonishing," she adds.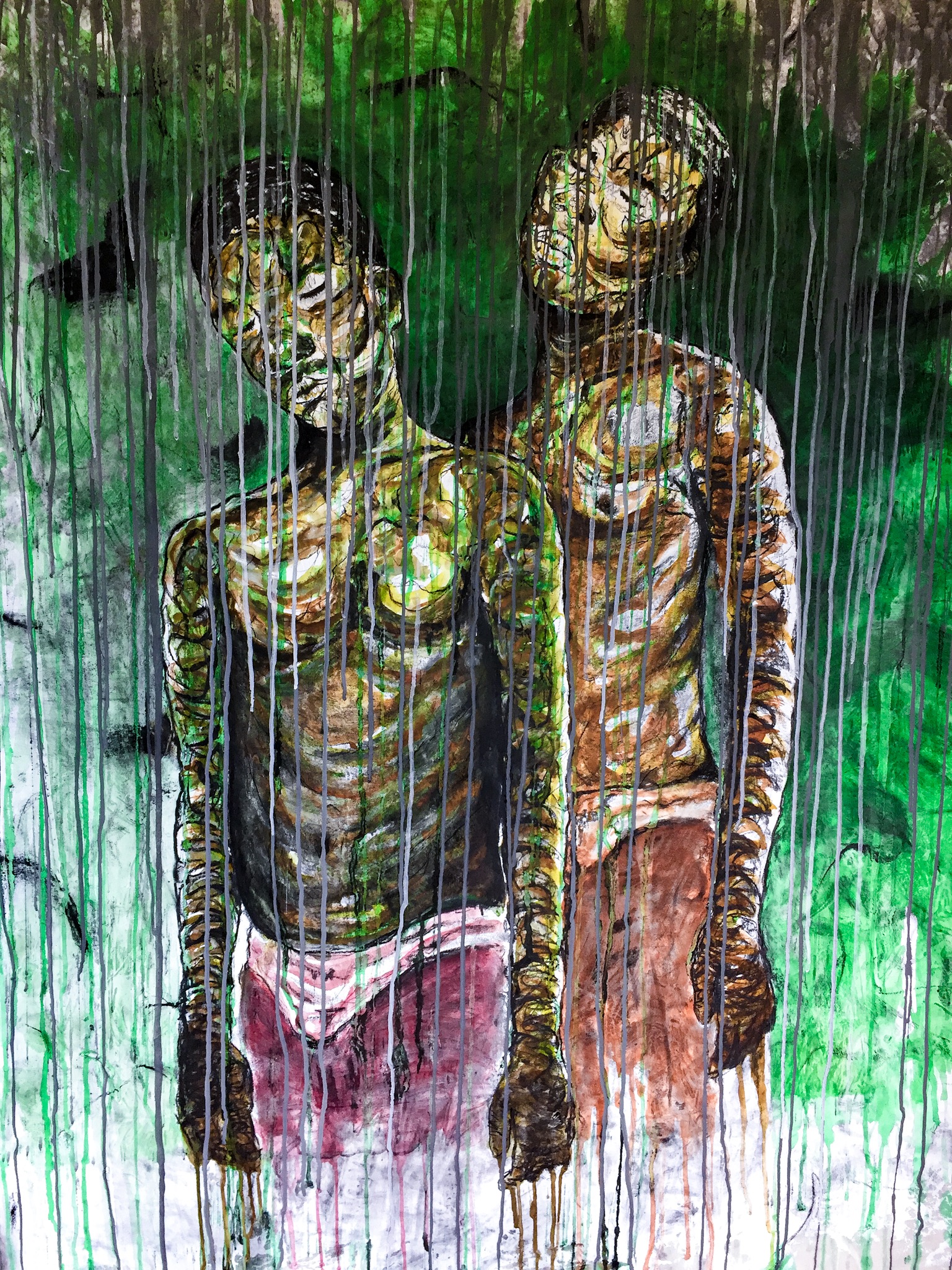 Tumisang Khalipha, 'A Moment of Silence', 2020, 133cm x 108cm
Our inclusive approach has seen galleries, artists, curators, online entities and organisations selling art side by side, in a radical departure from the traditional art fair model.
"We are working in a unique context in Africa, and to exclude a business because they don't have a physical space doesn't make sense when they are spending every day supporting and promoting artists," says director and co-founder Lucy MacGarry. We are passionate about working with independent artists, not only to help them sell their work, but also to offer advisory and mentoring services.
One such artist is Cinthia Sifa Mulanga, who has sold out every body of work she has uploaded to Latitudes.Online. "Working with Latitudes has been an incredible opportunity, not only because I've sold all my works, but also because my voice is being heard, which gives my artistic process and purpose more depth," she says. "Latitudes has helped me to get the most out of my practice, while giving me the freedom to work with other galleries, organisations and projects."
Independent artist, Puleng Mongale echoes this sentiment: "Latitudes has helped me make well-informed business decisions in the running of my art practice," she says. "They're always available to give advice regarding contractual agreements, and not only have they given me access to a support system but, they have also exposed me to potential and actual clients, and opportunities. Through their involvement I've been part of a local online auction and have also been contacted by clients who came across my work on their site. This process has helped me gain a better understanding of my profession, which has been empowering."
We have loved working with independent artists such as Mongale and Mulanga, helping them to view their practice as a business, so that collectors around the world can be assured of a certain standard of art and service, which is vital in the digital sphere and when acquiring works by unknown artists.
"Latitudes.Online have stood out during this Covid-19 pandemic for their innovative approach to the digital sphere, which isn't only necessary during this time, but will be so in the future," says Mary Corrigall, of art research consultancy, CORRIGALL & CO. "This kind of platform has been needed for some time and I would really like to see it continue to flourish and grow, as their contribution to our art ecosystem is vital."