Interview with
Farhana Jacobs
--------------
Farhana Jacobs is a self-taught artist based in Johannesburg, South Africa. She was born in Durban and studied Social Anthropology at The University of Cape Town. Her work interrogates the relationship women have with their surroundings, with themselves, and how they navigate hostile external structures of patriarchy and limiting belief systems. In her work, women's bodies are offered as a terrain of contestation - as landscapes upon which these hostile surroundings and contexts are re-purposed and re-imagined. She is interested in how the effects of patriarchy and the overarching Superstructures shape and form the outlook of women, both in their physicality and in ways unseen.
Weaving their significance on women's experiences, expressions of autonomy, narratives and imagination. The work she undertakes not only aims to understand these landscapes but also to hopefully unearth them - with the aim and hope of unveiling what tries to remain unseen.
Farhana's work has been exhibited at Turbine Art Fair; Bubblegum Gallery; she has exhibited NFT artworks at AfricaNXT, Africa's largest innovation conference in Lagos, Nigeria alongside contemporary art from galleries and artists in Africa and its Diaspora. Her work has been featured in a number of online publications including Creative Knowledge Resources (CKR) which seeks to document and study socially engaged art and art interventionism, as well as African Writer Magazine.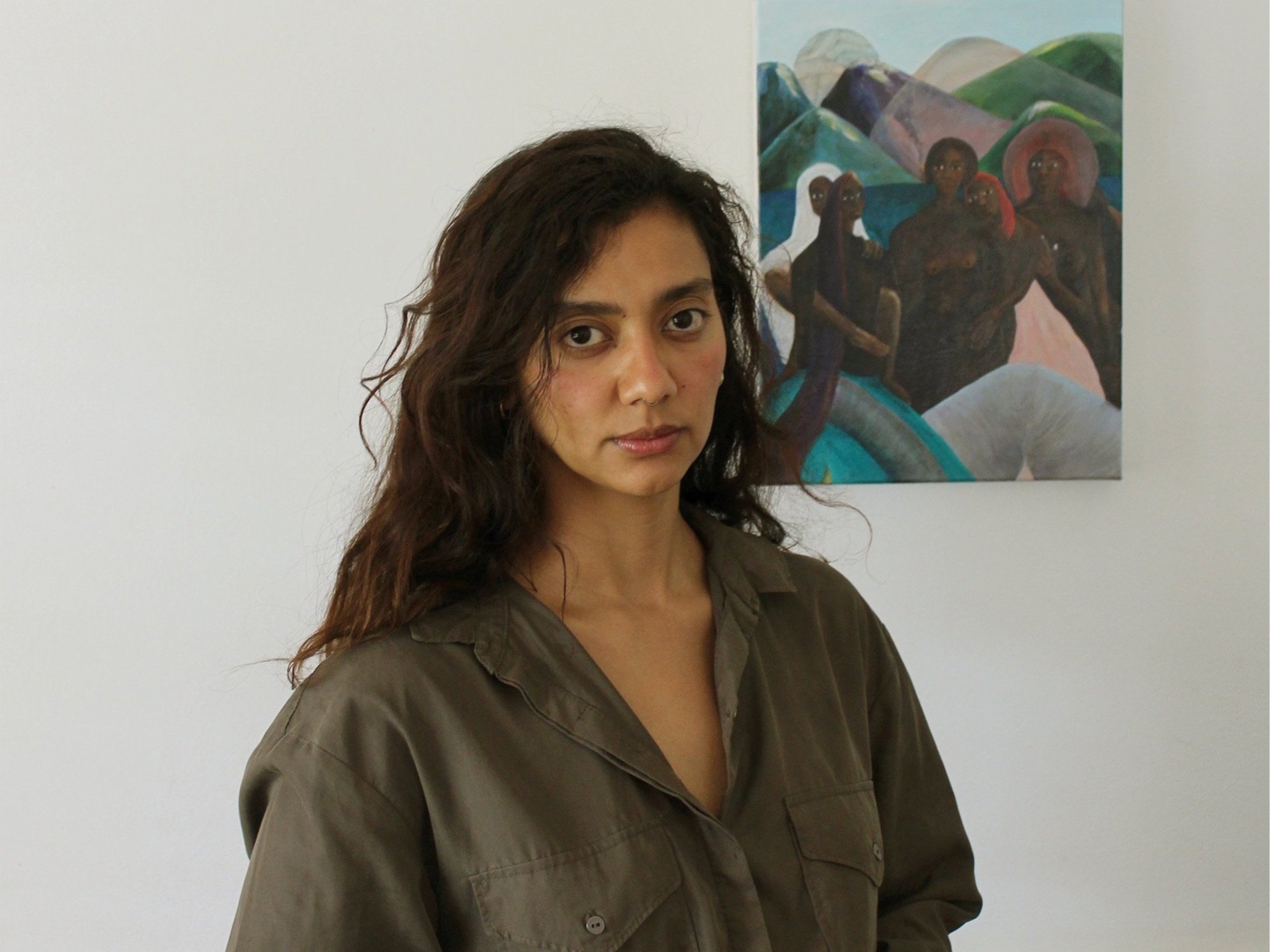 Farhana Jacobs, portrait, courtesy of the artist
--------------
Latitudes Online (LO): What piqued your interest in art and how did you realise your practice from there?
Farhana Jacobs (FJ): Since childhood I've had a well-developed inner world from spending time alone, and as I cycled through different phases of early adulthood I grew towards expressing myself through art. I would sit around and draw my own hands and feet, and other body parts or objects that I could see. I found optical information from everywhere: public pools, second hand book shops, walking down the main roads in my neighborhood, or church sales. Sometimes the texture of lace or embroidery will influence lines in the work, the same way a photograph could influence the colour palette.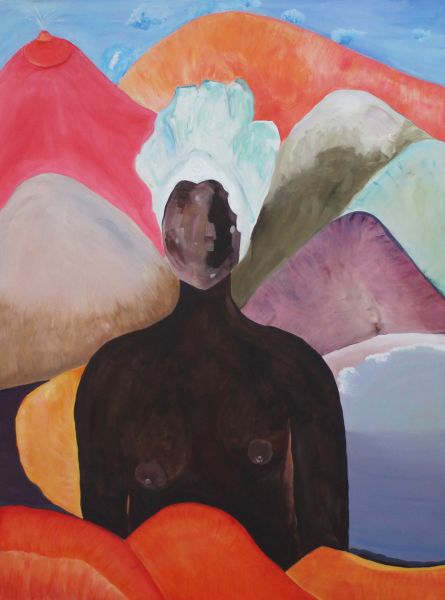 Farhana Jacobs, Midora, R 28,000.00 ex. VAT, CONTACT TO BUY
(LO): When observing your pieces, the subjects captured in your work are often faceless. What motivates your decision behind such 'omissions'? 
(FJ): I think some of the time I distort or leave the faces out because I think the painting reveals a layer of truth about something that is difficult for me to say out loud. So I omit the face which allows me some protection when I want to express but simultaneously want to hide. 
(LO): Mountainous landscapes and seascapes seem to feature in many of your pieces. What is it about these settings that inspires you and how are they relevant in the context of your oeuvre?
(FJ): I feel most like myself when I've spent time submerged in a body of natural water, the sun warming me up afterwards. Partly I think it's because I have the best memories of camping and swimming in mountain rivers with my cousins as a child. These memories re-activate feel good emotions stored away in my physical body when I'm in nature.
But apart from that I absorb energy from these spaces as equally as I release into them. I see them as tools for mental and spiritual cleansing and mind-body connection and I express this in some of the paintings.

Farhana Jacobs, You and me, R 15,000.00 ex. VAT, CONTACT TO BUY
(LO): When looking at pieces like Forever postpartum and Yamoya, it becomes clear that motherhood and nurture have a strong influence on your work. How did this come about, and how do you see these themes evolving in your work over time? 
(FJ): I think my fascination with motherhood started in my observation of my own family, how our home was structured and how that impacted me. I attempt to forge a pathway to and through motherhood that wasn't necessarily laid down for me by my parents. But is steered by a clear sense of valuing the whole experience.
Partly, I celebrate the beauty of the female form during the phases of growing and sustaining life because growing up these were the aspects of women's lives that were largely hidden or were meant to be hidden and modest, and even more so once you had a child. I like to think that simply painting them, showing their skin, their natural form in all their power and vulnerability, is enough to respond to that practice rooted in misogynist, patriarchal ideals armed with religious rhetoric.
Being hyper aware of how generational trauma was passed down in my family line I'm also constantly measuring my own mothering - trying to tow the line being a present mother and a present woman in the world available to tend to my own passions and needs as well as that of others. 
(LO): Following on from my previous question, which other themes, central to your oeuvre, would you like to draw attention to?
(FJ): I think I am still settling into my own voice when it comes to creating, so I tend to mix and try out approaches and themes. But what I seem to come back to in my work is the exploration of the feminine. And perhaps that's a kind of motif in my work, don't know. I will always be interested in women's bodies, women's struggle and my art will continue to be something I use to navigate, document and understand such things.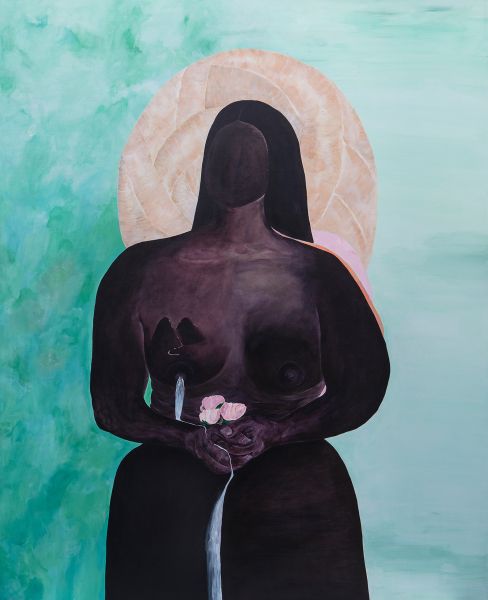 Farhana Jacobs, Yamoya, R 35,000.00 ex. VAT, CONTACT TO BUY
(LO): I was wondering which artist[s] has/have influenced your work and how they have done so?
(FJ): Pamela Phatsimo Sunstrum for her colours, brush stroke, layering and themes which resonate with my own work; cosmology, family history and planes. Kerry James Marshall for his large scale paintings and portraiture.  
(LO): Lastly, are there any exciting projects lined up for 2023 that you are able to share with us?
(FJ): I'm looking forward to applying for and attending local and international residencies. In 2023, I will participate in a group exhibition at Gallery 2 on Jan Smuts.