Latitudes continues to break the mould with their next art fair edition
Latitudes set out to be responsive to the needs of artists, dealers and collectors. The new edition with RMB as a sponsor builds on this but in a more upmarket and social setting.
---------------
 - By Mary Corrigall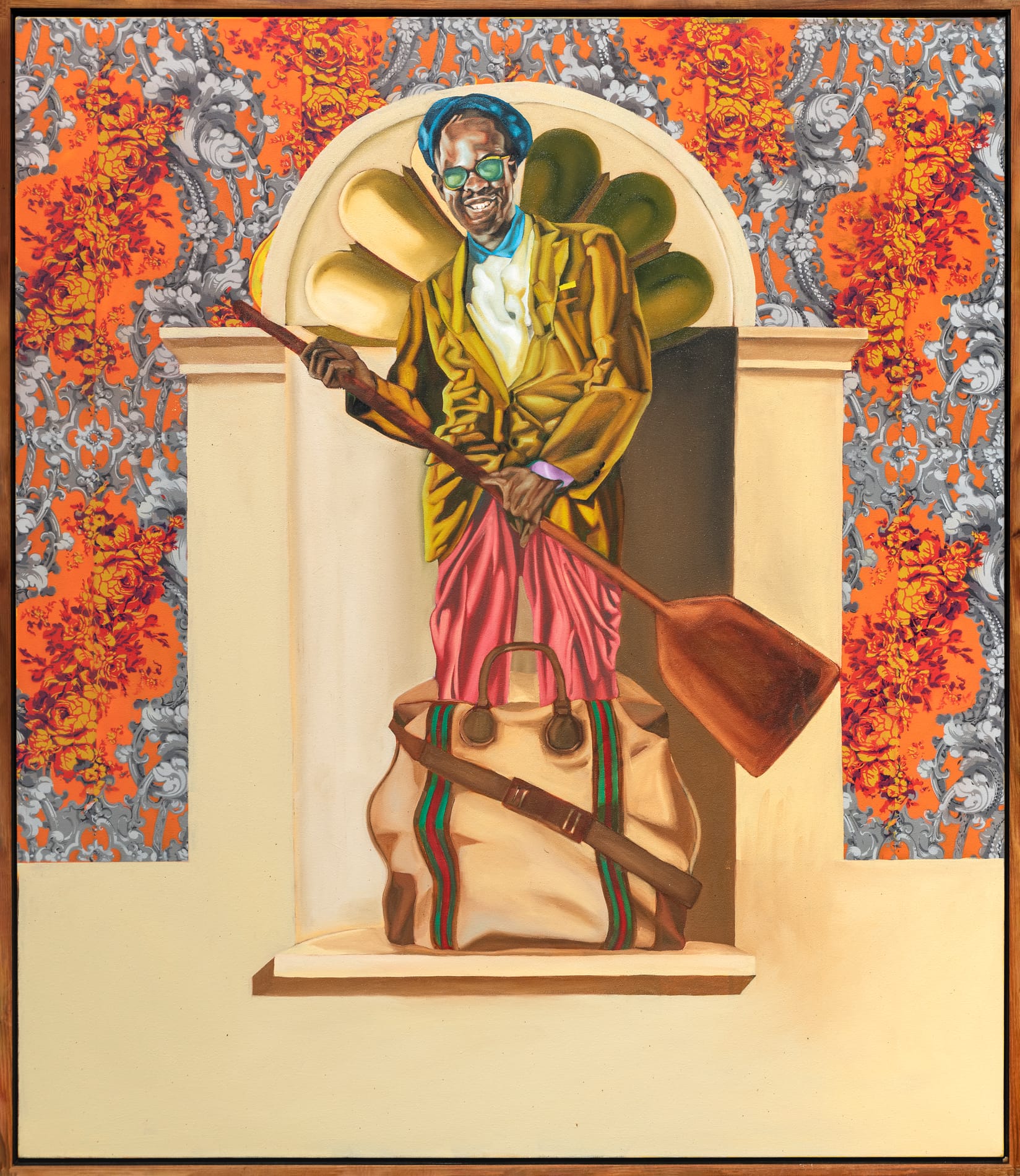 Khaya Witbooi, Running hard to stay in place, 2023, Presented by Kalashnikovv Gallery
Latitudes' inaugural 2019 fair feels a lifetime away. Not only as it was four years ago, or due to Covid-19 making years feel like decades but also due to the latest edition appearing to be so much more mature. Staged at Nelson Mandela Square in a marquee at the centre of the Sandton shopping mecca and timed to coincide with the revamped FNB Art Joburg, the 2019 edition was viewed as a secondary event aimed at offering alternative content to the latter fair and generating space for those excluded from it in the wake of its reconceptualisation. 
Almost everyone attended both fairs and there was a frisson of excitement in the air that the Joburg art scene had finally grown and sprouted satellite events. In the hands of seasoned art fair organisers, Lucy MacGarry and Roberta Coci, it stood out as a fair that was breaking a mould imported from Europe in providing dealers and independent artists an opportunity to participate through smaller displays or curated stands – in contrast to the one dealer per booth model or only artists represented by galleries having an opportunity to show works. 
The last four years have been particularly difficult for art fair organisers with the Covid-19 pandemic preventing live ones from taking place during its height. Whereas most other fairs, locally and elsewhere, have shrunk in size and are perhaps at this point content to be welcoming people to a live event, the RMB Latitudes Art Fair (LAF), which opens next week at Shepstone Gardens, has grown into a major art event that is no longer playing second fiddle to any others but is charging ahead defining its own unique character, and place on the art calendar. 
In short, the pandemic seems to have propelled Latitudes to new heights. Perhaps because they were such a new, small business they were more agile than others. Certainly, in embracing the online environment they turned this unfortunate period into one that also came with new opportunities.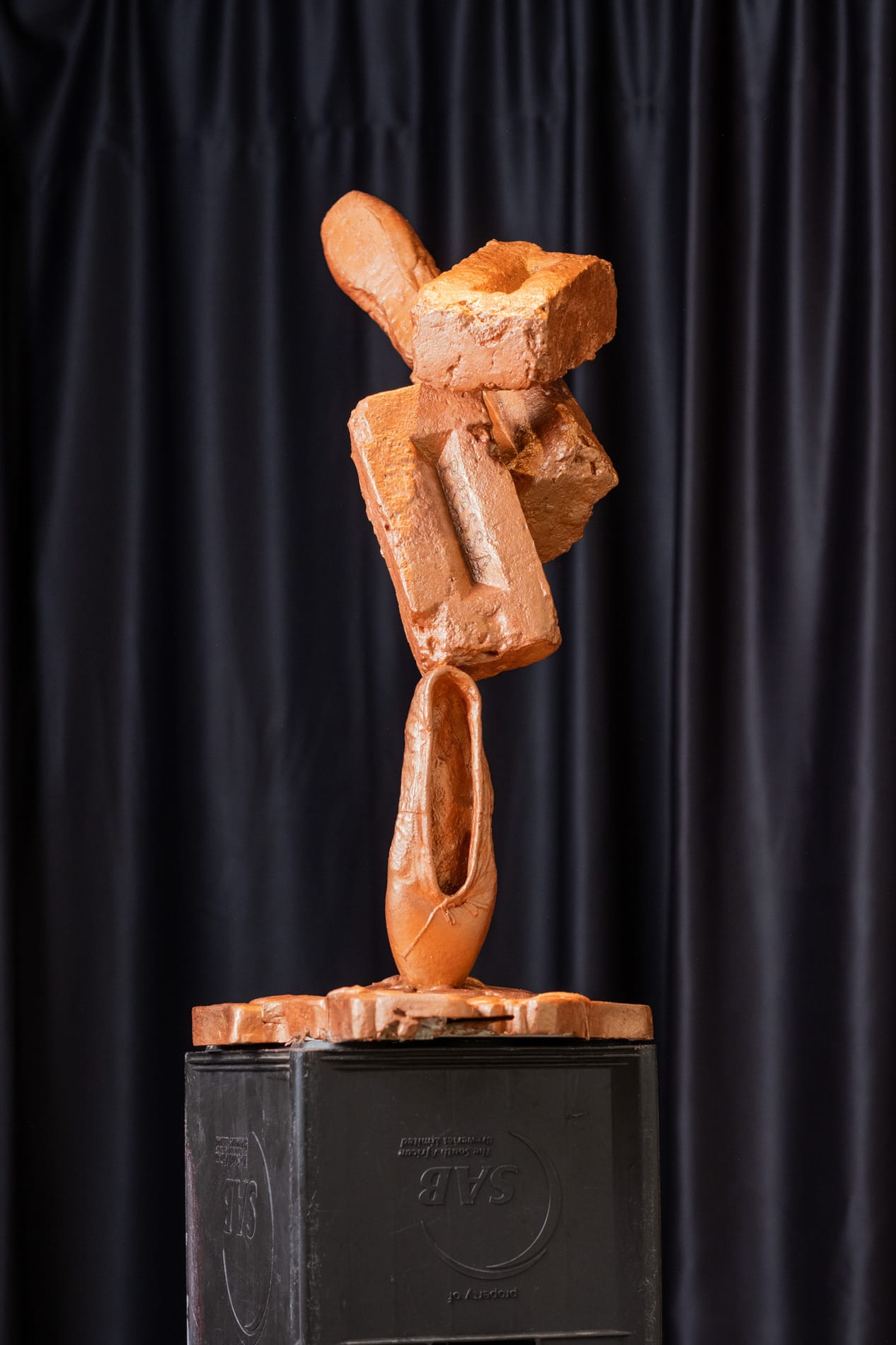 Oratile Papi Konopi, Movement 1:Cornerstones of Uzoyithola kanjani, 2022
"During the Covid pandemic we transformed our fair model into an online business and this has given us a great advantage when it comes to understanding the needs of galleries, artists and collectors. What's more, we have built a huge community of art lovers for whom we have tailor-made this event," observes Coci. 
However, their agility has remained constant, embracing a return to live events and weighing in on what characteristics of that could be further exploited. As MacGarry points out, once "life slowly returned to normal and the demand for physical engagement became undeniable we began planning our second live event and it was important to entirely reconsider the traditional fair model."
Part of this reinvention has been tied to the venue, Shepstone Gardens, an upmarket events, and wedding destination that offer multiple indoor and outdoor spaces. This will make for a more interesting and convivial setting than a marquee or a convention centre setting. People are more likely to linger on the grounds and relax. It will feel more chichi, which appeals to Joburger's taste for the art and lifestyle mix.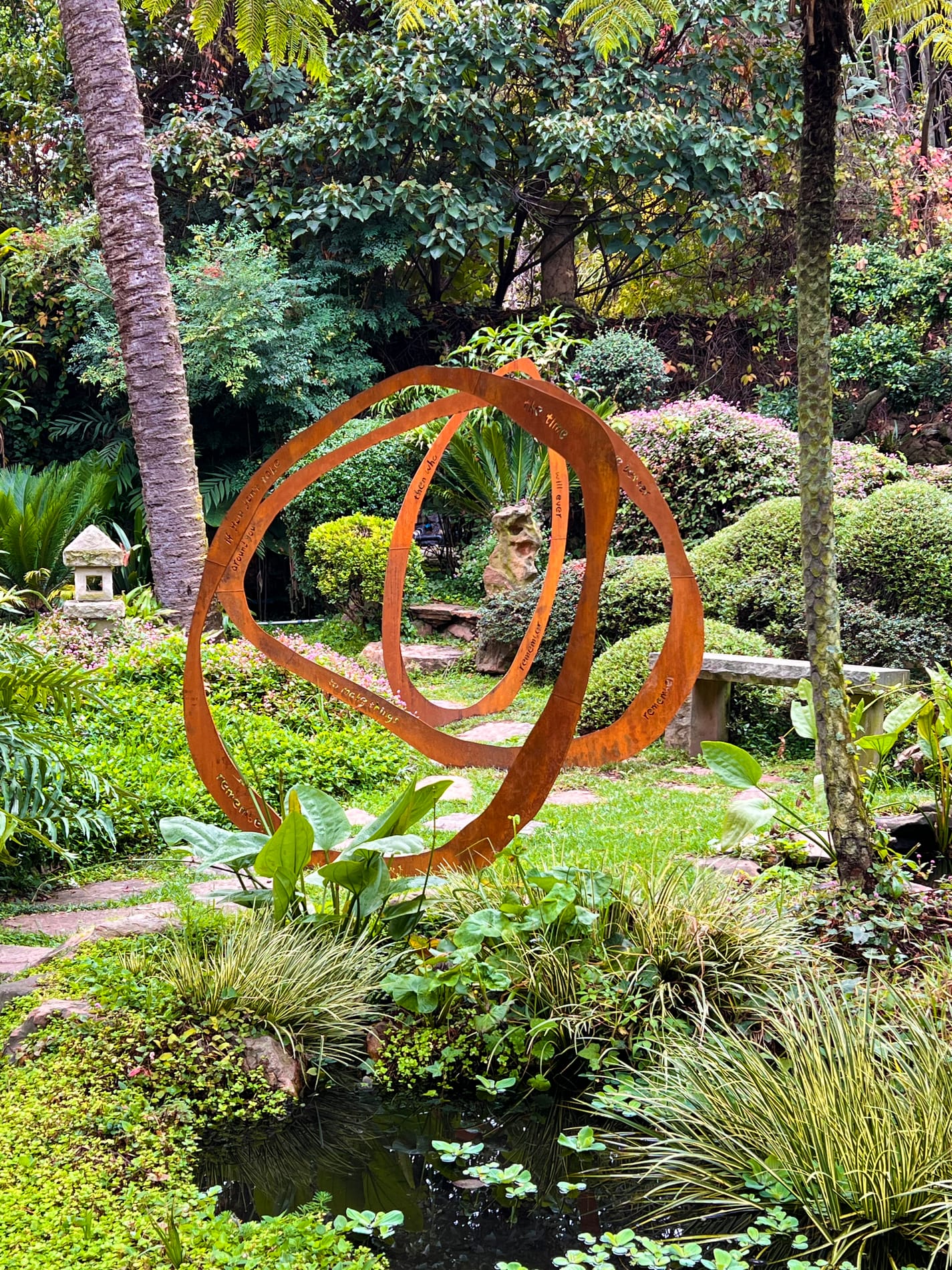 James Delaney, Remember - Boulders Series Triptych, 2023, presented by Delaney Studio
"The event is focused on connection - our aim is for collectors and galleries to be able to share real moments together, galleries to connect with independent artists, and the art industry as a whole to come together in a meaningful way. Which is why we've chosen the beautiful venue, and curated the experience with great food, wine and music," says Coci. 
Snagging RMB as the title sponsor also elevated the fair's status and contributed to its professionalism, suggests Coci. 
"RMB is truly invested in the arts, and is passionate about supporting the African creative economy. They are far beyond a financial partner, they are truly invested in making this event a success and have been involved in the planning from day one. We are extremely fortunate to have the support of such a key institution."
All of these factors, combined with staging the fair in May, seem to have all worked at attracting more dealers and some of Joburg's biggest – Goodman Gallery and Everard Read. 
Goodman Gallery participates in all the high-profile international art fairs – Art Basel, Frieze London – yet they appear to remain committed to Joburg audiences and more generally, evince a keen awareness of the impact of their clout in the art scene.
"Having participated in FNB Art Joburg and the Investec Cape Town Art Fair every year for some time, we are really looking forward to joining the arts community at Latitudes this year and supporting the essential growth of our local arts ecosystem," commented Liza Essers, owner and director of Goodman Gallery. 
It is not just the Joburg art dealers – Melrose Gallery, Gallery 2, The Gallery, Gallery Momo (who has had a low profile for a while since closing their Cape Town branch) Kalashnikovv, Guns & Rain and newcomer spaces such as Origin Art – that are participating but many Cape Town ones such as SMAC (though they do have a Joburg branch in Parkhurst) Christopher Moller, Worldart and Eclectica Contemporary. There will also be a contingent of dealers from elsewhere on the continent and the world – Doylwham and Dapaah from the UK, Artco Gallery from Germany and Suburbia Contemporary from Spain. Dealers from neighbouring African countries that have relied on South African art fairs are naturally participating too. Mozambique will interestingly be well represented through three dealers from that country; Movart, Kulungwana and Deal. Other familiar faces from The Project Room (Namibia) and First Floor Gallery (Zimbabwe) will be in attendance as well as a Nigerian gallery unfamiliar to South African audiences – Galerie Number 8.
Coincidentally, artists from West Africa will be making some inroads into Joburg's art scene. Doyle Wham will be debuting a new major body of work by Yannis Davy Guibinga from Gabon "which explores African mythology, science-fiction and cultural astronomy. The overall series is titled "In the Vastness of Space and the Immensity of Time", and we are exhibiting the triptych which is inspired by the rich traditions in Gabonese folklore surrounding mermaids and water spirits, such as Mami Wata," says Carreira-Wham, one of the galleries co-founders.
Christopher Moller Gallery will be presenting works from a range of artists that include Ghanaian Professor Ablade Glover and Michael Gah, as well as Azuka Muoh, from Nigeria.
"Muoh's background is in filmmaking and graphic design. I've always been particularly fascinated with female artists from our continent. We simply don't promote enough of them. When I spotted her work I got so excited, particularly with her message. Her iconic signature is Mercedes Benz wheels for eyes. Her art deals with toxic masculinity in the workplace," says Moller. 

Azuka Muoh, The Whistleblower ll, Courtesy Christopher Moller Gallery
Ecletica Contemporary will also be presenting a strong selection of works from artists based in Nigeria - Ayogu Kingsley, Osaru Obaseki and Bob-Nosa Uwagboe. Kingsley has become somewhat of an overnight success – showing in the US, Spain and other countries – due to his remarkable hyperreal portraits, often of cultural and political leaders which he depicts in America's main seat of power – the White House. At RMB LAF, his portrait of the late fashion icon Virgil Abloh will be presented.
"I have reimagined the lives of the artist in a utopian world where racism did not exist. This is why I have placed them in a setting such as the 'White House' and other prominent places. I am continually exploring new ideas and new ways of playing with paints, like an alchemist. Saidiya Hartman describes it as a critical fabulation which sparks new logic through imagined lives of portraits," says Kingsley.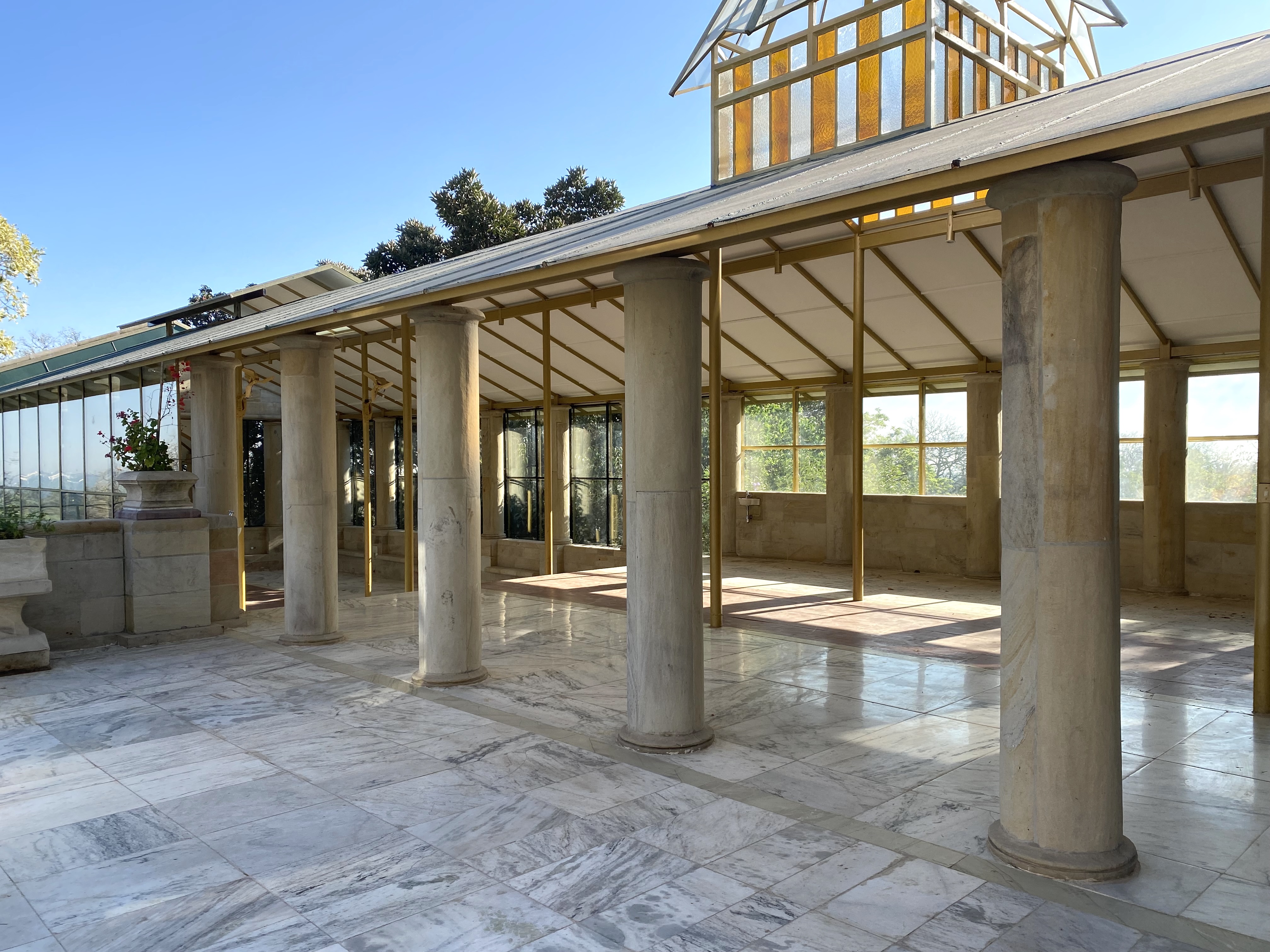 RMB Latitudes Venue: Shepstone Gardens
As with their inaugural event, independent artists – accommodated in the INDEX section - and dealers with limited resources, are still able to participate in RMB LAF. In this way, they remain responsive to the needs of artists and collectors. 
"We are excited about a sustainable new model we've created for galleries from the continent to take part, in which we manage all the logistics and staffing for them. We understand the financial and logistical burden of travelling to fairs and want to make RMB Latitudes accessible to galleries beyond our borders," says Coci. 
In short, RMB Latitudes is not simply promising to be Joburg's largest art fair, but one with a pan-African and international feel, which will hopefully continue to build over time. 
However, with reports such as the newly released Africa Wealth Report 2023 produced by Henley and Partners, asserting that Joburg has seen a 40% decline in its millionaire population, you do have to wonder whether this city can support three art fairs.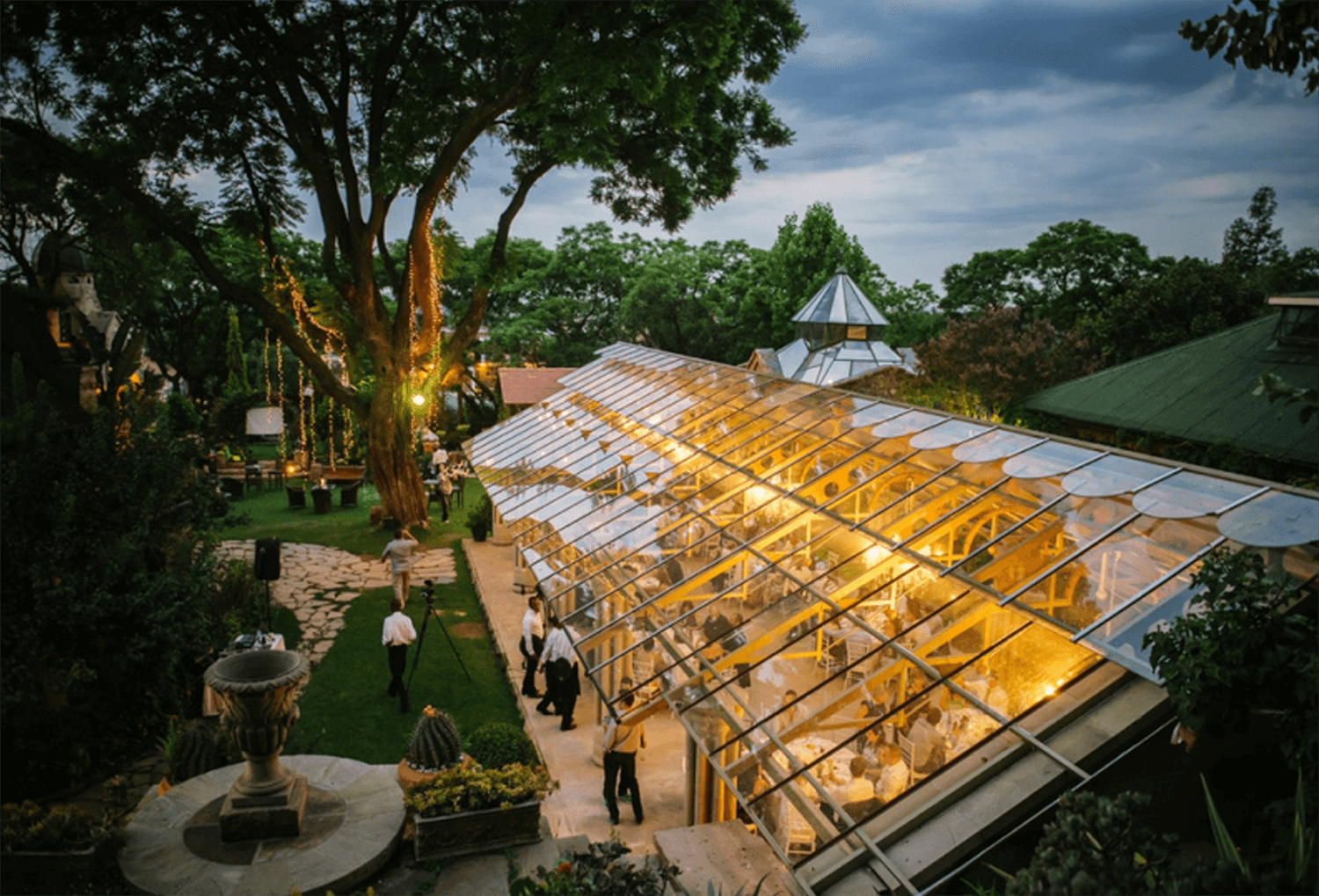 RMB Latitudes Venue: Shepstone Gardens
"Our specific approach to the Fair's art and lifestyle curation, as well as its setting within an iconic Johannesburg garden, provides a completely unique offering unlike the existing fairs in Johannesburg. The existing fairs in our city are established, well attended and important events. To complement these events we programmed our fair during the winter months where there was a lack of art-related activity. Promoting Joburg's many draw-cards is also key to our messaging. As such, we have established a partnership with Open Studios.Joburg to encourage people back into the historical CBD where a large majority of artists have their studios," says MacGarry.
It is perhaps worth noting that while the Wealth Report attests to a decline in wealthy citizens in Joburg, this city remains Africa's biggest centre for attracting wealthy individuals – Cairo comes second with Cape Town third and Lagos 4th. 
Despite the bad press Joburg has had, art dealers appear to have remained confident.
"Since the pandemic, we have also revived the Johannesburg space - Goodman Gallery HQ - with a relaunch of the space in 2022 following a renovation which included bringing a coffee shop into the building to encourage people to gather, to dwell and to engage with art for longer. So looking forward to this year's iteration of Latitudes and being part of the growth in this great city," says Essers. 
Mary Corrigall is a Cape Town based art specialist, commentator and researcher.