Judging Africa's emerging talent
On 2 March 2022, Latitudes and ANNA launch the ANNA Award, an annual contemporary art prize for women-identifying artists from South Africa. In the lead up, arts researcher Mary Corrigall surveys the landscape, examining a host of awards that are geared towards identifying Africa's next art superstar. 
-----------------

Michaela Younge at her booth at the Investec Cape Town Art Fair, where she was awarded the Tomorrow/Today's Award. Image credits: Stephanie Veldman

There is a dizzying amount of art being produced on the African continent. No one has undertaken a study to establish how much new art is being made on a monthly or yearly basis, probably since it would be akin to chasing butterflies and pinning them down. 
This fact, can be source of great anxiety for some art collectors. Given there is so much art out there, and often collectors wish to buy art from artists in countries other than their own, yet know little of the artistic or social histories that shape art there, how do you sort between the wheat and the chaff? External or institutional validation of an artist's practice can help distinguish artists from each other. For established artists, their exhibition history and auction records provide some insight into their standing, commitment to their practice and consensus around the value of their art, but for emerging artists who have yet to rack up a list of exhibitions, it can be trickier to judge whether they are serious and worth supporting.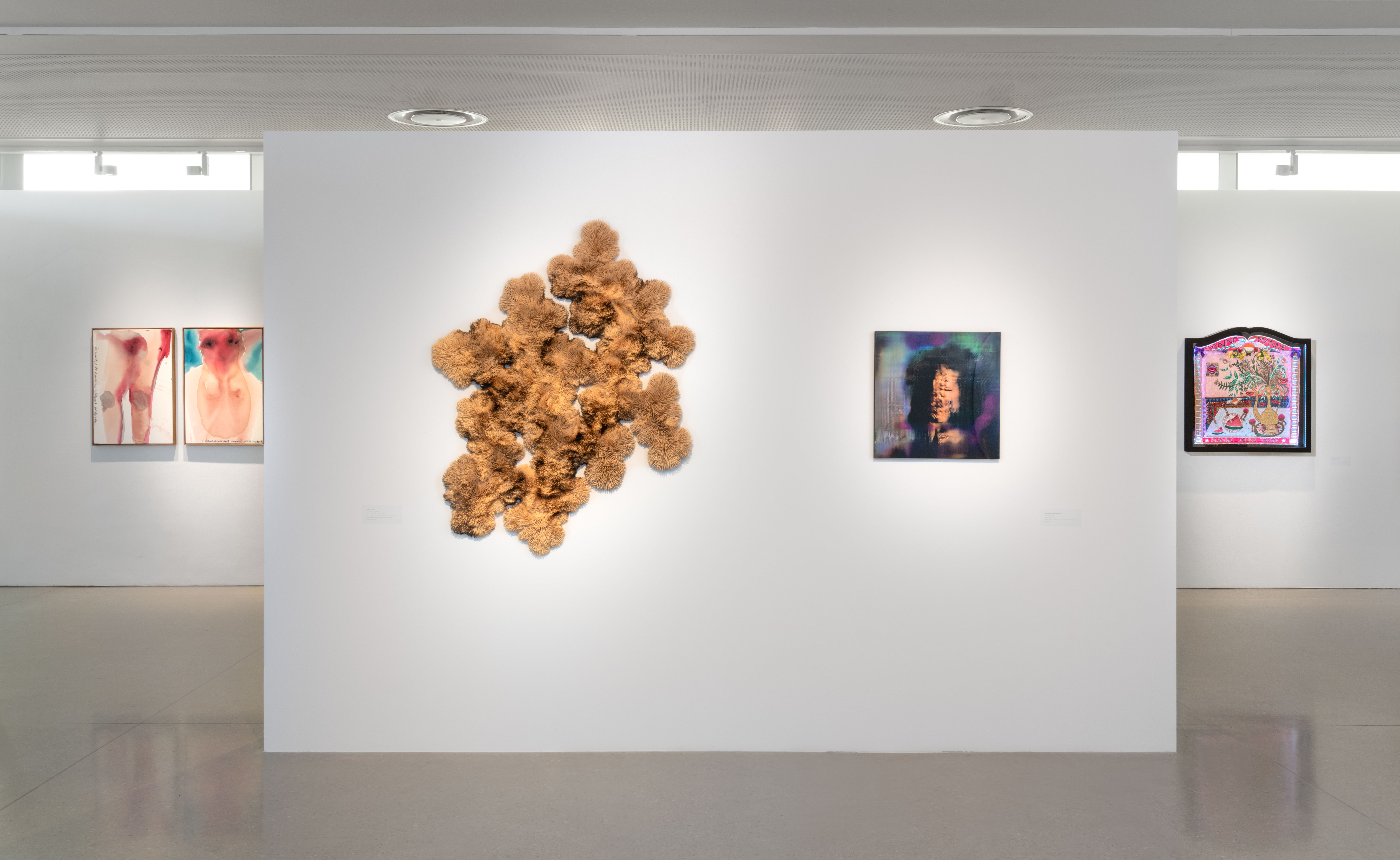 An installation view of the finalists of the Norval-Sovereign Art Prize, which were on exhibit at the eponymous art foundation in Cape Town. Image credits: Mike Hall
This is the role awards can play, particularly in a nascent art market where many of them are geared towards identifying, rewarding and further developing emerging talent. As such these awards give such a boost to the artist in terms of their confidence and exposure that in and of itself, the artists who receive them are more likely to succeed due to the recognition. 
Many of the awards for artists are South African based, however, some evince a pan-African outlook, inviting nominations or entries from other African countries. This includes the newly established Norval Sovereign African Art Prize, which was awarded to a South African artist, Banolo Kavula, however, it included among others a short-list of artists such as Cassi Namoda, the US-based Mozambican artist, Dawit L. Petros from Eritrea, Mohssin Harraki from Morocco and Abraham Onoriode Oghobase from Nigeria. Unexpectedly, the Public Vote Prize went to Rene Travares who lives between Sao Tomé and Lisbon. 
Many years ago the the Absa L'atelier Award shifted its focus, directly inviting artists from outside South Africa to submit entries to the award, focussing on residents of Botswana, Ghana, Kenya, Mauritius, Mozambique, Namibia, Nigeria, the Seychelles, Tanzania, Uganda, and Zambia. However, last year a South African, Abongile Sidzumo, took the main prize, The Gerard Sekoto Award. A South African, Phoka Nyokong, took the award the previous year too, as did the previous one. It is probably hard to beat South African artists on their home-ground, but also because the South African art market is the most developed on the continent. This is connected to high-quality art schools and graduates who exhibit a sophisticated awareness of the kind of art that resonates with trends in contemporary practice. As such often the artists from other African countries who attract these South African awards are based in this country or have studied here. 
Last year's winner of the 2021 Cassirer Welz Award bucked this trend. Artist Samuel Nnorom is Nigerian born and educated. Will Nnorom go on to be an African art superstar? Realistically, there are so few superstars, and none of these awards, no matter how well adjudicated or unbiased, can reliably be predictors of this status. At best, they can offer a clue. Take Blessing Ngobeni, who won this award in 2012. It was the succession of other events in his artistic trajectory that hinted at his bright future. 
Finding suitable candidates is probably one of the biggest challenges for the organisers of these awards; open calls might result in a glut of unsuitable entries. Identifying judges with a broad knowledge of and contact with emerging artists across the African continent is tricky too, given the territory is so massive and very few specialists have an inside track into every art capital.  
In an attempt to circumvent these pitfalls, the organisers of the Norval-Sovereign award relied on a board comprising of as many as 53 independent arts professionals – "comprising curators and academics who work closely with artists in their respective regions, (who) nominated 158 artists for the Prize." From there, 30 finalists were shortlisted by a group of respected art professionals from different countries – mostly outside of the African continent. 
The result was such a varied list of artists at different stages of their careers it was almost impossible to consider how they could validly be judged against each other. Could anyone claim that Kimathi Mafafo's embroidered figurative works could be compared to one of Esther Mahlangu's precise Ndebele paintings? As such, while a democratic approach is best, when too many people are involved there may be less focus and consistency. In the end it wasn't surprising that a hot young artist with a novel vocabulary won the award – jurists will inevitably wish for an award to capture what is considered to be 'new, now'.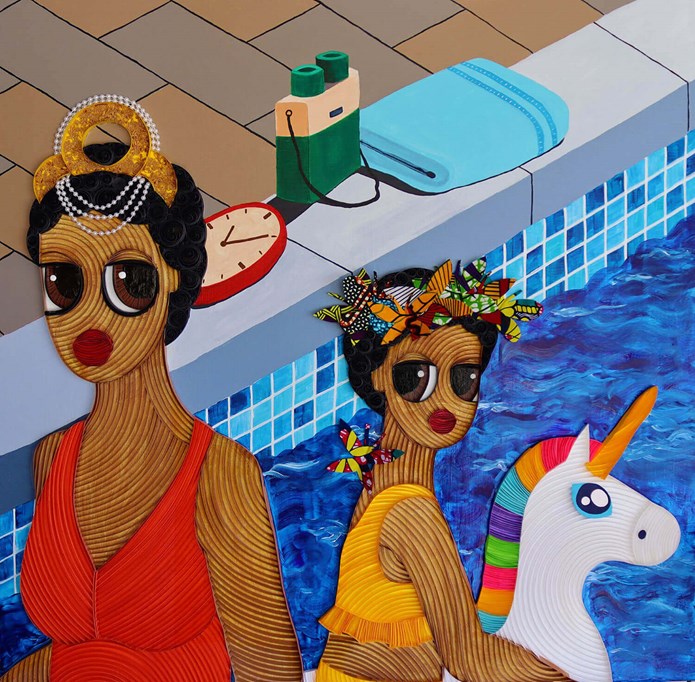 Work by the Absa L'Atelier Group B 2021 winner, Ayobola Kekere-Ekun

Art fair awards tend to sway between the two poles – recognising rising and then established talent. The Tomorrow/Today's award title that goes to an emerging artist in this titular section of the fair at the Investec Cape Town Art Fair states the artist's status. Last week Michaela Young took the award. She has enjoyed several gallery exhibitions and her aesthetic is well-known - as such the recognition seems belated. However, for those collectors who may have been on the fence with regards to acquiring her work this could give them the confidence to take home one of her homely looking felt tableaux creations. The other nominees also naturally share some of the spotlight, particularly given the structure of this award, where each nominee enjoys a solo booth in a prominent position at this annual art fair. 
The Art X Lagos art fair award singles out an emerging artist but also, much like the Absa L'Atelier award, appears to offer the recipient a chance to be part of a residency outside of their native country. Chigozie Obi, last year's winner, received a grant towards making work for a solo presentation at ART X Lagos fair but also secured a three-month residency at Gasworks, London. Further, mentorship and support is offered. In this way this award is focussed not only on marking out new talent but identifying one that should be nurtured further. Awards might assist collectors in identifying artists to collect early on in their careers but as they are often philanthropic activities, allowing the sponsors to be seen as 'giving back' or lending support at a grassroots level, the outcome should probably be taken with a pinch of salt. The judges experience should be scrutinised closely too. 
The prize attached to the FNB Art Joburg (formerly Joburg Art Fair) has gone through phases of recognising artists who are already on the global art map, such as Billie Zangewa, Bronwyn Katz and Peju Alatise to those that are on the cusp of being acclaimed such as Turiya Magadlela or Haroon Gunn Salie. Few probably recall that Portia Zvavahera, who now is represented by and stages shows at the world-famous David Zwirner gallery, was the recipient of this award in 2014. At the time she won it her work was affordable and within reach. Pre-Covid the recipients of this award would have a solo booth at the fair as well as receive a cash prize. In this way, they benefitted from sales of their works, which were naturally boosted due to the recognition.
Norval Foundation and The Sovereign Art Foundation (SAF) declared artist, Bonolo Kavula as the winner of The Norval Sovereign African Art Prize, 2022

The sale of nominees works for awards appears to be a common characteristic of them and more recently this aspect has manifested in the finalists works being auctioned online. This proved a particularly popular trend during Covid-19 when the physical exhibition of works may have been limited or had limited visitors. The RMB Talent Unlocked Programme, The Emerging Painting Invitational (EPI), The Blessing Ngobeni Art Prize, The Cassirer Welz Award and the Norval Sovereign Award all conclude with the finalists works being auctioned. 
This may be one way for auction houses to support talent at a grassroots level, allow the artists to generate an income from their entries, and raise their profile among the collectors who trawl through these auctions looking for low value works that may rise in value at a later stage. However, it may also be too early for some of the artists to have their works sold in the secondary market, which is usually reserved for proven artists. Given this, the sell-through rates are not particularly high. Securing secondary market sale records early on in an artist's career can be a boost, however, conversely not selling any works could prove to put a damper on future sales.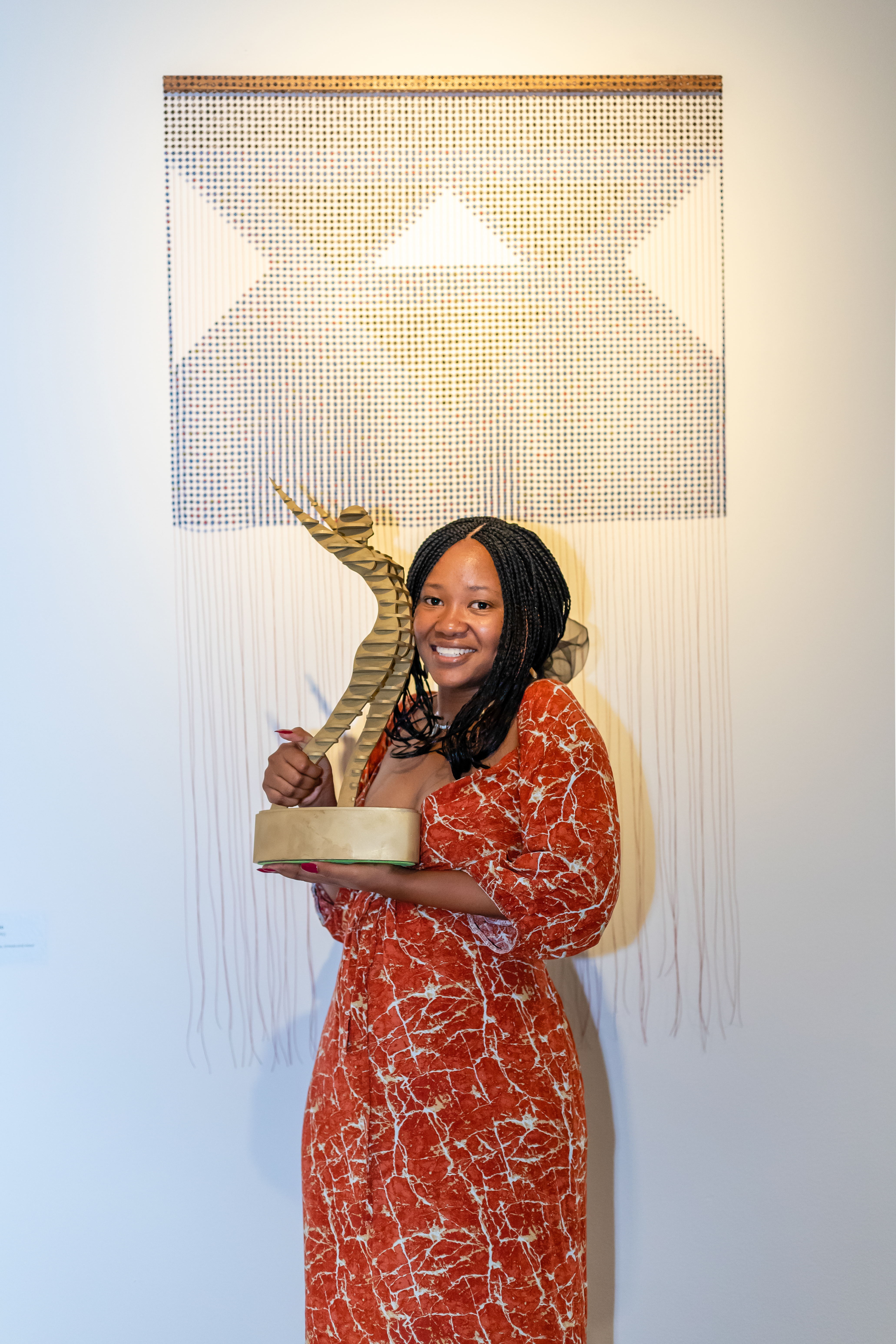 Bonolo Kavula as the winner of The Norval Sovereign African Art Prize, 2022
"The rigid separation between primary and secondary markets and the dangers to reputation of artists formerly through participation in auctions simply do not apply any more. Hybrid is the name of the present moment especially in the context of Africa where Eurocentric legacy structures are not particularly relevant. Our first auction in 2020 was a remarkable success giving much needed income to young artists and creating fantastic new opportunities through visibility like gallery representation exhibition projects entry into major collections," said Valerie Kabov, founder of the EPI award.
The pricing and bidding transparency that these online auctions for award finalists entails certainly gives collectors and dealers insight into which artists the 'market' responds to most, generating perhaps another round of 'judgement' marking out another set of winners and losers.
- Corrigall is a Cape Town-based art advisor, journalist and researcher. 
- Latitudes and ANNA are set to launch the ANNA Award on 2 March. The ANNA Award is an annual contemporary art prize for women-identifying artists from South Africa.