Is vandalising masterpieces futile?
Climate activists threatened to vandalise masterpieces to turn attention to what our society values. Did this have the desired effect and what did it reveal about what kind of art and artists are valued and how climate activists view art institutions? 
- By Mary Corrigall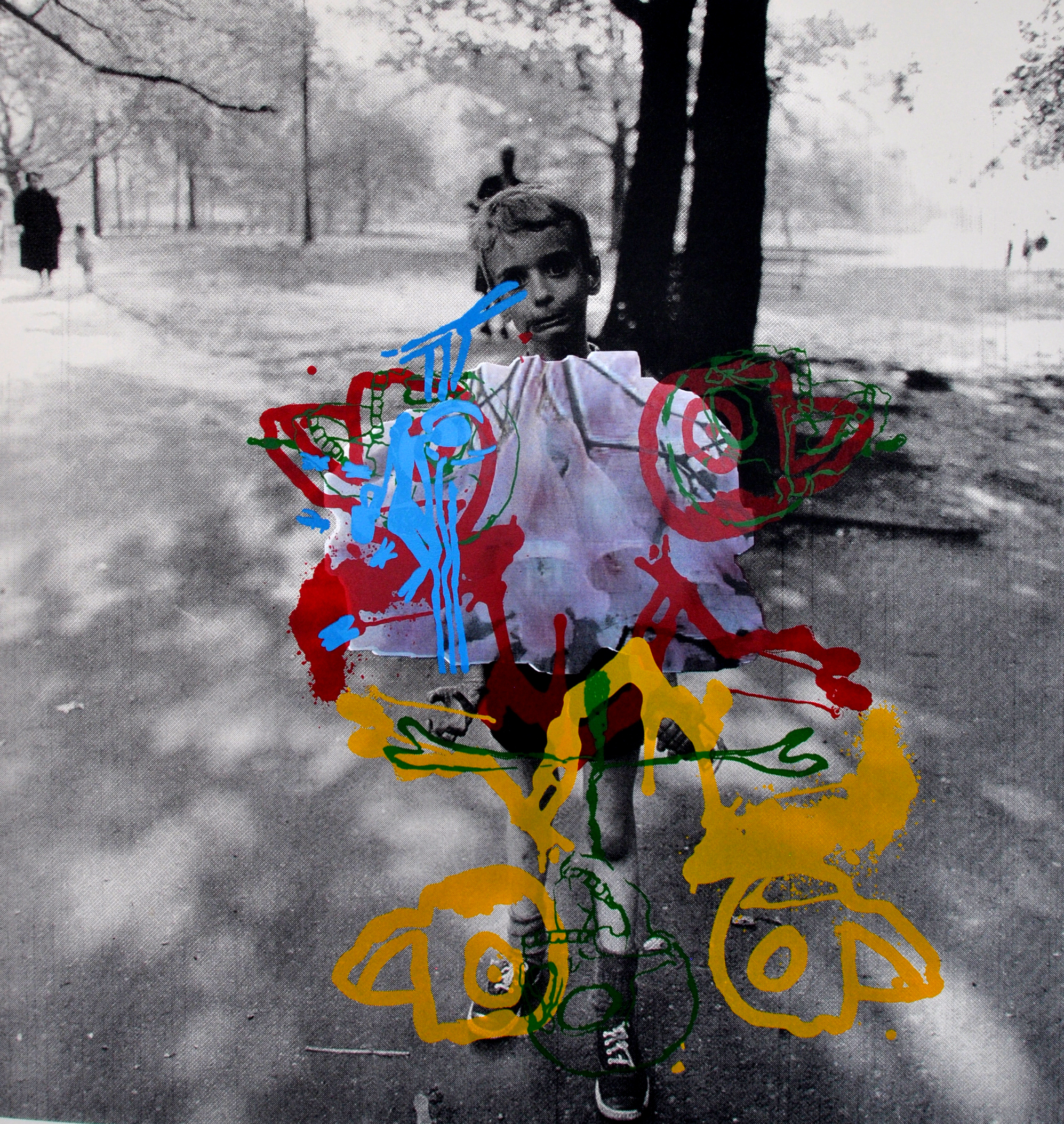 Wayne Barker's silkscreen work Grenade Boy, involves a reproduction of a Diane Arbus photograph titled Child with Toy Hand Grenade in Central Park, New York City (1962). It could be viewed, as much of his quotation of Pierneef, as a vandalisation of the original.
"What is worth more, art or life?" This was the question posed by Just Stop Oil activist Phoebe Plummer upon vandalising Van Gogh's Sunflowers at the National Gallery in London. Our society values art more than the environment was the sentiment behind attacks on famous artworks by climate activists in 2022.   
For those artists and art communities outside main European or Western centres where governments and society don't offer much support for artists or collect and preserve artworks produced by the most celebrated, they wouldn't agree with the point the climate activists were trying to make. Statistically, you might also be able to argue that only 2% of the world's art is preserved. Perhaps their Eurocentrism could be excused given it is the wealthy western countries that have contributed the most to climate change. Indeed the climate activist groups behind the attacks, including Extinction Rebellion, Germany's Letzte Generation, Italy's Ultima Generazione (The Last Generation) and the Norwegian activist group "Stopp oljeletinga" (Stop Oil Exploration), are all based in Europe and they didn't target contemporary works. They zoned in on the most prized 'masterpieces' in Western art. Aside from several other Van Gogh works, Vermeer's iconic Girl With a Pearl Earring, Gustav Klimt's 1915 work Life and Death, Monet's Haystacks and Edvard Munch's The Scream were among the artworks that were targeted.
Museum visitor photographs The Girl with a Pearl Earring by Johannes Vermeer in the Mauritshuis in The Hague. This was one of the masterpieces targeted by climate activists.  Picture courtesy: ANP/AP/Peter de Jong.
This highlighted the fact that artworks by white male artists are the most valued by society. Interestingly, however, this gendered bias didn't make headlines. 
Ultimately, the activists wanted to make headlines above all and once they proved that threatening (they never damaged a work - most threw foodstuffs at them) a masterpiece provoked attention this modus operandi, unfortunately, became popular. It has started popping up outside Europe. Last week at the Art Gallery of Western Australia, one of the most significant painting's in their collection, Frederick McCubbin's Down on his luck, was spraypainted with an oil and gas giant's logo before the protesters lay an Aboriginal flag on the floor of the gallery.
Defacing or vandalising artworks is, of course, not a new pursuit. Public artworks are frequently vandalised, but also over the years many masterpieces have been previously targeted. In 1974 for example a Japanese national attempted to deface the Mona Lisa when it was on display at the National Museum in Tokyo, due to crowd control measures preventing those with physical disabilities from viewing it. The outcome was successful - the National Museum was forced to set aside a day when the disabled could view the famous Leonardo Da Vinci painting.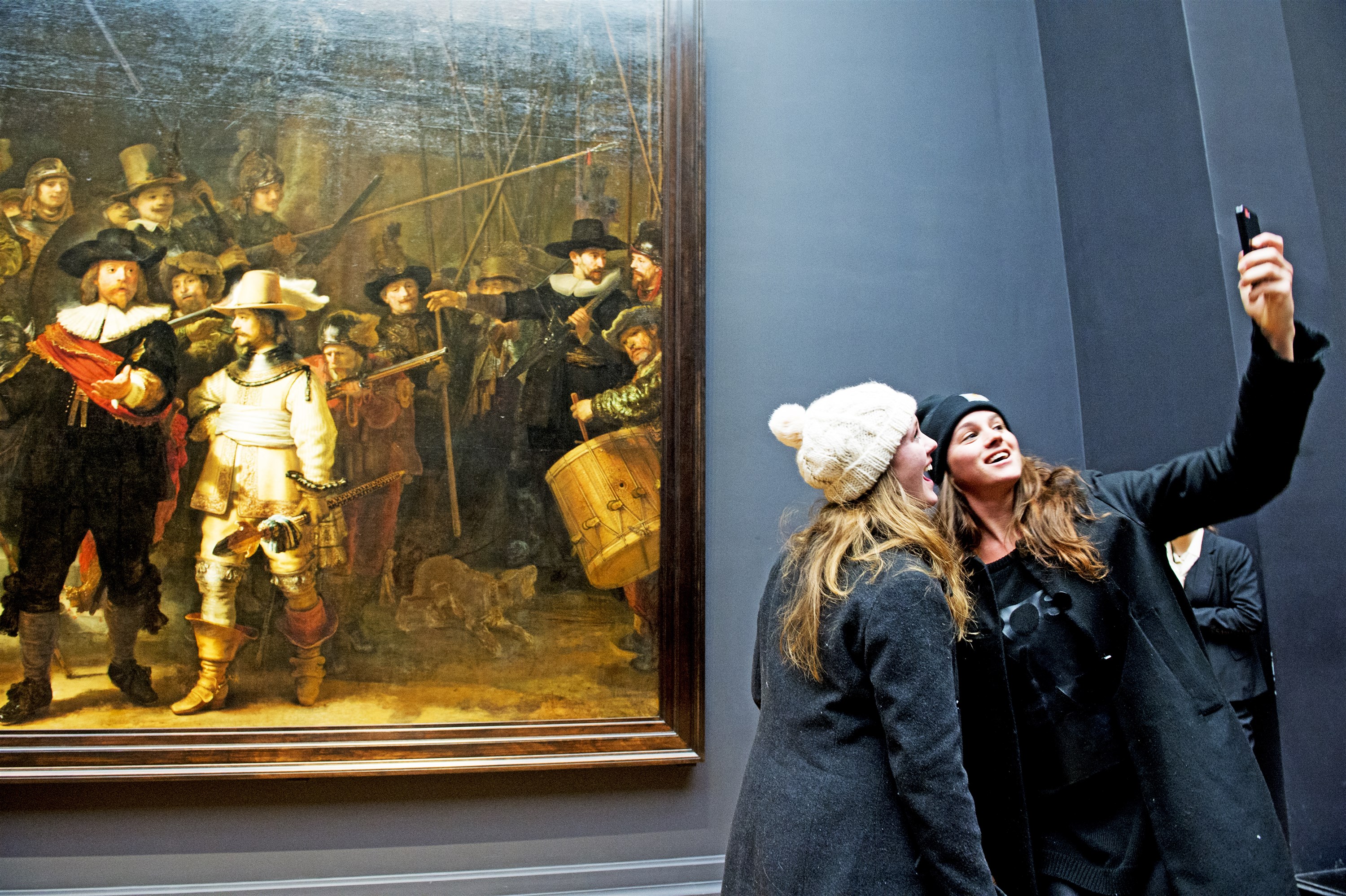 AMSTERDAM - Busy in the Rijksmuseum at De Nachtwacht by Rembrandt van Rijn.  Picture by ROBIN UTRECHT courtesy Netherlands tourism Board
Perhaps one of the stranger incidents involved a Canadian art student, Jubal Brown, who vomited blue on a Piet Mondrian abstract work at the Museum of Modern Art in New York in the mid 90s. It was later revealed that he had puked red onto a Raoul Dufy painting at the Art Gallery of Ontario. He had planned on puking up yellow on another desirable artwork. He claimed both events were intended as a protest against bourgeois culture and not motivated by his disgust for Mondrian's primary palette. They might also have been designed to garner attention for himself in the press. Certainly, these acts do bring notoriety to the protesters, who are always named, photographed and interviewed. Everyone wants to know why they did it.  
When Barend le Grange defaced Brett Murray's controversial, The Spear in 2012 when it was on display at the Goodman Gallery in Joburg, he became the subject of countless interviews on radio, TV and in print. For a while there he had more to say about the work than the artist. Murray had refused to make a public statement about the painting that portrayed a semi-naked Jacob Zuma, president at the time. Le Grange was more than happy to be in the spotlight.
In this instance, the artwork was defaced due to its content and the outrage it had generated among some South Africans, rather than being used arbitrarily to make a political statement. 
There is a history of artists vandalising or destroying artworks.  The American artist Robert Rauschenberg asked Willem de Kooning, a fellow painter if he could supply him with one of his drawings to destroy it. Not unexpectedly, De Kooning wasn't that enthused but eventually supplied Rauschenberg with a drawing, resulting in work appropriately titled Erased de Kooning Drawing (1953).
One of Ai Weiwei's most famous pieces, Dropping a Han Dynasty Urn (1995) sees the Chinese artist smashing a 2000-year-old Ming Era vase, which he dubbed a "cultural readymade." Originating from The Han dynasty (206 BCE–220 CE) Weiwei sought to deliberately break an iconic form.
 "Chairman Mao used to tell us that we can only build a new world if we destroy the old one," he said. 
The history of art could be viewed as a succession of artists destroying the works of those who came before them, though of course, few did this literally. Certainly, the line between destruction and creation is fine and perhaps relies on the original being destroyed in the process. 
Wayne Barker initially made a name for himself by 'desecrating' Pierneef's iconic landscape paintings via his mimicry of them. He did so by appearing to vandalise the original – through squiggles suggesting graffiti.  
Some artists opt to destroy their own art – often to great effect. The most astonishing example would be the Banksy 2006  Girl with Balloon which was shredded (via a device embedded in the frame) the moment it went under the hammer at a Sotheby's auction in London in 2018.  
The countless masterpieces more recently vandalised by climate activists were not done in the name of art. Nor were they permanently damaged – as most are already on public view behind a Perspex or other form of a protective screen. As such the protesters selected works that could not be damaged and in some instances where perhaps there was no protection, they opted to glue themselves to the walls, and frames near the artwork in question. In this way they could claim a higher moral ground – even in their anger, they would not needlessly 'destroy' objects, as presumably, they don't embrace destructive acts of any kind.  In this way, however, they are almost seen to be valuing the objects and culture that they assume to reject.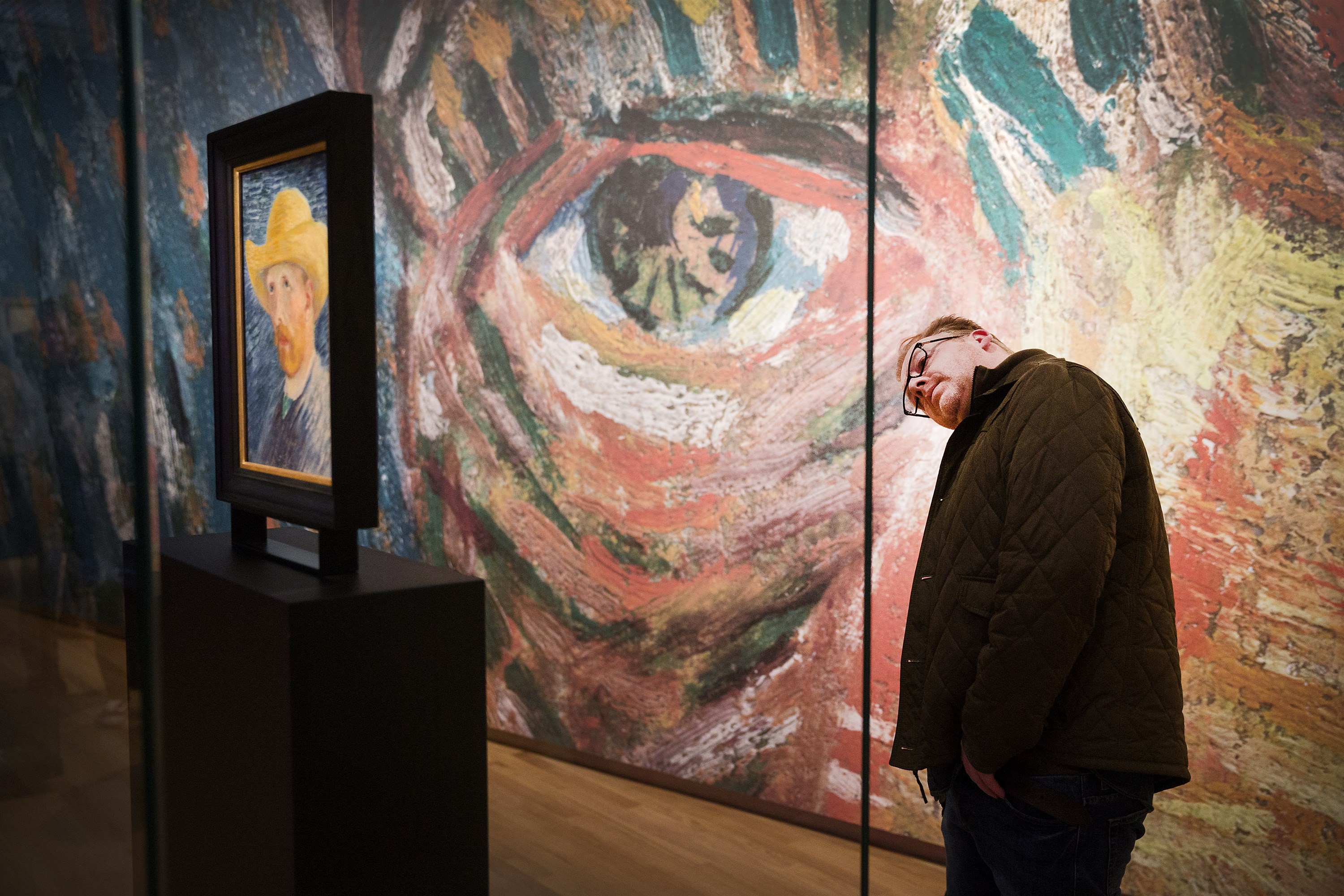 Man views Van Gogh portrait in the Van Gogh Museum, Amsterdam. Many Van Gogh works have been targetted by climate activists due to the painter's works being so widely valued by museums. Picture courtesy: ANP / Olivier Middendorp Photography
This did not necessarily endear these activist groups to the art world or larger society – there appeared to be no grand gestures in support of their causes following these public acts. Museums might not be in a position to challenge governments or corporate entities complicit in activities that are destroying the environment as they are too reliant on them for income and donations. If anything the protests turned attention to the unsavoury practices in the art world with claims that fossil fuel companies fund museums and art galleries to "smooth over their very unethical corporate practices," as Oli Mould a student at the University of London, put it.  
"Art itself, through the networks of global trading, tax avoidance and the creation of freeports (huge walled complexes where art is stored away from prying eyes and tax collectors), has become intertwined with global corporate and fossil fuel capitalism," Mould further argued.
Ultimately, the protesters weren't targeting the contemporary art world and some of its practices but rather systems of value and preservation that apply to art but not living things or the environment. This discrepancy or inherent capitalist bias manifests linguistically too; only objects can be vandalised and not vegetation, animals, or environments. These conversations and critiques of the art world's complicity ironically have been taking place in museums and via art.  
The exhibition, Mining Photography: The Ecological Footprint of Image Production which was staged at the Museum für Kunst und Gewerbe (Museum of Art and Design) in Hamburg is a good example. This extraordinary, yet shocking exhibition, which consisted of documentary images, facts and new artworks, was centred on exposing how raw materials have been mined and exploited in the course of producing photographs and the impact this has had on climate change. 
"In the 19th century it was salt, copper and silver that were used for the first photographs on copper plates and for salt paper prints. With the advent of gelatin silver prints in the late 20th century, the photographic industry became the main consumer of silver, accounting for over half of global consumption. In the age of digital photography and smartphones, image production relies on rare earths and metals such as coltan, cobalt and europium."
- Corrigall is a Cape Town-based art commentator, advisor and independent researcher