Is abstraction the route to escaping geography and gender?
 - By Mary Corrigall
--------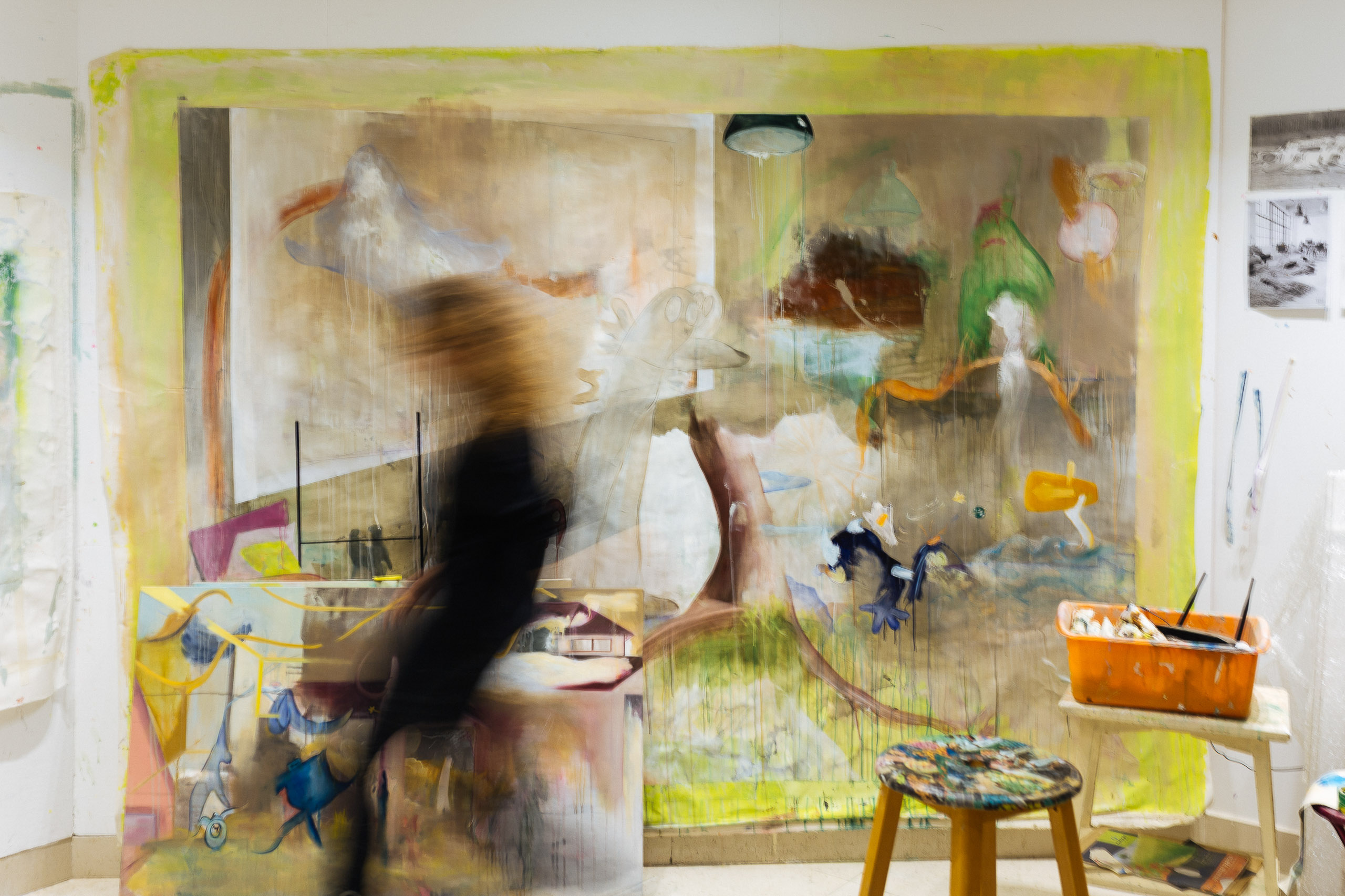 Nada Baraka in studio, courtesy of the artist
You have to resist the urge to neatly locate Nada Baraka's art in an Egyptian context. The thirty-three-year-old artist was born in Cairo, and lives and practices there and indeed the sense of chaos that defines the compositions of her abstract paintings could represent the erosion of democratic values, political order and worsening social conditions. 
However, two qualities of her art stand in the way of geographically defining it. Not only did her time living in London shift her language and set her on the path she is on now, but her interpretation of the body in her art resonates with how many high-profile female artists – from Christina Quarles to Wangetchi Mutu, to Louise Bonnet – are representing the female form. Yet it would also be an oversimplification of Baraka's art to zone in on qualities that it might share with other female artists. She does not directly depict the female form, albeit her treatment of the body in her art – as distorted and disembodied – denies objectification, and the male gaze, and aligns with how female artists are representing it. Chiming in with current attitudes where gender fluidity is being advanced, the human body in her art is genderless. 
She was recently named the winner of the ANNA Award, which is focused on celebrating female-identifying artists. She is, of course, delighted to have won this award, which has brought her to the attention of South African collectors and she counts herself as fortunate to have entered the art landscape at a time when there is heightened interest in supporting female artists. 
"History wasn't kind to females in the past. A lot of very good and interesting female artists never had the chance to exhibit or develop their work because they weren't even a part of the art scene. They struggled a lot. The fact that everything is online means you can't really hide, you can't be unfair because the world will know. This is a great power that we have now," says Baraka via Google Meet from Cairo.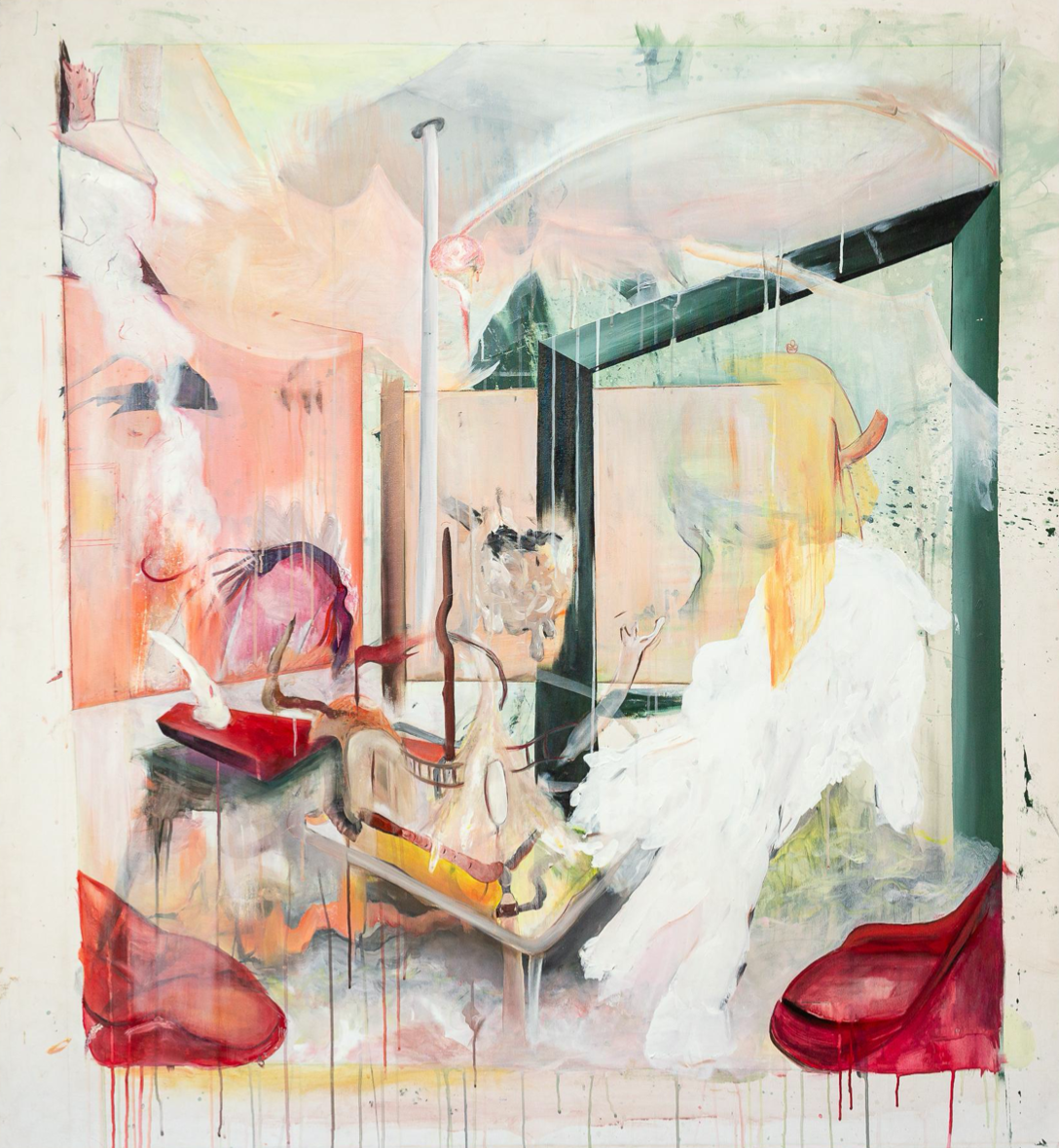 Nada Baraka, Ghost in the attic, 2021, acrylic and oil on canvas, SOLD
The celebration of female artists hasn't necessarily changed realities on the ground, she adds.
"In the day-to-day life, of course, there is a lot of inequality and harassment. It's a man's world." 
She completed her undergraduate degree in fine art in Cairo, but, significantly, she was based in London for the two years it took her to do a master's at Central Saint Martins. Cairo may be steeped in ancient visual culture, but in London Baraka had time to soak up the abundance of contemporary art that flows through this vital Western art capital. 
"There are hundreds of galleries, and exhibitions happening everywhere (in London). It was mind-blowing, the art was super diverse. Because a lot of the museums had retrospectives, I got to see an artist's full body of work and development," recalls Baraka.
This was in stark contrast to the contemporary art scene in Cairo, which deteriorated since the revolution, says Baraka. 
"We have only two or three institutions, and there is one major commercial gallery where most of the artists exhibit. The scene in Egypt is very limited." 
The British artist Francis Bacon had an impact on Baraka – she frequently saw his paintings while living in London. You can trace this influence in her painting – her treatment of the body – as a contorted and atomised form. However, as is often the case with artists her art is the result of a confluence of visual inspirations that are melded, formed and manifest innately.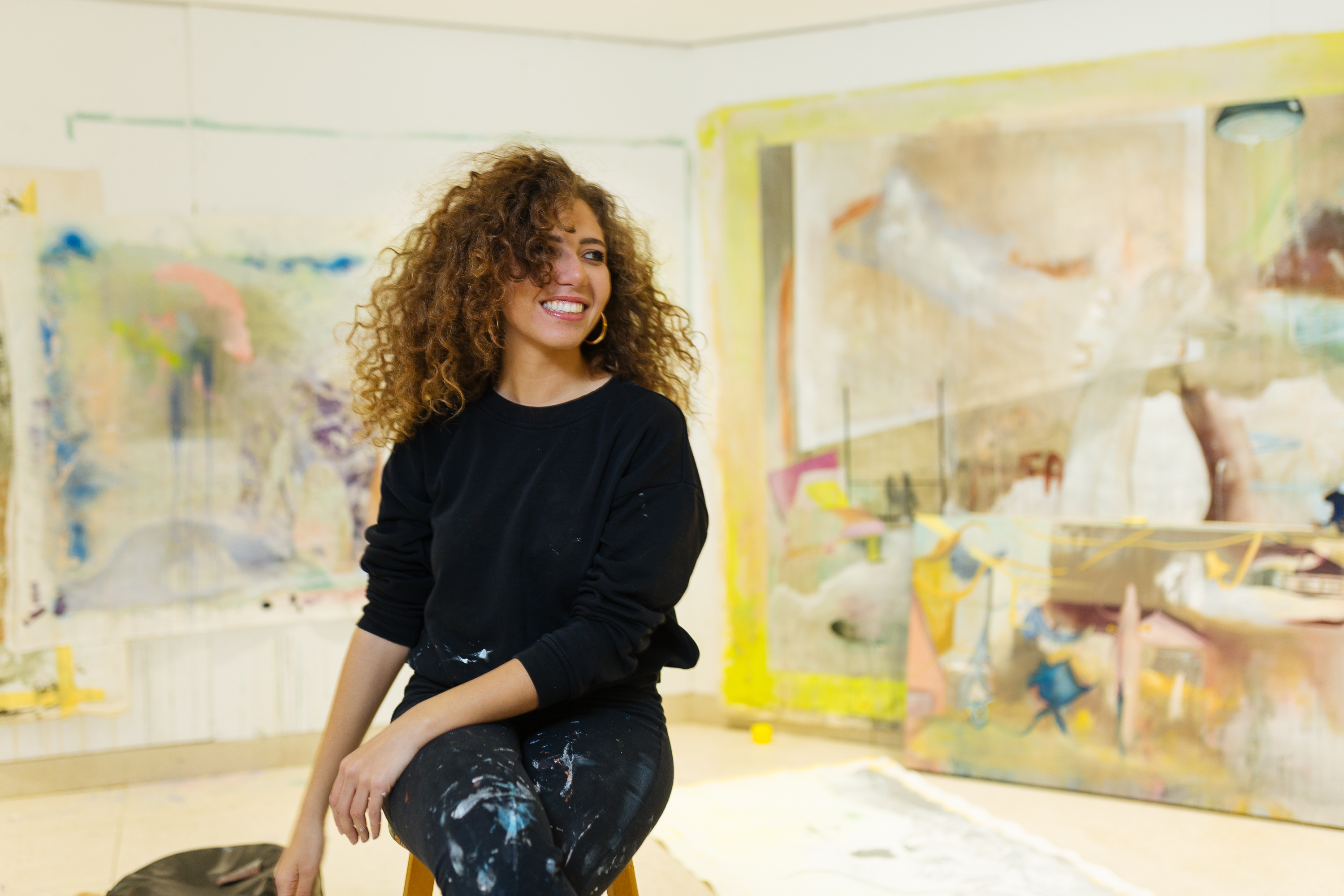 Nada Baraka in studio, courtesy of the artist
"I start working without having a plan. I don't do (a preliminary) sketch and I don't know what the outcome of the artwork is going to be," she observes.
This process no doubt guarantees the sense of disordered chaos that defines her paintings. This characteristic could be a reflection of life in Egypt.
"It's very chaotic here. In Egypt, there are no rules. Life is not easy in Egypt but at the same time, you get to experience so much because you can do anything here," she observes.
Baraka, however, ascribes this sense of chaos in her art to her interest in depicting violence. 
Unexpectedly, the sense of disruption and turmoil she evokes is softened by her chosen palette, of pastel shades. Pinks, yellows, and warm welcoming tones infuse her paintings. Baraka believes that this contrast or unexpected juxtaposition is drawn from her love of animated films and TV shows, which she has long admired. Tom and Jerry captured her imagination, particularly in how violence is represented via cute animal characters in appealing feminine colours, which somehow obscures the true nature of the gruesome acts they commit. 
Fortunately, her experience of direct violence appears to be limited to watching cartoons. However, there are significant events in her life that have forced her to consider the fragility of the human body.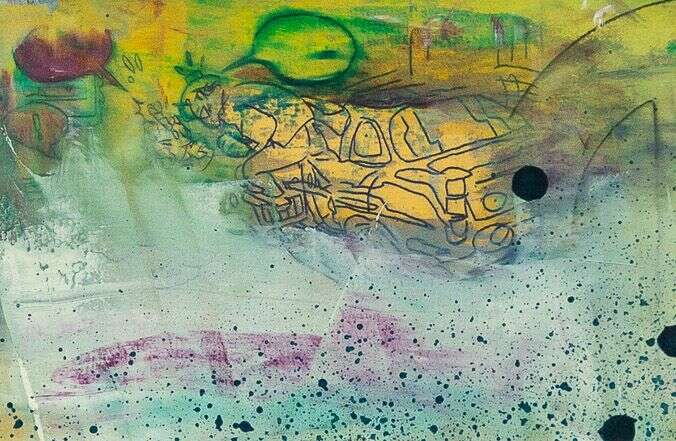 Nada Baraka, Fission series 1, 2022, €270 ex. VAT, CONTACT TO BUY
Her cousin's experience with muscular dystrophy was the inspiration for one of her art projects. "It's a very difficult disease to live with. All of your muscles keep eating your body until you can't walk, move, eat or swallow," says Baraka.
These experiences might well account for the distorted body parts or organic forms that recur throughout her work, hinting at a body turning on itself. Indeed, her paintings could depict a diseased body from the inside, as Baraka also shares that she is interested in worlds within worlds. 
There is a surreal vibe to her paintings, though recognisable objects such as light bulbs or ladders anchor images replete with floating organic forms, which evoke, plants, underwater creatures or body parts. Architectural lines – hinting at interior spaces or buildings – tend to frame these abstract and expressive forms, loosely suggesting domestic narratives, or perhaps chaos versus structure binaries or taken further male versus female – read in the juxtaposition between the angular and organic forms.   
The abstract turn in her art manifested after her time in London, but she is unable to pinpoint the precise influences that led her to shift in this direction. What is certain is that when she returned to Cairo in 2015 she was on her way to developing her art, a signature even, that was identifiable but also resonated with collectors from the Middle East who gravitated to the most prominent gallery in that city – Gypsum. It has carved out an international reputation through its participation in high-profile art fairs such as Art Basel and Frieze London.
Baraka has shown two solo exhibitions at this gallery – Cosmic Truths and Tales to be Told in 2019 and Land of Sequels in 2021. 
Baraka's next art exhibition sees her adopting an entirely different approach to her gallery shows and with paintings that are self-consciously grounded in a location, and space. She is along with other artists making artworks in response to her late grandfather's archive. The project is collaborative, installation and site-specific based and motivated not only by Baraka's personal history but a need to create alternative spaces for artists in a city with few opportunities for artists.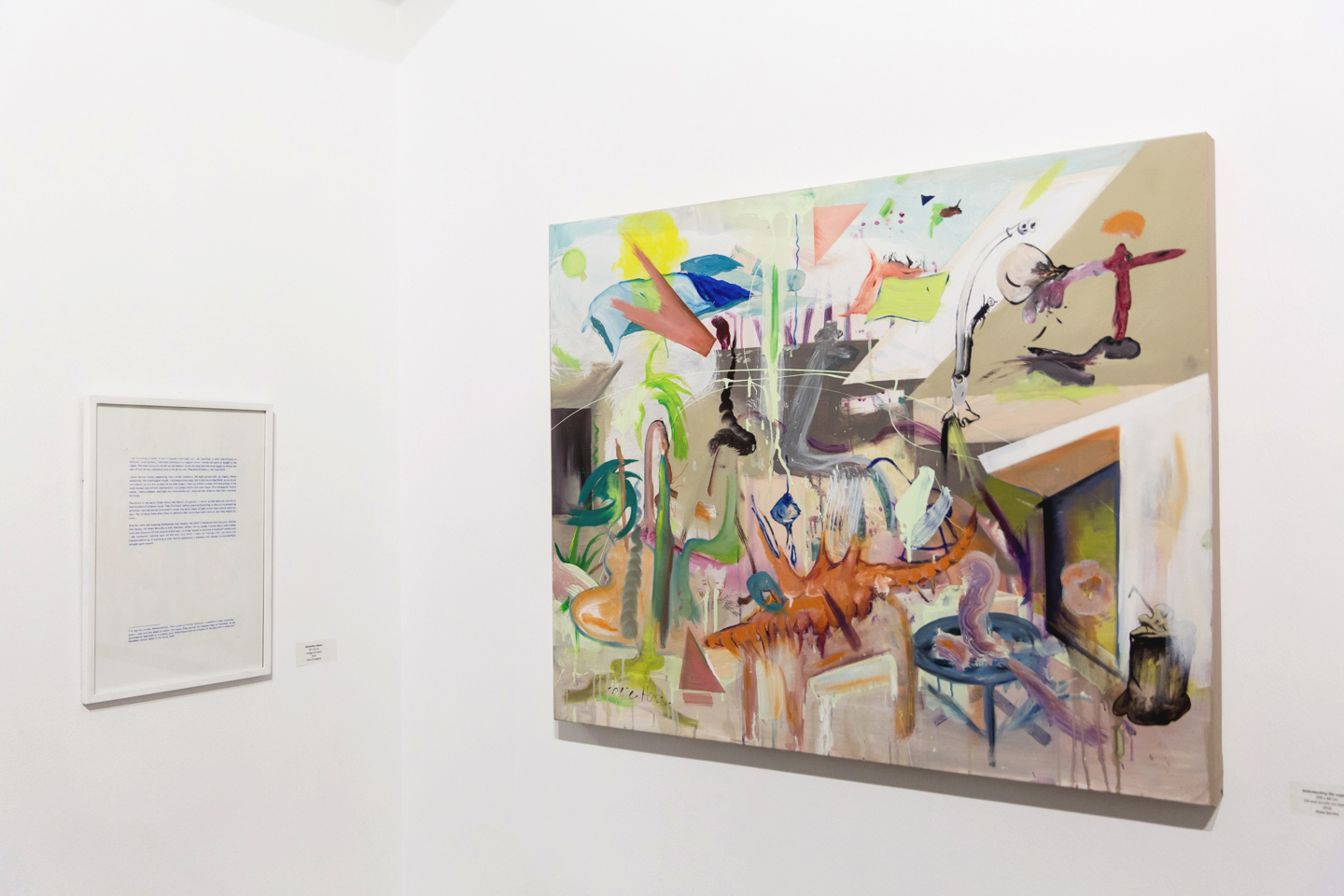 Nada Barka, Withstanding the vagaries, 2019
The exhibition is set in her grandfather's apartment in Cairo, which has been preserved since his death. It houses his extensive collection of photographs, maps and plans (he worked in the Ministry of Irrigation) and other ephemera. He appears to have been meticulously archiving his life, and interests.  
"My grandfather was a very good archivist. I think we might have ruined his archive because we didn't understand it in the beginning. Everything from like the smallest silliest things, to the important documents (were stored). He was very articulate. He did everything, himself. He took and developed his own photographs." 
No matter how precise and ordered Baraka's grandfather's archives might be, beneath his structured approach to mapping his life there must have been messy details, unfinished narratives and contradictions. With her characteristic approach to her expression, no doubt Baraka will draw these qualities to the surface. 
Mary Corrigall is a Cape Town-based commentator, advisor and independent researcher