"The work begins with a Lego sculpture I made in 2015.  From the interaction of simple waveforms, or zig-zags, results a complex, unpredictable topography. I was thinking then about Wade Davis' famous Wayfindersbook, in which he describes the ancient navigational techniques of Polynesian sailors, or 'wayfinders'. Using only their senses, they distinguish between different sorts of waves and discern by their nature and direction which, for example, are reflected off landmasses not yet visible over the horizon. From such sensory information they assemble a highly detailed and accurate knowledge of their environment.
But in the end, the print is really an exercise in some very rudimentary carving on my part and Georgina Berens' expertise in printing and registration, as well as her ability to colour-match the green of my favourite corduroy trousers. Jake Aikman's most compelling seascapes in the studio clearly exert some kind of a pull too." – Paul Edmunds, 2021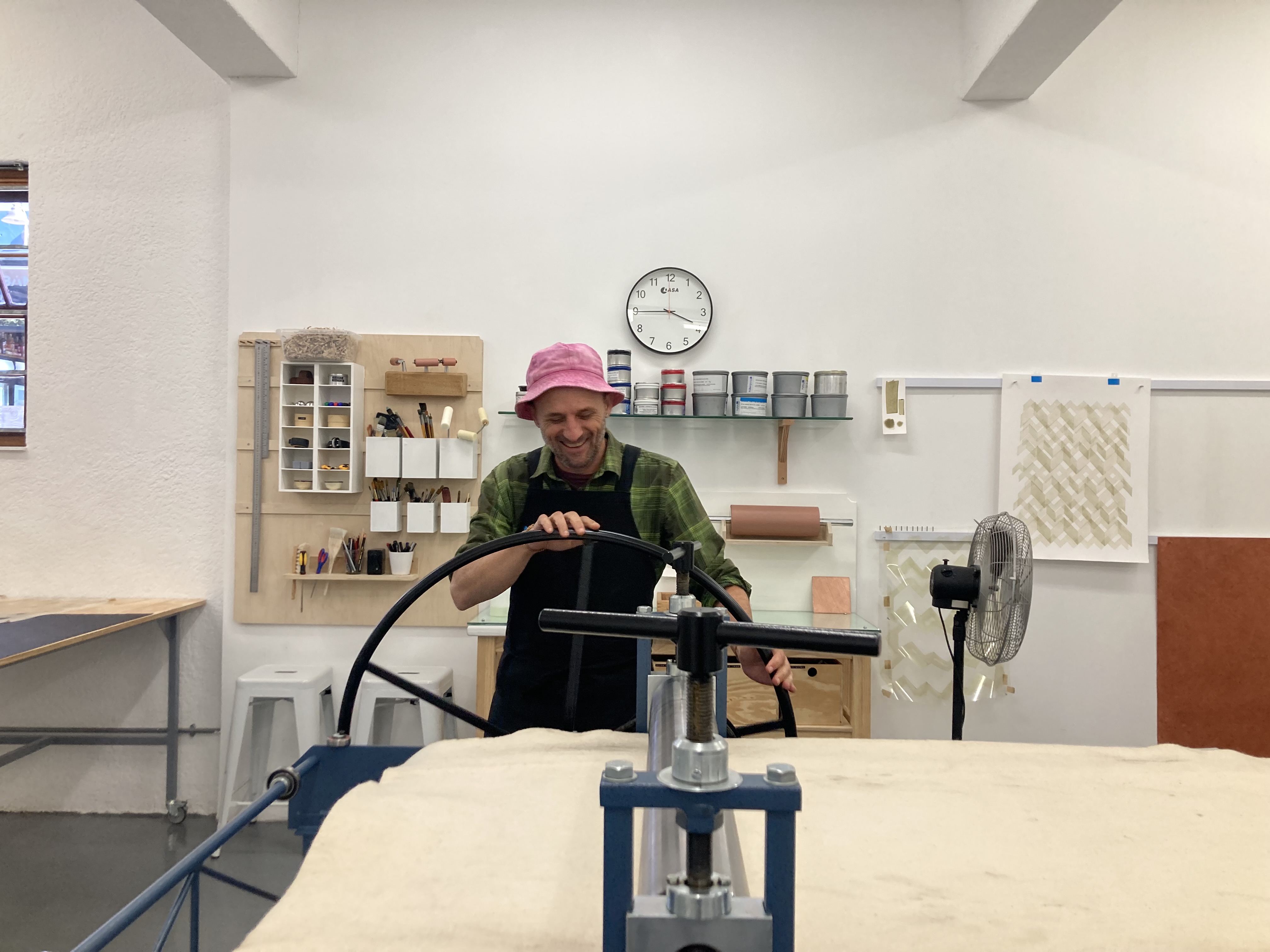 Paul Edmunds with printing press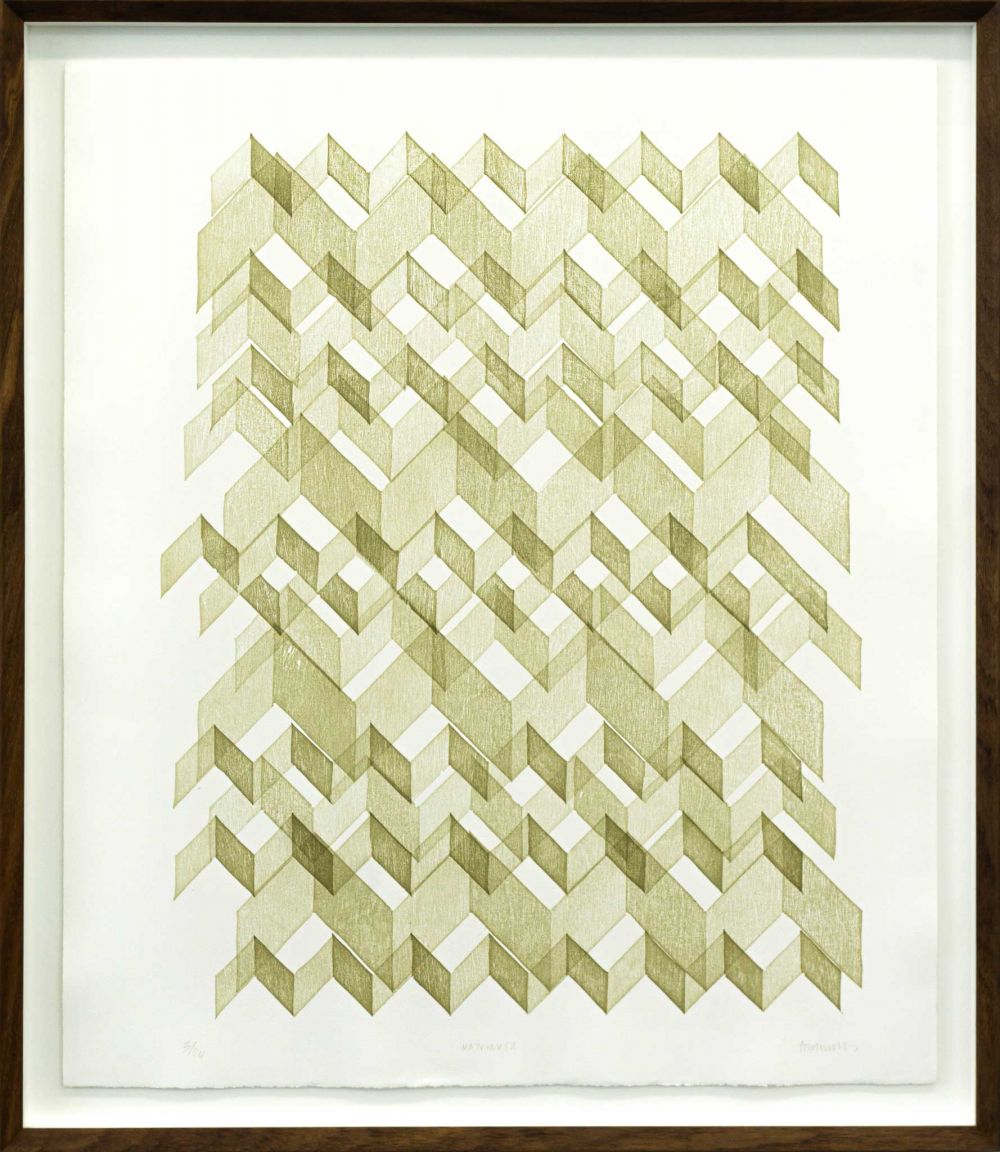 Paul Edmunds, Wayfinder, 2021, Six-layer woodcut on Zerkall Litho, 270 gsm, available unframed, R 11,900.00 ex. VAT, BUY NOW

Sepideh Mehraban
Sepideh Mehraban is an Iranian-born artist, working and living in Cape Town. Her work explores memory and landscape, looking at the overlaying and veiling of paint as a means of expressing layers of existence and experience. She was born in Tehran and obtained her BA (2009) and MA (2011) from Alzahra University (Tehran- Iran).
In her academic work, as well as in her personal projects there is sensitivity toward recent history in Post-Apartheid South Africa and Post-Revolutionary Iran, which she incorporates and explores through text, figurative works and abstraction, often drawing on the grid format of newspaper as a source of inspiration.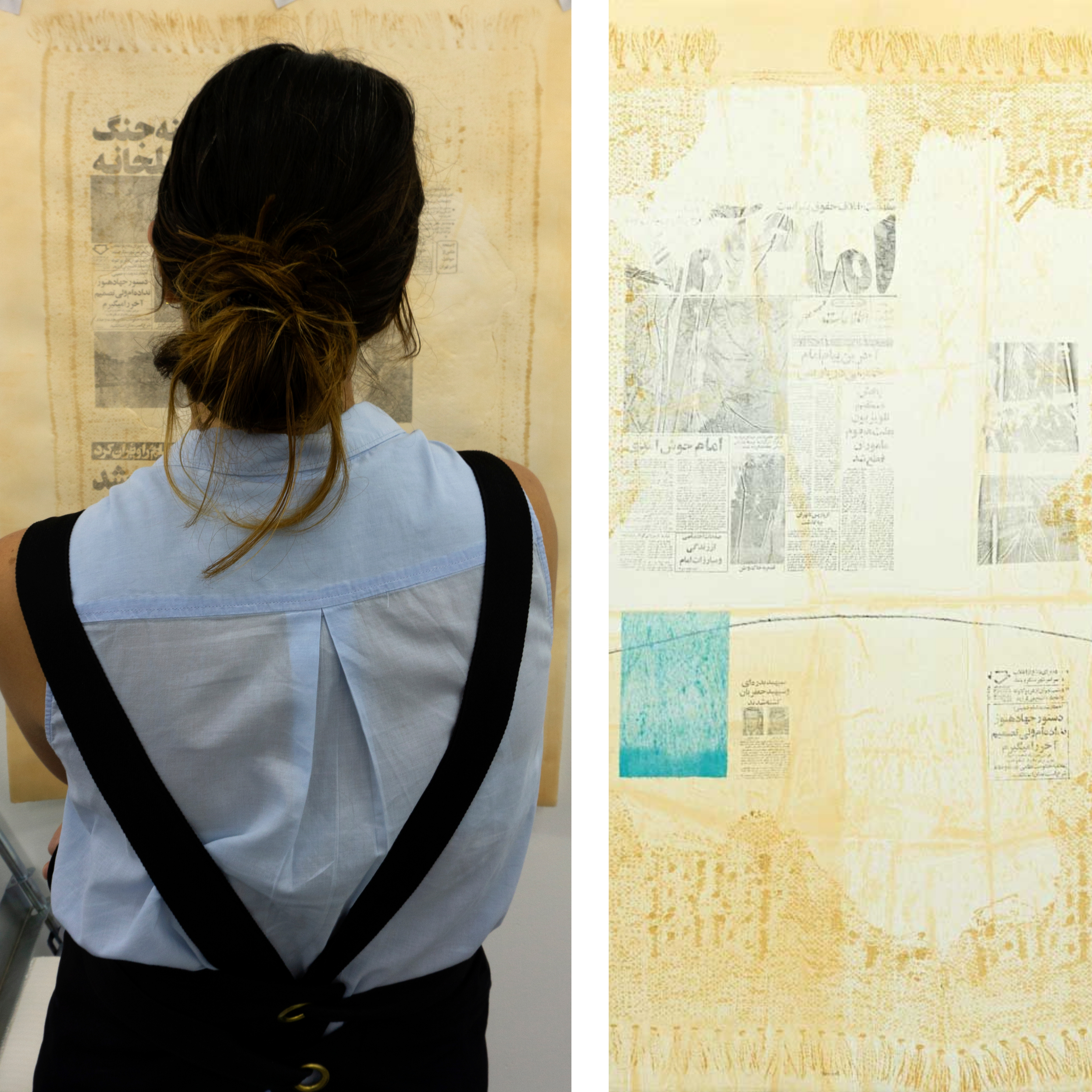 Sepideh Mehraban looking at her work & Sepideh Mehraban, Arrival, 2022, Monotype with photocopy transfer, object printing, chine-collé R 15,300.00 ex. VAT, BUY NOW
Yonela Makoba
Uyafihla Mhlaba (the land covers all) – a topographical print by Cape Town-based transdisciplinary artist Yonela Makoba – traces sites of historical significance in the Amathole Region in the Eastern Cape, where she was born. 
Much about the happenings that have led us to today's South Africa are hidden or distorted. The more we meditate on the possibilities of social and spiritual redress, the more we need to question the intricate realities of tribal migration, as well as the spatial and cultural dispossessions that have shaped our country. 
As arduous as the journey to unearth how we got here is, we must proceed with intention. 
At a 14-day artist residency named Bodyland, where the occupants engaged with the socio-political make-up of the Ciskei – the centre of the Cape Frontier Wars – Makoba encountered heritage sites such as The Burial Place of Ntsikana and Fort Armstrong (the site for a pivotal tension during the eighth frontier war, when forces led by Chief Maqoma and Kona overthrew the British). "I was surprised to have never heard of any of the places we visited, despite being from the space. What threw me off even more is how dilapidated all of the monuments are, you'd never say they hold so much history," said Makoba. 
It is one thing to memorialise the lives that were lost. It is another more challenging prospect to value the lives that remain in the resistance. Makoba's rendering of history hidden in plain sight is a poignant prompt to empathise with how one's culture comes to be.
"On a drive to King Williams Town, my parents were recalling stories about the Bhisho Massacre and with every death or detail my mom remembered, she would exclaim 'uyafihla mhlaba!'" - text by Jabulile Dlamini-Qwesha

Yonela Makoba, holding up a test print for the work Uyafihla Mhlaba, 2021, woodcut with chine-collé, R 25,500.00 ex. VAT, BUY NOW
--------------------------------