"Into the Light"

A Look at South Africa's National Pavilion for the 59th Venice Biennale
-----------------------------------------------------------------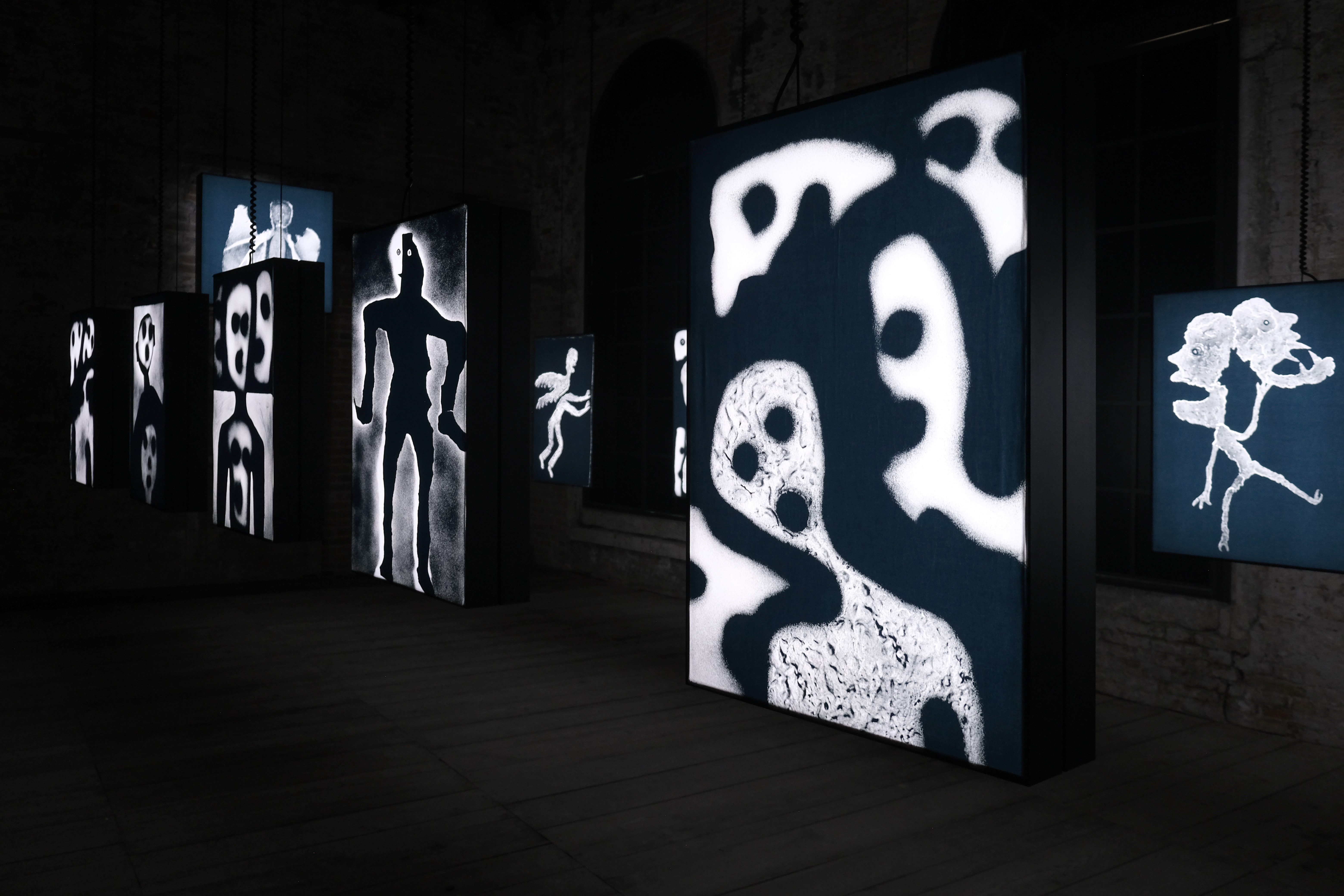 Roger Ballen, 25 monochromatic images displayed on light boxes
The South African Pavilion presents the works of Phumulani Ntuli, Lebohang Kganye and Roger Ballen in its theme, Into the Light. This poignant premise hones the focus of 'The Milk of Dreams'—the richness of artistic expression unlocked by delving into the realm of fantasy and imagination— by placing it in the context of the pandemic lockdowns and quarantines. While many found the enforced isolation debilitating, some recognised it as an opportunity for creative introspection, in which they emerged from a state of being "in the dark" to one of illumination and insight through excavation of the psyche and imagination. All the artworks presented, in tandem with the design of this exhibition, are artefacts of this revelatory journey within their creators. In turn, we wish for them to act as inspiration for the viewer to undertake their own journey into the light — to recognise solitude as an opportunity for heightened personal understanding instead of a cause for melancholy and despair.
The works presented by the South African pavilion achieve this enlightenment through their power for intimacy: they offer an experience of both seeing and being seen. As they invite us into the private, shrouded, and mysterious worlds of their creators, they deepen both our knowledge of the other, and of the self. In so doing, they facilitating meaningful cross-cultural bonding so pertinent in our country's heritage. As we enter into a room of dimness, Godide, the character of Ntuli's oceanic stop-motion sheds his African attire before departure, leading his audience to embark on their own quest for self-exploration and construction. Then, in a soft, hypnotising haze, Kganye welcomes us into her childhood, township home; beckons us to join in the dismantling of myth and memory whilst she relives and playacts the Western folklores ingrained in her childhood consciousness. Ballen's backlit apparitions that hang from the ceiling — a mystical night sky — transport us to the primal roots of our mental subconscious where absurd primordial scenes from the afterworld are deeply embedded.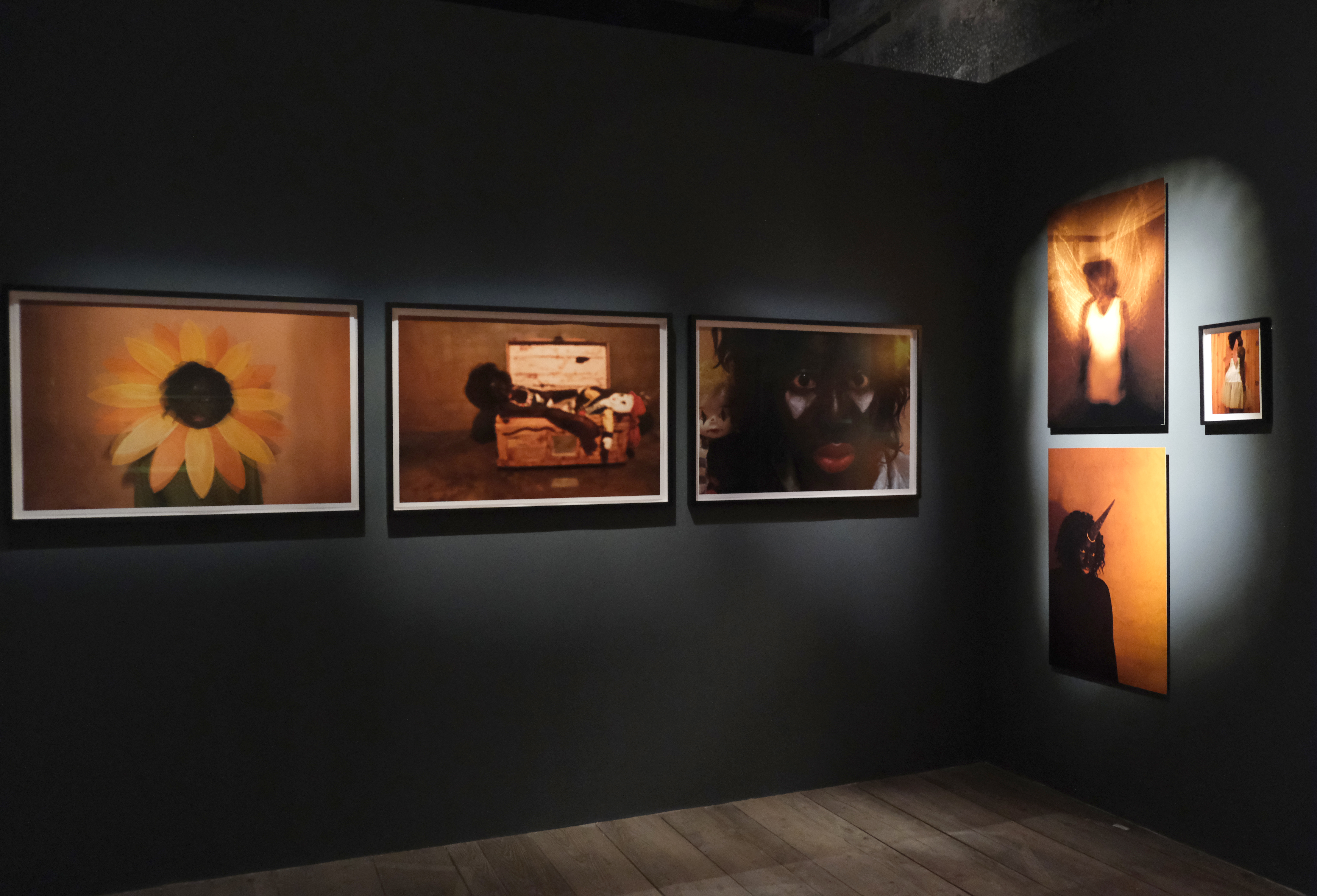 Lebohang Kganye, Venice Biennale 2022
Within these narrowing zones of 'wandering' and 'wondering', the design of the exhibition aims to represent and elicit a surfacing of illuminating personal truths. Photography and film are mediums intrinsically dependent on light: the images in these works are magical "emanations" of the original scenes that they represent. This is profound because the photo-theatrical realms of these South African works open our eyes and give us 'vision'. They toy with restrictive identities, ideals, fantasies and myths and offer us a lens into the progressive landscape of South African art.  Into the Light addresses the challenges that the pandemic has inflicted upon society and hopes to foster global dialogue about our individual and collective experiences during this time and how we move forward — together — into a new, unforeseen world. It has certainly done so for me. Such is the "milk" of dreams.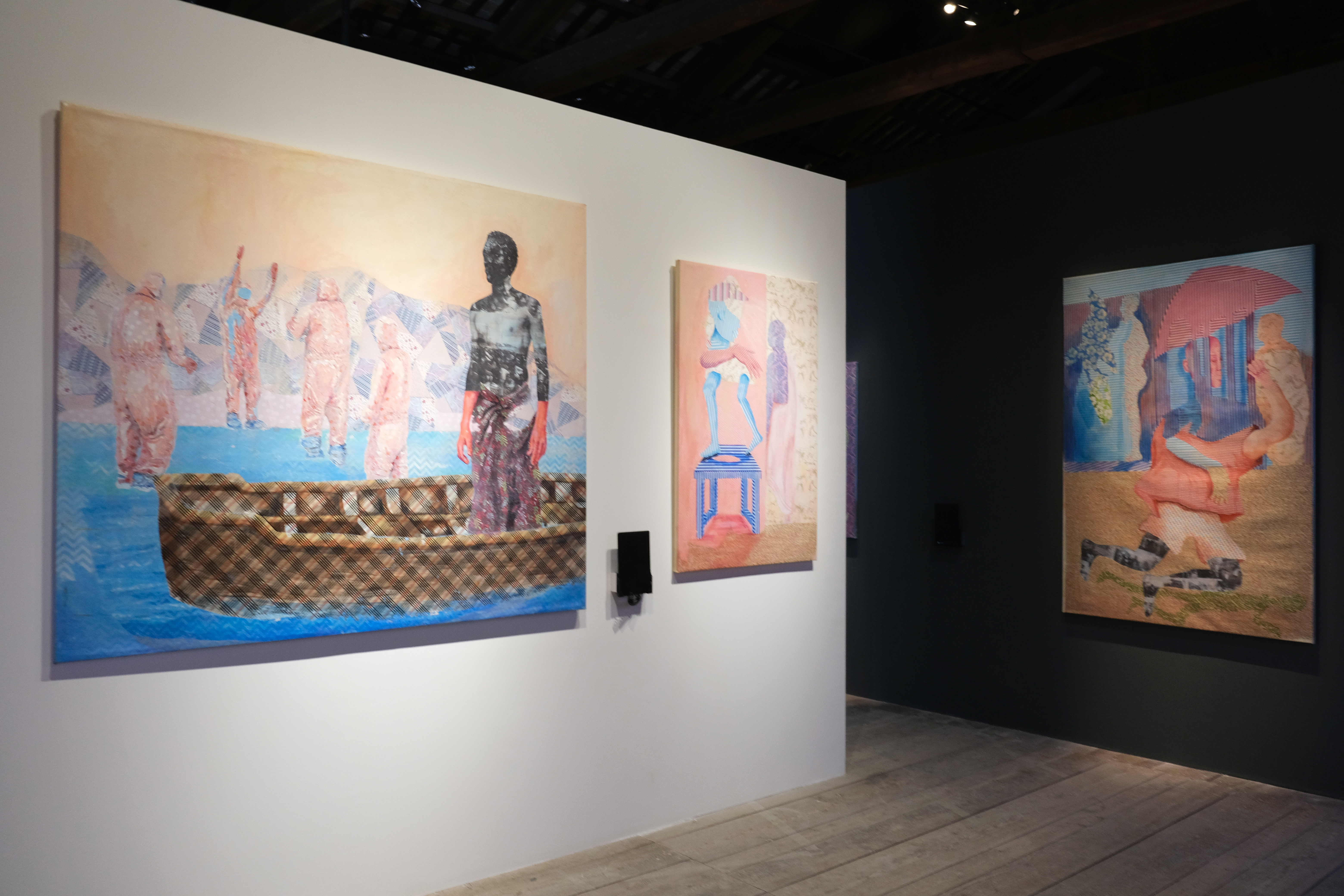 Phumulani Ntuli, Venice Biennale 2022
South Africa is renowned as a land of great scenic beauty, mineral wealth, biodiversity, and a troubled history of conflict and oppression. The nation has emerged as a young democracy whose diverse peoples have endured adversity with robust stoicism, keenly aware that the times of deepest despair can also give rise to the greatest and most uplifting advances.
Like all other nations, South Africa has been severely affected by the ongoing COVID-19 pandemic and the necessary countermeasures to combat the spread and effects of the virus. The arts sector, dependent on audience gatherings and comprised mainly of individuals and small companies rather than corporate entities, was devastated.
South Africa's national exhibition for the 59th Venice Biennale builds on the premise that as ruinous as the pandemic has been at individual, national and global level, adversity can also bring creative opportunity.
More on the artists
Phumulani Ntuli
Phumulani Ntuli is a multidisciplinary artist who describes his work as based around fictional geographies, simulation, archive and representation. He explores these concerns through a collision between documentary and fiction using collages, performance and stop-motion video animation. For Ntuli, the journey of self-investigation lies in the exploration of the psyche. These ideas define each other rather than being mutually exclusive: the real is underpinned by fantasy, and the fantasy is given depth by reality. Human beings are an amalgamation: a beautiful, complex tapestry of these kinds of contradictions – and only in blending seemingly opposite ideas can there be any harmony with, or revealing of, the self. His works blend reality, fantasy, science fiction, the dystopia of our past and the dream of a hopeful Black future. Observers have described his work as dreamlike, or perhaps nightmarish.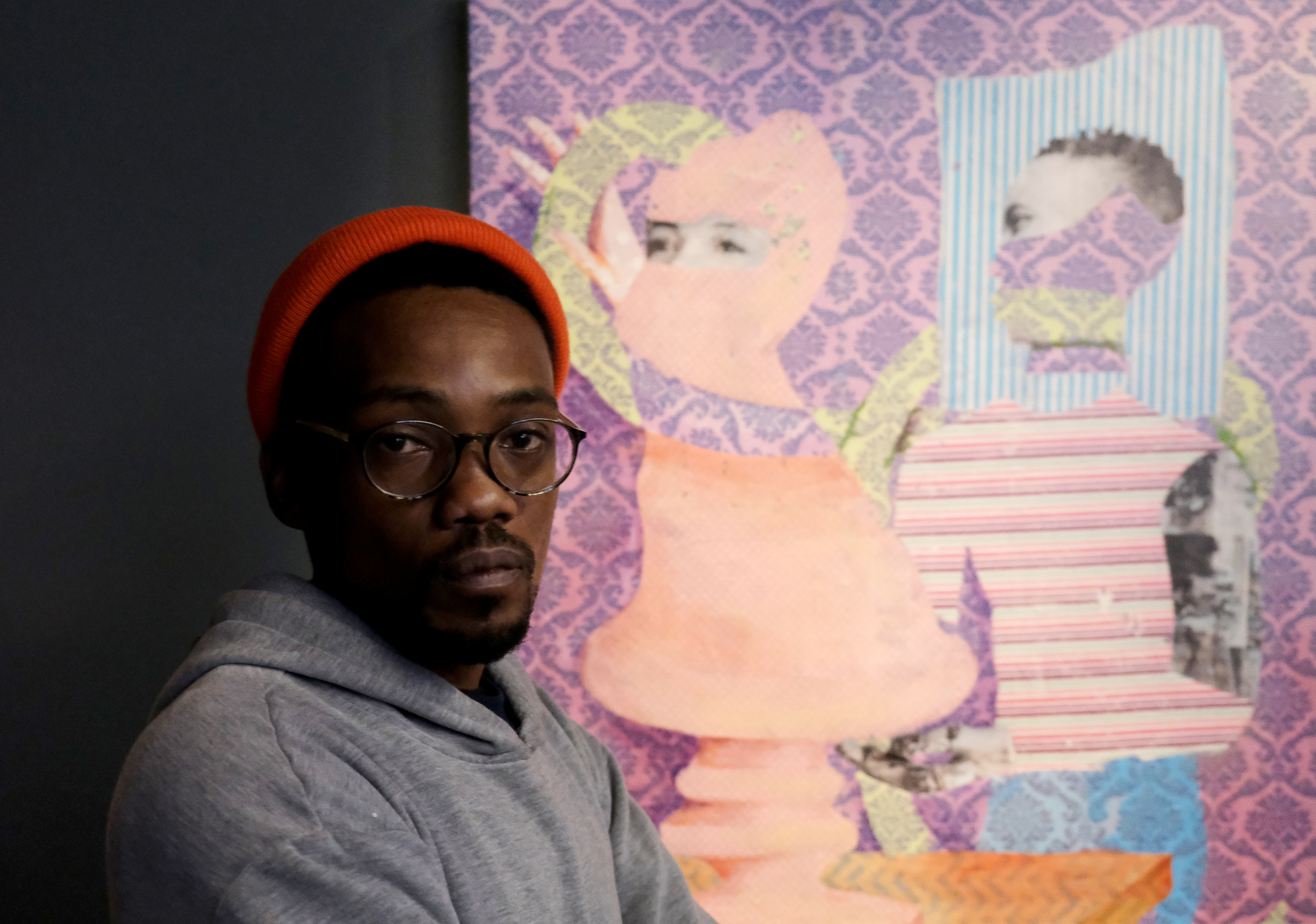 Phumulani Ntuli with his work at the Venice Biennale
Ntuli's exhibits will feature an eclectic mix of stop-motion animation videos and collages on canvas, created in the period from 2020-2022. A centrepiece will be his stop-motion animation film Godide, in which Ntuli presents himself as an intrepid explorer, symbolically shedding his traditional African attire (and thereby his African identity) before diving below paper cut-out waves to enter an imaginary realm in which he explores the vast geopolitical diversity of identities, cultures and states of being.
Ntuli's exhibition consists of three short, animated films displayed on video screens, and four collage transfers on canvas, viewed via an Augmented Reality app on an iPad.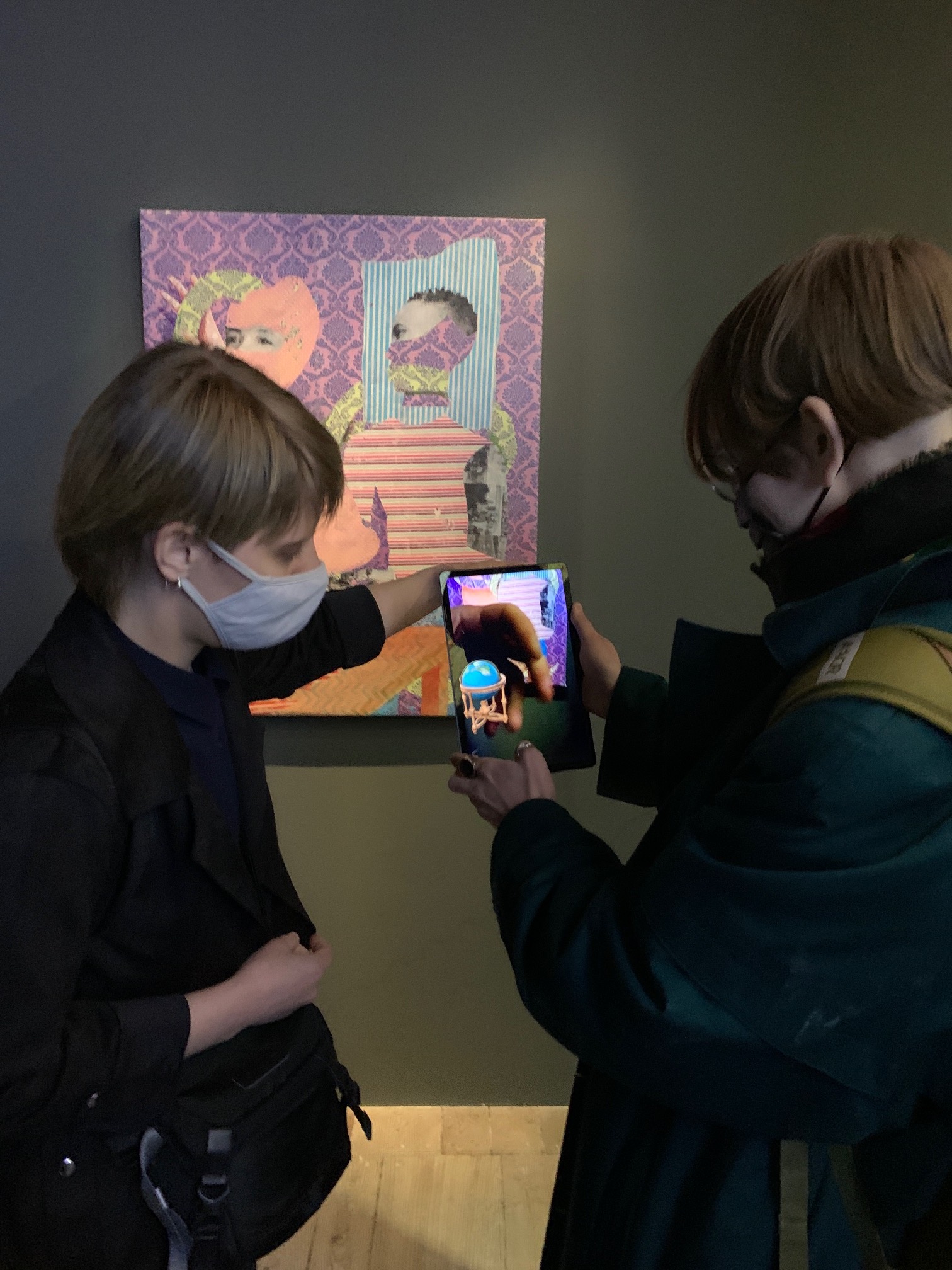 People engaging with Phumulani Ntuli's augmented reality piece at the Venice Biennale
Lebohang Kganye
Lebohang Kganye is a 31 year old Johannesburg-based visual artist who uses photography, theatre, animation, cuttings and installations/sculpture to realise her artistic vision. Kganye's art is often autobiographical, focusing on her heritage and childhood. She portrays her own family stories handed down from generation to generation, but visually rather than by traditional word of mouth. Western fairy tales by the Brothers Grimm and Hans Christian Andersen, along with the enduringly popular film adaptations of these literary works by Disney, evoke a strong sense of nostalgia within Kganye. She vividly recalls yearning to be cast as the titular Snow White in annual school plays.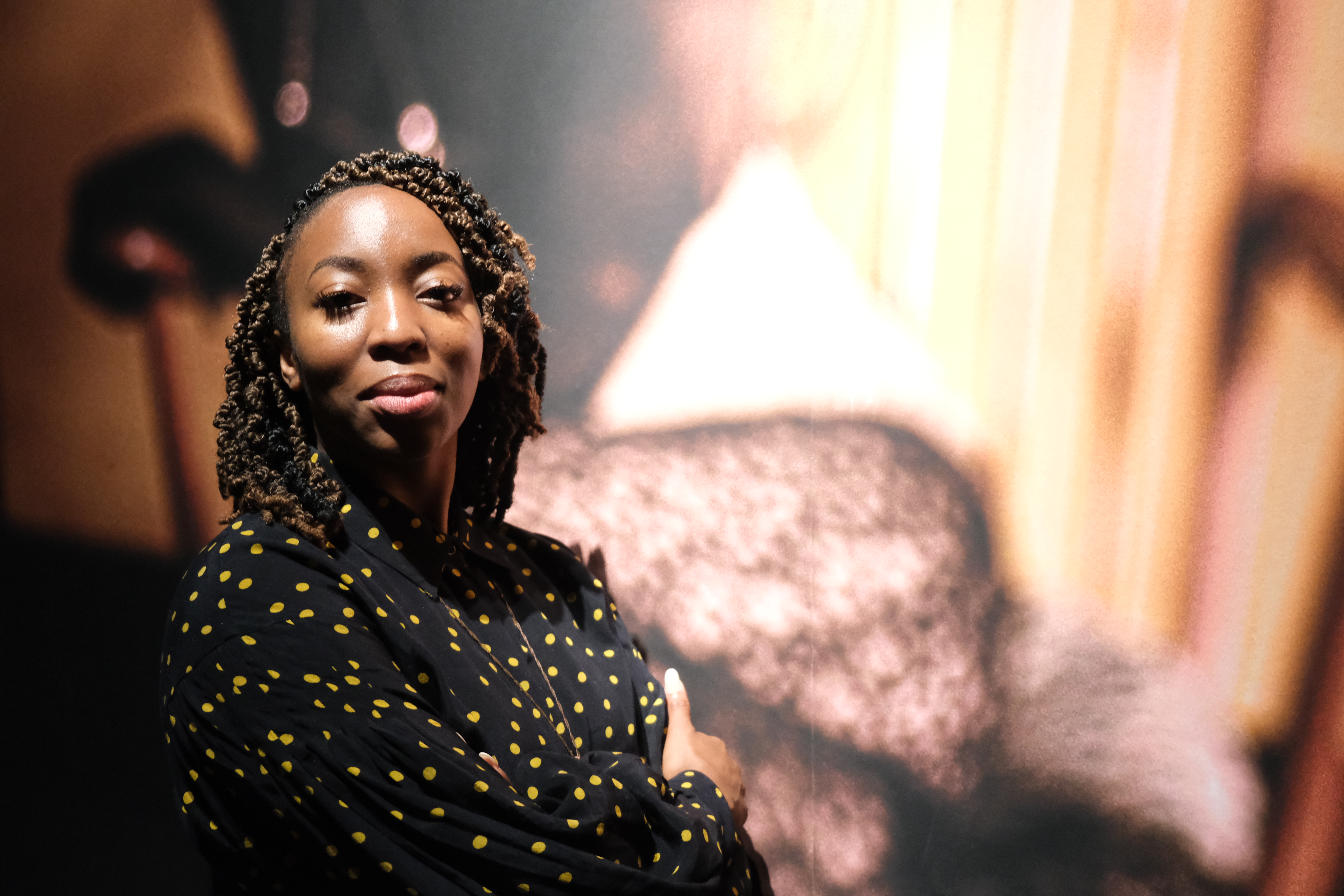 Lebohang Kganye with her work at the Venice Biennale
Her exhibits for the Venice Biennale will be drawn from her 2011 photographic print collection B(l)ack to Fairy Tales. For this collection, she reimagines and portrays herself as Snow Black in staged cameos from the fairy tales she loved as a child, but set in an African township. Kganye was struck by the pervasive influence of Western fairy tale mythology, its romantic 'happily ever after' ethos constantly at odds with the grim poverty of the townships where she grew up. Her art questions the educative influence of Western fairy tales as they spread to other cultures and contexts around the globe. She infuses her images with a surrealist, dream-like quality to stand as a warning against the filtering effects that mythology can have on the psyche and the individual's perception of reality. Through the uncomfortable juxtaposition of Western historical fiction with contemporary African reality, mixing fictional and authentic characters, Kganye's staged images offer a unique perspective on the dichotomy of our nation's history and its political and economic struggles.
The Lebohang Kganye exhibition consists of 14 photographic inkjet prints on cotton rag paper. Kganye concludes that the collection illustrates 'the political in the personal', how intimate personal narratives inter-relate and resonate with larger social and political issues.
Roger Ballen
In the 1970s, photographer and film-maker Roger Ballen emigrated from his native USA to Johannesburg, South Africa, where he now lives and works. Fascinated by the novel cultures, characters and sights of his new home, Ballen travelled the length and breadth of the country, documenting his experiences in a series of thematic photo collections. His inquisitiveness led Ballen to places, people and situations that most South Africans have never encountered. Ironically, it took the fresh perspective of an immigrant to help South Africans understand and appreciate the sheer scale and diversity of what the country offers.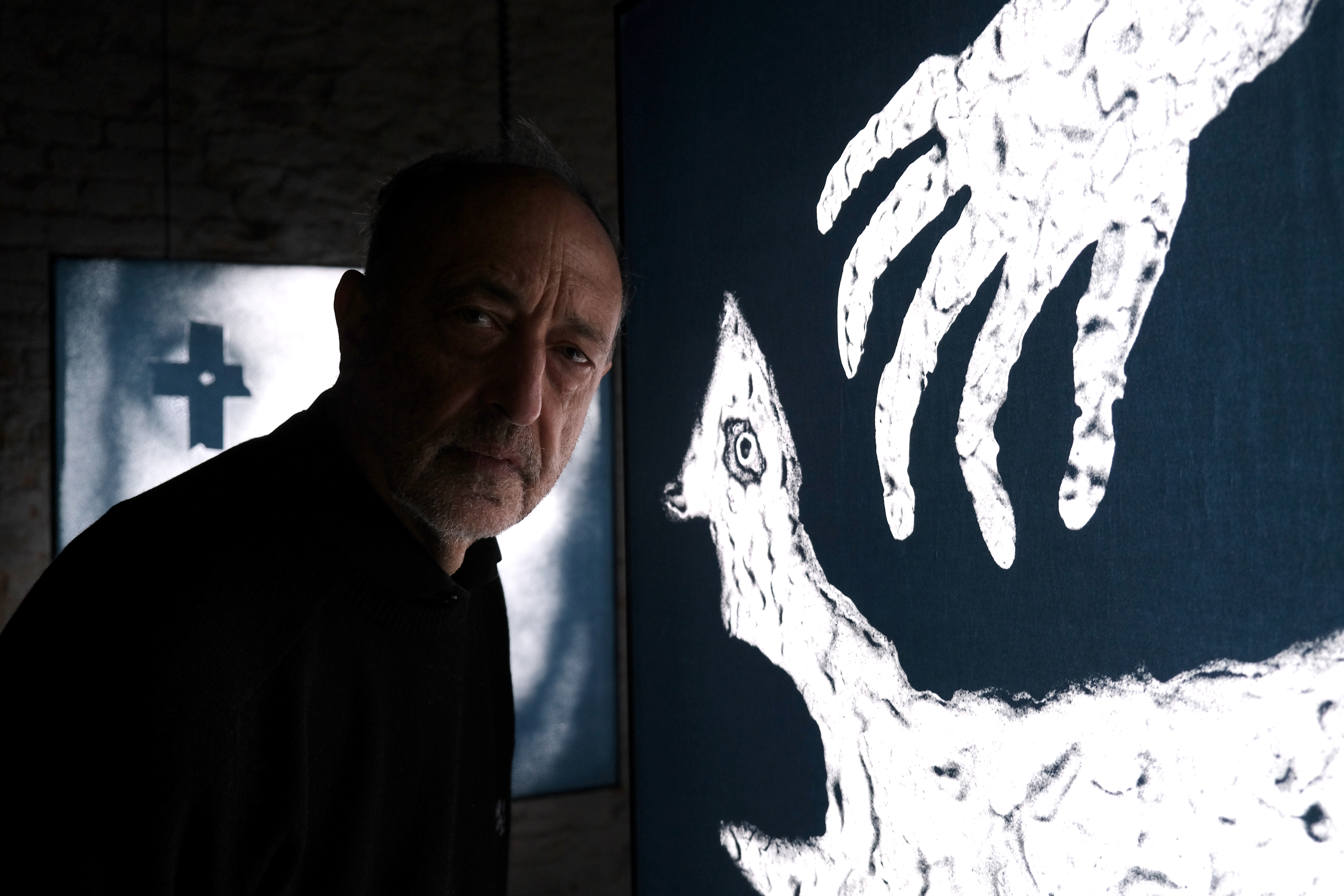 Roger Ballen with his work at the Venice Biennale
The Roger Ballen exhibition will showcase images from his 2016 book The Theatre of the Apparitions. This project was inspired by Ballen observing the crude etchings which former inmates of an abandoned women's prison had created by scraping off the paint used to blacken the windows of the facility. Ballen devised his own technique to simulate this style, coating glass with special paints to create a black 'canvas'. Ballen then etches away the coating to create the image, backlights the glass and photographs it in black-and-white.
The Theatre of the Apparitions transports the viewer into a spiritual fantasy realm of haunting images, in which fossilised facial forms and dismembered figures interact with ghostly shadow forms in bizarre rituals. It is a theatre of the macabre in which Ballen not only delves into the dark recesses of his own subconscious but invites the viewer to explore theirs.
The Ballen exhibition will consist of 25 monochromatic images displayed on lightboxes. Ballen considers his camera lens to be an opening into the 'dark chamber' of his mind, and sees his photographs as mirrors, reflectors and connectors that challenge the mind. He expresses the hope that the images will help viewers to connect to their core selves, to link the parts of the mind that they keep separate, and to access spirits that live within us all.