- Zanele Kumalo 
Africa has a rich heritage of photography, with globally recognised artists such as Zanele Muholi, Pieter Hugo, Peter Magubane, Athi-Patra Ruga, Kudzanai Chiurai, Malick Sidibé and Mikhael Subotzky putting the continent on the global map.
While there is a rise in interest in photographic works, according to stats shared by Aspire Art Auctions, "the entire segment accounts for just 1.1% of global fine art auction turnover". They add that, "This indicates a highly specialised market with plenty of room for growth in its prices and collector base."
Kalashnikovv's co-director MJ Turpin admits though that when their gallery exhibits  photography they do it mostly "for critical and socio-political purposes rather than for commercial success".
So where does this leave the young independent photographer and any opportunities in a relatively conservative market.
Nicole Rafiki (Democratic Republic of Congo) who is now based in Norway, produces work that "re-imagine[s] and challenge[s] the stereotypical depiction of spaces, contexts and the people who are affected by global migration." She completed a residency last year at The Project Space in Johannesburg, which "aims to empower women artists to engage in full time professional practise".
Award-winning Barry Salzman uses landscape photography in "abstract and creative ways to engage audiences about human rights and social justice issues, which are more frequently communicated through literal fact-based channels".
Vincent Bezuidenhout also has a humanitarian approach in his work, using the medium to record atrocities and injustice to inspire change within society. He participated in a group show at Addis PhotoFest in 2018, a biennial international photography festival held in Ethiopia.
Last year in Mali, home to Sidibé, Bamako Encounters celebrated its 25th anniversary as the foremost international event focused on photography and video art on the African continent.
Market Photo Workshop graduate Sibusiso Gcaba hopes to see more of these and other photography-focused spaces open so that "we don't always have to 'fight' for space with other media". His images explore Johannesburg as "a no-man's land where everyone is on the move to get their own, where you are forced to move swiftly or be absorbed by the chaos".
Nonzuzo Gxekwa, now represented by THK Gallery in Cape Town, is a self-taught photographer whose work "favours the everyday over the spectacular" and records the "celebrati[on] of parts of the black experience in its varied expressions".
Linda Pyke and Frank Schönau of THK Gallery add that "contemporary art from Africa is attractively priced for international collectors, while local collectors are taking an increased interest in the medium, especially in view of record secondary market prices for artists like Zanele Muholi and Pieter Hugo".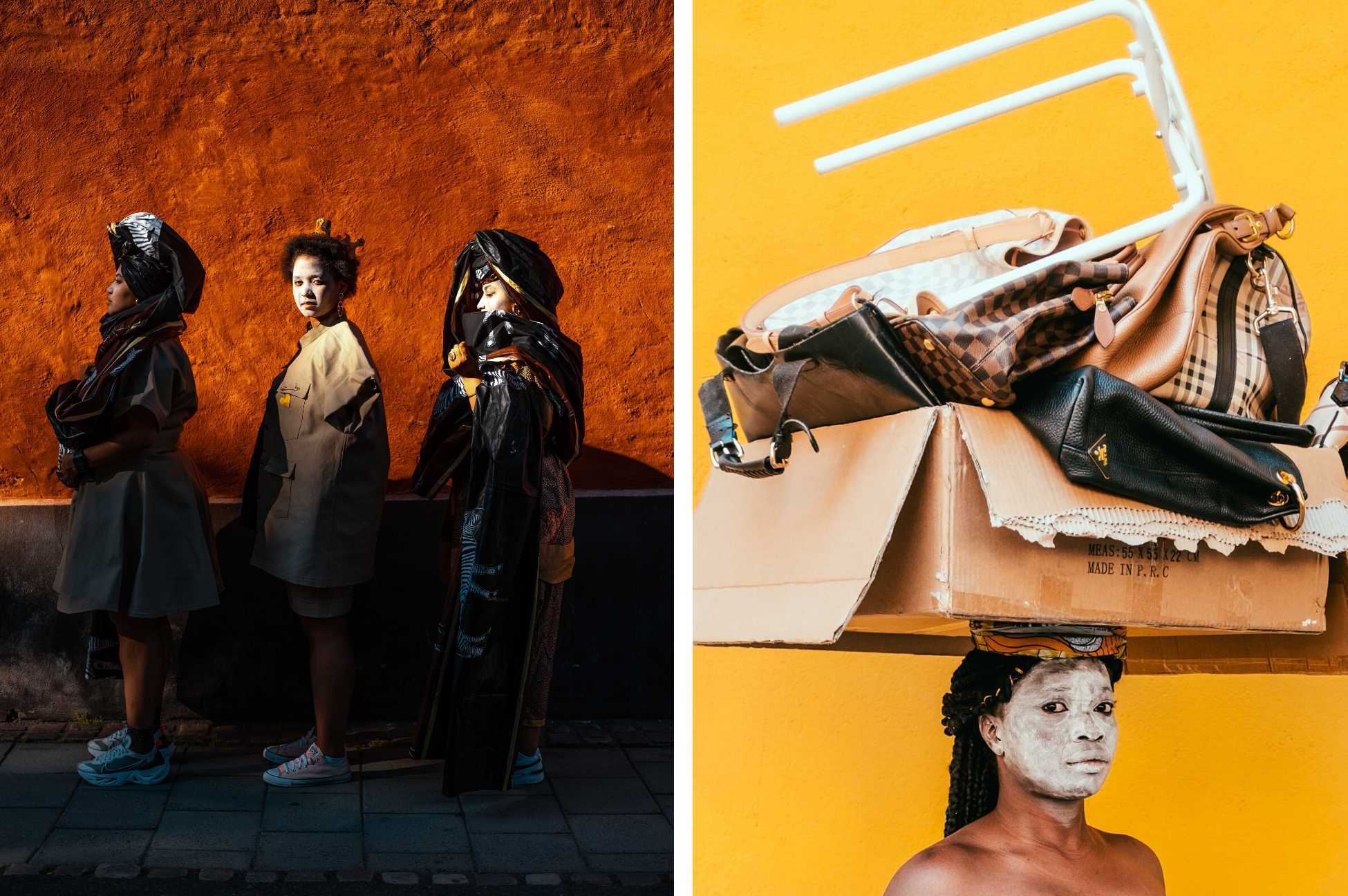 Nicole Rafiki, Good Mourning 1, 2020, HD sublimation metal print | Not without my bags, 2019, HD sublimation metal print
Nicole Rafiki, Good Mourning 1, 2020, HD sublimation metal print
Barry Salzman, Beyond The Pictorial Dimension, Nyamure, Rwanda, 2018, Archival Giclée Print
Barry Salzman, The Passive Backdrop To Human Theater I, Karongi, Rwanda, 2018, Archival Giclée Print
Vincent Bezuidenhout, Wild Waters, 2012, Pigment inks on archival cotton rag paper
Vincent Bezuidenhout, Canal Walk Food Court, 2012, Pigment inks on archival cotton rag paper
Sibusiso Gcaba, Van Brandis Gevaar, 2019, Photographic Print
Sibusiso Gcaba, Last Train, 2018, Photographic Print
Nonzuzo Gxekwa, Pink Nun, 2019, Photographic Print
Nonzuzo Gxekwa, Life in Monochrome, 2019, Photographic Print