Guest Curator | Binwe Adebayo's Top Five
"It's a really great, busy life that allows me to connect with so many incredible creatives who have the talent, but not always the access"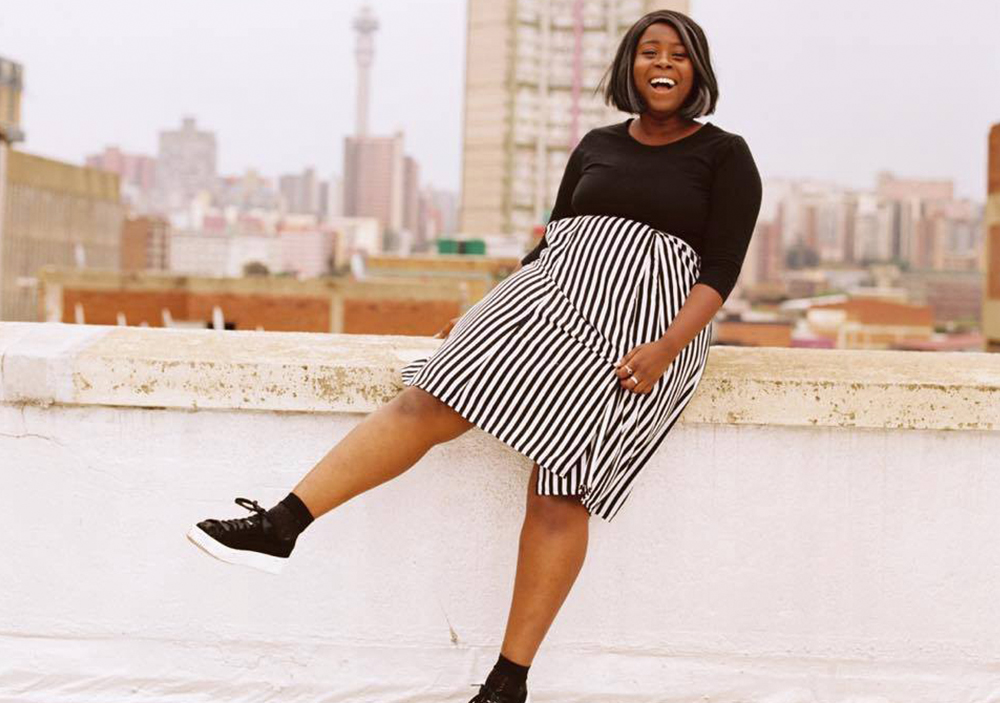 Photo by: Andile Buka 
When asked what keeps her busy day to day, Binwe Adebayo replies, "Whew, way too much". She's not exaggerating. Binwe is an arts and culture critic and the SA Editor of Nataal; a publication on art, fashion and music from Africa. She also runs Baby Mogul, a talent agency primarily focused on talent management for some of South Africa's best loved creative artists. Together with ISYOURS Editor, Roger Sivuyile Lupuwana, she co-runs Big and Simple, a production and consulting agency.
In her spare time, Binwe is an amateur athlete pursuing long-distance running and golf. "It's a really great, busy life that allows me to connect with so many incredible creatives who have the talent, but not always the access," she says. "I'm trying to do my part in terms of storytelling, but also story selling through my commercial work."
Regularly seeking out new artists and quizzing them about their process and purpose, we thought Binwe the perfect guest curator to cast an eye over the Latitudes artworks and choose her five favourite pieces.
Here she shares her selection and answers a few questions about the art she's drawn to and what it is that she wants to know when interviewing artists.
Bob Gosani, Drum Cover, 1954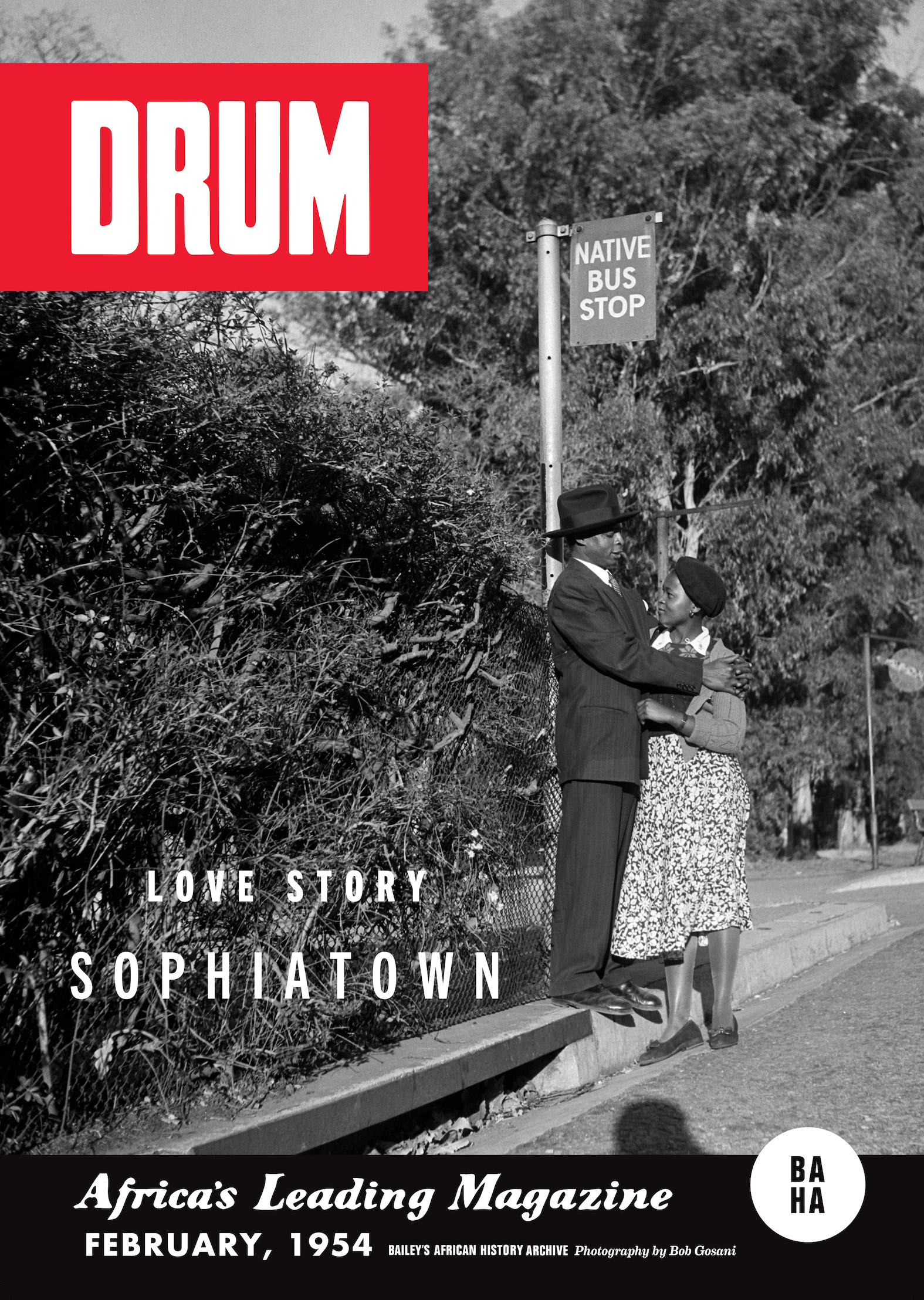 Photographic print on acid-free paper. Size: 88 x 60 cm. Price: R 17,500. Presented by Dale Sargent Fine Art. ENQUIRE. 
Callan Grecia, Smoking Figure With Pool Chair Painting, 2021

Acrylic and spray paint on Fabriano. Signed. Size: 150 x 180 cm. Price: R 15,000. Presented by KZNSA Gallery. ENQUIRE. 
Puleng Mongale, heaven on earth, 2021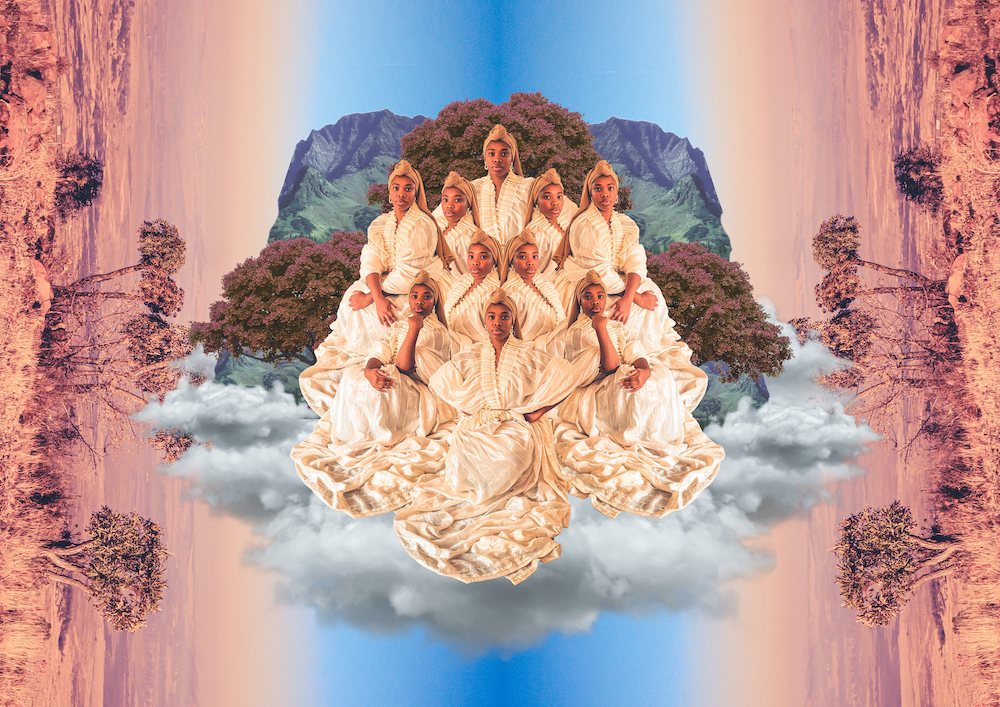 Fine Art Textured Silk 270GSM. Edition: 10. Size: 42 x 59.4 cm. Presented by Doyle Wham. ENQUIRE. 
Lunga Ntila, Dismantle, 2020. 

Digital collage. Edition: 10. Size: 100 x 100 cm. Presented by Lunga Ntila. ENQUIRE. 
Esther Mahlangu, Ndebele Abstract, 2019. 

What kind of art are you drawn to personally?
Ironically, visual art has been my last frontier when engaging with art. I'm trained as a classical pianist and violinist and have always been rooted in the Romantic Period, so I think that sensibility has spilled over into my attraction towards visual arts. I like work which feels brave and hopeful. For me, who is an anti-cynic, I am drawn to work which speaks to the incomplete, the potential, and the possibility of a conversation beyond the boundaries of what I'm looking at in front of me. Of course, from an identities perspectives, being of mixed African heritage (Kenyan, Nigerian, spent my whole life in SA), I'm also always looking out for work which speaks to Africa and the everyday lives of its people.
What's your favourite artwork/poster/photograph in your home?
I have a poster for the Netflix Original anime, Neo Yokio. That show had such a strong impact on me, and the image of the central character Kaz Kaan, is so reflective of the existential crises of our age.  The print was a gift from my previous agency, Retroviral, and so it's a stark reminder of my own growth as a creative and person navigating creativity and commerce as a black creative worker. It's also baby pink, which is my ultimate favourite colour (in life) but more particularly for decor
When you interview artists, what is it that you most want to find out?
This is a great question. I think ultimately for me, art is an expression of inner worlds. So what I'm trying to figure out is what got an artist to the point where they're making the art they do. I'm also trying to find out (at a more existential level, if you will) how you go from abstracts and -isms to tangible, delicious, sometimes harrowing pieces of work that are able to have strong resonance and connection with the external world — i.e. the audience. Every interview I've ever done (and we're talking maybe 10 years now) has always taken me somewhere I wouldn't have thought of though, so I always try to leave space for myself and the subject to discover some things together. It's immensely gratifying, self-reflexive work and every interview makes the next one better
Please tell us about your selection from Latitudes: is there a golden thread?
Yes and no. To an extent, my selection will always prioritise queer and black artists, and artists who speak about their identity through work. That said, I'm also trying to do my part to debunk the idea that our curatorial tastes have to necessarily be deep, political or traditionally profound, so I've also tried to consider what the regular South African home looks like and how it would fit in, and included work that just makes you feel really good. I also enlisted the support of my Baby Mogul brand manager for a younger, fresher perspective and so it's not just a Binwe-likes-this show.
Keep up with Binwe, if you can, @binwinning. 
Article by Alix-Rose Cowie