Good collections pivot on critical conversations
----------------------------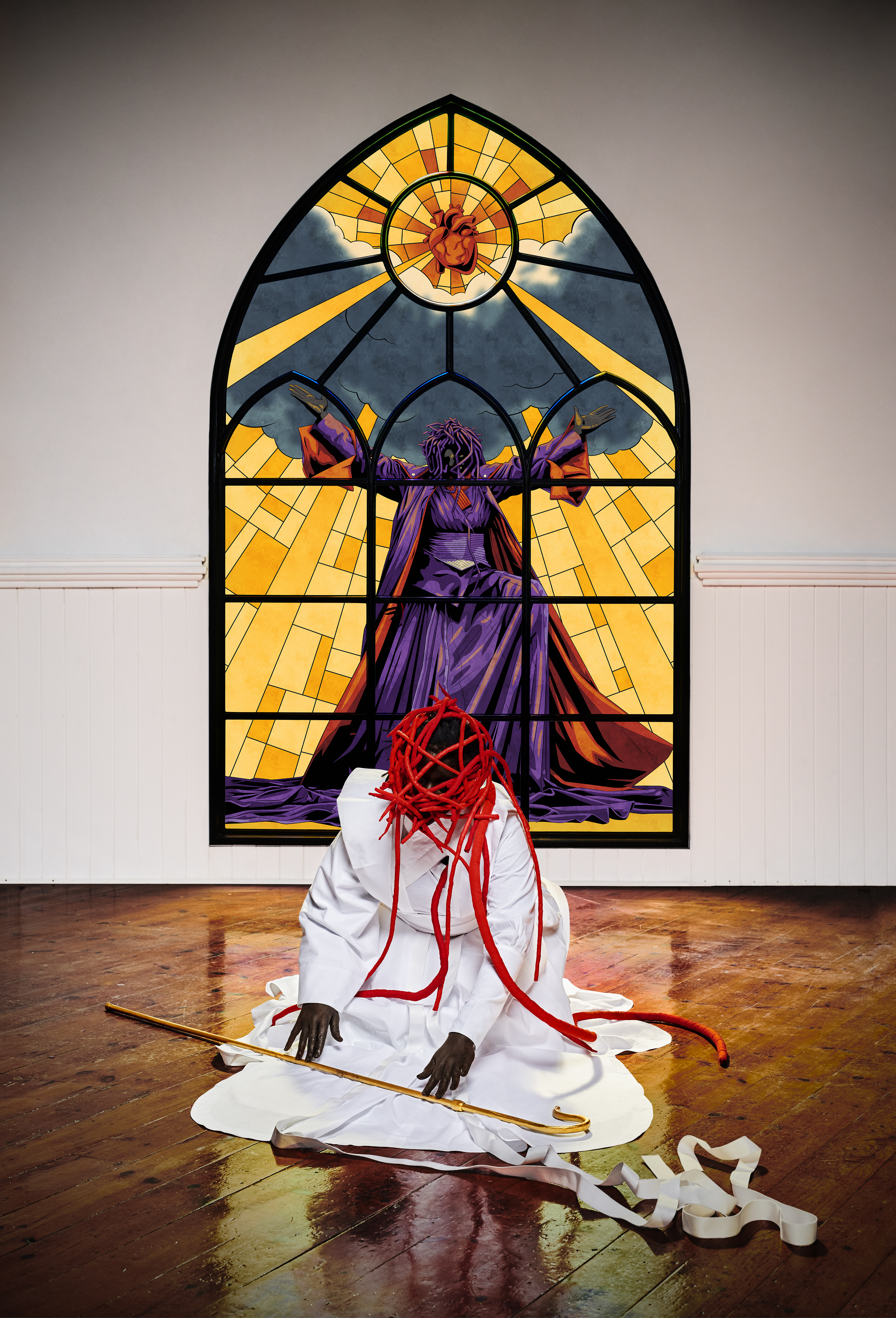 Mary Sibande's Turn, Turn, Turn, Turn, 2019 was included in the SMAC gallery exhibition, Black Luminosity. Photography has been an essential part of Sibande's practice, though the artist has more recently focused on sculptures and installations. Image courtesy: SMAC Gallery
Artists seem to be currently less interested in producing photographic works, but for collectors they present an opportunity to access a wealth of the visual history of the African continent
Painting might be the medium du jour for African artists, particularly given the portraiture genre is experiencing a revival, however, photography has been one of the most important in not only the development of African expression but in an ongoing dialogue around identity, race and the western or white gaze. 
This link is perhaps so firm in our consciousness due to the late, great Nigerian curator, Okwui Enwezor, who curated a string of high-profile exhibitions in New York since the mid-1990s, which were dedicated to the work of African photographers. Think In/Sight: African Photographers 1940 to the Present (1996) which showed at the Guggenheim Museum; The Short Century: Independence and liberation movements in Africa, 1945-1994, which was shown at the Museum Villa Stuck, Munich, the Martin-Gropius Bau, Berlin, the Museum of Contemporary Art, Chicago, and P.S.1, New York (2001-2002); and Snap Judgements (2006) at the International Centre for Photography. 

Malick Sidibé, Portrait, Fanta Samaké, 1982. The Malian photographer is one of the most celebrated and the first photographer to be awarded a Golden Lion Award at the Venice Biennale. As such his works are highly coveted and fetch high sums at auction. This work was offered by Sotheby's Africa Modern and Contemporary department at an auction last year
You could draw a connection between the current fixation artists have with portraiture and its power to celebrate identity and the history of photography in Africa, which is thought to have flourished in countries post-independence. This coincided with the need to remake identities and reclaim suppressed histories and cultures. Think of the portraits produced by the Malian, Seydou Keïta, James Barnor in Ghana from the 1950s, Salla Casset or Meissa Gaya in Senegal in the 1940s, Malick Sidibe, the first photographer to win the Golden Lion award at the Venice Biennale, or J.D. 'Okhai Ojeikere who documented women's hairstyles in Nigeria in the 1970s. 
When Enwezor first arrived in the United States in 1992, he says he "noticed the absence of any sense of recognition of the kind of social space from which I came. Coming to the United States from Nigeria to begin a new one also was met with a total lack of any kind of historical presence of the immediate post-colonial period."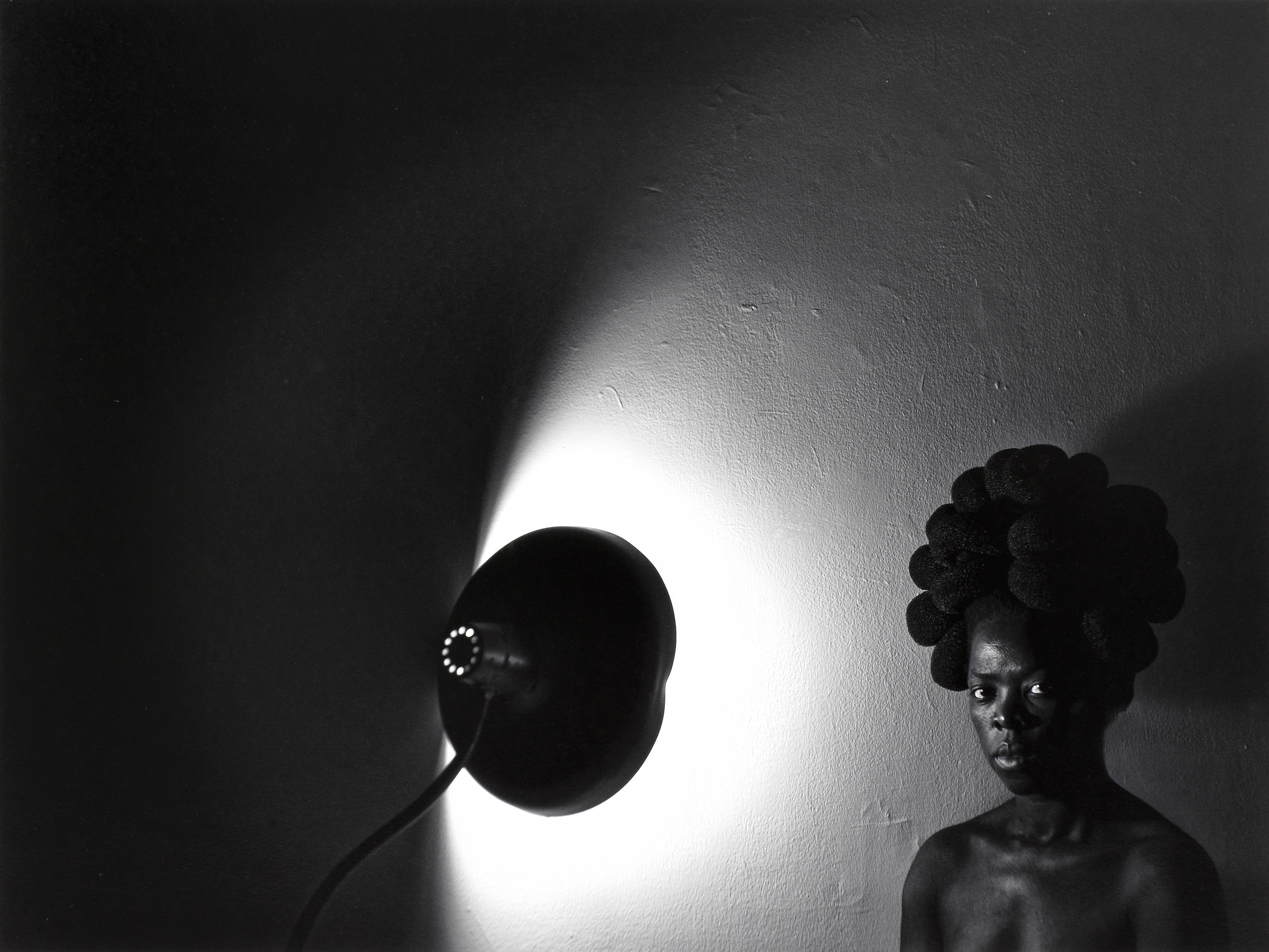 Zanele Muholi, Sasa, Bleecker, New York, 2016. This work was offered by Africa Modern and Contemporary department at auction last year. The secondary market for Muholi's images remains strong
In other words, it was through photographic works that Enwezor could best relay the postcolonial reality in the west. Given photographs are expected to relay the 'truth' it makes sense that this documentary mode carried weight with regards to upturning deep-seated biases about Africa that stretched back to ethnographer's use of photography to objectify African bodies and customs. 
Of course, it wouldn't be long before artists were remaking their realities through the photographic medium. Enwezor would not be the only African curator interested in photography, with its links to memory, nostalgia, and documenting, challenging gender it has proved pivotal to most of the continent's high-profile curators and as such has had discursive value in presenting contemporary expression from Africa at an international and local level. In A Decade of Curating (2007 to 2017) Corrigall & Co undertook a dry study of the exhibitions staged by Africa's most well-known curators and found that the majority of artists selected for the over 106 exhibitions produced on and off the continent over this decade long period, primarily worked with photography.  
Artists such as Zanele Muholi, George Osodi, Kudzanai Chiurai, Guy Tillim, Aida Muluneh, Mikhail Subotzky, Kiluanji kia Henda, Andrew Tshbangu, Sami Baloji, Andrew Esiebo, Mario Macilau, David Goldlbatt, Georges Senga, Lakin Ogunbanwo, Santu Mofokeng, Akintunde Akinleye, Mary Sibande and Ayana Jackson among many others, had their works consistently included in exhibitions curated by the likes of Simon Njami, Abedellah Karroum, Bonaventure Soh Bejeng and N'Gone Fall. 
Azu Nwagbogu, of course, tops the list, given this Nigerian curator is the founder and director of the Lagos Photo Festival in that city. 
Interestingly, he claimed in an interview that "[M]y passion is not really about photography per se, it's got more to do with a general interest in the way stories are told and emotion, energy, world views are transmitted through images, the subtle nuisances within each story." 
Photography isn't only a vital form of expression for Africans. The existence of fairs dedicated to photographic works, such as Photo Paris and Photo London, which opens this week in that city, substantiates the vitality of this medium and its gravitational pull for different sorts of collectors.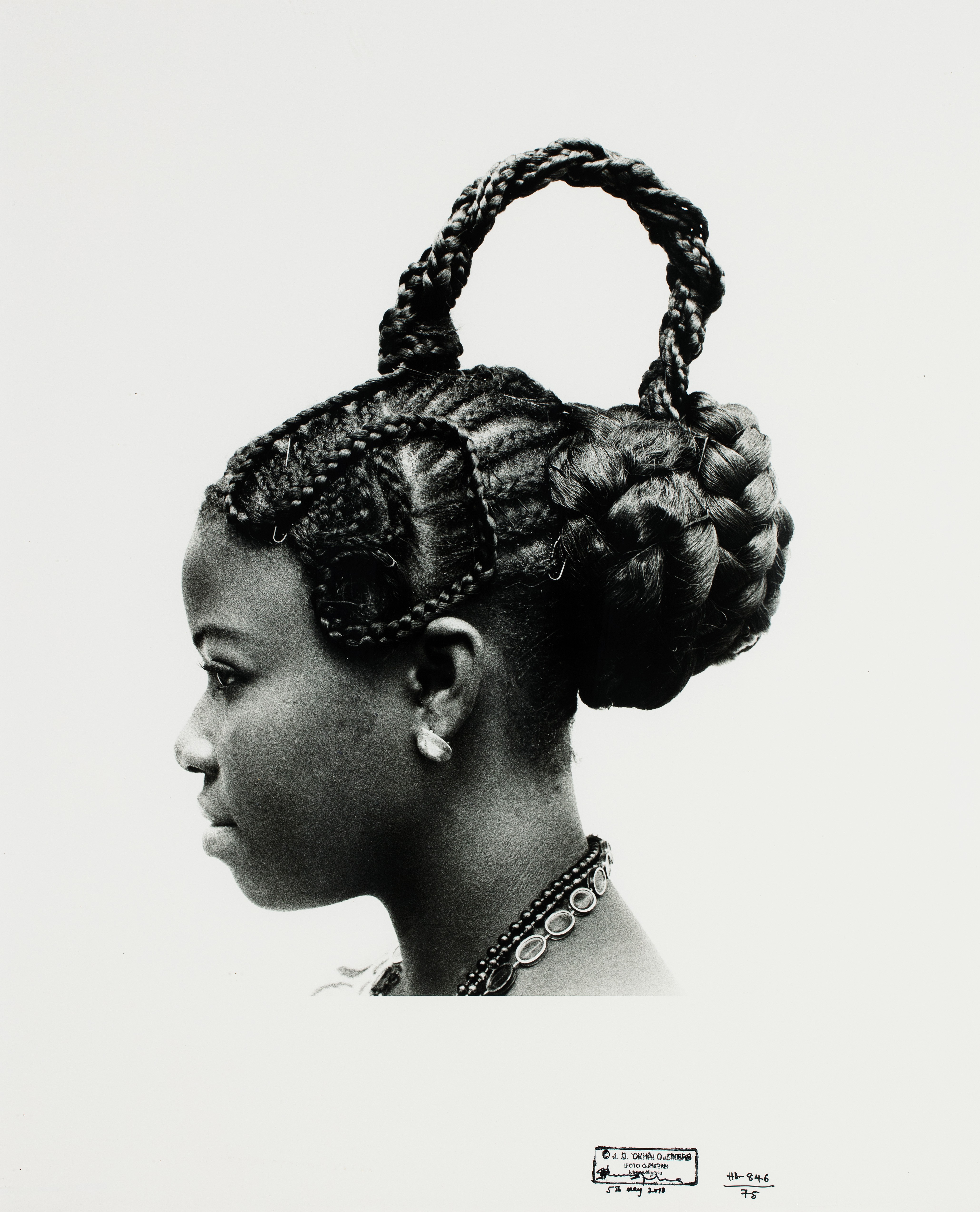 J.D. Okhai Ojeikere, Abebe, (Hairstyles). The late Nigerian photographer's portraits focused on women's hairstyles. This work was offered by Sotheby's Africa Modern and Contemporary department at an auction last year
Photographic works tend to be affordable, as they are editioned, paper works. That's if you don't have your eye on a Goldblatt or Muholi, which can sometimes sell at auction for up to R250 000. In this way, collectors can have access to works by well-known artists and important historical documents of events, places, and people. Owning an image of historical importance or one that captures the essence of a period becomes an invaluable one that stands the test of time. This is unlikely to be the case with many contemporary works. 
The secondary market for photographic works is perhaps a little sluggish locally, in South Africa. Aspire Art Auction house annually hold an auction dedicated to photography, which has yet to become the bun-fight it should be, given the array of imagery on offer each year. Auctions dedicated to African art in France tend to feature much of the portraiture produced by the West African photographers mentioned earlier. Indeed, for discerning collectors who acquire works before everyone else is interested, photographic works remain an attractive prospect. As photographic works are relatively 'affordable' and vital to curatorial conversations about Africa, they form a large proportion of collections of museums in western art centres - particularly in the US, where Enwezor drew attention to the history and vitality of this kind of image-making. Surely, given the historical and discursive importance of photography, in time this will be a more valued market. 
Despite this, there is a sense that photography as a medium for expression for African artists has waned or has become passé – Subotzky, Muholi, Nandipha Mntambo, Athi-Patra Ruga and Tracey Rose, have all shifted their interests to other mediums or are exploring them with varying success. 
Yet a new generation of artists has also found new life and boundaries to explore ensuring its continuing relevance. 
This has largely been achieved by adopting photo collage or generating surreal mash-ups with digital tools. A prime example of this would be the work of Puleng Mongale – who sometimes employs sepia tones in her imagery, referencing archival images. Bodies composed through crude splicing of found images – somewhat recalling the work of Wangechi Mutu - is another approach embraced by artists such as Lunga Ntila, Neo Matloga, Dawit Abebe, Larry Amponsah and Ken Nwadiogbu.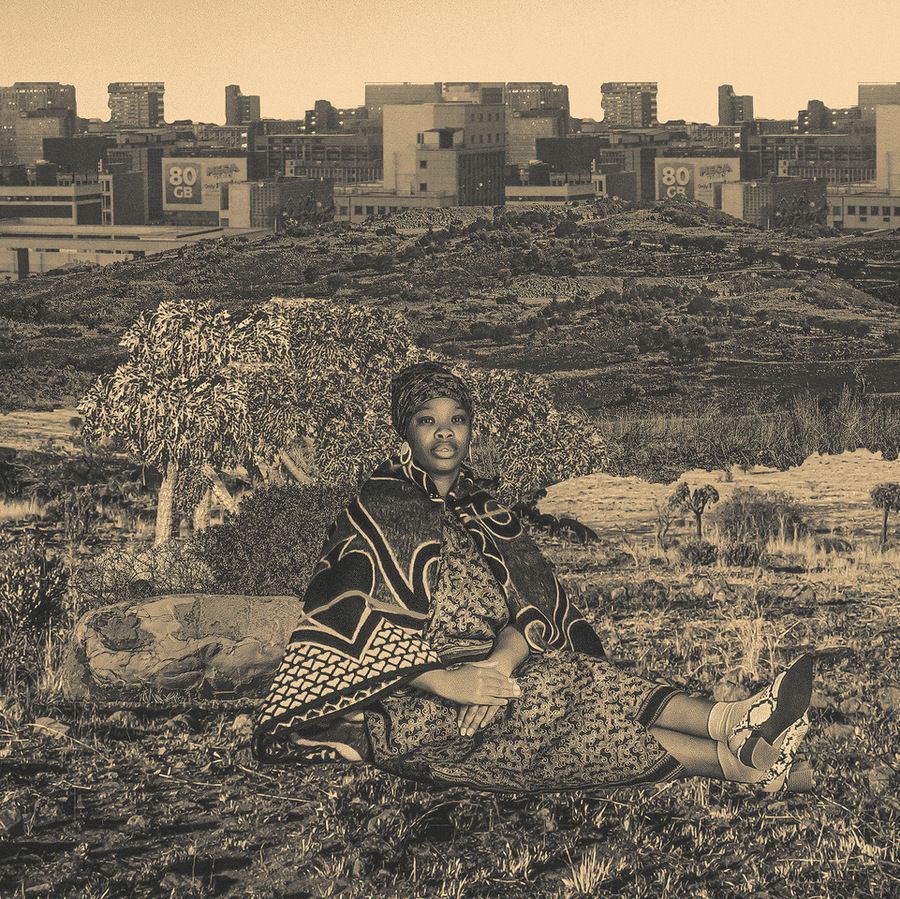 Puleng Mongale, The Cravings of a City Girl I, 2020 R 8,150.00 ex. VAT
Image-saturated social media tools such as Instagram have perhaps forced artists to push the boundaries of photography.   
The South African-based photographer Roger Ballen, one of the artists showing at the South African Pavilion at the 59th Venice Biennale, once remarked that his macabre imagery was borne from an awareness that the wide access to photography compelled him to create images that no else would think of (or dare to) make. 
In African countries where homosexuality remains illegal, or where they are battling other socio or political issues, photographic works play an important role for the subjects in terms of claiming their identity or validating their existence. Take the work of M'hammed Kilito, the Moroccan documentary photographer, whose photographic essay Among You, presents subjects representing different youth subcultures in his native country. 
"People want to be seen and heard," observed Kilito. 
This persistent link between photography and the visibility of marginalised people remains compelling and those collectors interested in registering their support to end oppression based on race, gender and sexuality, can do so through acquiring social documentary imagery. A focus on this role in photography, could make for a very meaningful collection and you wouldn't have to splash out on a Muholi or Goldblatt, nor would you necessarily have to look into the archives from the apartheid era, though this could be rewarding. Many of the photographers from that era are not represented by galleries so their works would have to be acquired directly, which could lead to some interesting conversations. However, as many photographers from that era - and now to some degree - often produced discrete narratives or series, it is worth acquiring a few, as so often a single image doesn't tell the full story. A suite of photographic images is also likely to have more value in the secondary market. 
However, there are so many different sub-strands of photography that could get a collector thoroughly obsessed such as images documenting performance art. This function has loomed large at two survey exhibitions at the Zeitz Museum of Contemporary African Art in Cape Town dedicated to the work of Senzeni Marasela and Tracey Rose. Without a camera, these two artists would not have had much of an audience.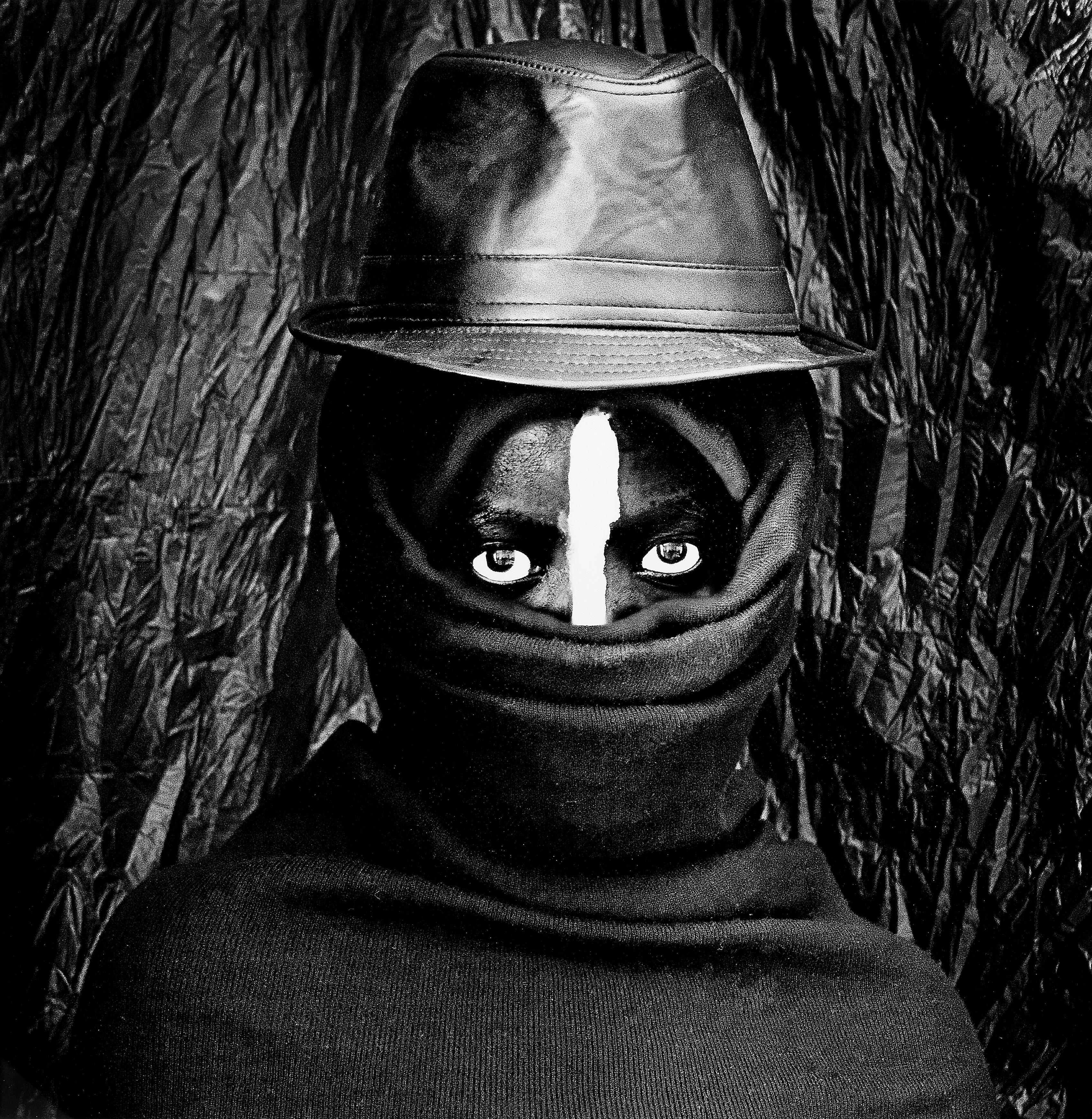 Zanele Muholi, Isililo XX, 2014
The blurred line between fashion photography and art could also present another collecting strand worth pursuing. At last year's Photo London there were some works by African artists working with photography that met this bill – such as images by Thandiwe Muriu and David Uzochukwu. Bright pop colours seem to define this sort of photographic practice, which in some ways seems to play to expectations of an African aesthetic. Perhaps the bright colours, flat patterns and pop vibe are a refreshing counterbalance to the heavy black white images of impoverished, overpopulated, African city scenes that continue to circulate in the West.  


- Mary Corrigall is a Cape Town based art advisor, journalist and independent researcher