Is Isshaq Ismail the next Amoako Boafo?
---------------------------------

El Anatsui, Revelations, 2021, aluminium bottle caps and copper wire
The results from the March auction sales dedicated to African art in Europe are in, and they reflect confidence in contemporary art, with young artists driving a speculative gaze.
Is Isshaq Ismail the next Amoako Boafo? It is not simply that this artist also hails from Ghana, but his works are drumming up a storm of money on the international auction circuit with works being sold at Christies, Philips and Sotheby's for figures that are sometimes 700% over the estimates set for them. 
His practice appears to be focused on portraits, or at least those are the works valued at auction. That said, he embraces a particularly expressive and individual style. Works by Ismail did well at the Sotheby's dedicated African contemporary and Modern sale in London yesterday (22 March) with three works fetching well over the high-estimates set for them and new records being set. Nkabom 2, an acrylic on canvas work depicting two heads, fetched £277 200 (R5,4million).  
He was, however, one of only a handful of contemporary artists gaining such high figures across all the March African auctions held in Europe this month.
With Bonhams and Sotheby's and Paris-based Artcurial all staging their African contemporary and modern sales in March, it has become an important month for collectors focussed on this market. The results of these sales are indicative of what tastes in African art are guiding the international secondary market in Europe and, more generally, confidence in the African art market. Of course, the absence of auction houses on the African continent where there is a strong level of art production (Nigeria, Ghana, Ethiopia) also means these sales are determined by collectors in or of African descent. In this way the results of these auctions over insight into where the global and local interests intersect.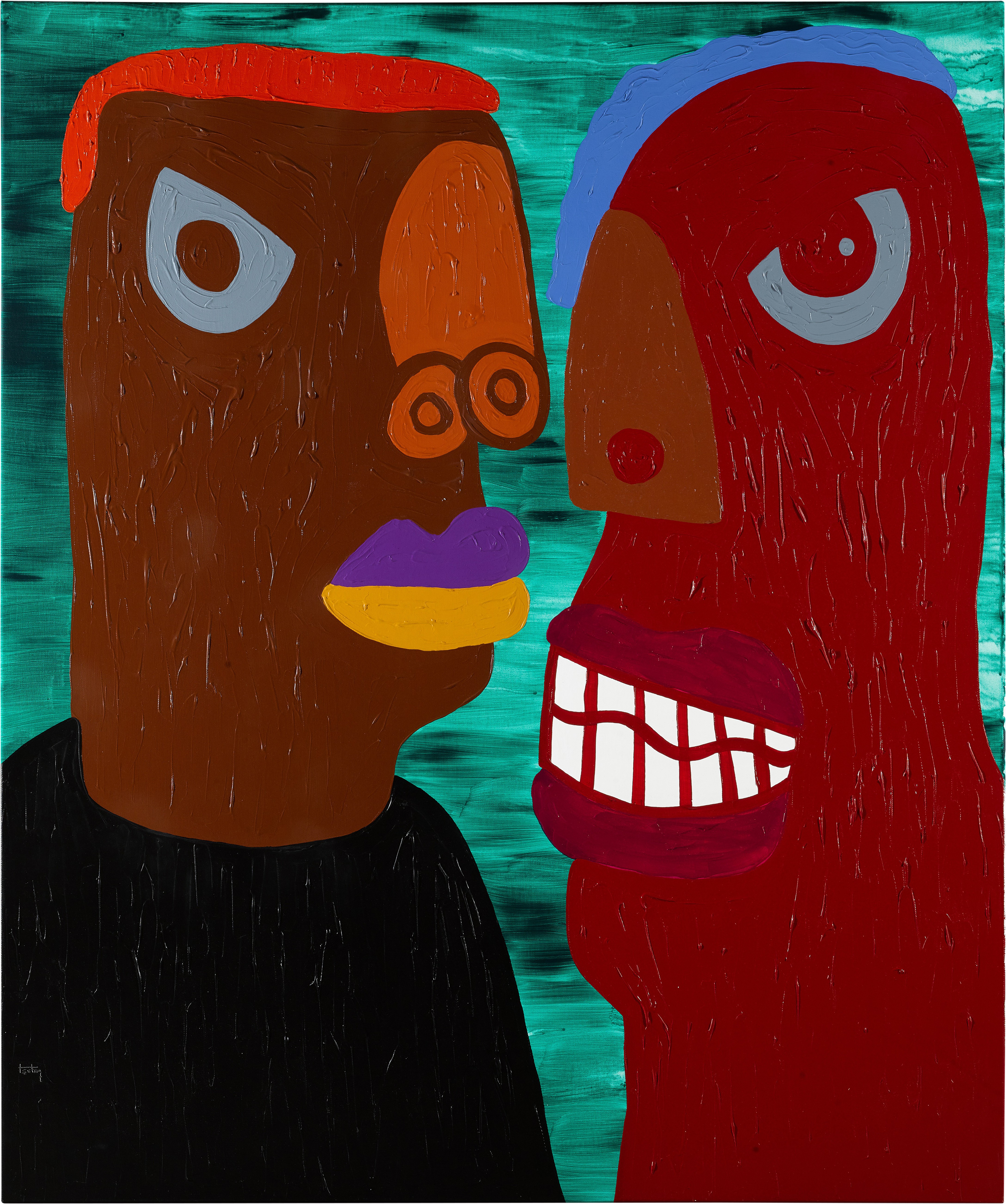 Isshaq Ismail, Nkabom 2, acrylic on canvas

One of the striking features that marked all these sales was a noticeable absence of high-valued modernist works. There were a few sellers hoping to cash in on the recent death of Yusuf Grillo, the acclaimed Nigerian artist who was taken by Covid-19 late last year. Bonhams may have set a record for the artist with Dancing Bride, which achieved over double its high estimate at £350 000 (R6-million). Largely, however, the high-achieving works were produced by contemporary artists. 
Aside from Ismail, works by Aboudia (Abdoulaye Diarrassouba) the young Ivorian artist whose been lapping up all the auction attention across the globe with his characteristic urban art head motifs, are still finding traction in the African art market. Any artists boasting high figures at Christies are going to do well on these dedicated sales, which are somewhat like boutiques for those with an interest in this niche market or are looking to 'internationalise' or 'diversify' their collections, as per gallery parlance. 
There are those too, looking to make a quick buck. Sadly, the market for African art on the global stage is often driven by speculation. Just last year, the auction houses couldn't hold onto a work by Otis Kwame Kye Quaicoe, also a Ghanian artist keen on portraiture, yet both works offered by Bonhams earlier this month did not exceed the high estimates set for them. Works by Oluwole Omofemi, the Nigerian artist known for portraits of women with exaggerated hairdos, also scored higher figures than expected in the London sales. However, generally, only a handful of artists' works are doing so. Are the auction houses being too bullish with their figures, or are buyers feeling shy in the face of another impending catastrophe in Europe that the war in Ukraine has triggered?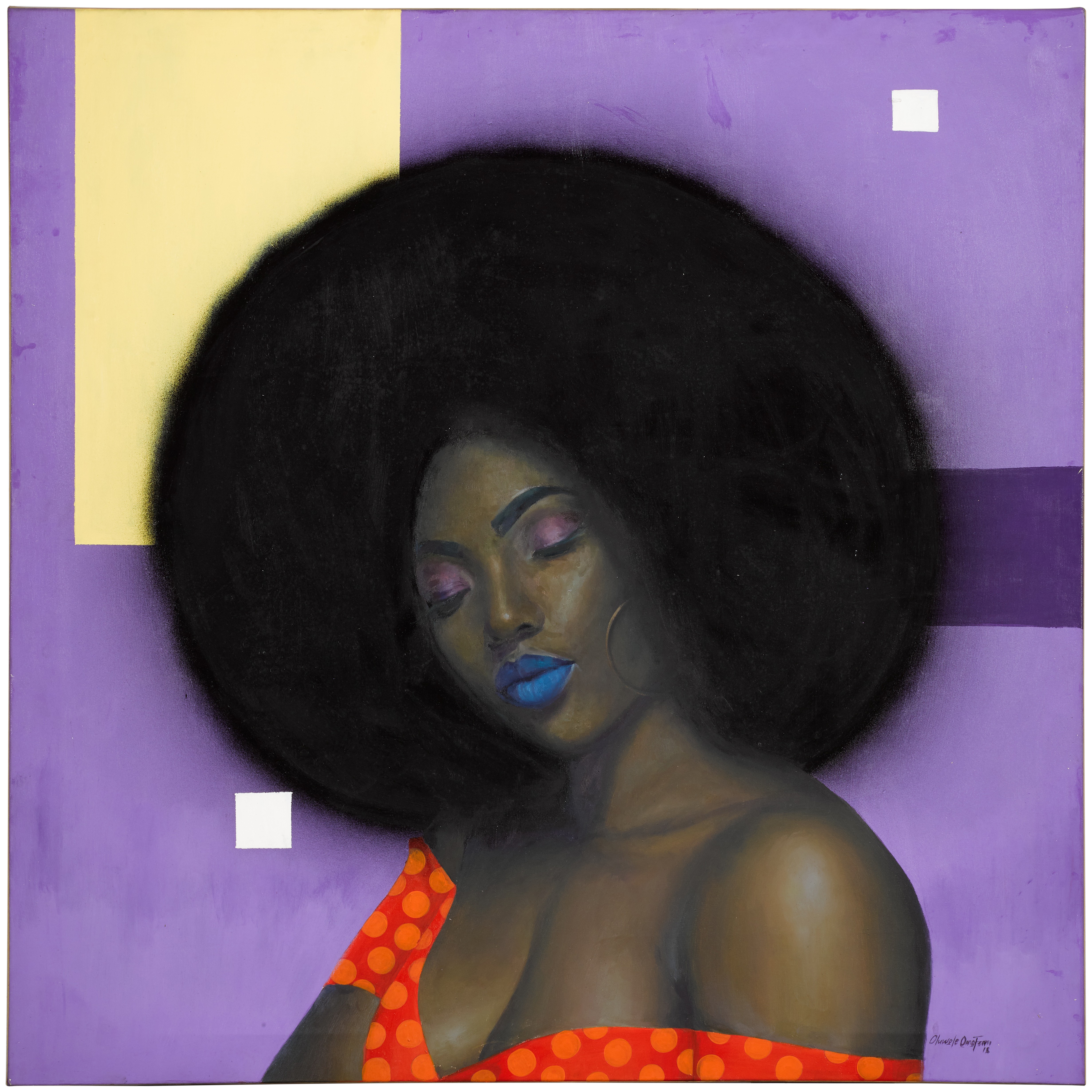 Oluwole Omofemi, Untitled, oil and acrylic on canvas

All in all, the Sotheby's sale was the most successful, however, they tend to secure the highest turnover. The good results may have been down to the fact that 25 works were donated to raise funds for the CCA Lagos, a non-profit art centre in that African city established by the late Bisi Silva. The sell-through rate was almost 80%, which is becoming an increasingly unlikely result in the African art market, where last year European sales dedicated to this category (across all markets including Africa) was on average 63%, according to Corrigall & Co's 2020/2021 African Art Modern Contemporary Auction report.     
As such it wasn't too much of a surprise that the sell-through rate of the Artcurial's Africa online sale last week was hardly high, at 56%. This French auction house, which only previously conducted a sale of African art in Morocco once a year, is slowly building the market. In March last year they opted for a sale dedicated to artists from the so-called Hangar School, which was a great success. Artists from this period and producing work in this style such as Pilipili Mulongoy and Mwenze Kibwanga, were included in this sale but unlike last year's, none of the works fetched figures above the high estimates set for them.
The three artists' works that performed well on the Paris online sale were produced by Aboudia, Médéric Turay and Cyprien Tokoudagba. Two of the works by Aboudia (from the Baramôgô series) were made over a decade ago – largely the works that come to auction are recently produced. It was refreshing to see more earthy tones and collaged elements, and while head motifs can be detected in the works they are less defined, more varied. He hadn't found his signature yet, so it is interesting to dial back and see how he developed it. 
Few could have predicted that Turay's Club 27 would do so well on this auction, though his works have done well at other Paris sales conducted by Piasa. This multimedia collage work, depicting singers and artists who died at the age of 27, set a record for this artist, who fortunately has lived beyond the age of 27 (fetching €34 000, or R555 000) . 
Bonhams sale, which unlike the others was conducted live (and online), enjoyed a fairly robust sell-through rate of 69%.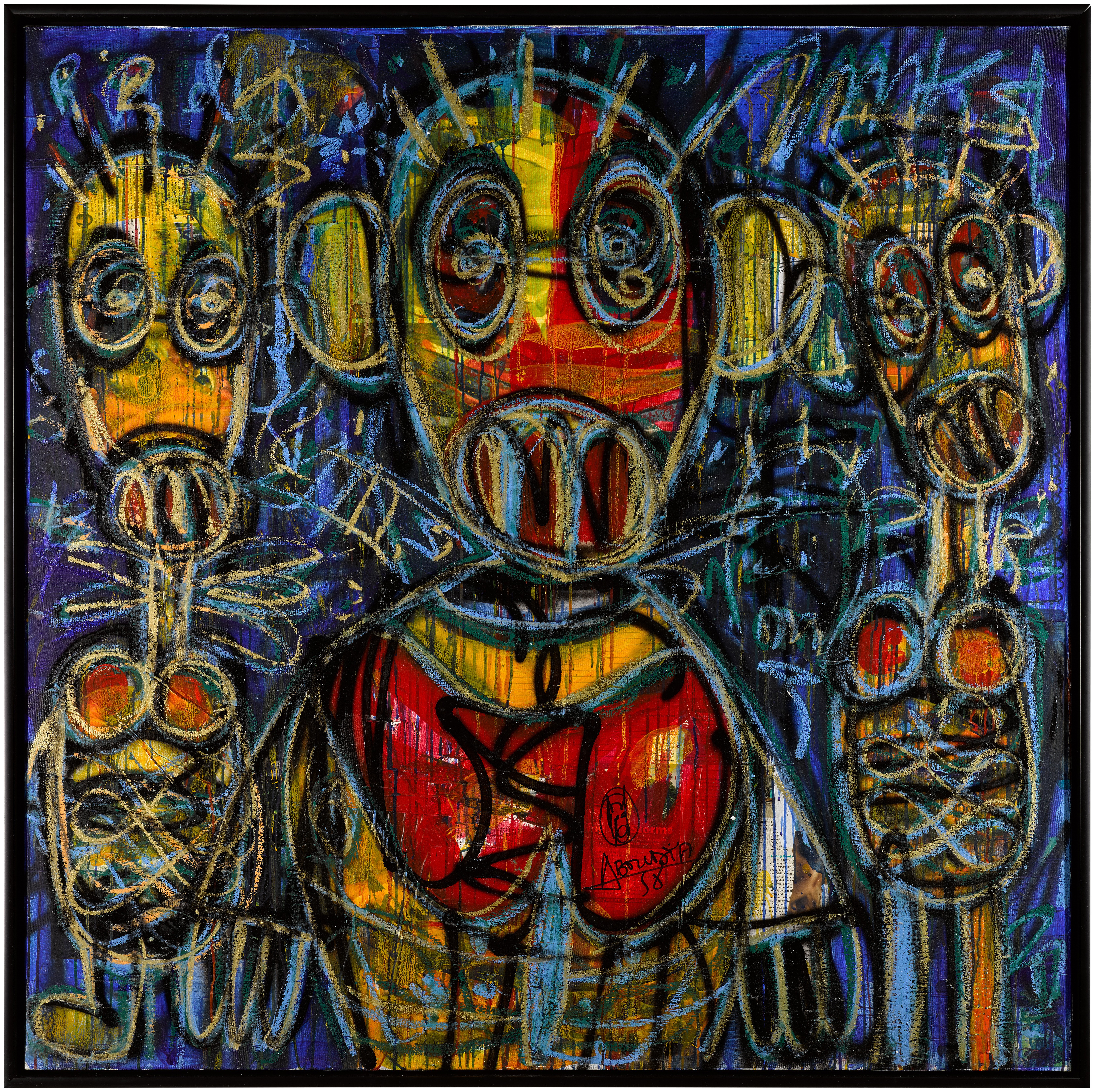 Abdoulaye Aboudia Diarrassouba, Untitled, mixed media on canvas

All four works by Aboudia exceeded the high estimates set for them. An Untitled work from 2016 set for £60 000 sold for £237 000 (R4,6 million). It was rewarding to finally see a good result for a work by Ibrahim Mahama, the Ghanaian artist known for working with disused sacks. Typically, his works don't sell, but that may be down to insignificant or 'incomplete' works coming to auction - read scraps of his jute materials. Mahama's Kawokudi, created 2013, which encompassed an entire installation, fetched a healthy £22 000 (R432 000). 
Receptiveness to Mahama's work, as no doubt is the case for many African artists working with disused materials or hanging textile works, rests with the pioneering Ghanaian artist El Anatsui. Naturally, works by this artist come up on London auctions dedicated to this category frequently, but we are more used to seeing his earlier carved wooden panel works than his rambling bottle top ones that he has become so famous for. As such it was exciting to spot the work, Revelations, on the Sotheby's sale. As similar works – in terms of medium and size – have fetched over £1million (R20million) it was hoped this one could too, particularly given it was made by the artist to raise funds for the CCA Lagos. Silva had dedicated much time to writing about and curating works by Anatsui, so this work was the artist's way of paying tribute to the acclaimed Nigerian curator and her work. It ended up fetching £693 000 (R13,6million), which should go a long way to ensuring the longevity of that essential art centre.  
Corrigall is a Cape Town-based art consultant, journalist and independent researcher.
All figures quoted in this story are those released by the auction houses and they tend to include the buyer's premium.