Curators at art fairs: disruptors or validators?
- By Mary Corrigall
--------------
Alberta Whittle, In tidal movementations she carves out memories, 2022, featured at 1:54 curated exhibition by Caryl Ivrisse Crochemar
Curators were always going to be absorbed into the art fair fray. This became inevitable from the mid-nineties to the mid-noughties when art fairs mushroomed around the world and overtook the prominence of Biennales as the primary events for the public to peruse contemporary art. Given curators have customarily operated in the institutional and non-commercial sides of the art world, their interventions or roles at art fairs are somewhat viewed as either part of the branding and hype or as mildly interesting flirtations with the art market. However, in reality, perhaps art fairs are most in need of curatorial nous given the volume of artworks that surface at these events but also the fact – particularly in a South African context where some fairs attract more visitors in a day than a public or private museum can in six months. 
Nevertheless, it is difficult if not impossible to marry the curatorial act with commercial imperatives, given dealers need to make sales to recoup the costs of participating and staying in business. Of course, that depends on your definition of curating or a curator – perhaps many are acting as glorified 'selectors' as per the language Frieze employs in framing the activities at their fairs that require outsiders to steer a section. Given the ideological crisis museums are currently facing with collections that are 'questionable' (in how they were acquired or are produced by white men) and the fragility of their business models, which the Covid-19 pandemic laid bare. In this context perhaps the art fair can or does provide a space for more current conversations without dealing with institutional baggage. When curators are involved in overseeing sections of art fairs they can add 'diversity' - the content isn't purely determined by commercial forces. 
In the African, South African context, where our public institutions are underfunded and rarely drive compelling curatorially driven exhibitions and our private institutions tend to concentrate on survey shows featuring one artist, galleries have become the central 'validating' forces in our art market, rendering our art fairs as our most prominent 'institutions' of a sort. Some high-profile African curators – from Simon Njami, Koyo Kouoh, Tumela Mosaka, Azu Nwagubugu to Zoë Whitley – have, in lending their names to various art fairs in this country and 1-54 Contemporary African Art fairs – bestowed on them a level of art world 'credibility' while due to their far-ranging knowledge introduced more Pan-African conversations that don't take place elsewhere. 
Besides, many spaces considered to be non-commercial such as biennales have increasingly been underpinned by commercial interests due to relying on art dealers to finance the artworks. Hence the seemingly radical attempt to reengineer the latest edition of Documenta via a collective from the global South who might presumably have no links to the European art market.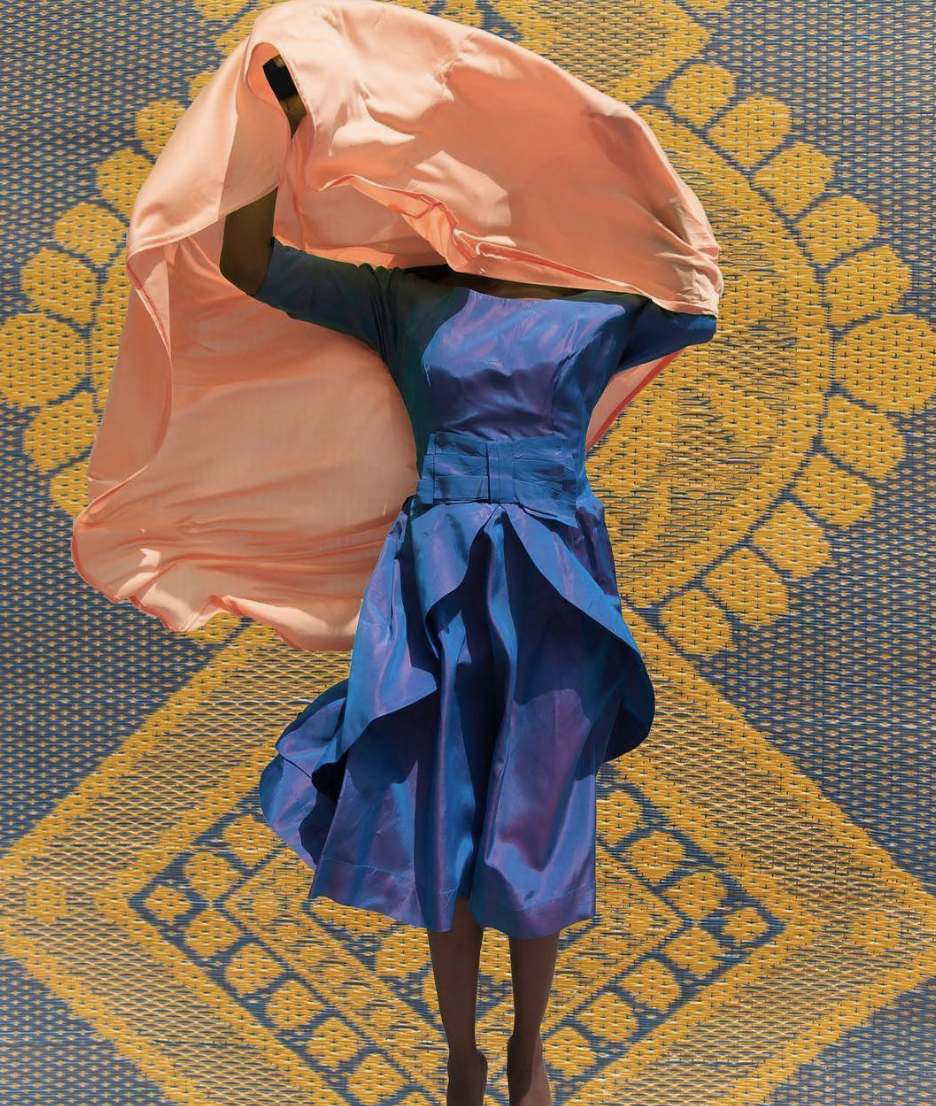 Veil In Peach, Medina Dugger,  for Investec Cape Town Art Fair 2019, TOMORROWS/TODAY curated by Tumelo Mosaka, courtesy Art Twenty One
In the South African context, where the second and last Joburg Biennale took place in 1997 until the Stellenbosch Triennale was established in 2020, the art fair was viewed as an 'alternative' to the biennale with regards to a large art event that would entice the public to view art outside art gallery or museum contexts. This perception (however, misplaced) perhaps paved the way for curators and a curated show to be a necessary part of art fairs in Joburg. In Njami's text for his show, As you like it, at the first Joburg Art Fair in 2008, he attempts to draw a connecting line between the way museums and art fairs 'validate' objects and influence their "mysterious journey". 
"What are the forces that make that same object, whether seen in the halls of a museum or exhibition for sale, take on a radically different nature on the stand of a renowned gallery owner?" he asks. 
The presence of a curated exhibition at an art fair, he insists disrupts the art fair system. Perhaps this why over time the curated shows at the FNB Joburg Art Fair (now called FNB Art Joburg) became smaller and more peripheral. In 2017, to mark ten years, Whitley presented Truth or Some Other Abstraction, which primarily presented historical works. However, it was probably hard for this small collection of works to compete with the cacophony of contemporary expression that demanded attention. Many would argue that the art fair setting does little to facilitate the kind of considered viewing that a properly curated stand would demand.  
Early editions of big name art fairs – such as The Armory in New York – were defined by more experimental work that evoked museum or biennale settings, observes Melanie Gerlis in The Art Fair Story: A Rollercoaster Ride.
"It was young, new and daring," recalls Gerlis of an edition of The Armory in the mid-nineties. 
She has similar recollections of Frieze London in its early years when the organisers "were committed to commission new artist projects that seeped into the fabric of the fair and often questioned its very existence."
Gerlis doesn't attribute this vibe to any curators – in fact, the role of curators in the development of art fairs – is glaringly absent from her book, which is telling.
It is interesting to observe the different approaches these fairs currently adopt towards curators and 'curating.'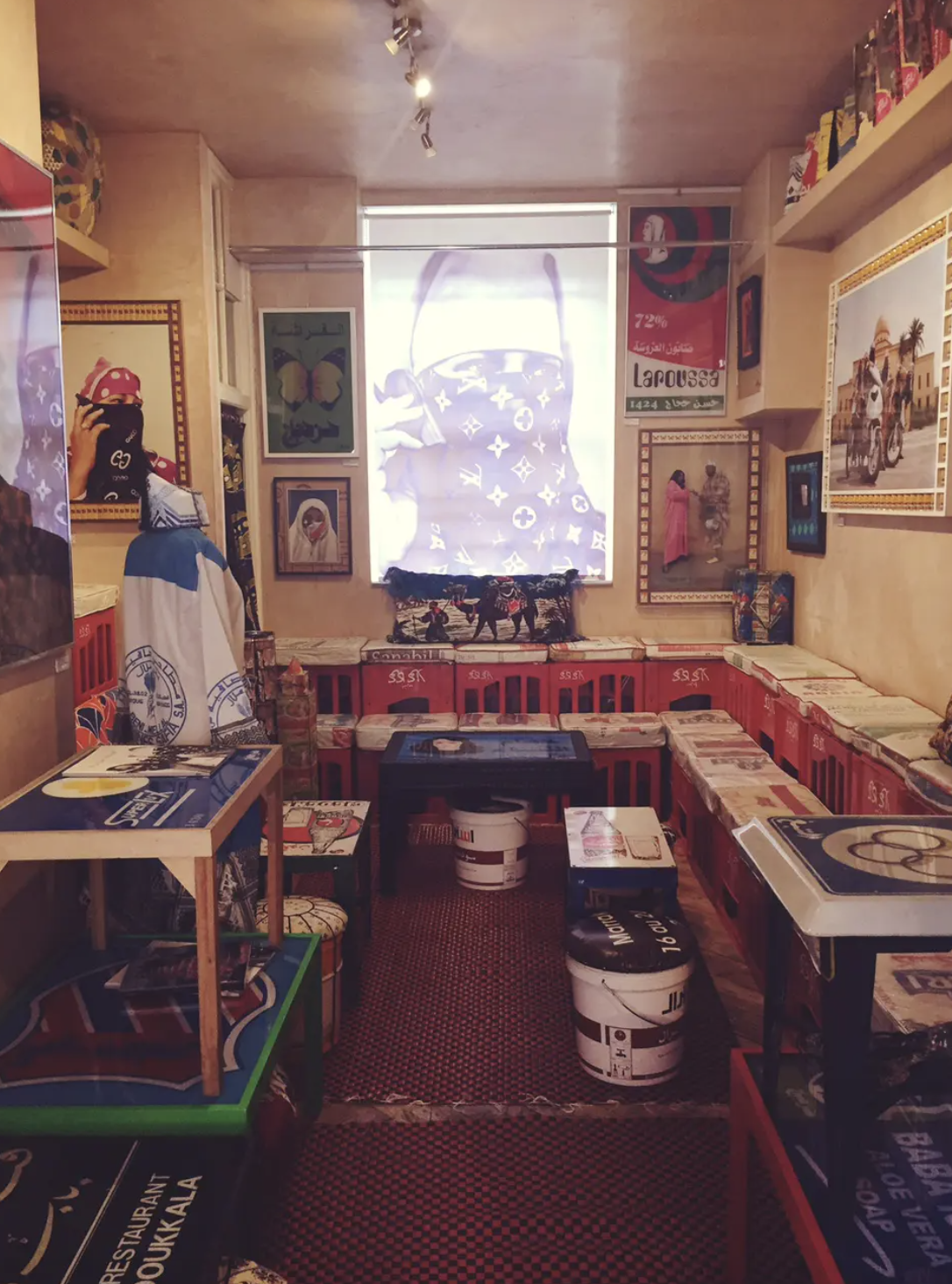 Hassan Hajjaj - Larache Studio, 'Le salon', 2015, Mixed media installation, Courtesy of Larache Studio, for 1-54's FORUM, 2021
Frieze London, has invited different high-profile individuals to have a hand in specific areas of their programming, but are careful with regards to the kind of language they use. For example, words such as "selects" and "selections" or "steered by" are used where you could imagine – particularly in the South African context the term 'curates' might apply. 
In contrast, The Armory Show, which will take place in New York in September, has foregrounded on their website and in some of their marketing the curators tinvolved in that edition – for the Platform and Focus sections and the Curatorial Leadership Summit. They are all women - Eva Respini, curator at the ICA/Boston, Candice Hopkins, curator at the Forge Project, and Adrienne Edwards, from the Whitney Museum. It appears as if the organisers are leveraging this team to align with institutional shifts – in advancing women and the female-centric view that is currently shaping curatorial conversations. There is some recognition therefore that if you leave the selection of art to artists to commercial forces, diversity is unlikely to occur. As such often black, African-born or female curators are preferred choices. 
Curators are often relied upon to identify artists and new dealers from young galleries or countries in the global South. The benefit is that the selections are guided by someone with specialised knowledge. 
Take ArcoLisboa which has regularly appointed Angolan curator Paula Nascimento, to select the African dealers for the Africa in Focus programme at that fair. In appointing her in this role, the organisers can better package the presence of African dealers at this fair. 
Nascimento used the opportunity to ensure that the African galleries were not part of "any exotic niche, nor to give a different kind of highlight and to make this program fully integrated at the fair."
Curating a group exhibition of artists from a particular region was also the task of Caryl Ivrisse Crochemar for the last edition of 1-54 New York when he was tasked with bringing together works by Carribean artists.
At the recent edition of RMB Latitudes Art Fair, Nkhensani Mkhari, a new curator on the scene, curated group shows, drawing from works produced by a generation of young emerging artists. Fresh from studying curating he applied ideas raised in his course.
"My curatorial strategy in approaching the special projects for the fair was inspired by research I've been doing into gestural syntax in material cultures from various African countries. I'm interested in what the women are bringing to the table...with their work challenging conventional modes of communication."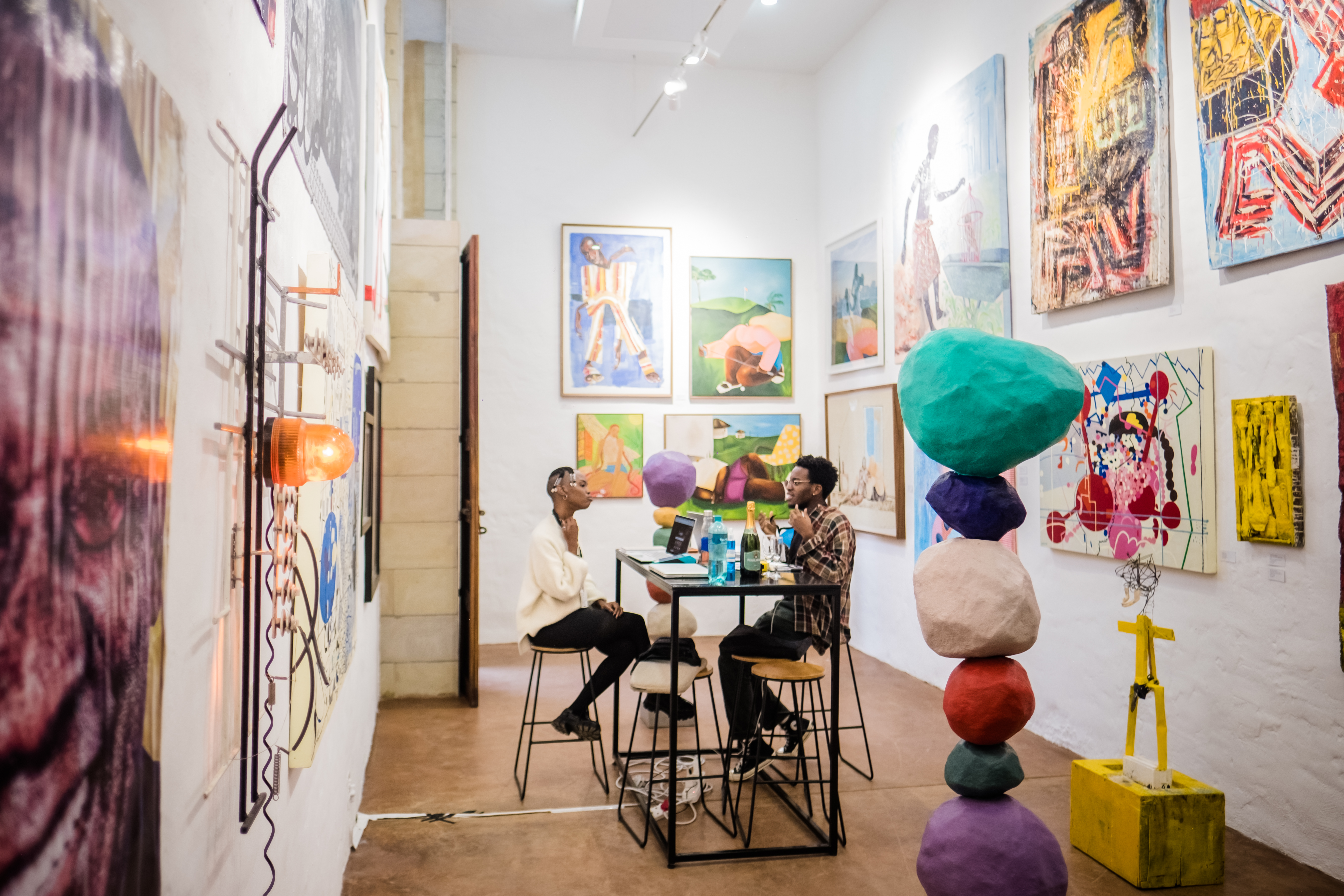 INDEX, exhibition curated by Nkhensani Mkhari at RMB Latitudes 2023, Photo creds: Alexander Smith
As curators are interested in texts and dialogue they are regularly employed to curate talks at fairs – Nascimento did so at ArcoLisboa, as has Kouoh for the 1-54 Contemporary African Art Fairs. In introducing her programme she observed one year that – she takes care of the "mind business" while the dealers on the floor take care of the "money business". Given Kouoh hails from a business and financial background – she doesn't appear to have ever studied art history – she suggested that these two areas are "not incompatible" despite the fact she is "not interested in the art market or how it works." Kouoh was also described as the 'artistic director' of 1-54.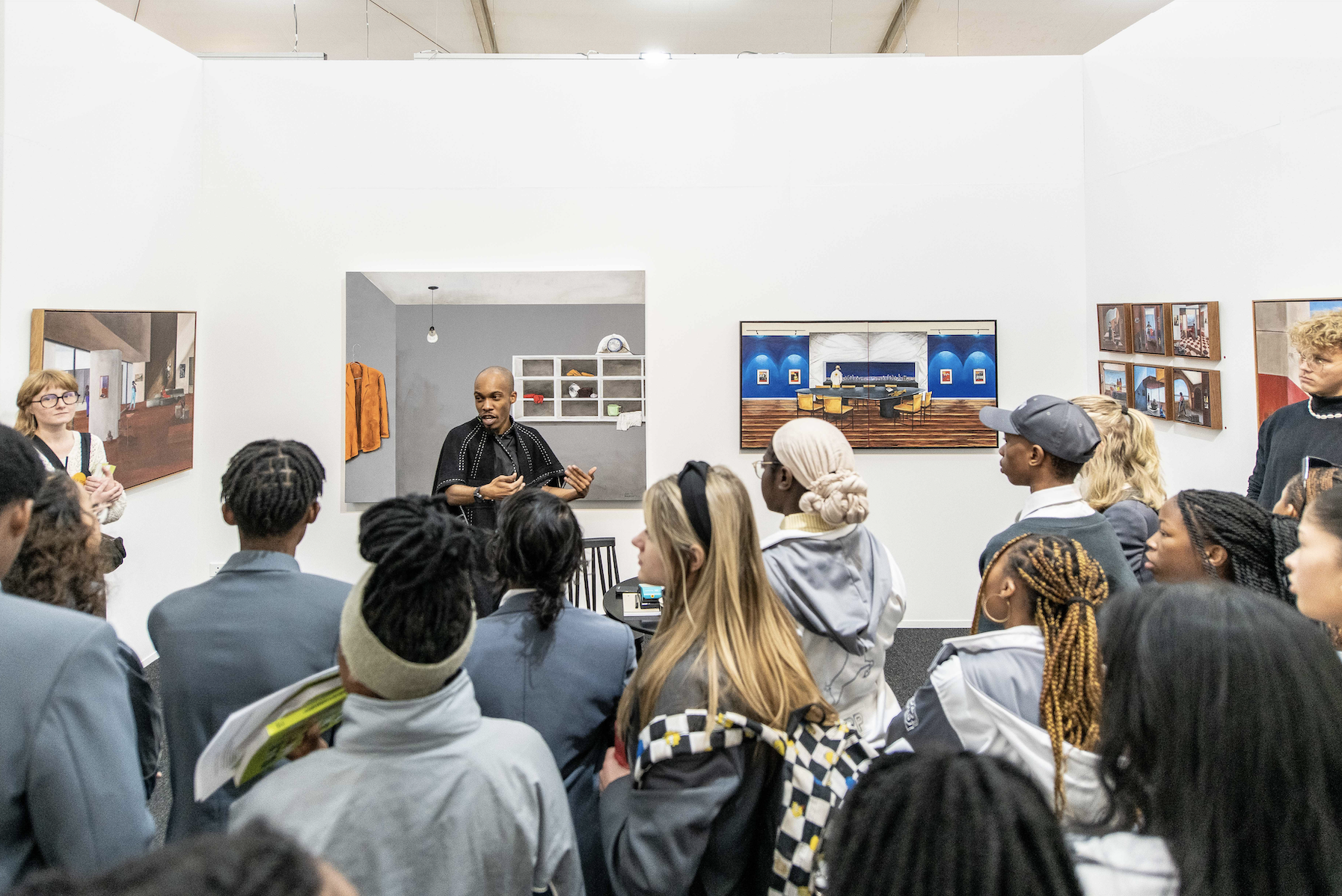 Nkhensani Mkhari at RMB Latitudes 2023, photography by Anthea Pokroy
Kouoh doesn't believe that there should be hard lines between different segments of the art ecosystem – particularly in the African context. 
"Many hardcore museum curators like to distance themselves from the art market. They pretend to be apart from it, yet at the same time they are also aware of the influence of the market. So my question always is: "If we are all to serve art and artists from various perspectives, why is it that we create so much exclusion?," observed Kouoh in an interview with András Szántó for his book The Future of the Museum: 28 Dialogues (2020).
The role of the curator is undoubtedly shifting. In a conversation with Szántó one of the world's most renowned curators, the Swiss-born Hans Ulrich Obrist suggests that "Given the genealogy of violence and injustice that is now widely acknowledged… museums have to unlearn the practices and behaviours that emerged from this condition and seek to build anew along antiracist and decolonized lines… at art fairs curators are not speaking back to a systemic injustice," he concludes. 
After Tumelo Mosaka, the South African-born curator who left the country in the late nineties to study and work in the US, was appointed the "lead curator" at the Investec Cape Town Art Fair in 2017 he suggested that the primary goal of curating is to engage the public, societal issues, an overlooked topic, and commission, challenge and exchange ideas with artists. In truth his impact on this event was difficult to perceive, if at all, barring the establishment of the Today's/Tommorrow section, which identifies overlooked artists and awards one of them. He said at the time that he had a preference for commissioning art that responds to a brief of his design, yet perhaps this only manifested in low-key performance works that took place at the fair. 
In this way prominent African curators are aligned to fairs but have little noticeable impact on them, however, this is often due to the nature of the roles they take on, which are sometimes limited to a special project or in an advisory capacity in which there is little latitude to apply their core skills.   
WonderBuhle Mbambo, 'Another Strange Dream', 2021, acrylic and metallic paint, 2180mm x 1450mm. Courtesy of BKhz
For some time curator Azu Nwagubugu was part of the selection committee for the Also Known as Africa Art Fair (AKAA) that takes place annually in Paris. He also was called upon by Latitudes to serve as a project advisory member. Curators such as Nwagubugu are ideal for these kinds of roles as he is not only viewed as independent but also has a wider knowledge about the kinds of developments happening in African art not only in Lagos but in the diaspora. Independent curator Armelle Dakouo, who has been involved in the Congo Biennale, serves as the artistic director for AKAA. This role perhaps entails dreaming up special projects. Ultimately, arts organisations that stage events should have an administrative and an artistic director, as there is often a clear separation between those that know how to manage an event successfully and those that understand art and its higher purpose. 
On the African continent where there is an absence of opportunities for curators, many of them have had to straddle the line between the work of "the business of the mind and the money", as they often have to create their own platforms such as Nwagubugu – who established the LagosPhoto Festival – or Kouoh with Raw Materials in Senegal years before she was appointed the director of the Zeitz Museum of Contemporary African Art. In this way curating on the continent has entailed institution building – not necessarily driving discussions about art or commissioning artists, which is why many African curators tend to leave the continent to pursue careers elsewhere. For those that remain here, they make the best of opportunities that come their way.
- Corrigall is a Cape Town-based commentator, advisor and independent researcher