Contemporary Art for your Zodiac Sign
Hopefully our suggestions ring true, or at least bring some light amusement. Which we could use right about now!
Art has never been a career that one gets into for the stability. It's more often than not an urgent calling that can't be ignored; a destiny that requires self-belief, discipline and a lot of luck. And thankfully for us all, artists heed the call and bring beauty, emotion, self-reflection, healing and new perspectives into our lives. That's why it's imperative to support the arts.
Inspired by a career choice that seems written in the stars, this week we're looking to the skies and beyond to bring you horoscopes for art-lovers. Hopefully our suggestions ring true, or at least bring some light amusement. Which we could use right about now!
As ever, click wherever you see 'ENQUIRE' to find out more about the artworks that interest you.
Featured artwork: Serge Diakota Mabilama, Unusual Realities series, 2020. Mixed Media on Board. Size: 30 x 40 cm. Price: R 7,500. Presented by Eclectica Contemporary. ENQUIRE.
THE 12 SIGNS OF THE ZODIAC
TAURUS (THE BULL)
It's all about texture for your luxe taste. Without a doubt your medium is tapestries, preferably in golden thread.
Justin Dingwall, TORERO V, 2020. Giclée print on 100% cotton fine art paper. Signed, edition numbered. Edition: 12. Size: 42,0 x 29,7 cm. Presented by ARTCO. ENQUIRE.
GEMINI (THE TWINS)


You don't mind the medium, you're more interested in the artist and what they were thinking the exact moment when brush met canvas. You'd be the perfect audience for an artist walkabout. Find out if there are any in your area.
Olivié Keck, Dream Dunes, 2020. Acrylic on Board. Signed on reverse. Size: 71 x 48 cm. Price: R 40,000. Presented by 131 A Gallery. ENQUIRE.
CANCER (THE CRAB)
We'd offer photography as your medium as it speaks to the importance you place on human connection, but you'd have to tread carefully, as much of it might be too real for your tastes. Start with studio portraits and take it from there.
Moriarty&Balbás, We were not here, nor there. (From the series "Summer long distance performances"), 2020. Inkjet Print on Hahnemuhle Fine Art Baryta Satin Paper. Edition: 3 + 1AP. Size: 55 x 70 cm. Price: EUR 900. Presented by the artists. ENQUIRE.
LEO (THE LION)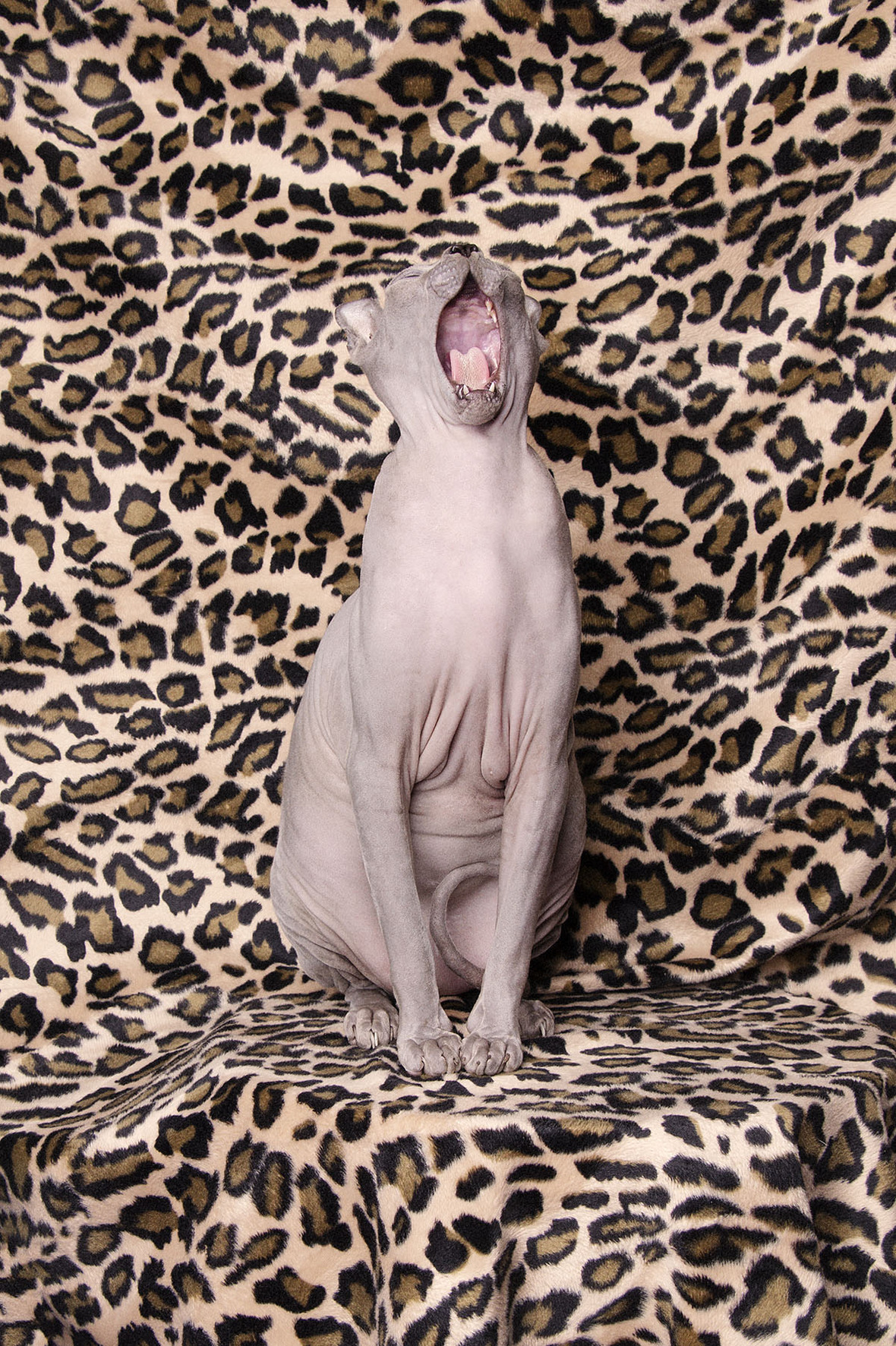 Your ultimate artwork is a mirror. But a good extension of your range could be self-portraits. Seek them out as studies for your own.
Koos Groenewald, Yawn, 2018. Photo Print on Archival paper or Diasec. Edition: 2/5. Price: R 1,950. Presented by Koooooos. ENQUIRE.
VIRGO (THE MAIDEN)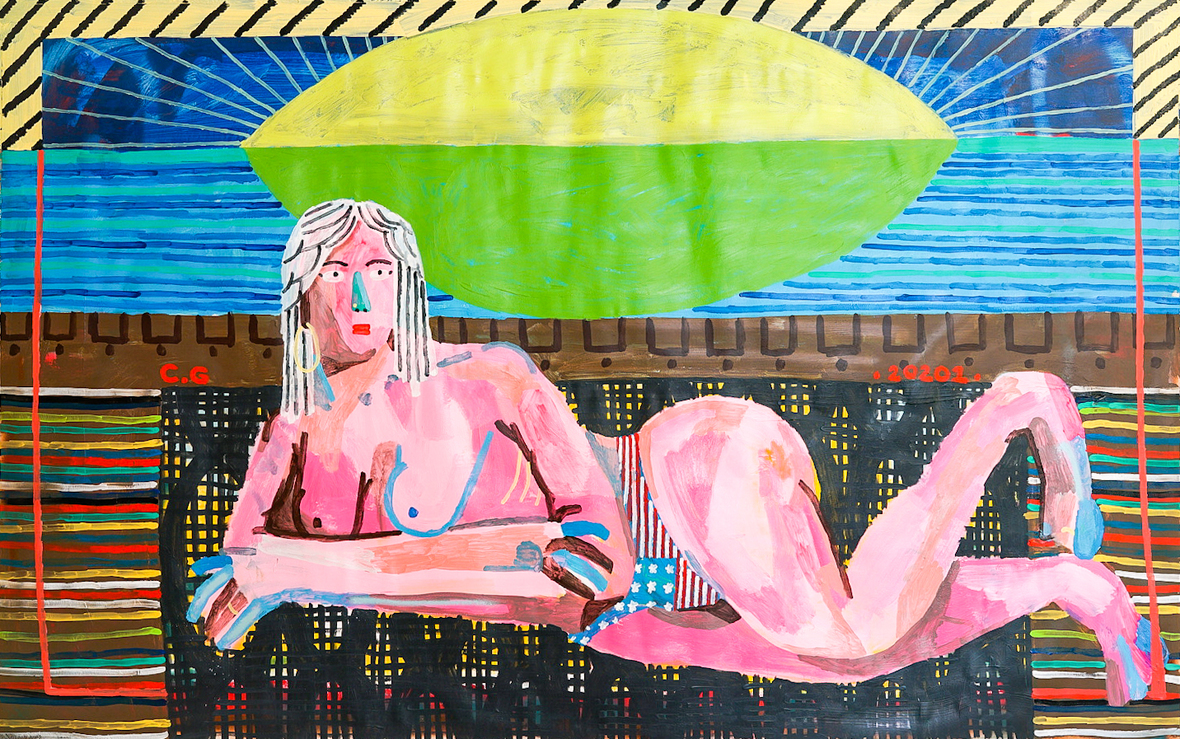 Everything has a place and you like things to be in theirs. Still life could bring immense calm to a disorderly world. As long as it's a good composition.
Callan Grecia, Reclining Nude After Dana & Jules, 2021. Acrylic and spray paint on Fabriano. Signed. Size: 100 x 150 cm. Price: R 13,000. Presented by KZNSA Gallery. ENQUIRE.
LIBRA (THE SCALES)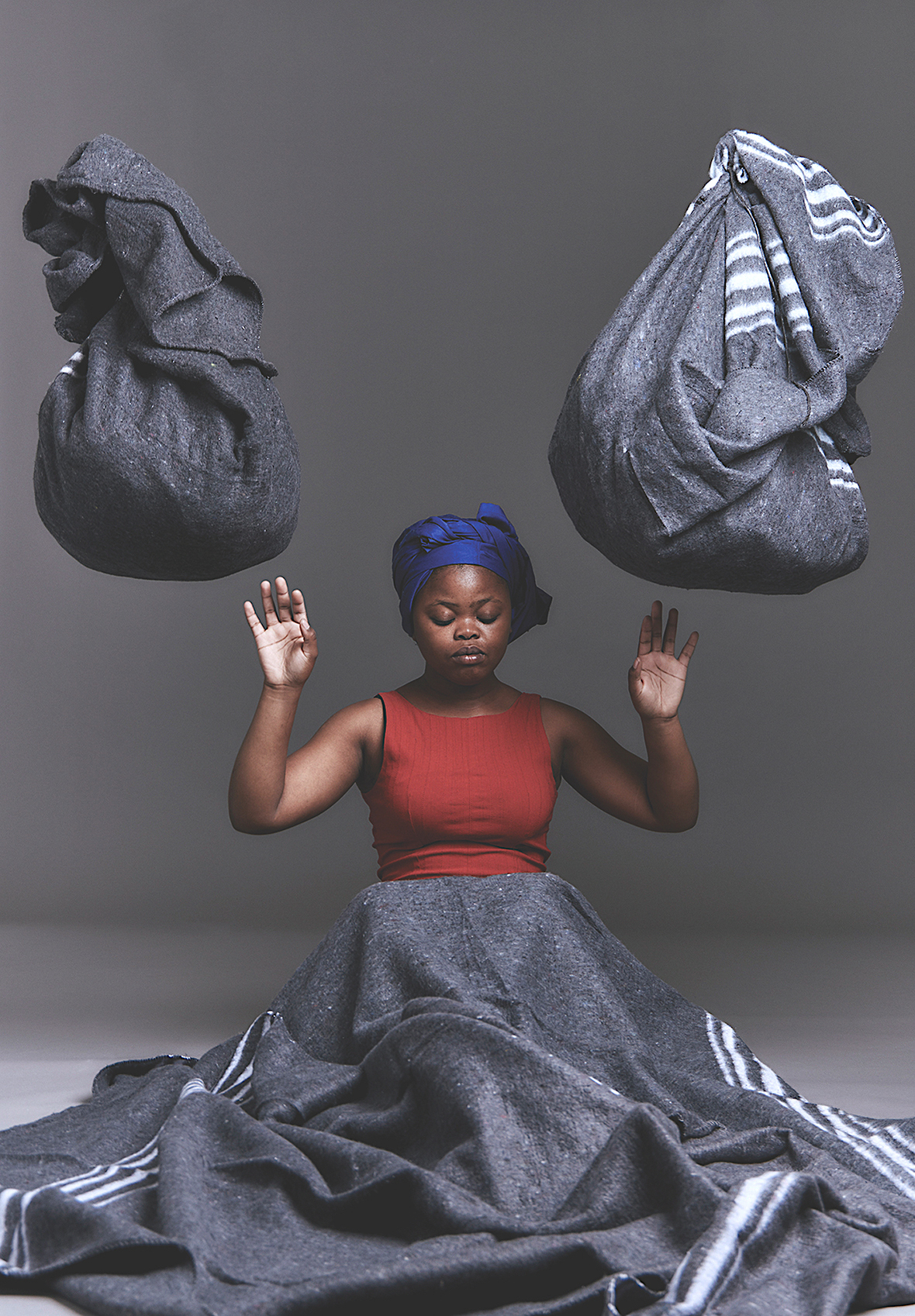 We have the cure for your terrible indecision. Look into mixed media.
Nobukho Nqaba, Undibikeza Kuwe II, 2016. Giclée print on cotton rag. Edition: 1/10. Sheet Size: 69.4 x 52 cm, Image Size: 59.4 x 42 cm. Price: R 7,800. Presented by Embodying H(I)RSELF. ENQUIRE.
SCORPIO (THE SCORPION)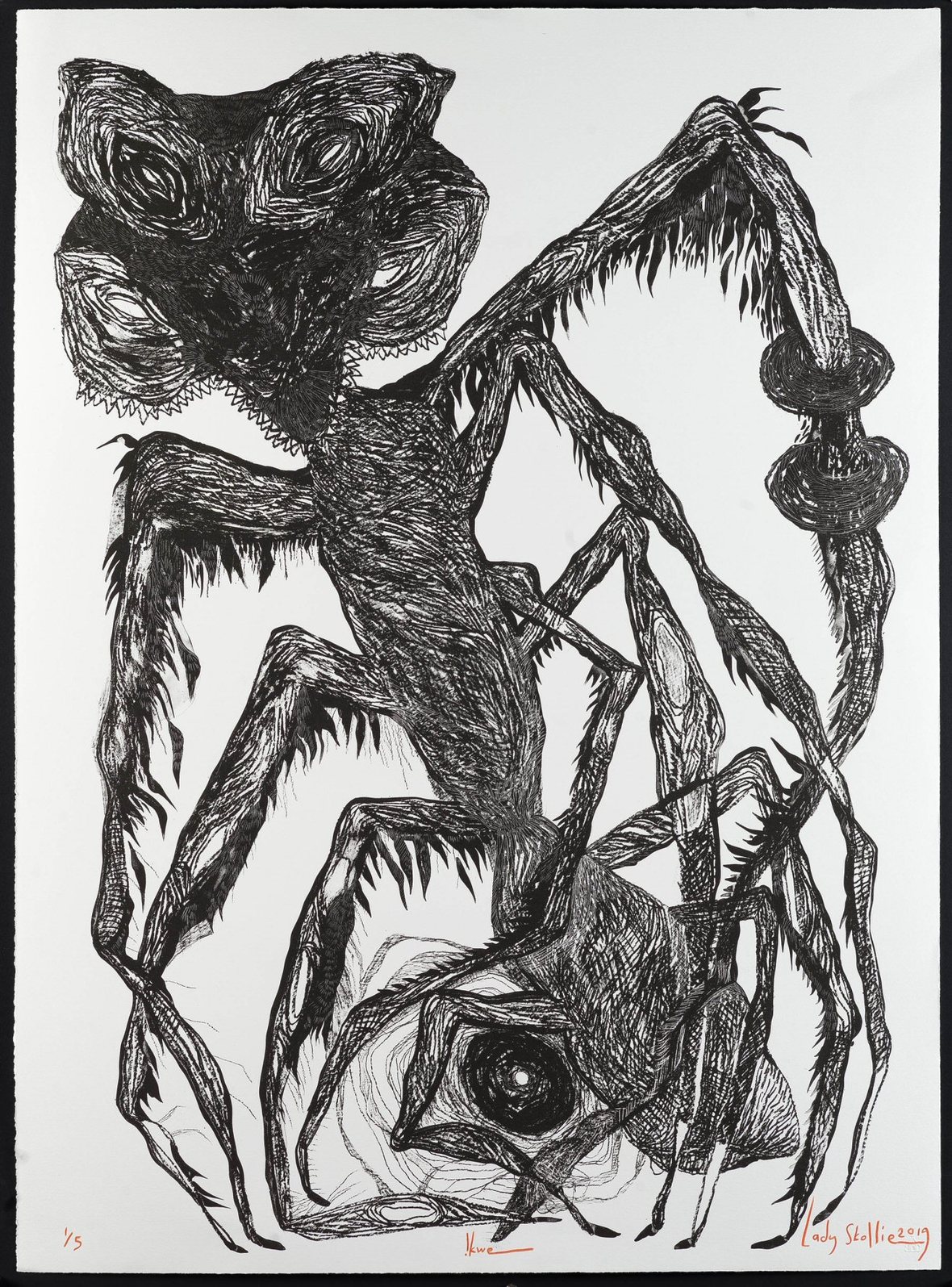 Your obsession knows no bounds but it also changes frequently. One month it's black and white photography, another it's German Expressionism. Keep an eye on new works on Latitudes to pique your interest.
Lady Skollie, Cagn Wearing And Protecting !Kwe, 2019. Lithograph. Signed and Dated. Edition: 1/5. Size: 102.5 x 75.5 cm. Presented by Everard Read Gallery. ENQUIRE.
SAGITTARIUS (THE ARCHER)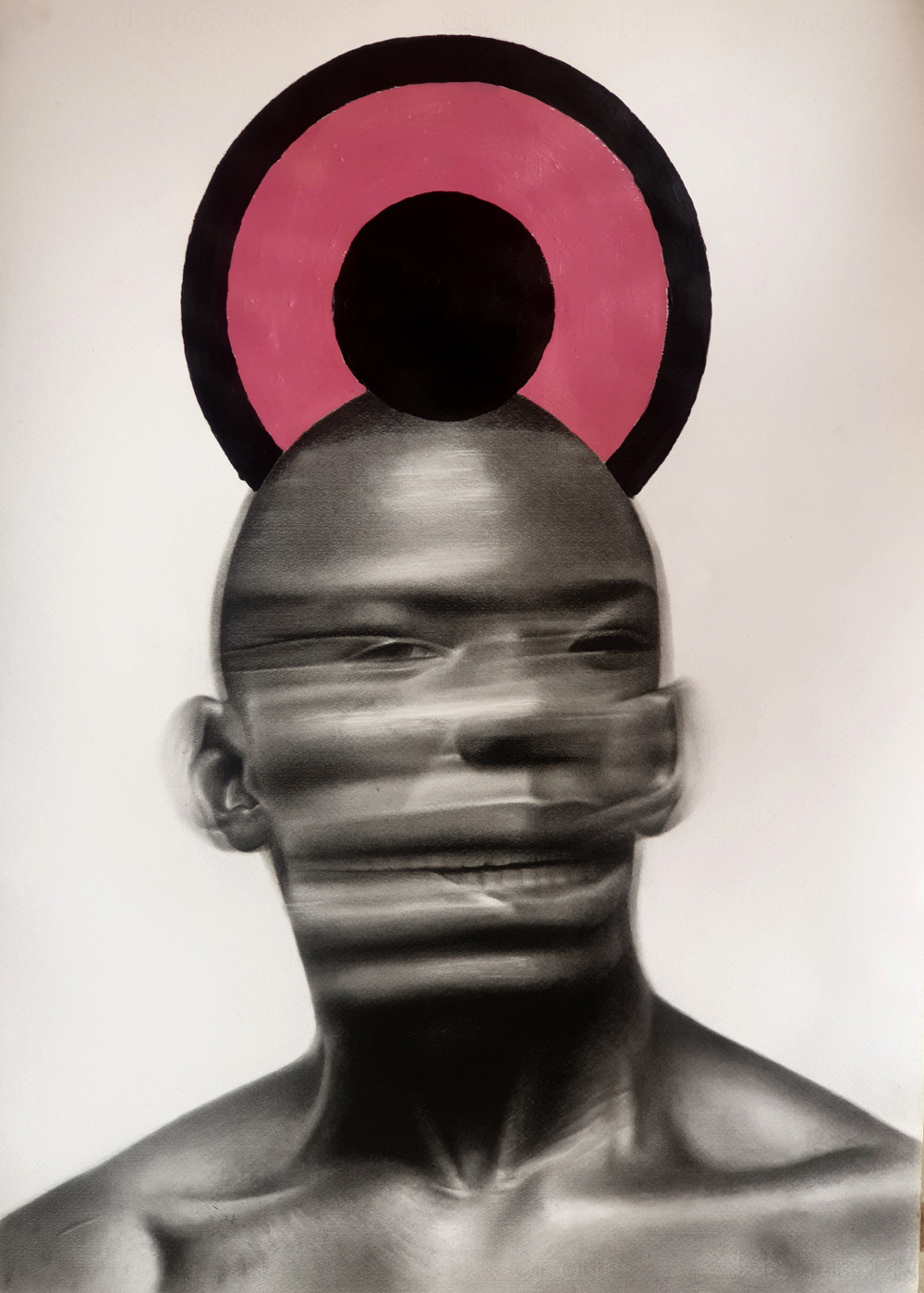 Your quick-witted mind gets a handle on most things, so not much can keep your attention. May we suggest looking into performance art? It may be the only thing to baffle you enough to keep you intrigued.
Talut Kareem, Cultured fear, 2020. Charcoal and acrylics on canvas. Signed bottom right. Size: 70 x 50cm. Price: USD 1,300. Presented by the artist. ENQUIRE.
CAPRICORN (THE SEA-GOAT)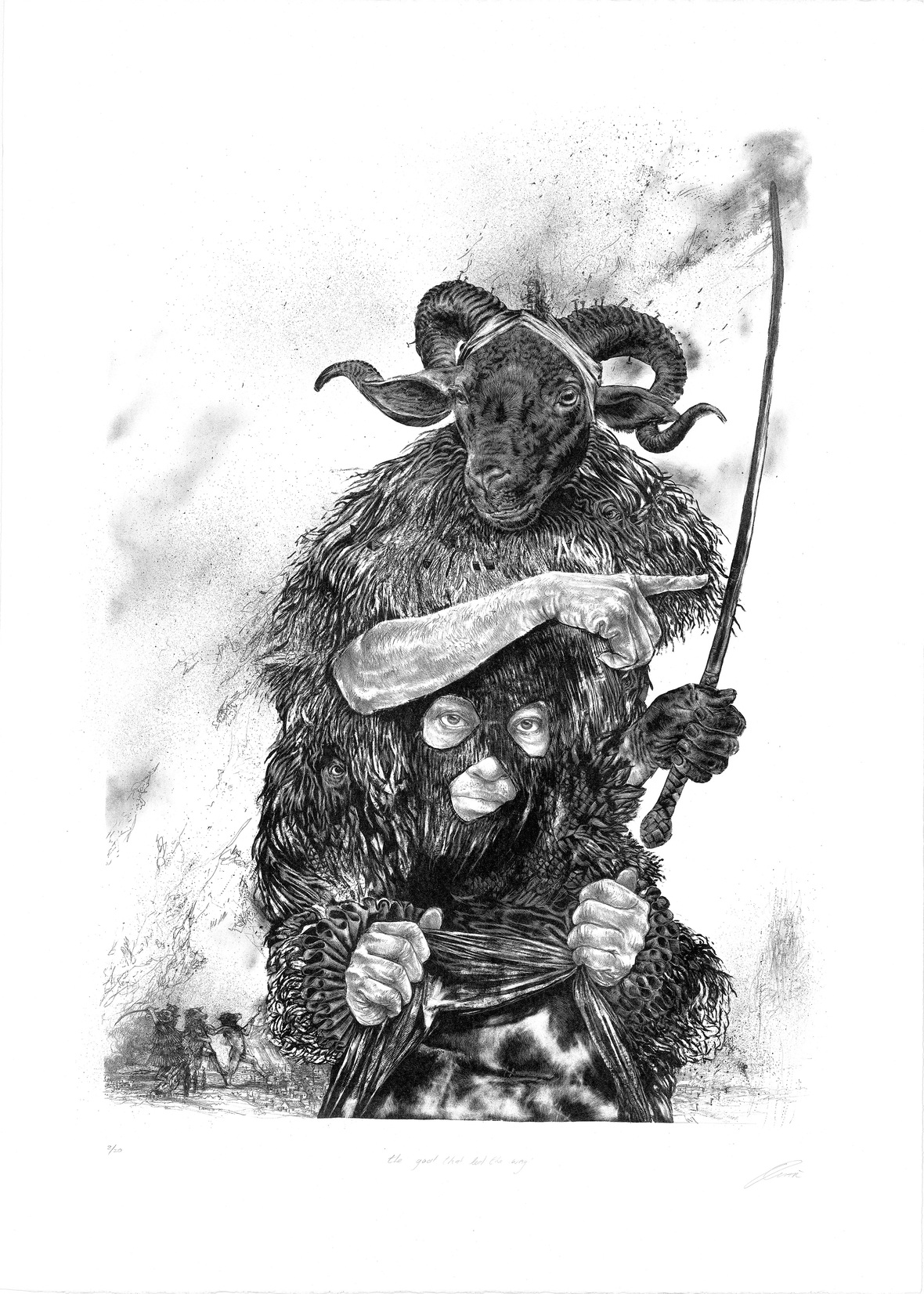 You're a traditionalist. Why mess with what works? It's landscapes for you all the way. Do what makes you happy. If that's yellow wheat fields or a moody seascape, great.
Diane Victor, The Goat who led the Flock, 2019. Manière Noir Stone Lithograph. Signed, edition numbered. Edition: 20. Size: 108 x 77 cm. Price: R 27,250. Presented by Atelier le Grand Village. ENQUIRE.
AQUARIUS (THE WATER-BEARER)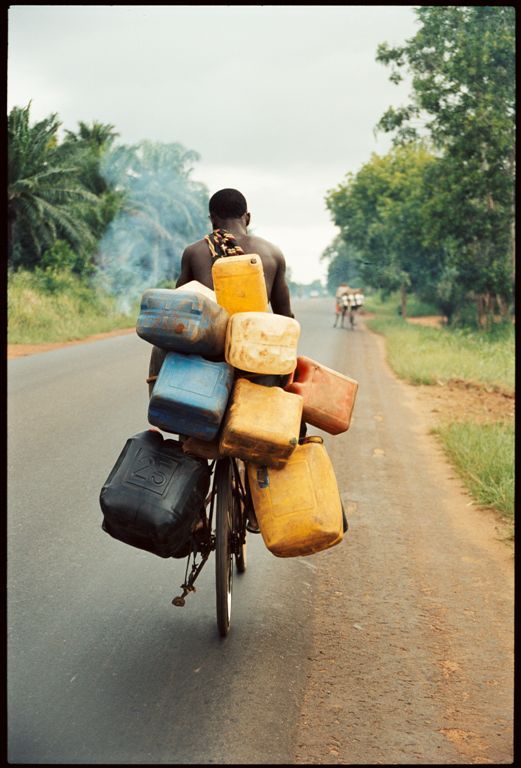 You don't see things the way most people do. Your artistic inclinations are on the innovative side; something that can't be pinned down. Try video art.
Romuald Hazoumè, BB, from the series 'Kpayoland', 2004. C-type digital print. Signed Certificate of Authenticity. Edition: Edition of 9. Size: 74 x 49 cm. Price: EUR 3,000. Presented by October Gallery. ENQUIRE.
PISCES (THE FISH)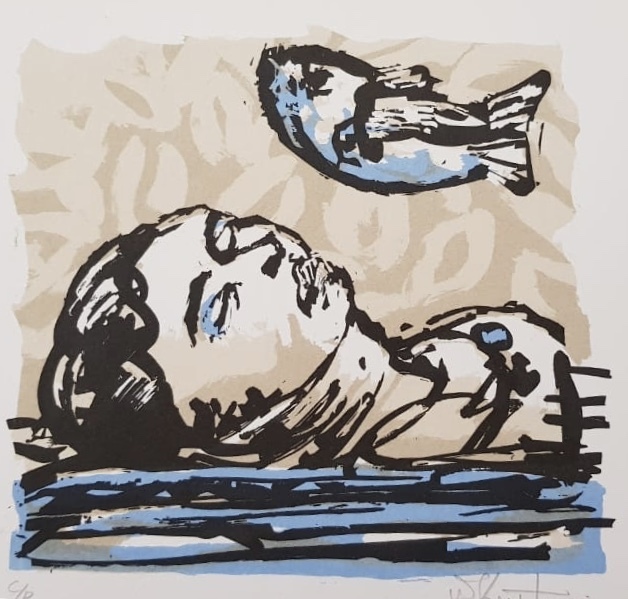 It's too obvious to suggest watercolour. Instead, why not get out of your comfort zone and research Land Art? We know it's a lot, but the aerial views will give you new perspective.
William Kentridge, Female Head & Fish. Screenprint. Signed, edition numbered. Edition: 40. Size: 15 x 16 cm. Presented by Dale Sargent Fine Art. ENQUIRE.
ARIES (THE RAM)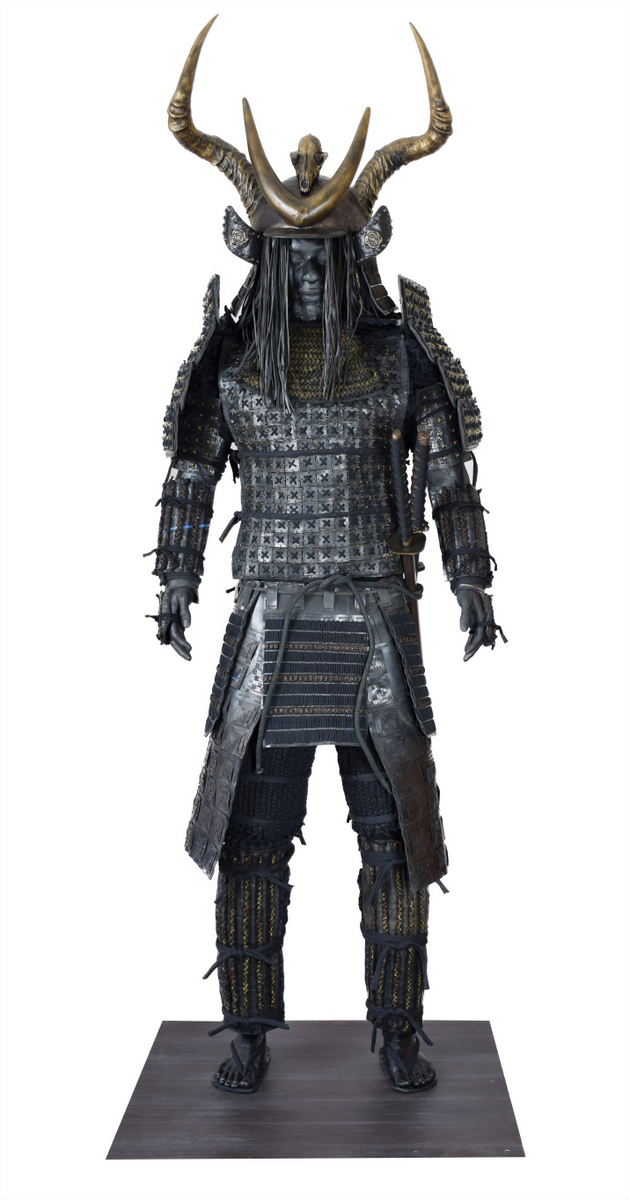 Anything in a bold colour as fiery as you are will get you going. Colour field painting is exactly the thing for you. Stare into the pigment for hours to restore your energy before taking on the world.
Nicola Roos, Obsidian Samurai XVI. Recycled rubber and cables. Presented by Dyman Gallery. ENQUIRE.