Collecting Art: A guide to finding the next big artist
Are you looking to discover new, exciting artists? Many collectors and art enthusiasts seek the advice of experts when it comes to finding emerging artists with great potential, but the key to this is often about redefining what 'potential' means.
 - By Mary Corrigall
--------------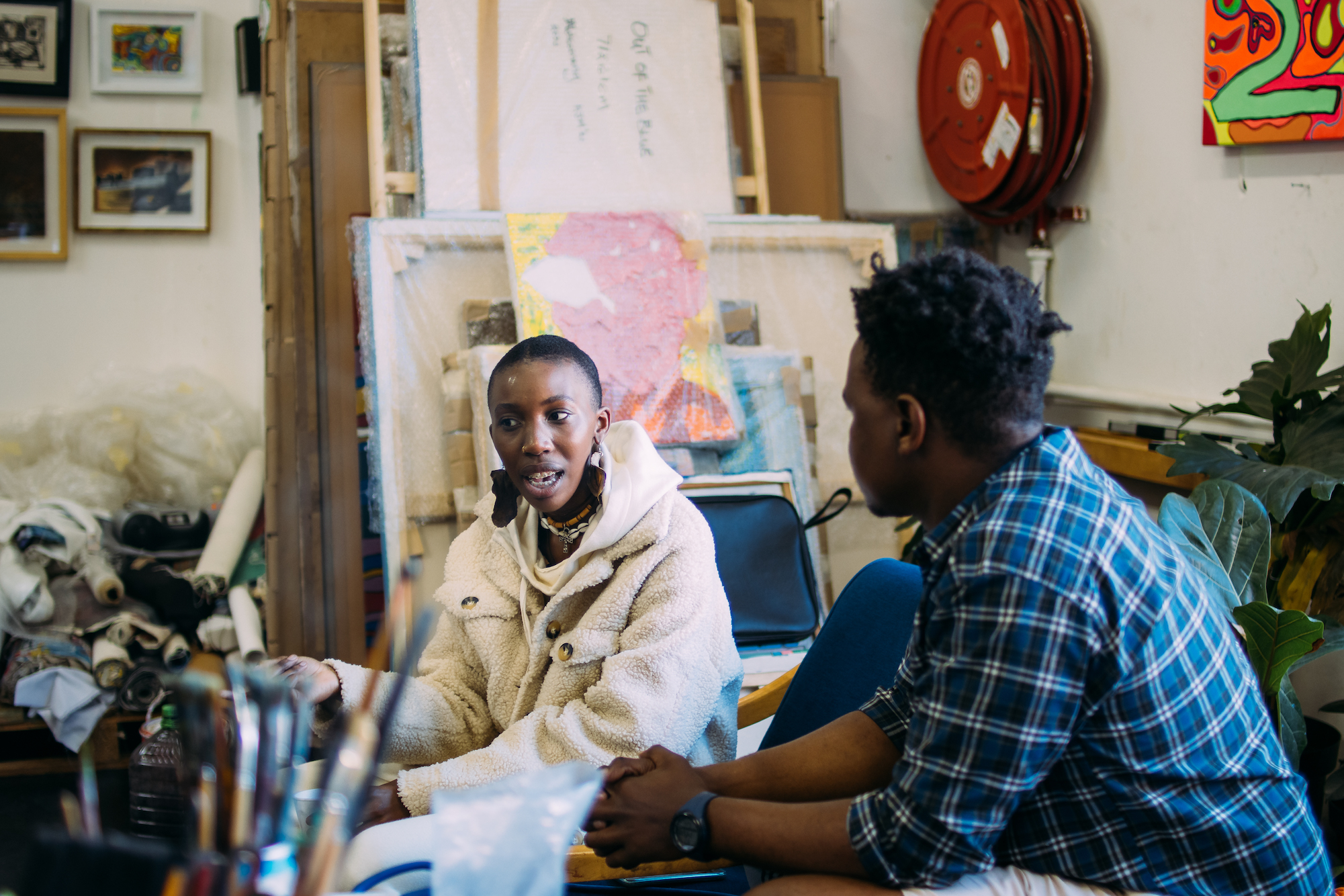 OpenStudios.Joburg. Photo by: Sara Hallatt, courtesy of META foundation
Which artists are you watching at the moment? It's hard to escape this question when people find out that you analyse the art market, assist collectors, and have worked as an art critic. Everyone is looking for an insider's tip. They want the name or names of artists that no one has heard of yet and whose work has barely seen the inside of a white cube but is likely to be destined for an international career.
So, for all the attention artists represented by top-tier or internationally-based galleries may appear to attract, often the buzz in the art world centres on those inchoate talents that are unfurling on the sidelines. The veritable 'emerging' artist has a curious gravitational pull on even the most disinterested art collector, for there are few people who don't harbour a fantasy of buying an artwork that will one day furnish them with a deposit for a luxury car, even if they have a capacious garage lined with expensive cars.
As such, tracking down emerging artists with great future potential (in financial terms) is the holy grail of collecting art at any level. As I have written elsewhere and concretised in the SA Art Market: Patterns & Pricing, emerging artists are not an homogenous category. They can be separated into at least five distinct, though not mutually exclusive categories: the recently graduated, the young established (under 35 years and numerous group or a few solo exhibitions under their belts), the mid-career (over 35 – who often work in other jobs while making art), late-career (over 60), and self-taught. In my analysis of patterns of pricing pertaining to artists in these groups, I found that the prices for established young artists opposed to, say, some mid-career artists could often hit a higher price threshold – in the primary market that is – often this value does not translate into the auction market. The logic underpinning this is that a young established artist is producing work that shows potential, is not as rough around the edges as that being produced by recent graduates, and they have a career ahead of them that could potentially prove meteoric. Realistically, this is only the case for a lucky few who happen to stumble on a form of expression that the market is receptive to.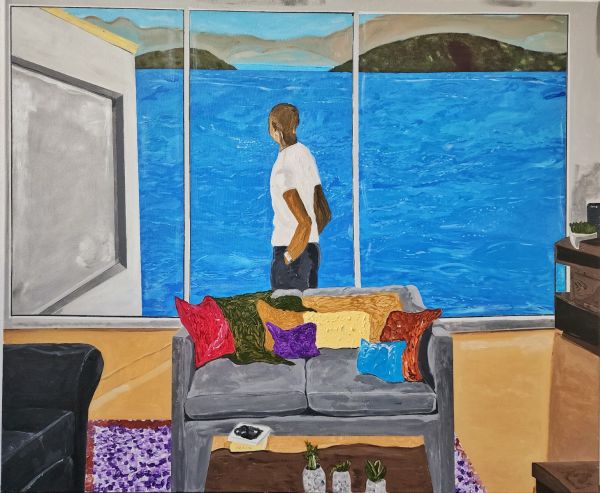 Themba Sibeko, The Blue Life II, R 20,500.00 ex. VAT, CONTACT TO BUY
The largest category of artists – not only in SA but in other studies of artists – are mid-career ones. These artists might be less likely to become famous overnight, but many have. Think of Billie Zangewa – she had been toiling away on her fabric collages almost until her early forties before her work found real traction (in Europe). The quality of work a mid-career artist produces tends to be higher, as they have been refining their techniques and vocabulary, and evolving their interests. Of course, there are those whose art has not evolved at all – they have been circling the same themes rendered in a vocabulary that hasn't found a groove – or conversely, as with some mid-career artists, they flit from one medium to another, never really finding an aesthetic or subject matter that resonates.
Ultimately, an exciting art collection consists of works that are related to each other – that share narrative links, whether around the medium, process, or subject matter, and not one that is guided by speculation or financial gain. There are far too many higgledy-piggledy collections out there with mediocre works by either 'big-name' artists or emerging artists who were tipped to make it big. These kinds of artworks are hard to sell on - for obvious reasons. As such collecting with purpose from early on is vital. 
As an African American collector recently put it, "I collect narratives, not art". That is a sound guiding principle. In practice, of course, it means having an intimate grasp of an artist's story about themselves, their work.
OpenStudios.Joburg. Photo by: Sara Hallatt, courtesy of META foundation
The best way to pursue this approach to collecting art involves attending gallery walkabouts – which are so poorly attended – and making numerous studio visits and engaging directly with artists. This direct approach is far better than your understanding of their work being mediated via an art dealer or an artist statement written by a Michaelis graduate au fait with all the latest fashionable terms being bandied about in academia. 
Open studio events are ideal for perusing art and chatting with artists without too much pressure. The OpenStudios.Joburg event created and marketed by Sara Hallatt of META foundation that will take place at the end of May to coincide with the RMB Latitudes Art Fair presents an ideal opportunity to engage with emerging artists in Joburg. This year's May event will include 9 artist studio buildings that include: Bag Factory Artists' Studios, Lilian Road Studios, Play Braamfontein, Transwerke, Asisebenze, August House, Ellis House, Living Artists Emporium and Victoria Yards. 
In truth, you will find that many of the artists with studios in these buildings are often making quite similar art – working close to each other appears to engender this. Many artists working from these buildings are self-taught and the quality can be uneven, so you do need to wear a pair of comfy trainers to get through all the studios until you find the artists and works that catch your eye or the story that resonates with your life experience.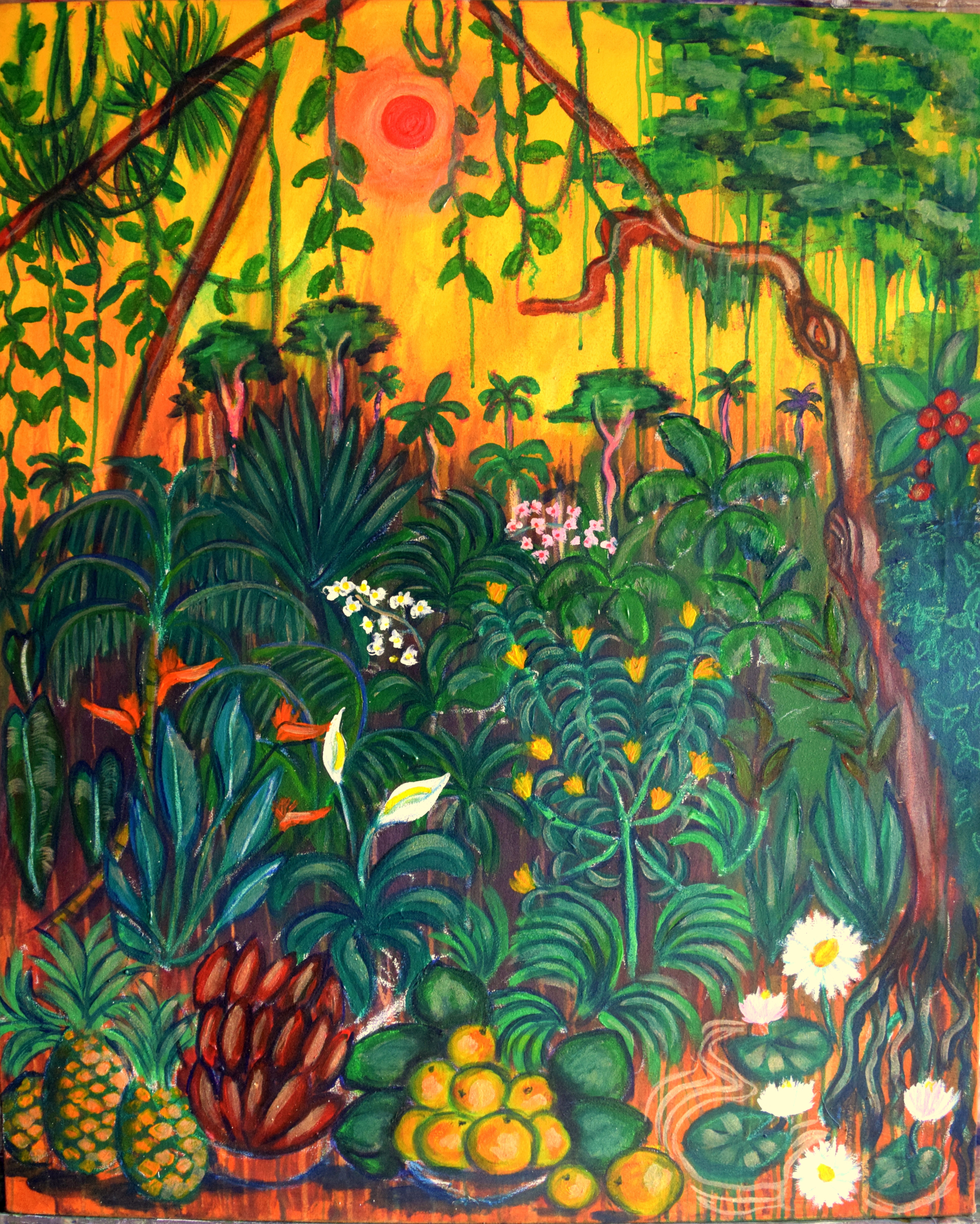 Foluso Oguntoye, (What money can't buy), 2020, price on request, CONTACT TO BUY
As always, it is more pleasurable (and less tedious) to peruse art by emerging artists that have already gone through a (quality) filter of sorts and is 'curated' or are made in response to a curatorial prompt. The Rupert Museum in Stellenbosch, which recently launched its satellite museum the Jan Rupert Centre in Graaf Reinet, presented an interesting curated selection of works by emerging artists, which was the result of a call out to artists to submit works responding to the 'Art of a Space Age' theme. This related to a 60s space-age aesthetic and formed the inspiration for works by 39 emerging artists – though at different stages of their careers. The works shown at the In Response: Art of the Space Age, were perhaps more design-driven than conceptual - due to the theme - or perhaps totally reflective of that artist's practice. 
Undoubtedly, there is a trend at the bottom end of the local art market that sees works united or 'filtered' according to their appearance – visual character. No doubt this relates to how Instagram has shaped our consumption of imagery, but also the Covid-19 pandemic that forced everyone to buy art from PDF catalogues or other online portals. In such contexts where the artists – people in general – are at a remove – the main selling point is the quality of the flat image and the surface interest it generates.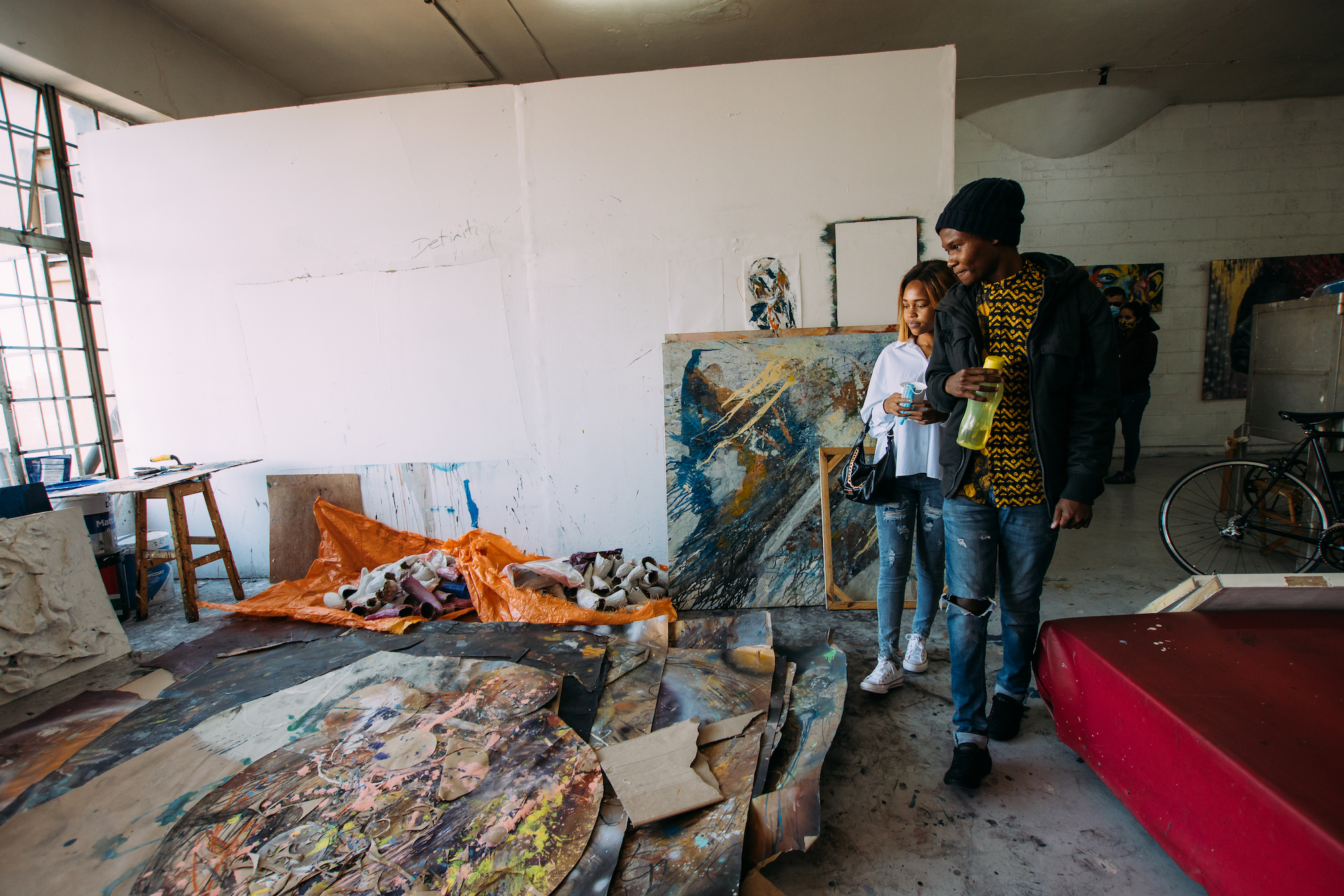 OpenStudios.Joburg. Photo by: Sara Hallatt, courtesy of META foundation
The Fourth, an experimental design-art gallery, has recently opted for more PDF curated group shows (instead of physical shows) and launched their new 'drop' – Post Fair Blue$. This catalogue was brimming with works by emerging artists all under R10 000 in an effort to 'democratise' not only who gets to consume art but who gets to sell it too, they claimed. Interestingly, and perhaps in reference to the title of this new 'drop' the catalogue reads like an art fair or an Instagram feed in the sense that you are presented with no context about the works or artists – just a long succession of images (with size, price information). This advocates somewhat of a different approach to collecting work by emerging artists than I would embrace – where context and narrative are essential. 
Just as at an art fair – every manner of expression is available – from abstract to figurative works, photographic to collage, expressive, surreal, and illustrative. This underscores the notion that there is no prevailing 'movement' in art – despite the claims that in response to the proliferation of figuration and portraiture, more abstract work is being made. 
Plurality is the cornerstone of contemporary art, after all. This offers artists the freedom to express themselves in any medium or mode that suits them, but collectors are also unburdened by any prescriptive ideals. Just as there is no insider's list of which emerging artists to collect there is no prevailing must-have mode of expression. Contemporary art is not rooted in such solid ground, but in constantly shifting sands that blow with the wind.
 - Corrigall is a Cape Town-based researcher, advisor and commentator.