Valued Central and West African artists are penetrating the South African Art Market
Up until recently the secondary market for works by artists from Central and West Africa has largely been established in France and the UK. Aspire Art's March sale could be turning the tide. 
----------------------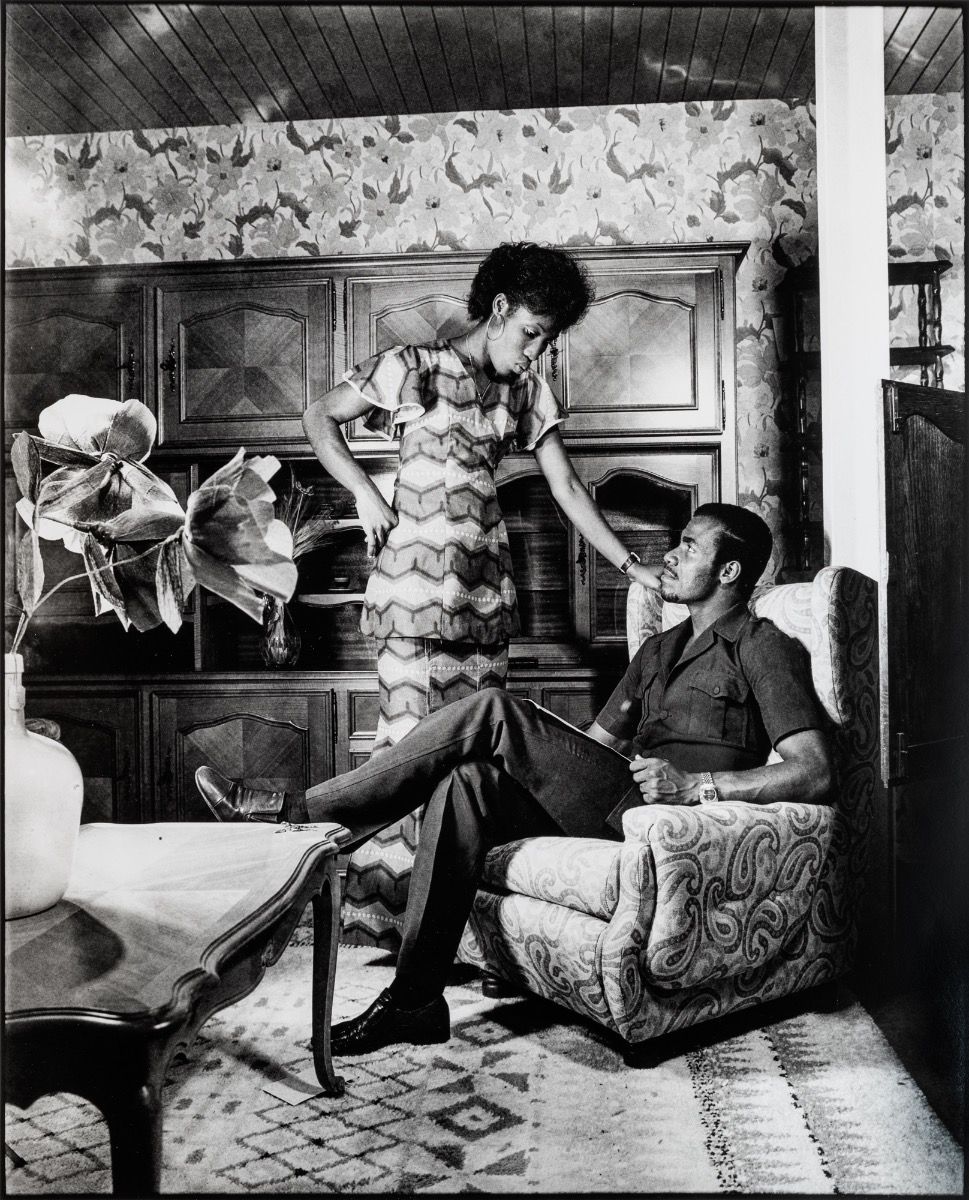 Paul Kodjo, Extrait du roman photo "Perdue et retrouvée", 1973, Presented by Aspire Art
Artists from the Democratic Republic of the Congo and other central African countries, such as Cameroon and the Ivory Coast, have been a part of curatorial conversations surrounding contemporary African art in Europe since the mid-noughties, when they started gaining traction in museums. Due to the colonial ties with France and Belgium and a shared language, more narrow, regionally focussed exhibitions establishing contemporary artists from those regions took place in those European countries. Among others, such exhibitions included, Popular Painting (curated by Bambi Ceuppens and Sammy Baloji) at the Bozar for popular Fine Arts in Brussels, and the Beauté Congo 1926-2015 Congo Kitoko curated by Andre Magin for the Foundation Cartier in Paris, while Popular Painting From Kinshasa, showed at the Tate Modern. 
This established a market for artists included in those shows and quickly translated into them featuring on auctions offering African art in London and Paris. As a result, high-profile European collections dedicated to art from the African continent almost always include works by those first-generation contemporary artists from the Congo or Ivory Coast who came to define this 'category'. Yet, in South Africa, exposure to art from the DRC and other central and West African countries has been limited.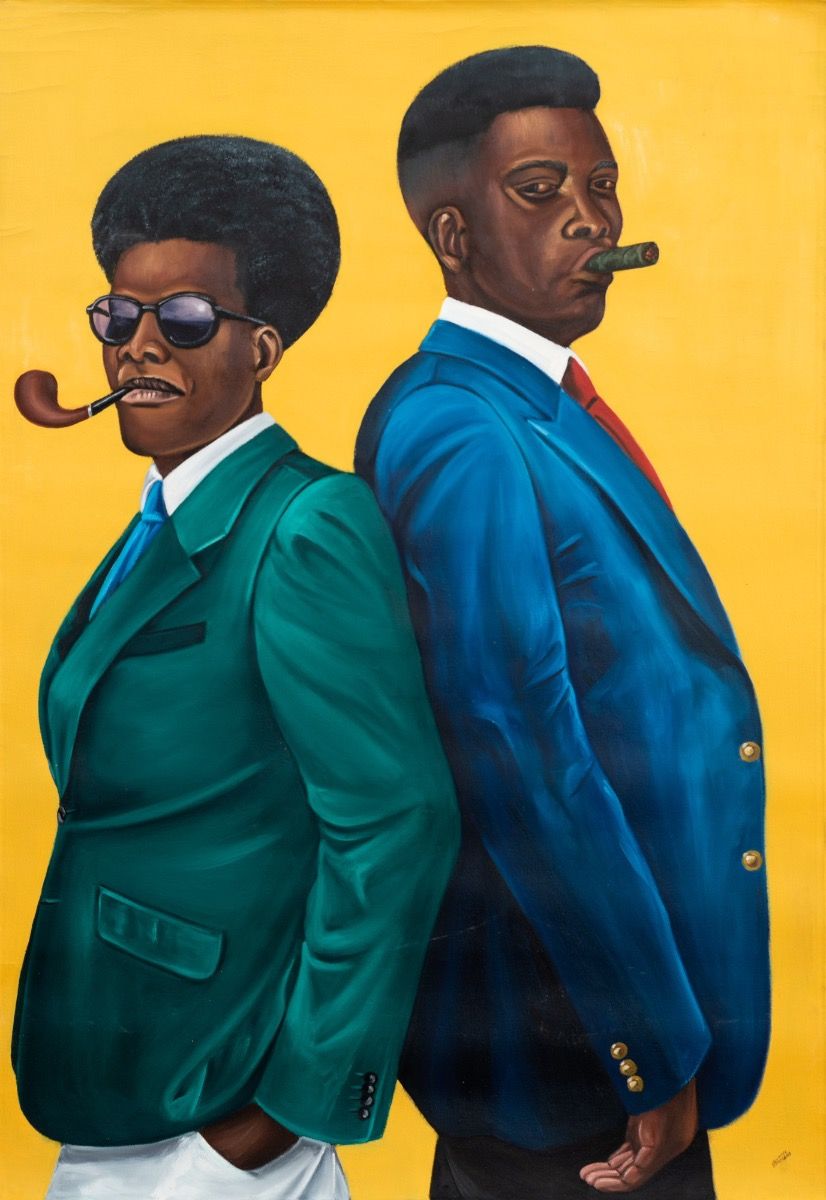 Zemba Luzamba, < Swag >, Presented by Aspire Art
Few works by artists from these regions have been shown at exhibitions in South Africa. As such, collectors are paying attention to the upcoming Aspire Art's sale taking place in Cape Town on March 16, as it includes many works by celebrated artists from central and west Africa, with largely proven auction records. With works by older generation artists - Frédéric Bruly Bouabré (Ivory Coast), Pilipili Mulongoy (Congo), Roger Botembe Mimbayi (DRC) and Chéri Cherin, to a younger set including Joseph Eze, William Chechet (both from Nigeria), Arim Andrew (Uganda) and Zemba Luzamba (DRC).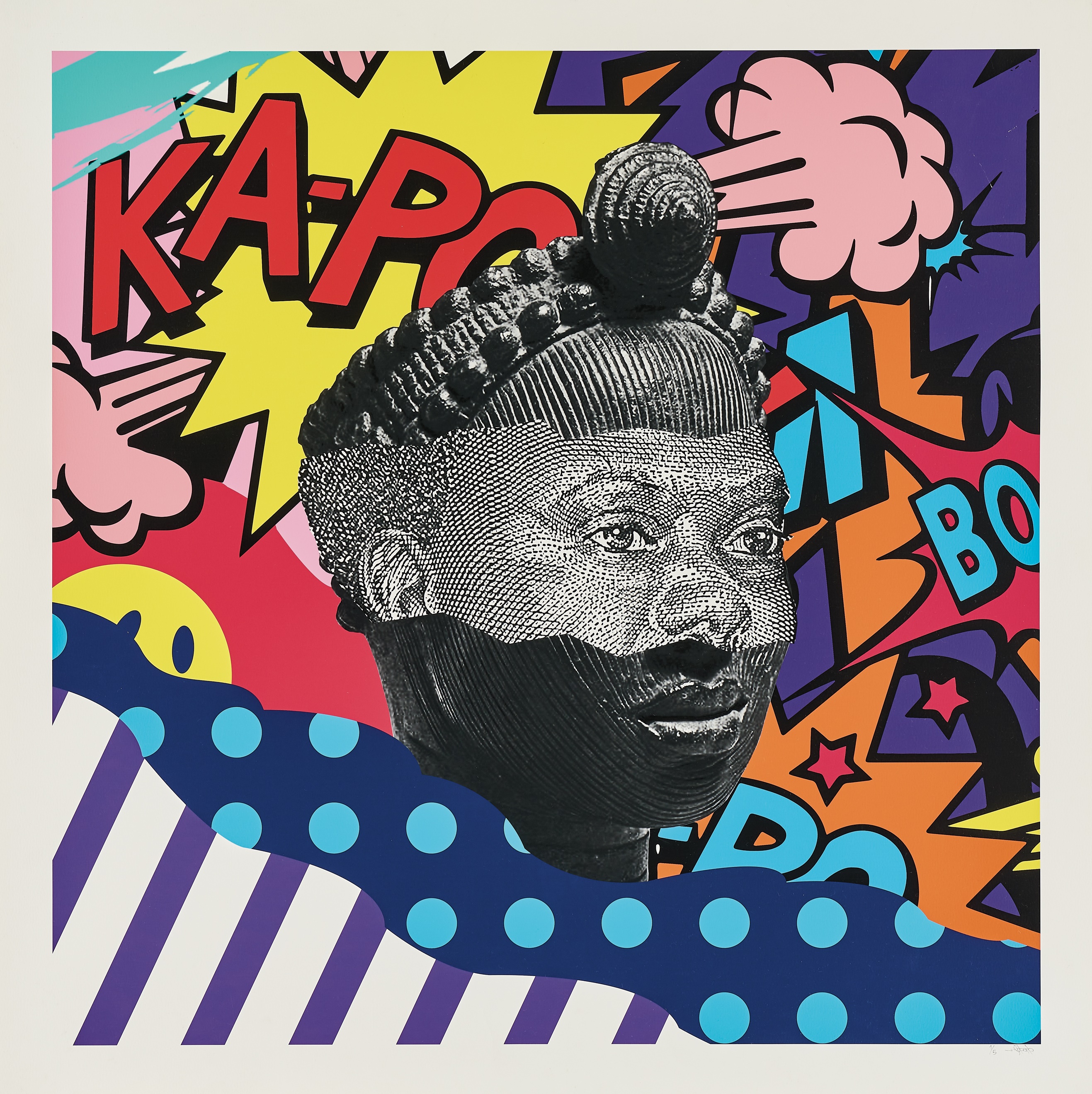 Williams Chechet, Kaboom II, Presented by Aspire Art
This central, west African flavour to the auction is no doubt a product of this auction house's relationship with prestigious French auction houses, where the above-mentioned artists' works are an almost permanent fixture on African art sales. In a sale conducted by Artcurial in March last year, every work by Mulongoy sold and all, but one, fetched sums that far exceeded the high-estimates set for them. 
In the Forest (1995), a characteristic work by Mulongoy, presenting an idyllic natural scene, offered at the Aspire Art sale is priced at a modest R80 000.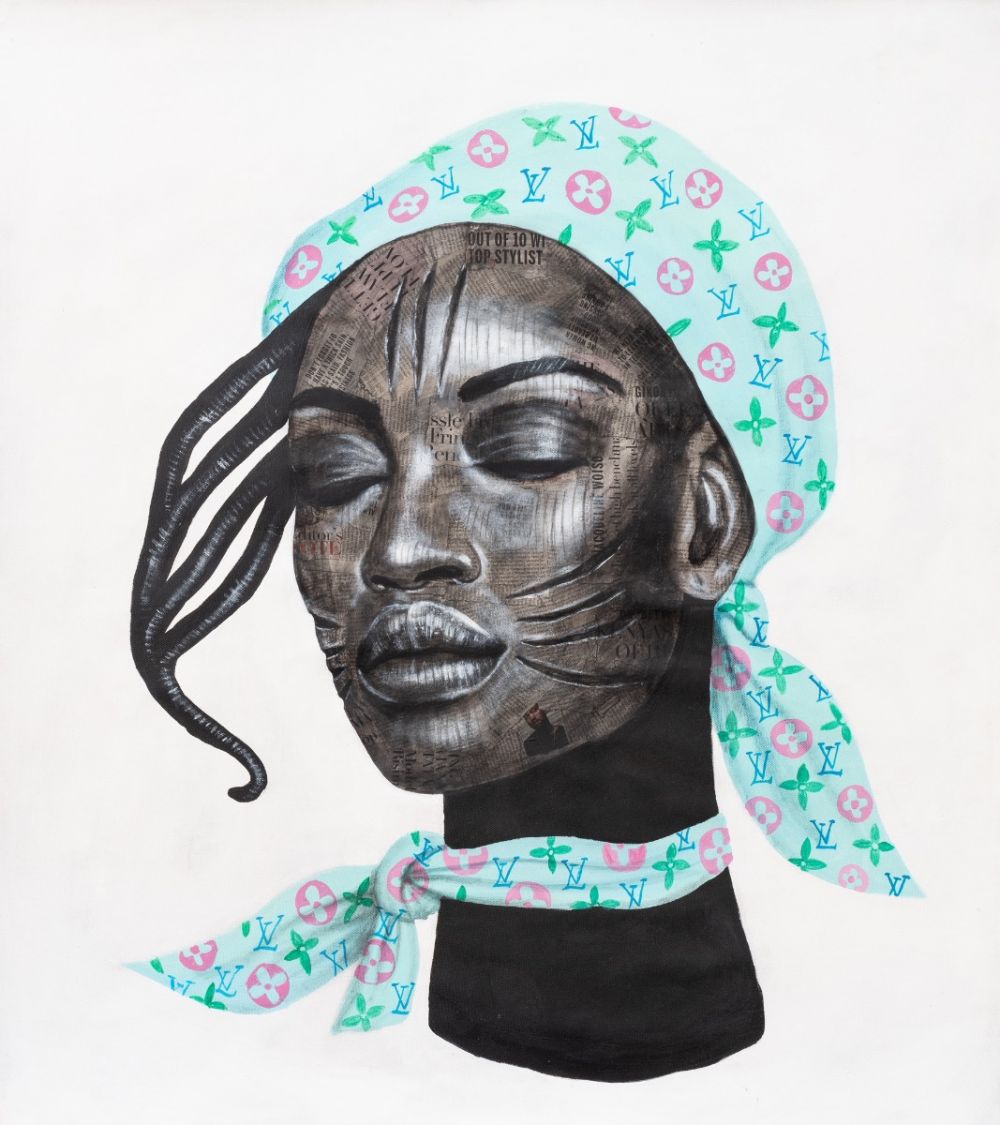 Joseph Eze, Tribal Blue Vuitton, Presented by Aspire Art
While works by Luzamba have typically excelled on African-focussed sales in France, last year in October, Luzamba's Social Report (2018) fetched more than R300 000 at an auction conducted by Christie's in London. Notably, this record wasn't set at an African focussed auction, but one boasting works by desirable contemporary artists from around the world, proving that Congolese art is no longer limited to collectors with an African focus. Swag (2019), which features two dapper men – a common motif in Luzamba's art - is on offer at the Aspire Art for R100 000. It is typical for the Congolese painter to present his subjects detached from a context. 
The Ivorian photographer, Paul Kodjo, also offers a compelling stylised image of a man with swagger in one of the images contained in an archival collection offered at this auction. He appears powerful, despite being seated, and a female subject towers over him. The series plots out a fictional photo story steeped in seventies aesthetics. 
The artists from these different central and west African countries are influenced by specific regional conditions, aesthetics, and movements. However, it would be easy to make a case for the enduring influence of the 'popular painters' from the DRC on the sort of pop-figurative art produced by the likes of Eze, Andrew, Luzamba and countless others. 
A collection of African art could be deemed incomplete if it doesn't include works by Chéri Cherin, Chéri Samba or others from the so-called 'popular painters' movement that took hold in central Africa from the late '70s. The allegorical, socio-political figurative painting that characterises this movement, has come to represent a view of contemporary art from central and west Africa and is included in French-owned collections by Jean Pigozzi and The Leridon collection.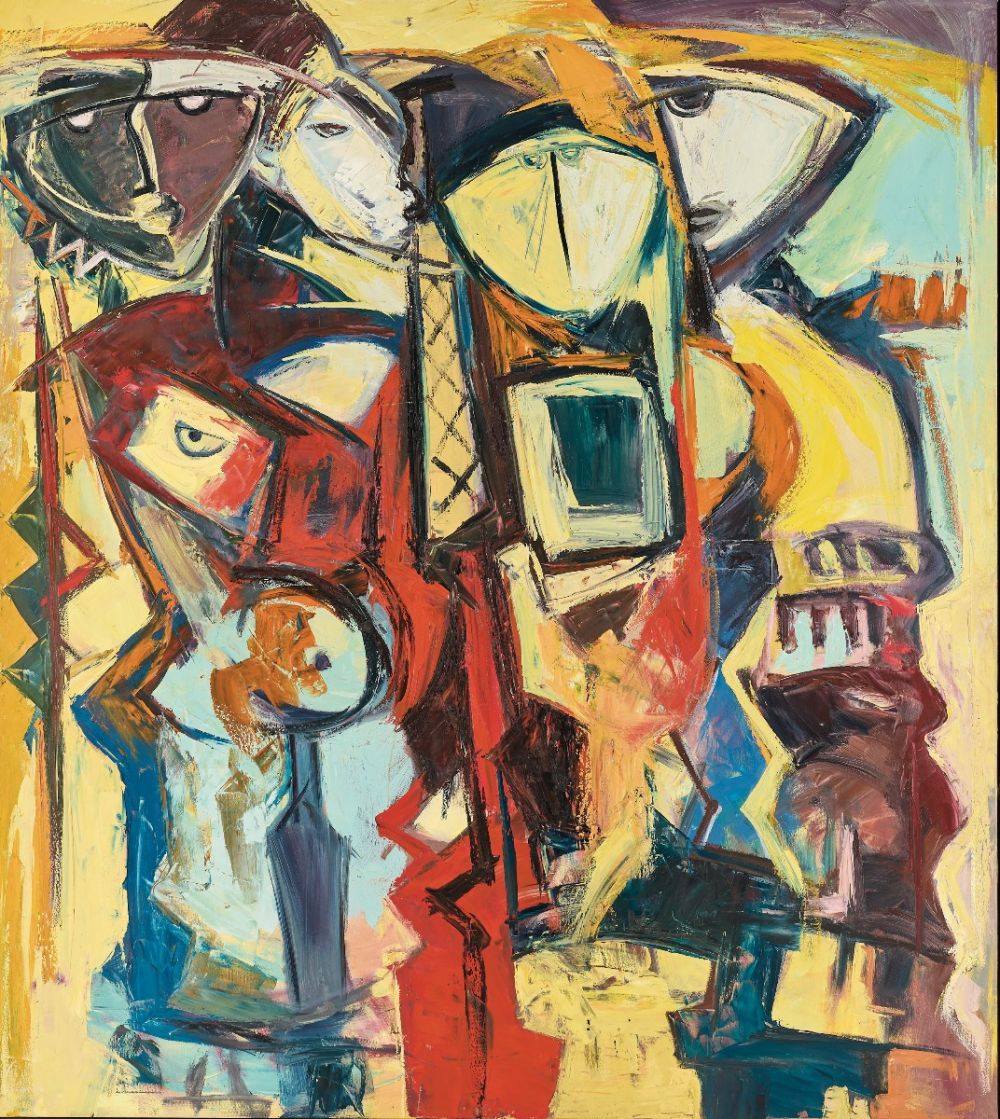 Roger Botembe Mimbayi, Dialogue, Presented by Aspire Art
Interestingly, it is more recent works by these artists that have been commanding high prices at auction. A 2017 work, La Plus Belle Femme Afrique, (The Most Beautiful Women are African) fetched £22 000 (R440 000) at Bonhams, London in 2019. 
In line with contemporary works produced by 'popular painters,' the work by Cherin (Joseph Kinkonda) offered on this auction, titled  La liberation de la Conscience Creatrice Emprisonnee (The release of the imprisoned creative consciousness) features a maternal figure. Where once this would symbolise the consciousness of a nation for Cherin, this leitmotif now represents the creative mind, which is clearly hungry for inspiration.   
Nigerian artists such as Eze or Uganda's Andrew, embrace the use of symbolism in their own 'popular painting' style, though both, as per the current portraiture trend, focus on a single subject. The bright palette rendered in flat colours continues the Congolese style yet it is markers of wealth that define the subjects – a Louis Vuitton scarf in Eze's Tribal Blue Vuitton (2016) and a bottle of expensive champagne in Andrew's Belaire here, Belaire there (2018).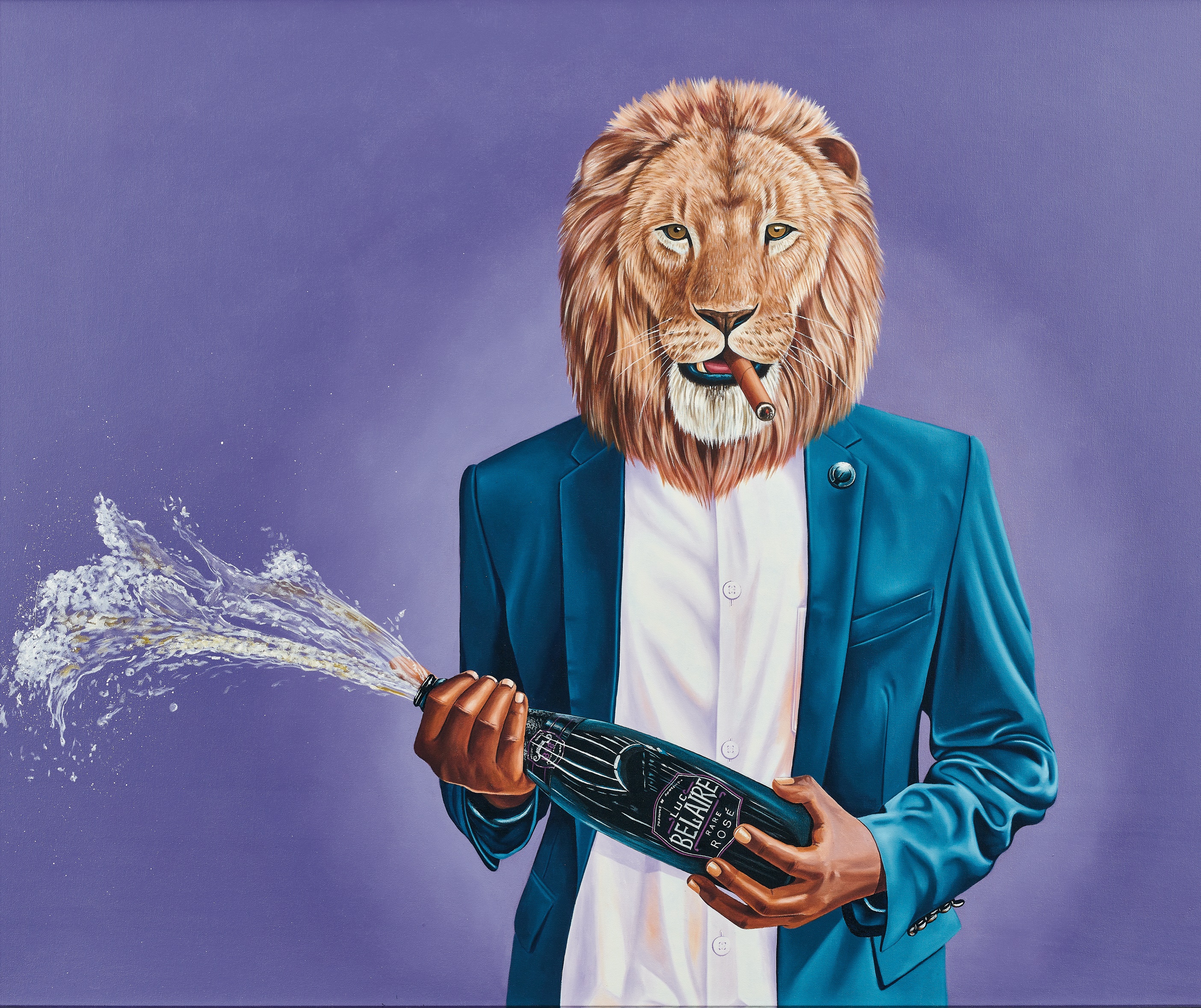 Arim Andrew, Belaire Here, Belaire There, Presented by Aspire Art
The opportunity to make connections between this older generation of artists from the DRC with a younger set coming out of Nigeria and Uganda, where the portraiture trend is at its peak, and South African artworks can be done in person in Cape Town at Aspire Art's premises from March 8 to 16.
- Latitudes Staff writer
Aspire Art's Modern and Contemporary Art auction will take place on Wednesday 16 March 2022 at 19:00 in Cape Town
View our highlights from Aspire Art's upcoming auction