Can (and should) female artists tackle the burden of inequality?
Celebrating female artists has become commonplace, yet the reality most women face remains difficult. How are artists dealing with disparity and violence against their gender? 
--------------------------------

In her Agoodjie series of bronze cast sculptures Nandipha Mntambo depicts herself in the guise of famous female warrior from Benin, image courtesy: Everard Read
The demand for content, stories and art exhibitions centred on women tends to be high around August in South Africa due to it being dubbed 'Women's Month.' Fortunately, since all-female exhibitions or survey shows of women artists are now a common part of programming in museums and galleries this gendered slant is no longer limited to a single month of the year. Concentrating on female artists or those identifying as women has become a new way for art institutions to signal they have 'evolved.' 
Since the Joburg Contemporary Art Foundation opened its doors it has dedicated every one (Liminal Identities in the Global South, Contemporary Female Identities in the Global South) of its curated exhibitions to female artists. Since Koyo Kouoh took over the reins at the Zeitz Museum of Contemporary African Art, there have been an equal number of shows featuring celebrated male artists as female ones (Otobong Okanga, Thania Petersen, Senzeni Marasela, Tracey Rose). The Norval Foundation has also staged numerous exhibitions focused on female artists from Mmakgabo Mapula Helen Sebidi, to Georgina Gratrix to Irma Stern, a non-binary artist Zanele Muholi and most recently staged a group exhibition titled When Rain Clouds Gather: Black South African Women Artists, 1940 – 2000. TENX10, currently showing at the Wits University's Art Museum in Johannesburg features artworks by 100 women and gender-diverse artists.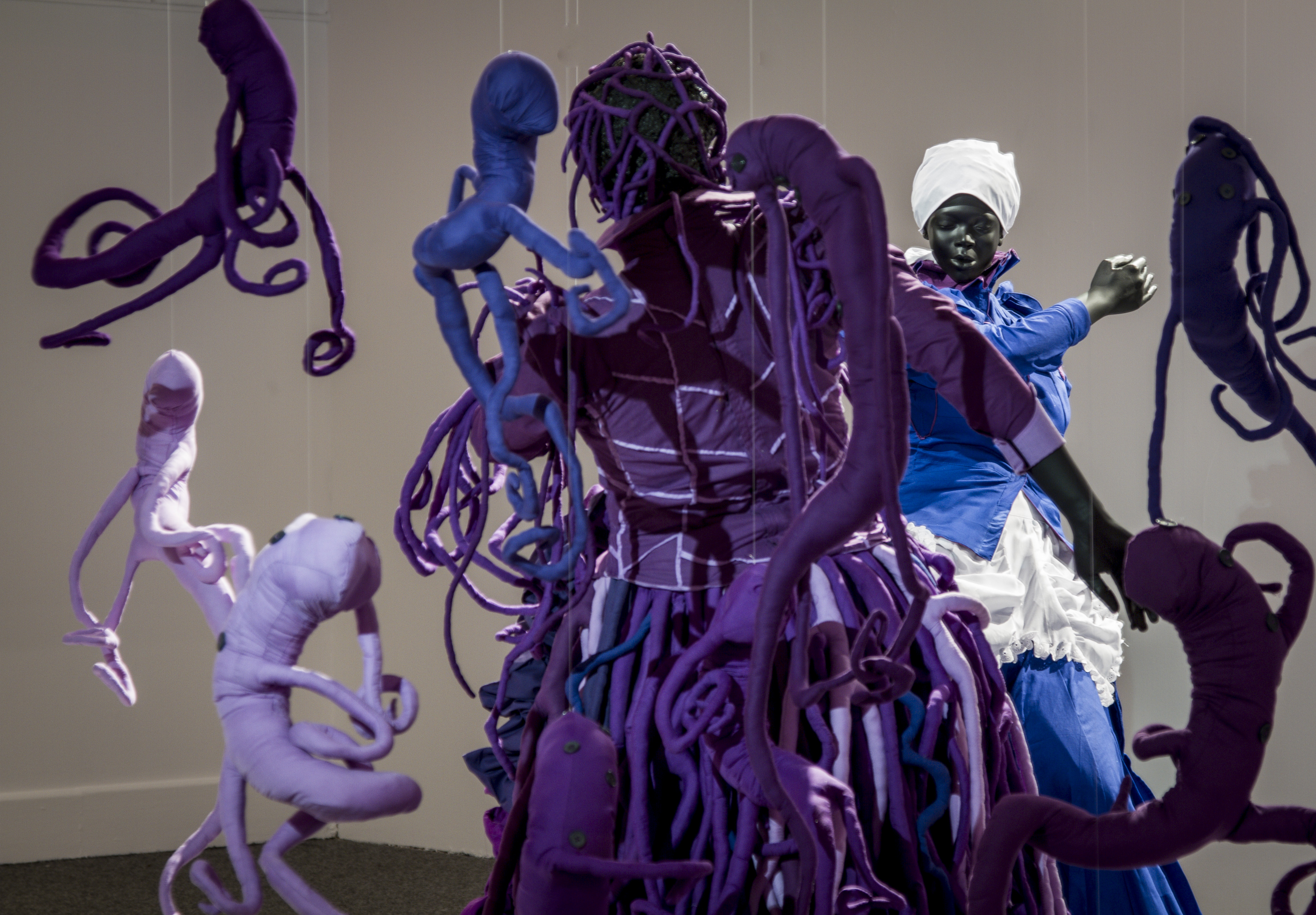 Mary Sibande, The Purple Shall Govern, National Arts Festival Grahamstown 2013, Photo by Dean Hutton
While art writers haven't far to look for features on women, sadly, neither do their counterparts working in hard news, as there is an abundance of stories about the brutal murders of women or violence against them in South Africa. Attitudes to these crimes have also made headlines, such as the careless comments made by South Africa's Police Minister Bheki Cele following the gang rape of eight women. Other pressing issues facing women in this country range from lower wages, and lower employment rates, and with the majority of households being female headed, women are carrying the burden of raising and financially supporting their progeny. 
Interestingly, these realities very rarely filter through into art made by women or female-centred exhibitions or programmes. It is not an easy road to walk; aestheticising violence or exploiting headlines to secure a position in the art world. Gabrielle Goliath's installation work Chorus, which was staged at the Goodman Gallery in Cape Town in 2021, made for uncomfortable viewing. Goliath didn't replay the act of violence the work pivoted on; the brutal murder of Uyinene Mrwetyana, a student at the University of Cape Town, who was raped, tortured and bludgeoned to death by a post office worker, sparking a national outcry. Instead, the filmic work depicted, a titular chorus lamenting her death through a chilling aural remembrance. At the opening, Goliath stated that she made the work with the approval of Mrwetyana's family, but it was very telling that none of them or few black women attended the event. It implied that this gesture was more relevant to Goliath as an artist. Goliath also used the tragedy and similar cases that took place since Mrwetyana's murder (all listed in a scripto-visual work installed nearby the film screen) to evoke a wider discussion regarding colonialism. In this way, what perhaps started as a genuine and committed socially-driven work, quickly collapsed into a heap of fashionable rhetoric to validate an artistic practice. Is there a way for artists to navigate a way around the difficulties of narrating women's experiences?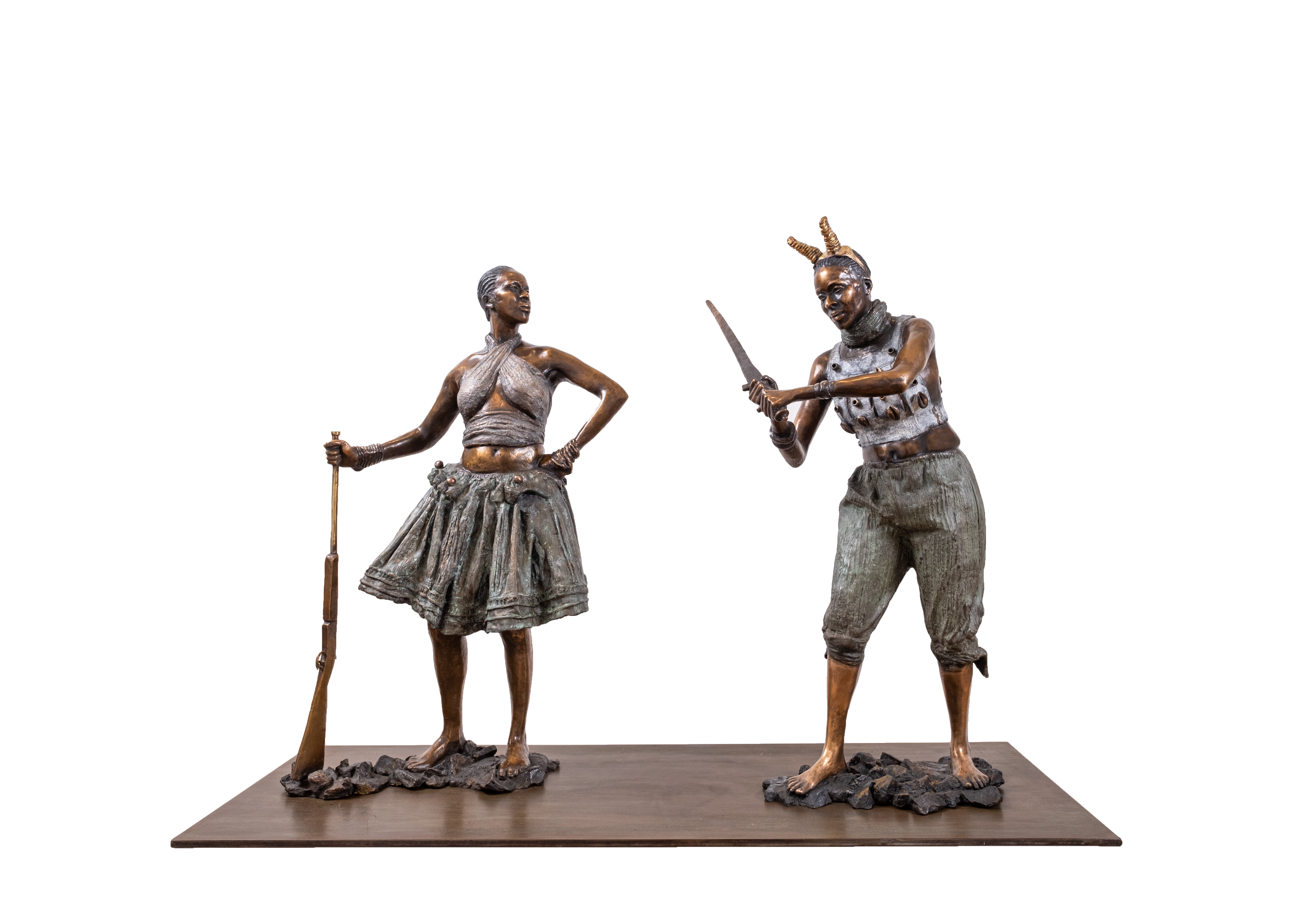 In her Agoodjie series of bronze cast sculptures Nandipha Mntambo depicts herself in the guise of famous female warrior from Benin, image courtesy: Everard Read
Are artists well-positioned to resolve social issues, particularly given they are often middle-class (and at a remove from the struggles poor women face) and they depend on the tastes of moneyed art collectors who generally shy away from disturbing content? Perhaps it is male artists who should be wading through the difficulties of representing gender violence or women's struggles for equality as a means of coming to terms with their complicity or to influence their male peers. 
Given all this, what role could female artists play concerning femicide or other more subtle micro-aggressions towards their gender? Is the celebration of female artists the most reliable path to asserting equality? After all, you can't prescribe what artists should do; they have to make art that is an authentic extension of their identity.
This has literally defined the art of three of South Africa's most celebrated black female-born artists - Nandipha Mntambo, Mary Sibande and Zanele Muholi. The threesome relied on figuring themselves, building veritable statues of themselves as a path to not only mark their ascension as powerful artists, and citizens, but to celebrate some of their female ancestors. They are claiming visibility not only for themselves but those who came before who may have been overlooked – not only due to being women but black women in a racist society. 
Since her landmark Long Live the Dead Queen exhibition in 2009, when Sibande first portrayed herself under the guise of Sophie, in a sculptural form intended to mimic a mannequin, she has been at work making monuments of sorts of herself in different states and periods, denoted via different colours and outfits. Most recently in her solo exhibition A Red Flight of Fancy at the SMAC Gallery, she depicts herself in a dramatic all-red outfit with tendrils. She recalls a Japanese warrior, observes Sharlene Khan. Surrounded by barking dogs, this woman is a fierce, fiery character. 
Mary Sibande, 2017, In the midst of chaos, there is opportunity, Part of Zeitz MOCAA opening exhibition 'All things being Equal', image courtesy: Zeitz MOCAA
The female warrior figure is a recurring motif in Mntambo's more recent sculptures, where she too presents a likeness of herself in the guise of a historical female figure, Queen Hangbe, who despite winning a famous battle in the 1700s by impersonating her brother was almost erased from official Dahomey history in Benin. Mntambo's large-scale bronze cast sculptures depicting herself as this figure which featured in an exhibition at Everard Read titled Agoodjie (a sobriquet given to an army of female soldiers from this era) suggests, as does Sibande's works that her 'power' as a woman in the present day isn't an invention or even accrued via money or status but is drawn from a long line of women before her.
To some degree, this notion applies to Muholi's Somnyama Ngonyama series, which sees the artist dressed in various guises of female characters from her personal history but also anonymous subjects that we associate with the ethnographic photographic canon. Does Muholi give them a voice, reinstate their subjectivity, or does Muholi draw from their inner strength in confronting this photographic history and the colonial, white supremacist gaze?
Perhaps it was only a matter of time, before Muholi, would like Sibande and Mntambo turn her photographic practice into one that would also encompass sculpture, bringing not only their likeness but enhancing their subjects' presence via a solid, three-dimensional form. This was the case with a bronze-cast bust of the artist, titled Muholi (2021), featuring in Nize Nani, their last solo exhibition at the Stevenson Gallery. 
As with all monuments, these sculptural works celebrate achievements, and transcendence over difficulties. The fact that they all sell for hundreds of thousands of Rands substantiates their value and perhaps this is the most that the art world can deliver on; validate the ascension of black women at a time when so many struggle to exist.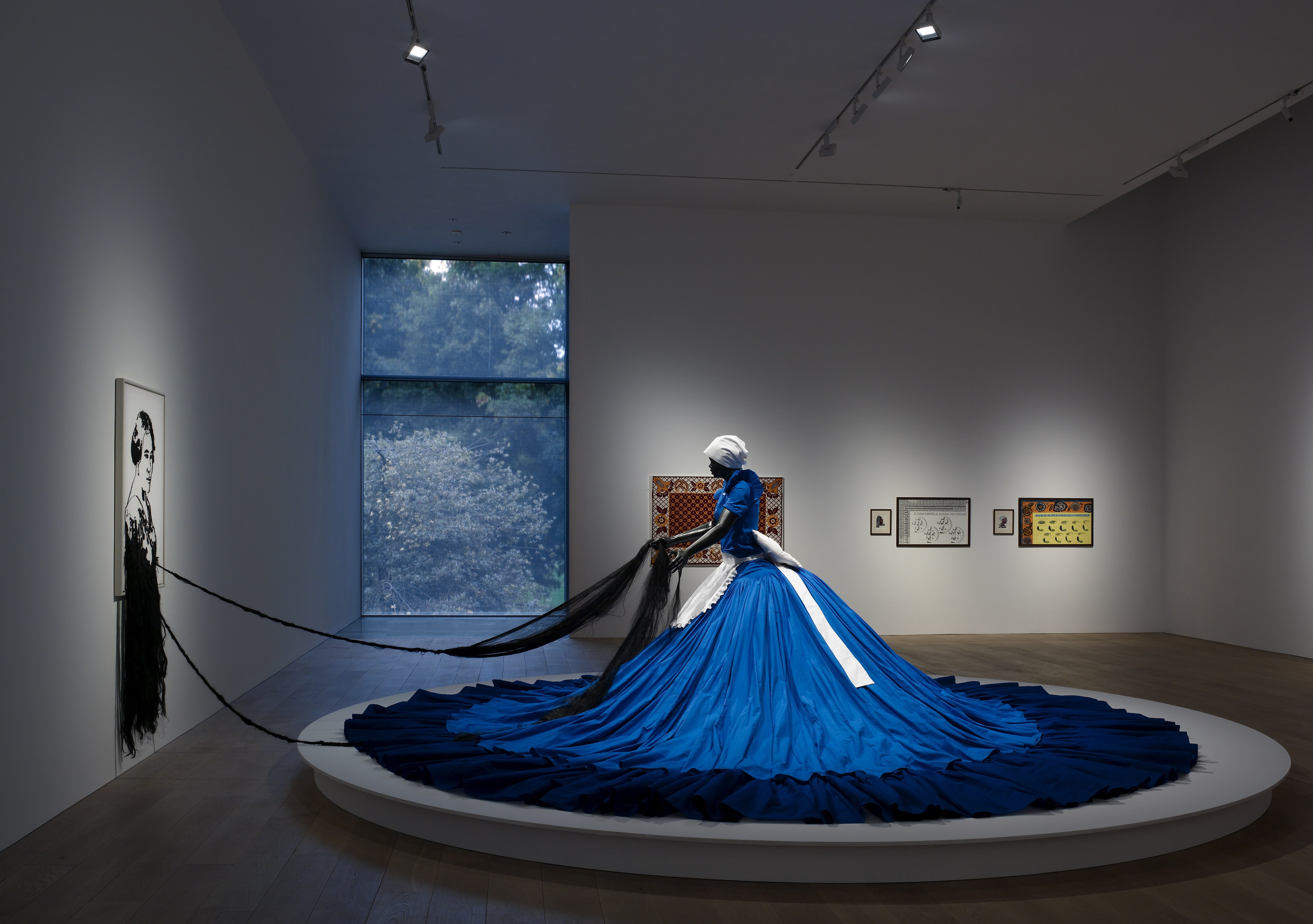 Installation image, 'Art Textiles' at the Whitworth. Mary Sibande, 'Sophie Velucia', 2009. Photo courtesy: the Whitworth
- Mary Corrigall is a Cape Town-based commentator, advisor and independent researcher