Benji Reid Laughs At Gravity
Benji Reid, Moebius II, 2020. Copyright Benji Reid. Courtesy of the artist and October Gallery, London. 
Photographic artist Benji Reid's background is in dance, choreography, creative direction and theatre. The images he makes are a dynamic meeting point for these creative disciplines. In his images, most often self-portraits, his figures take flight unburdened by gravity but sometimes still tethered to Earth. These leaps toward liberation are aided by props and costumes made from found, household items used in imaginative new ways.
Reid began his creative career as a performer and creative director, and over the past 30 years he has become an award-winning and senior contributor to Black physical theatre. Merging his performance success with photography, Reid began producing images in 2012.
Laugh at Gravity is Reid's highly anticipated first solo show which opens at October Gallery in London on the 3rd of September. We asked him five questions ahead of the opening.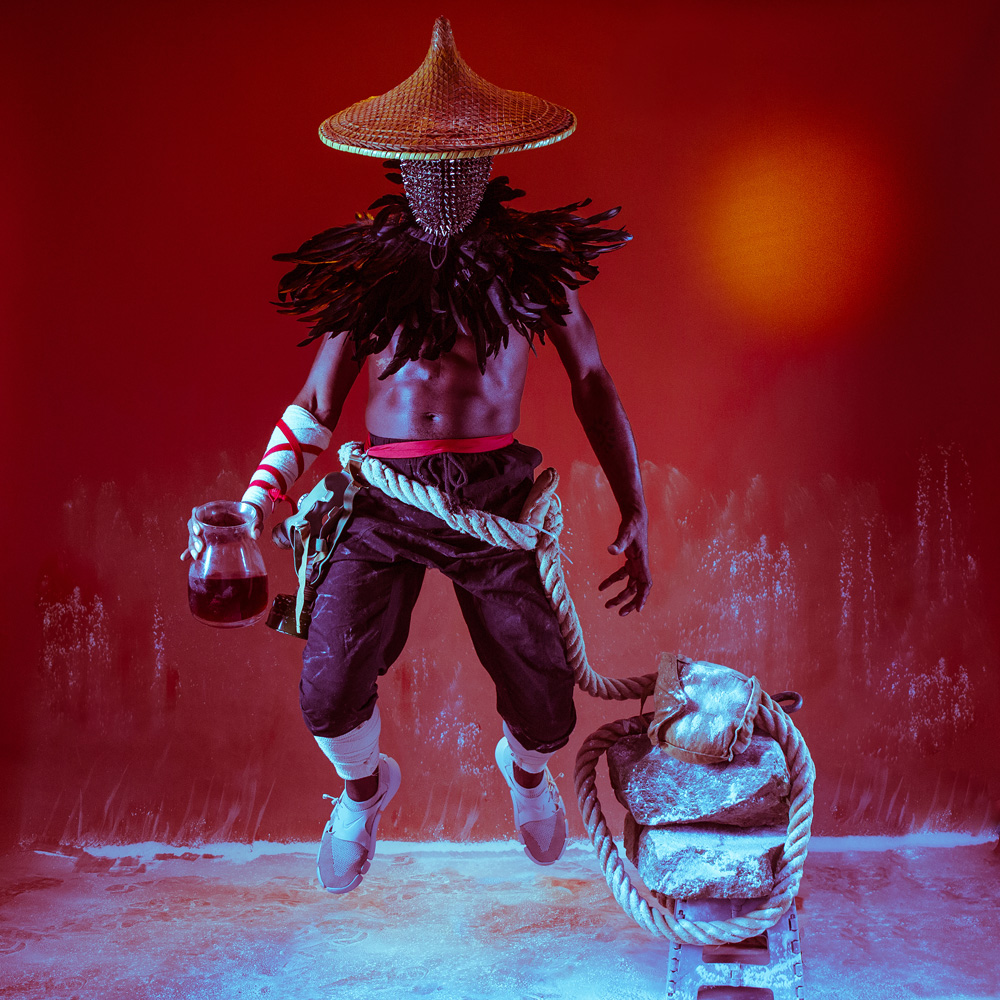 Benji Reid, Drunken Matters, 2019. ENQUIRE. 
What were some of the things you were thinking about when working on the images for Laugh at Gravity? 
I am grappling with the question: how can my body defy gravity? And also what does it mean to do so? That was the initial premise to this series of works. I'm exploring the symbolism of the Black Body in space, or how it can occupy another space. The concept of defying or 'laughing' at gravity has been used to explore how one can overcome the oppression of the Black Body.
What do you use anti-gravity/flight/space travel to suggest in your work? 
This occupying of another space, or a spiritual realm, places the figure in a futuristic time and place. I am creating a spiritual and a futuristic quandary to escape the here and now. I use this anti-gravity travel to escape this dimension into another one.
What do you borrow from theatre in your art-making? 
Theatre offered me a new way of seeing: an alternate way of viewing objects, or as you can see in my work, even other ways to view my body. It gave me the tools to always be expanding my vision. Theatre offered me the key into thinking and observing, which lead me to create one-cell films. That is how I think of the finished pieces, as one cell of a film. The pieces invite the viewer to step in; to look; to explore the mise en scène – to me, that is where the magic is.
How do you work out the movements for your images?
This really depends on what the individual work calls for. Movement is firstly a meditation and secondly it is a process of listening to where the concept wants to take the piece. Sometimes it is a long process, over four days to create one shot. My process is a question of elimination, as often I begin with an abundance of ideas which, over a period of time, I reduce in order to create a single work. The artworks themselves make the decision, I remove any preconceived notions from the final act as decisions are my starting point but never my ending point. The final piece will always be different to my initial ideas because I allow the work to evolve itself.
What do you hope your work makes people feel or think about? 
I never place an intention of what I want the audience to think. I want them to feel something, I put the concept and ideas into the piece and then it is up to the viewer to explore how and what it makes them think and feel. Ultimately, the work is an invitation to engage.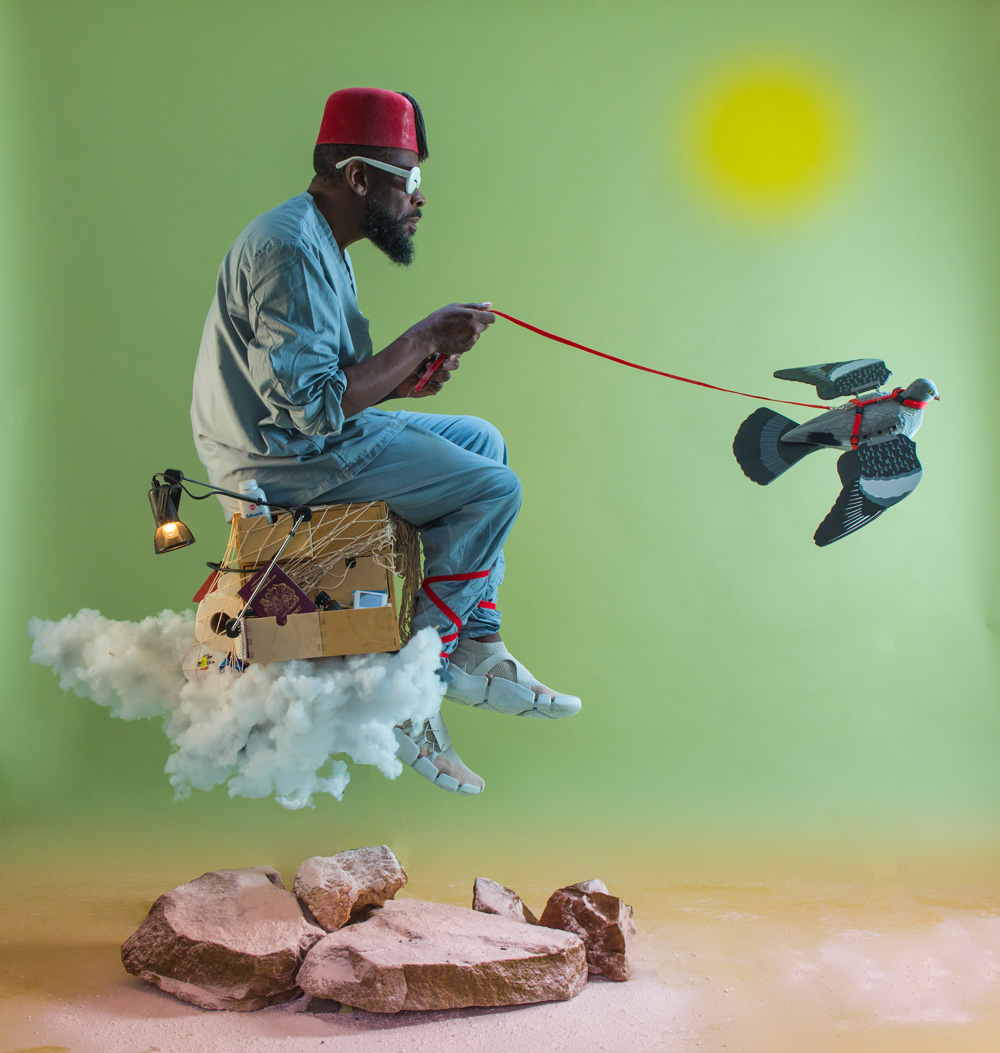 Benji Reid, Spirit Guide, 2020. Copyright Benji Reid. Courtesy of the artist and October Gallery, London.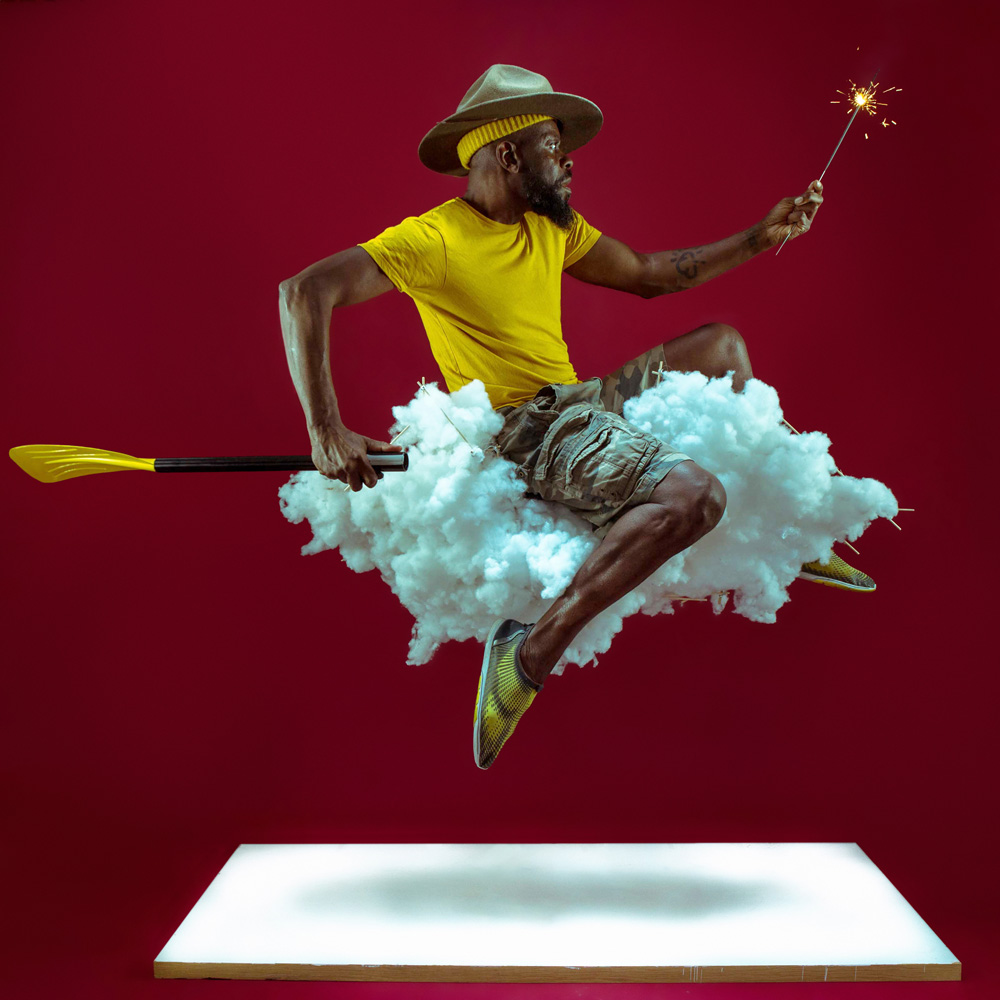 Benji Reid, Going Home, 2019. Copyright Benji Reid. Courtesy of the artist and October Gallery, London.