Behind the Artwork: John-Michael Metelerkamp's 'Cove Street'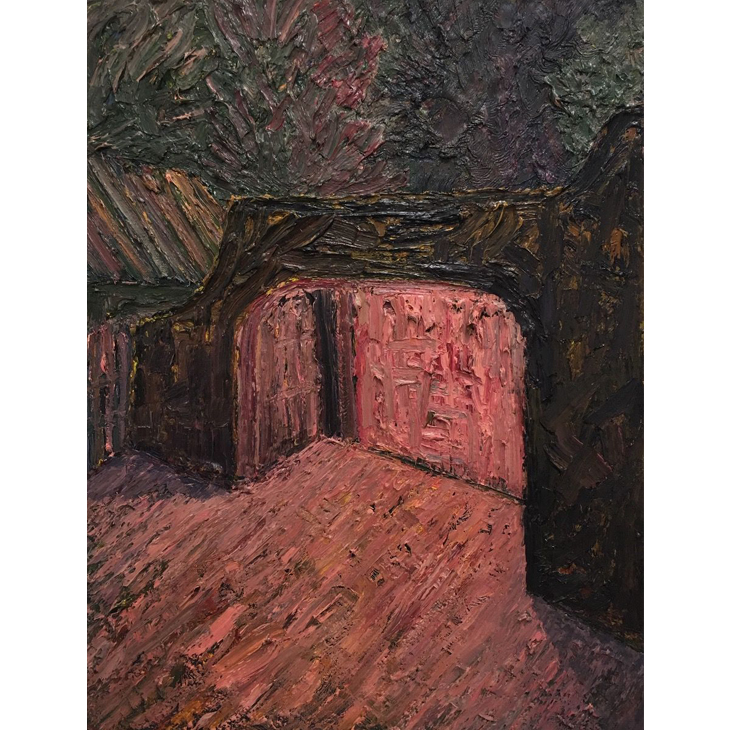 John-Michael Metelerkamp, Cove Street, 2018. Oil on canvas. Size: 72 x 55 cm. Price: R 17,800. Presented by Deepest Darkest. Enquire.
Our series Behind the Artwork zeroes in on one artwork every month and asks the artist how it was made.
John-Michael Metelerkamp's oil painting Cove Street is an imagined observation of a real street in Knysna where he grew up. It was made at a time when the seaside town was ravaged by fires. The work seems to glow with an unnatural light spilling into a driveway which Metelerkamp says was a challenge to get right. We also get a peek into the studio where it was made, every surface thick with paint debris.
Cove Street is part of his solo show, Nocturnes showing at Deepest Darkest in Cape Town until 10 April, of which he writes: "I have always been frustrated with the manner in which Knysna and other so called 'idyllic' towns in South Africa have been painted. I wanted to express rather the grit I had become familiar with, the centre of town as it had become with its seemingly boring buildings and structures, the acts and players of daily rituals often discarded as mundane."
Who?
My name is John-Michael Metelerkamp. I was born in 1982 in Knysna, South Africa. I started painting at the age of 32 and have been a full time painter since. I now live and work in Cape Town.
My work deals with a personal relationship to people, places and things. I draw on reality as an inspiration but I have come to believe that the melding of time in thought and practise allows me to experience a metaphysical side to life that would otherwise remain distant if I were not creating paintings.
Painting for me stimulates an acute sense of creativity that seeps into my everyday life and allows me to see things differently. At this present time my focus is honed in on towns, lived-in spaces and the movements of my own physical body and mind in the spaces I find myself in. Much in the tradition of Van Gogh, who caught my attention at a very young age.
What?
Cove Street is an actual street in Knysna close to where I used to live. The building had no blazing pink light exuding from it. That was all created in the studio. I imposed the light as a formal decision.
When?
Cove Street was made in 2018. I had just moved to a new house and studio in the centre of town in Knysna. I naturally decided to experience my new everyday environment with paint. What I think is also important is that Knysna had just experienced a traumatic catastrophe now famously known as the Knysna Fires. I was in the town at the time and it seemed like the end of days. Everywhere you looked there were flames and an eerie orange glow illuminated the town for days.
Where?
The studio where I painted was in the centre of town in Knysna, at my home. The studio is complete chaos. Paint and rags everywhere. It is an intense space that seemed to work for me.
How?
The beginning of each painting starts with a walk through town. Straight from my doorstep. I would capture haphazard shots of people and spaces with my smartphone. Once back in the studio I will go through the images, choose one, and begin to draw on the canvas with paint. I would apply layer upon layer of undiluted paint onto the canvas. Usually darkening the colours with strange combinations of pure colour. Every piece is an experiment. This particular painting was a real battle. I battled with contrasts. And the light I had introduced created many problems to solve. In the end I was not sure about the painting. But that is how it is a lot of the time.