Behind the Artwork: Jenny Nijenhuis 'This is South Africa'
Jenny Nijenhuis, This is South Africa, Underwear, cotton, steel rod and brackets. Presented by Lizamore & Associates. ENQUIRE.
In 2016, Jenny Nijenhuis created SA's Dirty Laundry, a public installation made up of 3600 pairs of used panties hung on washing lines across the streets of Johannesburg. The project brought awareness to the issue of rape in South Africa and the estimated 3600 rapes that take place in the country daily. In 2018, using underwear donated by rape survivors for SA's Dirty Laundry, she created a large South African flag to be hung upside down and titled the work This is South Africa. In 2021, tragically and infuriatingly, the artwork is still as relevant as when it was first conceptualised five years ago. Here Jenny lets us into the 'making of' This is South Africa, an artwork that asks us to take a hard look at ourselves as a society.
Who?
Jenny Nijenhuis (born 1969) is a contemporary South African artist known for her sculpture and public installation work. Nijenhuis obtained her BAFA (hons) from the University of the Witwatersrand in 1993, and subsequently developed conceptual thinking practices through strategic marketing and brand dynamics studies whilst working on brand strategy in the corporate sector.
Having run her own integrated communications agency for 13 years, she returned to her art practice part time in 2012, finally becoming a fully practicing artist in 2018. Her years spent in communications combined with an intrinsic desire to understand human identity and how it's influenced by religious, political, and societal dogma, led to her current artistic exploration.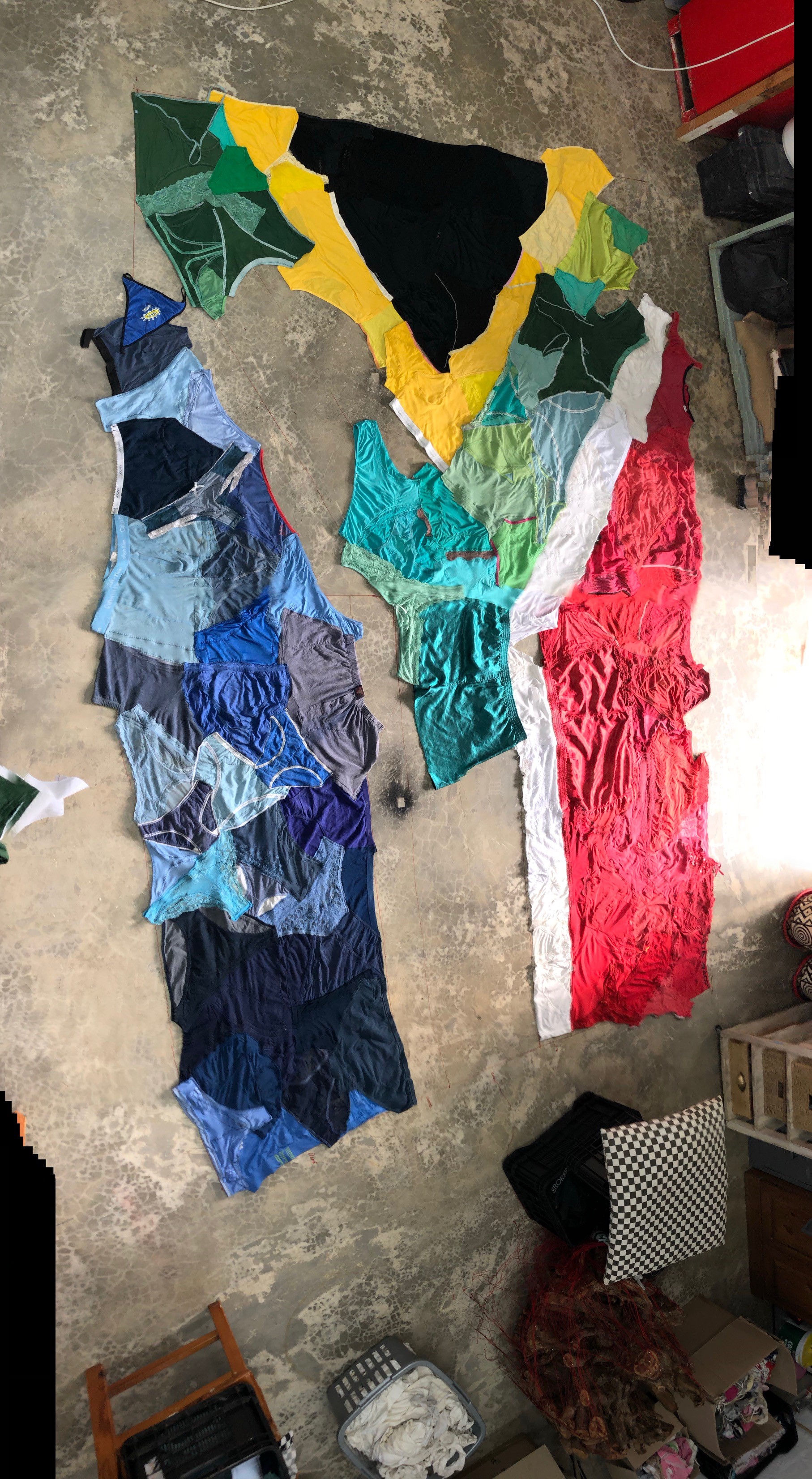 What?
This is South Africa is an enormous flag in the South African colours. Hung upside down in accordance with the international communication protocol signalling distress, the flag is made from underwear and panties donated by rape survivors to my 2016 project, SA's Dirty Laundry.
The SA's Dirty Laundry installation is a commentary on love, power and the estimated 3600 rapes that take place in South Africa daily.
Questioning the state of our unhealed nation more than 25 years after the end of apartheid, the flag is an incisive, disturbing reflection on the pain and anger that inform expressions of masculinity in South Africa — and its underbelly of sexual violence.
My work addresses issues of isolation, vulnerability, manipulation, gender, and the female experience, it is about how we identify and use our belief systems to support our personal views.
My artistic practice has led me down a path to understand why there is violence. Much of my research points to an introduction to violent behaviour originating in the home and social environment first. In communities with deeply entrenched beliefs around male superiority and male entitlement to sex, the likelihood of sexual violence taking place is greatly increased along with a general tolerance within the community for sanctioning sexual assault.
The situation in South Africa has added complexity around loss of freedom, racism through apartheid and a long legacy of violence.
This project remains highly relevant given that as of Monday April 6, 2020, 90 countries were in hard lockdown. Four billion of the world's 7.8 billion people sheltered at home to protect against Covid-19. Behind closed doors, the increase in reported violence in South Africa, specifically sexual violence with an intimate partner, became known as the "shadow pandemic" (Phumzile Mlambo-Ngcuka, Executive Director of UN Women). A global estimate anticipated that 61 million more cases of intimate partner violence was expected in 2020 for an average lockdown duration of a year at that time. Lifeline SA chief executive Molefi Takalo said that the number of GBV distress calls shot up from 12 000 to almost 80 000 following the first week of lockdown.
This highlights the intensity with which womxn and girls are abused, and most often by those close to us within our communities, families, and way of life.
Our current modes of socialisation rely on the masculine perspective, the masculine experience, and the overwhelmingly loud masculine universal voice. A voice which tells us that boys and men are more and that girls and womxn are less… less capable, less intelligent, less powerful and have less worth.
For me, this flag is an attempt to show how our beliefs lead to stereotypical behaviour patterns which keep us trapped in binary opposition and result in acts which cast us in conformity or complacency and result in lonely crowds and the radical absence of freedom. The artwork title "This is South Africa" plays on "This is America" by American rapper Donald Glover (Childish Gambino).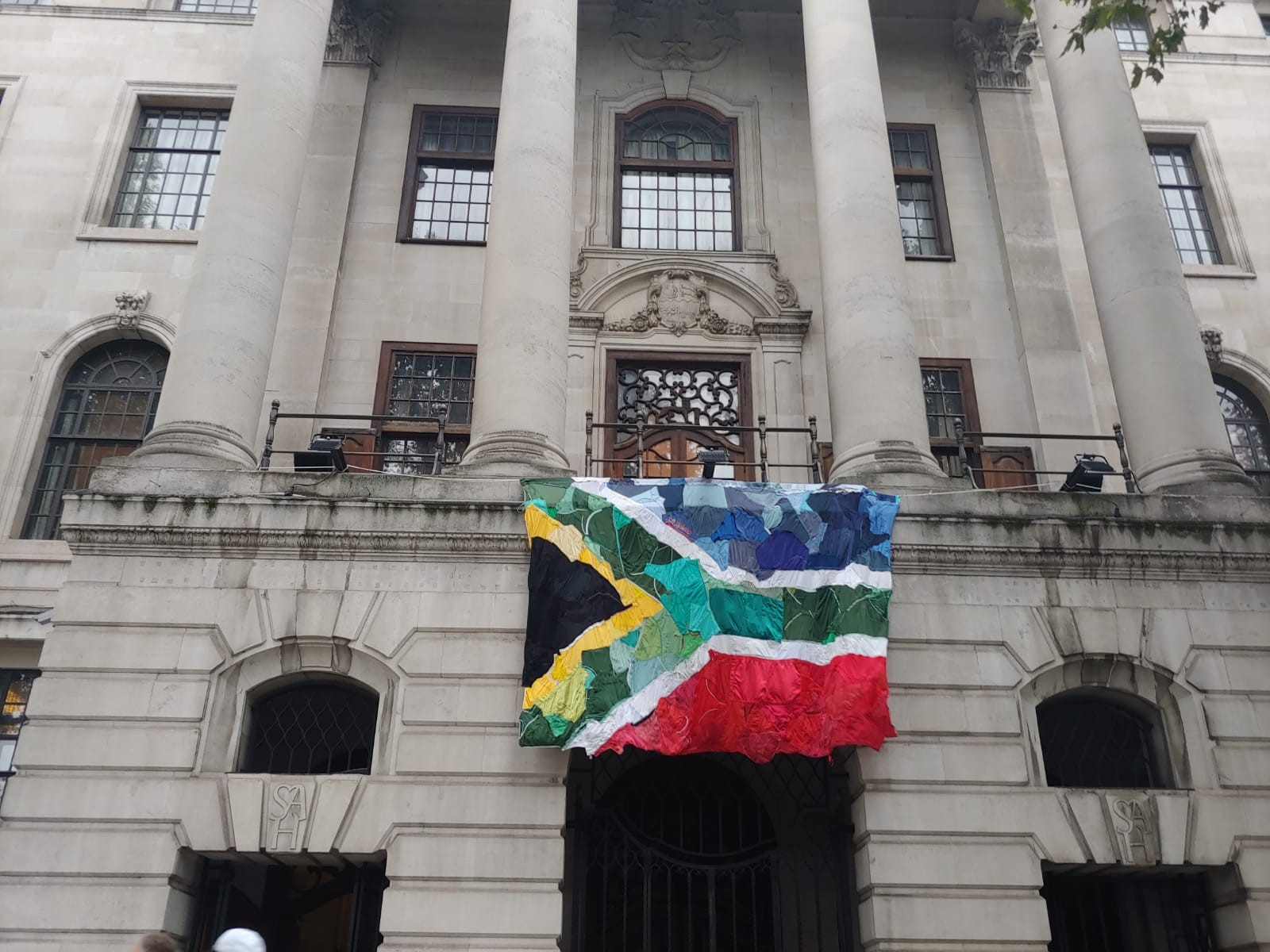 This is South Africa in London.
When?
I started work on This is South Africa in late 2018 having been through a period when I was physically unable to sculpt due to a lower back injury resulting in spinal surgery. I completed the flag in July 2019.
During this time, I was invited to Cornell University in New York to present the Keynote address at an event on the empowerment of womxn around the world.
The flag was exhibited at Guns & Rain gallery in 2019 as part of a womxn-artists' show called Suffrage and was hung with permission from the South African High Commissioner to the United Kingdom outside the High Commission on Trafalgar Square in October 2019 to coincide with a protest against gender-based violence.
Where?
I worked on SA's Dirty Laundry and This is South Africa at my then studio in Sandringham, Johannesburg.
My husband and I built the studio onto the back of an adjacent property from our home when I decided to return to my artistic practice in 2011. My studio became a peaceful and secluded sanctuary for me, a place where anyone looking would usually find me. I work in a very isolated way and enjoy my privacy and solitude.
The studio consisted of a large open space of about 80 square metres with an adjoining meditation room, storage area, wet room, and separate office space. The main studio opened out onto my veggie garden with an enormous old avo tree and our beehives.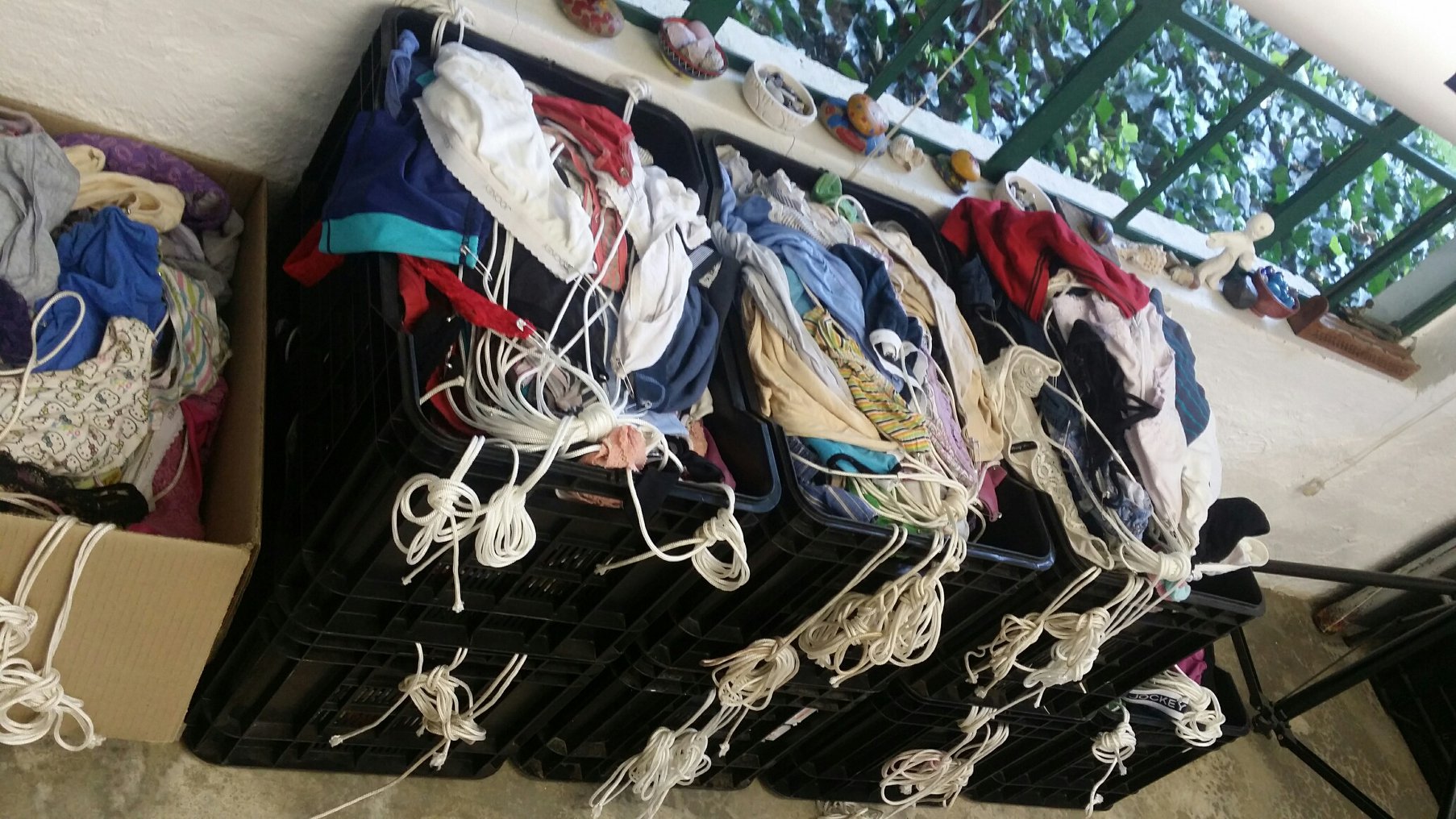 Crates of panties in Jenny's studio
How?
I am constantly reading, researching, and evolving conceptual ideas through a process known as metacognitive mapping. I create and use these maps as a way of laying down my thoughts over extended periods — they support the ability to continually circle back, add more or take away what is not making sense.
Metacognition is described as thinking about one's thinking, my maps assist me with this through a kind of visual sound board which allows me to plan, organise and assess my understanding of a concept.
For This is South Africa I created many smaller maps exploring the various conceptual angles and then consolidated them into a single A1 format. Once I had decided what I was going to do, I downloaded the South African flag template off the internet to get the correct layout and proportions according to provided guidelines.
I then mapped out the flag to scale on my studio floor with a permanent marker. I found references to the correct pantone colours for each section and selected panties from the 3600 that I have in crates. I started with the black triangle on the side of the flag sewing one pair of panties at a time until I had the correct shape and size. I continued in this way for each colour band until I had the separate areas and then sewed them all together to create the flag.