Best Beyond The Ages
November Modern and Contemporary Live Auction
---------------------------------------
To end the year on a high note, Aspire Art Auctions will present an exciting sale of Modern and Contemporary Art this November in Johannesburg. Set to be held at the company's exquisite new home in the heart of the Rosebank art district, the sale will offer collectors a fresh and carefully curated selection of landmark artworks coveted both for their rarity and artistic excellence. This sale aims to follow on the historic success of the October auction.
The brilliantly varied sale offers rarely seen lots of artworks from the earliest edge of modern art history, featuring delicately crafted prints from as early as 1804 by English naturalist and colonial era documentarian Samuel Daniell, along with the recent marvels of contemporary fractal and amoeba-like watercolour explorations of Marcus Neustetter.
Highlights of this summer sale include lots lifted from Irma Stern's golden period. They are a gloriously yellow Still Life with roses, blue bowl and the artist's brushes in a pot. Estimated at R3.5-4 million, the marvellous painting embodies all the pedigree that has earned Stern renown as South Africa's most valuable painter. The masterfully painted work is fittingly balanced by the vitality and graceful dexterity of the drawing titled, Woman with Headscarf executed in 1941 while she was traveling through the Eastern Cape.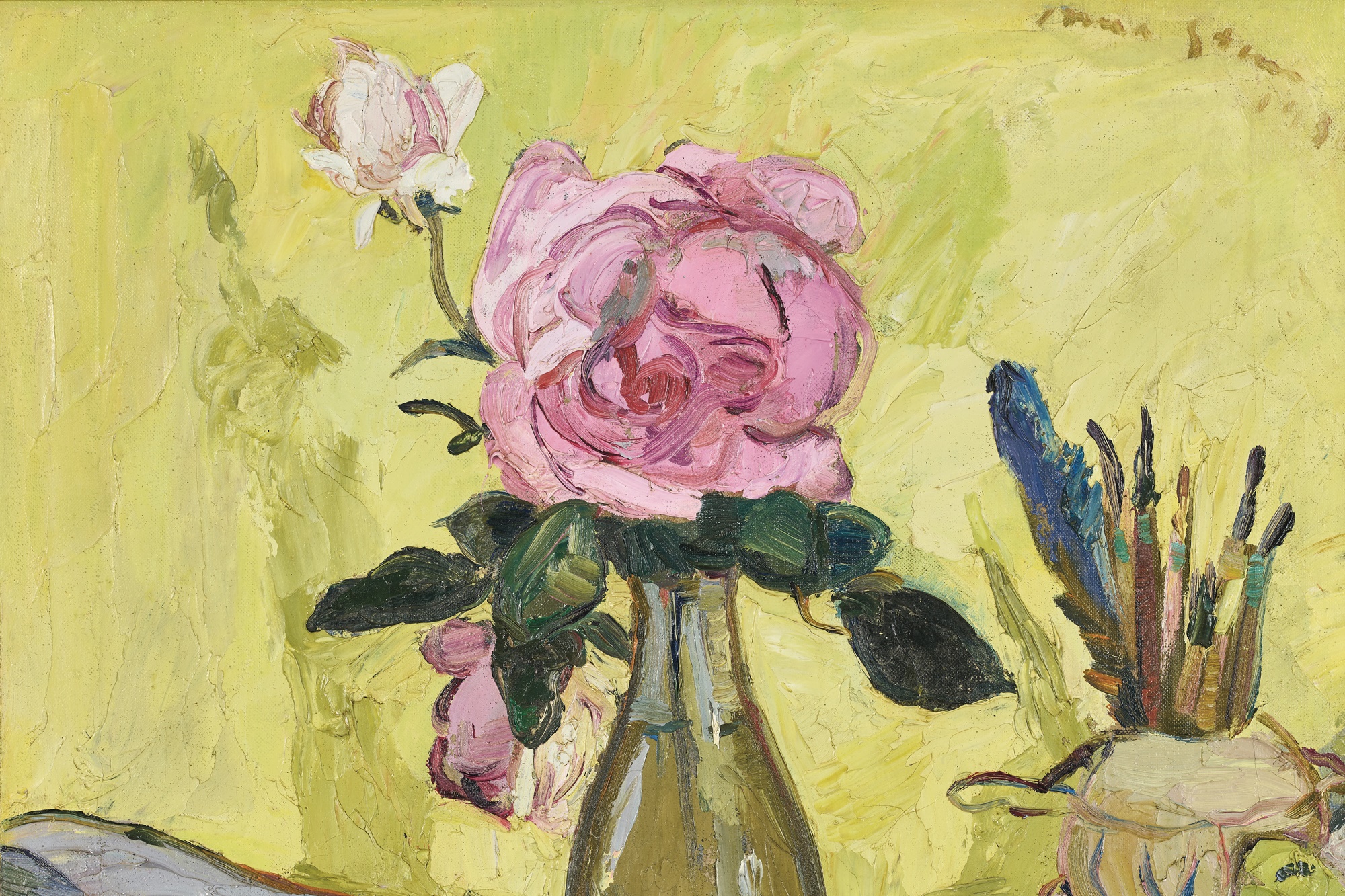 Irma Stern, Still life with roses, blue bowl and the artist's brushes in a pot, 1936, Oil on canvas
George Pemba is a modern master who the market is finally catching up on. Thanks to a stunning exhibition at Cape Town's Norval Foundation nudging art lovers to take note of his greatness, Pemba's work has been seeing great success and high demand. Included in the auction is a very rare set of watercolours by Pemba. The lots provide a fantastic insight into his facility as a painter gifted beyond the confirmed medium of oil.
Another sure-bet painter, Vladimir Tretchikoff, is represented in this auction with a large oil equestrian study titled Race Horses. Celebrated as the people's painter, Tretchikoff had found a unique and populist take on art history's seminal motifs with a knack that earned him the "king of kitsch" moniker. He started painting horse races in the late 1960s and continued with the theme during the 1970s while attending many of the events at Kenilworth racecourse in Cape Town. Those visits inspired Race Horses, depicting competition horses on a calm walk and not in a grand gallop.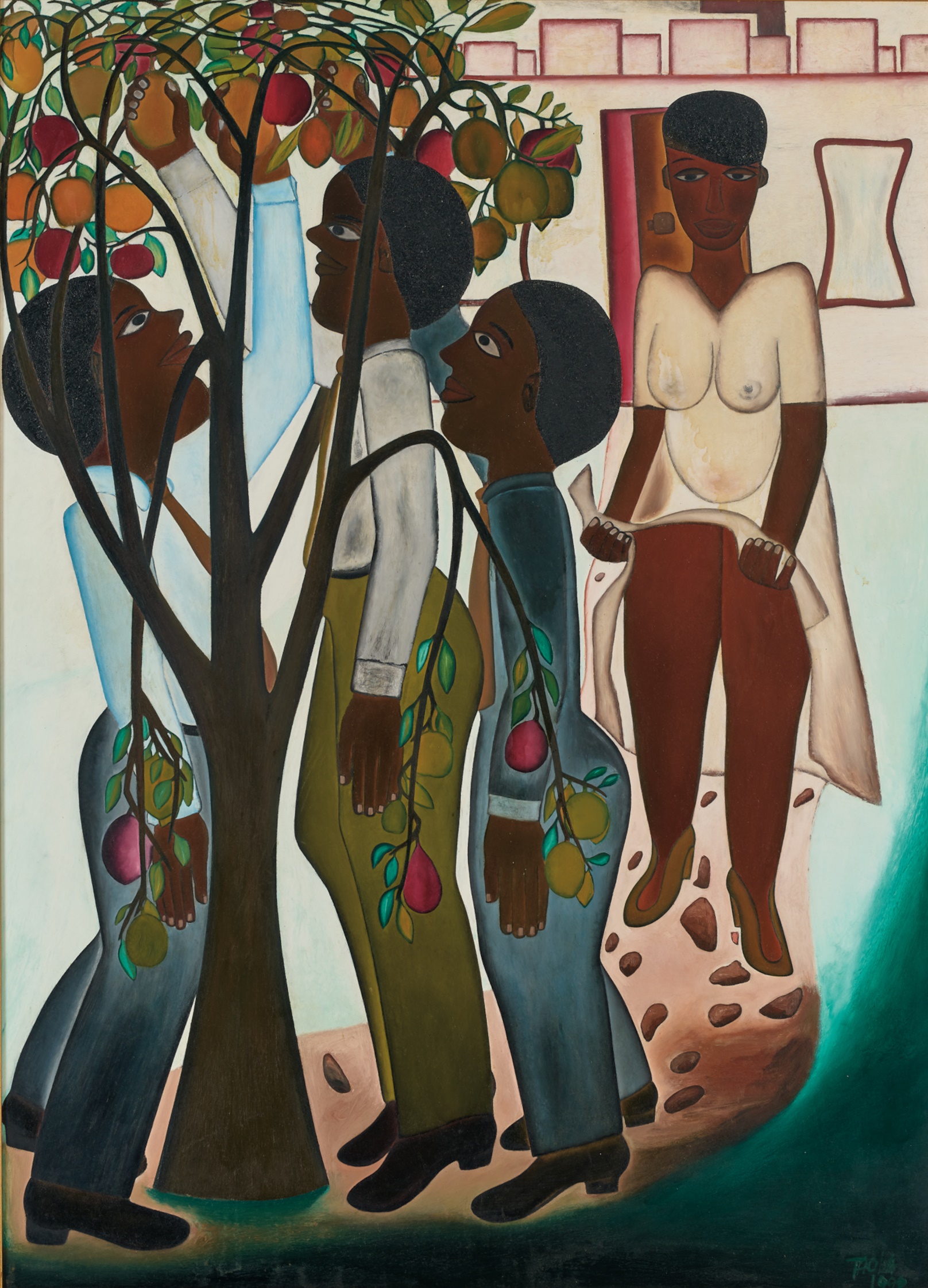 Alfred Thoba, Fruits of Life, 1990, Oil on board
These marvels of modern painting are offered alongside iconic sculptural works, including exceptional and monumental works by Edoardo Villa. Among them is a large dynamic piece produced in 1991 as South Africa was going through the birth pains of a new democratic order. The work is appropriately titled African Throne. Its majestic air finds colourful rhyme with other Villas on the sale – a pair of blazing red and blue painted twin steel works, Interlocking forms (Sylvan) red and blue from1992. Physically dwarfing all these is a colossal piece from the momentous year of 1976, Three Personages. It can be read as a dark shining modernist monument to another important image that came out of the troubled year – the now famous three figures in the photographic Pietà of Hector Peterson.
Along with the colourful iron certainty of Villa, bidders have a chance to catch a much-coveted contemporary constructivist piece by Wim Botha. The work is one of the best examples of why Botha is celebrated for his unparalleled balance of probing philosophical perspective and impeccable artistic technical skill. The attractively priced sculpture comes to market on the back of a ground-breaking exhibition at the Norval Foundation celebrating the artist and placing savvy collectors on notice.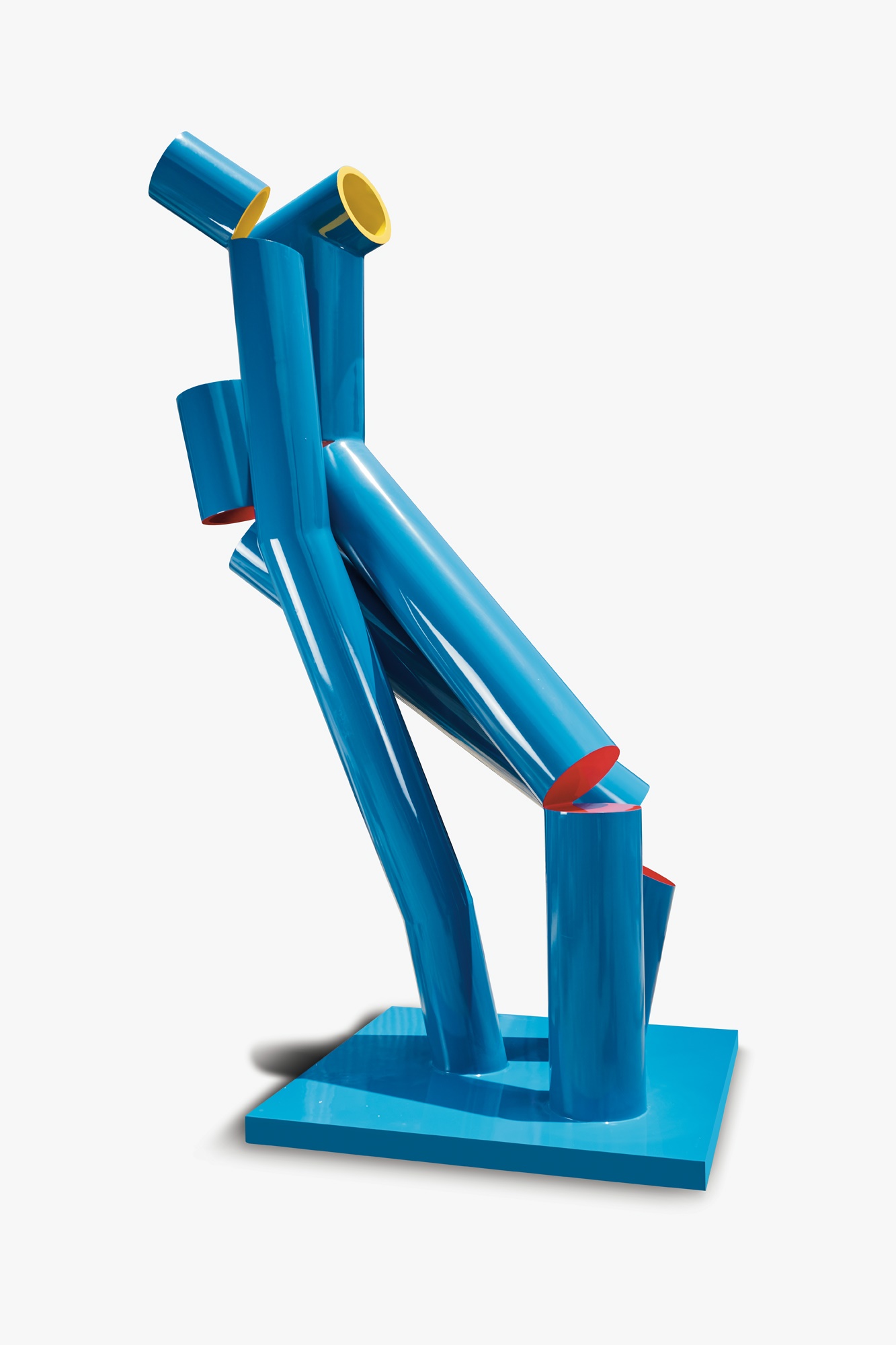 Edoardo Villa, Three Personages, 1976, Painted steel
The auction also features  a great selection of contemporary works. Among these are the prodigiously gifted colourist Kate Gottgens. Her generation's answer to tested painterly voices like Stern and Robert Hodgins, Gottgens' large painting, The Abstractor arrives in the sale fresh from a show at Sydney Contemporary in Australia.
Its blazing brilliance finds virtuosic companionship offered alongside a grandiose best of class Asha Zero acrylic on board. Zero's work is poised to stimulate a growing interest in his unique artistic voice among a new generation of collectors and tastemakers.
Collectors have a chance to bid for the largest Simon Stone painting to ever come to the auction. The History of Bush Fires, "perfectly plays up the contrasts between representation and abstraction," shining light on why William Kentridge refers to Stone as South Africa's best painter.
In contemporary drawing, vitality and virtuosity have no better host than the hands of Phillemon Hlungwani. His magnificent work, You Create Your Own Happiness is a fitting elixir as we begin to shake off the despair of the past two years of covid pandemic. The work is sure to set a new record for the artist.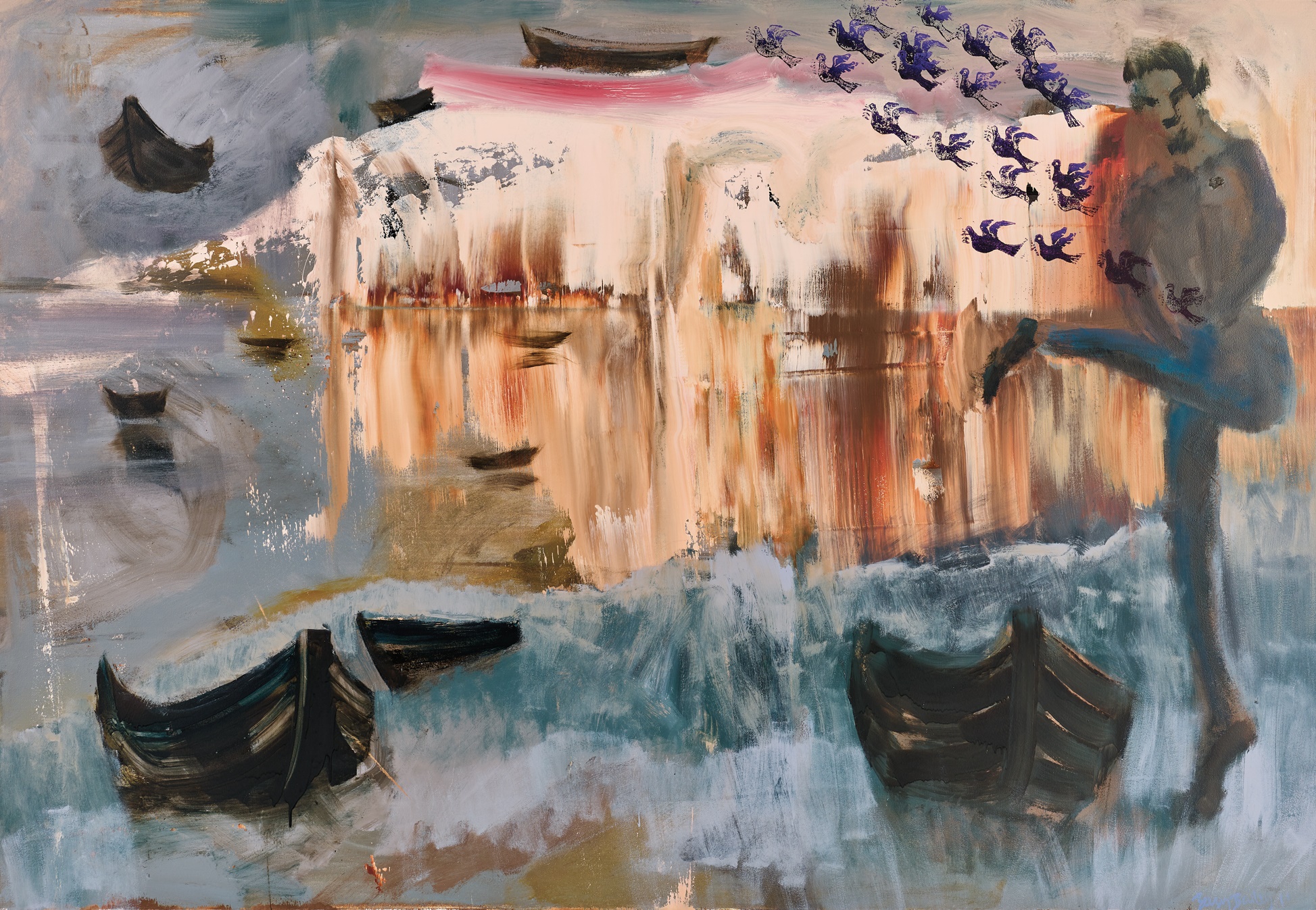 Beezy Bailey, Water on Fire, 2011, Oil and enamel on canvas
A further highlight is a series of drawings by Diane Victor. Among the three works on offer is a large-scale piece, There's Fire in the Thatch,  unique in her oeuvre. It's a rare example of a period when she was using a lot of colour in her work compared to her better known monochromatic prints. Other major drawings include dreamy mythological works by Deborah Bell. They sit well alongside notable drawings by Dumile Feni to complete a compelling art historical picture.
Collectors interested in the story of Feni embrace his influence on William Kentridge. There is a great variety of work showcasing the diverse range of his iconic style and artistic voice. Examples are a large poster from Resist the Hour alongside etchings from his Domestic Scenes -Preparations for Hat day and Triumph of Bacchus a monumental work of twenty etchings, each printed on 100% Hemp Phumani handmade paper and mounted on raw cotton cloth.
A notable highlight of the auction is a selection of lots from the collection of the multi-award winning production house, Handspring Puppet Company. Founded in 1981, the company grew under the leadership of Artistic Director Adrian Kohler and Executive Producer Basil Jones for over 40 years. They've presented work in over 30 countries across the world and are widely recognised as South Africa's pre-eminent puppet company.
Aspire presents a unique selection of 26 works, presented in 15 lots, from their collection. The works have been collected over more than 3 decades and map much of the company's creative, personal and professional journey.  Including works by celebrated artists such as William Kentridge, George Pemba, Simon Stone and Zanele Muholi, amongst others, the collection offers buyers a unique opportunity to possess a rich piece of history in acquiring work selected by and reflective of the outstanding taste of Handspring's world-renowned creatives.
Don't miss the wonderful ceramics section on offer too. The selection is spread across the grand variety and kaleidoscope of traditions in South Africa. It includes renowned potters such as Lucinda Mudge, Robert Hodgins, Noria Mabasa, Josephine Ghesa and Petros Gumbi.
The incredible collection of photography includes works by some of the country's great contemporary artists including; Zanele Muholi, Billy Monk, Bonile Bam, Jac de Villiers, along with Mikhael Subotzky and Patrick Waterhouse.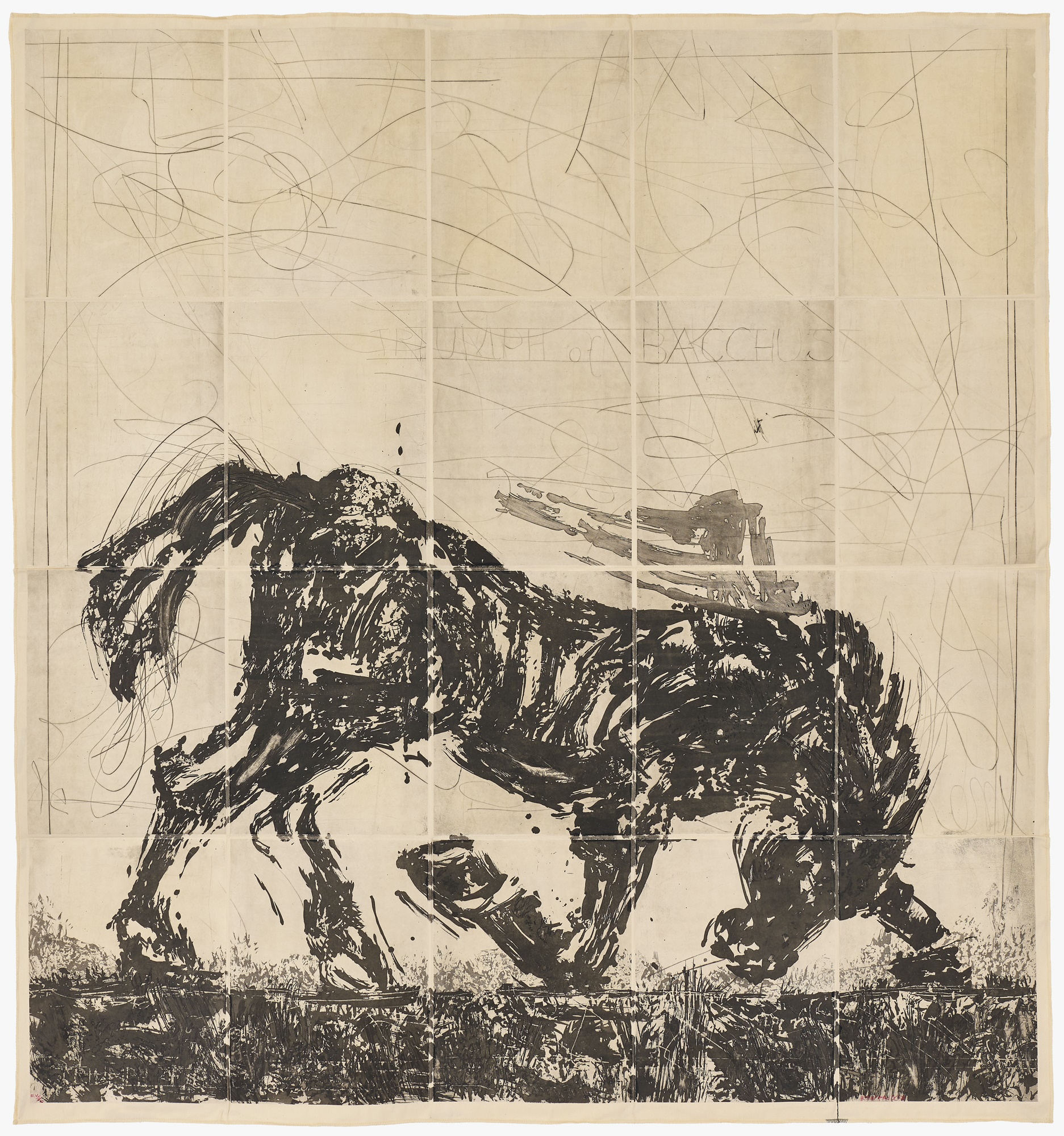 William Kentridge, Triumph of Bacchus, 2016, Twenty lift ground aquatint etchings printed on 100% Hemp Phumani handmade paper, each etching mounted on raw cotton cloth folded (as a map) and housed in a handmade box covered in raw cotton cloth
Aspire Art Auctions New Offices and Gallery in Johannesburg
The November auction will see Aspire Art Auctions welcoming art lovers and bidders to their new office and gallery in Johannesburg. The specially designed space will allow the Aspire team to host exhibitions, live in-person auction events and art consultations.
Located on Bolton Road, in Parkwood the new home of Aspire Art Auctions is well positioned in Johannesburg's art districts, within walking distance from leading art galleries and key art collections and institutions.
Buyers are invited to join for in-room bidding or make use of telephone or Aspire's real-time online bidding platforms. Art lovers can start visiting Aspire Art Auctions' gallery space to preview the works on exhibition daily from 25 November 2021.
Wednesday 24 November Handspring Puppet Company Zoom Talk 6pm
Thursday 25 November Public Opening Cocktail Party 6-9pm
Tuesday 30 November LIVE Auction Event
A fully illustrated auction catalogue is available and can be downloaded at www.aspireart.net