Art is adding new heights to luxury accommodation
Forget about complimentary bubbles or embossed slippers. Top-notch hotel stays can be measured according to the quality of the art on the walls.

-------------------------------------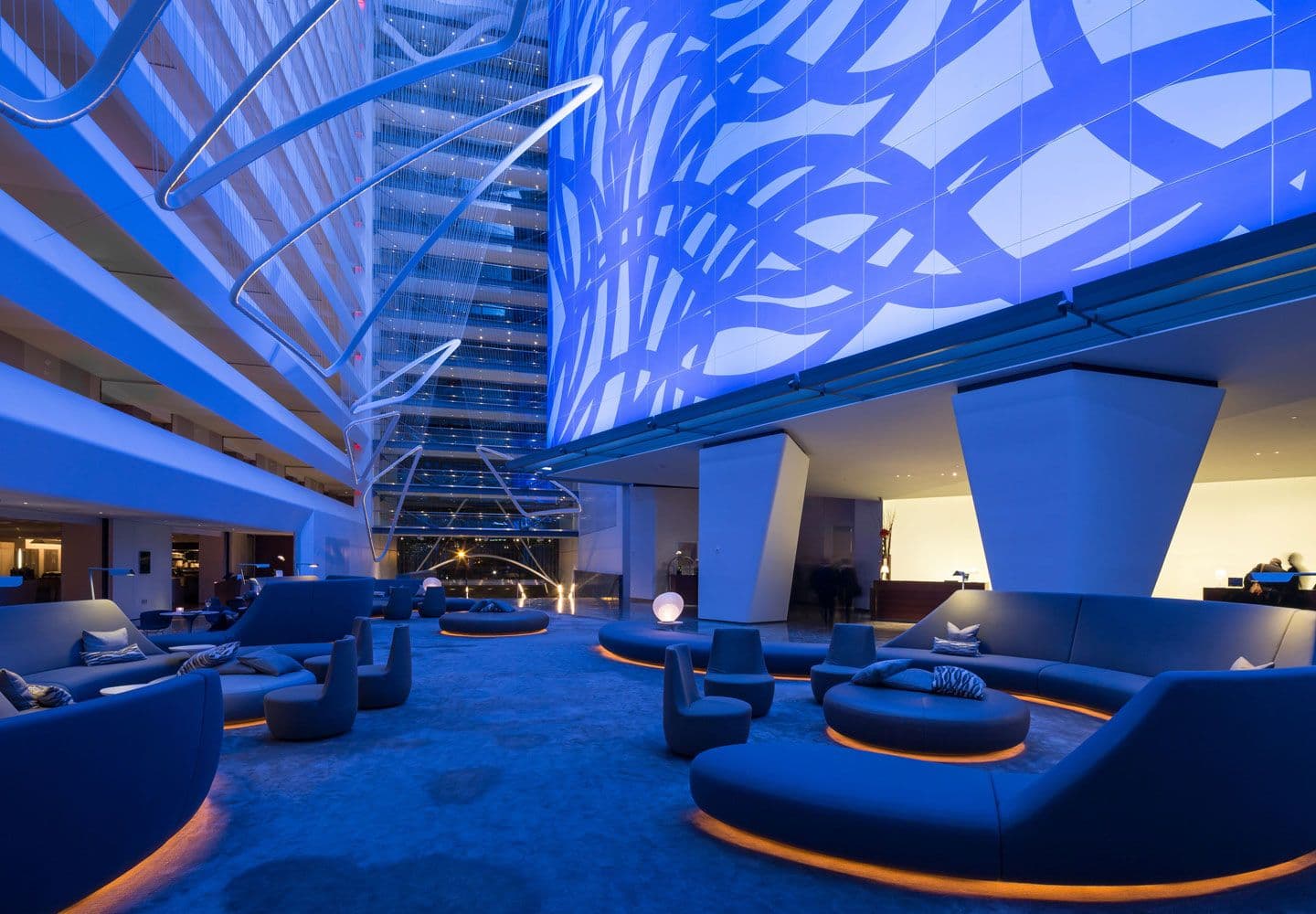 Views of the commissioned work Loopy Doopy, Sol LeWitt in the atrium of the Conrad Hotel in Down Town New York
Unless you are accustomed to living the high life, nothing can prepare you for a stay at the One & Only. It was through a rare twist of good fortune that I landed a two-night stay in this renowned hotel in Cape Town. Upon opening the door to my suite, I gradually clocked all the details that signaled this was not going to be an ordinary hotel stay. The capacious proportions of the room stood out first. You have a dressing room and a bathroom of such generous size you could throw a decent cocktail party in it without bumping elbows with your guests. Having your own Nespresso machine, popping out your perfect cuppa on demand is a treat not to be sniffed at, as is the ample-sized balcony – also large enough to stage a modest party - offering views of Table Mountain. 
Nevertheless, it was only when I spied several paintings by Tom Cullberg, above the bed and facing it, that I truly felt I had landed in the lap of luxury. Just months before across the bay in Woodstock, I had been studying works by this Swedish-born artist in his studio. The lobby of the hotel is dotted with collectible artworks by well-known South African artists, so perhaps this should have been expected. However, many high-end hotels in South Africa rarely have desirable contemporary art hanging on their walls, never-mind in the rooms. It is often down to the owners of the hotel or the interior designers having a penchant for art. 
As such the Spier Hotel, on that eponymous wine farm near Stellenbosch, also boasts a bevy of contemporary art around the hotel – a characteristic Igshaan Adams textile work in the reception and a large Penny Siopis painting, Monument in a lounge area are one of hundreds of works. This is due to the expansive art collection owned and managed by the Spier Arts Trust. The grounds of the wine farm are also dotted with sculptural works. They might not market the hotel as an art hotel but this surely qualifies it as one. 
The Ellerman House hotel in Cape Town's posh Bantry Bay is another example of a hotel populated by the art of its owner, Paul Harris, a banker, art collector with shares in the art gallery chain, Everard Read. The more valuable works that form a part of this collection, such as paintings by Pierneef, Alexis Preller and Irma Stern are naturally to be found in public areas. As with the One & Only, the value of the art on the walls increases with the size or type of suite – as with the latter you need to book the penthouse if you want to spend the night with a William Kentridge work. With over 1000 works in the Ellerman House hotel collection they were forced to establish a gallery dedicated to showing the works and you can take an in-house guided art tour. 

The Ellerman House Hotel boasts a gallery where works from their collection are on display
Hotels near major art galleries or in busy art capitals often opt to embrace their art-centric character as part of their unique selling point. This is the case with the Silo hotel which is embedded in the iconic Thomas Heatherwick-designed Zeitz Museum of Contemporary African Art. Given their proximity they would be amiss not to adorn the post-industrial interiors with art. Large-scale works by Jody Paulsen, Francis Goodman and Mohau Modisakeng greet you in their cavernous reception area. The rooms also boast unique artworks by a range of South African and other African artists, but it is in their basement space, dubbed The Vault where you get to enjoy exhibitions staged by up-and-coming artists and curators. 
In Joburg art hotels largely are confined to the inner city precinct dubbed Maboneng, which had its roots in art-related spaces. Both Hallmark House Hotel and 12 Decades Hotel go a step further than simply hanging art on the walls. In the former artists were invited to create works directly on them, in the manner of urban art. Seth Pimental and Nelson Makamo have both created large-scale works in the reception area. The artist, curator, and art entrepreneur Musa Nxumalo regularly stages curated exhibitions around the hotel.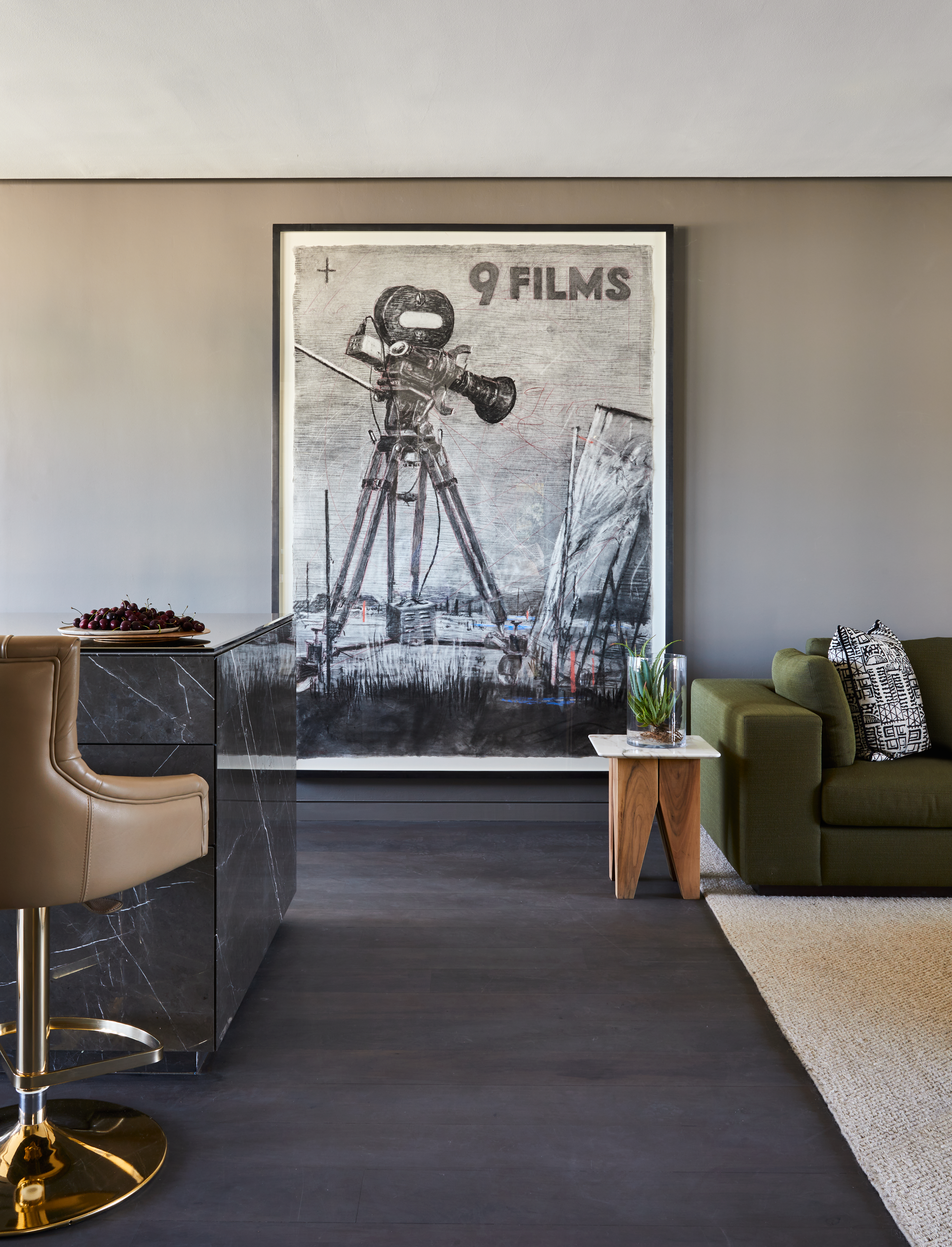 If you want to spend the night with a William Kentridge you will need to book the Lion's Head Penthouse suite at the One & Only Cape Town
12 Decades Hotel opted to invite artists and other creatives to collaborate on unique interior vibes for each room based on their inspiration and a concept narrating a decade of Joburg's history. Artists whose artistic practices have been rooted in the culture of this city and had studios nearby were enlisted. They include; Marcus Neustetter, Colleen Alborough, Mikhael Subotsky and Pierre Croquet.
Allowing an artist's aesthetic to determine the decor defines many art hotels around the world. In Berlin, one summer I had the chance to stay at Art Hotel Charlottenburger Hof. Each room is dedicated to celebrating the art of a well-known 20th-century artist. This is indicated via prints by the artist hanging on the walls and complemented by several decorative nods coinciding with that artist's aesthetic. I opted for a Piet Mondrian-inspired room, which was naturally defined by primary colours. This trip coincided with a visit to an exhibition of the Dutch artist's work at one of Berlin's museums. After studying the real works, I was less enthusiastic about spending time with prints of it.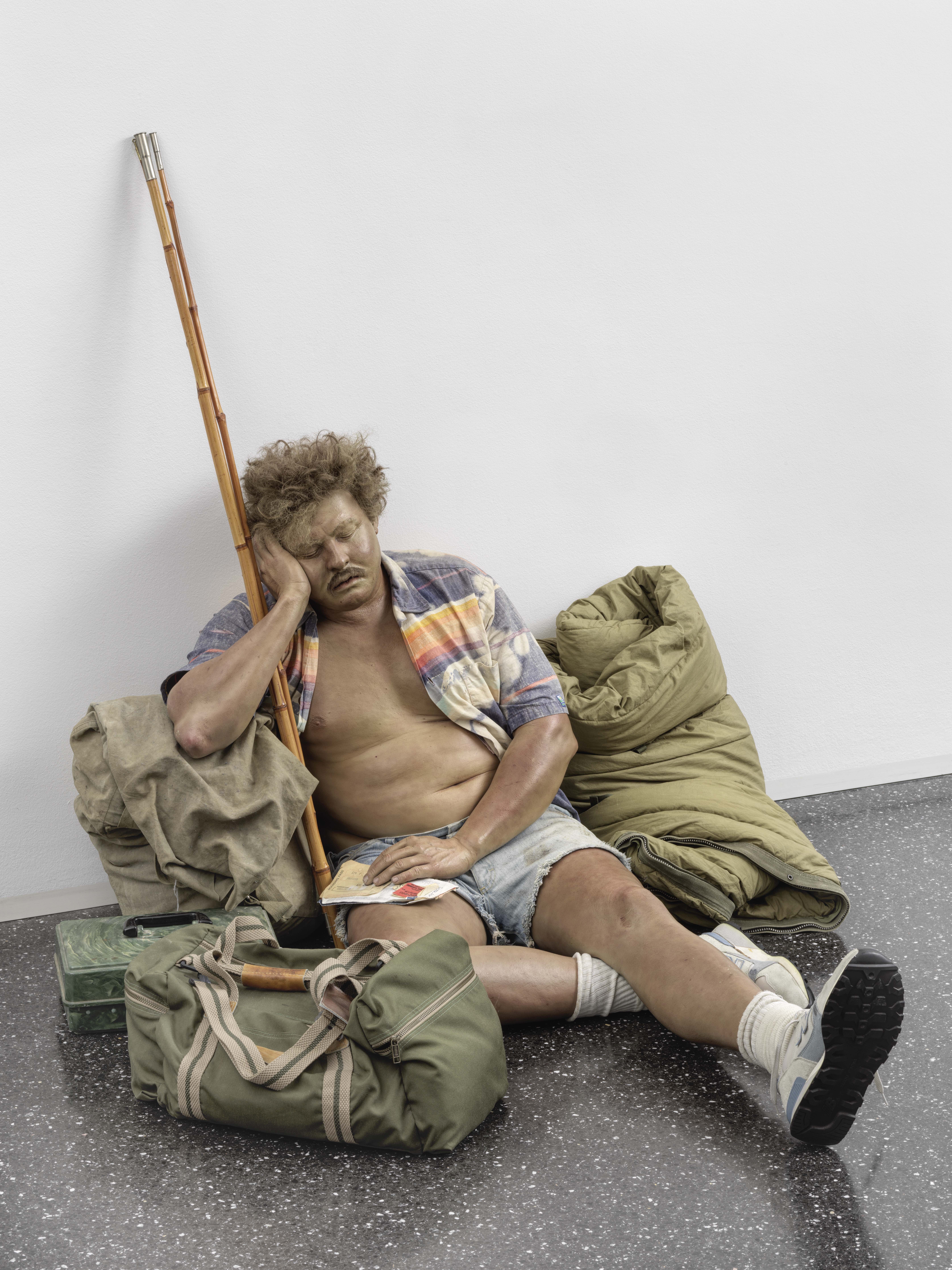 Traveller by Duane Hanson at Zurich's Dolder Grand. An impressively designed hotel with a collection of works by celebrated modern artists to cutting edge contemporary works
Largely, as well-known western artists' works tend to be pricey you need to stay at very chichi hotels to stay in their company. 
If I picked the winning Lotto numbers I would probably check into Zurich's Dolder Grand. What is most appealing about this luxury resort isn't simply the cheeky contemporary artworks that you will stumble upon, such as a life-size sculpture of a weary traveler by Duane Hanson but the fact that these contemporary works are also complemented by contemporary architectural flourishes, for surely an art hotel needs to embrace aesthetics from the ground up?
As the centre of the art market (according to all the stats), New York is probably the ideal hunting ground for a bona vide art hotel. New York's Conrad hotel (in Down Town) would keep art lovers in their element with over 2000 works of art adorning the walls. However, it is a large-scale commissioned work in their atrium by Sol Le Witt, a renowned conceptual artist from the sixties, that will leave a lasting impression. The hotel is a veritable museum with significant works by Julian Opie, Bernd and Hilla Becher, Julian Schnabel, Frank Stella, Lynda Benglis, Dan Flavin, and a series of photographs documenting the work of Christo and Jean Claude's extraordinary running fence through a desert in California. 
The 21c Museum Hotel group takes the relationship between hotels and art to another level with museum-type shows staged in the extensive galleries attached to their hotels. The exhibition titled The Future is Female, is currently showing at their Nashville museum/hotel. As the title suggests the show is right in tune with the current focus on female artists and includes works by South Africa's Zanele Muholi, Frances Goodman and Nandipha Mntambo, but also other well-known names such as Carrie Mae Weems, Jenny Holzer and Nina Katchadiourian.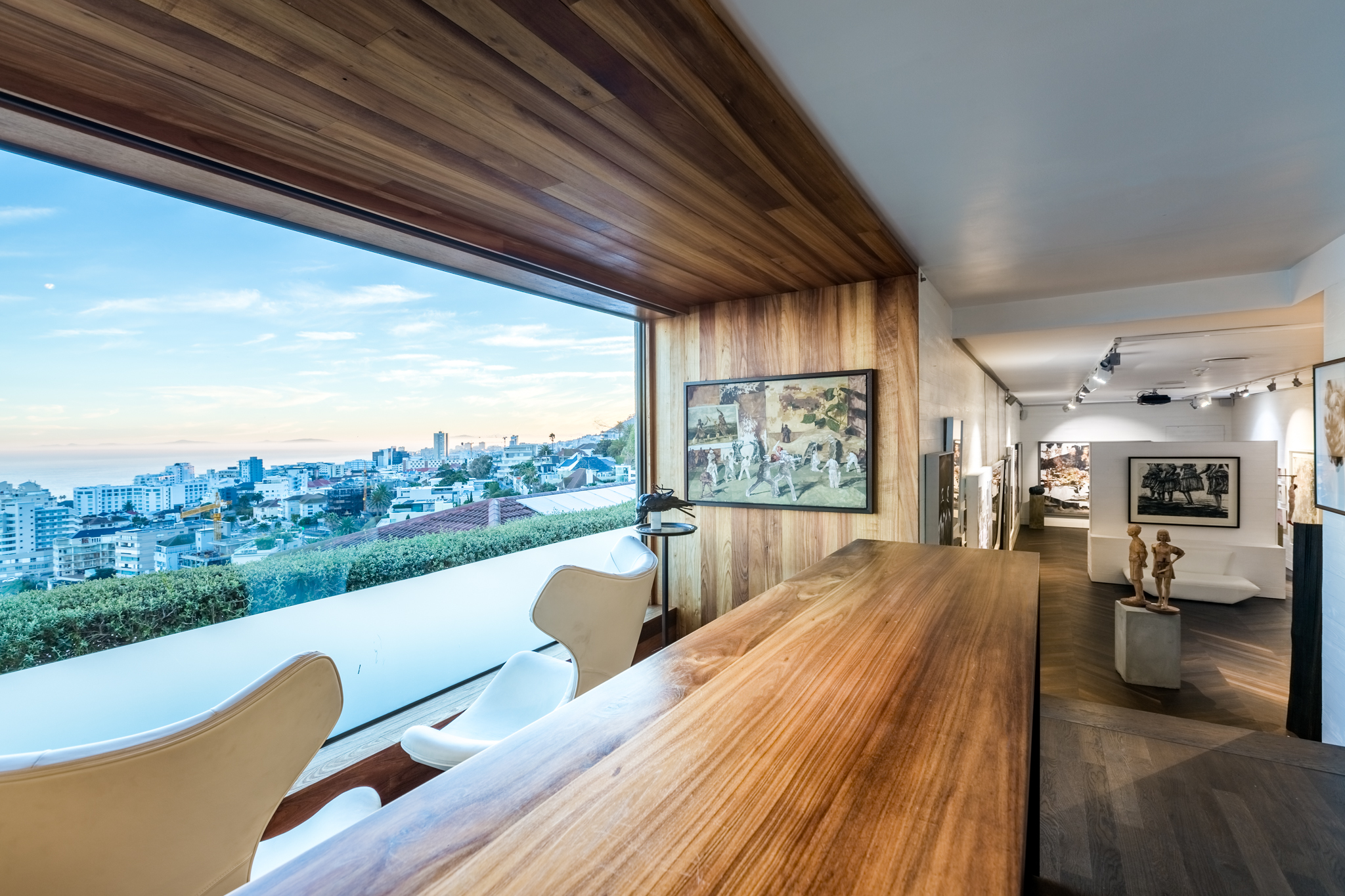 The Ellerman House Hotel boasts a gallery where works from their collection are on display
Not surprisingly the 21c Museum Hotel was founded by art collectors Laura Lee Brown and Steve Wilson. The couple is said to have "wanted to take an active role in the preservation and revitalisation of downtown Louisville motivated by changes happening in and around their hometown. With the belief that art can be a vital part of daily life and a spark to ignite new energy and ideas, they created 21c Museum Hotel in Louisville." 
Their innovative idea grew from their hometown and there are now 8 multi-venue hotels and museums. The art isn't only confined to the 'museum' galleries. For example, artist Nick Cave created installation works to activate some elevator lobbies in the Chicago hotel. Exhibitions sometimes have extended runs – an exhibition of South African artist Wim Botha's works will be exhibited at the 21c Bentonville for the whole of 2022. 
In this way, it is not only guests staying the night that benefit from the art but the public too, who no doubt visit these galleries that operate as museums. It is a win-win situation for guests, artists, hoteliers and the public.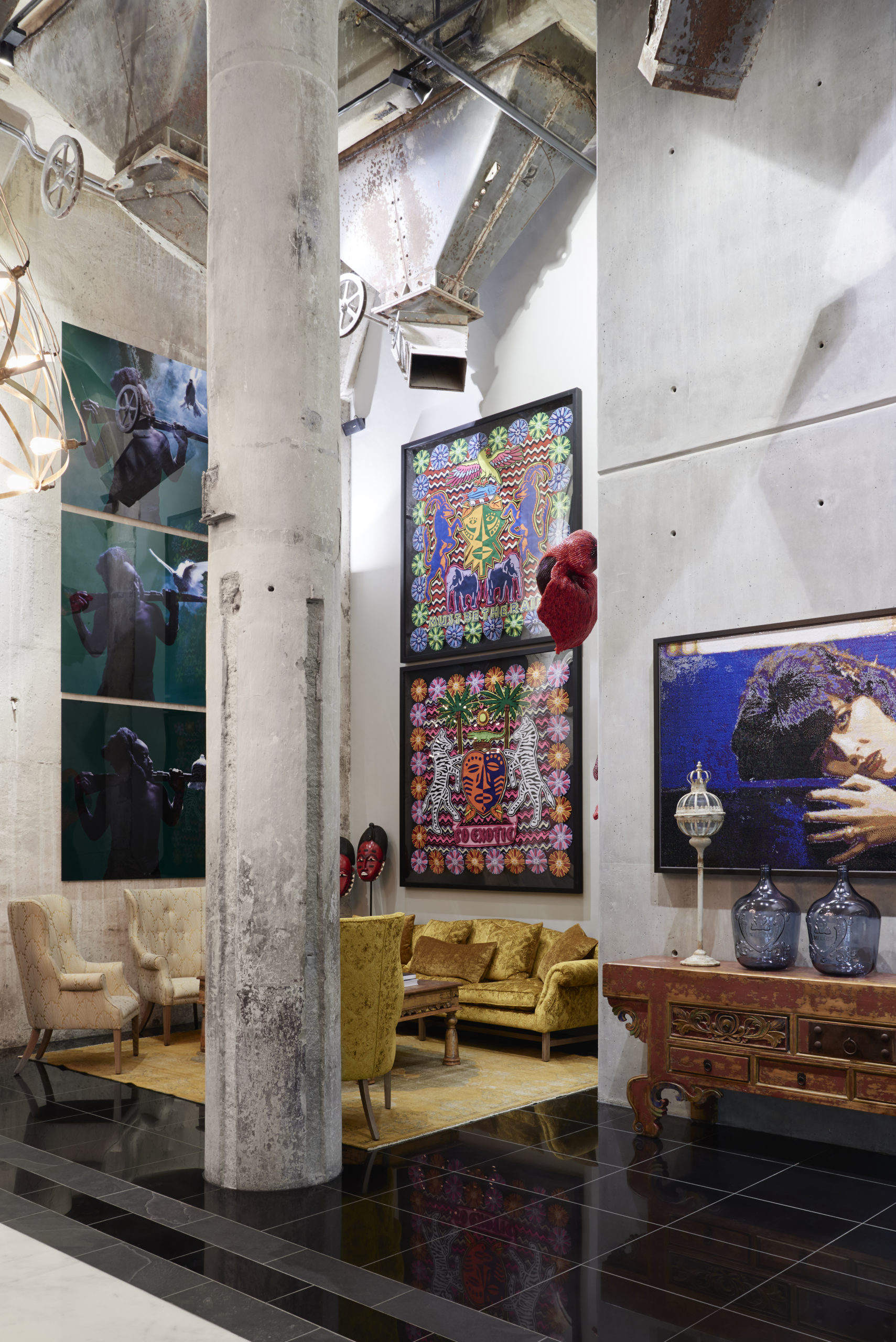 Works by Jody Paulsen, Francis Goodman and Mohau Modisakeng at the Silo Hotel embedded in the Zeitz Museum of Contemporary African Art
- Mary Corrigall is a Cape Town-based art commentator, advisor and independent researcher.